At just 9º north of equator, Costa Rica is gifted with some of the world's most incredible, even-keeled climates. We get 12+ hours of sunshine, year-round; the sun rises and sets somewhere around 5:30 a.m. and 6:30 p.m., every month of the year. Temperatures are very stable – usually, anywhere from 75º to 90º (24º to 32º C). And we're very unlikely to experience a hurricane. As we said, even keeled. Enter… the rainy season in Costa Rica.
Expectations for Rainy Season in Costa Rica (a.k.a. Just How Much Rain Are We Talking?)
Truth be told, it's not that bad. It's not at all bad, in fact. Despite what certain exaggerated travel advice might read, the Costa Rica green season (May-November, in Tamarindo) is, for most of us, a great of year. Not only is it rainbow and sunset season (both, spectacular!) but the rain also serves to both liven up the landscape – literally! that's why it's called the green season – and cool us off. Yes, please!
What's more, the Costa Rica green season isn't a rain-all-the-time season. Yes, it rains. But no, not constantly. Not even every day, depending on the location and the month (and the whims of Mother Nature).
Generally speaking, May/June and November are considered shoulder seasons and rain is never guaranteed; during July and August, rain is probable; while September and October are the rainiest months, and typically see at least a daily rain shower.
For more details on Costa Rican weather, check out our month-by-month weather guide.
Welcome to the Green, Green Everywhere
As we mentioned, green season is so named for a reason: In stark contrast to the sun-splashed, oft-parched months of dry season, the rainy season in Costa Rica sees lush landscapes, swollen rivers, well-watered wildlife, and other biodiverse benefits, thanks to almost daily showers.
And if that still doesn't convince you, then know this: Tamarindo is located in the province of Guanacaste, Costa Rica's driest province. So, when and while the rest of the country is drenched, we often see full days of sun – sometimes, for whole weeks after the official start (or before the official end) of green season.
So if you're staying in Tamarindo, prepare for sunny mornings and afternoons, with rains typically beginning in the late afternoon... just in time to pour a refreshing drink, put your feet up, and watch the clouds roll in.
And if that still doesn't convince you, then here are 8 more reasons why you'll love to visit during Costa Rica's greenest months:
Reason #1: You Get More for Your Money
If you love a good deal, then you'll love the green season, when prices are the lowest of the year. From our Tamarindo vacation homes to tours, this is the time of year to squeeze more value into your trip – sometimes, at up to 70% off peak-season prices!
What's more, you'll find that many of our vacation rentals offer special extras, amenities, and even add-ons that you won't find any other time of year. Consider them our little green season Easter eggs – granted, long after Easter!
And, because this is the travel low season, you'll also find greater availability. Whereas many popular properties and experiences book up months or even a year (or more) in advance, during green season you may find a perfect home, at the perfect price, still available for that last-minute getaway, long weekend, or airfare flash sale.
Reason #2: The Crowds are Fewer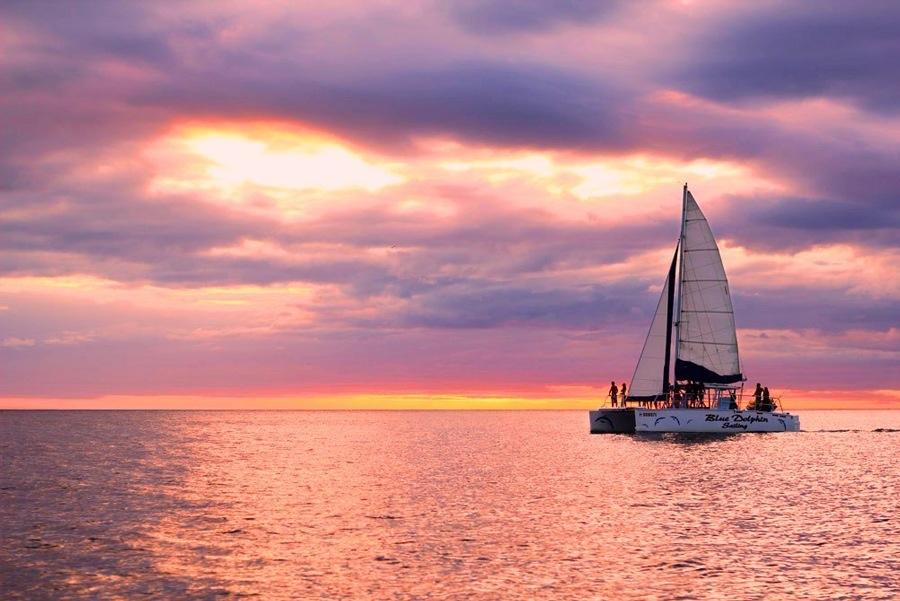 If we're being completely transparent, you should know that high travel season often also means high crowds. When every site, every guidebook, every everything tells tourists to visit from December through April… well, that's when they visit.
If you buck the trend, you'll see a very different side of Costa Rica. That secluded beach, that hilltop viewpoint, that tropical waterfall – they could be all yours. Because often, you'll be the only one visiting a secluded spot during the rainy season in Costa Rica. The only ones, traipsing over dry forest trails. The only ones, napping under that oceanfront palm tree. The only ones, roaring up a backroad on your ATVs.
And even at the more popular spots – say, amidst of Tamarindo's best surf waves – the crowds are still far fewer. Bottom line: There is more space, less competition, and greater tranquility to be had in green season. What's more…
Reason #3: Enjoy an Authentic Experience
Another benefit of fewer crowds? A greater ratio of you-to-Costa-Rica. We know that sounds a little strange but hear us out.
When there are fewer people on that sunset cruise, on that zipline tour, on that hike… well, there's more relative time to have meaningful conversations and genuine cultural exchange with your Costa Rican hosts. More relative time to seek out a once-in-a-lifetime experience, like that breeching humpback whale or a tiny poison dart frog at the base of a tree or a sloth hiding in a tree.
And all that creates a more authentic experience while you're here. You'll have more time to get to know your Costa Rican hosts and carve out small moments that become your favorite memories. And you'll see that this really does make a difference.
Reason #4: Sport Fishing is Excellent
If you're here for sport fishing (and if you love to fish, this is definitely something to put on your Costa Rican bucket list), know that no matter when you visit, there are guaranteed to be resident and migratory, mating, and/or feeding species in residence. Others, like the cubera snapper, make their home year-round in Tamarindo waters.
That said, during the late Costa Rica green season (September, October, and November), Tamarindo sport fishing really picks up. To start, large marlin (particularly, blue and striped marlin) troll the area, in search of phytoplankton and schooling fish. Additionally, floating debris and flotsam, pulled to sea via rushing rivers, hides bonitos, mahi-mahi, and yellowfin tuna, often up to the 125-150 pound range.
This is also an excellent time for inshore fishing, with small yellowfins (up to 25 lbs.), rooster fish, mackerels, jacks, and snappers catching our hooks. Black marlin are not uncommon near inshore reefs.
Reason #5: The Turtles are in Town!
We've written a lot about sea turtle nesting, in large part because it's an incredibly special, often touching experience. And if that's an experience you'd like to have, then know that the green season is a great time to plan it.
Olive ridley turtles are nesting now at both Santa Rosa National Park and Ostional Wildlife Refuge – choose Ostional during an arribada, for your best chances of spotting turtles, both nesting and hatching – and peak in the green season, typically from June through December. Closer afield, you may get lucky and spot leatherback sea turtles at Las Baulas National Marine Park, right here at our own Playa Grande.
Reason #6: Surfing is Spectacular
As a tourist town, Tamarindo was born of two things: fishing and surfing. We've already covered the former, so it bears mention that the latter is also incredible during the rainy season in Costa Rica.
Truth be told, during the green season, our waves come hard and fast (and huge). If you're a serious surfer, this is your season – including at Witch's Rock and Ollie's Point, home to one of the best right-point surf breaks in the world.
Reason #7: The Sunsets Are Stunning
We mentioned that this time of year is rainbow and sunset season. While rainbows are most common during the shoulder months (May/June and November), when the sun often shines through rain, sunsets are spectacular all seasons long.
A common misconception: Clear skies make for better sunsets. In reality, Tamarindo's slightly cloudy, green season skies erupt in the best sunsets of the year: fresh rain has fallen, the boats are moored, and the sky is smeared with clouds bedecked in all hues of pink, peach, violet, and turquoise. And then, just as the sun drops over the horizon, a flash of light streaks through the sky to paint its final swath of color.
Every. Night. Beat that, dry season!
Reason #8: Relaxation, Required!
It may be vacation but I think we've learned the hard way: Do not, under any circumstance, underestimate the beauty of required relaxation.
Here's how it works. On that rare, rainy day or afternoon, lean in. Take FULL advantage. In Tamarindo, rain showers are warm (and, often, short) – but that doesn't mean they're not long enough to require a nap on the pool lounger, or a freshly brewed cup of Costa Rican coffee, or – if there's no thunder – a dip in the hot tub or a rainy swim in your private swimming pool.
Or hey, curl up with your travel companions and play a screens-away game. Watch a movie. Read a book. Do whatever you never have time to do, under normal circumstances. And know that the rain is almost always fleeting, so you won't be inside for long. Take maximum advantage of this "required" relaxation!
Tamarindo | 3 bedrooms | 3 baths | 6 guests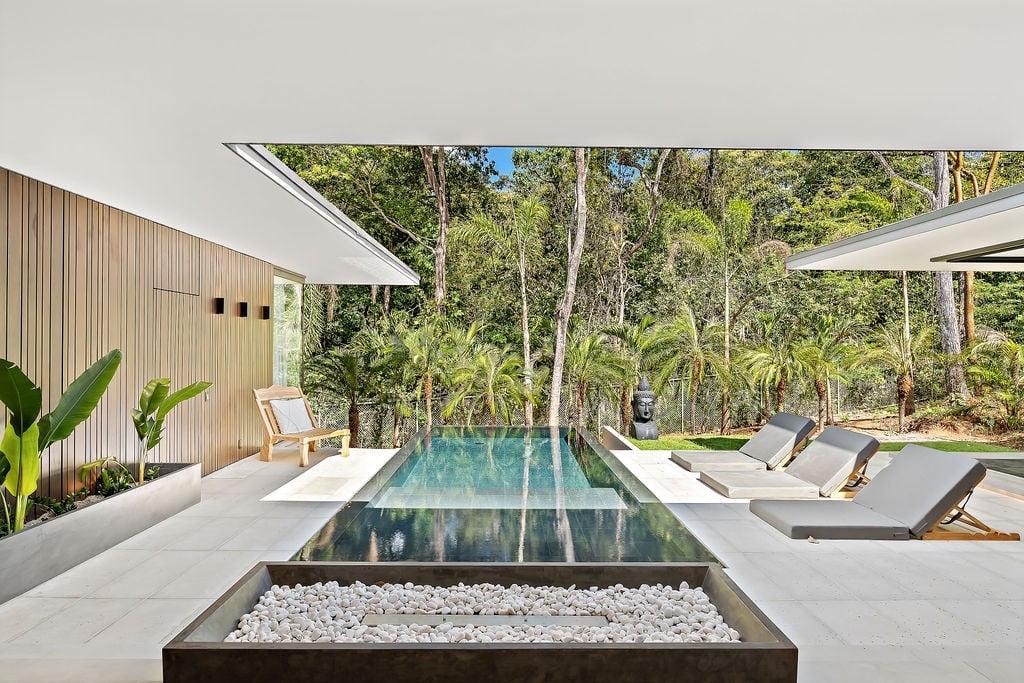 A beautiful and new, ultra-modern home, Casa Maui is designed to exceed expectations and charm hearts. It begins as soon as you walk indoors and are greeted by the enormous, sliding-glass panels that blend indoors and out, inviting natural light to flood the home and Guanacaste's jungle panoramas to paint the landscape.
In addition to the home's gorgeous architecture, Casa Maui stands out for its fine amenities, which extend to a private swimming pool, gym room, and media room – all, second only to your proximity to the beach: It's just across the street from Tamarindo Beach and Pangas Beach Club, recently voted one of Travel & Leisure's 20 once-in-a-lifetime restaurants with spectacular views.
Rainy Season Tip: When it's raining outside, there's no better spot than in your very own home theater, either enjoying a movie afternoon or playing a game. Not thundering? Step outside into your outdoor dining and living room, next to the pool!
Tamarindo | 5 bedrooms | 5 baths | 14 guests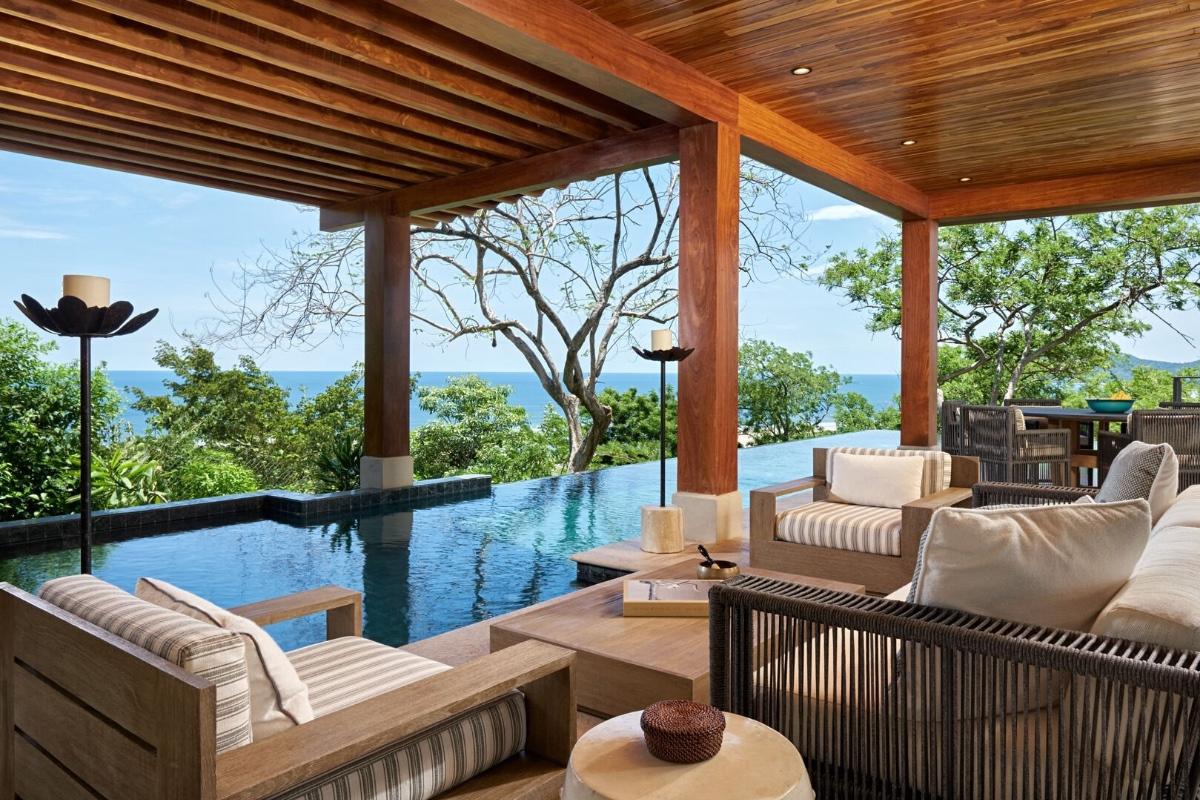 Reserve a complete experience at Casa Lucy, where ocean views promise to take your breath away at almost every turn. It's a sight to amaze and mesmerize, stretching for as far as your gaze can wander. Go ahead – spend some time drinking it all in.
For Casa Lucy isn't a place to crash; it's an ocean-view have designed for your total enjoyment. We're talking a fitness garage and dreamy, infinity pool, a private cinema and lush gardens, an invitation to relax and a tranquil haven tailor-made for vacation bliss. What's more, Casa Lucy is part of our elite services tier, ensuring a truly premium experience throughout your stay.
Rainy Season Tip: While indoors for your required relaxation, soak in the bathtub or enjoy an upgraded movie night in your home theater. No thunder? Head outdoors to your covered outdoor dining and living room, which pair well with rainy-season sunsets and your private pool.
Playa Langosta | 3 Bedrooms | 3 Baths | Sleeps 12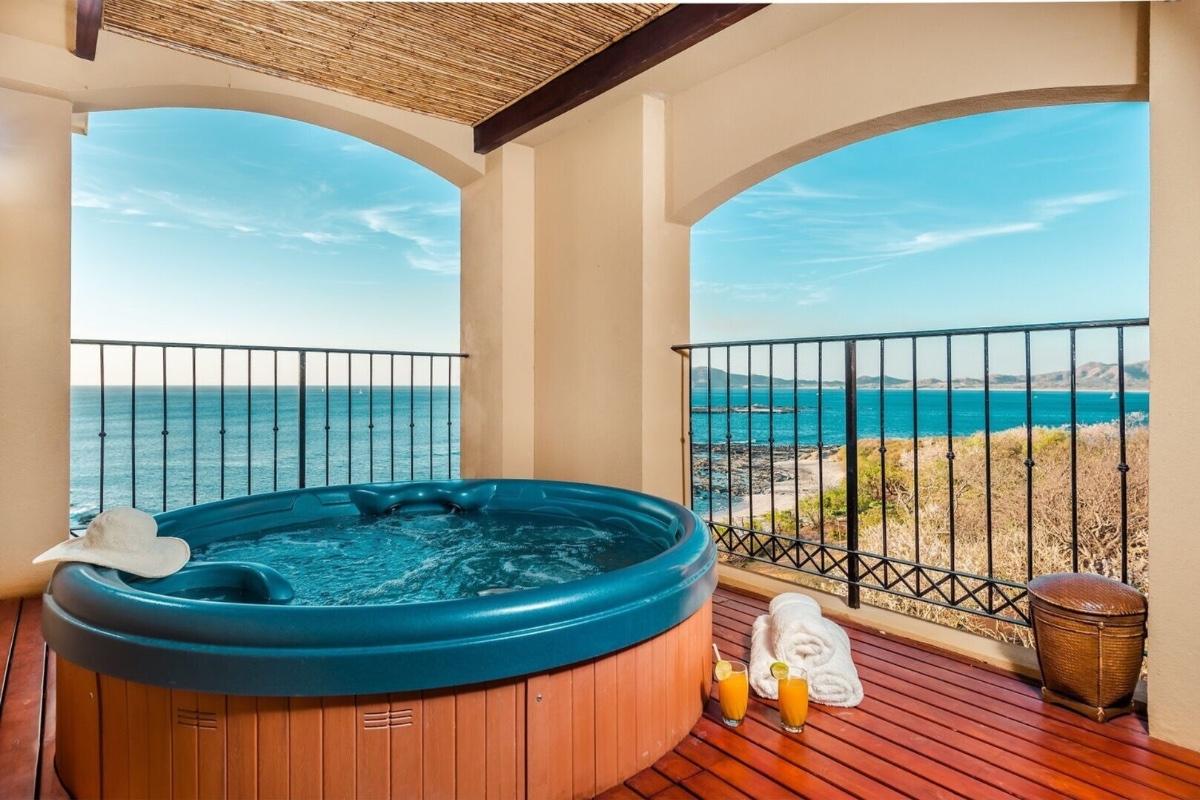 Because only your very own penthouse will do, Crystal Sands 504 delivers with a breezy private balcony and some of Tamarindo's best views – directly onto Langosta Beach and the Pacific Ocean, and stretching for as far as the eye can see. Your front yard is the ocean and the horizon, with only the occasional passing sailboat (or breeching whale, or paddling sea turtle, or playful dolphin…) to dot your private panorama.
Of course, there's more. Because this is a penthouse in paradise and the dream must include a private hot tub on the balcony, a gourmet kitchen and full-sized gas grill, breezy and open interiors, and, again, thatview. Because you'll have it from the living room, the dining room, the kitchen, and the bedrooms – even from your shower, if you're lucky. And that's another something to be thankful for, isn't it?
Rainy Season Tip: During a gentle afternoon rain shower, you curl up by the TV and watch a movie in your spacious living room or, if there's no thunder, enjoy the warm tropical rain in your covered outdoor dining andcovered jacuzzi on the balcony. There's no better feeling!
Planning a Stay During the Rainy Season in Costa Rica?
At Stay in Tamarindo, we really are different. We really do care about you. And we really will go the extra mile.
We're going to work hard for you. We're going to follow up with you. And we're going to do everything we can, to ensure that this is not just your Best Vacation Ever, but also Everything You Want It to Be.
Because that is what we mean, when we talk about our quality of service: We want to transform the way you travel. We want to deliver the best everything you've ever experienced – including the best value. And we want you to go home completely fulfilled, whether you came to relax for a week straight or packed your days full of every adrenaline-soaked, high-adventure activity you could fit in.
So go ahead, give us a try. Embrace the experience. Live your best life. And now, book your best-ever vacation. It all starts with getting in touch with our concierge!