There's something special about discovering something new – about being one of the first to experience a breathtaking view or to take a dip in the pool or to explore an array of other exclusive features and the luxury amenities found at our top vacation rentals in Guanacaste, Costa Rica. And so, we thought we'd introduce you to four of our newest Tamarindo villas, Avellanas vacation homes, Reserva Conchal retreats, and Dominical enclaves.
These homes are more than new. They are special in their own rights. From bubbling Jacuzzis and gourmet kitchens to infinity pools and rooftop decks, these homes promise new luxuries and amenities for you to explore and enjoy.
Tamarindo | 6 bedrooms | 6 bhaths | 12 guests
Set into the vibrant surrounds and bustling center of Tamarindo, just a coconut's throw from the beach, Cabana de Playa is a brand-new addition to our Tamarindo villas. A dreamy beachside haven and the quintessential Costa Rican retreat, this 8,500+ square-foot home blends urban-chic convenience with a serene coastal vibe in a way that will make you say, "I really can have it all!"
Have it all, indeed. Welcome to a world of unmatched comfort and fine detailing, designed to elevate your urban-tropical experience: Picture yourself unwinding on your exclusive rooftop – that perfect vantage point for awe-inspiring panoramas, especially at sunset. Dive into utter relaxation in your expansive private pool. Spread out on the pool terrace, offering an idyllic spot for sunbathing, gathering, or simply savoring your vacation read.
Cabaña de Playa is a harmonious blend of private relaxation and local liveliness. Don't let the experience pass you by!
Fall in Love with Cabana de Playa:
Here are three good reasons to fall in love with this Cabana de Playa, one of the newest and most inviting additions to our vacation rentals in Guanacaste, Costa Rica:
· Cozy rooftop sanctuary with mesmerizing sky views.
· Private pool and terrace for ultimate relaxation and fun-filled moments.
· Two private entrances, ideal for two families looking to spend a memorable vacation together while still valuing their privacy.
Need a fourth reason? That brings us to…
A Perfect Location:
Located in the heart of Tamarindo, Cabana de Playa offers unparalleled convenience to the best of everything in town. Explore quaint cafes, appetizing eateries, buzzing shops, and rich cultural experiences, any time you please. Walk to the farmer's market and Tamarindo night market. Enjoy live music at wherever it's playing tonight.
And of course, you're also just a short stroll to the beach. And by that, we mean the sands and sea themselves. Hit the waves any time. Grab your surfboard. Sit beneath a waving palm. Ask us to book a beach horseback ride. And, whenever you can, drink in these epic sunsets. Don't forget to keep your eye out for fire dancers after dark!
Elite Service Level:
Cabana de Playa is part of our Elite Service level, offering daily housekeeping and daily preparations forbreakfast, snacks, and cocktails. (Service is available Monday through Saturday; holidays not included). Our world-class concierge takes care of every detail, ensuring your stay is truly exceptional. We'll stock the kitchen prior to your arrival, keep you fueled with fresh snacks, craft refined cocktails, and even do your laundry!
Limited-Time Gift:
When you book Cabana de Playa, we'll elevate your experience with two complimentary golf carts, included in your festive Christmas or New Year's reservation. They're the perfect, beachy vehicle for ditching the rental car and tooling around town whenever you wish!
This offer is valid for all reservations made for stays during the Christmas and New Year's period (Dec 19, 2023 to Jan 2, 2024). Offer expires 12/28/2023 and you must book your vacation between 08/09/2023 and 12/28/2023. Please ask for the terms and conditions page prior to booking.
Dominical | 4 bedrooms | 5 baths | 8 guests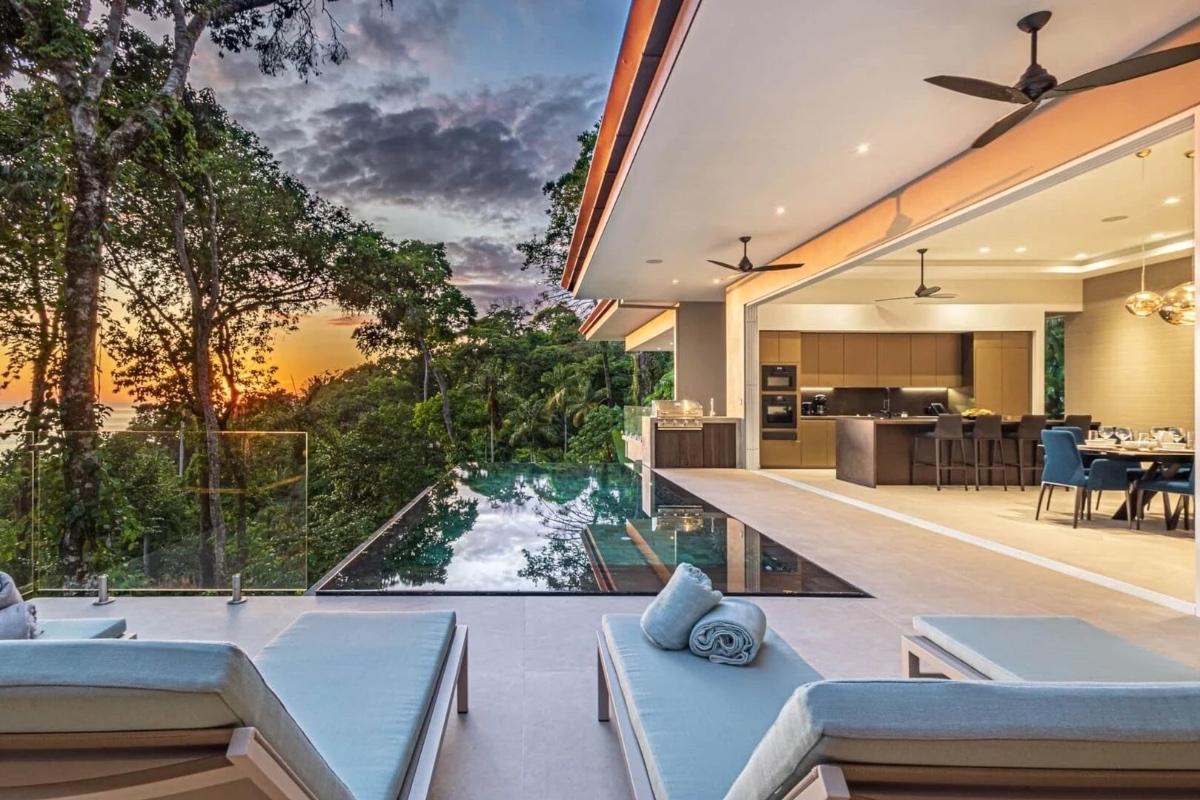 At the convergence of ocean views, a private infinity pool, your own gym and yoga retreat, and culinary delights, Villa Sueno is, indeed, a sueño: the Costa Rican dream that elevates your experience and steals your breath with sweeping 180º panoramic views of golden coastline and the vast Pacific. Welcome to your own perfect haven, now manifest. Welcome to paradise!
It's fitting that sueño can also mean sleep – as in, the deep, satisfied sleep you'll enjoy when you know you'll be waking up here. Here, where the view calls to you from every corner. Here, where the infinity pool beckons, promising an unobstructed view of the surrounding jungle and the boundless sea stretching beyond. Here, where you can cool off in the pool and surround yourself with the greens of the forest and the blues of the ocean. Here, where the feeling – this deep sense of satisfaction and calm – is truly ineffable.
And if, for you, vacation also represents an opportunity to reboot your wellbeing or retake your joy, then know that Villa Sueno stands at the ready: Equipped with a private gym, top-notch fitness facilities, and tranquil spaces, this is one of our most wellness-focused Tamarindo villas. Cultivate calm. Connect with yourself. And seek serenity. They're all found here.
For here, in a space where tranquility strums to nature's rhythms, you can connect to the pulse of both Costa Rica and yourself. Allow yourself to live the dream, the sueño, at Villa Sueno.
Fall in Love with Cabana de Playa: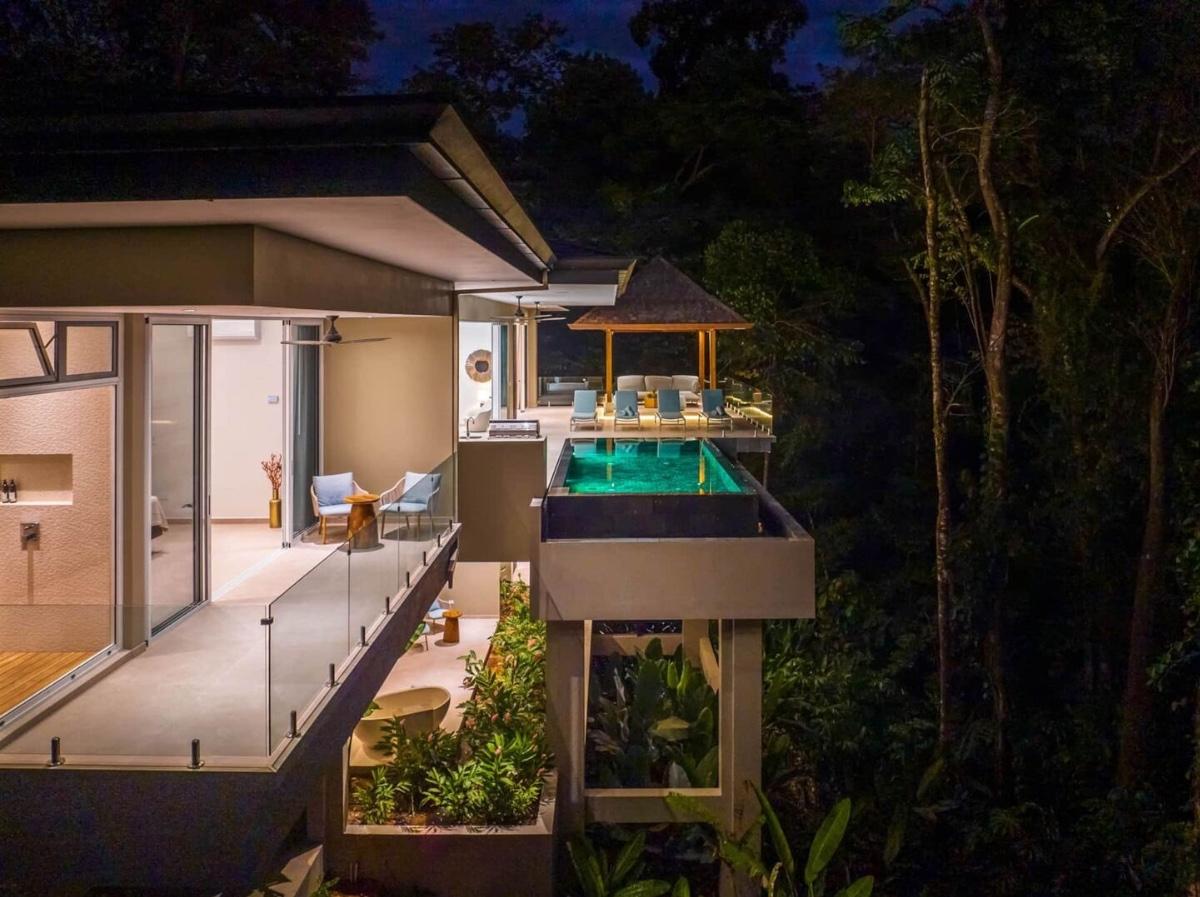 There's so much to love about Villa Sueno, one of our newest vacation rentals in Guanacaste, Costa Rica, but if we had to pick a top three, it would look something like this:
· Ocean Panorama: Revel in sweeping ocean views that inspire serenity.
· Personal Haven: Enjoy an infinity pool, gym, and yoga space for ultimate relaxation.
· Culinary Wellness: Delight in fine dining, wellness experiences, and a spa nearby.
Need a fourth reason? That brings us to…
A Soulful Location:
Secreted into Dominical, Villa Sueno is all location charm, elevated by access to gourmet dining, nearby whole food and organic pleasures, enchanting moments at a quaint café, and relaxation bliss at the neighboring spa. All this, a mere two-minute stroll from your private paradise.
Here, wrapped in nature's tight embrace, the jungle's harmonies become your lullaby and majestic trees stand as your guardians. Here, in Dominical and at Villa Sueno, you'll experience more than a vacation and something far beyond a getaway: This is a soulful voyage determined to create a space for memories of peace, serenity, and nature that will remain etched in your heart, long after you've returned to everyday life.
Daily Housekeeping:
Your stay at Villa Sueno includes daily housekeeping (Monday through Saturday; holidays not included). So you can immerse yourself in the experience while we take care of everything else.
Fully Stocked Wine Selection:
When we promise the dream, we deliver! Complement your time at Villa Sueno with a fully stocked wine selection. You'll also enjoy the smart lighting control system, ideal when planning a low-key celebration or special evening!
Avellanas | 3 bedrooms | 2 baths | 6 guests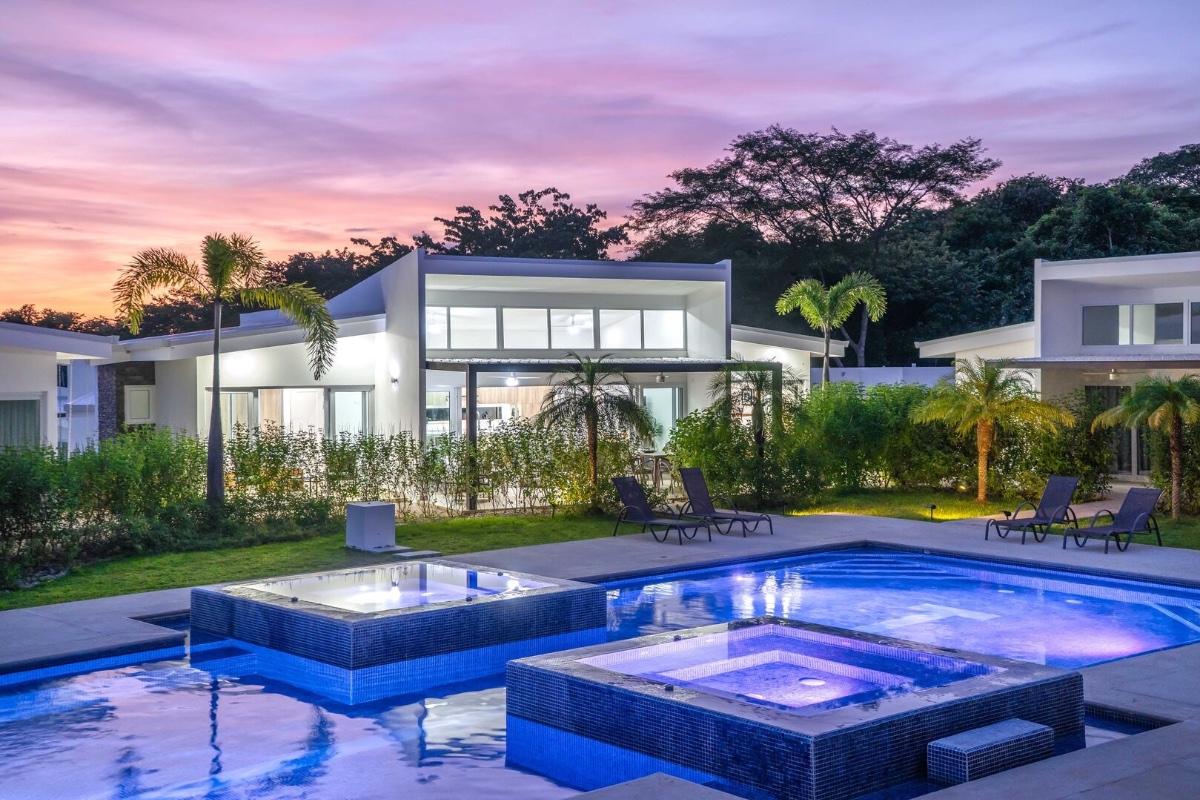 A tranquil retreat minutes from the soft sands of Playa Avellanas, The Enclave B4 is exactly what it promises: a quiet enclave all your own, equipped with an Olympic-sized pool, Jacuzzi, and culinary delights, amidst a symphony of waves and incredible community vibes. You're going to love it here.
Because at The Enclave B4, "here" means a you're just a moment to scenic Playa Avellanas – both the beach and town, the latter of which is named for its famous sun-kissed sands and the glorious sapphire waters that cozy up to the shoreline. A haven for surfers and beach lovers alike, tree-lined Avellanas promises powder-soft sands and the spectacular swells that father the famed "Little Hawaii" surf break and waves that reach as tall as 18 feet during high surfing season.
The only thing that could eclipse the beauty of this setting is The Enclave B4 itself, where gentle sea breezes whisper and quiet luxuries await. It's the home's tan-and-white beachy color palette, which evokes calm and tranquility. The open and modern kitchen, which invite meals and memories. It's the natural lightthat dances in every corner. And it's the serene neighborhood, which promises lush landscaping, a pair of Jacuzzis, a sparkling pool, and many other community amenities.
Fall in Love with The Enclave B4: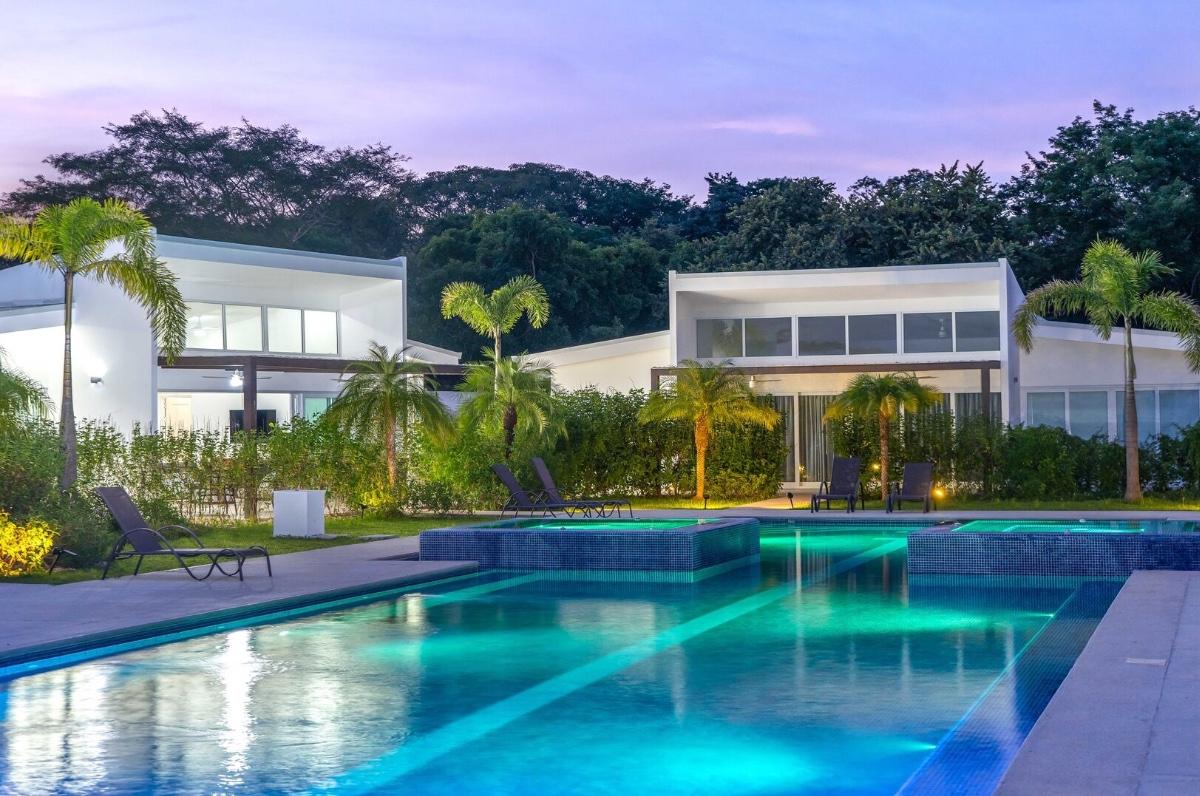 As one of our newest vacation rentals in Guanacaste, Costa Rica, The Enclave B4 sets itself apart for many reasons. Three of our favorites are:

· Proximity to Paradise: Just minutes away from Playa Avellanas, immerse yourself in the beauty of the beach.
· Refreshing Oasis: Enjoy your own Olympic-size lap pool and share jacuzzis with a peaceful exclusive community.
· Vibrant Lifestyle: Experience movie nights, Latin evenings, yoga, thrifting, and organic delights at La Esquina, all nearby.
And if you need a fourth reason, may we present…
An Idyllic Location:
Located in the heart of Avellanas, The Enclave B4 offers convenience to a world of amenities. Gastronomic adventures are at your doorstep. Friday's Night Market at La Esquina promises a spectacle of light and flavor. Restaurants and dining options line the beach.
Your proximity to La Esquina also means movie-filled Sundays and rhythmic Latin Saturdays. Beyond that, you'll have access to shopping, yoga, organic produce, and many other vacation accouterments to elevate your experience.
Luxury Service & 5-Star Concierge
The Enclave B4 is part of our luxury service category. Our 5-star concierge program, , which offers a dedicated concierge who will host and guide you before, during, and after your stay. These services include kitchen stocking, transportation arrangements, tour bookings, private chef reservations, spa services, and more.
From planning and any needs you have before your trip to check-in processes and communication throughout, your concierge will be your right-hand friend throughout.
Playa Conchal | 4 bedrooms | 4 baths | 8 guests
Where your golf-view escape meets beachside retreat, Casa Seashell is an oasis of enchantment designed to thrill and amaze, as much as it soothes and invites tranquility. For here, within the exclusive resort community of Reserva Conchal, you can embrace the full Costa Rican experience – both active and exhilarating, while also calm and rejuvenating.
It begins as soon as you pass through the gates of Reserva Conchal and into a total vacation paradise: a beachfront resort location, championship golf course, luxurious spa, wildlife refuge, hiking & biking trails, diverse dining, and many more amenities promise a world of fun and relaxation. You could spend every moment here and still never want to leave!
Casa Seashell is your refuge within a refuge. Step into enchantment and a peaceful haven all your own, where you're just a one-minute golf-cart ride to the beach. Notably, that golf cart is included in your reservation, so you can buzz to the beach (or anywhere), any time you'd like!
Of course, you may not want to step outside your own private paradise. Because Casa Seashell is the kind of place that makes you want to stay home. To dine poolside. To lounge in the sun. To people-watch over the golf course (your own backyard!). To experience the true essence of indoor-outdoor living. And to indulge in the endless summer of a Costa Rican vacation.
Fall in Love with Casa Seashell: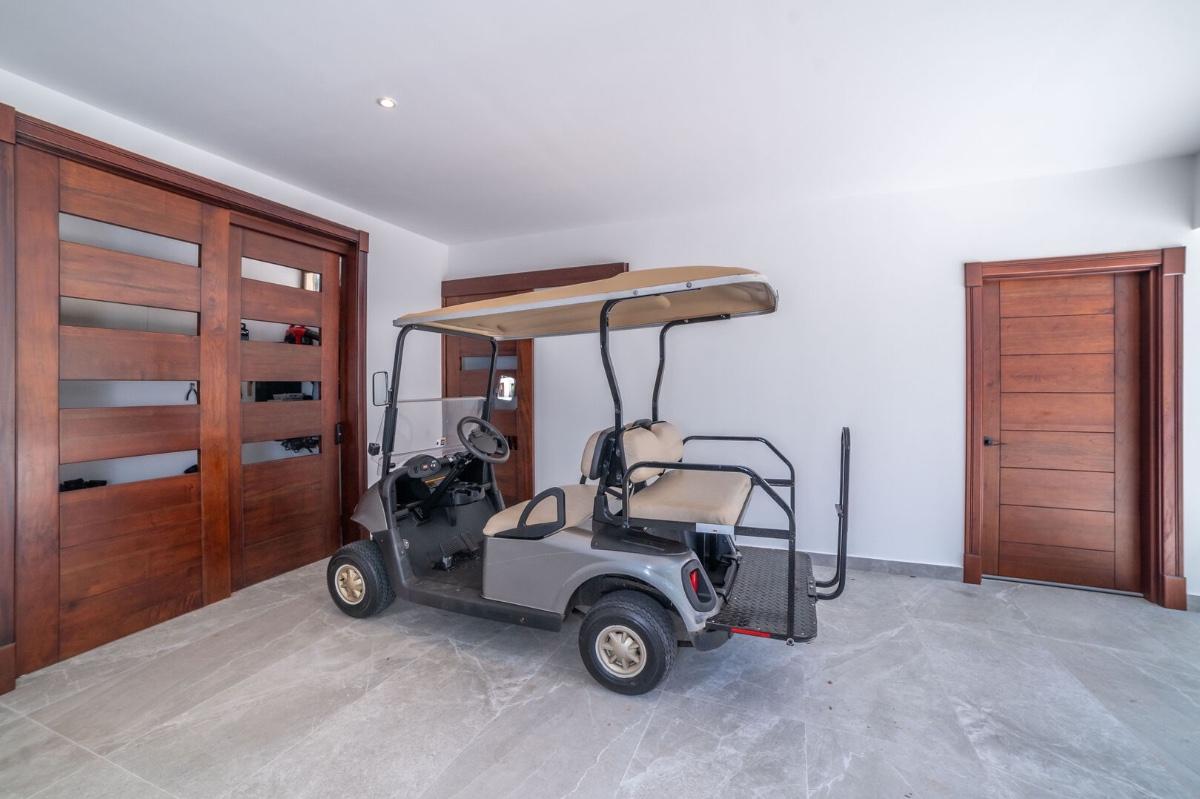 Here are three good reasons to fall in love with this Cabana de Playa, one of the newest and most inviting additions to our Tamarindo villas:
· Beach Proximity: Just a 1-minute golf cart ride to Playa Conchal, making it the closest house to the beach club.
· Scenic Views: Enjoy a view of the golf course from the property.
· Convenience & Amenities: A golf cart is included for your convenience, and access to a gym adds to the amenities offered.
Need a fourth reason? That brings us to…
Fall in Love with Reserva Conchal: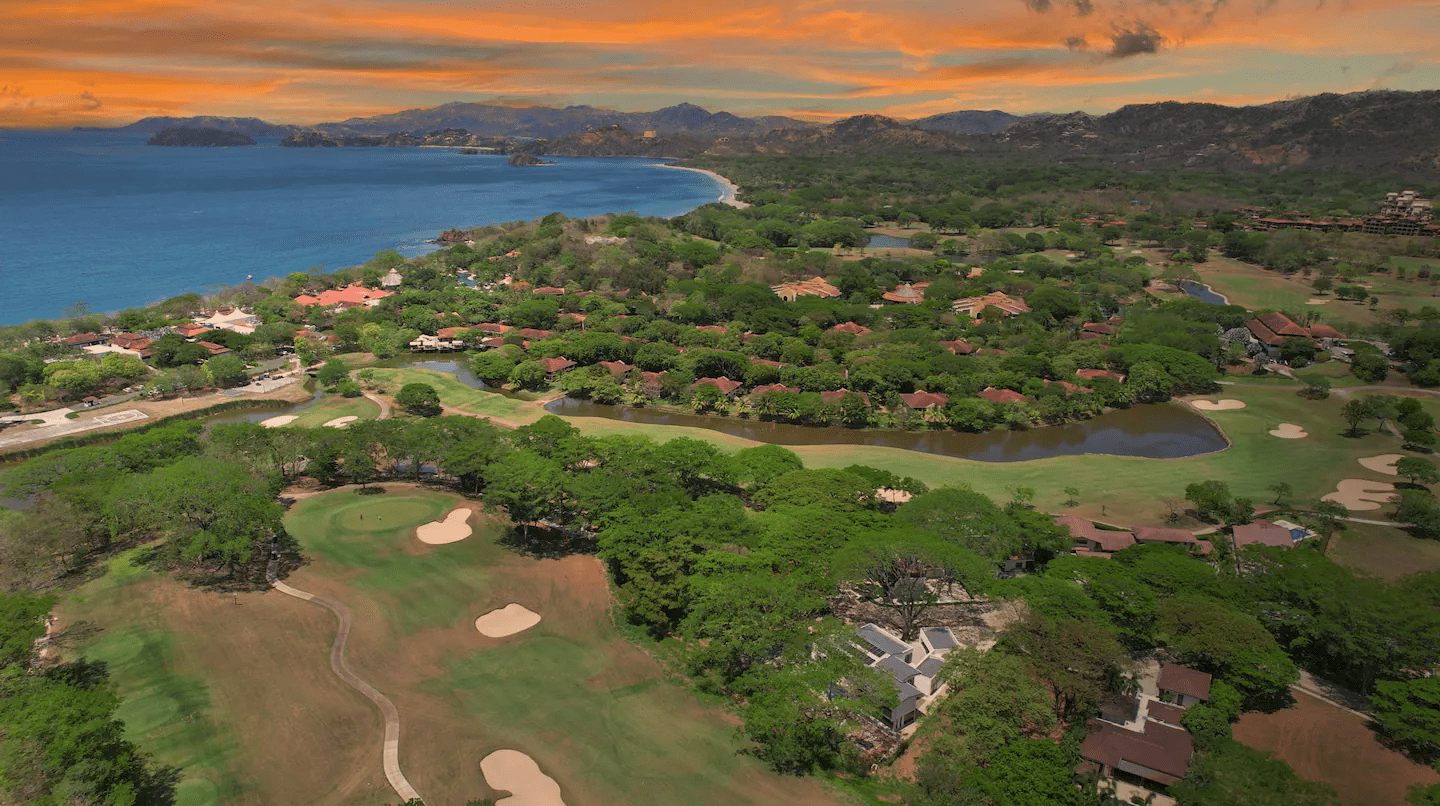 When you seek unparalleled luxury and some of the best services available for vacation rentals in Guanacaste, Costa Rica, you'll find them at Reserva Conchal. Your reservation at Casa Seashell entitles you to full resort amenities, which include:
Reserva Conchal Beach Club: Picture yourself by the beachfront infinity pool, sipping a drink from the international restaurant and bar. Activities like snorkeling, kayaking, and paddleboarding await.
World-Class Golf Course: A golfer's dream come true, designed by Robert Trent Jones II, offering lush landscapes and stunning vistas.
Relaxing Spa Treatments: The full-service spa provided massages, facials, and other treatments, an oasis of relaxation and rejuvenation.
State-of-the-Art Fitness Center: Keep up with your fitness routine amidst luxurious surroundings and top-notch equipment.
Lit Tennis Courts: Play day or night on the well-lit tennis courts, adding a touch of magic to your matches.
Diverse Dining at W Conchal: A variety of restaurants on-site, catering to various palates and offering a culinary journey.
Kids Club: A supervised program for children, filled with engaging activities and outdoor adventures.
Wildlife Refuge: Immerse yourself in nature's wonders, with a thriving wildlife sanctuary that adds an extra layer of enchantment.
Hiking & Biking Trails: Explore the beauty of the surroundings through well-maintained trails, a perfect blend of adventure and serenity.
Elite Service Level:
Casa Seashell is part of our Elite Service level, offering daily housekeeping and daily preparations forbreakfast, snacks, and cocktails. (Service is available Monday through Saturday; holidays not included). Our world-class concierge takes care of every detail, ensuring your stay is truly exceptional. We'll stock the kitchen prior to your arrival, keep you fueled with fresh snacks, craft refined cocktails, and even do your laundry!
Seeking More Tamarindo Villas?
At Stay in Tamarindo, we really are different. We really do care about you. And we really will go the extra mile.
We're going to work hard for you. We're going to follow up with you. And we're going to do everything we can, to ensure that this is not just your Best Vacation Ever, but also Everything You Want It to Be.
Because that is what we mean, when we talk about our quality of service: We want to transform the way you travel. We want to deliver the best everything you've ever experienced – including the best value. And we want you to go home completely fulfilled, whether you came to relax for a week straight or packed your days full of every adrenaline-soaked, high-adventure activity you could fit in.
So go ahead, give us a try. Embrace the experience. Live your best life. And now, book your best-ever vacation. It all starts with getting in touch with our concierge!