Hacienda Pinilla, Costa Rica, located just four miles south of bustling Tamarindo, encompasses sun-kissed coastline from Playa Langosta to Playa Avellanas and Playa Mansita – three of Guanacaste's most spectacular beaches to welcome one of the country's most exclusive and unique resort communities.
Here, you'll have access to luxurious amenities and incredible activities, all contained within Hacienda Pinilla, a 4,500-acre historic ranch property that extends into sun-bleached savannah, farm land, tropical forest, and golden coastline. And here, you'll find incredible sunsets and beachfront golfing, an opulent Beach Club and three spectacular beaches: Playa Langosta, Playa Mansita, and the famed Playa Avellanas, Costa Rica.
Part natural beauty, part indescribable magic, the effect at Hacienda Pinilla is of almost complete removal from Everyday Life – a place apart from time, apart from responsibilities, apart from worries, and apart from anything but a steadfast dedication to relaxation, joy, exploration, and total enjoyment. Welcome to the rare-but-true: untouched nature and spectacular beauty, overlayed with the coast's best amenities and service.
Hacienda Pinilla Overview:
Location: North-Pacific Costa Rica, aka The Gold Coast

Average Temperature: 75-95º F (23-35º C)

Landscape: Three miles of pristine beaches, plus 4,500 acres of tropical forest, ranch land/savannah, and greenery

Closest Airport: Daniel Oduber Quirós International Airport (LIR) – about 90 minutes

Top Activities: Swimming, Surfing, Fishing, Kayaking, and Snorkeling, and Resort Amenities, including Golfing, Horseback Riding, Tennis, Mountain Biking, and Hiking

Top Attractions: Beaches, Las Baulas Marine Park (turtle watching), Tamarindo Wildlife Refuge, Catalina Islands (scuba & snorkeling), Nightlife

Great for: Families & Family Reunions, Couples & Honeymooners & Destination Weddings

We Recommend: Swimming and surfing on Playa Avellanas, a sunset at Playa Langosta, and long walks (or horseback rides) down all three beaches. And golfers, you cannot miss a round of oceanfront, through-the-tropical-forest, and over-the-ranch-land golf!
Welcome to Playa Avellanas, Costa Rica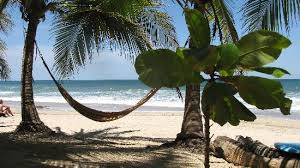 Playa Avellanas, often simplified to simply Avellanas, is both a beach and town – the latter, named for these sun-kissed sands and the glorious sapphire waters that cozy up to the shoreline.
Centered along this lucky stretch of sand: Hacienda Pinilla, Costa Rica and its luxurious Beach Club, which sits directly on Playa Avellanas. Consistently chosen as one of the best beaches in Central America, and certainly one of the best beaches in the Tamarindo area, Playa Avellanas, Costa Rica is a haven for surfers and beach lovers alike.
That's because of the beach's consistent surf and gorgeous coastline, which promises tree-lined beaches and spectacular swells that come in from the north and south here, fathering the famed "Little Hawaii" surf break and waves that reach as tall as 18 feet during high surfing season. And, while Avellanas is not a swimming beach, it does offer a beautiful and quiet sport for relaxation, with powder-soft sands, clean waters, and total tranquility.
Playa Langosta
To the north of Playa Avellanas, you'll find the stretch of white sands and rocky outcroppings that demarcate the Blue-Flag beach of Playa Langosta, often ranked as one of the most beautiful beaches in Latin America. Less developed and quieter – at least, the Hacienda Pinilla section of the beach! – than its big brother, Langosta offers a chill atmosphere and sea almond- and Guanacaste tree-lined beachfront.
Calm tidal pools make it a favorite among families, and everyone loves Langosta for its picturesque setting, jaw-dropping sunsets, and easy convenience (=5 minutes) to all the surf shops, restaurants, and other amenities you appreciate for a day at the beach.
Playa Mansita
While Playa Mansita receives the least pomp and circumstance of Hacienda Pinilla's beaches, it's still an easy favorite for anyone in the area. Perhaps that is but a reflection on how lovely the community's beaches are…
And yet, quiet Playa Mansita is one of the Gold Coast's cleanest, most pristine, and spectacular beaches – and a perfect choice both by day and at sunset, when the snorkelers and swimmers have left for a shower and the beach is dotted by only the staunchest sunset watchers. It's total tranquility in one magical moment. Be sure to enjoy the rocky tidepools when the tide is low!
Things to Do at Hacienda Pinilla, Costa Rica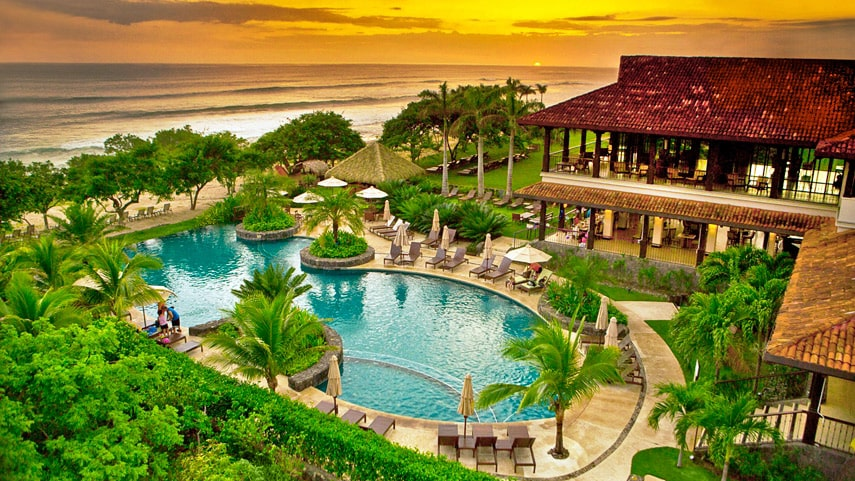 Home to 4,500 acres of historic ranch land, sun-drenched beaches, Pacific Ocean, and rare tropical dry forest, Hacienda Pinilla is a culturally authentic, veritable outdoor playground paired with luxury living.
Here, you're invited to explore, adventure, and play as Costa Rica's cowboys once did: horseback ride along backroads, walk barefoot on the beach, and stroll through the hillside. And quite a lot more, as it turns out! For Hacienda Pinilla is both a heritage property and a luxury resort, outfitted with a wide range of amenities. Within the community itself, you'll find so much to do that you'll never have to leave, unless you want to.
Hacienda Pinilla Beach Club
Where ranch meets sea, the community's spectacular Beach Club, located oceanfront at Playa Avellanas, Costa Rica, offers an infinity-edge swimming pool and breezy pool terrace; a Beach Club Restaurant and Bar, featuring always-fresh ingredients, authentic Costa Rican cuisine, and vegetarian selections; and the Beach Club Fitness Center, which occupies the second floor and offers cardio, weights, and fitness classes with ocean views.
Hacienda Pinilla Golf Course
[caption id="attachment_2080" align="aligncenter" width="830"]
Hacienda Pinilla's golf course is one of the best in Costa Rica[/caption]
One of the top golf courses in Costa Rica, this par-72 course was designed by respected architect Mike Young, to complement and enhance its own natural contours and landscape. The result is an enjoyable course that's also designated as an Audubon Cooperative Sanctuary for its preservation of ecological balance, wending its way through 7,200 yards of tropical forest, Pacific coastline, and unparalleled views.
Tennis Courts
Welcome to tennis, tropical-fied! Located beneath towering royal palm trees and a short walk to the beach, two Hacienda Pinilla courts offer top-quality surfaces and onsite pros who are available to help you perfect your swing. You'll also find a regular schedule of both private and semi-private lessons, as well as group lessons, monthly doubles socials, kids' after-school programs, camps, and more.
Hiking & Mountain Biking Trails
Outdoor enthusiasts will have a blast exploring the trails at Hacienda Pinilla, Costa Rica. Here, a total 45 kilometers (28 miles) of paths and trails interconnect, leading through historic cattle ranch, dry forest, and scenic coastline, inviting you to discover warrens and corners, hillsides and backroads that can be explored only by foot or two wheels. It's wildly beautiful, in the most Costa Rican way possible!
Horseback Riding
We promised you could harness your inner cowboy! Hacienda Pinilla's well-equipped stables welcome you to pick your trusty steed and head out into the campo (countryside) to explore our province of Guanacaste and its rich ranching heritage. Whether you're an experienced rider or have never touched a saddle, there's a trail ride and horse for you. Climb on and get ready to explore over 16 kilometers (10 miles) of horseback riding trails!
Where to Stay at Hacienda Pinilla, Costa Rica:
If you're enamored with Hacienda Pinilla, you're also in luck! This spectacular resort community is a popular vacation destination, which means you'll have many vacation home options to choose from. Here are a few of our clients' favorites:
Hacienda Pinilla | 6 Bedrooms | 6 Baths + 1 Half Bath | Sleeps 16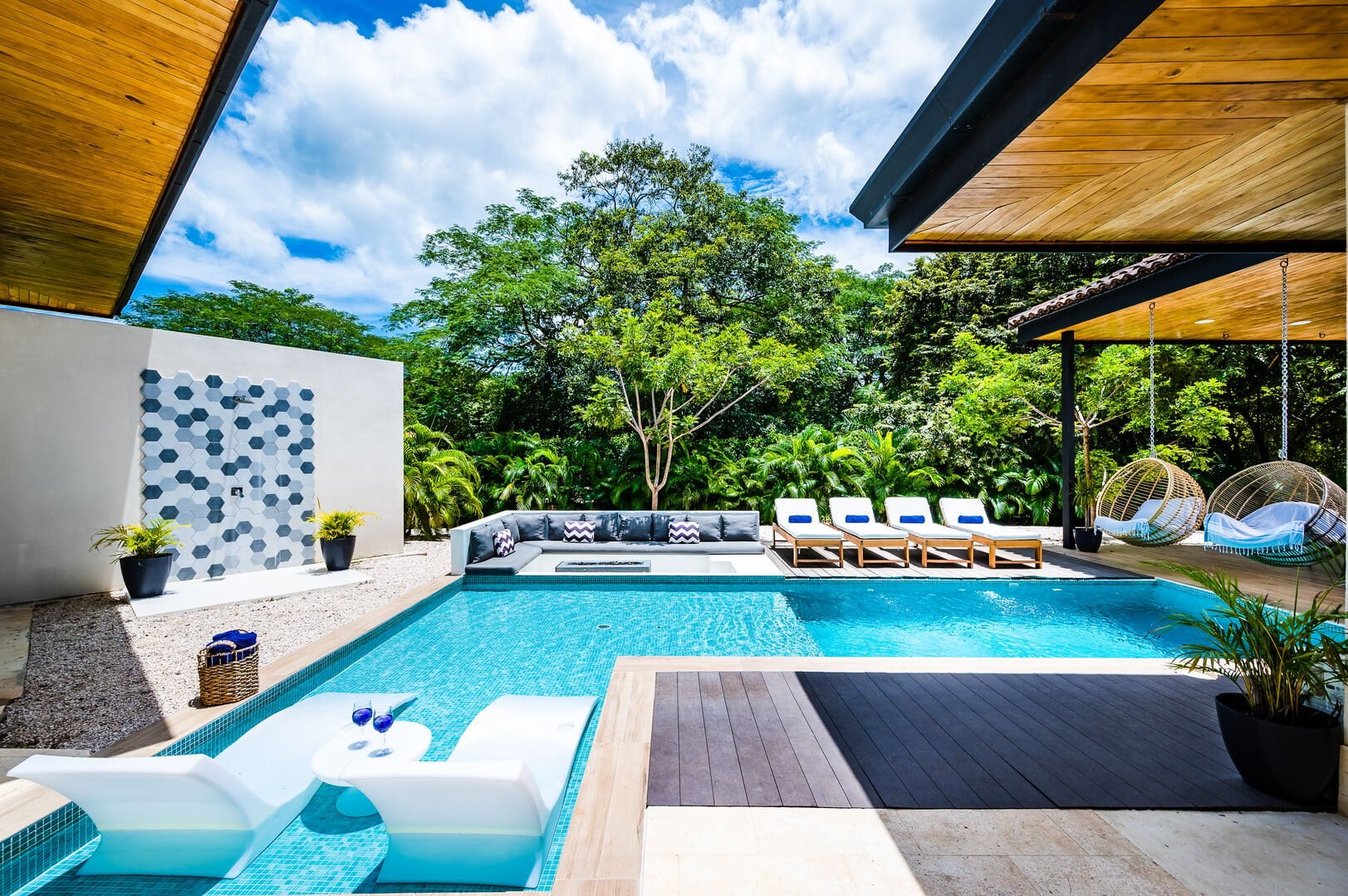 One of our newer vacation rentals, Villa Uana is a spectacular homage to minimalistic design and modern spaces that not only complement but blend with the natural surrounds. Welcome to the luxury of privacy and your own private oasis.
In a word, Villa Uana is bliss. Tropical. Exclusive. Peaceful. Located inside Hacienda Pinilla's quiet Brisas community, this luxury rental doesn't do anything by halves: Here, you'll find not one pool, but two private swimming pools. Not one outdoor lounge space, but several outdoor lounge spaces – some sun-drenched, other shaded.
All this, where monkeys play in a towering Guanacaste tree. All this, surrounded by lush palms and dense foliage. All this, with an outdoor fire pit and dining area (when paired at night with outdoor lighting, it's spectacular!), two outdoor showers, a hidden hot tub, and several rooms with direct access to the garden and pool area – and, well, you'll see why we called it bliss. And an oasis. Welcome!
Hacienda Pinilla | 6 Bedrooms | 6 Bathrooms | Sleeps 17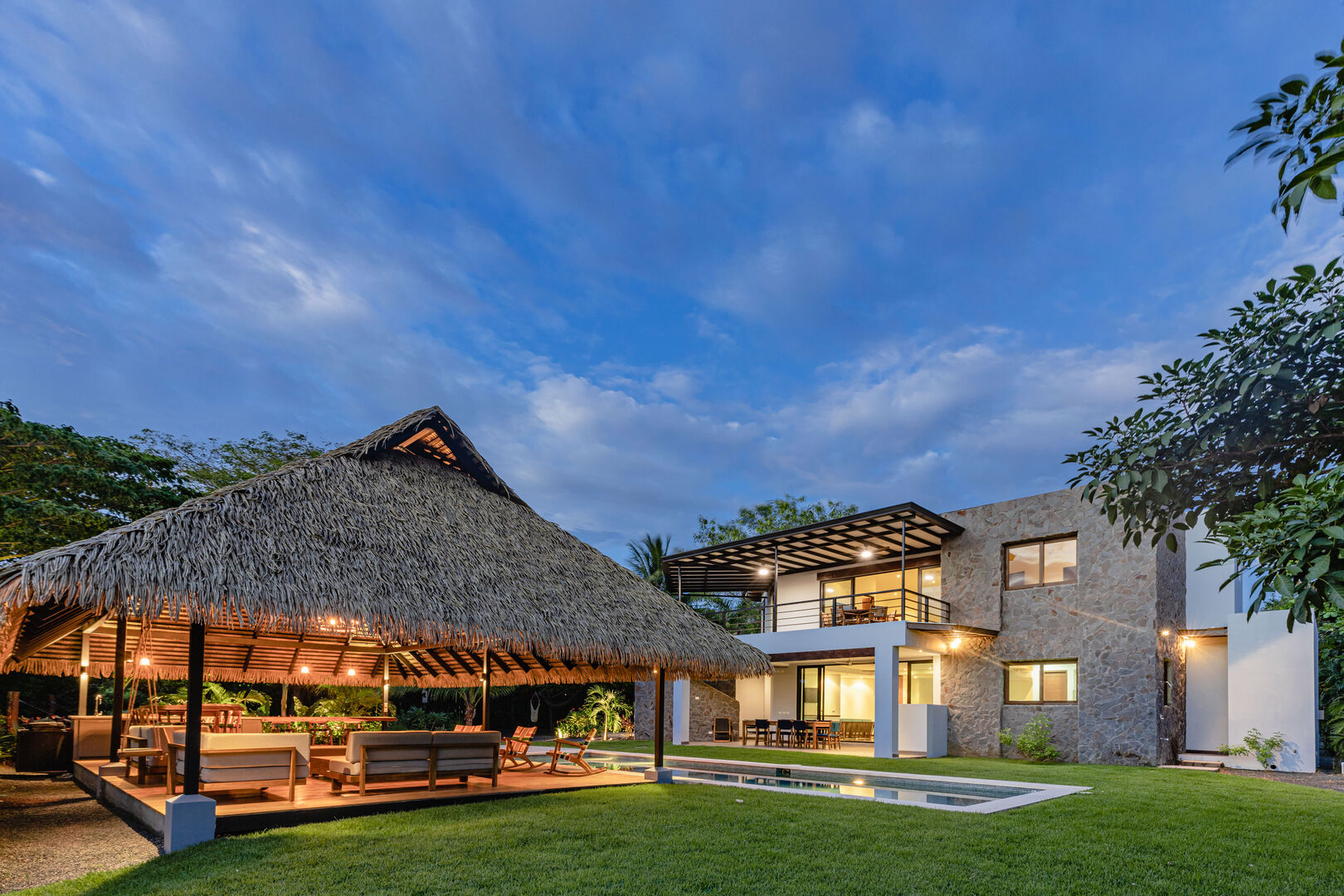 Casa Hamacas is a singular place. Named for the dreamy hammock garden that upgrades its shady backyard into a private retreat, this is the kind of place that bids you slow down, relax, and embrace the spirit of your vacation.
Casa Hamacas strives to exceed your every expectation. Newly remodeled, its six bedrooms, gourmet-ready kitchen, and two living areas embody sleek modernity and tropical living – exemplify the meaning of Costa Rican luxury. And it's all perfectly complemented by the flowering gardens, backyard wildlife sightings, squawking parrots, and Hacienda Pinilla community amenities at your disposal.
And as beautiful as is its interior, Casa Hamacas also begs outdoor pleasures and pursuits. Step into the sun and sidle up to the Balinese-style rancho, outfitted with a full living room, private pool, elegant swings and cozy hammocks, lounge furniture, and an expansive outdoor prep area, gas grill, an oversized dining table. There's almost no reason to stay inside. Well, except that this is Casa Hamacas and the interior is remarkable.
Hacienda Pinilla | 4 Beds | 5 Baths | 12 Guests
If you're looking for a singular home – an oasis that embodies everything you seek, then Casa Navidad answers with consummate style and a dedication to luxury. For here, just 200 meters (0.2 miles) to a secluded beach, you'll discover a minimalist-yet-cozy retreat that defines tropical hygge: a quiet, comfortable environment that you'll never want to leave.
That's because there's much to love about this incredible home. To begin, there are four ensuite bedrooms, each with their own bathroom, king beds, and cable TVs. There's a fully equipped, gourmet kitchen, a cozy living room, and incredible outdoor spaces, which invite true indoor-outdoor living – transition from in to out, and luxuriate in an outdoor living room, shaded terrace, outdoor dining room, and outdoor kitchen station with a grill, wet bar, ice maker, and wine refrigerator.
The joys don't just stop there, because Casa Navidad also offers a private pool and pickleball court, plus our signature Elite Service, which includes daily housekeeping, breakfast, laundry, and more. Welcome to paradise!
Hacienda Pinilla | 6 Bedrooms | 6 Baths | Sleeps 19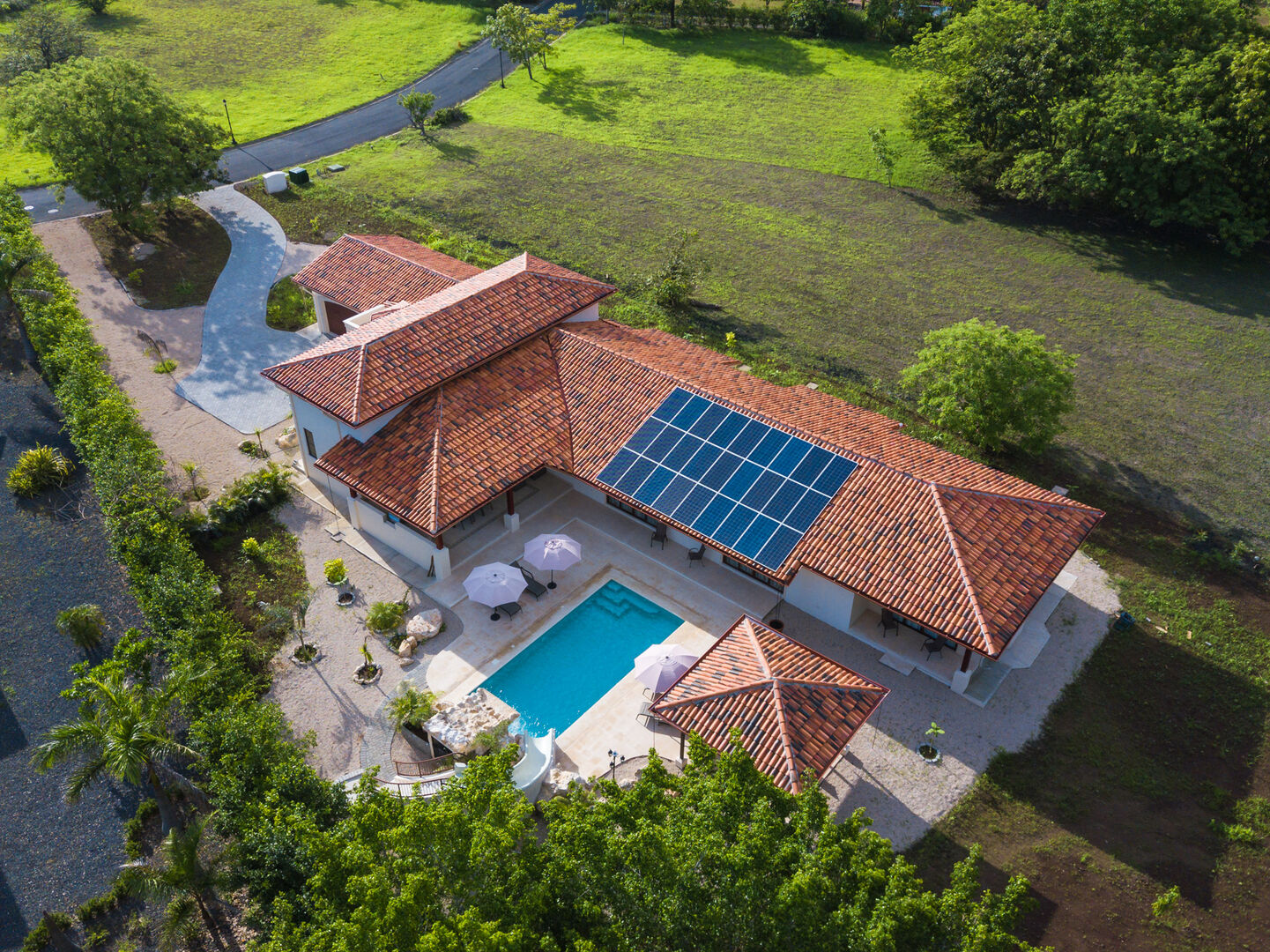 A brilliant sunset, a shimmering pool and, oh yeah!, your own private waterslide – the many delights of Casa Bonita Beach
Set within the luxurious and pristine landscapes of Hacienda Pinilla, Casa Bonita Beach stands at the height of indoor-outdoor living: light-filled interiors – natural stone and soaring glass, rising to high ceilings – that open onto the spectacular outdoors, where await a refreshing pool and waterslide, shaded terrace, and gourmet al fresco kitchen.
It's official: You have found your perfect balance of all things light and bright and perfect for vacation: Entertainment meets elegance. Privacy meets expansive space. Sunlight meets shade. It's that just-right tenor and exactly everything you seek and desire from your vacation home.
Because this is the kind of home you must experience to truly appreciate: It's that moment at sunset, when light streams through floor-to-ceiling glass doors and oversized windows, illuminating Casa Bonita Beach in a fire of gold and orange, pink and purple. It's prepping your catch-of-the-day in a gourmet kitchen, then grilling it beside the pool as your family splashes down the waterslide. And it's retreating to ensuite and filling the soaking tub after another wonderful day in paradise.
Planning a Trip to Playa Avellanas and Hacienda Pinilla, Costa Rica?
If you'd like to book one of our homes (view all our Hacienda Pinilla vacation rentals) or chat about an upcoming trip to Hacienda Pinilla or Playa Avellanas, Costa Rica, please get in touch. At Stay in Tamarindo, we really are different. We really do care about you. And we really will go the extra mile.
We're going to work hard for you. We're going to follow up with you. And we're going to do everything we can, to ensure that this is not just your Best Vacation Ever, but also Everything You Want It to Be.
Because that is what we mean, when we talk about our quality of service: We want to transform the way you travel. We want to deliver the best everything you've ever experienced – including the best value. And we want you to go home completely fulfilled, whether you came to relax for a week straight or packed your days full of every adrenaline-soaked, high-adventure activity you could fit in.
So go ahead, give us a try. Embrace the experience. Live your best life. And now, book your best-ever vacation. It all starts with getting in touch with our concierge!