Things to Do in Guanacaste, Costa Rica: The BEST Times to Visit in 2023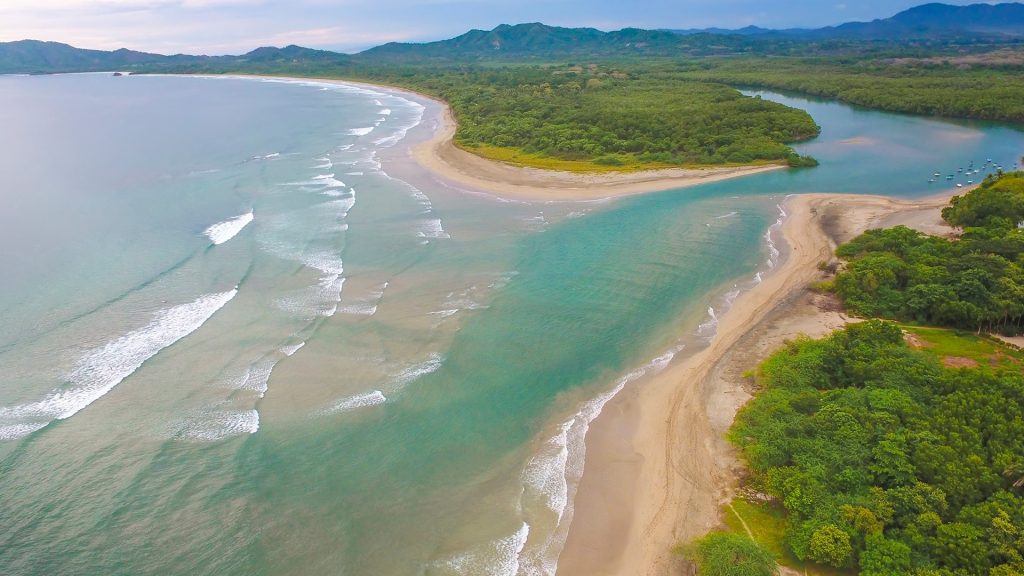 Whether you're here for the tropical sun or have specific wish-list items regarding things to do in Guanacaste, Costa Rica, our tiny nation is forever serving up joy, surprise, natural beauty, and scenic wonder.
That said, there's a season for every kind of trip and every type of traveler. The key is in knowing who you are and the trip you'd like to take. Are you a sunshine-and-beach kind of vacationer or a must-see-and-do-this-specific-thing family? Because Costa Rica's here for you, if you're only willing the plan a little.
Here's the general rule of thumb: Don't assume it'll be the right season for XYZ when you're here; instead, make sure you're here during the right season for XYZ. And for everything else, there's our wonderful, personable, and extremely knowledgeable concierge, Cris, who can help make your vacation dreams come true.
In the meantime, let's start dreaming!
If You… Love the SUN!
Visit: December-April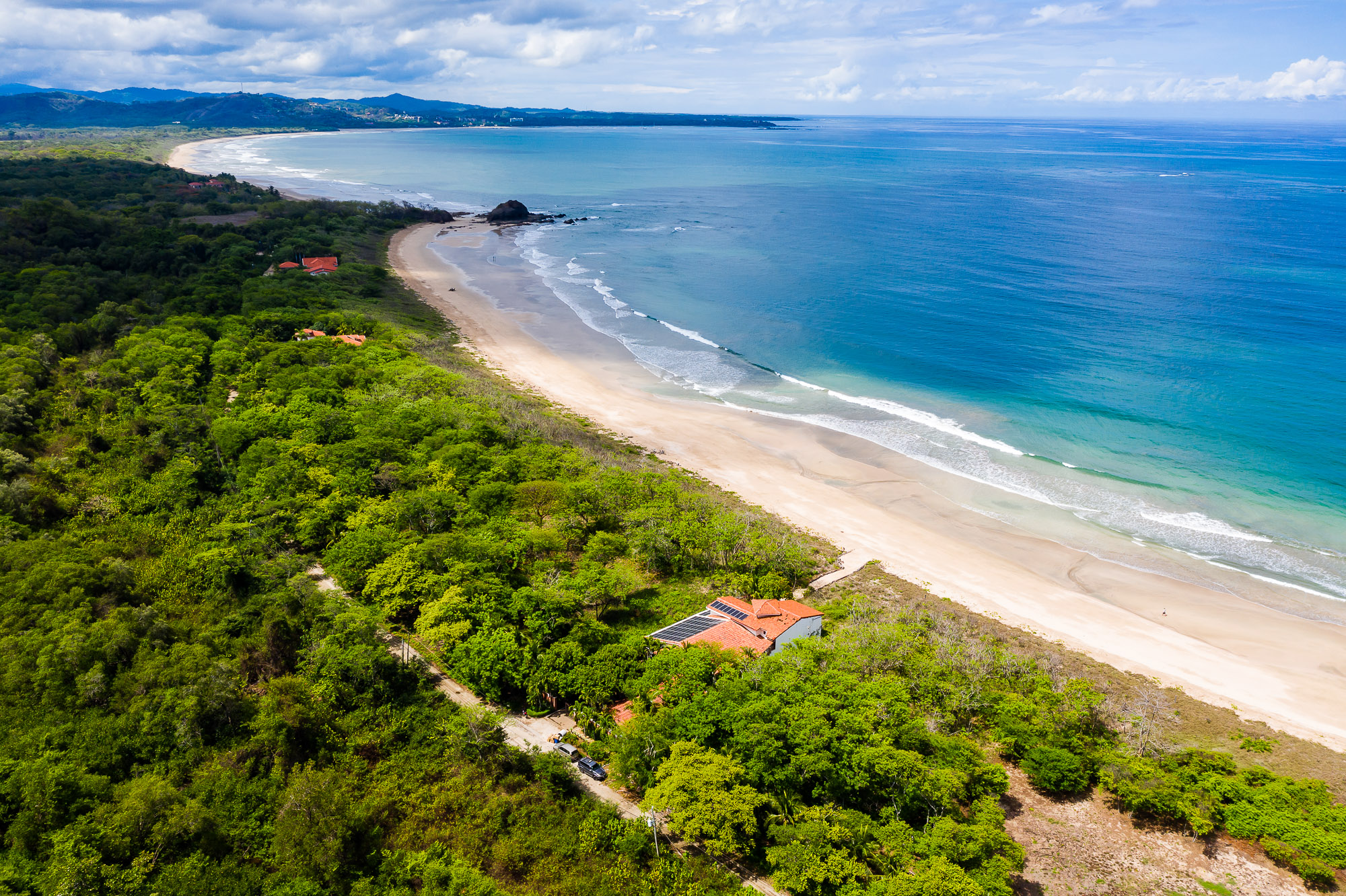 Costa Rica's dry season would be better known as the sun season! From about mid-December through April – and, given specific climatic conditions, often into May – the entire country sees all-day, never-ending sun. We're talking Mother Nature's closest guarantee to warm, tropical, and sunrise-to-sunset sun.
That doesn't mean there's no variation in weather conditions, though. Toward the beginning of the season (typically, December and January), you'll enjoy green landscapes, still-roaring rivers (great for whitewater rafting, waterfall rappelling, and other freshwater things to do in Guanacaste, Costa Rica), and not a cloud in the sky, throughout almost the entire country. (The notable exceptions: Arenal and the Caribbean coast, where January is rainy season.)
By February and March, those green landscapes have faded and the scenery is looking a bit parched. That said, you'll still experience the bright sun and the bluest-of-the-blue skies. By April, depending on where you're traveling, you could see occasional rain showers – although they're still uncommon here in Guanacaste, where you're more likely to experience continued all-day sun.
Particular about the weather? Read more in our Costa Rica month-by-month weather guide.
If You… Want a Great Bargain
Visit: August-October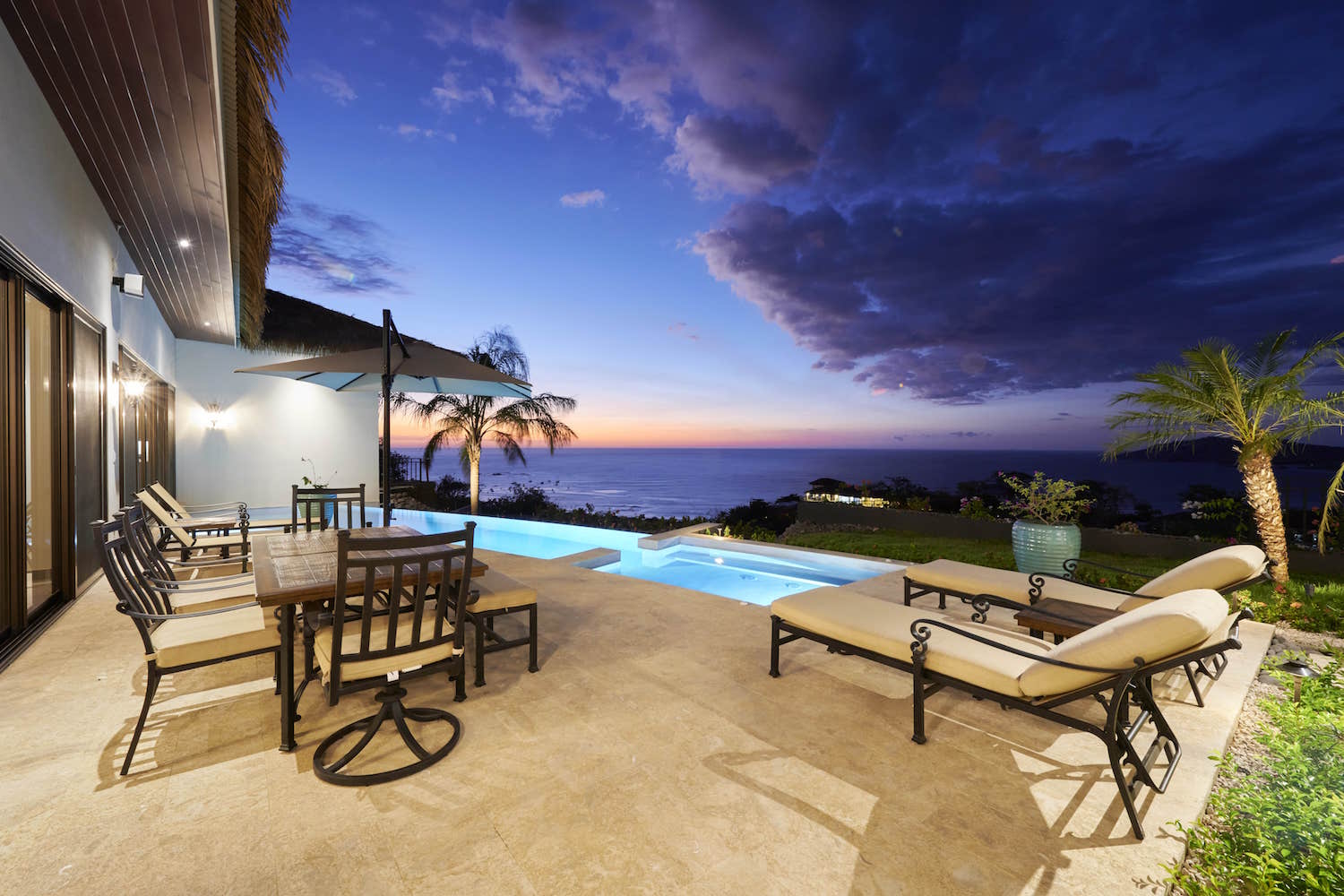 From one extreme to the other! The months of August, September, and October are high Tamarindo rainy season. And that means it's also our low travel season, which in turn means that you'll find the best prices of the year (and still plenty of things to do in Guanacaste, Costa Rica) during this three-month period.
So, before you fall for the guidebook party line that rainy season is miserable, let's allay some of your initial concerns: Depending on the year – and especially on the influences of El Niño (drier) and La Niña (rainier) – in the Tamarindo area, this can mean anything from a gentle sprinkle to a furious thunderstorm and torrential downpour.
What's more, those furious thunderstorms and torrential downpours are usually very short-lived. By this, we mean anything from 10 minutes to an hour or two. What's more, a Costa Rican thunderstorm can be a thing of incredible beauty, especially when viewed from your private, ocean-view pool terrace. There's just something about watching purple storm clouds roll in across the Pacific…
Anyway, in addition to being short-lived, Costa Rican storms also stick to a schedule. If you visit during the high rainy season, plan your activities in the mornings, when the sun is usually bright and the skies clear. Early afternoon brings rains and by evening, especially here in drier Guanacaste, you'll have a front-row seat to the year's most spectacular sunsets.
If You… Crave Festivals
Visit: January 2023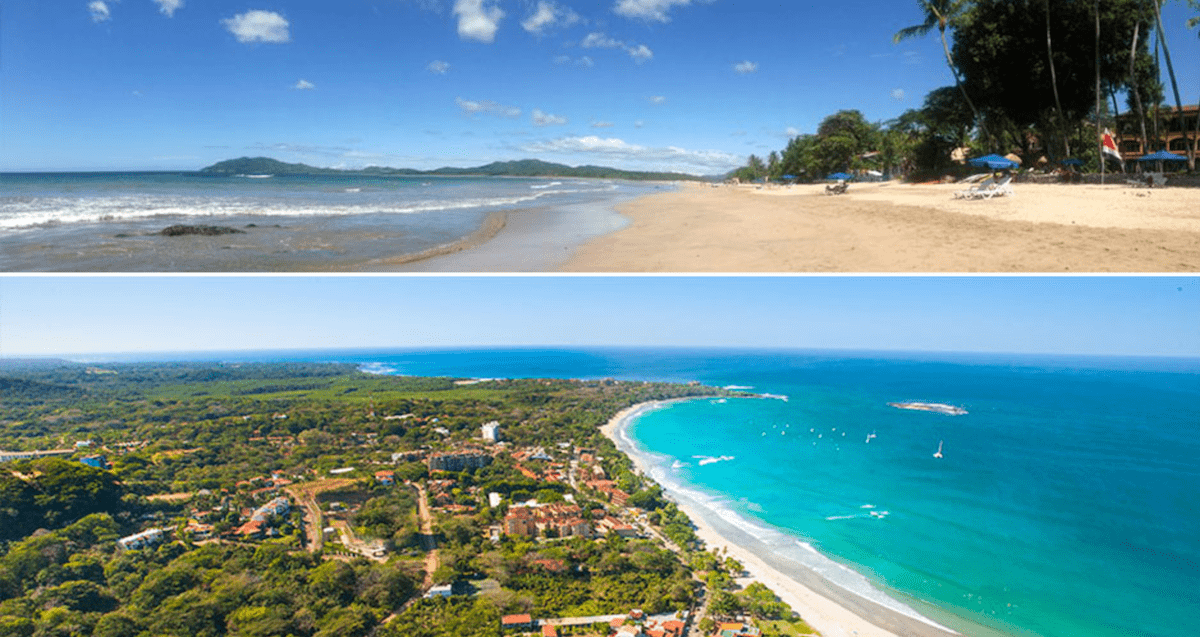 There is so much to love about Costa Rica – from dense biodiversity to startling ocean views – that we rarely hype our local events. And yet, we host great events. World-class events, even. They're some of our favorite things to do in Guanacaste, Costa Rica.
2023 is no different. While there are many scheduled around the country, two big ones are happening right here, near Tamarindo:
Ocaso Underground Music Festival
This world-renowned music festival grows bigger by the year! Whereas it was once a truly underground event with few attendees, it has fortuitously become grander, yet still maintains its intimate festival feel – even with 7,000+ visitors per year and more than 500 DJs booked.
The 2023 iteration of the open-air Ocaso Festival will take place January 6-9, 2023. This year's lineup includes Solomun and Adriatique, with three open-air stages that travel from La Senda to Roca Mística to El Be! in Tamarindo. Tickets are on sale now.
It's about more than just music, though: Ocaso promises to be a place where the world comes together and where spirits meld, together to celebrate the mystical energies of the Costa Rican forests, beaches, and mangroves.
BPM Festival
The BPM Festival, which stands for "Bartenders, Promoters, Musicians," was once a professionals-only industry gathering. (Since 2017, fans and music aficionados around the world have been included.)
This year's iteration is scheduled for January 25-29, 2023 and will turn Tamarindo into its Central American playground for pumping electronic dance and music – a joyous extravaganza that ascends your house/techno music appreciation to a whole new (and beachy) level.
Not only does the BPM Festival bring some of the world's top DJ talent to our sun-kissed Pacific Coast, but this year's even promises a brand-new jungle experience (details coming soon!). Tickets are not yet available for sale, but you can sign up for the presale.
If You… Seek Fewer Crowds
Visit: June-November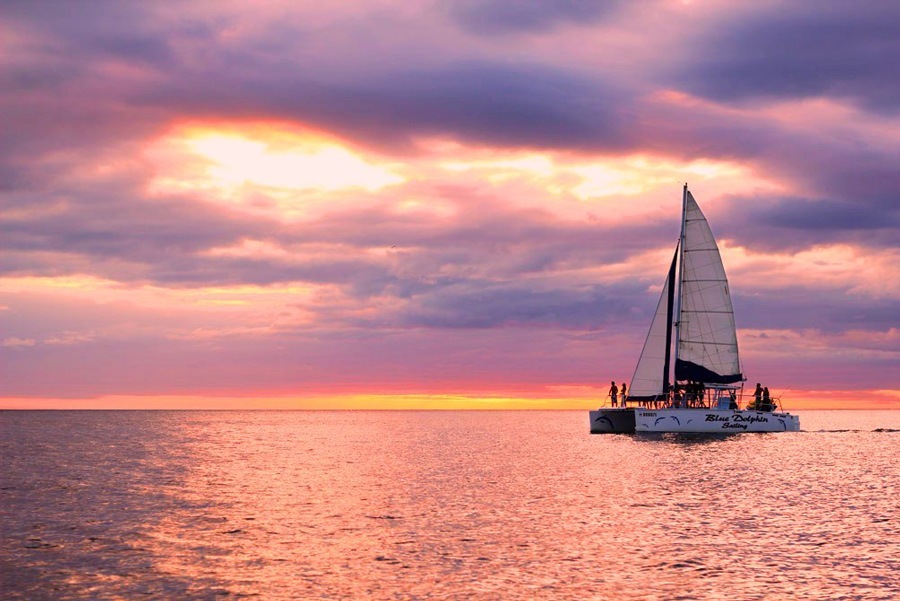 Let's say you're somewhere in the middle of craving all-sun-all-the-time and must-have-a-screaming-deal… Well then, welcome to Costa Rica's low-crowd season!
The simple rule is this: If it's not high season (again, that's December-April, roughly), then you won't have to fight as many crowds. That's because much of the standard guidebook and online advice goes hard on promoting the high season, so many travelers prioritize these months.
The reality, though, is that there's so much to love about the Tamarindo rainy season, when rain is sporadic, rainbows shine, landscapes are spectacular, and the sunsets are breathtaking.
The months of May-June and November-early December are considered shoulder season, which is a somewhat in-between where you can expect great weather that balances with fewer travelers and somewhat lower prices. Then, the rainy season fully kicks in during the month of July – but hold on! that's Costa Rican school summer vacation (first two weeks), so you'll see an uptick in travel and prices then – and continues into November.
This is a time of year when you might be the only visitor at many things to do in Guanacaste, Costa Rica. You could have the beach to yourself. It's never hard to grab an oceanfront restaurant table by sunset. And you'll often have your naturalist guide's undivided attention. And that's something we think you're going to love.
If You… Want to do a SPECIFIC Activity
Visit: Varies
There's a secret to Costa Rican travel, and that secret is that you can't do everything, every month of the year. What we mean by that is that there is a whale-watching season, a sportfishing season, a surf season, and turtle-nesting, and even a rainbow season… To everything, there is a season!
So, here's our first piece of advice: If there are any absolute, hardline, cannot-be-missed, must-do experiences or things to do in Guanacaste, Costa Rica on your list, then plan around them!
Here are a few examples:
Sport Fishing Season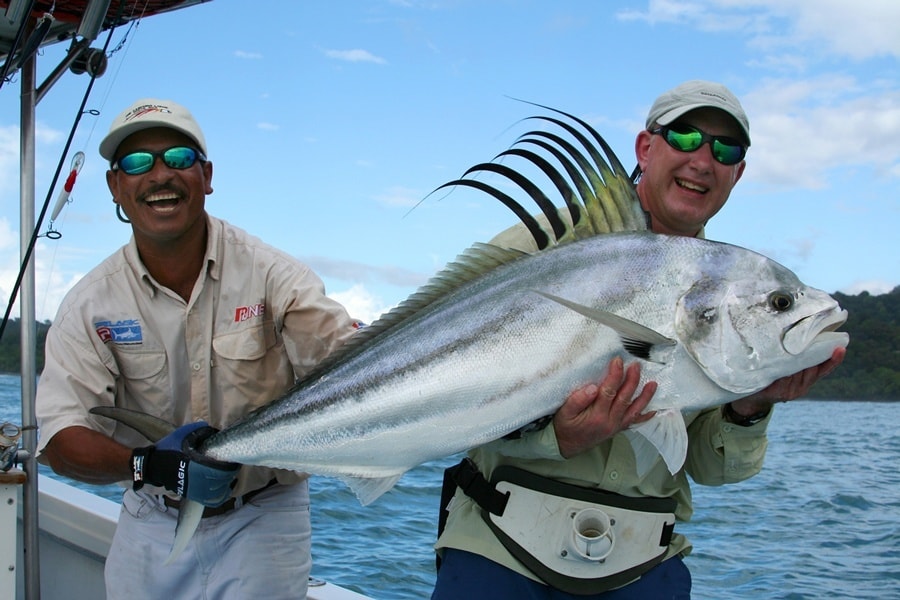 While Tamarindo fishing is mostly year-round – there are always resident and migratory, mating, and/or feeding species in residence – late green season (September, October, and November) is a very special time for Tamarindo fishing. Large marlin (particularly, blue and striped marlin) troll the area in search of phytoplankton and schooling fish, while floating debris and flotsam, stirred up by rains and rivers, hides bonitos, mahi-mahi, and yellowfin tuna, often up to the 125-150 pound range.
This is also an excellent time for inshore fishing, with small yellowfins (up to 25 lbs.), rooster fish, mackerels, jacks, and snappers catching our hooks. Black marlin are also not uncommon near inshore reefs.
Surf Season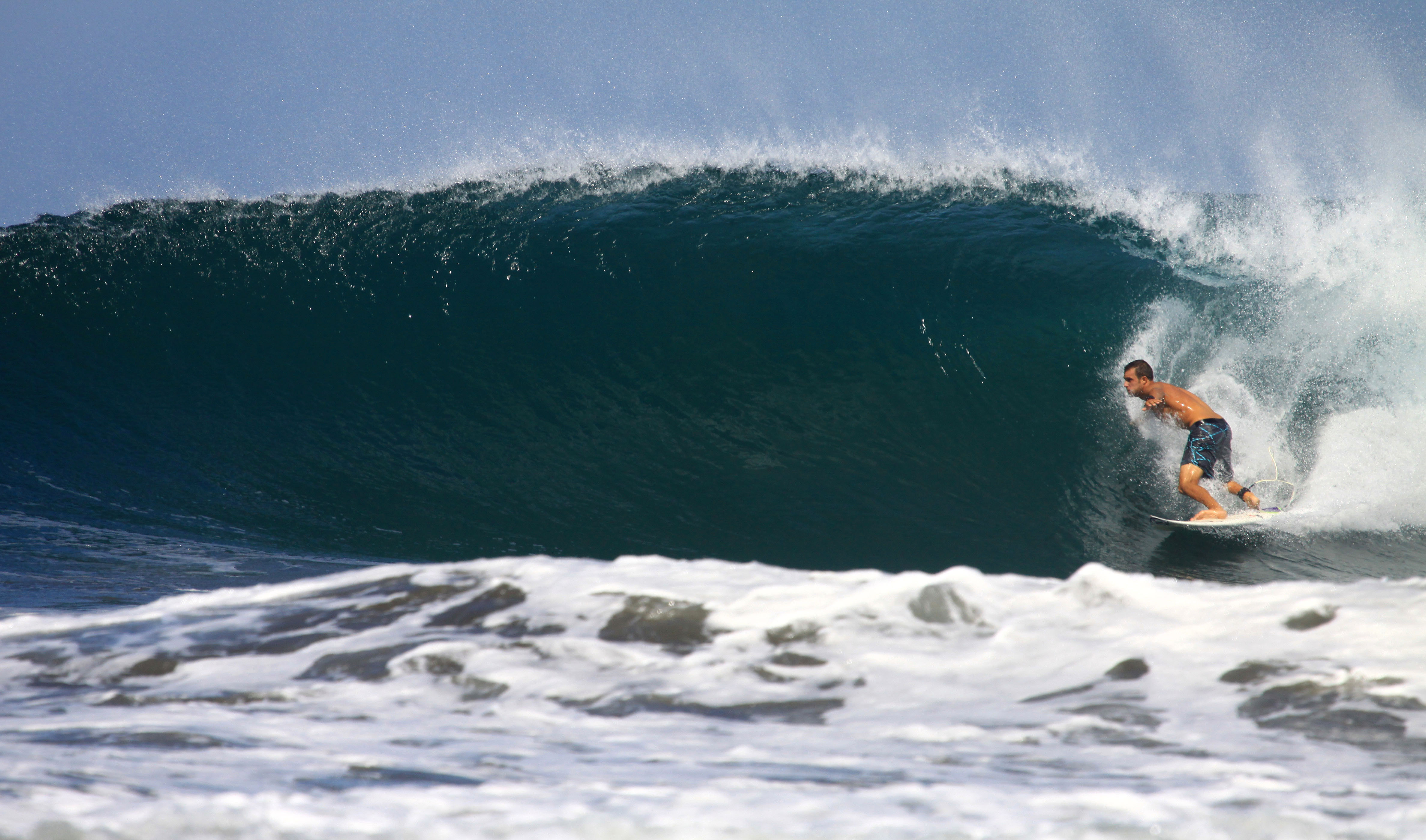 Okay, the good news is that you can surf year-round! But there are still seasons. From March to December, the South Pacific swells kick in with peaks from June through September. In hurricane season – note: Costa Rica is too far south to receive a direct hurricane hit – we see storm-related increases from July to November. And from November to April, the North Pacific swells roll in for some of the largest waves of the year.
Sea Turtle Nesting Season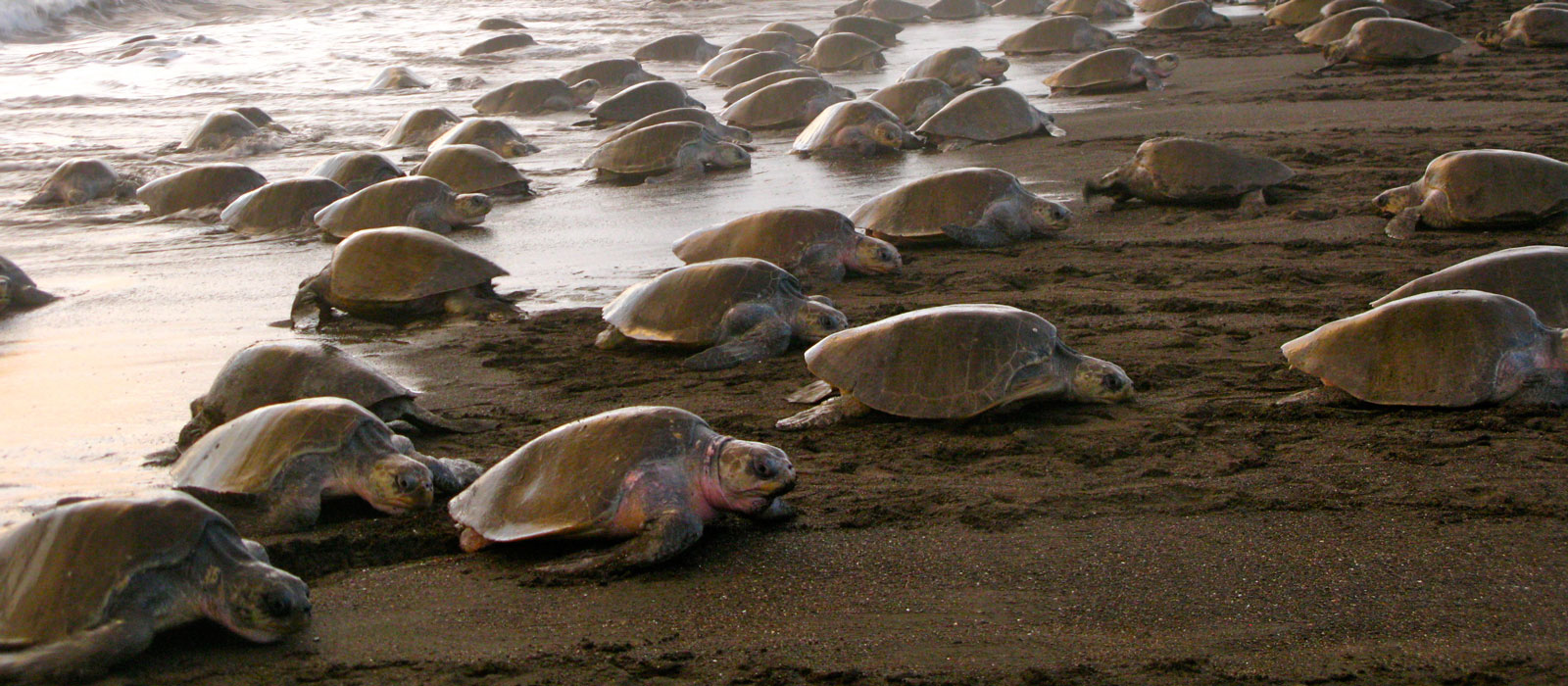 We are strong believers that everyone should witness sea turtle nesting at least once in their lives. It's a quiet, one-with-Mother-Nature experience that stirs the soul. And if that sounds like your kind of travel experience, then you should know that peak turtle nesting runs June to December.
During this timeframe, leatherbacks are at our own Las Baulas National Marine Park but you'll have better luck seeking nesting olive ridley turtles at both Santa Rosa National Park and Ostional Wildlife Refuge. Choose Ostional during an arribada, for your best chances of spotting turtles, both nesting and hatching.
Whale-Watching Season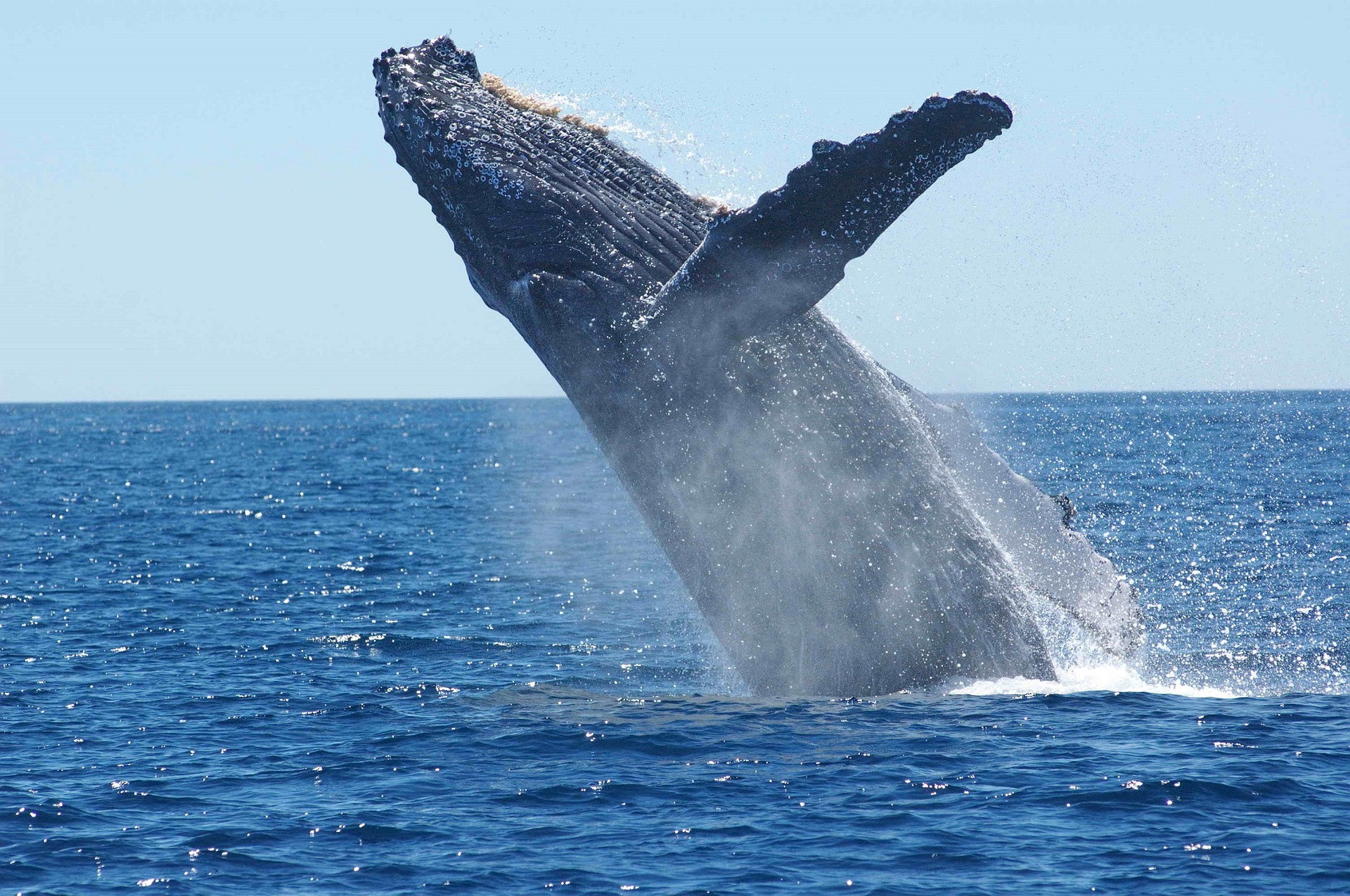 Did you know that Costa Rica has the longest humpback-whale season in the world? And yet, even here, it's not all the time.
In fact, Costa Rica welcomes southern hemisphere whales during their winter months (July to November) and then northern hemisphere humpbacks during their winter months (December through April). In other words, you can spot humpbacks in Costa Rica from about July through April, during which times, you may also be lucky enough to see orcas, pseudo orcas, pilot whales, bottlenose dolphins, spinner dolphins, and many other dolphin and whale species!
Rainbow Season
That's how we think of it, at least! Every year, come Tamarindo rainy season, we witness some of the world's most breathtaking rainbows. They stretch wide and high, promising spectacular moments. And they're best during shoulder season (May-June and November-December), when skies are dappled blue and gentle rains paint the sky in a ROYGBIV kaleidoscope.
Tamarindo | 4 Bedrooms | 3 Baths + 1 Half Bath(s) | Sleeps 12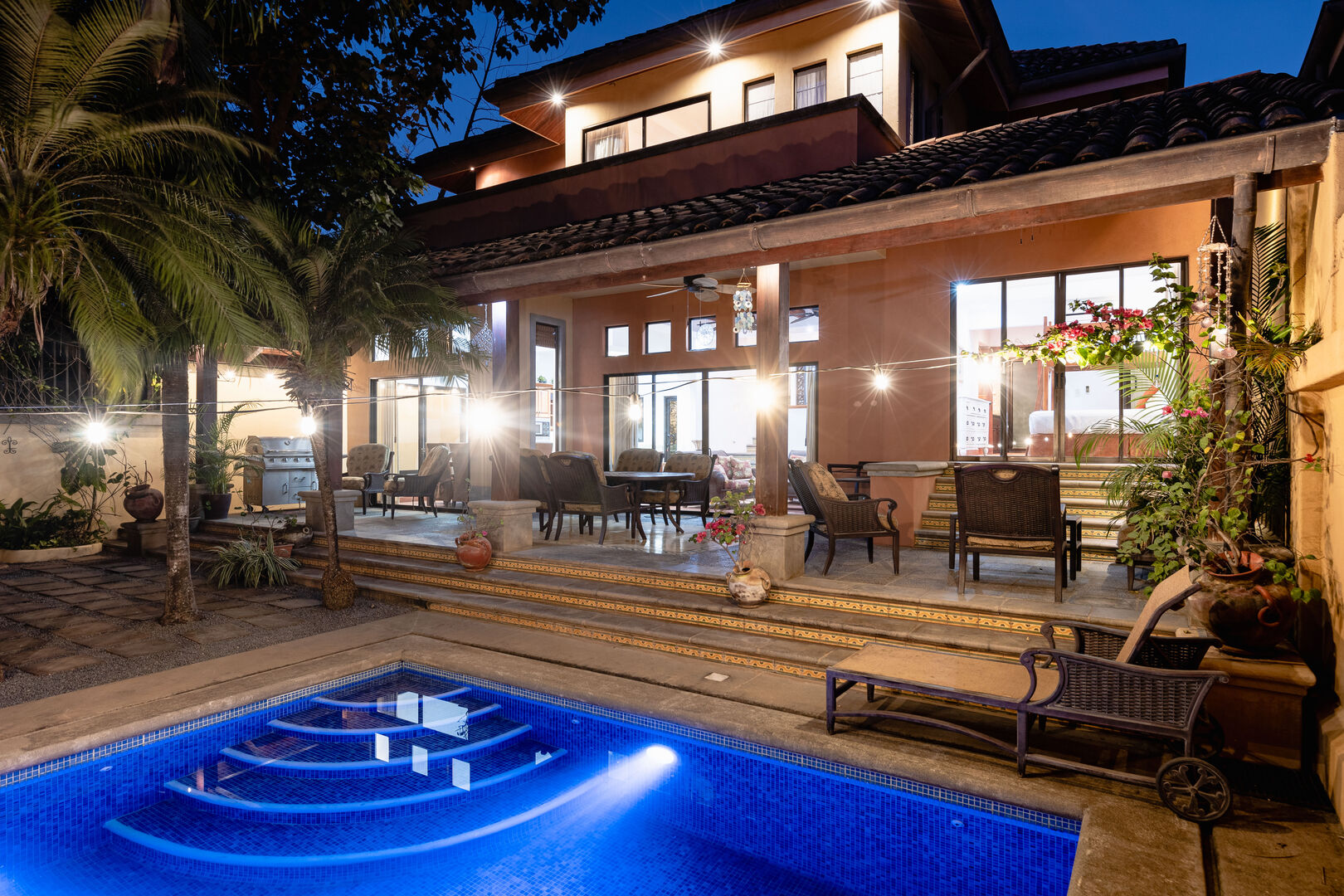 Imagine a secret garden, hidden away in the heart of Tamarindo. Now imagine it's all yours… this is the promise of Casa Calico, a spacious four-bedroom retreat surrounded by lush, tropical foliage and yet just a short walk to Tamarindo's sandy beach and best surf breaks.
This is a special place. With a main home (three bedrooms) plus an independent pool house (one bedroom), Casa Calico dazzles with ample space, a chef-ready kitchen, and generous indoor-outdoor common spaces.
And while there is solitude – the coffee you sip, in the garden by the kitchen; the book you read, in the shade-kissed pool patio; the moments you spend, swimming in the pool – Casa Calico is also in the heart of it all: Just a short two blocks to the beach and minutes to vibrant Tamarindo downtown, you'll have your pick of dining and shopping, activities and entertainment, warm waters and challenging surf.
Hacienda Pinilla | 4 Bedrooms | 4 Baths | Sleeps 11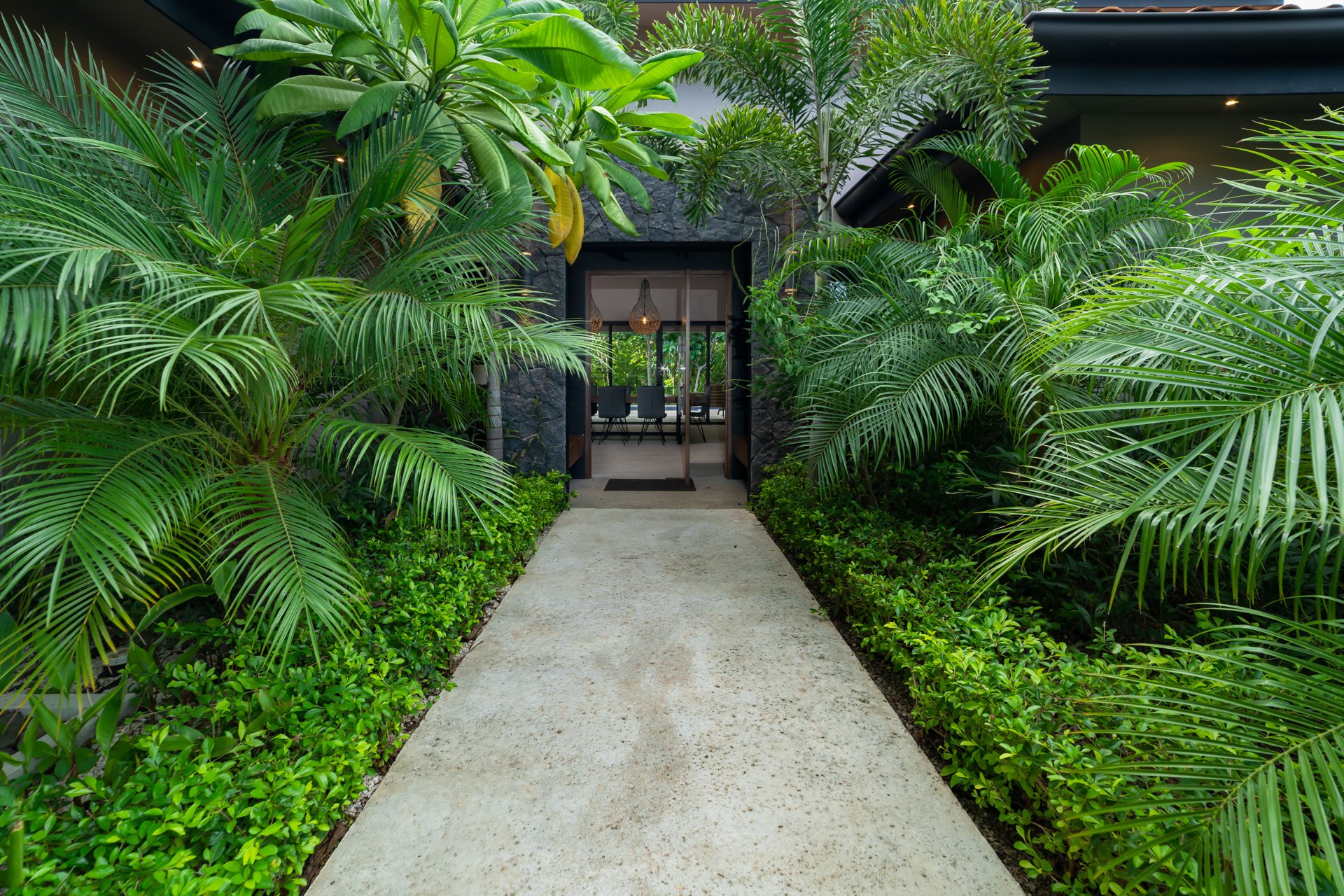 A true gem of tropical luxury, Casa de los Monos is a study in simplicity and natural light, walls of glass and modern architecture – a place where high design meets the comforts of home, and where you fulfill your vacation dreams.
Surrounded by lush foliage – palms, flowers, and tropical trees – to create a natural privacy curtain, Casa de los Monos is both ultra-modern and decidedly tropical. Here, each bedroom has its own private full bath and small open-air courtyard. Throughout the home, abundant sunlight drenches the terrace and streams through windows, pulling your gaze out to your private pool and tranquil gardens, into ample gathering spaces and outdoor living.
And indeed, life at Casa de los Monos is often lived outdoors. Here is where you'll discover the home's namesake – the howler monkeys that hoot their welcome, joined at times by harmonious birds, timid butterflies, and lazy iguanas. This is an invitation to hole up and revel in your privacy or get out and enjoy the vast riches and amenities at Hacienda Pinilla, a spectacular gated community just south of Tamarindo.
Note that your Casa de los Monos rental includes executive access to the wilds of Hacienda Pinilla: Carefully groomed and curated, yes, but unfolding over 4,500 acres of historic Costa Rican ranch land, secluded beach, and rolling hillside. Here, you'll have your pick of the community's 5-star amenities, which include a luxury Beach Club, a championship golf course, spas & restaurants at the JW Marriott, tennis courts, hiking and biking trails, horse stables, and more.
Are You Ready to Transform the Way You Travel?
We know, we know – that's a Big Headline. But we think it's accurate, when you stay with us.
At Stay in Tamarindo, we really are different. We really do care about you. And we really will go the extra mile. We're going to work hard for you. We're going to follow up with you. And we're going to do everything we can, to ensure that this is not just your Best Vacation Ever, but also Everything You Want It to Be.
And that begins with aligning your travel dates with your must-experience things to do in Guanacaste, Costa Rica. This is what we mean by quality of service: We want to transform the way you travel. We want to deliver the best everything you've ever experienced – including the best value. And we want you to go home completely fulfilled, whether you came to relax for a week straight or packed your days full of every adrenaline-soaked, high-adventure activity you could fit in.
So go ahead, give us a try. Embrace the experience. Live your best life. And now, book your best-ever vacation. It all starts with getting in touch with our concierge, Cris!
https://stayintamarindo.sfo2.digitaloceanspaces.com/wp-content/uploads/2022/08/09122638/sit-logo-1.png
0
0
Erin Raub
https://stayintamarindo.sfo2.digitaloceanspaces.com/wp-content/uploads/2022/08/09122638/sit-logo-1.png
Erin Raub
2022-10-31 05:30:07
2022-10-31 11:57:22
Things to Do in Guanacaste, Costa Rica: The BEST Times to Visit in 2023