Luxury Retreats in Costa Rica: Top Venues and 7 Tips to Plan Yours
Planning a vacation abroad can be both exciting and challenging. Planning luxury retreats in Costa Rica? Utterly thrilling but also, often overwhelming.
We're here to help.
From establishing your retreat structure and hammering out a budget to choosing a retreat property and add-ons (private chefs, organized excursions, and more), our tips and Costa Rica know-how dovetail perfectly to help you plan a successful and memorable retreat in the land of the pura vida (pure life)!
Tip #1: Consider Retreat Structure
Retreat structure and budget (tip #2) are inextricably linked and so, when planning luxury retreats in Costa Rica, we recommend beginning with your retreat focus and structure.
How many people are you comfortable hosting? (And for how many people can you provide a premium experience?) Do you envision a retreat that is more laid-back, relaxation, and wellness-focused, or do you plan on a more structured schedule packed with speaking topics, planned activities, and guest experts? Are you seeking a completely private space?
There is no right or wrong but there is a decision to be made.
Why now? Why so early in the process? Because your structure and inclusions will largely affect the retreat budget. For example, if experts or leaders will accompany paying guests, you'll have to factor in not only their retreat fees but also their accommodations, meals, travel expenses, and more.
What's more, if you envision a retreat with planned activities – be they anything from rejuvenating spa treatments to high-adrenaline team-building / group-bonding activities – then that both builds on your retreat goals while increasing the base price. And that brings us to…
Tip #2: Set Budget Expectations

Even for luxury retreats in Costa Rica, budget is an incredibly important consideration and element to your planning.
"Luxury" evokes certain expectations – and they're usually not of the stratospheric variety, at least not as far as budget in concerned. Bottom line: Unless you're planning a top-of-the-line retreat for an audience for whom money is no object, then budget will be a consideration for your guests. As such, it should be a first-line consideration for you, too.
If this is the first time you're planning a retreat, it can help to begin by pricing similar luxury retreats. Of course, similar is relative. Whether you go for similar in retreat type (ex. a yoga retreat), similar in destination (other luxury retreats in Costa Rica), or similar in another way (ex. all-inclusive), this exercise will help you set your expectations regarding your guests' budget expectations.
Luxury Retreat Venue: El Chante
Tamarindo | 8 Bedrooms | 8 Baths + 1 Half Bath | Sleeps 19
If you're searching for that ephemeral quality of "something special," then welcome to El Chante. Seemingly designed for luxury retreats in Costa Rica, this sprawling, open-air, Balinese-inspired property is a warren of paths and wooden stairways, comprised of nine separate structures – of a promise that you can have it all, even when that "all" extends to retreat spaces and privacy.
Home to upscale amenities, spacious common areas, a spectacular ocean-view swimming pool, and breathtaking views, El Chante welcomes your retreat group to sustainable living, a resort setting, and plenty of privacy, courtesy of private bungalows and individual guest suites.
Surrounded by the glories of nature and some of Tamarindo's best views, this retreat-ready vacation home overlooks Tamarindo Beach, the estuary, and the sparkling Pacific. Swim beneath the shade of leafy trees and lounge in the sun. Dine outdoors or in. Host meetings and sessions on the pool deck. And then, retreat to the luxury of your own, private suites and ocean views.
As far as retreats go, you'll appreciate how accommodating the villa is, with 8 spacious bedrooms, bathrooms for all, and approved for events up to 50 guests. At the crossroads of show-stopper and event zen, El Chante offers two separate event spaces and noise restrictions don't set in until 10 p.m., so you're free to organize events, dinners, and even evening entertainment to create the perfect retreat experience.
Here, your retreat can have it all. Welcome! 
Tip #3: Think About [Specific] Location
There are two primary location considerations to address at this point: the region/town location and accommodations.
Let's begin with the first. Since you're here, researching luxury retreats in Costa Rica, we'll assume that Costa Rica has made your country shortlist. From there, you'll have one major decision: beach or mountains?
Costa Rica offers about 800 miles of coastline, so there's a lot of "the beach." This is the Costa Rica of postcards and panoramic views – of blue Pacific and the turquoise Caribbean, soft sands and the vibrant rainforest. "The mountains," on the other hand, are the Costa Rica that few experience: rolling coffee fields and chilly evenings, sweeping valleys and active volcanoes.
Once you've determined whether your guests will prefer the beach or the mountains, you can begin to research potential retreat venues. As you consider the possibilities, keep your eye on:
Bedroom Spaces: Many luxury retreat guests will expect their own bedroom and bathroom, preferably as an ensuite configuration.
Living Spaces: When you're not in your private spaces, you'll be spending a lot of the retreat in your shared spaces. Make sure they not only fit your group's needs but also your retreat's aesthetic and guests' luxury expectations.
Amenities: Speaking of luxury expectations, ensure your venue's amenities fulfill your guests' dreams, from the beach access to the pool to the lounge spaces to the recreation options.
Inclusions: You can't always compare retreat venues as apples to apples. While some are stripped down to the bare bones (in order to display a bare-bones price), others go all-in on luxury inclusions, such as daily breakfast, meal preparation, bartending, and more.
Tip #4: Give Yourself Plenty of Time
You'll want to give yourself a minimum of at least 6-9 months (preferably, 1+ year) to plan. We realize that sounds like a lot. And, yes, given the right conditions and a fair dose of luck, you could plan a retreat on a tighter timeframe. But we wouldn't recommend it, if only for your stress levels.
When you give yourself a generous time frame, you not only minimize your stress but maximize your options for venues, services, activities, and many other retreat accouterments. But back to venues: The country's largest vacation homes – that is, the ones ideally suited to luxury retreats in Costa Rica – often book up 9-12+ months in advance.
Give yourself a minimum of at least three months in advance to plan for. Start with the largest bucket (location) and the content of your retreat and work your way down to not-so pressing things like what snacks to keep in the fridge and what to do during the little spurts of free time.
Luxury Retreat Venue: Villa Uana
Hacienda Pinilla | 6 Bedrooms | 6 Baths + 1 Half Bath(s) | Sleeps 16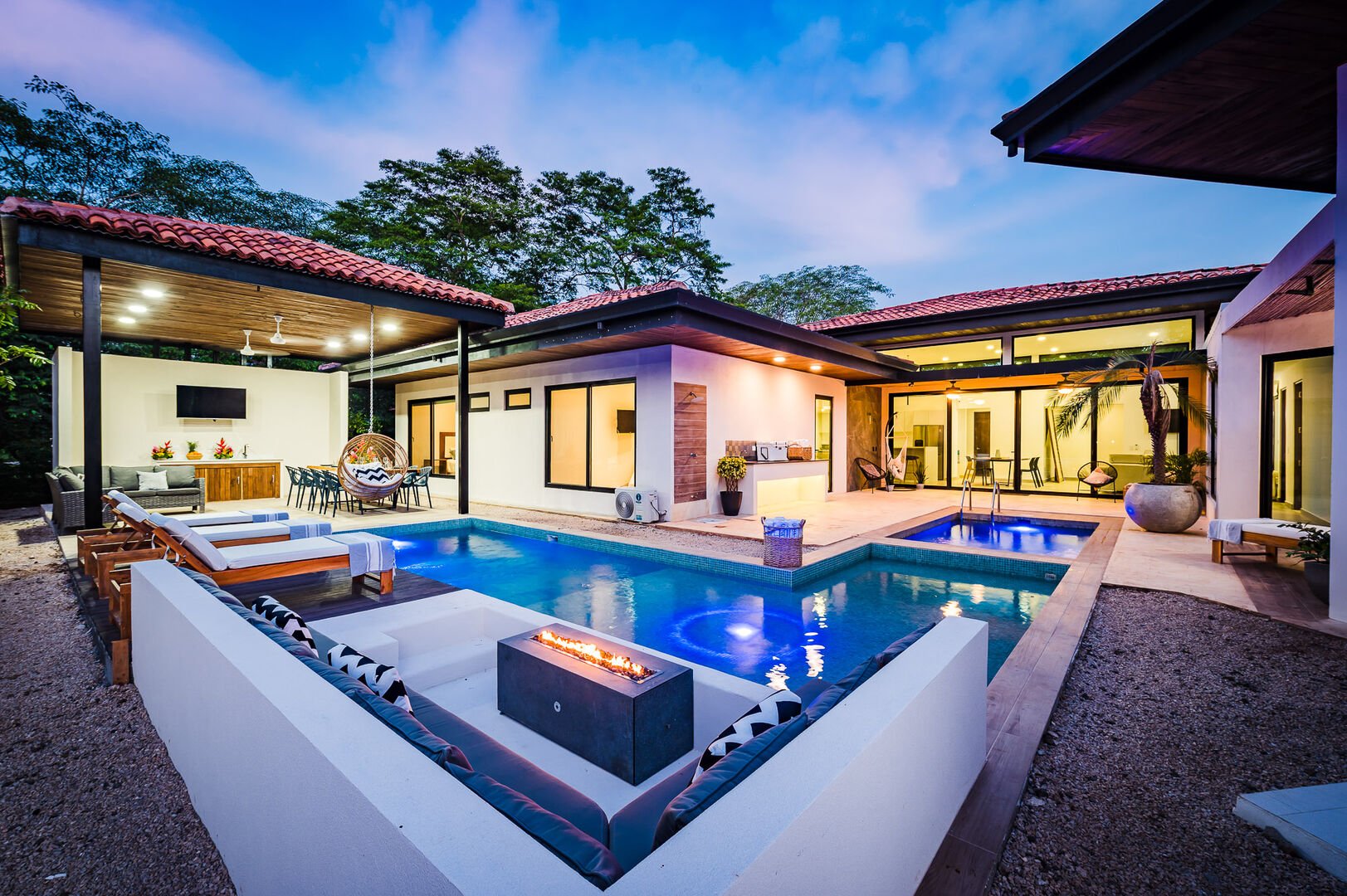 An ode to natural light and streaming sunbeams, to tropical luxuries and modern architecture, Villa Uana is a spectacular retreat to minimalistic design and modern spaces that not only complement but blend with your natural surroundings. And those natural surroundings are largely why you're here.
For this is a private oasis designated for your retreat alone: Tropical. Peaceful. Exclusive. And yet, in the heart of Hacienda Pinilla, one of Costa Rica's most exclusive and luxurious resort communities, equipped with a championship golf course, tennis courts, hiking and biking trails, horse stables, a multi-million-dollar Beach Club, and access to three pristine beaches.
Back at Villa Uana, you'll feel wholly part of and yet wonderfully removed from it all. Home to two private swimming pools and several outdoor lounge spaces – some sun-drenched, others shaded – the home is built for both time together and time to oneself.
Gather around the outdoor fire pit and outdoor dining area (spectacular with night lighting!), spend time in the pools and the hidden hot tub, and discover why retreat guests deem this a blissful oasis. And then, retreat to the privacy of the home's bedroom suites (four with direct garden and pool access), fully equipped for your guests' comfort.
Tip #5: Map Your Retreat Focus to Location Services & Amenities
You've already homed in on your retreat focus and location, which means you can now begin to map your needs and wish list to what's available locally.
Because you'll want to coordinate and plan in advance, as much and whenever possible. The earlier the better. And the more detailed the merrier. Because retreat planning can get complicated
Retreat Planning Tip: When you book your group vacation villa with Stay in Tamarindo, you also gain access to our complimentary travel concierge services, guaranteed to transform the way your group travels! In addition to all the (free) benefits of working with our concierge, this also means that your group point person won't actually be required to do any of the planning; they will be more of a liaison between your group and our expert planners. Talk about stress relief.
Tip #6: Create a Clear & Irresistible Retreat Plan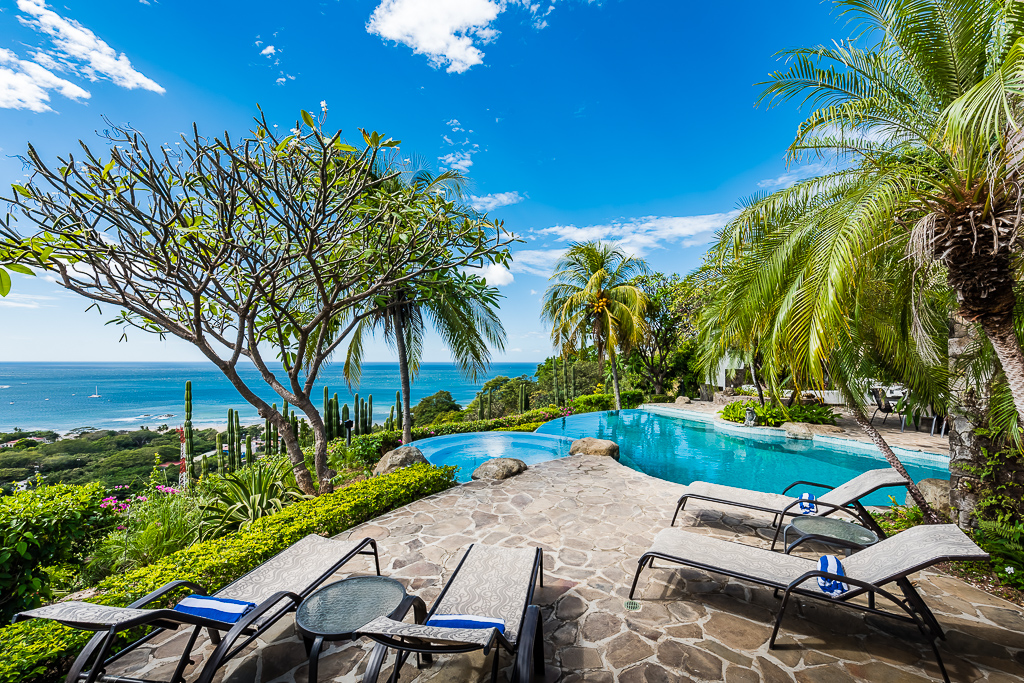 Once you've worked out most of the details, it's time to start putting plans to paper.
We recommend starting with the cut-and-dried, tried-and-true, no-frills basics. Everything you hammered out, refined, and perfected during tips #1-#5? Write them all down. Make sure you don't forget any of the details or the inclusions. Be thorough.
Once you're sure you have the basics comprehensively documented, then it's time to romanticize the details. Think of your retreat guests: What do they care about? What details will be most tantalizing and tempting for them? What kind of language is common in your industry?
Really put yourself in the shoes and minds and hearts of your retreat guests. And then, write your heart out. Create a retreat description, schedule, and plan that they really, really won't want to say no to.
And finally, market the heck out of it. Use your social networks, email lists, and all other channels available to you to spread your message far and wide. Get your offering to the eyes that most want to see it. And now, just wait for the reservations to roll in.
Tip #7: Partner with Local Experts to Plan Luxury Retreats in Costa Rica
At Stay in Tamarindo, we really are different. We really do care about you – your entire retreat group. And we really will go the extra mile.
We're going to work hard for you. We're going to follow up with you. And we're going to do everything we can, to ensure that this is not just your Best Retreat Ever, but also Everything You Want It to Be.
We have successfully hosted numerous luxury retreats in Costa Rica – everything from yoga retreats and corporate escapes to reboot lifestyles and wellbeing vacations. Our team will partner with you to help you find the right accommodations – many of our large group properties are suitable for luxury retreats! – and venues for meals, sessions, activities, and/or transportation around Costa Rica.
We hope to transform the way you retreat. We want to deliver the best everything you've ever experienced – including the best value. And we want you to go home completely fulfilled, whether you came to relax for a week straight or packed your days full of every adrenaline-soaked, high-adventure activity you could fit in.
So go ahead, give us a try. Embrace the experience. Live your best life. And now, book your best-ever vacation. It all starts with getting in touch with our concierge, Cris!
https://stayintamarindo.sfo2.digitaloceanspaces.com/wp-content/uploads/2022/08/09122638/sit-logo-1.png
0
0
Erin Raub
https://stayintamarindo.sfo2.digitaloceanspaces.com/wp-content/uploads/2022/08/09122638/sit-logo-1.png
Erin Raub
2022-06-15 05:30:40
2022-06-26 10:09:02
Luxury Retreats in Costa Rica: Top Venues and 7 Tips to Plan Yours