Costa Rica Group Travel: 9 Tips for Planning the Perfect Vacation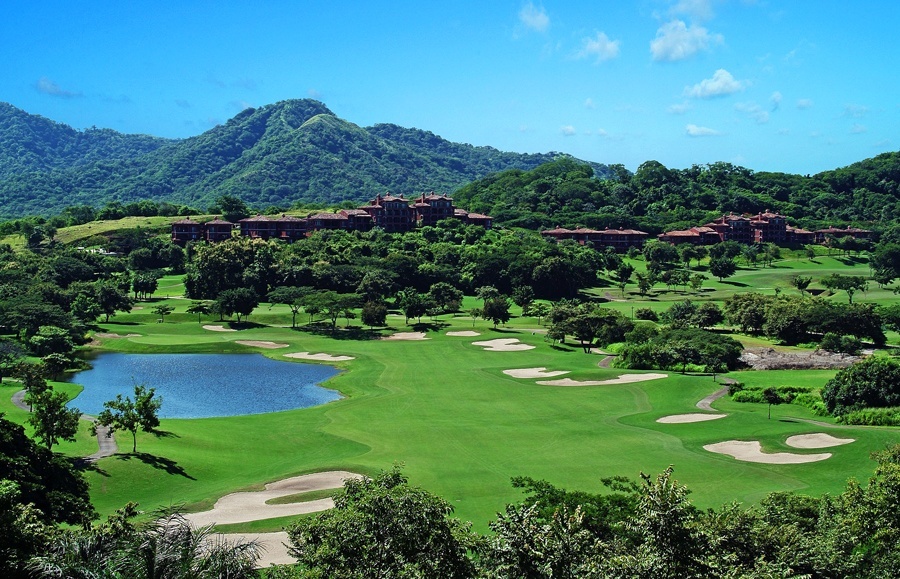 Group travel – be it a family reunion, friend groups, couples, or multiple families traveling together – can be an incredibly enjoyable, unforgettable experience. It can also be a tad (sarcasm alert!) tricky to plan. Luckily, we've pulled together the 9 expert tips for your Costa Rica group travel planning:
Tip #1: Give Yourselves Time to Plan
To minimize planning stress and maximize your available options, ideally, you'll begin planning your Costa Rica group trip at least a year in advance.
We know – someone, somewhere, is reading this and saying, "but I've planned a group trip just three months out!" And, you're right: Given the right circumstances, the right conditions, and just a bit of luck, you can plan group travel on a tight timeframe. We just wouldn't recommend it.
The benefits of planning in advance are several, but they mostly revolve around your stress levels and getting everything you want: The narrower the timeframe, the harder it is for your entire group to plan for time off of work or other commitments, the fewer group-sized vacation villas are available, the more booked are your desired tours and excursions, the higher the airfare (typically), and so on. And with all that on your plate, you're more likely to feel pressured than excited. And you want to feel excited!
So, if you can, start planning group travel 9-18 months (preferably 12+ months) in advance.
Tip #2: Confirm Individual Commitments & Budget
There's a difference between bandying about the idea of group travel and actually committing to group travel.
Now's the time to secure commitments from individuals, couples, and families – from all your independent parts. Because this is also the time to discuss (general) budgeting, and budgeting is dependent on how many people are traveling.
Why's that, you ask? Because, while some elements of your trip are per person – think: tours, restaurant meals, etc. – other budget items are shared between your group: the villa rental, private chef services, private tours (which are typically billed as a whole, not per person), and more.
Set up a budget pool: a set amount that each person will contribute to the group whole, to use for shared expenses. If your group isn't 100% sure on how much this might be, nail down a daily range – for example, $250-$275 per person, per day, inclusive of your villa rental, meals, transportation, and excursions.
So, seek commitments. Make sure they're sure. And then, move on to the all-important next step in the planning process.
Tip #3: Choose Your When (Before Your Where)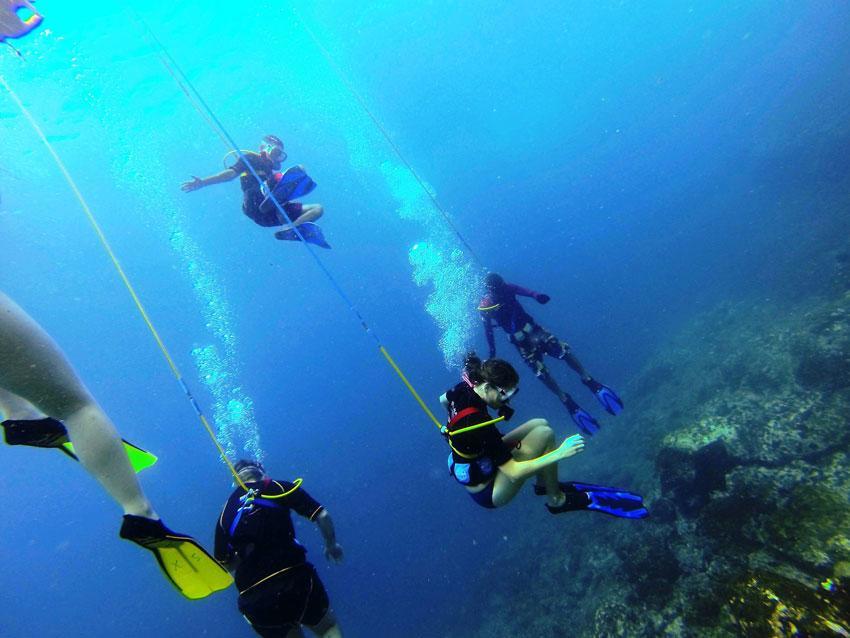 Your when can be even more important than your where – but perhaps not for the reasons you think!
To start, narrowing down a single week (or two) that 10, 15, or even 20 people can all take off, at the same time, can be a major challenge in today's busy world. But that's just the beginning because, as soon as you have that week, then you have to consider other factors:
Seasonality: Does your chosen vacation week(s) fall into a seasonal high or low season? If it's low season, why? An afternoon rain shower, for example, is different than the serious threat of hurricanes!
Availability: If you're traveling during high or peak season, and you're not planning 1+ year in advance, you may find that your top vacation villa choices, tours, private chefs, and other vacation elements are already booked.
Cost: It's good that you've already nailed down a group budget range because, depending on your when, you may find that some of your destination options are out of budget for this timeframe.
Hacienda Pinilla | 6 Bedrooms | 6 Baths | Sleeps 20
Welcome to the home of your Costa Rica group travel dreams: Casa Hamacas, your own private resort, strung with hammocks, outfitted in luxury, and home to all the space and amenities you need to enjoy your travels.
Because Casa Hamacas is more than paradise; it's the kind of place where no one draws the short straw. The kind of home where each of its six bedrooms is a full ensuite, so no one shares a bathroom or sleeps in a bunk bed. And where you'll have plenty of space to lounge – by your private pool, in the thatched outdoor living room, and in the shady tropical hammock garden.
Casa Hamacas is also located within the luxurious community of Hacienda Pinilla, granting your group access to a spectacular Beach Club, championship golf course, tennis courts, hiking and biking trails, three pristine beaches, and epic surf, among other amenities.
Tip: Use our split-cost calculator (below the "Book Now" button) to quickly determine the rate per person or per bedroom!
Tip #4: Choose Your Where (After Your When)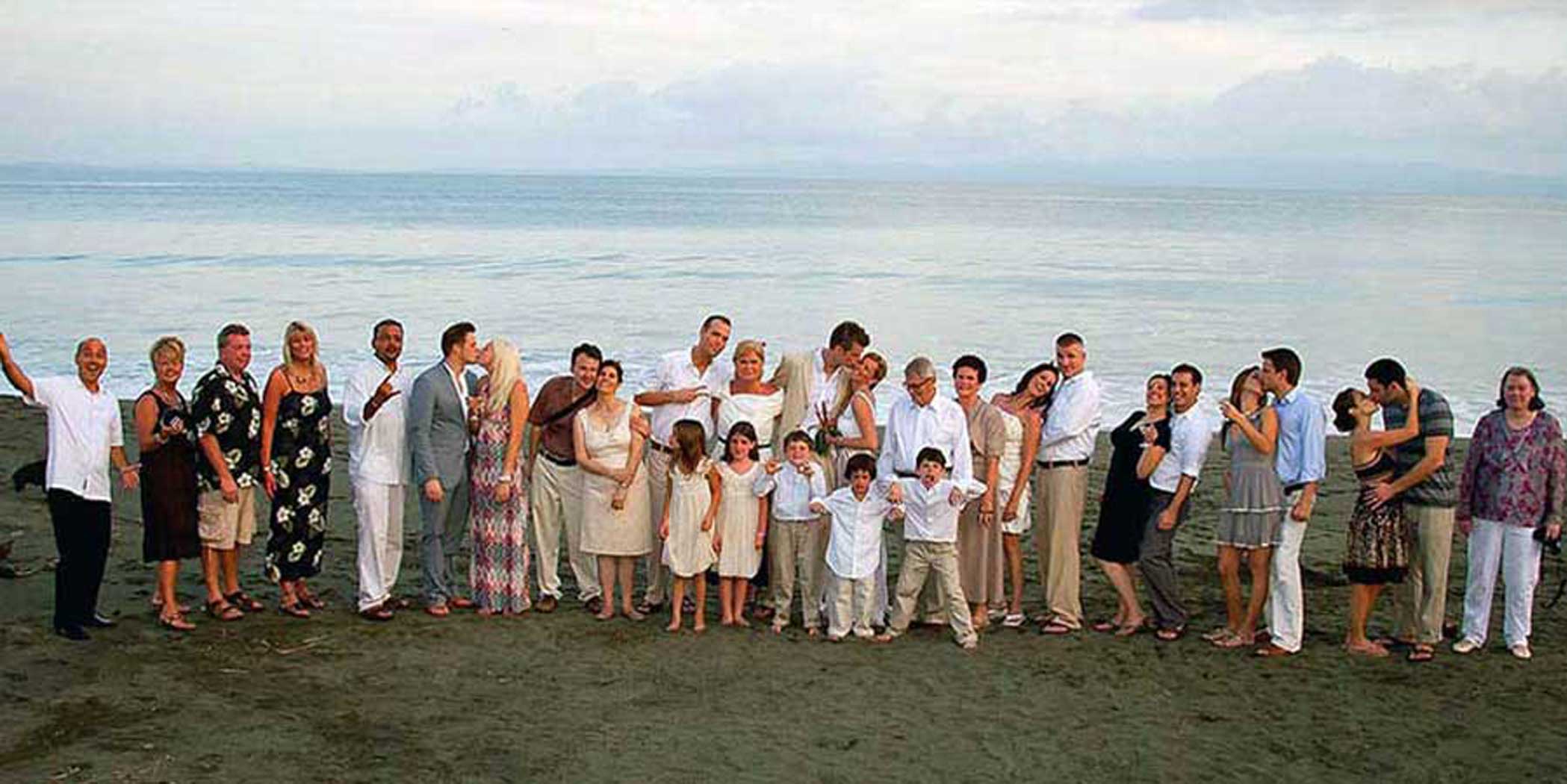 We recommend discussion destinations after you've picked your vacation window. Why? Because your destination is a function of your vacation dates.
Let's say you're planning Costa Rica group travel (and that's a fair assumption, given that you're reading this!). Your dates will dictate:
Group Vacation Home Availability: At Stay in Tamarindo, we have one of the largest inventories of vacation homes in Costa Rica. Even so, at any given time, we have 15-18 group vacation villas (6+ bedrooms) in our inventory, many of which book up months/years in advance (especially for high/peak season weeks).
Things to Do: You may not know that certain activities have seasons. For example, whitewater rafting is best during the shoulder or rainy seasons, when the rivers swell from new rains. But, if your group plans to snorkel, then you may want to plan for the dry season months (December-May), when waves are gentler, the giant manta rays are in residence, and visibility is clear.
Service Availability: If your group plans to book premium services, like a private chef or in-villa spa services, then you should know that in-demand service providers book up in advance, too.
 Throughout your planning, be democratic. Give everyone a say in what matters to them – and try to accommodate some, if not all, of everyone's needs and wants. When in doubt (or when total compromise is mathematically impossible), put it to a vote: Vote on destinations, on specific villas, on tours and excursions, and more.
Tip #5: Designate Your Planner(s)
Now that you've narrowed in on the when and where of your Costa Rica group trip, it's an opportune time to designate a planner – or two planners, max. (The more balls in the air, the easier it is for one to drop.)
But first, have everyone book their own flight. Unless you're all flying out of the same airport, it's nearly impossible to coordinate this one as a single group. So, skip the unreasonable expectations and stress, and have everyone buy into the trip via a flight booking.
Then, designate a trip planner who will be the group's point person throughout the planning process. This person or persons will be in charge of gathering information, presenting options to the group, making bookings, reserving restaurants, coordinating with service providers, and handling all other aspects of travel.
Hot Tip: When you book your group vacation villa with Stay in Tamarindo, you also gain access to our complimentary travel concierge services, guaranteed to transform the way your group travels! In addition to all the (free) benefits of working with our concierge, this also means that your group point person won't actually be required to do any of the planning; they will be more of a liaison between your group and our expert planners. Talk about stress relief.
Tip #6: Coordinate Your Group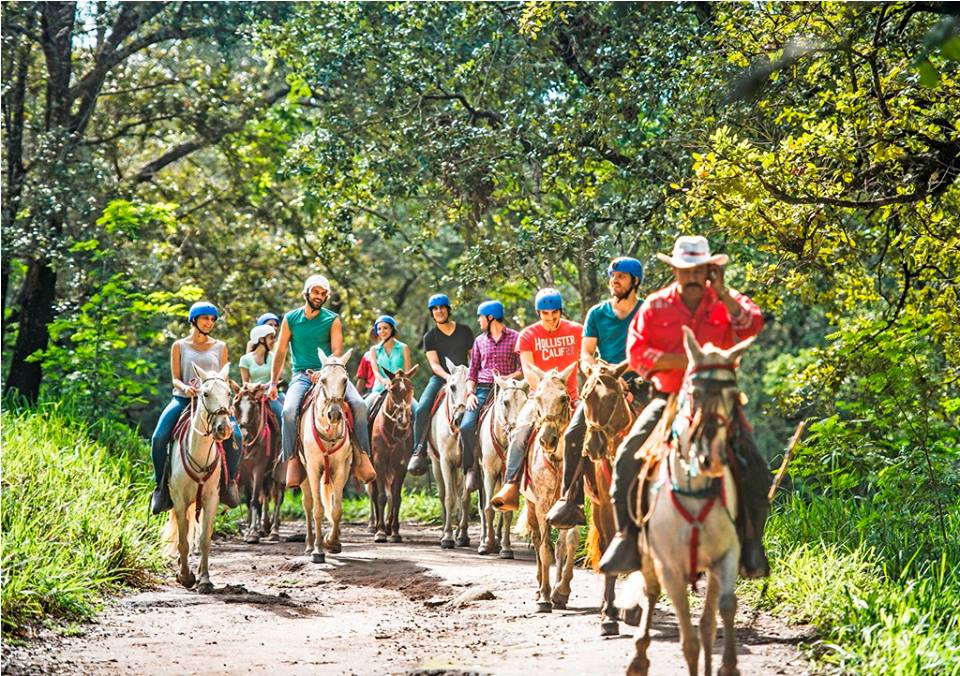 Who's the most detail-oriented, tech-oriented traveler in your group? Now's the time to tap into their knowledge and skills!
It's a great idea to organize a Google Doc, project management tool, or basic website that details all your Costa Rica group travel basics (dates, destinations, etc.), plus research, to-be-decided options, and more. Don't do this by email because it's easy to get inundated and overwhelmed with dozens of group replies.
Tip: Google Forms is a free and easy way to build polls/voting forms to simplify group decisions – for example, which villa you'll choose.
Also, be sure to set up a group calendar and have everyone add their flight info, so you can more easily coordinate airport pickups, group transportation/rental cars, and other arrival/departure-sensitive details.
Tamarindo | 6 Bedrooms | 6 Baths + 2 Half Bath(s) | Sleeps 16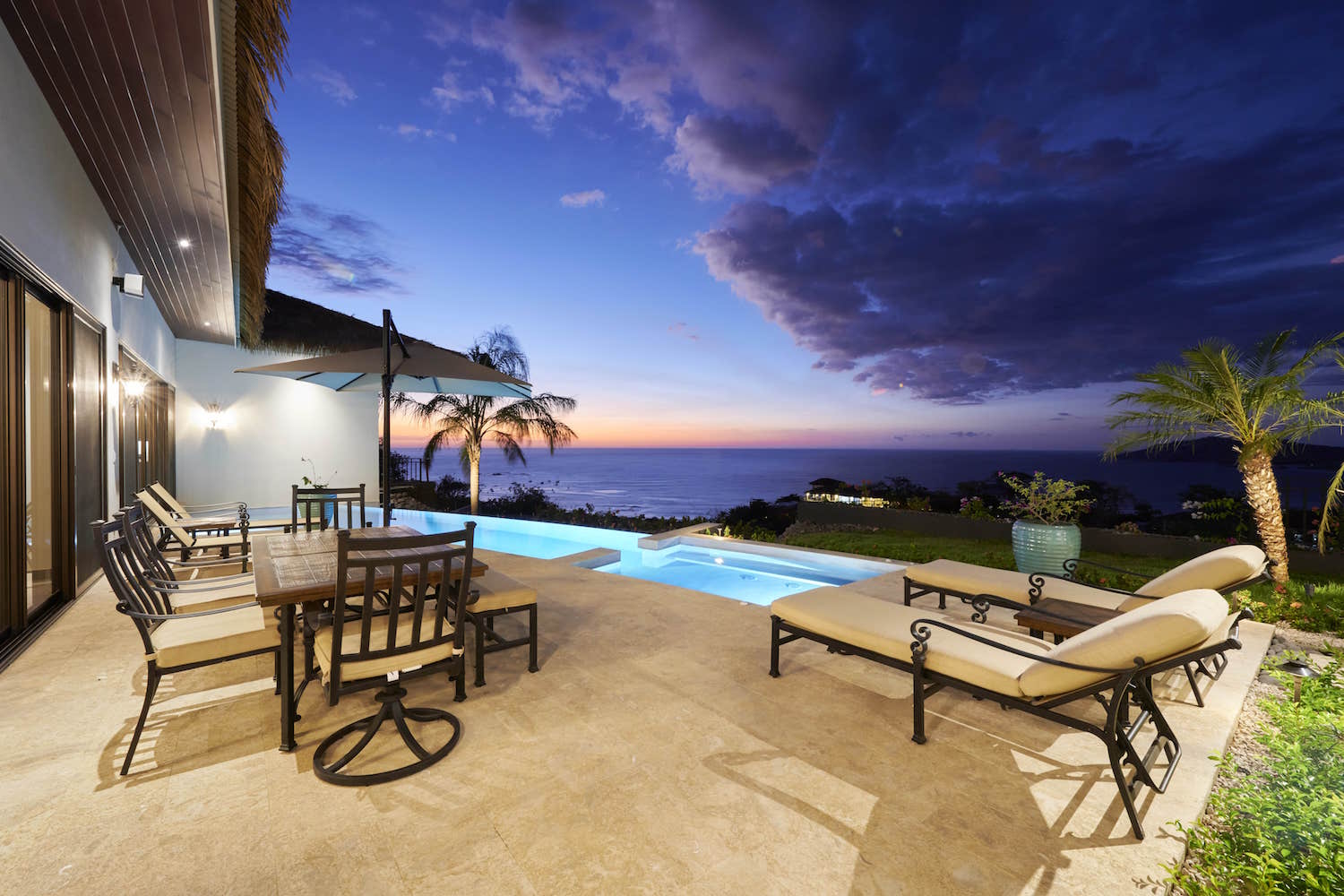 Perched high in the sky, overlooking Tamarindo Bay and a stunning panoramic view that invokes a sense of soaring, Puesta del Sol ("Sunset" Home) is located at the end of an adventure lover's drive up a hill. Welcome to the Tamarindo that only a select few experience!
Again, this is a home built for your Costa Rica group trip: With six ensuite bedrooms, no one draws the short straw for sleeping arrangements. And then, there's the home's spectacular private pool, unbeatable views, unforgettable sunsets, outdoor lounging and dining, and so many other amenities to enjoy…
Still thinking about group meal coordination? You'll be delighted to know that your reservation a Puesta del Sol includes daily breakfast prep, in addition to daily housekeeping and laundry (talk about a vacation!), as well as snack prep and cocktail mixing. You only have to provide the ingredients!
Tip: Use our split-cost calculator (below the "Book Now" button) to quickly determine the rate per person or per bedroom!
Tip #7: Book Guided Tours & Excursions
Costa Rica group travel is about traveling and enjoying your destination as a group – not about visiting the same destination, separately. And that means you'll likely be planning group excursions, activities, and tours.
So as not to overwhelm your group – and to leave time for individual pursuits (shopping, relaxation, swimming in your villa's private pool, etc.) – we recommend planning one group activity per day (or two, at the absolute max and even then, not every day!).
In Costa Rica, at least, most guided tours, planned excursions, and activities will take 3-5 hours. (Tip: If you're visiting during the gloriously green (rainy) season, be sure to book your activities during the morning sunny hours.) Day trips further afield can easily run 8+ hours, so plan wisely and don't overwhelm your schedule! If necessary, purposefully schedule downtime.   
Tip #8: Decide on the Everyday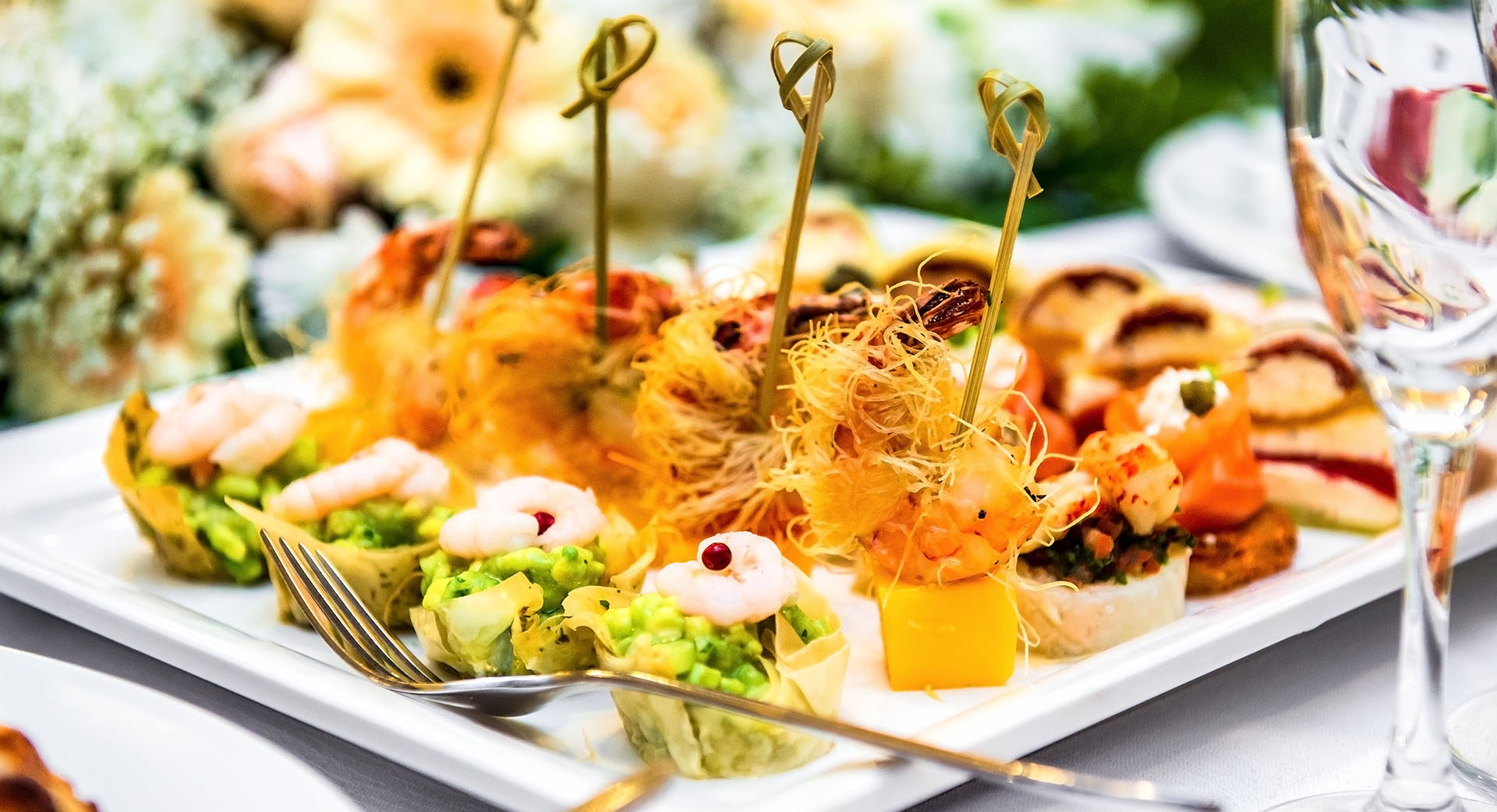 Speaking of scheduling downtime, this is a good moment to begin discussing the everyday aspects of Costa Rica group travel.
For example, how will you plan for group meals? Do you plan to hire a private chef to cater your lunches and/or dinners? Will you dine out at location restaurants? Will you each take responsibility to prep meals on assigned days?
How about group transportation? Will you hire large group transportation and a private driver? Will each individual/couple/family rent a car?
And what about downtime? Though this doesn't require much planning, beyond perhaps packing a few decks of cards, it does require expectation-setting: Make sure you've discussed arrangements re: recreation, movie nights, screens/gaming (especially if you have kids in tow), outdoor/pool time, and more.
Tip #9: Arrange Payment
Now that all the details have been hammered out and your plans are set, it's time to arrange for group payment.
If you're working with Stay in Tamarindo's group travel concierge, then all calculations have been done for you; it's simply a matter of arranging for a group deposit – usually 50% as a trip deposit, with your 50% balance due 30 to 60 days prior to your arrival.
Ready to Start Planning Costa Rica Group Travel? 
At Stay in Tamarindo, we really are different. We really do care about you – your entire group. And we really will go the extra mile.
We're going to work hard for you. We're going to follow up with you. And we're going to do everything we can, to ensure that this is not just your Best Vacation Ever, but also Everything You Want It to Be.
Because that is what we mean, when we talk about our quality of service: We want to transform the way you travel. We want to deliver the best everything you've ever experienced – including the best value. And we want you to go home completely fulfilled, whether you came to relax for a week straight or packed your days full of every adrenaline-soaked, high-adventure activity you could fit in.
So go ahead, give us a try. Embrace the experience. Live your best life. And now, book your best-ever vacation. It all starts with getting in touch with our concierge, Cris!
https://stayintamarindo.sfo2.digitaloceanspaces.com/wp-content/uploads/2022/08/09122638/sit-logo-1.png
0
0
Erin Raub
https://stayintamarindo.sfo2.digitaloceanspaces.com/wp-content/uploads/2022/08/09122638/sit-logo-1.png
Erin Raub
2022-05-15 05:30:40
2022-05-18 09:31:59
Costa Rica Group Travel: 9 Tips for Planning the Perfect Vacation