Our Top Costa Rica Family Vacation Rentals & Group Activities in Tamarindo
When it comes to group and/or family vacations, success often boils down to balancing your group's varied activity levels, interests, and travel styles. You'll probably start by looking for Costa Rica family vacation rentals that meet at least your basic needs and hopefully fulfill many of your wishlist items. Then, you'll transition into what you'll do and where.
It's a lot but it's exciting. Quick reminder: We're always here to help. (Concierge Cris is a literal pro at balancing everyone's needs and would-love-to-haves!) But to get you started, here are a few of our favorite family and group-friendly activities (jump down for Costa Rica family vacation rentals!).
Tamarindo Activities for Group & Family Vacations
As soon as you go down the rabbit hole of activities, adventures, attractions, and all other manner of things to do in Costa Rica, you're almost immediately overwhelmed. The sheer variety – and then, the variety within the varieties – is staggering.
Don't let yourself fall prey to FOMO (fear of missing out): It's great to say "no" to the activities that won't suit your family or group, whether due to travel style, interests, physical activity levels, or age (many high-adventure tours have lower age limits for kids). To help guide you in the right direction, here are eight of our favorite family-friendly activities that are high on fun but not too extreme to please the majority.
Catamaran Sailing
There's almost no easier way to please your group or family than booking a catamaran sail. Available as private or standard cruises, in the morning or afternoon (sunset sail), these Tamarindo mainstays are popular for a reason: they're a lot of fun!
Gather together and board the catamaran, to set sail for your snorkeling destination. Your skilled captain will choose the day's secluded beach and cove, where you'll anchor for a few hours. Grab your snorkel gear, your noodles, and off you go on a guided snorkel tour, where, with just a bit of luck, you'll have a chance to spot puffer fish, starfish, octopus, manta rays, and other undersea life.
Snacks and meals are included, and usually include tropical fare of guacamole, refried beans and chips, fresh fruit, veggies and dip, and other refreshments throughout the cruise. If you choose the afternoon/sunset sail, you'll snack and sip as you watch a blazing sun disappear over the horizon. It's an unforgettable moment to spend together!
Zip Lining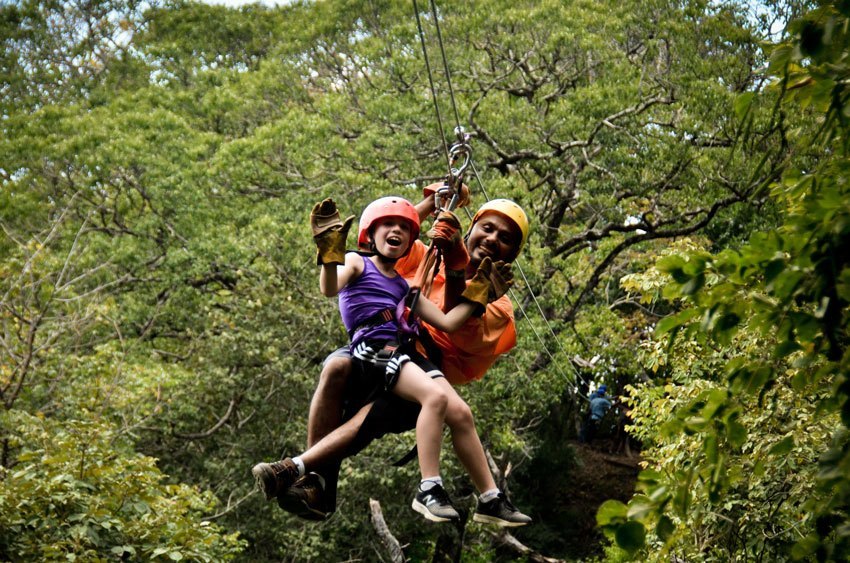 If you polled most people on what comes to mind when they think "Costa Rica" and "adventure," chances are excellent that zip lining would be in the top-3 responses. There's a reason for that.
One of Costa Rica's original adventures, this high-adrenaline (9 cables stretching as long as 600 meters!) tour offers views into thick forest canopies and sky-high treetops – spots that we humans rarely frequent. Add to that the sensation of flying paired with excellent views and wildlife sightings (including red macaws, falcons, howler monkeys, iguanas, and more!), and you have the recipe for a quintessential family travel experience.
Buena Vista Adventure Combo
If your group is game for a two-hour drive, then this adventure combo tour is more than worth it. Head inland and into the wilds of Rincón de la Vieja Volcano and National Park, where scenic cattle hacienda meets volcanic foothills and a mountain retreat. These panoramic views alone are worth the trip…
Of course, you're in for a lot more than scenery. The exhilaration begins with a zipline canopy tour(appropriate for kids through kids-at-heart); be sure to take in the sweeping panoramas from your treetop perch! Then, you'll horseback ride through a traditional Costa Rican hacienda, before heading out on hiking trails that lead to a pristine waterfall.
And that's where it really gets good because, right here, you can all ride the 400-meter jungle waterslide that you may have seen featured online. Yes, it's as exciting and as fun as it looks! What an adrenaline rush. After all the excitement, your entire group will appreciate recouping in the onsite thermal hot springs, fed by mineral-rich waters and heated by Rincón de la Vieja volcano. There's also a sauna and mineral mud bath!
Sport Fishing
Did you know that Tamarindo is one of the world's most famous sportfishing destinations? That's because our warm ocean waters host some of the best sport and fighting fish in the world – and the season lasts all year long. Whenever you're here, there's something to catch!
Let's start with what's on the hook: mahi-mahi, red snapper, yellowfin tuna, jacks, roosterfish, rainbow fish, sailfish, and a lot more. Nearshore, offshore, half-day, full-day – hey, even a 3/4 day! Because sportfishing in Tamarindo is extremely versatile and it's all about what you want to do, catch, eat, and conquer.
ATV Adventure
If you're in the market for an adventure activity that almost anyone can enjoy, welcome to the wonderful world of ATVing! Instead of hiking, trekking, or horseback riding – all, highly physical activities – you'll board an all-terrain vehicle and head out into the Guanacastecan savannah. Welcome to Costa Rica's cowboy county!
Ride through rolling fields and spot today's working farms, filled with cattle and horses and steeped in Costa Rican tradition and lore. We'll then take these same roads down to the country's newest tradition: the beach! Explore our white-sand beaches and discover the joys and secrets of Playa Minas, Playa Conchal, and Brasilito Beach. And at the end of the two-hour trip, there's no better way to relax than with water and fresh fruit with a view!
Snuba Diving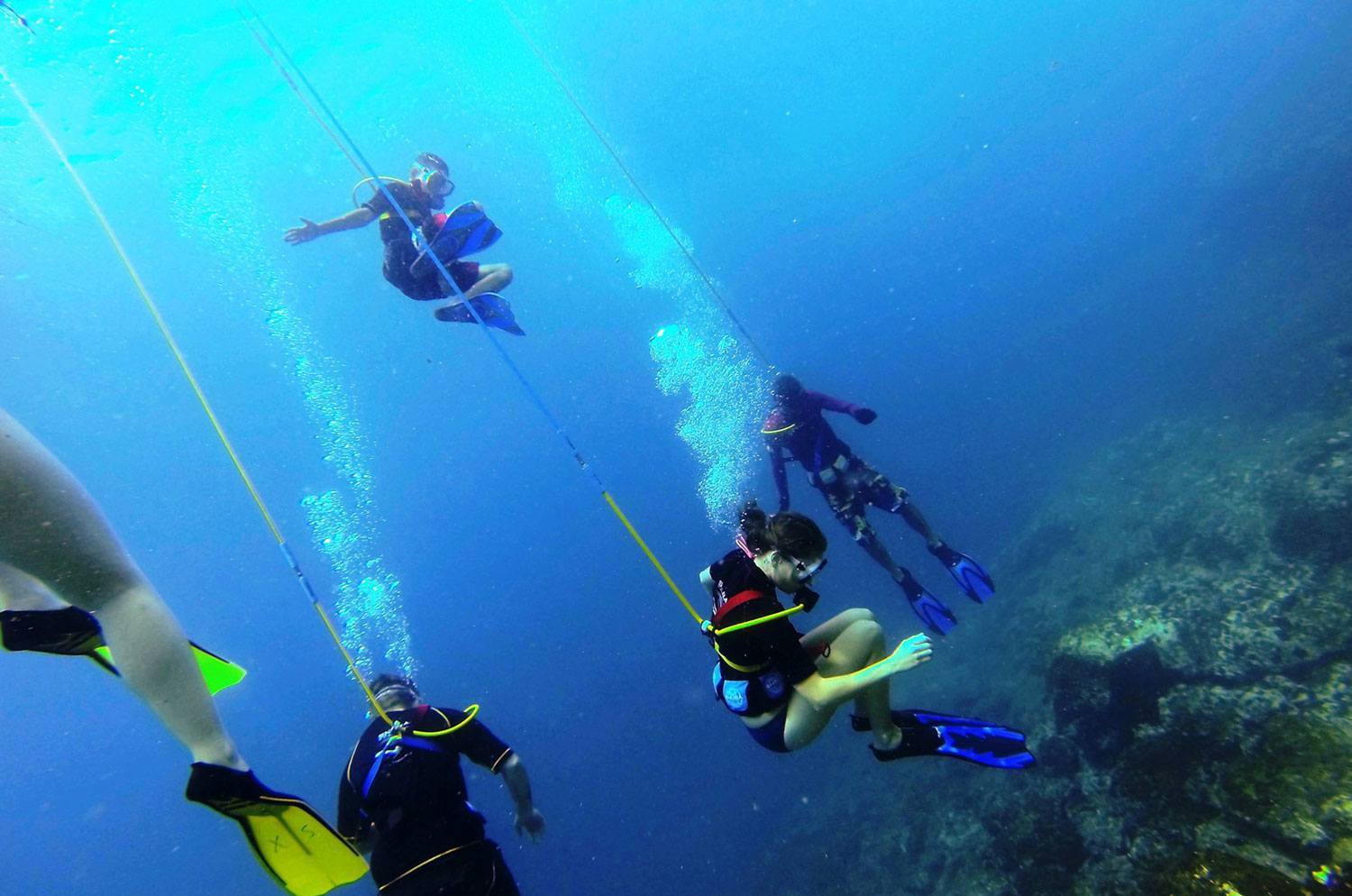 We freely admit: This one has even us excited! A mix of snorkeling and scuba diving, snuba requires no dive license but still manages to pack in a lot of the underwater thrill of scuba diving (minimum age: 5 years).
The magic comes down to your equipment: Instead of strapping it all onto your back, you're simply attached to oxygen to via a long hose and mouthpiece, giving you the freedom to move around while breathing underwater. (Max depth: 6 meters/20 feet) Think of it like scuba diving on a leash – only a lot more fun than that mental imagery!
Once you're down there, and depending on your snuba site, you can spot everything from old coral reefs and colorful fish to manta rays and reef sharks. It's a wide underwater world down there, and your group or family is going to love it!
Tamarindo Mangrove Tour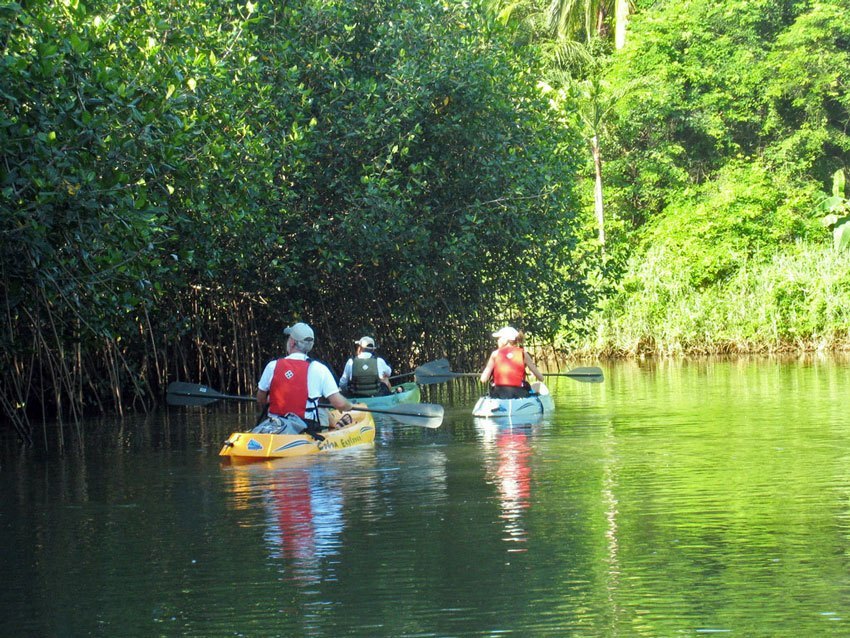 Read any list of Costa Rican activities, and you'll find a lot of the same suggestions. That's because the country is incredibly biodiverse and its natural highlights should not be missed. And yet, amidst the high-flying canopy tours and sloth watching, the ATV rides and the world-class sportfishing, there's one truly incredible, awe-inspiring, wonderfully educational natural wandering that is too often forgotten: our mangroves.
Mangrove forests are truly incredible ecosystems – coastal wetlands that often house a combination of fresh, salt, and brackish water: a one-two-three punch that welcomes a huge variety of flora and fauna. And that makes it one of the coolest destinations for nature lovers and wildlife lovers, so if your group wants to "see animals," then this is a great start!
We'll take you on a family-friendly, serene boat ride inside the Tamarindo National Wildlife Refuge, itself a part of the famed Las Baulas National Marine Park. As you float down the estuary, you might spot everything from crocodiles and monkeys to iguanas and waterbirds. Not to mention, the mere five species of mangrove that comprise an incredible 95% of the refuge's vegetation! 
Sloths + Frogs + Waterfall Nature Tour
Ok, raise your hand if someone in your group mentioned "sloths" when you finally decided on Costa Rica.
You're not alone. These seemingly always-smiling mammals – of course, they're not really smiling, but it's a lovely thought! – are a big draw. They're cute, they're fuzzy, and they're slow enough to observe for as long as you'd like. But mostly, they're cute. And that's why this tour is a forever favorite: it offers you and your group or family the opportunity to have a close encounter with a sloth. Yes, seriously!
And for the less sloth-obsesses wildlife watchers in your group, you may also spot toucans, butterflies, and tropical frogs in all their many vibrant hues. It's a hike, it's a wildlife encounter, and it's a day that you'll all remember fondly for years to come. And, did we mention? The tour ends with a stop to swim at a waterfall. As we said, forever memories!
Costa Rica Family Vacation Rentals near Tamarindo
Looking for the absolute perfect vacation home for your group or family? We have two!
Playa Langosta | 8 Bedrooms | 7 Baths | Sleeps 23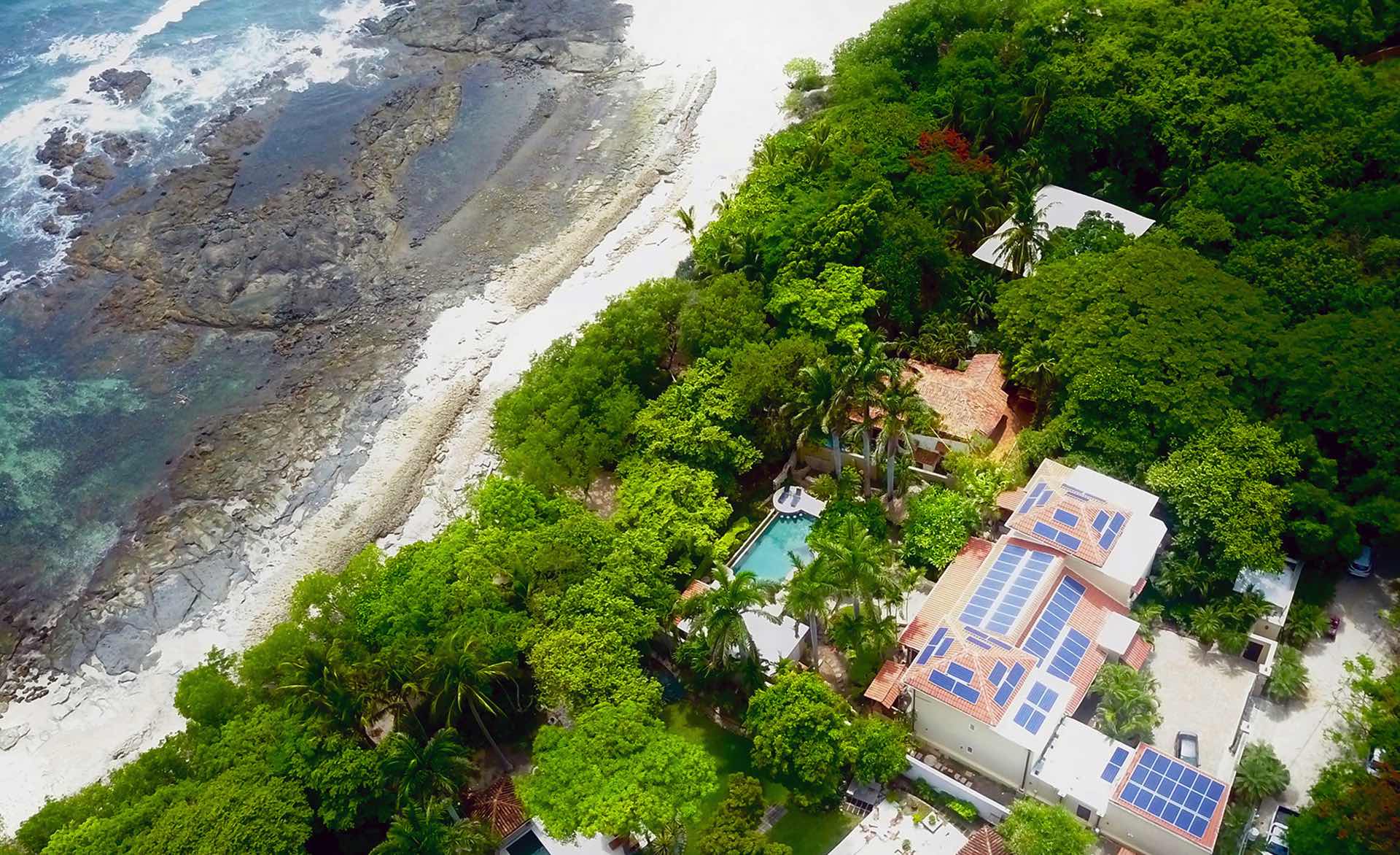 If you're traveling with a large group and searching Costa Rica family vacation rentals, then you may think that you're staring down a decision: this or that, his preference or hers, and who will you have to disappoint? Welcome to Casa de Luz, where you don't have to make compromises.
This luxury, fully solar-powered vacation home is tailor-made for large groups and families – and it's everything you imagine about an upscale tropical retreat. Let's begin with its unsurpassed location: beachfront, literally steps to the sand. (Almost impossible to find in Costa Rica, by the way!) Enjoy strolls, swims, and sunsets, every day.
Then, there's the showstopper infinity pool and poolside bar. Which, by the way, is where your dedicated housekeeper will serve your favorite vacation drinks and cocktails. (They'll also clean, do laundry, and prep your breakfast, six days per week.) So go ahead, spread out, relax, and take in the good life. Here, there's not a compromise in sight.
Tamarindo | 8 Bedrooms | 8 Baths + 1 Half Bath | Sleeps 20
When you're looking for the perfect Costa Rica family vacation rentals, it's not so much size but space that matters. By that, we mean plenty of space for everyone. And that's exactly what you'll have at the spectacular, ocean-view, Balinese-style Casa Puros Dieces – the "perfect 10"!
Families and groups gather here to create unforgettable memories: days spent in the ocean-view infinity pool and jacuzzi, lounging in the indoor-outdoor living spaces, reading by the koi pond, and simply enjoying, together, this luxury home's open-air spaces. But you'll also find your own space, thanks to multiple lounge and living areas, 8 bedrooms and 8.5 bedrooms, and ample corners where you can disappear and enjoy a quiet moment.
What's more, Casa Puros Dieces includes dedicated housekeeping, six days a week: cleaning, laundry, and meal preparations, including breakfast, snacks, and cocktails. You'll also appreciate the 100MB internet, so you'll never have to argue over who's hogging the bandwidth – even if there are teenagers in your travel party.
Bonus: Costa Rica Family Vacation Rentals with Free Concierge Services
At Stay in Tamarindo, we really are different. We really do care about you – your entire family or group. And we really will go the extra mile.
We're going to work hard for you. We're going to follow up with you. And we're going to do everything we can, to ensure that this is not just your Best Vacation Ever, but also Everything You Want It to Be.
We have successfully hosted numerous family and group vacations in Costa Rica – everything from large families to families traveling together to massive family reunions. Our team will partner with you to help you find the right accommodations – many of our large group properties are suitable for family retreats! – and venues for meals, sessions, activities, and/or transportation around Costa Rica.
We hope to transform the way you travel together. We want to deliver the best everything you've ever experienced – including the best value. And we want you to go home completely fulfilled, whether you came to relax and bond for a week straight or packed your days full of every adrenaline-soaked, high-adventure activity you could fit in.
So go ahead, give us a try. Embrace the experience. Live your best life. And now, book your best-ever vacation. It all starts with getting in touch with our concierge, Cris!
https://stayintamarindo.sfo2.digitaloceanspaces.com/wp-content/uploads/2022/08/09122638/sit-logo-1.png
0
0
Erin Raub
https://stayintamarindo.sfo2.digitaloceanspaces.com/wp-content/uploads/2022/08/09122638/sit-logo-1.png
Erin Raub
2022-09-30 15:40:45
2022-10-31 12:01:08
Our Top Costa Rica Family Vacation Rentals & Group Activities in Tamarindo