Best Days Trips from Tamarindo: 6 Ideas to Inspire Your Planning
One of the greatest (and yet, often unsung) advantages of staying on Guanacaste's Gold Coast? There are dozens of incredible day trips from Tamarindo, many within just a two-hour drive.
From active volcanoes and their medicinal hot springs to Class III-V river rapids and some of Central America's most incredible birdwatching, here are six of our favorite things to do near Tamarindo:
Day Trip Idea: Rincón de la Vieja National Park
Drive Time: 2 hours
As day trips from Tamarindo go, Rincón de la Vieja is one of the best. This ancient volcano, wreathed in legend, is as incredibly scenic as it is high adventure. And there are three ways to enjoy it!
Option #1: Buena Vista Lodge
This scenic cattle hacienda and mountain retreat is one of our favorite destinations in the foothills of Rincón de la Vieja Volcano. Here, within the thick foliage of rainforest-covered slopes, panoramic vistas unfold onto breathtaking views of Costa Rica's northwest plains, rolling cattle country and, on a clear day, two sister volcanic cones – all the way in Nicaragua!
In shorthand, we like to think of this one as Option Adrenaline-Packed Fun: This is a great choice if you want to combine sightseeing with some seriously action-packed fun. It begins with a horseback ride or hike to a refreshing waterfall, followed by a 400-meter water slide built into the mountain and powered by a freshwater stream.
Then, relax in Rincón de la Vieja-heated thermal hot springs. Indulge in the sauna. And treat yourself to skin-pampering, therapeutic mineral mud.
Option #2: Hacienda Guachipelin
Once a thriving cattle farm, Hacienda Guachipelin has transformed its national park-adjacent acreage into a modern adventure center that hits on almost every big-ticket, adrenaline-rush item on your wishlist. So again, in shorthand: Option High Adventure.
Here, amidst tropical dry forest (very different from Buena Vista's lush rainforest!), your Hacienda Guachipelin adventure kicks off with a horseback ride and thrilling tubing adventure, where your adrenaline churns into high gear as the Río Negro (crystal clear waters, fyi) rises into frothing rapids.
Then, you'll head back for the lodge's incredible river canyon ziplining experience, which crisscrosses a beautiful river as you fly back and forth over the treetops, the river, and a canyon sculpted by lava flows millions of years ago. This extra-exciting canopy tour includes rappelling, rock climbing, Tarzan swings, via ferrata and hanging bridges.
As it should, the day comes to a close in the volcano's natural hot springs and mineral mud treatment center. Relax in seven natural pools, which are constantly fed a flow of volcanic-origin hot water.
Option #3: National Park Hike
Welcome to what is probably our favorite national park trail in Costa Rica! That's a bit of a controversial statement, considering how incredible our national parks are, but wait for it…
Within Rincón de la Vieja's eponymous national park, the Las Pailas trail runs along the Colorado River, descending to the 82-foot Oropendola Waterfall, where you can jump in, swim, and relax. The riverbed is home to wondrous wildlife, including white-faced capuchin monkeys, coatimundis, toucans, howler monkeys, and more. It's enough to make your jaw drop and that's not even the most jaw-dropping part!
Because here, the trail winds along some of the most breathtaking volcanic sights – bubbling mud pots and a tiny volcano, boiling hot springs (not for swimming!) and steamy volcano outlets. The only thing that could make the day better? Ending at the nearby Caño Negro River hot springs and volcanic mud, guaranteed to make you feel rejuvenated!
Day Trip Idea: Arenal Volcano
Drive Time: 4 hours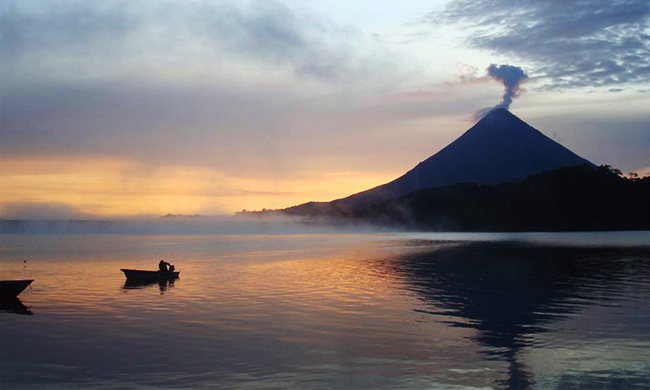 Costa Rica's most iconic volcano, thanks to its near-perfect cone, Arenal Volcano is one of the country's must-see, must-experience sites. And yet, sometimes, your vacation just doesn't have enough leeway to schedule in a few days at Arenal. That's where day trips from Tamarindo come in.
Welcome to the perfect solution: a full-day day trip that begins with a scenic drive around Lake Arenal, Costa Rica's largest lake (and major hydroelectric power source). After winding through beautiful mountains and idyllic countryside, you'll arrive at Arenal Volcano, which made its modern fiery debut in 1968, with a major eruption. Though the volcano hasn't done much more than belch since 2010, you can still spot its steamy cone some days.
While you're here, take a jungle hike along the volcano's slopes and through lush rainforest. Walk along ancient lava flows. And then, visit Arenal's famed hot springs – the thermal waters that catalyzed travel to this beloved destination. And, no wonder: Arenal's therapeutic waters are said to treat everything from aches and pains to skin allergies and stress.
Day Trip Idea: Monteverde
Drive Time: 3 hours, 10 minutes
If there's one other Costa Rican hotspot that makes all the must-visit lists, it's Monteverde and its world-famous cloud forest. This ethereal place is truly otherworldly and deserves a spot on every traveler's Costa Rican life list.
A premier destination for naturalist travelers, the Monteverde region straddles the Continental Divide – both Pacific and Atlantic, which assures greater biodiversity, more flora and fauna, and an incredible photo op! It's no surprise that it's one of our favorite day trips from Tamarindo.
While you're here, take a hike through this incredible forest, which is like nothing you've ever seen before: Frequently draped in mist and clouds, Monteverde is greener than green – like dialing up a photo's saturation, vibrance, and contrast, only in real life. Every tree and surface is covered in mosses, bromeliads, ferns and orchids, and wildlife – sloths, monkeys, resplendent quetzals, and more – love it as much as you will.
Begin your Monteverde adventure with a canopy zipline tour and a hike along the hanging bridges, which give you unique insight into the forest canopy (as opposed to the forest floor). It's a view humans rarely have! Then, take a gander through the butterfly garden and hummingbird garden, both of which guarantee great photo opportunities (bring your macro lens!). Round out the day with a local coffee farm tour, before returning home to Guanacaste.
Day Trip Idea: Whitewater Rafting
Drive Time: 2 hours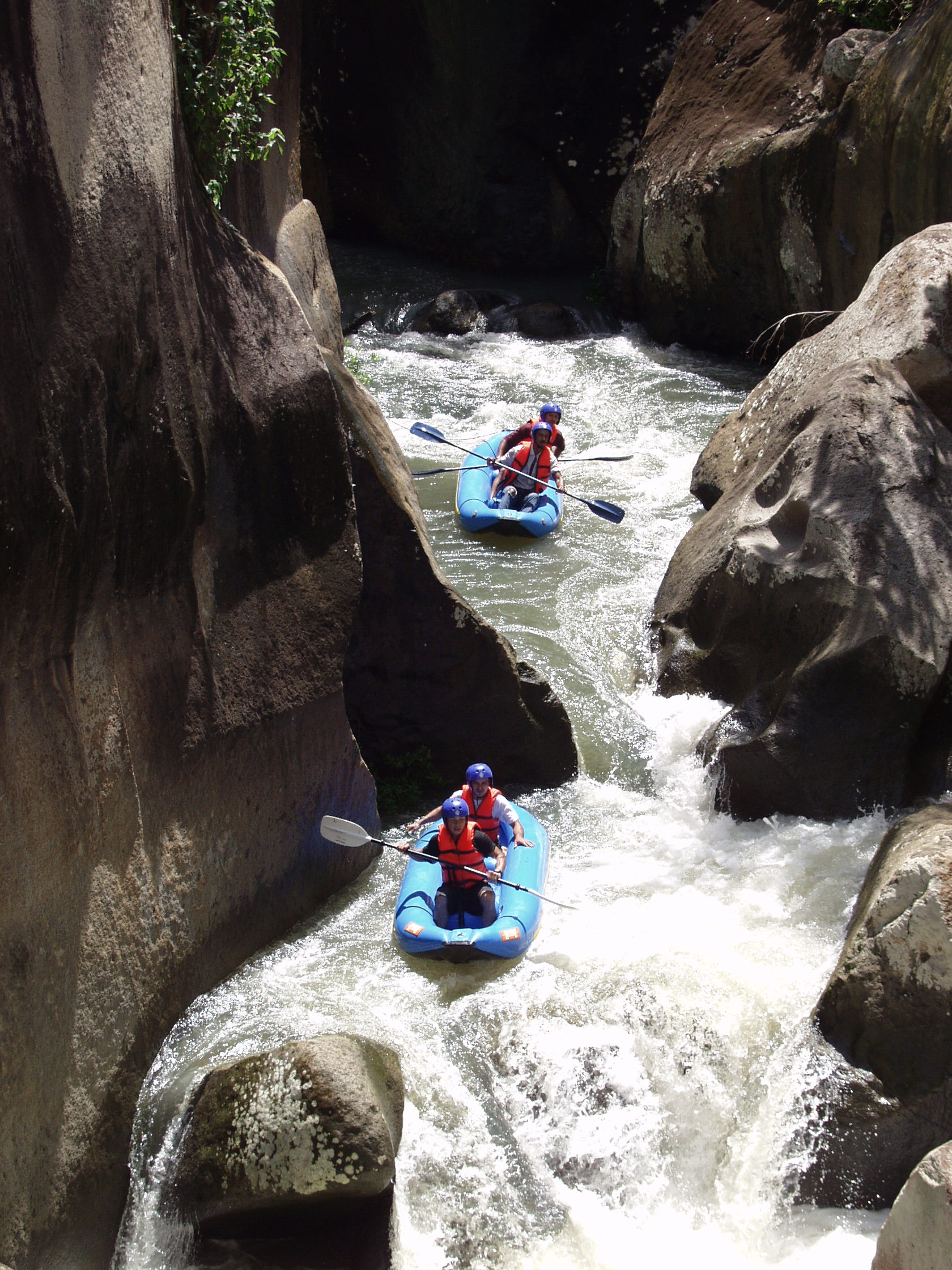 If you're looking for Big Fun and Bigger Adventure, then cast your eyes no further than Guanacaste's Upper Tenorio River and its Class III-IV rapids.
Don your safety gear, get into the raft, and prepare to plunge through twists, turns, and drops along 8 miles of intense and challenging rapids. Hold on because the Tenorio River also serves up Mother Nature's take on a roller coaster: a one-of-a-kind, 12-foot, Class V drop! There's a reason why rafters the world over have this run on their bucket lists.
After your adrenaline-drenched (literally) whitewater adventure, head to Las Pumas Rescue Center. Here, you'll get up close (but not too close) and personal with the country's big cats, including jaguars, ocelots, and margays, as well as other rescued wildlife – from scarlet macaws to colorful toucans.
Day Trip Idea: Palo Verde National Park
Drive Time: 2 hours
If there's a national park that doesn't often get the love and accolade it rightly deserves, then it's Palo Verde National Park. A true outdoor wonderland and a site of great importance to the world's biodiversity, this park is also home to two of our top day trips from Tamarindo.
Option #1: Birdwatching Adventure
Located on the banks of the Tempisque River, Palo Verde is a water-rich oasis in the middle of Costa Rica's driest province. That's one of the reasons why this incredible park is also one of the best wildlife and birdwatching destinations in Costa Rica – and home to one of Central America's largest populations of wading birds and migratory waterfowl!
Take this photo safari boat tour, and you'll have a chance to spot many of Palo Verde's 280 bird species, plus the crocodiles, white-faced monkeys, iguanas, peccaries, armadillos, deer, monkeys, and coatis that may be roaming the riverside and thickets.
Option #2: Classic Float Trip
If birdwatching isn't your primary goal, then we'd recommend our classic Corobicí River Float.  Yes, the day's sights are still rich with bird and animal life, but on this trip, your bilingual guide zooms out to the entire picture of tropical flora and fauna, Palo Verde's rich ecosystems and biological importance.
Don't want to float? Grab a paddle and guide yourself down the river (you'll still have a guide, of course!). Relax and enjoy the emerald-swathed forests and beautiful scenery.
Day Trip Idea: Miravalles Volcano + Waterfall + Hot Springs
Drive Time: 2 hours
Rincón de la Vieja isn't the only volcano in town! Welcome to Miravalles Volcano, one of our area's most scenic (and low-touristed) destinations!
Surrounded by dense forest and exuberant landscapes, your Miravalles adventure begins with a horseback ride through volcanic foothills and five waterfalls, one of which where you can swim. Next, you'll take a scenic hike to one of Miravalles' seven volcanic craters – along the way, walking past boiling mud pots, fumaroles, and steam craters.
Round out the day in a natural pool of volcanic mud, rumored to have medicinal and restorative properties. Then, relax in the hot springs and enjoy Mother Nature's finest form of ultimate leisure!
Where to Stay:
Tamarindo | 2 Bedrooms | 2 Baths + 2 Half Bath(s) | Sleeps 10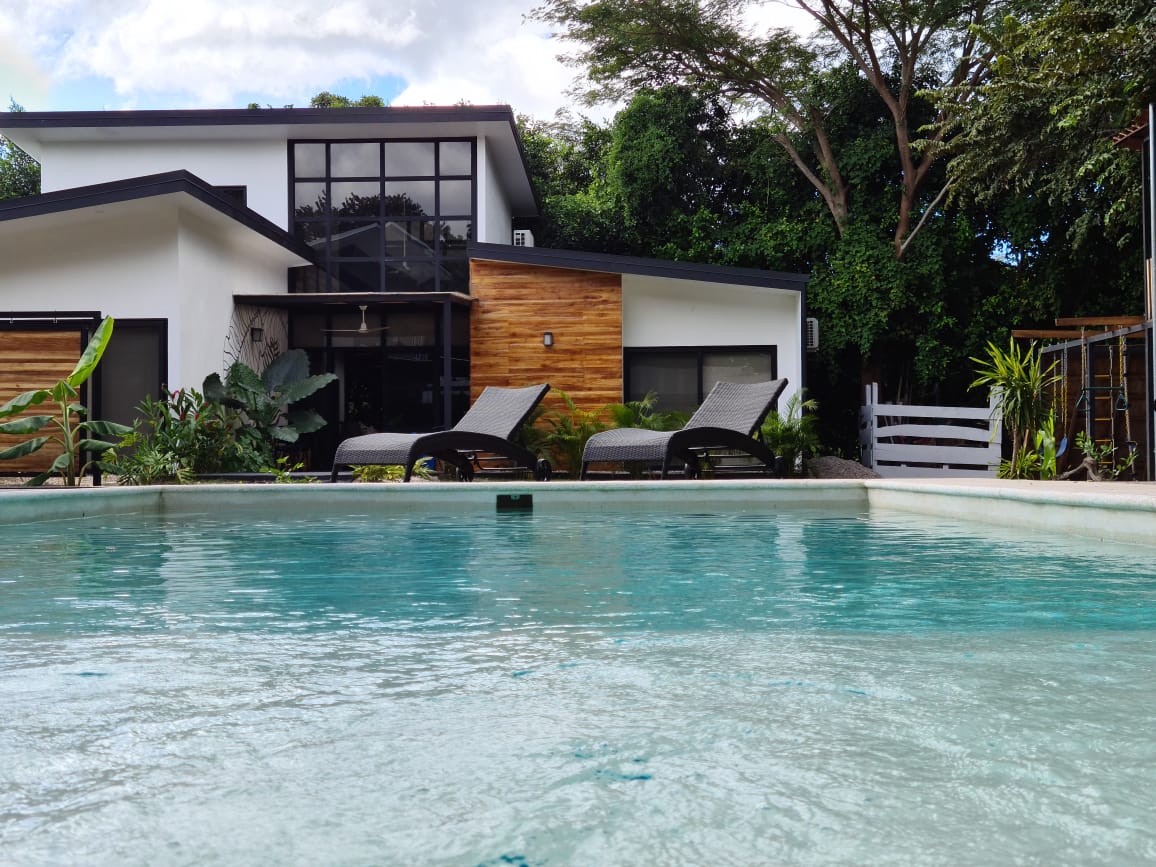 A modern home seemingly designed for outdoor living, tropical living, and time with family and friends, Casa Limoncillo is an invitation to enjoy a true taste of Costa Rica.
For here, your home-away-from-home is equipped with everything you crave – from a large, roofed rancho for outdoor lounging to a fire pit perfect for roasting marshmallows and stargazing. The kids will have a blast on the trampoline and jungle gym (with rock-climbing wall) and adults will spend most of their at-home time at the saltwater pool.
Hosts Erin and Eymhus live on the property with their family and pets, and are perfect "hands-on" advisors, offering a friendly recommendation or just a wave as you pass by.
Tamarindo | 5 Bedrooms | 5 Baths + 1 Half Bath | Sleeps 12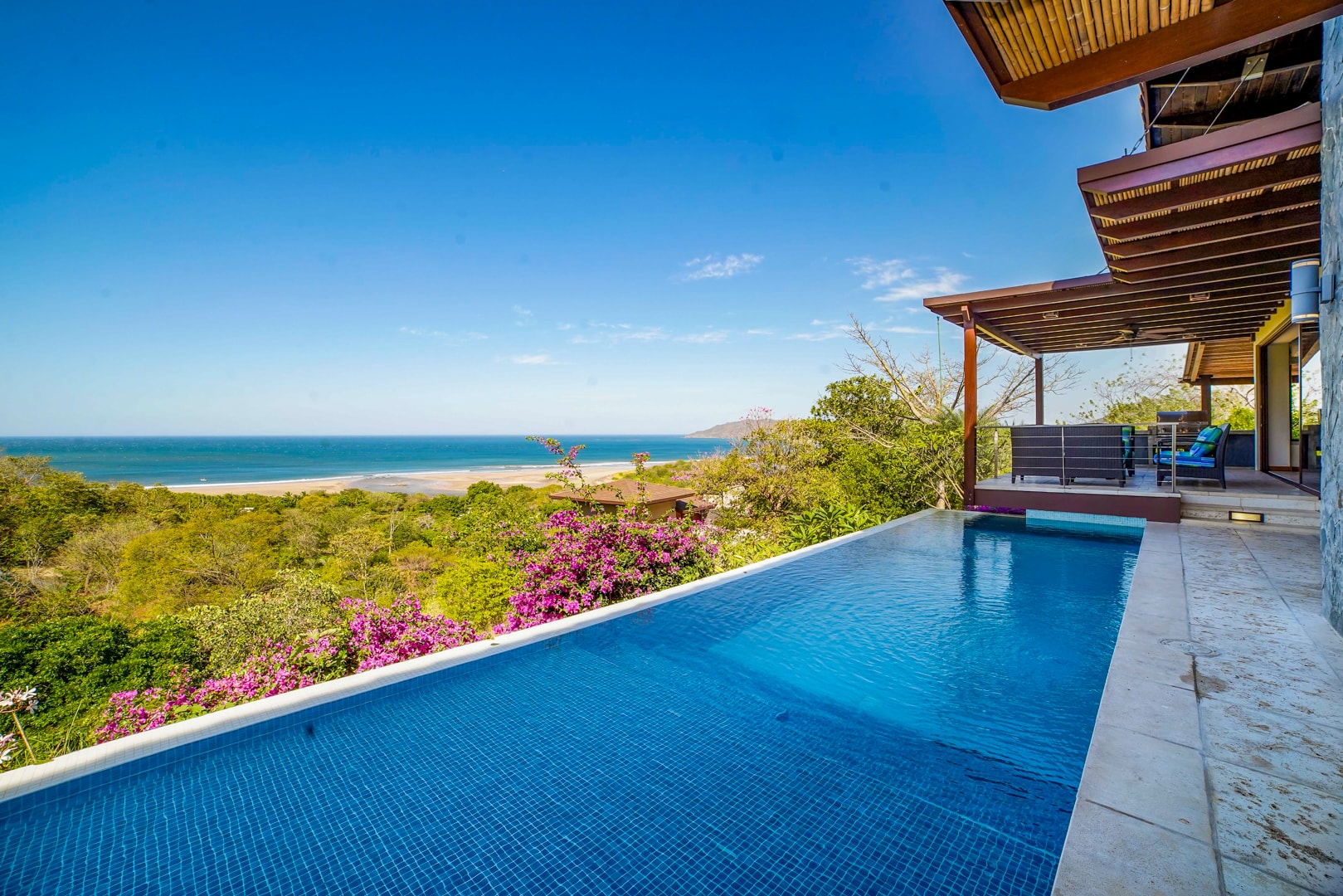 Get your "Vitamin Sea" at spectacular Casa Ventana, the perfect retreat-on-the-hillside for anyone seeking ocean views, nature experiences, and the ultimate in relaxation.
Delight in views overlooking the Tamarindo estuary, jungle, and Pacific horizons. Swim laps or simply lounge beside your full-length, ocean-view infinity pool. Check the day's surf conditions with just a glance, a cup of morning coffee in your hand. Grill up a feast on your 5-star gas grill. And walk to the beach, any and every time you please.
Welcome to paradise!
Planning a Trip to Costa Rica? 👇 Expert (and Free!) Planning Advice 👇
If you're planning your first (or next) Costa Rican adventure, we want you to know (really and truly) that at Stay in Tamarindo, we're different. We really do care about you. And we really will go the extra mile.
We're going to work hard for you. We're going to follow up with you. And we're going to do everything we can, to ensure that this is not just your Best Vacation Ever, but also Everything You Want It to Be.
Because that is what we mean, when we talk about our quality of service: We want to transform the way you travel. We want to deliver the best everything you've ever experienced – including the best value. And we want you to go home completely fulfilled, whether you came to relax for a week straight or packed your days full of every adrenaline-soaked, high-adventure activity you could fit in.
So go ahead, give us a try. Embrace the experience. Live your best life. And now, book your best-ever vacation. It all starts with getting in touch with our concierge, Cris!
https://stayintamarindo.sfo2.digitaloceanspaces.com/wp-content/uploads/2017/09/02080808/baldi-hot-springs2.jpg
1000
1500
Erin Raub
https://stayintamarindo.sfo2.digitaloceanspaces.com/wp-content/uploads/2022/08/09122638/sit-logo-1.png
Erin Raub
2022-08-15 05:30:16
2022-08-31 17:20:40
Best Days Trips from Tamarindo: 6 Ideas to Inspire Your Planning