Top Tamarindo Instagram Must-Visits & Must-Stays
When it comes down to it, your Tamarindo Instagram must-visits should be about your priorities, your vacation style, and your however you define "perfect"
There's something so very appealing about framing a perfect photo or snapping a shot at just the right moment. It's more than a rush; it's the kind of vacation alchemy that imprints on your soul, forever tying this one perfect moment to that one perfect photo. And that's where our favorite Tamarindo Instagram spots and vacation rentals come in.
Because these are the kind of places where alchemy sizzles in the air. They're almost begging for you to shoot your shot, in both the literal and figurative senses. So, give yourself over to the feeling. Be a little daring. Wade into the water and kayak out toward the horizon. Chase that next photo, not for the 'gram but for the moment, the memory, and the feeling that you'll then immortalize through your Instagram.
La Leona Waterfall
If you're looking for one of the most spectacular, one-of-a-kind, there's-no-way-this-is-real Tamarindo Instagram spots, then let us introduce you to wild and wonderful La Leona Waterfall.
While this blue-water cascade looks like it was carved from stone – and it was, only not by water, not human hand! – La Leona is all natural. Hidden deep in the canyon and yet close enough to Tamarindo, this picturesque, you-really-have-to-see-it-to-believe-it place is worthy of the trek to get there. Just be sure to pack your dry bag, as the going can get wet!
Tamarindo Estuary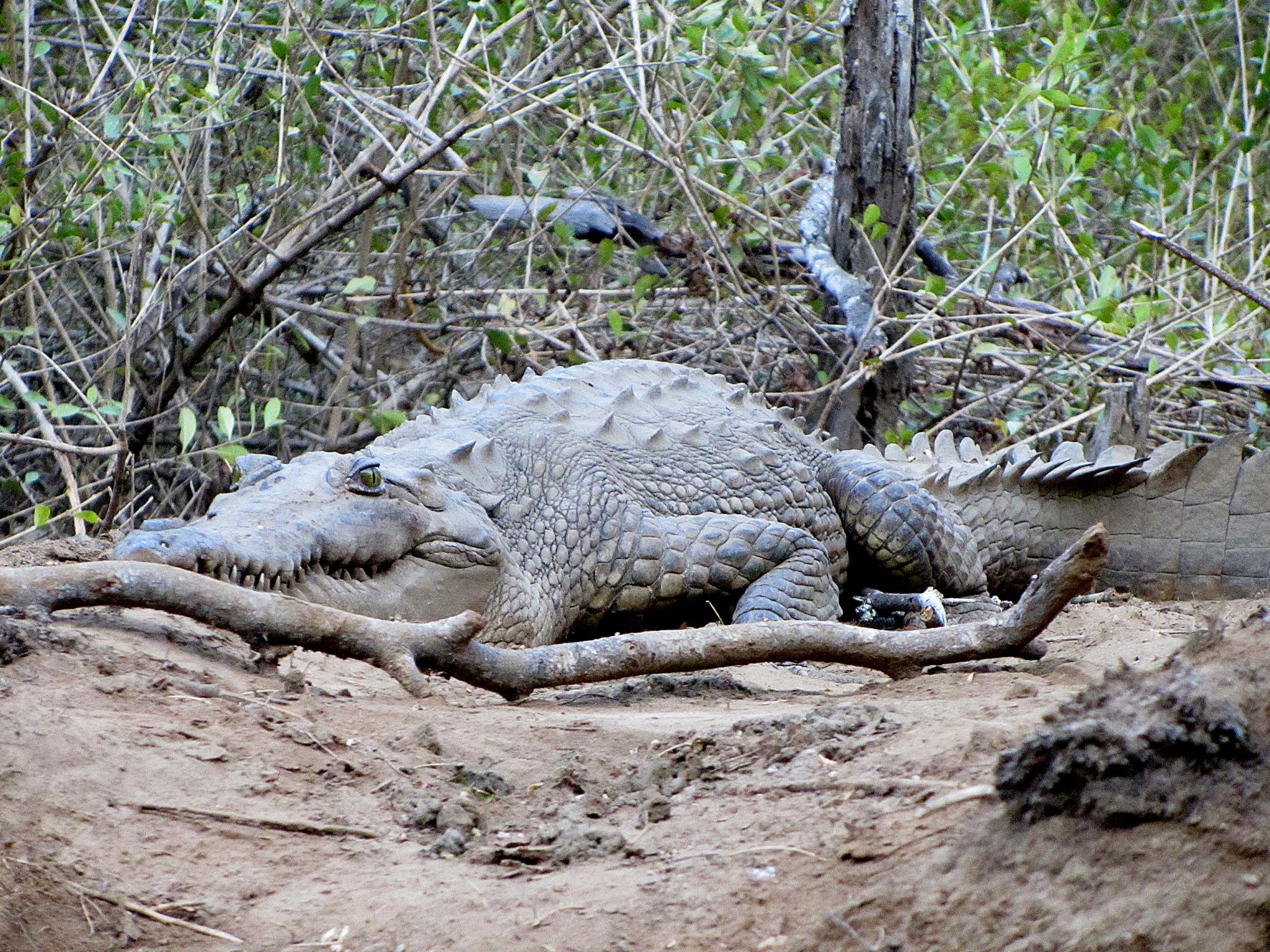 Mangroves are one of the world's most interesting and yet unsung ecosystems: Here, where freshwater
meets the ocean's salt, entire worlds thrive in, under, and above the water. The most striking: the Tamarindo's gnarled mangrove trees, their roots linking land with estuary.
Look a little harder, and you can spot caimans and crocs, monkeys and parrots, iguanas and lizards. This quiet, concentrated biodiversity is as inspiring as it is 'gram-worthy, so take your time. Find your shot. Because as Tamarindo Instagram spots go, this one is overlooked.
Tamarindo Lookout Point
Perched high on a bluff near the Wyndham Tamarindo, this mirador, or lookout point, offers some of the best and most sweeping views down to Tamarindo Beach and its surrounds.
Look right (north) and you'll have a view to the Tamarindo river mouth and Playa Grande; look south, and your eyes (and lens) will stray down white-sand beach and toward the rocky outcropping of Playa Langosta. And everywhere you look, the cerulean sky and sapphire sea – and a horizon that beckons you to look a little more and linger a little longer. Go ahead, it's okay to say yes!
4 Bedrooms | 4 Baths + 2 Half Bath(s) | Sleeps 14
When it comes to the best Tamarindo Instagram spots, it doesn't get much more 'gram-worthy than the oceanview infinity pool at Casa Tranquila.
Here, where the jungle meets the ocean – and in a beachfront gated community (think of all the other photo ops!) – this luxury villa rental sits high on a bluff, owning sweeping Pacific views and housing a masterpiece of tropical design: vaulted wood ceilings and cool stone floors, artisan details and sleek modern everything – a true work of art that is as photogenic as it is welcoming.
Langosta River Mouth
There are two main reasons you'll find people gathered near the Langosta river mouth: The first is the surf. It's pretty epic. So, if that's your thing, bring your board. But if it's not, your camera will come in very handy.
Because, while this salty spot may be a favorite among surfers, its rocky outcroppings are also a favorite for photographers and Instagrammers. Indeed, time it right (read: low tide) and you can walk out into the ocean, supported by rocks. Here, you'll enjoy a view of the sea and coast you can only have here, at this moment: you, deep into the Pacific and yet standing firmly on its surface. Enjoy your new perspective!
Isla Capitán
This one may take a little bit of effort (ok, more than the standard bit of effort!), but it'll be worth it. Full disclosure: Isla Capitán is, per its name, an island. And to reach this island, you'll have to travel by ocean kayak or tour boat. But once you're there, oh…
Here, surrounded by calm ocean waters and rippling sand, you'll have access to one of Costa Rica's "deserted" islands: just you (and your tour guide), and the wide, blue Pacific. Grab your waterproof camera casing and your snorkel because, while the scenery above water is beautiful, it's what lies beneath that really wows: octopuses, rays, coral, and other underwater wildlife to delight your eyes and your lens.
4 Bedrooms | 4 Baths + 1 Half Bath(s) | Sleeps 14
Soul House is high design, clean lines, and everything a photographer seeks in a vacation rental
Soothe your soul, escape to serenity, and reclaim your spirit at Soul House, a Balinese-inspired villa located within the peaceful surrounds of Playa Langosta.
Here, amidst Balinese-style accents and artwork, this special retreat offers privacy, quiet spaces, and hundreds of Instagram shots waiting to happen. Set up by your private pool – a sparkling, geometric masterpiece lit by the flames of the firepit. Find your balance among the statues, hammocks, and palms. And immortalize every exquisite design detail, from the massive live-edge table to the billowing curtains of your outdoor living space. For here, inspiration is everywhere.
La Senda Cactus Labyrinth
The world's largest labyrinth, La Senda begins with a philosophy: While a maze offers many ways to get lost, a labyrinth has but one path – one route to symbolize life's journey, spiraling inward as we journey outward toward the exit.
Of course, this one made our list for more than a philosophy. Ensconced within a 74-acre property, La Senda sprawls over 2.5 acres (1 hectare) of secluded tropical dry forest, where howler monkeys hoot and tropical birds harmonize in song. The labyrinth's path, which was meticulously planned, sprawls nearly two miles and is now fully planted with 5,000 cactus – sentient beings that lend their influence to the labyrinth's pulsing heart of energy.
Playa Conchal
Playa Conchal's pink "sands" (crushed shells) are eminently photo-worthy!
If you're looking for one of those look-twice, only-here kind of Tamarindo Instagram spots, then look no further than Playa Conchal. So named – conchal means "shell," or Shell Beach – for the tiny pink shells that decorate its shoreline, Playa Conchal has reigned for decades as one of Costa Rica's most photographed spots.
It's not just the not-your-standard beach composition, either. The shells that give the beach its name also lend their hues: shimmering whites and rosé pinks, which combine to create a unique rose-gold glow that, when paired with the tropical sun, create a striking backdrop to your vacation memories.
Playa Carbón (Playa Grande)
Any round-up of Tamarindo Instagram spots begs something striking – something so different, so remarkable, so showy that your photo practically frames itself and filters do nothing to enhance its beauty.
And if that's what you're after, then let us direct you to Playa Carbón (Charcoal Beach), home to some of Costa Rica's blackest sands. It puts on a show, in part because all the beaches that surround have white or, at best, cinnamon sands – nothing like this deep, almost mysterious hue (especially in a few spots, where it mixes with almost-white sand!).
If you need to put science to the mystery, then you'll find your answer in Playa Carbón's magnetite and magnetic iron oxide deposits – the region's inheritance from the volcanic rocks all around – which the current washes up and funnels right here, to this single beach. Want to go cerebral for your Instagram shot? Take a magnet to Playa Carbón and see how much iron you can pick up! (Really.) 
Need Directions? Looking for More Tamarindo Instagram Musts?
Hey, from one Instagramer to another, we get it. There's a lot of allure wrapped up in the promise of a perfect shot, a jaw-dropping view, or that no-one-here-but-you spot. (Speaking of, check out these 9 Costa Rica Instagram spots around the country!)
We're kind of obsessed. So, whether you need directions to a few spots on our list or are trying to identify a photo you once glimpsed, we can probably help. And we'd love to help, in fact! That's kind of our job.
At Stay in Tamarindo, we really are different. We really do care about you. And we really will go the extra mile. We're going to work hard for you. We're going to follow up with you. And we're going to do everything we can, to ensure that this is not just your Best Vacation Ever, but also Everything You Want It to Be.
So go ahead, give us a try. Embrace the experience. Live your best life. And now, book your best-ever vacation. It all starts with getting in touch with our concierge, Cris!
https://stayintamarindo.sfo2.digitaloceanspaces.com/wp-content/uploads/2022/08/09122638/sit-logo-1.png
0
0
Erin Raub
https://stayintamarindo.sfo2.digitaloceanspaces.com/wp-content/uploads/2022/08/09122638/sit-logo-1.png
Erin Raub
2022-03-15 05:30:35
2022-04-04 14:40:29
Top Tamarindo Instagram Must-Visits & Must-Stays