8 Reasons Why Travel (Especially to Costa Rica) is Good for Your Health
Everyone looks forward to travel, right? We crave a break from our everyday almost as much as the opportunity for new adventures and choose-your-own relaxation. But, did you know? There are many tangible benefits of traveling, especially to Costa Rica, where the sun is so often shining and new experiences await around every corner.
Discover some of the many scientifically proven (and personally verified!) reasons why travel can be good for the body, mind, and soul:
Reason #1: You'll Get Outdoors & Get Active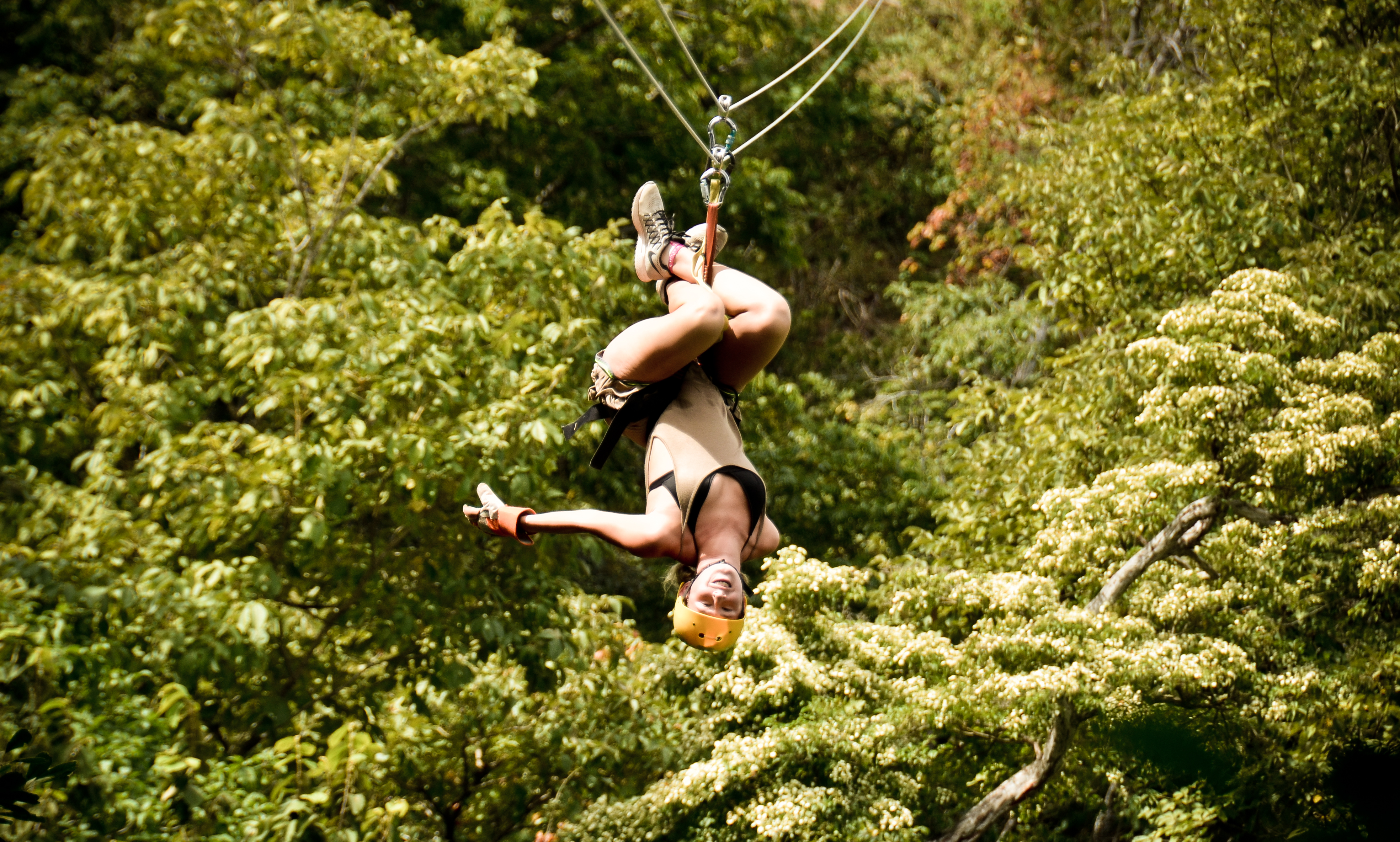 "Just living is not enough… one must have sunshine, freedom, and a little flower." – Hans Christian Andersen
There's just something about an outdoor activity; it's just different from its indoor cousin. It's something we feel, something we know – like that there's no real comparison between putting foot to pavement and foot to treadmill: One, we do because we need or want the exercise; the other, we do because we love how it feels.
One of the greatest benefits of traveling, at least to Costa Rica, is the latter: You'll love spending your time outdoors. You'll surf in the sea and hike in the rainforest. You'll white-water raft down river rapids and swim in the Pacific. You'll spend your sunsets on a sailboat and your evenings grilling by an ocean-view pool.
And all those things – well, you'll love them just as much as your body loves doing them. Because getting outdoors, especially when traveling, has been found to really, truly keep you healthier, even in your retirement. In fact, the study found that regular travel can significantly impact your overall health. For example, women who travel twice a year (or more) had a statistically significant lower risk of heart attack, while men who vacationed at least annually had a reduced risk of death and especially of a heart attack.
So, go on – travel. Do it for your health!
Reason #2: You'll Try New Things
"We keep moving forward, opening new doors, and doing new things, because we're curious and curiosity keeps leading us down new paths." – Walt Disney
Travel has a funny way of pushing us outside our comfort zones. It obligates us (whether we want to or not) to try new things and meet new people. And this forced stretching – this nudge into the borderlands of our known world – can be very good for our mental and emotional health.
It's not always as scary as it sounds. Doing something new can be as exciting as surfing for the first time or spotting your first breaching whale in the wild. It can be trying new restaurants or splurging on a little something special. It can be your first visit to a tropical dry forest or a memorable hike to a rainforest waterfall. The key is in your attitude: are you willing to try a little something new? Because, if you are, you may just discover a new favorite food, or meet a new friend, or experience something that you had only imagined in dreams.
And that, friends, can do wonders for your joy, your sense of adventure, and even your health.
Seeking New Things? Stay: Casa Moderna
5 Bedrooms | 4 Baths + 1 Half Bath | Sleeps 14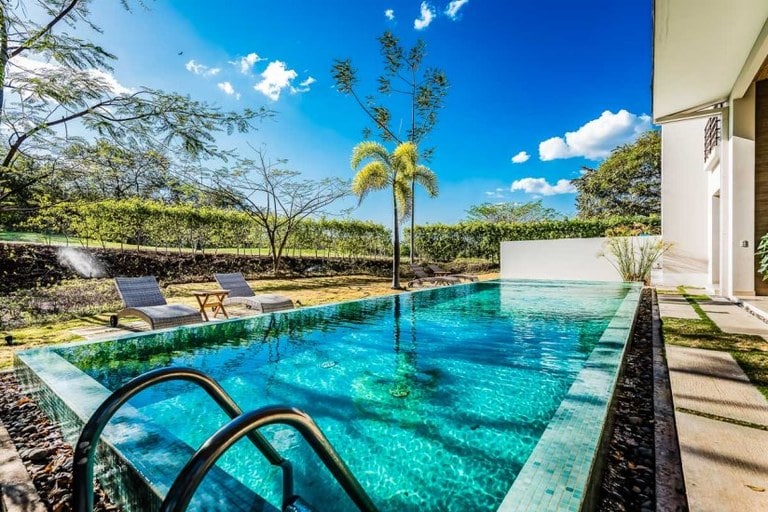 As its name would suggest, Casa Moderna is a beautiful and modern luxury vacation rental – and one of the newest additions to our curated list of vacation homes. Designed to sleep 12-14 guests, this hidden gem offers ample indoor and outdoor social areas, a pristine private pool, and incredible design details, like the floating stairway to the second floor.
Of course, it's not just about where you stay but also about where you are. And here, you're located inside of Reserva Conchal, one of Costa Rica's most exclusive resort communities and most desireable beaches. Here, millions of tiny shells comprised the white-and-pink-sand beach, where you can stroll beneath the sun and frolic in the waves. And then, of course, return home to your own private oasis.
Reason #3: You'll Shed Your Stress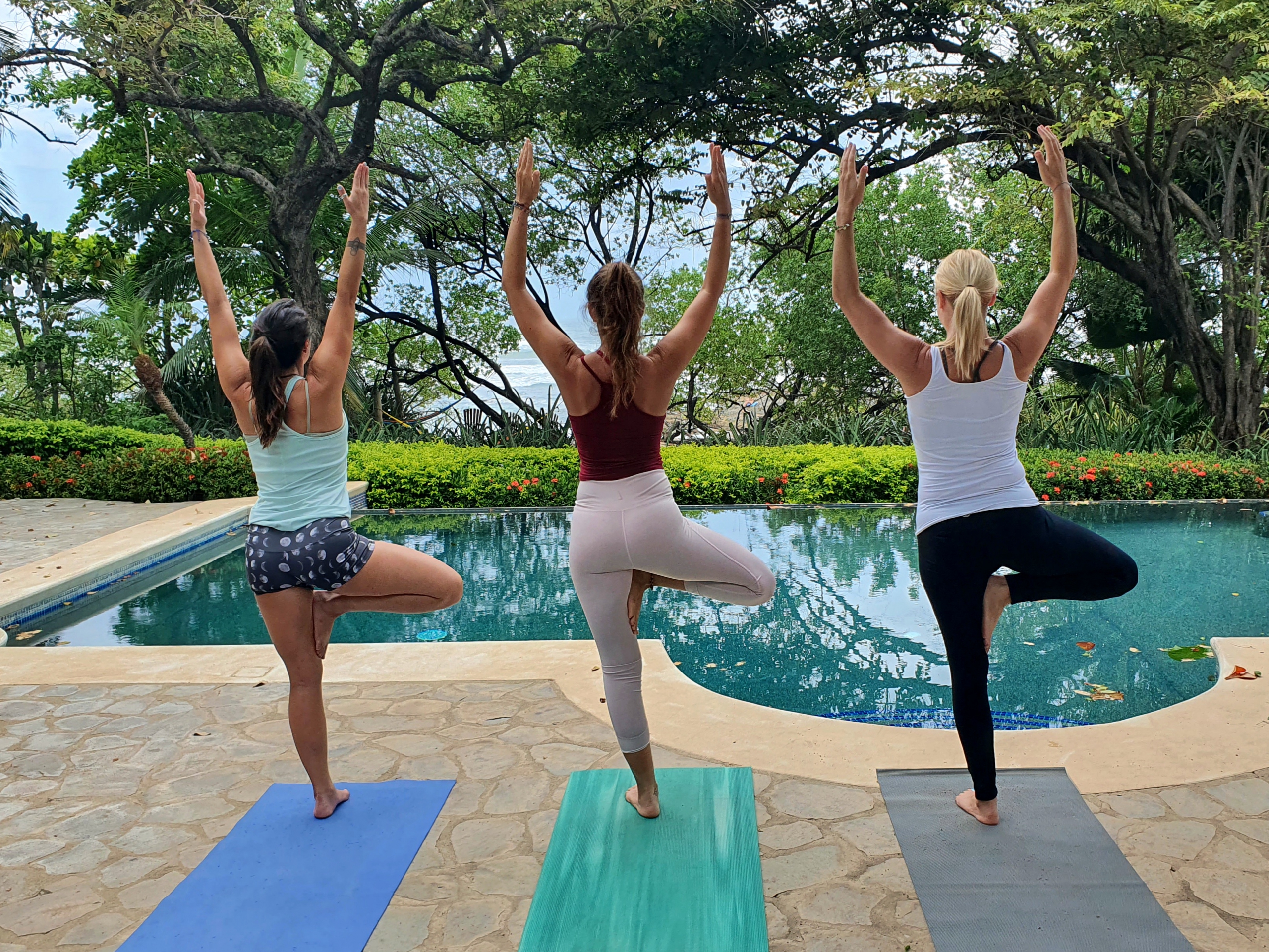 "We need time to defuse, to contemplate. Just as in sleep our brains relax and give us dreams, so at some time in the day we need to disconnect, reconnect, and look around us." – Laurie Colwin
Did you know that traveling has been shown to reduce your stress? Yes, multiple studies have shown that stress reduction is one of the many benefits of traveling: In one study, just three days of vacation resulted in travelers feeling less anxious, in improved moods, and more rested.
What's even more important, perhaps, is that these benefits last long after you have returned home. So, we suppose the takeaway here is clear: if you want to reduce your stress, just start planning your next trip to Costa Rica!
Reason #4: You'll Expand Your Horizons
"Nobody comes back from a journey the way they started it." — Unknown
Exposure to new places, new cultures, and new people are the quickest path to growth. Travel has a way of shifting your perspective and transforming your paradigm – of building a better and healthier worldview.
There's something about branching out, about exposing ourselves to many somethings new, that makes us healthier and more balanced. It's about more than the haves and the have-nots, more than the differences between where you're from and where you're visiting; it's an expansion of your mind and your experience and your outlook, and it can be life-changing. It can also be one of the most tangible and, yet, intangible benefits of traveling. And it's definitely something that everyone should experience.
Reason #5: You'll Boost Your Happiness
"The joy of life comes from our encounters with new experiences, and hence there is no greater joy than to have an endlessly changing horizon, for each day to have a new and different sun." –– Christopher McCandless
Circling back to the mental health benefits of travel, it's probably no surprise that most people report being happier when they're on vacation. In part, that's because they're more relaxed (as discussed above), but it's about more than that: one of the more interesting takeaways from a Cornell University study showed that simply planning your trip can boost your happiness level.
What's more, the study found that vacation anticipation is greater and, to some extent more satisfying than the anticipation of acquiring a new physical possession. You know what they say: spend your money and time on experiences, not things. Well, here's the scientific proof.
In the same vein, one of the greatest benefits of traveling is that it not only boosts your happiness, but also reduces depression. A study out of Wisconsin's Marshfield Clinic demonstrated that, among other results, women who vacation at least twice a year are less likely to suffer from depression. They are also less likely to report chronic stress than their counterparts who vacation less than every other year.
Need a Happiness Infusion? Stay at: Casa Tranquila
Playa Langosta | 4 Bedrooms | 4 Baths + 2 Half Bath(s) | Sleeps 14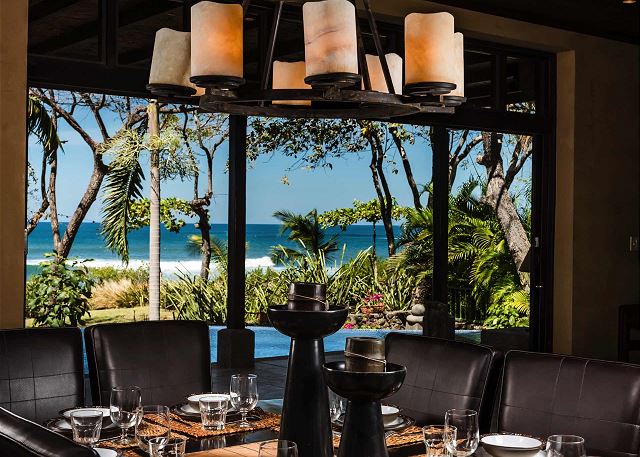 When you want to treat yourself, when you seek something extraordinary, when you crave an immediate jolt of happiness, look no further than Casa Tranquila. One of our most spectacular luxury home rentals, this private villa is located right on the beach, in one of the area's only beachfront gated communities.
Here, you'll be just steps from the ocean. Here you'll enjoy housekeeping, including your daily breakfast, six days a week. Here, you'll spend your afternoons in an infinity pool with a breathtaking view. Here, you'll enjoy every reason that brought you to Costa Rica. And here, we hope you'll find happiness.
Reason #6: You'll Gain a First-Hand Perspective
"To travel is to discover that everyone is wrong about other countries." – Aldous Huxley
We could liken this one to watching the movie before you read the book, where to photographing the iceberg without knowing what's below the surface: if you don't explore it for yourself, you run the risk of missing out on the whole picture.
Travel grants us the opportunity to see things for ourselves, to experience things for ourselves, to form opinions for ourselves. Other people, other lifestyles, other countries, other everything – all these things, may not be what they seem. Or rather, maybe more than they seem, when our only experience is in books, or TV, or the movies.
In this sense, one of the greatest benefits of traveling is that it grants us an opportunity: it is an invitation to open our hearts and expand our minds. And that can be very, very good for us. For all of us, throughout the world.
Reason #7: You'll Find Gratitude
"Gratitude is the fairest blossom which springs from the soul." – Henry Ward Beecher
We all know the expression: "The grass is always greener, on the other side." Life can be like that, too: It looks greener, when someone else is living it.
And, to some extent, it's true: Costa Rica is a really green place. But all jokes aside, travel grants us greater perspective on home. When we travel, we learn a little bit about life's overlaps – about places and people who, no matter where they're from, are all the same, at least in the important ways. But, travel also shows us about the differences. And, while differences are neither good nor bad, they do highlight for us what we take for granted in our own life. They highlight us our preferences.
And so, when we travel elsewhere, we often appreciate our personal somewhere a little bit more. We revel in the novelty of our destination, while we simultaneously crave the comforts and familiarity of home. We appreciate what we have a little more, when we're somewhere that we don't have it. Travel can be a reset button on our gratitude, and that can do wonderful things for our health and overall quality of life.
Playa Langosta | 3 Bedrooms | 3 Baths | Sleeps 12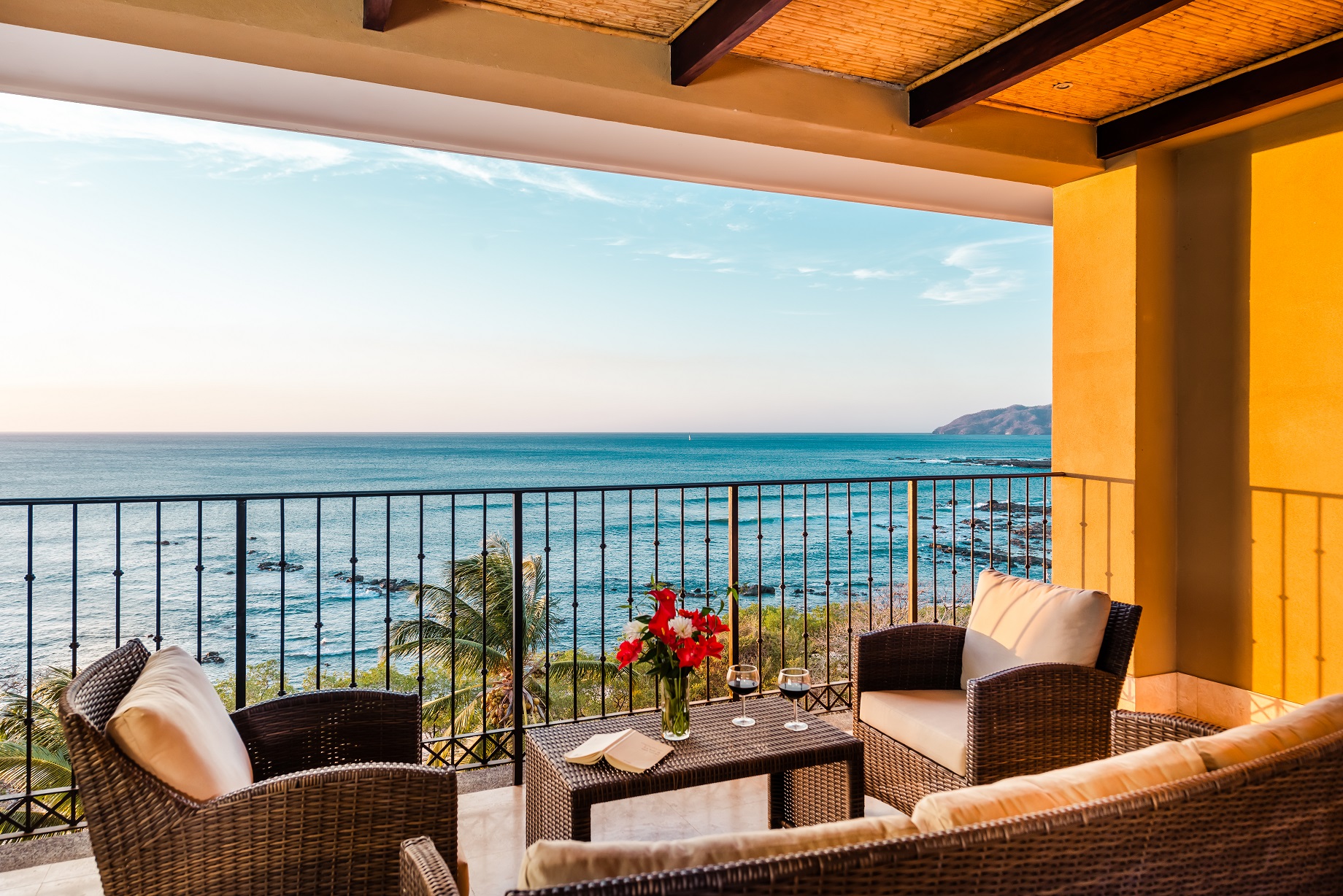 Sometimes, it really is the little things. It's an ocean-view jacuzzi and a private balcony overlooking the Pacific Ocean, lava rocks, and lapping waves. It's all-ensuite bedrooms and a gourmet kitchen, a full-sized gas grill and lightning-fast Internet.
It's also million-dollar views of the ocean and one of our area's best locations. It's your own private penthouse and front-row seats to spectacular sunsets. So, yes, it's the little things. Because the little things can also be the big things. But, we don't have to talk semantics because here, when you're staying at Crystal Sands Penthouse 504, you'll have all the things.
Reason #8: And You'll Return Home Rejuvenated
"It is requisite for the relaxation of the mind that we make use, from time to time, of playful deeds and jokes." – Saint Thomas Aquinas
Proof positive that 1 + 1 + 1 does not always equal 3: When you add up the many benefits of traveling, the sum is often greater than its parts.
Case in point: When you travel, when you choose Costa Rica as your destination and when you branch out and experience so many new adventures, you obtain all the myriad benefits of travel. you are happy and less anxious, your horizons are expanded, you find new gratitude in the everyday. And, when you add all that together, the result is not just a wonderful vacation. It's more than an adventure. It's even greater than the sum of its beneficial parts.
A wonderful trip sends you home renewed and rejuvenated. It reboots your emotional wellbeing. It creates for you a new set of mental filters. And it prepares you for your return to everyday life – only now, you are better prepared for that everyday. And, as a result, travel greatly enhances your productivity and your positive attitude. It reduces the feeling of monotony and increases your zest for life.
The only downside to travel is that you'll always be chasing the next great vacation rush.
Ready to Enjoy the Benefits of Traveling? Start Planning!
If you'd like help making the most of your time in Costa Rica or planning your day trips from Tamarindo, please get in touch with our concierge, Cris! Her services are free and we promise, she'll hook you up with the best option to match your day-touring, make-the-most-of-it adventure style.
https://stayintamarindo.sfo2.digitaloceanspaces.com/wp-content/uploads/2022/08/09122638/sit-logo-1.png
0
0
Erin Raub
https://stayintamarindo.sfo2.digitaloceanspaces.com/wp-content/uploads/2022/08/09122638/sit-logo-1.png
Erin Raub
2021-09-15 05:30:38
2022-04-01 03:08:04
8 Reasons Why Travel (Especially to Costa Rica) is Good for Your Health