Tamarindo with Kids: 24 Family-Friendly Things to Do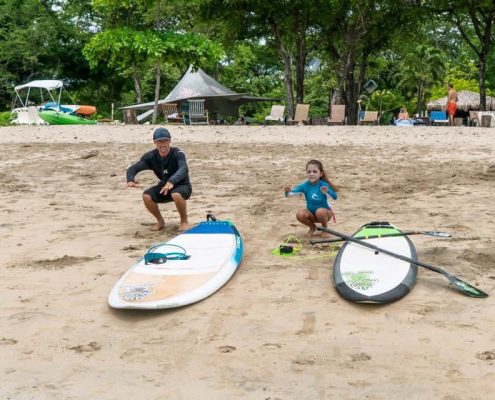 If you're visiting Tamarindo with kids, you're probably scrambling for what to do. Aside from swimming and surfing, what are the most family-friendly activities in Tamarindo? Because, as our kids are happy to tell us, a single canopy tour just won't cut it anymore. (Kids these days!)
Well, not to worry. We're pros at Tamarindo family vacations and, even more importantly, we have kids ourselves. Kids who spend all day, every day in Tamarindo. We KNOW of what we speak.
So, here's our list of the best activities and can't-miss experiences for visiting Tamarindo with kids. From the things your guidebook tells you (surfing! ziplines! ATV tours!) to everything it doesn't (pottery making! the waterpark! picnic spots!), we've built a list of our favorite things to do, activities, and suggestions for enjoying Tamarindo with kids.
Explore via Kayak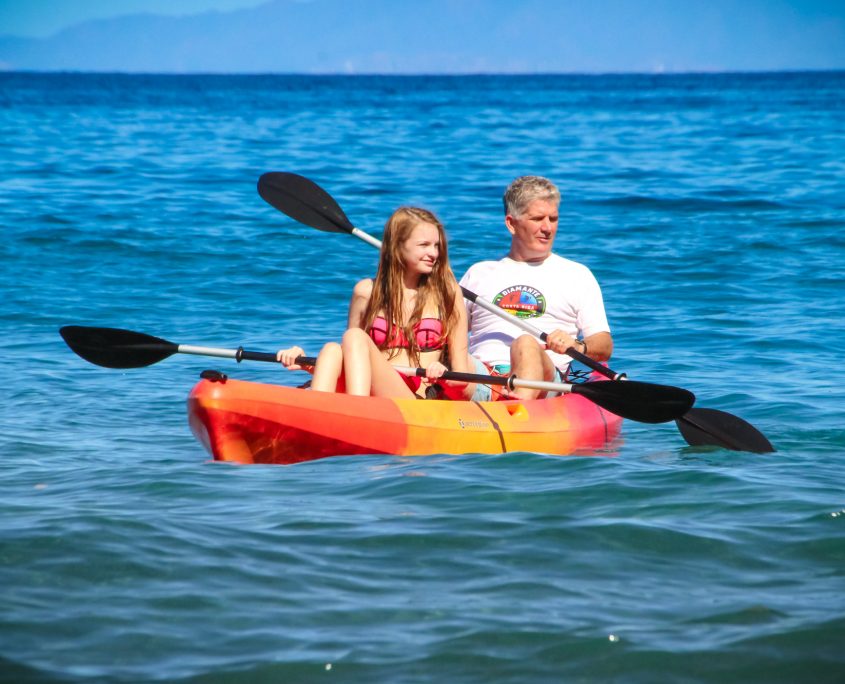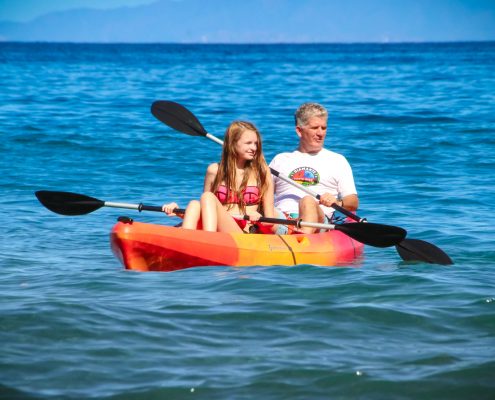 Rent a kayak as soon as you're all awake – the earlier, the better, as far as birdwatching is concerned – and hit the Tamarindo estuary for a bit of scenic paddling. Depending on the time of day (and your luck), you can spot birds, monkeys, crocodiles, and other exotic animals. And even if wildlife is shy, the mangrove trees are impressive in and of themselves!
Snag a Surf Lesson
The family that surfs together, wipes out together… no no, just joking! Kind of. Seriously though, surf lessons are a must, especially when you're in Tamarindo with kids. There are plenty of excellent, kid-friendly lessons designed to get all ages up on the board and riding the surf. You'll love the thrill of surfing yourself, but we'll bet you'll love even more the expression on your kids' faces, as they ride in their very first wave!
Go Boogie Boarding
If your kids (or you – we feel ya, parents!) aren't quite ready to master Tamarindo's surf, no problem; boogie boards offer a slightly tamer, but still exciting ride! You can rent a board in town for a budget-friendly $10-$15 a day, and it's easy to find calmer spots along the beach to set up your umbrella and send the kids into the Pacific. (That said, the super calm surf outside Hotel Capitan Suizo is an area favorite for brand-new boogie boarders and their nervous parents.)
Hole Up at the Waterhole
Tamarindo's backcountry is dotted with waterfalls and swimming holes, ripe for enjoyment. These natural waterways not only offer respite from the hot sun, but also offer up some great wildlife watching, hiking, and picnicking. Ask around for the best (and safest) spots for your family!
Book a Turtle Tour
Give your kids memories of a lifetime, on one of Tamarindo's turtle nesting tours. Don your darkest clothing and head to Las Baulas Marine Park with your guide: during nesting season (October through March), you'll watch as massive, 1,500-pound leatherback turtles lumber up the beach, dig their nests, and lay their eggs. It's incredibly cool and quite a touching experience, even for the littlest wildlife-watchers.
Take a Beachfront Horseback Ride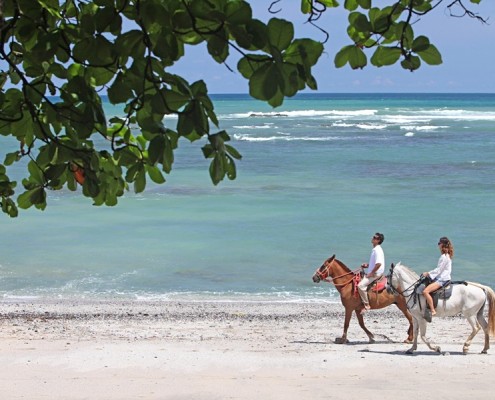 You've had the fantasy: You're riding horseback, splashing through the surf, the wind in your hair. It's paradise. Well, here's your chance! Book a horseback ride for the whole family, and explore the countryside and beach the way our cowboys have for centuries!
Ride the Estuary "Ferry"
Granted, this is one for the younger set, but it's fun all the same! Head to the northern end of Tamarindo's main beach – if you reach Panga's Beach Club, you're in the right place – and hop aboard the little lancha boats that cross the estuary. The ride comes in at just $1 per person, per way, and often includes bird and animal sightings. Plus, Playa Grande sits at the other side. Beach day!
WhatSUP??
Stand-up paddleboarding, aka SUP, is one of the hottest (and ever-growing) water sports on the Pacific coast. It's great fun (and great exercise), and also offers a great means for getting out on the water. Learn to paddle-while-balancing (probably easier for the kids than for you!), and then head out to sightsee Tamarindo's bay. You're sure to spot wildlife, fun rock formations, and other memorable sights.
Go Zip-lining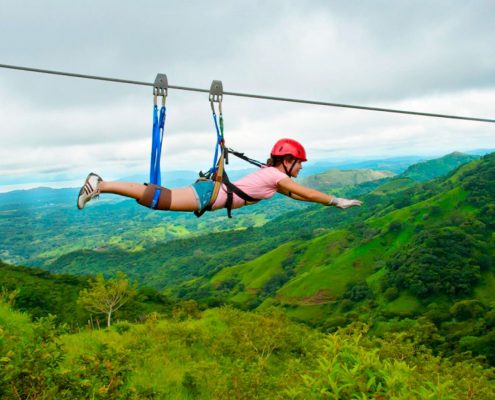 Canopy tours and zip-lining might be old hat, as far as Costa Rica is concerned, but that doesn't mean they've lost their thrill. Kids aged 4+ will squeal with delight (and adrenaline) as they fly through the trees, and you'll love the great views you get from up on high. (Note that the littlest adventurers will zip-line in tandem with a guide.)
Go Whale Watching
This season has been HUGE for whales in Tamarindo, and we hope the trend will continue! If you're visiting Tamarindo with kids,  you absolutely must book a family whale-watching tour. Board a boat to spot humpback whales, several dolphin species, and even the occasional turtle. Not only is it a cool enough sight for your kids to relate to their friends back home, but Tamarindo's whale-watching tours can be very informative and educational. You may inspire a lifelong love of marine life and ocean conservation!
Ride an ATV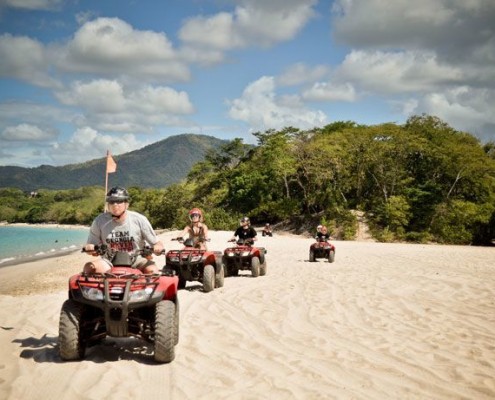 Want to show the kids your wild side? Vacation is the perfect time to do so! Rent a few ATVs, sling your kids onto the seat, and hit the dirt. You'll love seeing their faces light up with glee, as you whip around curves or take a pothole just a bit on the fast side. Not to mention, ATVs are a great way to explore the Tamarindo backcountry, since they'll take you places no car can go. Incredible views await!
Hit the Water Park
Treat your kids to a day of waterslides at La Boya Waterpark, located just outside Tamarindo. Here, shallow wading pools are ideal for tiny park-goers, while deeper pools are great for your experienced swimmers. Honestly, the waterpark is the perfect place to keep cool (and maybe even get in a few pages of your book) while you keep your kids entertained!
Enjoy the Nightlife
Think kids and nightlife aren't compatible? In Tamarindo, they are! While we don't advocate taking your kids to the bar (they won't be allowed in, FYI), we do know that Tamarindo at night can be a great place for kids. To start, our town has the talent of a traveling circus, so when you head out in the evening, don't be surprised to spot hula-hoopers, fire-dancers, jugglers, and other entertainers out and about. Additionally, many restaurants host family-friendly live music, especially on the weekends.
Peruse the Bookstore
Are your kids as into books as ours are? No matter where we go on vacation, our families absolutely must peek into a local bookstore or two. And, more often than not, our kiddos pick out a book or two – a souvenir, so to speak, of our trip. If this kind of shopping is up your family's alley, look no further than Jaime Peligro, THE Tamarindo bookstore for kids books (+ adult reads and music). Bonus: the bookstore is just next to Cafe Tico, one of our favorite cafés around!
Head to the Skate Park
If your kids need to burn off some energy with other kids, look no further than Tamarindo's own skate park. It's not fancy or world-class, but it does the trick when you have cranky vacationers. The rule of thumb is, if it's not raining, there will always be someone to skate with.
Take Memorable Family Photos
There's no better place to take your next family photo, than on a Tamarindo beach! Not only do we have some of the world's most picturesque backdrops, but Tamarindo is also home to excellent family photographers. (Ask us for our current recommendations!)
Reserve a Beach Day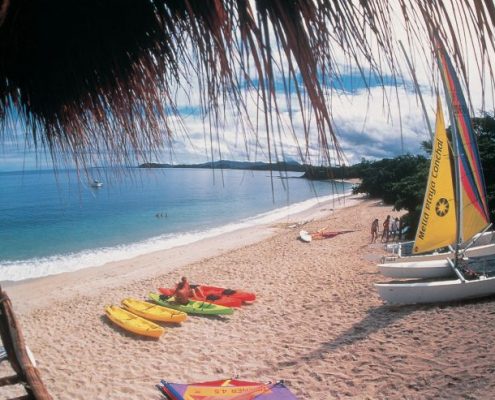 Too often, we see families pack their schedules so full, there's little time for what you really came for: the beach! Tamarindo's beaches are spectacular and offer everything from super-soft sand, to mellow surf waves, to safe swimming holes, to rocky outcroppings for your kids to explore. Basically, kid paradise. So, take a day (or three) to hunker down at your beach of choice, sip on some pipas (ice-cold coconut water, right out of the shell), and let the kids do their beach thing. Bonus: They'll sleep REALLY well.
Hit the Witch's Rock Bonfires
Kids love bonfires, it's just a fact. And that's why Witch's Rock makes our list: most weekends, especially during the high season (December-April), they host nightly beach bonfires in front of their surf camp. Come for the sunset, stay on for the party. Bring your own marshmallows!
Ford the Langosta Estuary
If your kids liked the Playa Grande estuary to the north of Tamarindo, then you can't miss taking them to the Langosta Estuary south of town. At low tide, it's easy to cross – and the other side is the perfect place to set up your picnic lunch. And, if your kids don't mind walking beneath the sea almonds and palm trees, keep on strolling south until you hit Hacienda Pinilla. (Tip: Pay close attention to the tide, as the estuary is uncrossable during high tide!)
Book Some R&R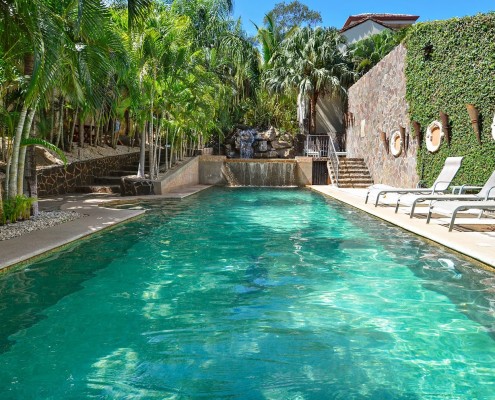 When you're on vacation, we're firm believers in reserving at least a day for total sloth. Yes, even when you're in Tamarindo with kids. Go on – sleep in. Make some brunch. Lounge around in your pj's or beach wrap. Slather on the sunscreen and catch some rays. And while you do nothing, let the kids work their energy out in your vacation rental's private pool. That's what it's there for!
Visit the Farmer's Market
If you're in town on a Saturday morning (around 7:30 a.m. to 1 p.m.), you owe it to your palate to visit the Tamarindo feria, or farmer's market. Adventurous and picky eaters alike are sure to find something tasty, from familiar fruits like watermelon and mango, to more exotic forays into rambutan, musk cucumbers, passion fruit, and other sweet treats.
Play Mini Golf
Look, sometimes kids are DONE with the whole tropical vacation thing. The sun is hot. They're tired. Nay, exhausted. They just want some pizza and something familiar. If that's the case, then helloooooo, Bolas Locas Mini Golf! You'll probably get in a round or two before the scents of next-door Pizzeria La Baula gets the best of you. Bonus: The pizzeria has a playground and, in high season, fire dancers often hit the beachfront after dark.
Visit with a Pig
Lola's Restaurant, located on scenic Playa Avellanas (about 30 minutes from downtown Tamarindo), is famed for its great food, thirst-quenching drinks, and can't-be-beat atmosphere, but what really seals the deal is the pig. Lolita, the restaurant's resident pig and mascot, is very friendly – especially with kids! Your little ones will have a blast.
Craft Your Own Souvenirs
Tamarindo's province of Guanacaste has a long heritage of pottery-making, so why not make some of your own? Book a family date at the pottery studio in downtown Tamarindo, and spend a few sessions molding, polishing, painting, and kiln-baking your masterpiece. The kids will love the experience, and you'll love taking home your handcrafted souvenirs.
Whew! It's a long list, we know. But hey, we believe in being thorough. So, if you need any free planning help, get in touch with Cris, our in-house concierge. (You can also call her at 754-222-1884.) She knows all about planning a trip to Tamarindo with kids, and she has all the hookups. She knows what to do, when to do it, and how to keep your kids happy along the way. Plus, she'll book anything you need, absolutely free of charge! And you can't beat that.
https://stayintamarindo.sfo2.digitaloceanspaces.com/wp-content/uploads/2022/08/09122638/sit-logo-1.png
0
0
Erin Raub
https://stayintamarindo.sfo2.digitaloceanspaces.com/wp-content/uploads/2022/08/09122638/sit-logo-1.png
Erin Raub
2017-09-28 05:00:29
2022-04-01 03:20:47
Tamarindo with Kids: 24 Family-Friendly Things to Do