Las Mareas Villa 1 | Costa Rica Villa Rental
Tamarindo Vacation Rental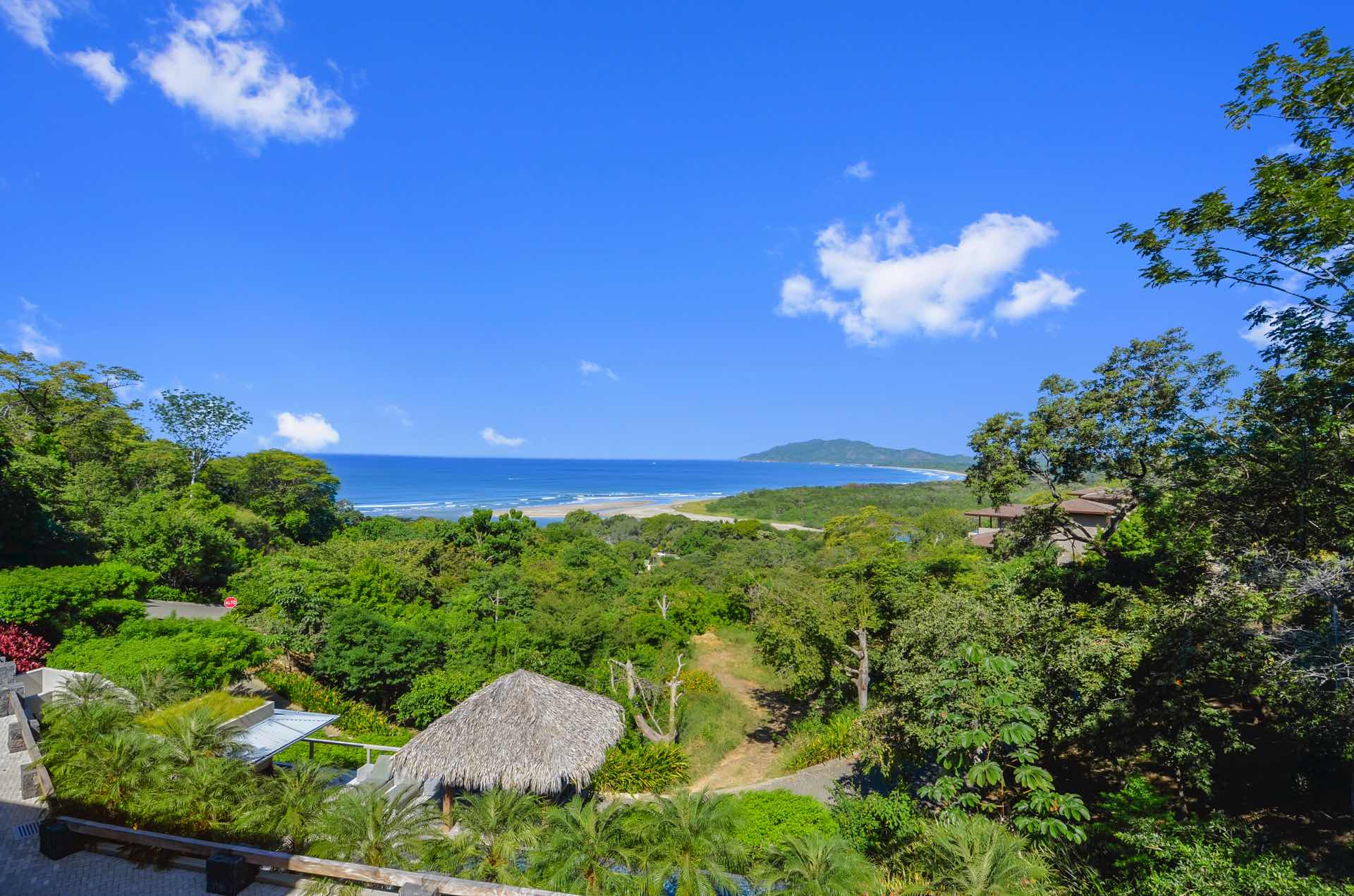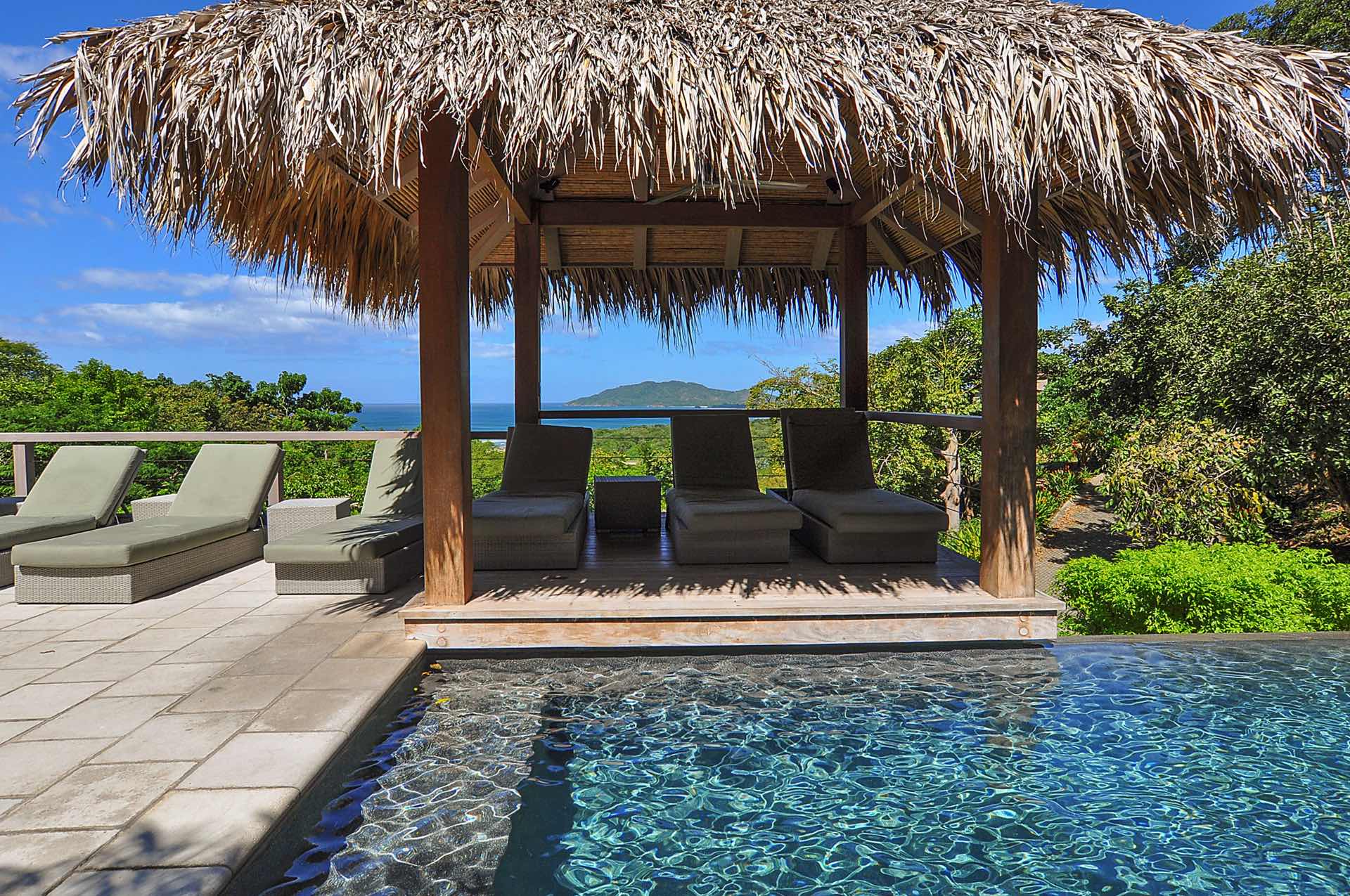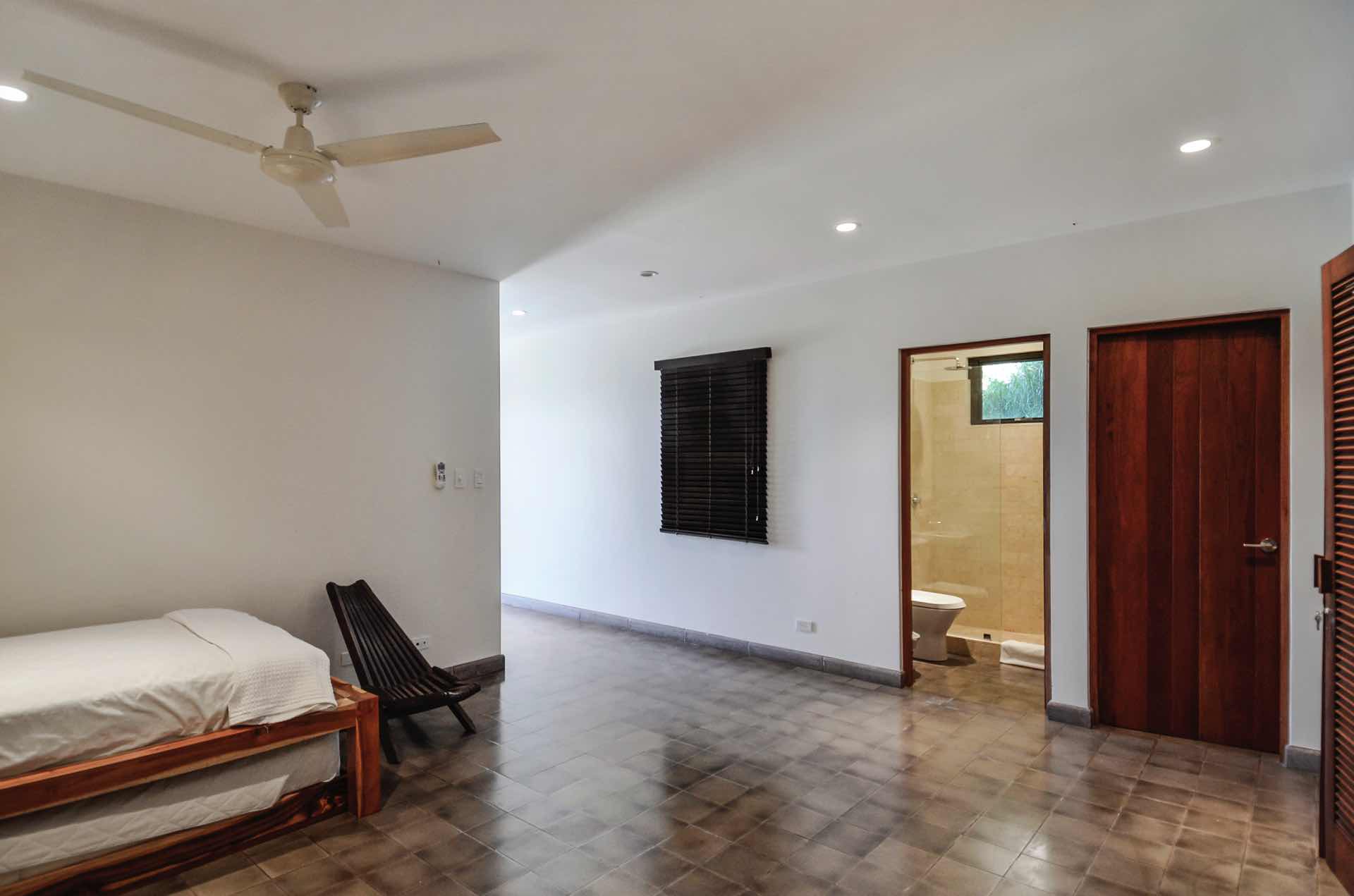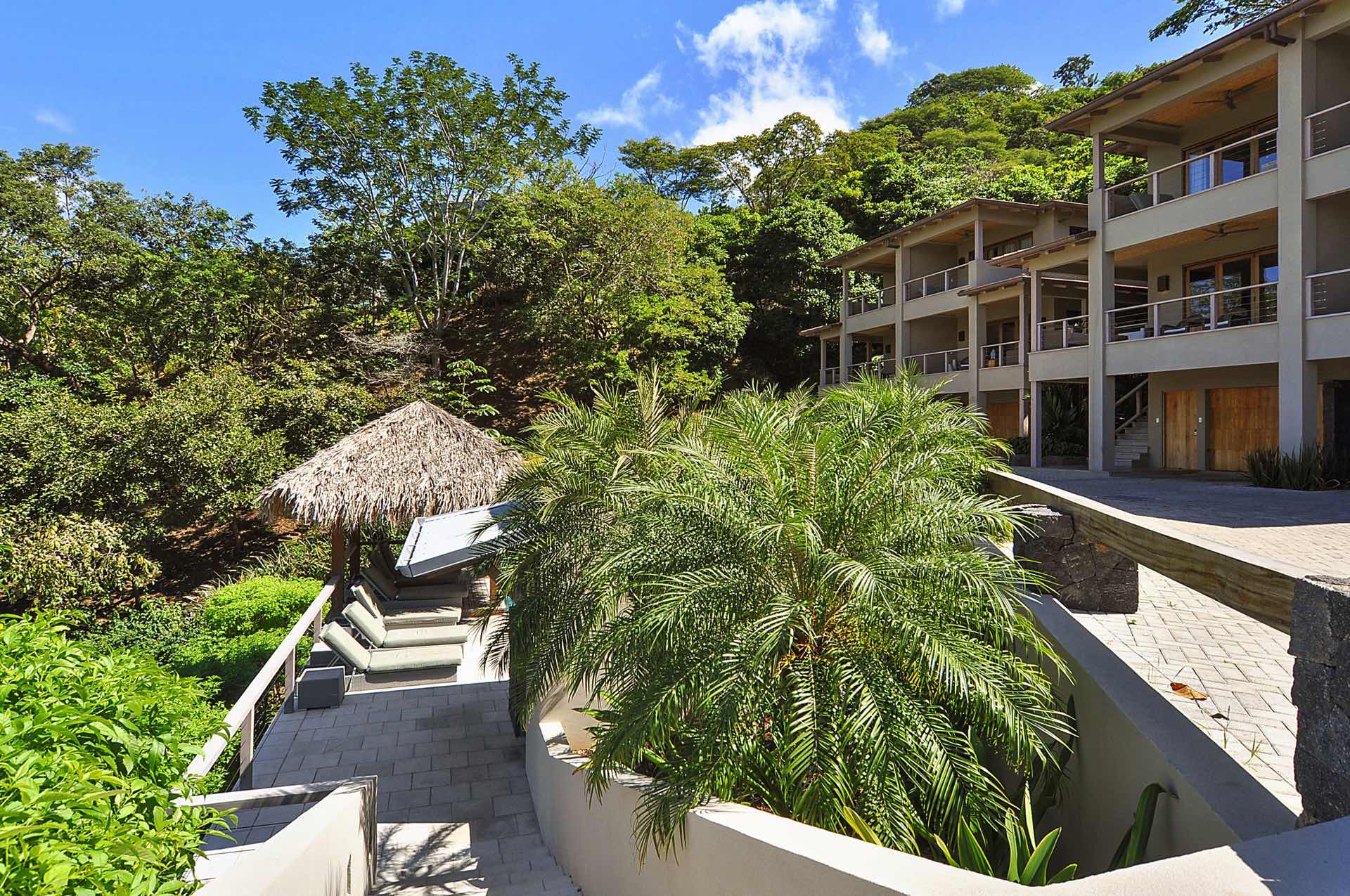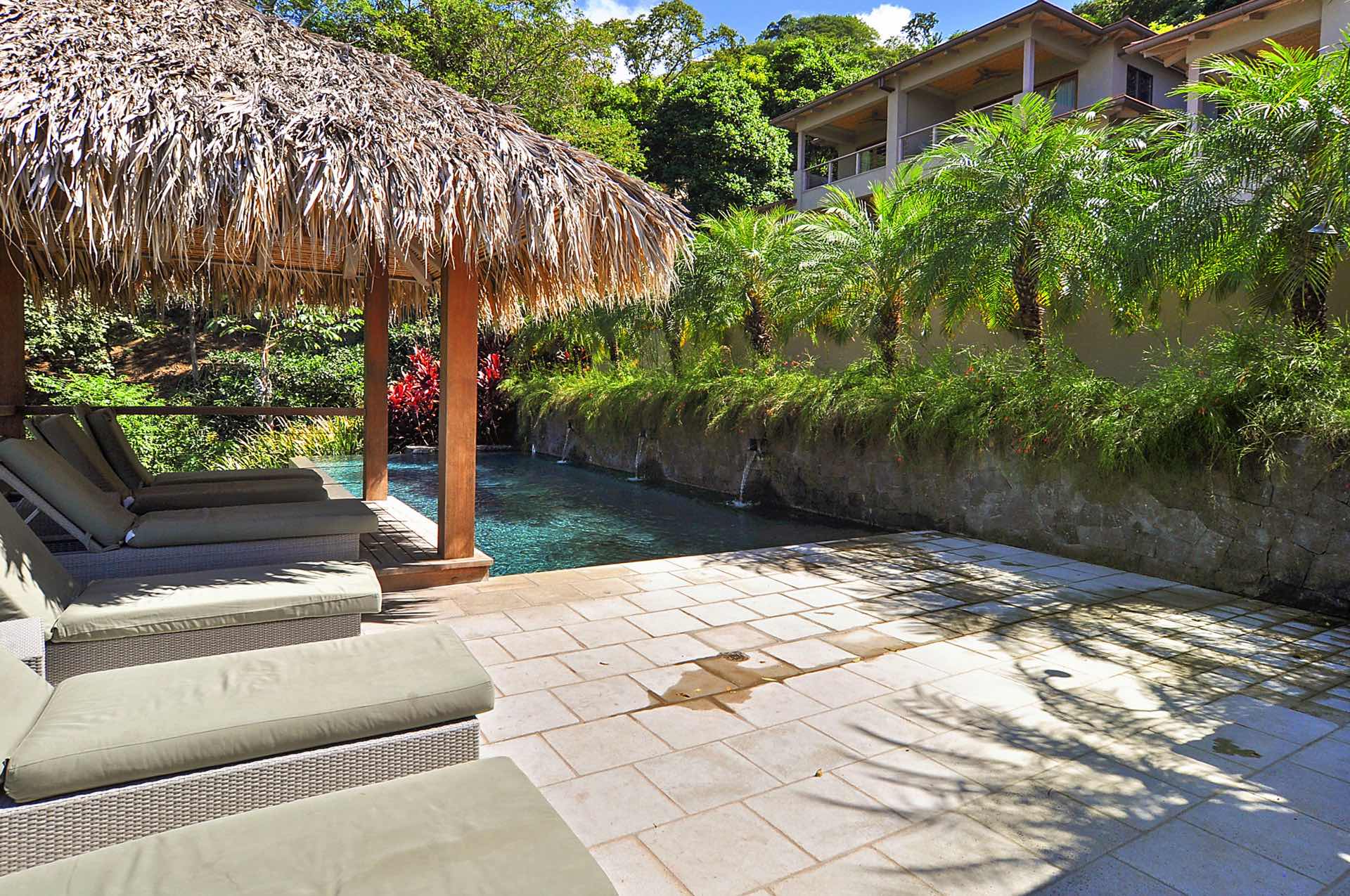 El Estero Villa is part of Villas Las Mareas, a brand new, gorgeous real estate community in north Tamarindo with ocean views to soothe your soul. Take a dip in the infinity-edge pool overlooking the sparkling Pacific Ocean set against the lush Guanacaste coastline. Enjoy dramatic sunsets and cool tropical breezes from your patio while you sip a cold one with friends and family. Here, you're just steps from Pangas Restaurant & Beach Club, located on Tamarindo Beach at the mouth of the Tamarindo Estuary and Las Baulas National Park.

El Estero Villa is unique with 4-bedrooms, all with king size beds, and a downstairs suite that features a living area and a daybed that converts into 2 twin beds for additional sleeping. In addition, there are two, twin-size trundle beds that roll out for ideal extra sleeping for children to young adults. El Estero Villa can sleep 10 adults comfortably and up to 12 using the trundles.

Inside El Estero Villa, you will enjoy over 2,000 square feet of unique Pacific Rim deco style featuring select local materials designed to blend with the tropical climate, natural ecosystem and to complement the indoor/outdoor lifestyle of Costa Rica. The gourmet kitchen is completely furnished with state-of-the-art Bosch appliances and everything you need to cook at home.

At Las Mareas, you'll experience the energy of Tamarindo, a vibrant beach town made famous for its pumping surf, outdoor adventures and international community. All the conveniences of shopping, nightlife and exploring are right in your backyard. But, at your villa in the El Tesoro gated community, surrounded by secluded Costa Rican jungle, you'll feel a world away with all the privacy and tranquility you desire. At Las Mareas, you can truly have it all as you experience the best of both worlds here in paradise.

HOME HIGHLIGHTS:

- Incredible Ocean View of Tamarindo and Las Baulas National Park

- Sleeps up to 8 with 2 trundle beds

- Walking Distance to Beach

SLEEPING ARRANGEMENTS (SLEEPS 12):

3RD FLOOR

- Master Bedroom: King Bed

- Guest Bedroom: King Bed, Trundle Bed (2)

2ND FLOOR

- Guest Bedroom: King Bed

1ST FLOOR

- Guest Bedroom: Queen Bed, Full Bed w/ Trundle
| | Nightly | Weekly |
| --- | --- | --- |
| January 06 - March 23, 2018 | $562 | $3,934 |
| March 24 - April 01, 2018 | $754 | $5,278 |
| April 02 - April 30, 2018 | $468 | $3,276 |
| May 01 - June 15, 2018 | $468 | $3,276 |
| June 16 - August 19, 2018 | $505 | $3,535 |
| August 20 - October 31, 2018 | $416 | $2,912 |
| November 01 - November 17, 2018 | $468 | $3,276 |
| November 18 - November 25, 2018 | - | $3,906 |
| November 26 - December 18, 2018 | $504 | $3,528 |
| December 19 - December 25, 2018 | - | $5,061 |
| December 26 - January 01, 2019 | - | $7,315 |
| January 02 - January 05, 2019 | $1,045 | - |
| January 06 - March 31, 2019 | $562 | $3,934 |
Concierge Services Available

Stay In Tamarindo PM - Properties
Thank you for entering your review. The review will become available to the system shortly.
Pura Vida at Las Mareas
Rating:
Review Date: 05/05/2017
Our group booked the entire Las Mareas Villas through Stay in Tamarindo () for the week of April 22-29, 2017, and everything about our stay – from beginning to end – was exceptional. We all wish we were still there.

Jen of Stay in Tamarindo helped with the booking arrangements and answered all of our many questions with friendly and helpful information. Stay in Tamarindo even arranged for shuttles from and back to the airport in Liberia (Edwin supervised the shuttles and made everyone feel welcome and comfortable). Upon arrival, the Villas were clean and ready for us, and Adriana of Stay in Tamarindo helped us get settled in and took care of everything we needed.

Las Mareas Villas are located on the hillside overlooking the Pacific Coast in Tamarindo. The views are spectacular! The individual Villas have identical floorplans and are new (constructed in 2013), with all modern appliances (including washer/dryer) and furniture. The beds are very comfortable. Everything is well-maintained. The Villas were cleaned regularly during our stay. The pool at Las Mareas got a lot of use by our group and is in a beautiful setting.

Cristina of Stay in Tamarindo provided Concierge Services for our entire group. She arranged tours, transportation, answered questions, offered advice, and generally made our week better. We visited beaches, bars, Rincón de la Vieja National Park (zip-lining, horseback riding, tubing, hot springs), went scuba diving, and took a Safari Boat Tour with up-close encounters with crocodiles and monkeys. Whatever you want to do or see in Guanacaste can be arranged through Cris.

But our favorite was probably the Sunset Sailing Cruise onboard an 82-foot schooner that Cris booked for us. Wow! Live music (thanks Max!) and truly gourmet food, not to mention snorkeling, dancing on the deck, and an open bar. And, Pangas Beach Club is right at the bottom of the hill for dining and fun all week.
Manager Response: 05/31/2017
Response from Stay in Tamarindo
Tim, Thank you very much! We're thrilled to know everything went great with your trip. The villas really are a perfect location for a group! :-) We loved having your group over and we are so happy to know you and your friends had an amazing time during your stay. Sounds like you enjoyed the tours and activities and experienced a lot of Costa Rica's attractions. So good to hear how much you enjoyed the staff and services provided, it was our pleasure to assist you before and during your stay. Thank you again for staying with us and hope you can come back to sunny Costa Rica very soon!
great pace to stay
Rating:
Review Date: 04/10/2017
Me and my family, 8 of us in total had a great time at Las Mareas Villa 1. We were there for 10 days and wasn't long enough.
Manager Response: 04/20/2017
Response from Stay in Tamarindo
Matt, we are happy to hear you had a great time with your family at Las Mareas. You definitely need to come more often :-) Let us know for your next visit to sunny Tamarindo. Pura Vida!
LAS MAREAS VILLA 1 AND STAFF
Rating:
Review Date: 02/19/2017
Honestly this is going to be hard, because words can't really express how amazing this place and it's staff were. Everything from day 1 was perfect, the places were clean the staff were super friendly and accommodating especially our two coordinators Adriana Alvarez and Cristina Gonzalez these to girls went over and above for us in every aspect, we never felt like we were bugging them, they were always super friendly and willing to help. The Grounds staff or let's saying cleaning staff for the entire area were amazing and very trust worthy they wouldn't even take out tips when we tried to give it to them we literally had to force them, they kept everything so clean inside and outside. I Highly highly recommend Stay in Tamarindo as a company and Las Mareas as vacation rental I will be going back.
Manager Response: 02/25/2017
Response from Stay in Tamarindo
"Thank you so much Adam! Sounds like you had an amazing time and really got to enjoy what this area offers! :-) It was a pleasure to assist you throughout your trip and we hope to have you back sometime soon! Pura vida!"
Great Location and view
Rating:
Review Date: 09/21/2016
The best experience, awesome ocean view, a lot of space, modern appliances and comfortable beds.
Manager Response: 09/22/2016
Response from Stay in Tamarindo
Thank you Diego! We look forward to having you back for next years marathon! :-)
Amazing trip with my best friends!
Rating:
Review Date: 08/30/2016
If you are considering staying in Tamarindo, book this rental! The house was amazing, we went with a group of 7 and it was so nice to have the 4 bedrooms and bathrooms so that every couple had their own space! The main level with the kitchen, living and deck was great and we spent a lot of time in this space enjoying the amazing view of the lagoon! The hill into town is steep, but we all walked it numerous times and it is doable. We also rented a few cheap scooters in town which helped us get around as well! Not to forget the countless hours we spent in the beautiful pool area. The staff is beyond amazing! Cris helped us plan all of our outings and adventures most of which were booked last minute and all were top notch. Also every driver that Cris sent for us were friendly, helpful and accomadating! We will remember this trip forever!
Manager Response: 08/31/2016
Response from Stay in Tamarindo
Thank you Elizabeth!! Great to know you and your group enjoyed their stay! It was a pleasure to assist you throughout your stay, we'll make sure to pass on your kind comments to Cris, she really does an awesome job every time :-) Pura vida!
Best Stay in Tamarindo......
Rating:
Review Date: 08/20/2016
Exceptional. These villas are exceptional in every way. Views, condition, cleanliness, management and location. Would never consider anywhere else in Tamarindo.
Manager Response: 08/23/2016
Response from Stay in Tamarindo
Thank you Chris!! We loved having you and your family over and hope to have you back soon! Pura vida!!
Highly recommended!
Rating:
Review Date: 06/12/2016
We stayed for one week and had an amazing time! The Villas were beautiful, I would have to say the nicest place I have stayed on vacation. Up to date, nicely furnished, fantastic views, great location. Pool was amazing- quiet, beautiful, many hummingbirds. The management company that worked with us during our stay was wonderful. We used their shuttle service to and from the airport- very easy. We also booked an adventure tour with them and enjoyed that very much. All in all an amazing trip and would love to go back!
Manager Response: 06/12/2016
Response from Stay in Tamarindo
Brandi, thank you so much for your kind comments, we're very happy to know to had a wonderful stay and liked everything about the villas :) We'd be more than happy to help you plan for another great stay so give us a call next time you want to come down to CR! Pura vida! -Gilda
Gorgeous rental property
Rating:
Review Date: 04/02/2016
We loved Villa 1, the views were amazing and the location was quiet and away from the main drag. It is important to note that the 4th bedroom is a separate entrance on the first floor, away from the main living areas. The hill is no joke - but you get used to it and it was a great way to burn off your meal after dinner :) The management team was awesome - friendly, helpful and available.
Manager Response: 04/08/2016
Response from Stay in Tamarindo
Amy, thank you so much for your comments. Yes, that hill is a good work out! We'd love to help you plan your next great stay in CR, hope to have you back soon!! Pura vida! -Gilda
Las Mareas Villa
Rating:
Review Date: 03/25/2016
WE had an incredible experience at Las Mareas! The villa is gorgeous, spacious and worked well for three couples. Very nicely furnished and enjoyed coffee and drinks on the deck each day. Would highly recommend it!
Manager Response: 03/25/2016
Response from Stay in Tamarindo
Cheri, you've made our day! We'd be thrilled to have you stay with us again! Thank you so much! Gilda-
BEST GIRLS TRIP EVER, GORGEOUS HOME!
Rating:
Review Date: 03/14/2016
We had a great stay. There were eight of us going for a Birthday get away. The location was quiet. The pool right out the front was beautiful. The short walk to the beach was very convenient as well. There was a black/ lava rock outdoor shower for the pool, added to the tropical experience! The condo had everything we could need if we wanted to cook/lounge by the pool/ or go to the beach. If you are driving yourself, it can be a little hard to find the first time (as they don't have physical addresses in Costa Rica). You can certainly walk to town, it's about a 15 min walk, but a golf cart would be beneficial as it's a dirt road between the condo and town. We survived without one, cabs are only $5-6 US. I would definitely come back. The whole staff was very accommodating.
Manager Response: 03/25/2016
Response from Stay in Tamarindo
Hi Araceli! We're really happy to hear you enjoyed your stay so much! We'd be thrilled to help you plan for the next girl's trip!! ;) Thank you!! - Gilda
Village trip
Rating:
Review Date: 11/28/2015
The villas are very clean and comfortable. Villa #1 is great because of the extra room. We all enjoyed the veranda views and the pool area. Close to town and very convenient to Pangas Beach Club.
Bachelor Party Success
Rating:
Review Date: 09/04/2015
The place is hands down top of the line. At a great price too. We were a group of 7 guys. Great beds, great A/C, Great view... it was all good. The best thing was coming home after a long day and getting in the infinity pool to end the night. The only bad thing is the walk down/up the hill. We walked it every time we went out. We all are in good/great shape and that walk is no joke. Cabs are available though, we just did not use them. We called it the trail of sobriety. Thanks to the whole staff for a great time. Cristina and Danielle really took care of us.
A Beautiful Place for Our Wedding Guests!
Rating:
Review Date: 08/22/2015
The Las Mareas villas were a perfect place to stay for all 39 of our wedding guests! Our ceremony was held down the road from the villas at the Pangas Beach Club and so the accommodations were convenient for our guests. The villa layouts allow for people to spend time together in the kitchen and living room, but also get some private time in separate bedrooms with their own bathroom. The villas are beautifully furnished, very clean, and fully stocked with amenities. The beach and estuary is within walking distance, but you do have to walk about 450m down a semi-steep hill (so walking back up a semi-steep hill back to the villa). Our guests could also hang out by the pool and spend time getting to know each other! The property managers were friendly, fun, easy to communicate with and provided services (transportation, catering, etc) in English. They helped us organize guest check-in/-out since everyone was arriving and leaving at different times. We definitely recommend Las Mareas for a vacation (and wedding weekend) stay!
A beautiful place to call home in Paradise.
Rating:
Review Date: 04/24/2015
The view was absolutely incredible, the villa itself had all of the comforts of home and was beautifully designed, and the pool was a perfect escape for extra hot days. The upstairs terrace off of the master bedroom was a beautiful added bonus for quiet time and yoga with an incredible, sweeping view.
Stunning View
Rating:
Review Date: 04/20/2015
Amazing view! Very nice condo, fully equiped with all the necesary things. Everybody was very helpful. The gentleman that works on maintenance and watering the plants was very nice and educated.
Spectacular views
Rating:
Review Date: 04/18/2015
We just had our wedding at Pangas beach club 4/9/2015 which is located across the street from Las Mareas. We rented Las Mareas villas for our family and friends for the week. The villas are well maintained, beautifully decorated and had amazing views. It was perfect for our guests - each bedroom had its own bathroom, providing privacy. The kitchen is fully equipped, refrigerator has filtered water and ice so no need to buy bottled water, just bring a water bottle. Most of our guests enjoyed having early morning coffee on the balcony. The pool area was very tranquil, we enjoyed having a BBQ there. The hill from the front gate to the villas was quite steep, which was easily remedied by hiring a driver/car to transport people up and down the hill, around the town and supermarket which was nearby. Our athletic guests walked up and down the hill without any problems. The housekeeping staff were very nice and non intrusive, always willing to help. Beach chairs, surf boards are in the garage, which was a nice surprise! Washer and dryer located in garage were so helpful. The management staff was very helpful setting up activities, massages and transportation. Many thanks to Jen, Danielle and Lucas. Each and everyone of us had a great time and loved our stay at Las Mareas.
Perfect vacation!
Rating:
Review Date: 03/03/2015
The villa was amazing! Every single room was so nice. The view was spectacular and all of my guests really enjoyed the amenities. I would definitely stay here again.
Your request has been sent. We look forward to meeting all your vacation needs!
Optional Guest Protect Plan travel insurance
The Guest Protect Plan from CSA Travel Protection Includes:
✓
Valuable benefits before, during and after your vacation
✓
Reimbursement of non-refundable trip costs if you must cancel your trip or cut it short due to covered sickness, injury or other events
✓
150% of trip cost coverage for covered trip interruptions
✓
24/7/365 emergency assistance hotline, plus access to a network of physicians
View complete plan details
Yes! I want the CSA Travel Protection Guest Protect Plan
No, I don't want this insurance and understand that I may be responsible for cancellation penalties in accordance with the Terms and Conditions, up to 100% of the rental costs.