Pueblo Colonial #5 | Costa Rica House Rental
Tamarindo Vacation Rental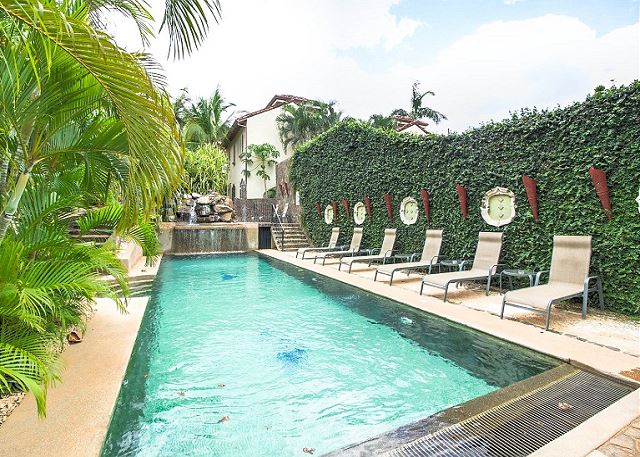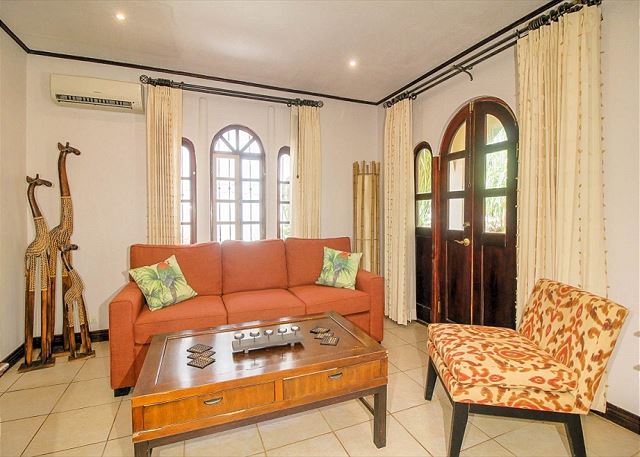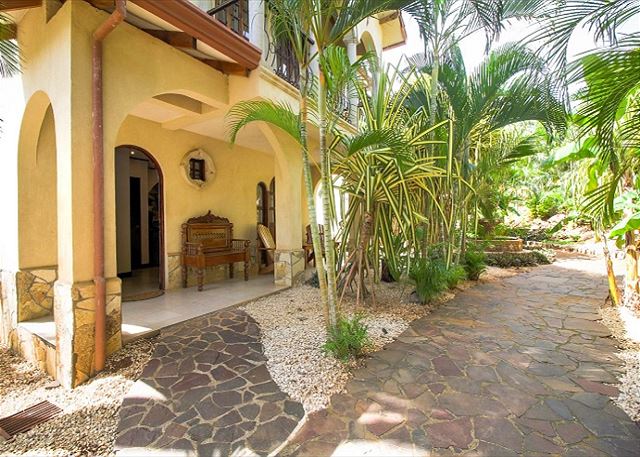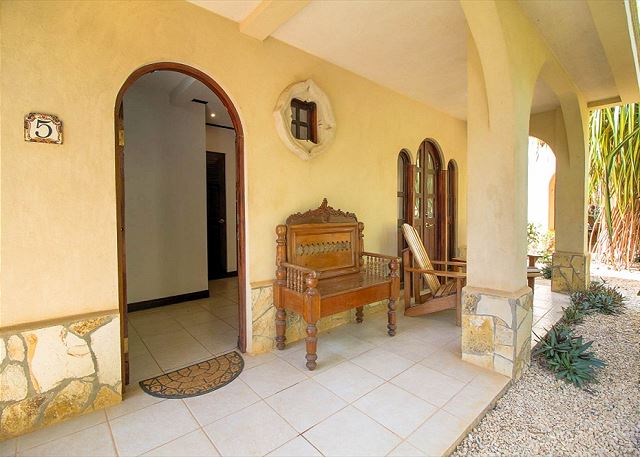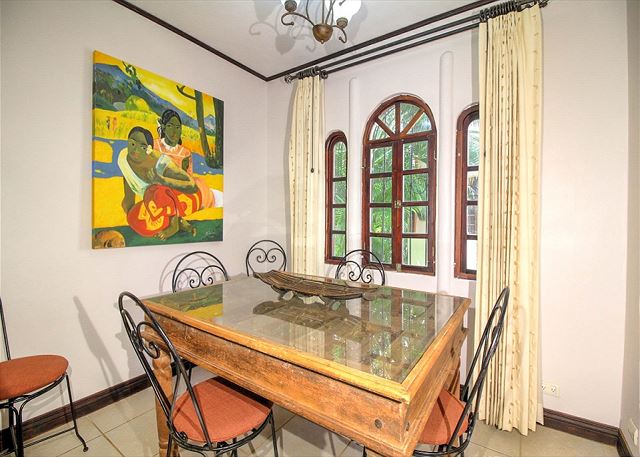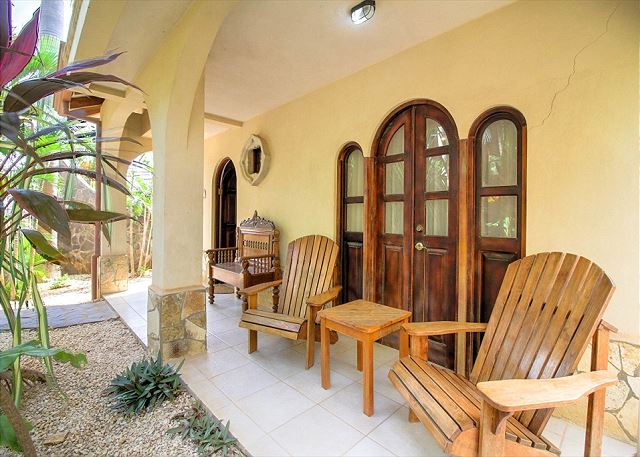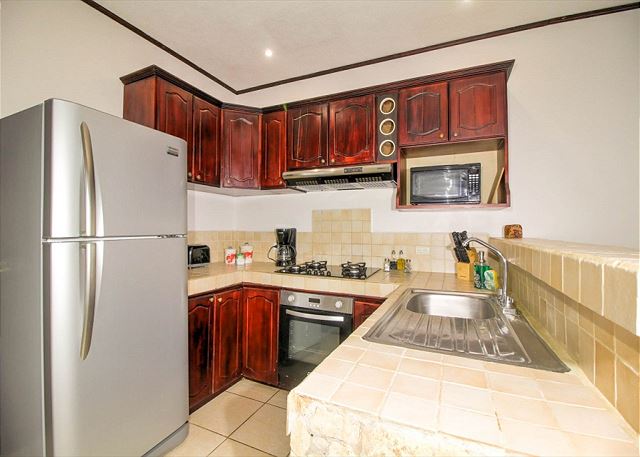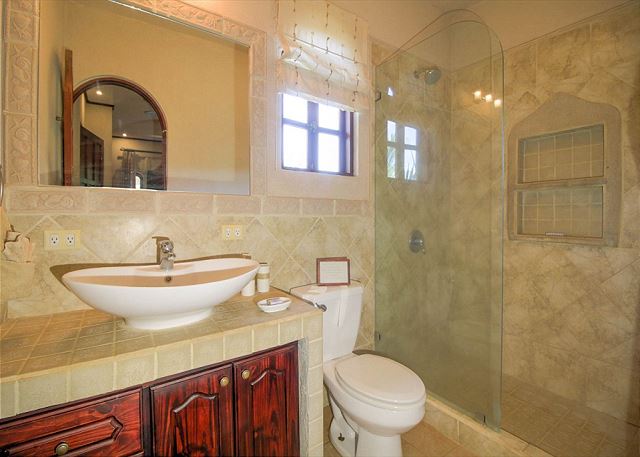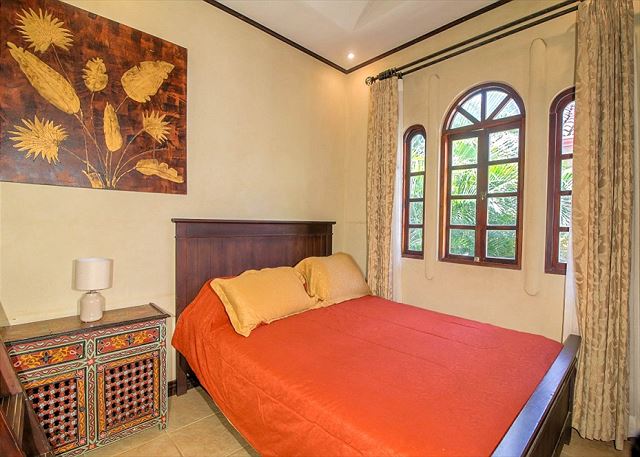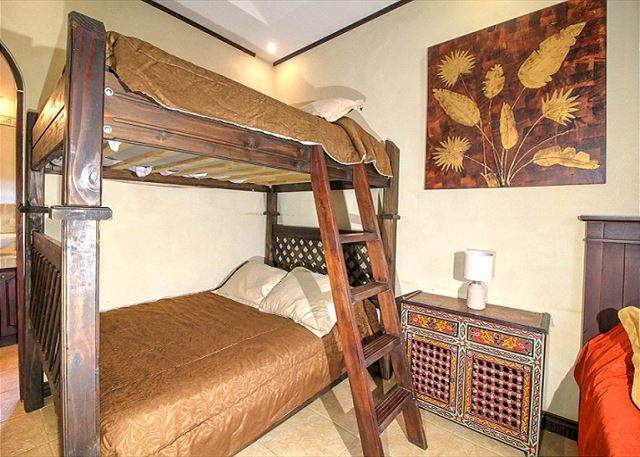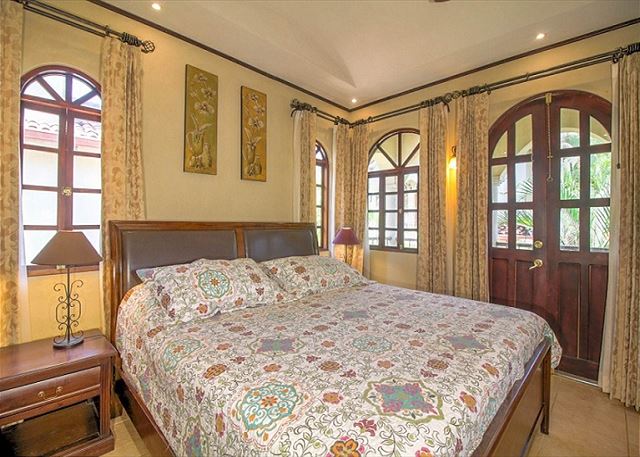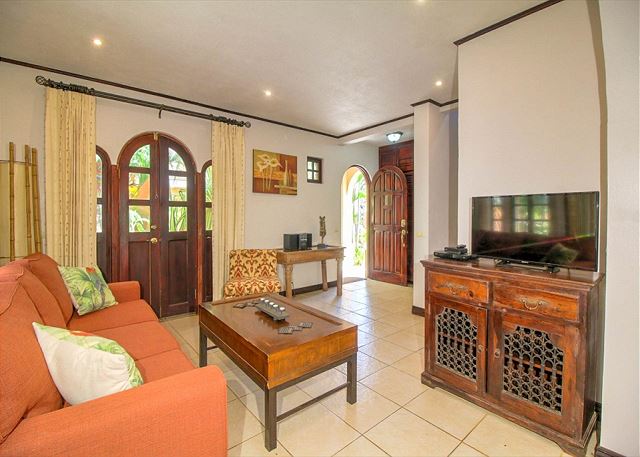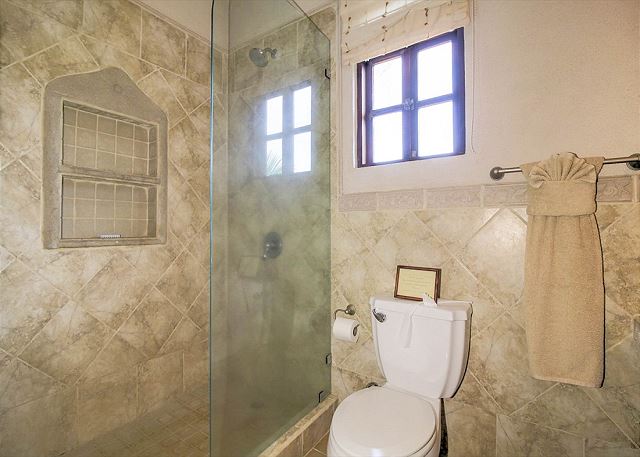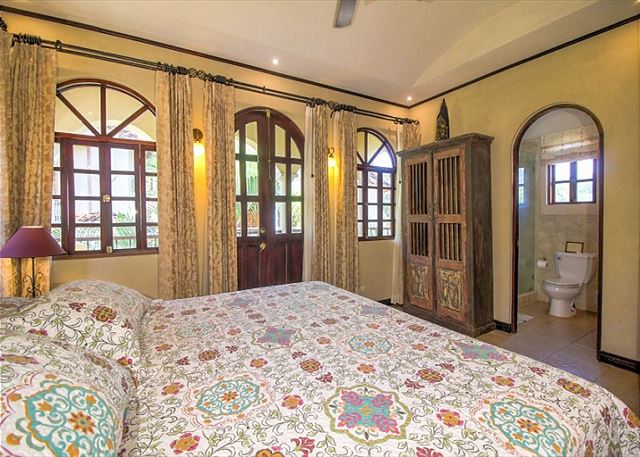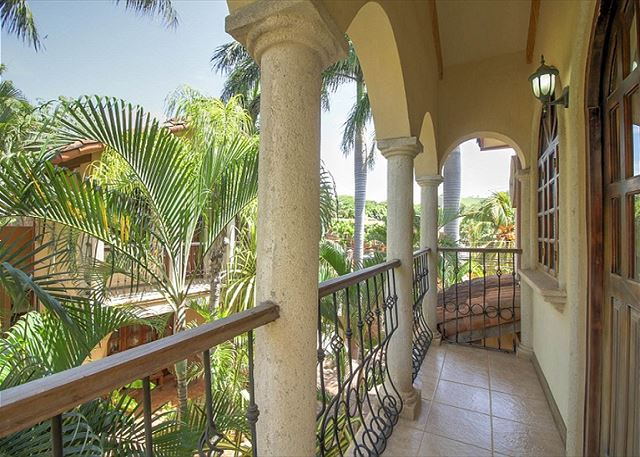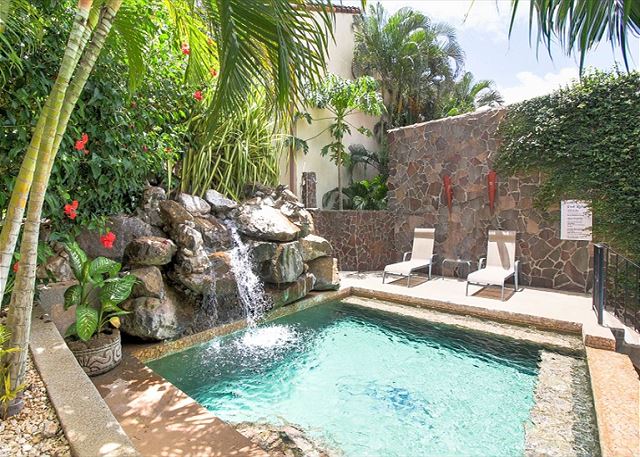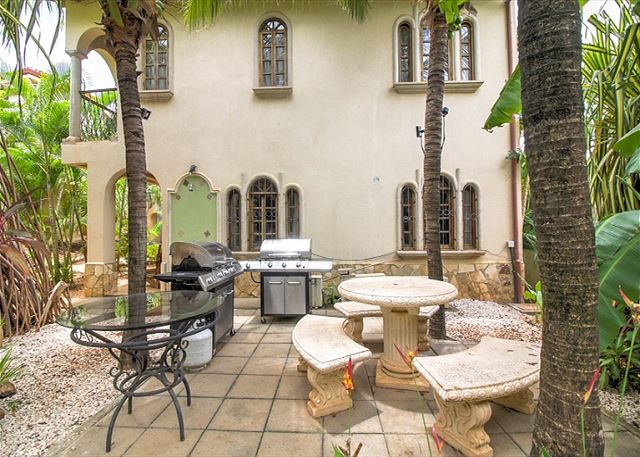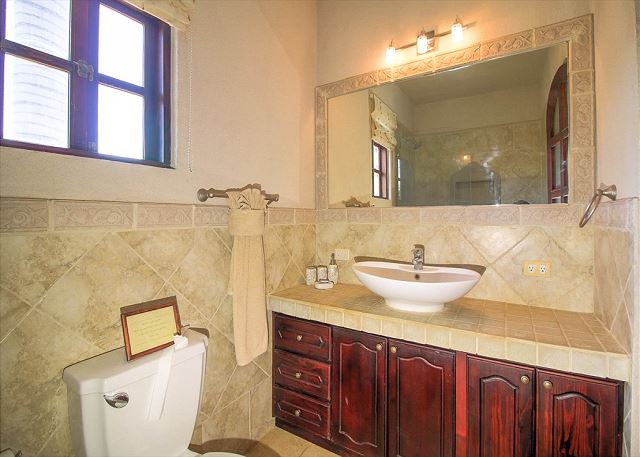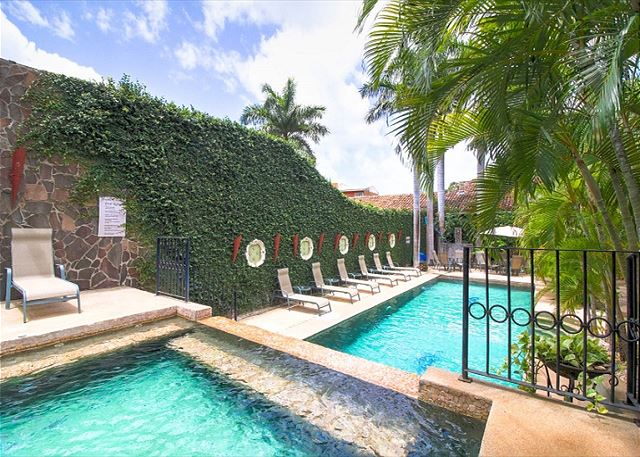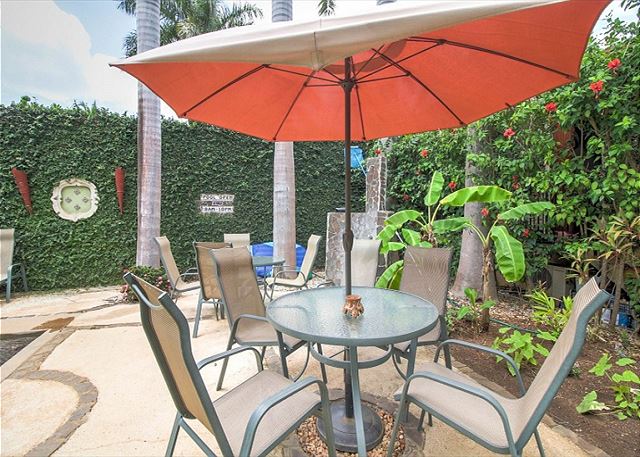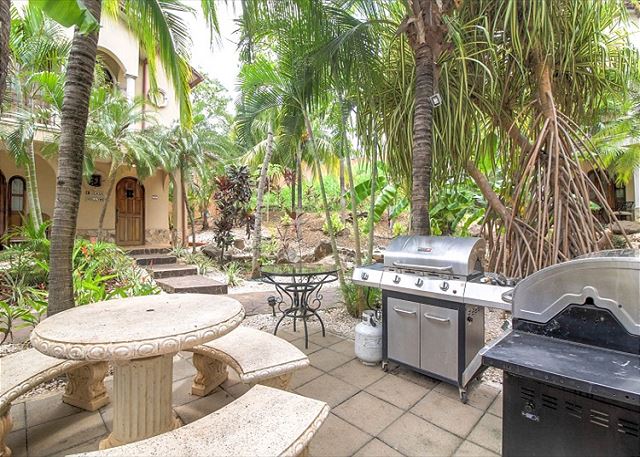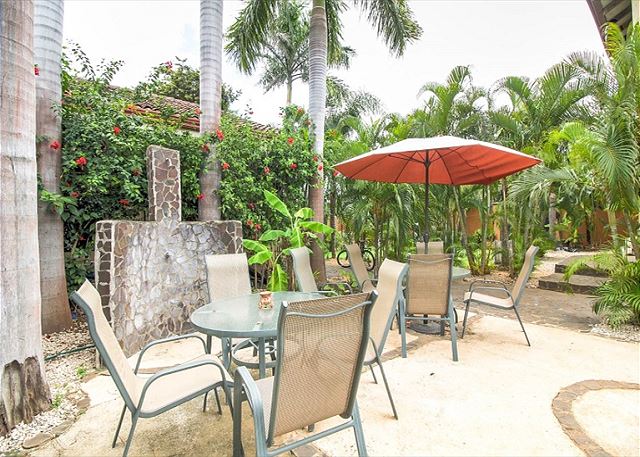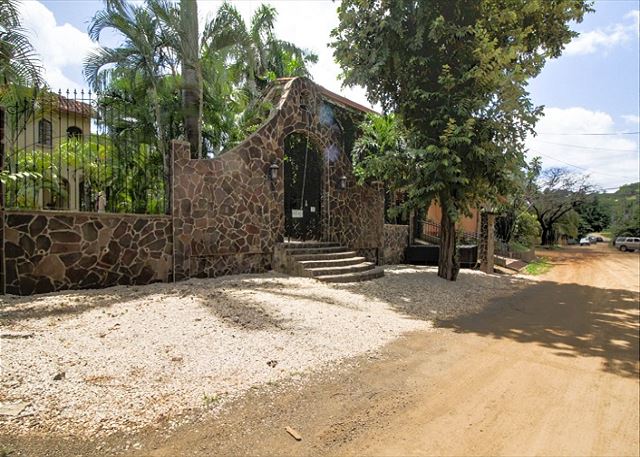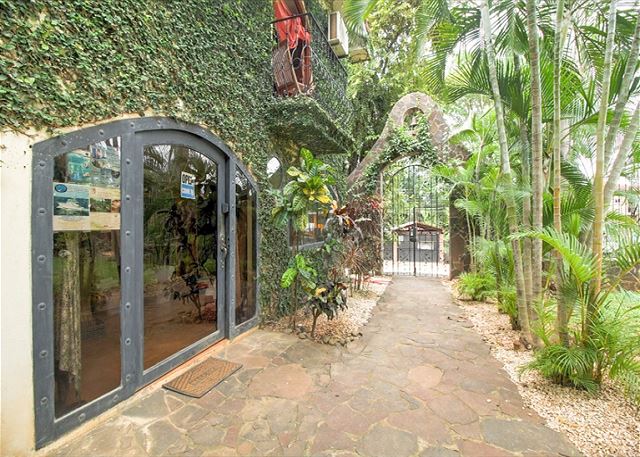 This beautiful complex features many unique architectural elements inspired by Colonial cities found in Central America. In particular, these homes in Pueblo Colonial are directly influenced by the colonial architecture of Granada, Nicaragua. This includes but is not limited to imported tiles, handcrafted woodwork and beautiful balconies.
Pueblo Colonial #5 has two bedrooms and two bathrooms that can sleep up to 6 adults. It is fully equipped for a comfortable stay including kitchenware, linens, towels, AC, and Wifi. The complex also features a refreshing pool surrounded by the rampant yet serene gardens that give Pueblo Colonial its magical feel. This is also an excellent option for larger groups that would like privacy. This lovely and affordable option is in one of the most ideal locations. It is a short walk outside of the center of Tamarindo so you can enjoy the quiet and have the option to venture into our beautiful beach town.
Pueblo Colonial is perfect for wedding groups, family reunions, retreats, corporate incentive groups, and more. It is important to note that these are stand alone houses, not condos. They include fully furnished Kitchens, laundry rooms, bedrooms, and bathrooms as well as a private parking spot.
HOME HIGHLIGHTS:
- Walking distance to center of town & beach
- Large communal pool with BBQ area
- Private gated community
- Well equipped kitchen
- Digital TV
- DVD Player/Radio
SLEEPING ARRANGEMENTS (SLEEPS 6 Adults):
- Master Bedroom: King Bed
- Guest Bedroom: Queen Bed, Queen Bunk Bed
| | Nightly | Weekly |
| --- | --- | --- |
| May 01 - June 15, 2019 | $120 | $840 |
| June 16 - August 18, 2019 | $141 | $987 |
| August 19 - October 31, 2019 | $120 | $840 |
| November 01 - November 22, 2019 | $135 | $945 |
| November 23 - November 30, 2019 | - | $1,015 |
| December 01 - December 18, 2019 | $140 | $980 |
| December 19 - December 25, 2019 | - | $2,030 |
| December 26 - January 01, 2020 | - | $2,366 |
| January 02 - January 05, 2020 | $338 | - |
| January 06 - April 03, 2020 | $151 | $1,057 |
| April 04 - April 13, 2020 | - | $1,505 |
| April 14 - April 30, 2020 | $140 | $980 |
| May 01 - June 12, 2020 | $120 | $840 |
Thank you for entering your review. The review will become available to the system shortly.
Pueblo Colonial #5
Rating:
Review Date: 01/14/2019
The property location and grounds were amazing. It was a 5 minute walk to the new grocery store, and 14 minutes to the beach/town. Maybe I missed this in my research before booking, but it would have been nice to know about the "fragile Tamarindo Septic System". Having to throw all toilet paper in the basket, rather than the toilet? Now in hindsight, it was no big deal. Not the inconvenience I would have made it out to be beforehand. Some ants and smaller bugs on the counter in the morning, just keep food sealed and in the fridge. The pool was fantastic and we grilled out on Xmas day. I would go again.
Manager Response: 02/08/2019
Response from Stay in Tamarindo
Thanks for your comments! We do have a great pool and I'm glad you took advantage of the barbecue! The sensitive septic systems are pretty common throughout Central America, and I'm glad you found it wasn't as bad as it seems to those not accustomed. I hope you will come back and see us again. Pura Vida!
Tamarindo, CR
Rating:
Review Date: 03/12/2018
The property was up to the satisfaction we had set except for one area which I consider unacceptable. Our stay was schedule for ten days and one would anticipate that sundries such as bedding and towels would be replaced after a couple days of use. That was not the case, the onus was on the renter to wash the sheets and beddings as well as towels and sundries. The rent for the location should cover that aspect in order for the renter to enjoy their hollyday.
Manager Response: 05/01/2018
Response from Stay in Tamarindo
Hi Yves, Thanks you for your comments. Pueblo Colonial is a self catering property, not a hotel, and as such we do provide laundry soap as well as other products for basic cleaning, but do not clean the villas for guests unless they request it. Then we will happily clean the villa for a $20 fee. I hope you did enjoy your stay here despite that disappointment.
Great Location and accomodations
Rating:
Review Date: 07/14/2017
We had a great stay in a great, secure location , close to the beach, restaurants and shopping. I would highly recommend it!
Manager Response: 08/11/2017
Response from Stay in Tamarindo
Hi Chris! Thanks so much for recommending Pueblo Colonial! I'm glad you enjoyed your stay and I hope you'll come see us again!
Experiencing Costa Rica for the First Time!
Rating:
Review Date: 03/09/2017
A group of 7 life-long friends traveled from the Midwest - USA to beautiful Costa Rica. Overall, we had a great experience and plan to go back next year, but better prepared.

It is terribly windy there, so ball caps must replace our beach hats. The 33% tax on food and alcohol was unexpected, but again we can make preparations to avoid a good part of that. Lastly, we had anticipated walking to many places, but the condition of the roads and distances to travel were greater than we anticipated. However, we a golf cart, you can navigate the town of Tamarindo quite effectively.

Lastly, for a group of women, the inability to flush our toilet paper was a little disturbing, but we did not allow that to ruin our trip.
Manager Response: 03/28/2017
Response from Stay in Tamarindo
Hi Cathy! Glad you enjoyed your stay in Tamarindo - we did have some dusty winds at that time! Now you're ready for an even better trip next year!
Wedding
Rating:
Review Date: 01/24/2017
everything was great. the area and the rooms were very clean and you cant beat the price for a big group like mine (15 people). we rented 3 houses. the roads are no the best but i was in costa rica for 10 days and that seems to be the case there. overall great stay.
Manager Response: 01/26/2017
Response from Stay in Tamarindo
Hi Rosa! I'm so glad you enjoyed your stay at Pueblo Colonial and it was a pleasure to meet all of you! All the best to you and I hope you will come see us again, despite the bumpy roads!
Your request has been sent. We look forward to meeting all your vacation needs!
Optional Guest Protect Plan travel insurance
The Guest Protect Plan from CSA Travel Protection Includes:
✓
Valuable benefits before, during and after your vacation
✓
Reimbursement of non-refundable trip costs if you must cancel your trip or cut it short due to covered sickness, injury or other events
✓
150% of trip cost coverage for covered trip interruptions
✓
24/7/365 emergency assistance hotline, plus access to a network of physicians
View complete plan details
Yes! I want the CSA Travel Protection Guest Protect Plan
No, I don't want this insurance and understand that I may be responsible for cancellation penalties in accordance with the Terms and Conditions, up to 100% of the rental costs.