Villa Tranquila | Costa Rica House Rental
Hacienda Pinilla Vacation Rental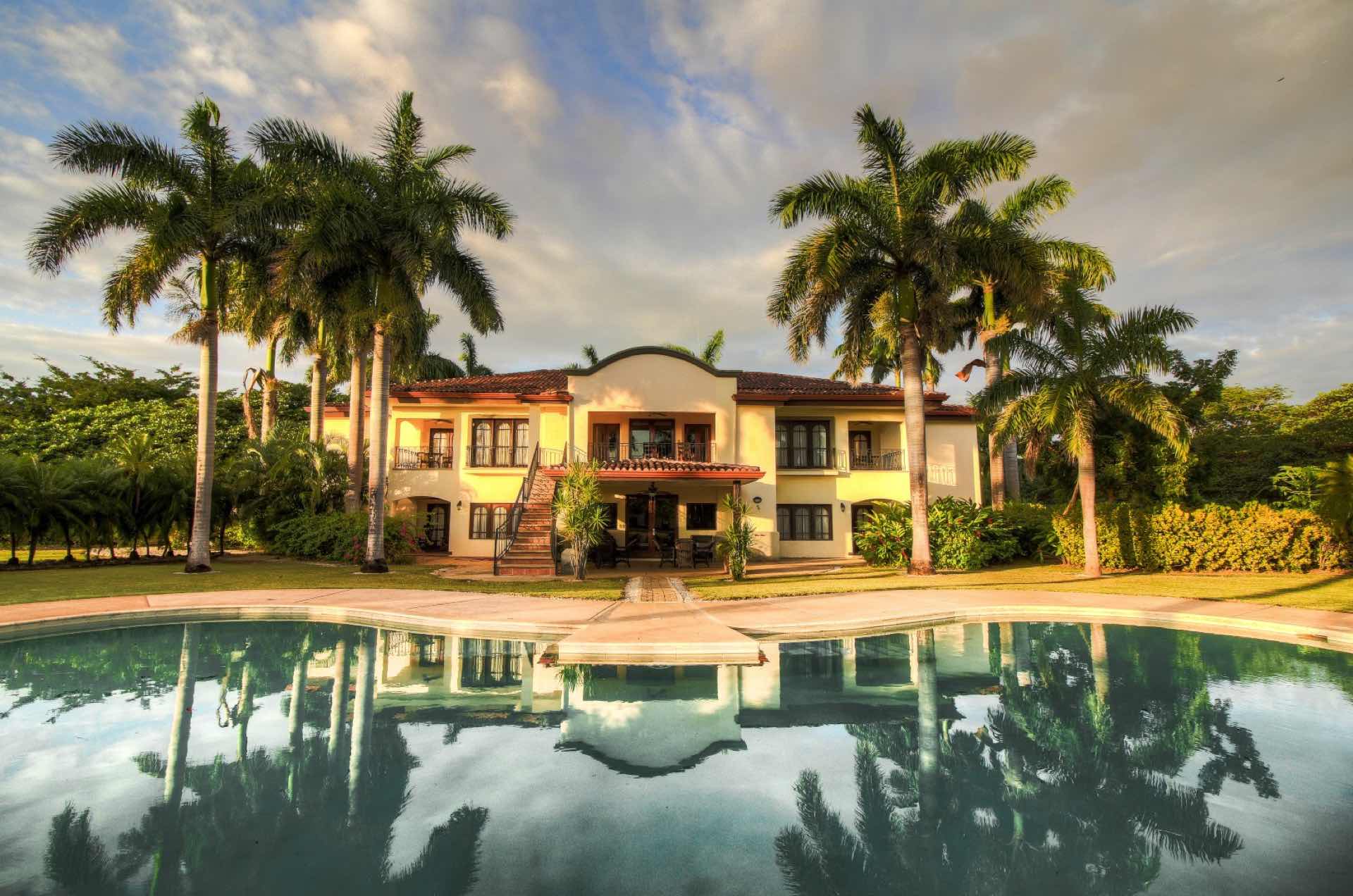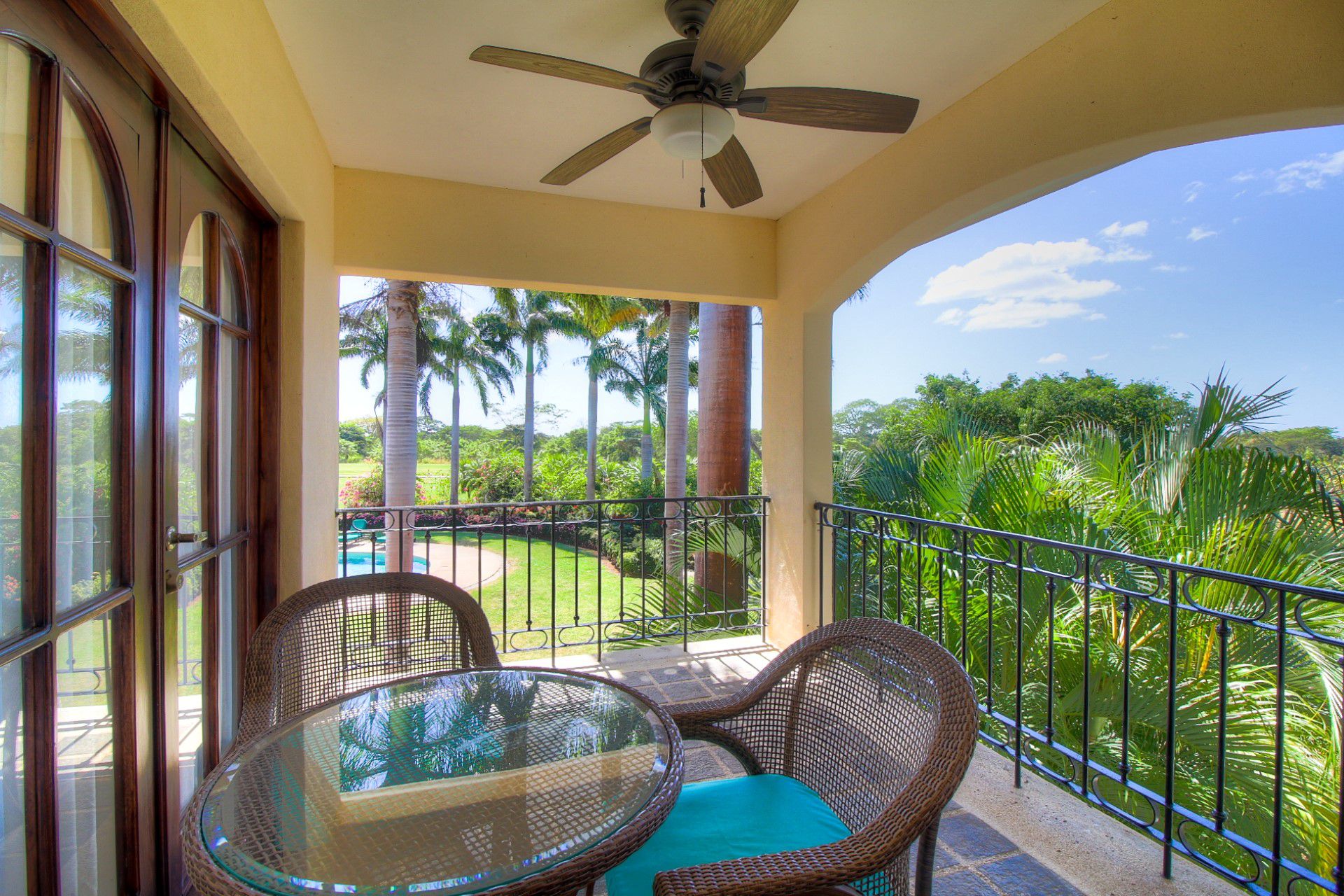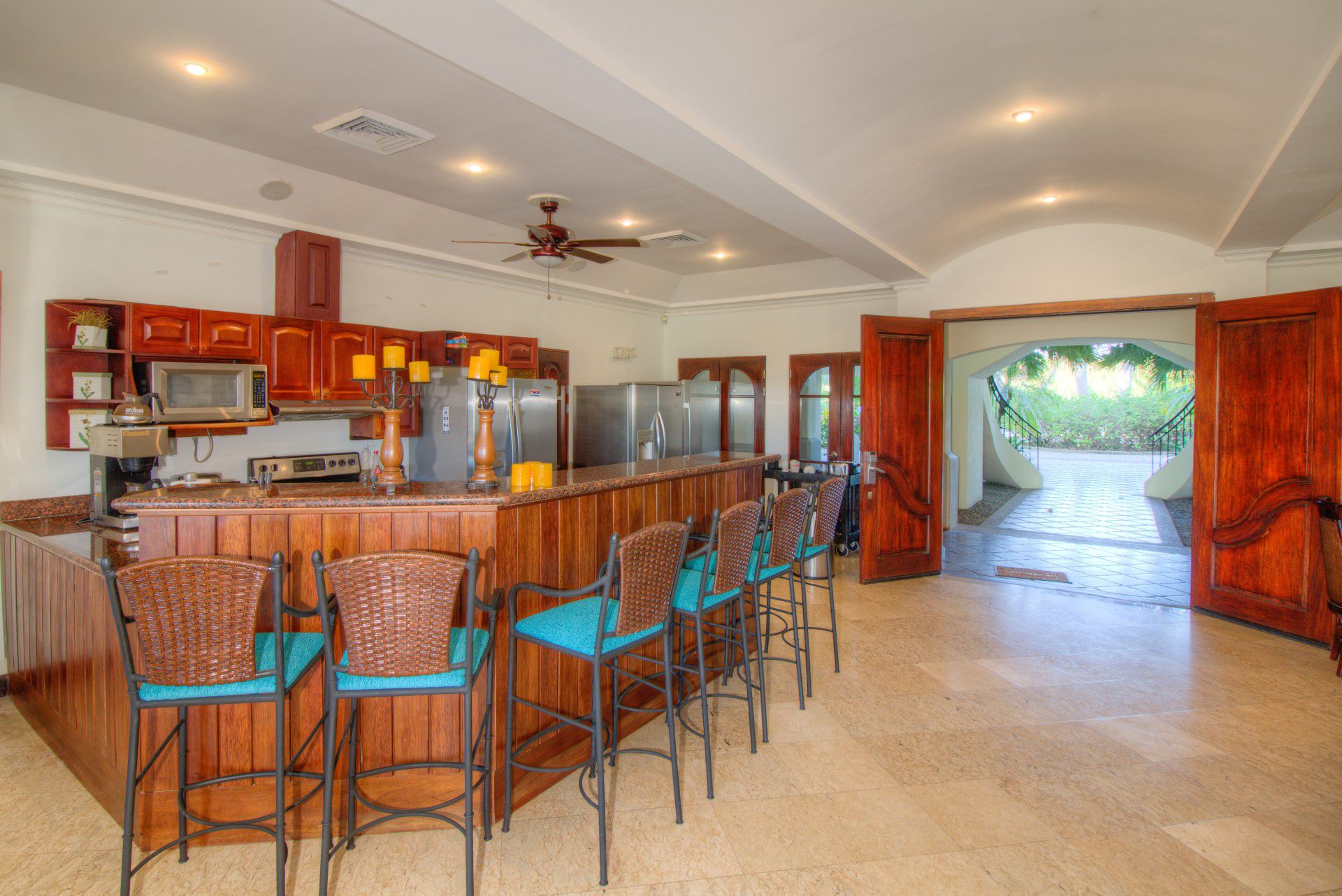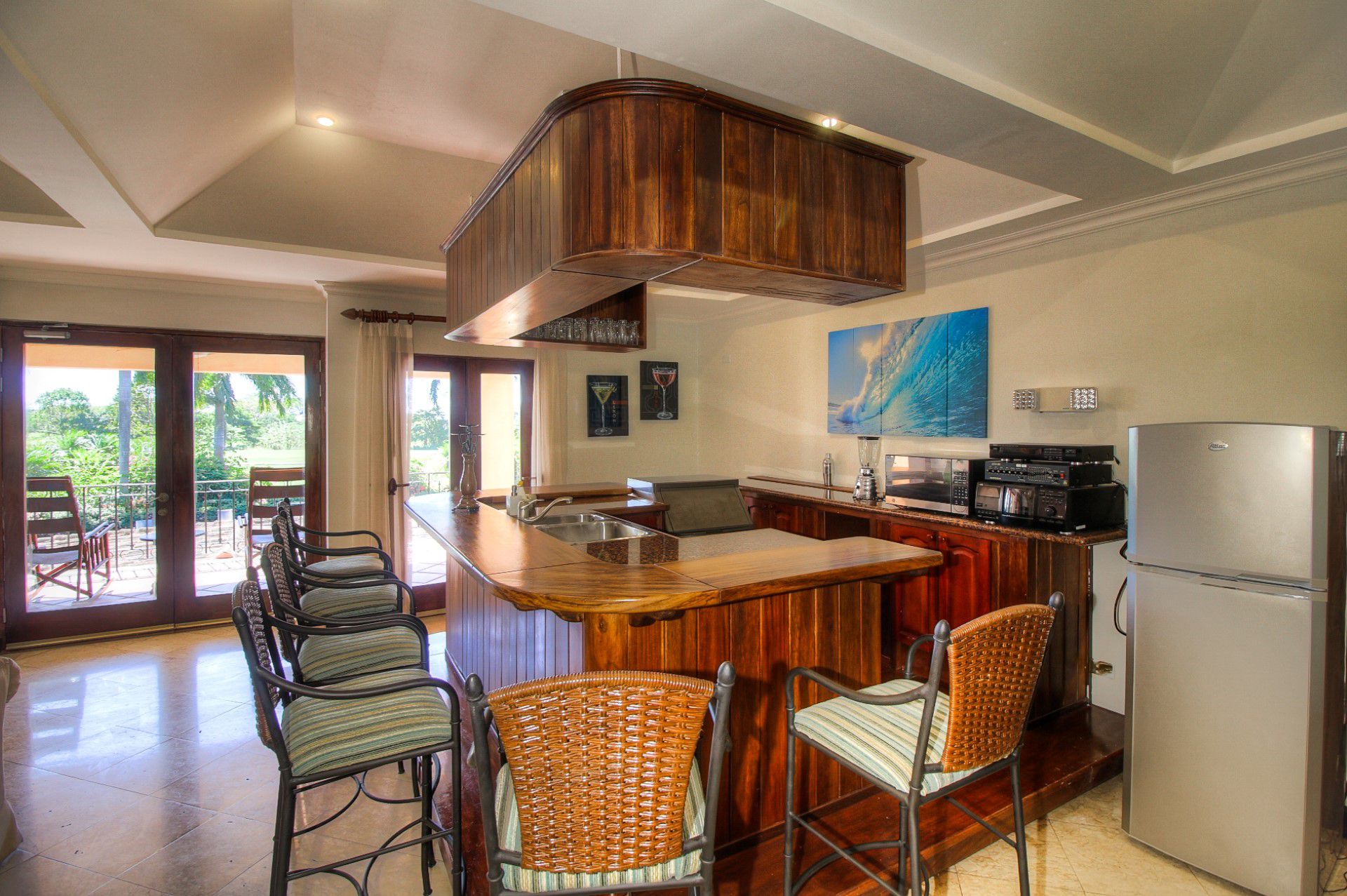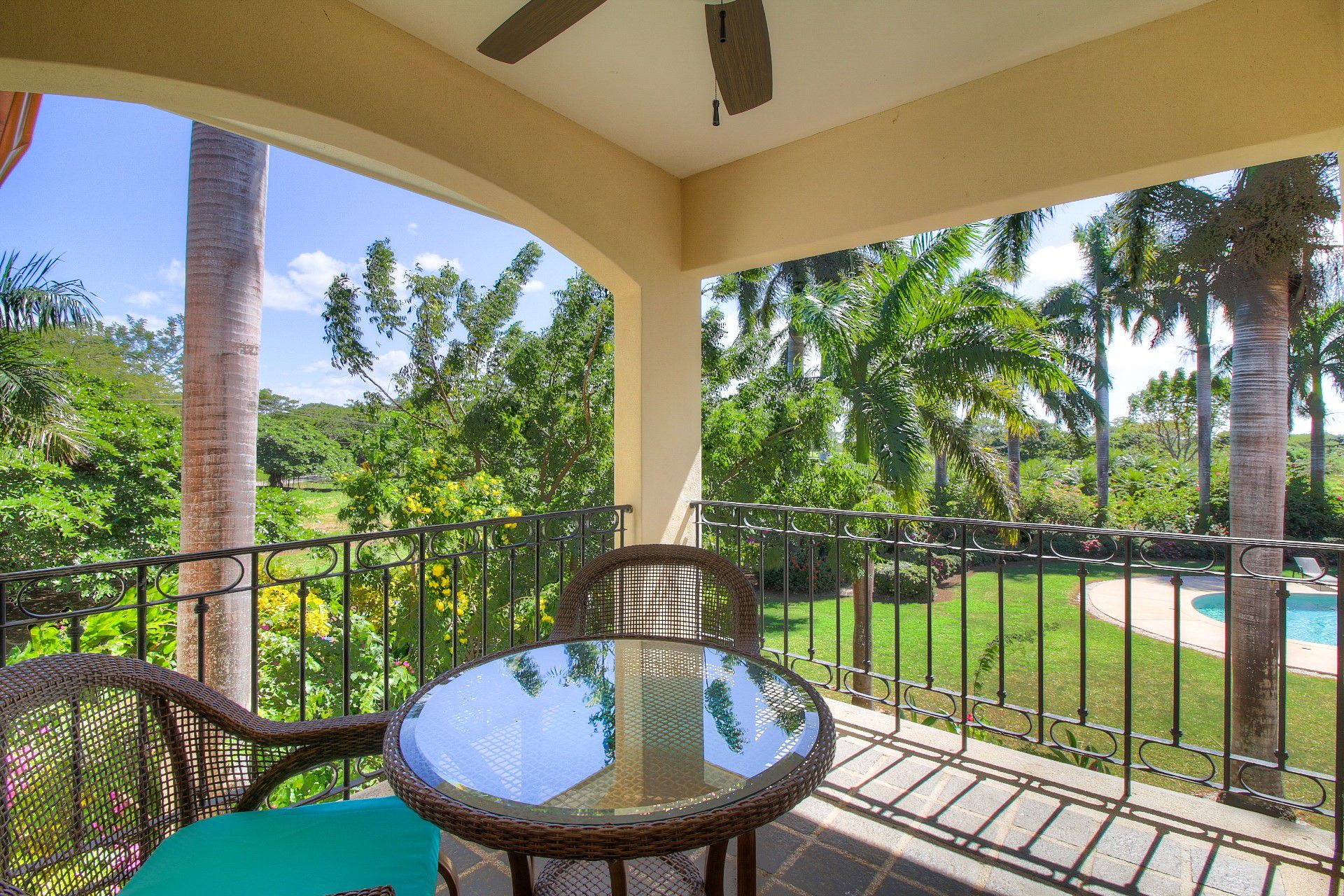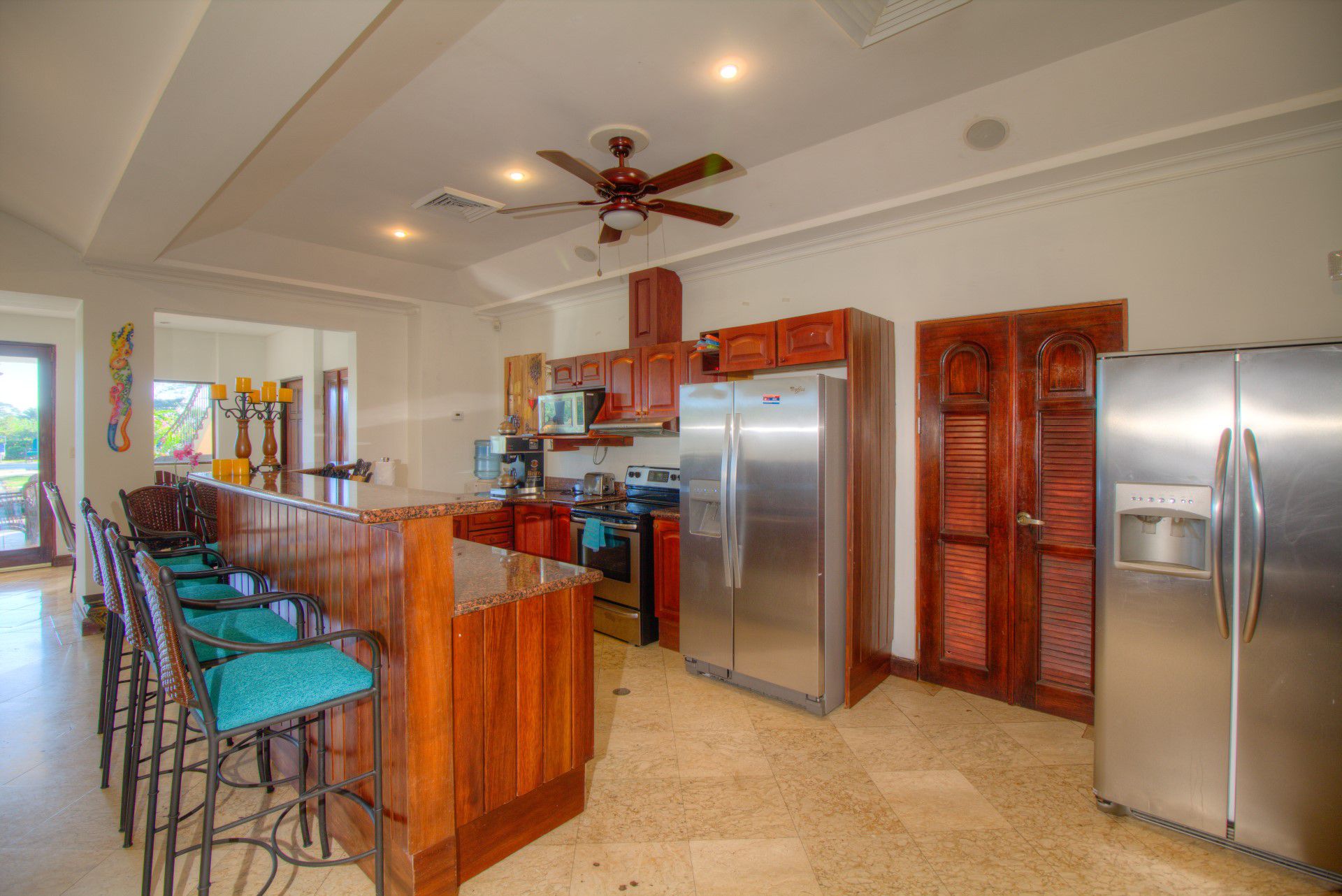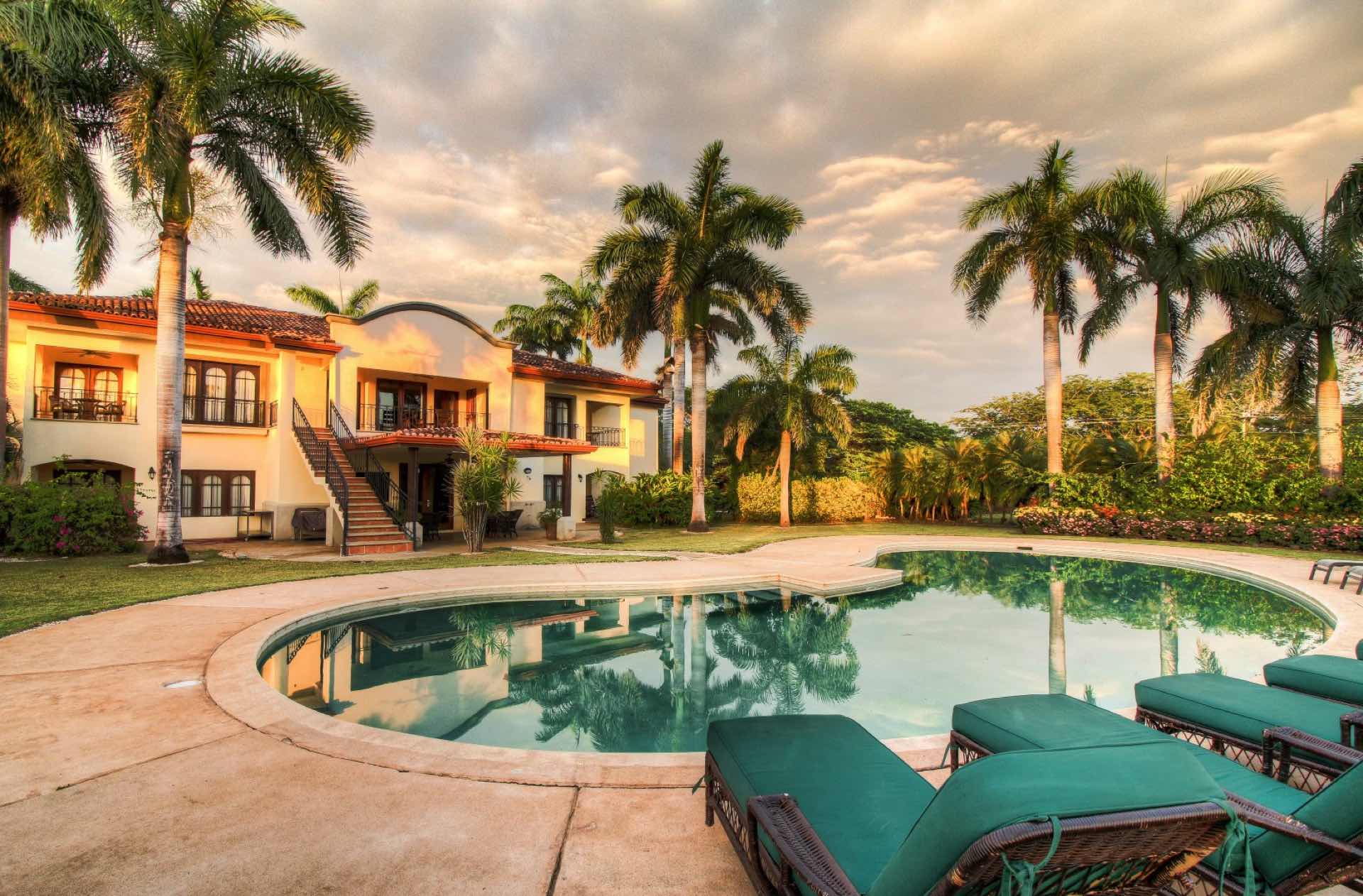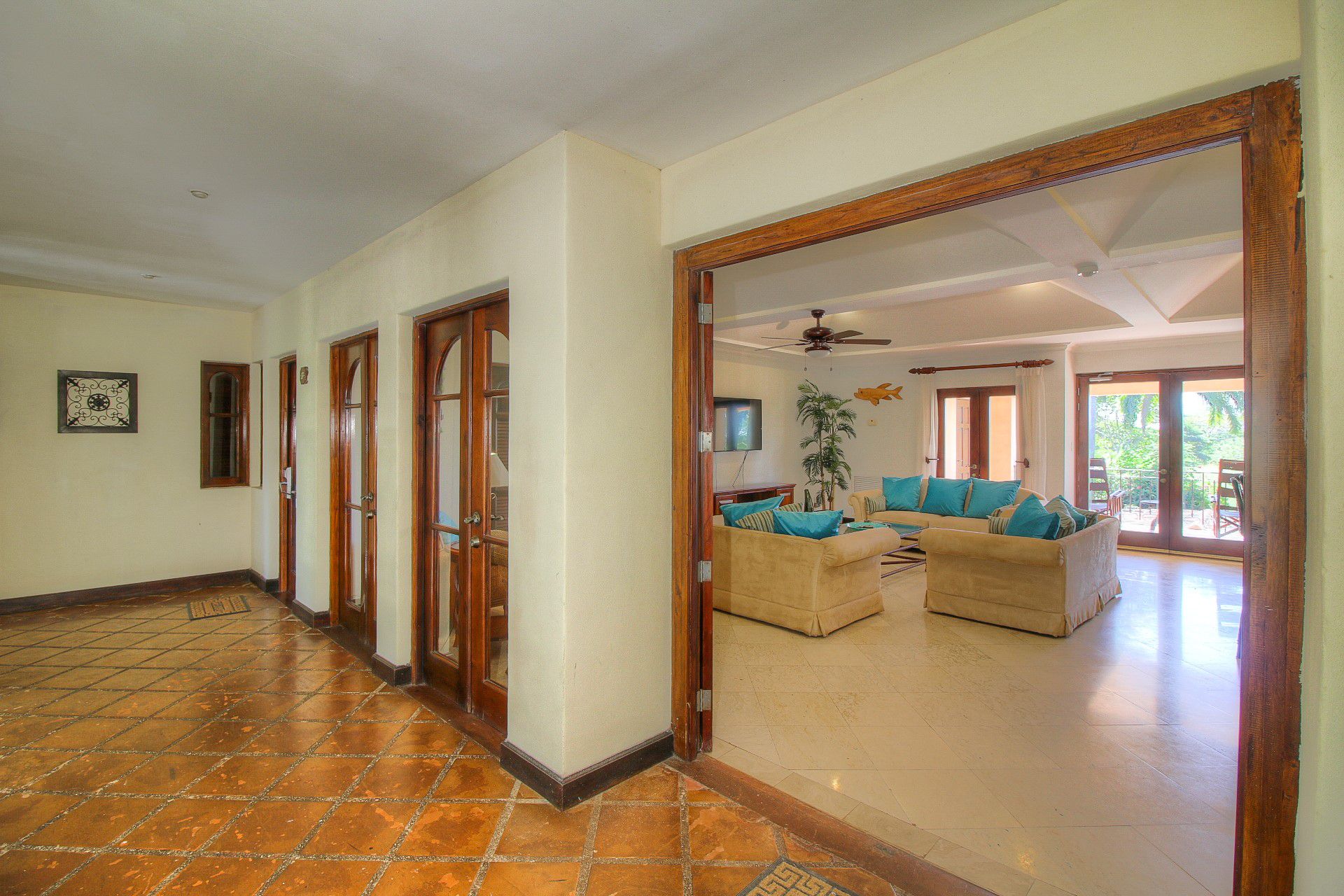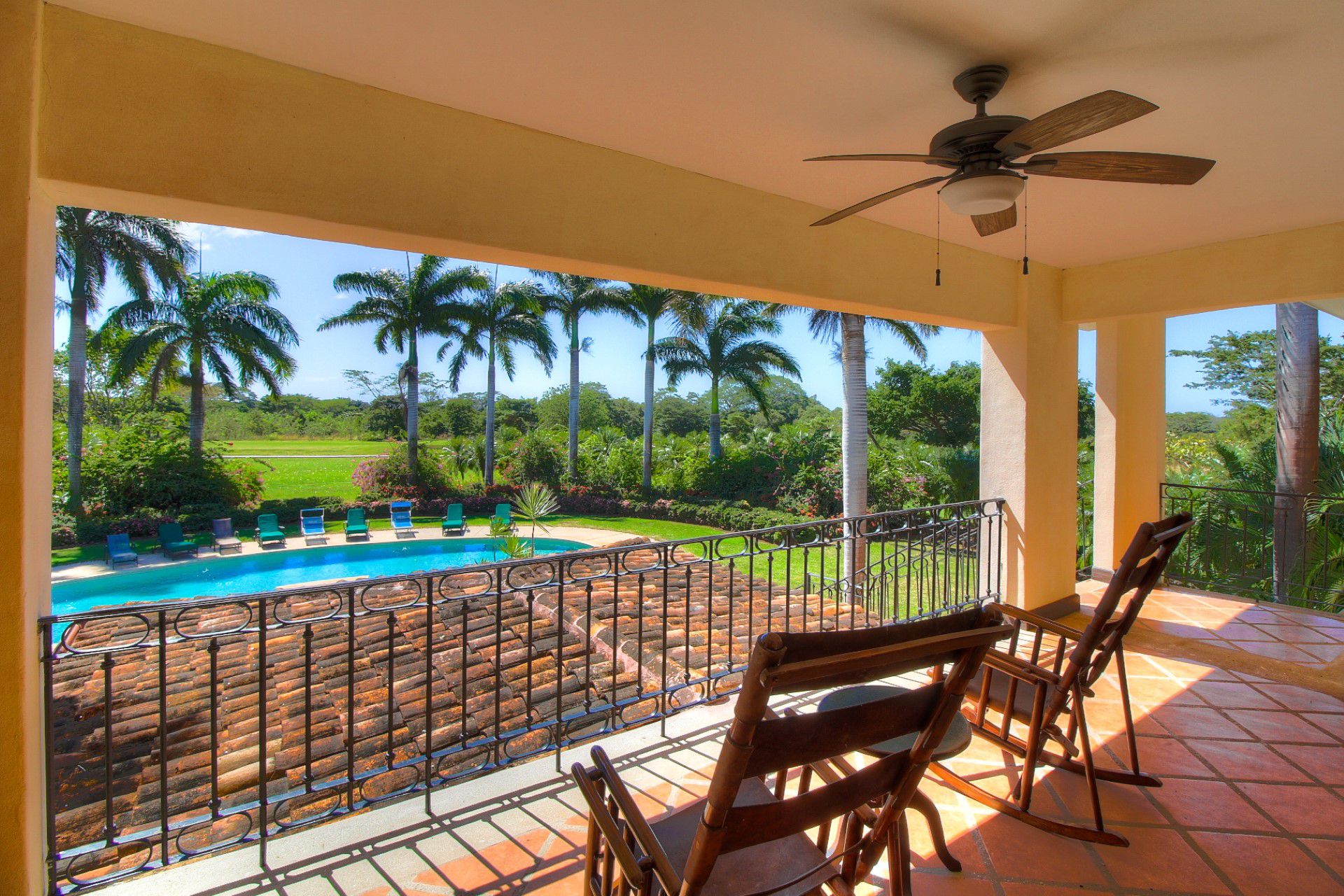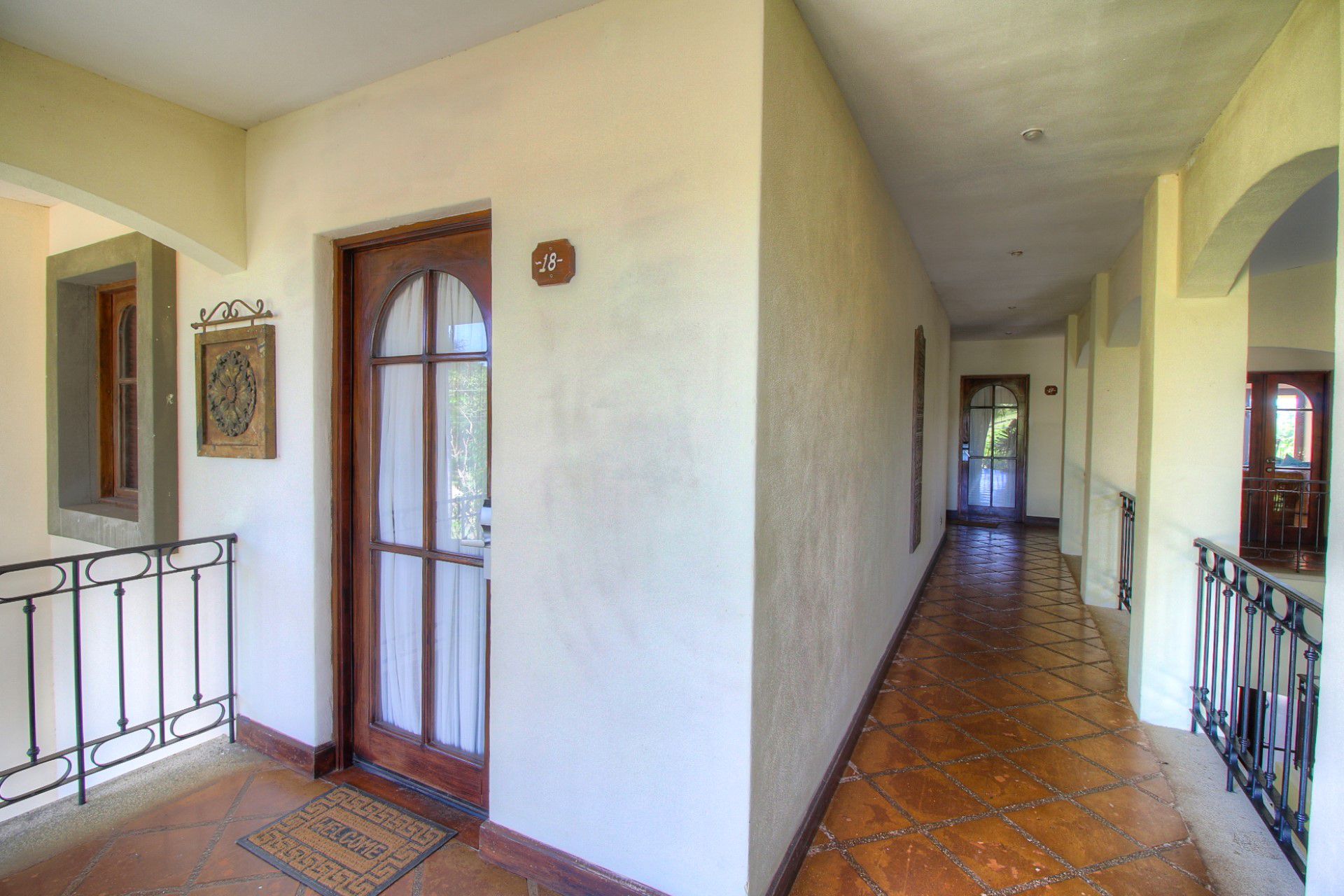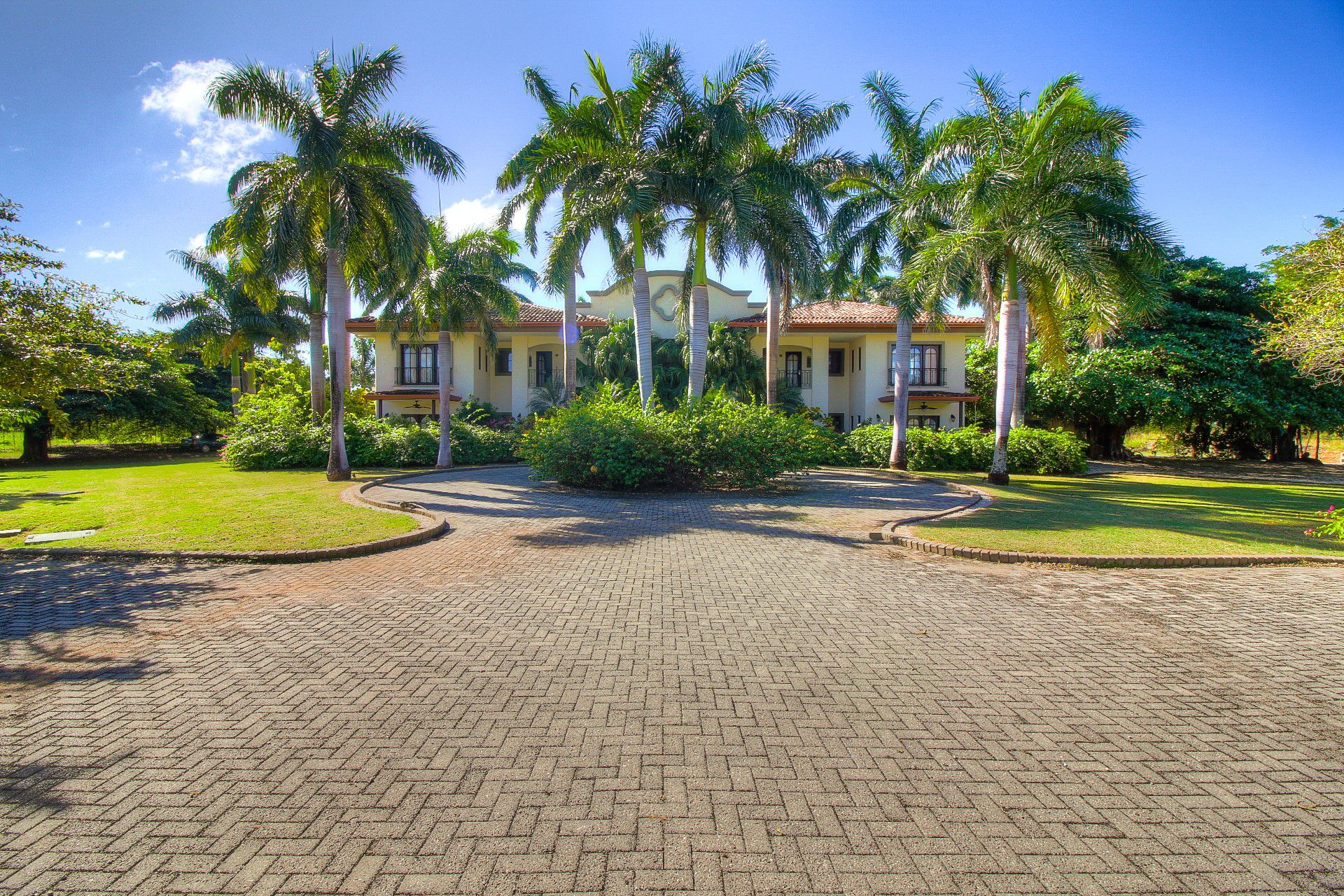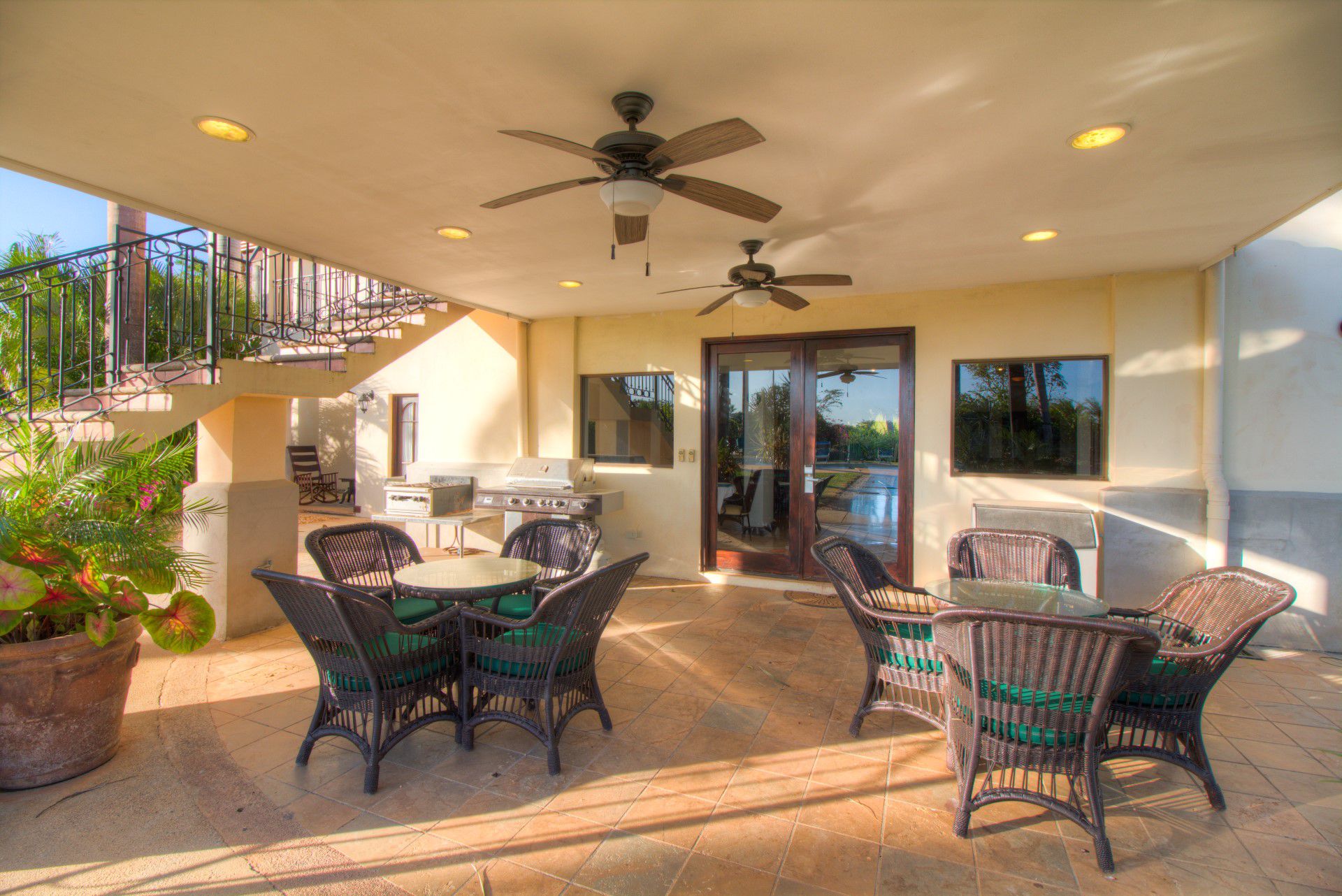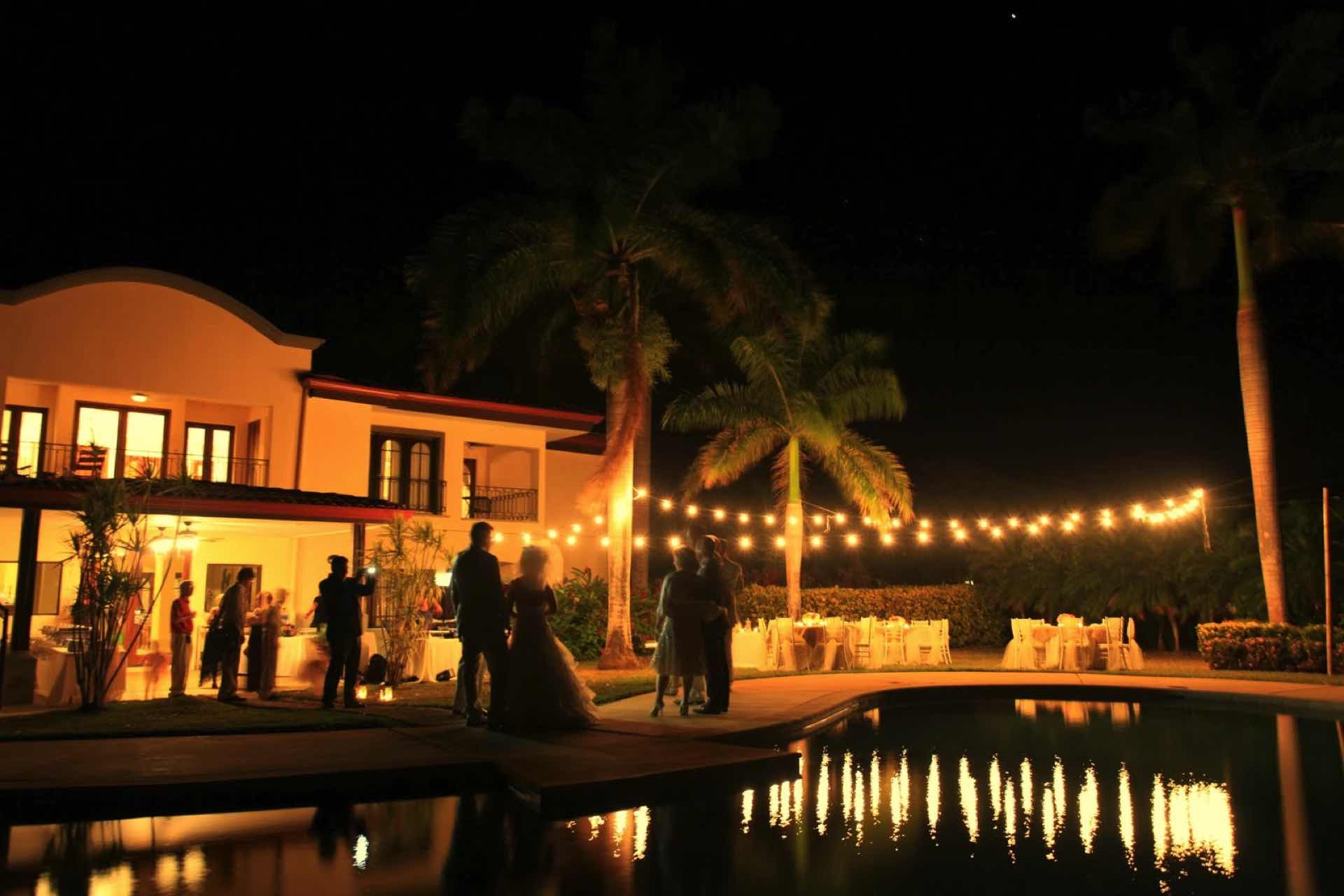 Villa Tranquila is a beautiful 13,000 sq. ft. luxury mansion that sleeps up to 24 guests in 8 suites. Expansive common areas shared between completely private suites makes Villa Tranquila the perfect place for your extended family vacation, wedding, or other special event. Events are Villa Tranquila's specialty. We provide daily housekeeping service and are happy to do food shopping and preparation for you. We also help you arrange tours, transportation, special services like massage, chef service, child care, or anything else you require.

Surrounding Villa Tranquila, a lush tropical garden provides the sense of tranquility from which the estate draws its name. A private pool and ample sun deck are located in the privacy of the garden behind Villa Tranquila. This space is a breathtaking location for your outdoor Costa Rica wedding other special event.

This elite vacation rental option is located in Hacienda Pinilla, Costa Rica's premier gated community, 15 minutes south of Tamarindo. Hacienda Pinilla encompasses an area of 4,500 acres that stretches along 3 miles of pristine coastline. In addition to the 18-hole golf course that rambles by the ocean, Hacienda Pinilla offers on site tennis-courts, a nearby canopy tour, and countless surf breaks along the coast. Other delightful Hacienda Pinilla amenities are the restaurants at the Beach Club and the JW Marriott located within the community.

Each luxury suite offers standard luxury amenities, plus:

-its own central air system (not split system)

-a 40-inch flat panel smart TV

-extremely fast wireless internet

-safe

-mini refrigerator

-coffee maker

-iron and ironing board

-very large showers

-insta-hot water heater

-towels, beach towels, robes

-hair dryer

-its own sitting room and balcony

From its location just off the 18th hole of Hacienda Pinilla's golf course, adjacent to the club house and tennis courts, Villa Tranquila offers magnificent views of the course, the Costa Rican mountains, and the Pacific Ocean. Surrounding this magnificent estate is a mosquito misting system. The system automatically deploys an all-natural insect-repellent product around the exterior of the property twice daily. The property is equipped with a very large water filtration and soft water system which provides clear soft drinkable water throughout the villa.

We also offer a Vonage phone line so you can stay connected to your friends and family in the US and Canada.

The first-floor common area includes:

-its own central air system

-dining for up to thirty

-full kitchen with 2 large refrigerators/freezers

-large covered patio

-commercial ice maker

-Bunn commercial coffee maker

-55-inch big screen flat panel smart TV

-very fast wireless internet

-a stereo music system for use in the kitchen or patio area.

The second-floor common area is equipped with:

-its own central air system

-comfortable couches

-55-inch big screen flat panel smart TV

-Blue Ray DVD player

-very fast wireless internet

-stereo music system

-wet bar

-refrigerator/freezer

-large commercial ice maker

-computer and internet station

-large patio with stairs leading to the pool area

SLEEPING ARRANGEMENTS (SLEEPS 24):

Bedroom #1: King

Bedroom #2: King

Bedroom #3: King

Bedroom #4: King

Bedroom #5: Queen (2)

Bedroom #6: Queen (2)

Bedroom #7: Queen (2)

Bedroom #8: Queen (2)

***On-line bookings made during the year-end holiday weeks must check in and check out on one of the following sets of dates in order for the reservation to be accepted:

Dec 19 - Dec 26

Dec 22 – Dec 29

Dec 26 - Jan 2

Dec 29 - Jan 5
| | Nightly | Weekly |
| --- | --- | --- |
| April 02 - April 30, 2018 | $999 | $6,993 |
| May 01 - June 15, 2018 | $1,089 | $7,623 |
| June 16 - August 19, 2018 | $1,298 | $9,086 |
| August 20 - October 31, 2018 | $879 | $6,153 |
| November 01 - November 17, 2018 | $879 | $6,153 |
| November 18 - November 25, 2018 | - | $9,023 |
| November 26 - December 18, 2018 | $1,089 | $7,623 |
| December 19 - December 25, 2018 | - | $14,560 |
| December 26 - January 01, 2019 | - | $16,646 |
| January 02 - January 05, 2019 | $2,378 | - |
| January 06 - March 31, 2019 | $1,298 | $9,086 |
| April 01 - April 12, 2019 | $1,098 | $7,686 |
| April 13 - April 21, 2019 | $1,783 | $12,481 |
Concierge Services Available
Thank you for entering your review. The review will become available to the system shortly.
Perfect Accommodations and Location for Family Reunion
Rating:
Review Date: 04/18/2018
We held our family reunion at Villa Tranquila for 10 days in February 2018. There were 12 attendees (9 adults, 3 children) and the venue was exceptional in every aspect. The Hacienda Pinilla location was perfect for us; close enough to Tamarindo and far enough from Tamarindo. In fact, there was so much to do at the villa and nearby beaches, we seldom ventured from Hacienda Pinilla. The overall level of service provided by Eugene and Sary was unparalleled and very much appreciated. The cooking staff was skilled and accommodating. Everything was superb!

If you're looking for a fantastic vacation in a beautiful setting, look no further! Highly recommended.

Large Family Get-Together=Fun for All!
Rating:
Review Date: 04/04/2018
From the initial booking to our eventual arrival, we had the support of knowledgeable and helpful staff every step of the way. The house is a wonderful blend of private space and large areas to hang out as a large group. The house is beautiful as the pictures show and there were bikes to use to get around the local area. The beach club is wonderful as is just staying at the villa around the pool or reading in the shade.
Manager Response: 04/17/2018
Response from Stay in Tamarindo
Thank you Barb, we are glad to hear you had a wonderful time from beginning to end in Villa Tranquila. It was our pleasure to assist you before and during your stay and is good to know you loved the house and found it beautiful and comfortable for your group! We'd love to help you plan for another great stay when you're ready to come back down to CR!
Beautiful Home for Family Vacation!
Rating:
Review Date: 01/28/2018
We stayed at Villa Tranquilla from Dec 23. 2017-Jan 6, 2018 and had an amazing time. This was our 2nd time at the Hacienda Panialla which we chose because of the golf and beach club. The house did not disappoint! It was a pleasant surprise to arrive on the 23rd and see the updates that Eugene and Sari had done to the house. It was freshly painted and the brand new linens and towels were a treat!! The house was perfect for our family of 12. We all had our own space when it was needed! Eugene and Sari were wonderful. They were available to answer any questions we had during our 2 week stay and even arranged to have people come to the house for massages. Everyone loved that!! My mom was struggling to get into the beds at night and when my dad mentioned that to Eugene...he showed up the very next day with stools for all of the bedrooms. It was really nice to have housekeeping every day. She did a wonderful job and stayed out of everyone's way. The house is 2 minutes away from the club house so it made it very easy to access the golf course. It is a little secluded, but not such a bad thing when you want some peace and quiet!! The pool was beautiful. It helped that we backed onto the 18th hole and the landscape is amazing at the back of the house!! The house also has access to a private beach. The kids loved that beach!! Along with the house we had access to the Beach Club. We spent about 3 days there. It was nice because it had a restaurant so we could grab a quick lunch if needed. It cost $10/day/person but they deduct that cost from any food or bar tab you run up.
We used several chefs during our stay. Pascal and Camille (Pascam Private Chef) and Chef Frank from Belly Fedbetter were amazing. They took care of everything for us each night they were there. The food was amazing!!!
Overall, the house exceeded our expectations. Everyone had a fantastic time! It was tough to leave such a beautiful place!!
Manager Response: 02/28/2018
Response from Stay in Tamarindo
Ron, Thank you for your compliments on the house and services, we strive to keep everything in perfect condition and easy for our wonderful guests! We are so pleased you enjoyed your stay and hope to welcome you back here again soon!
Exceeded Expectations/One Week Stay
Rating:
Review Date: 08/22/2017
Our stay was a 5 star experience! There were 23 of us in total, all family from young to old. Everything from the Villa, the staff, concierge, drivers, housekeepers and most importantly Eugene and Sary were amazing!!! Eugene made our trip that much more enjoyable. He made sure everything was always perfect and even drove us into town one night after 8pm for dinner. We would definitely highly recommend and stay again! (We stayed from August 8-15)
THANK YOU to everyone at Stay in Tamarindo!
Manager Response: 08/24/2017
Response from Stay in Tamarindo
Gina, We are so happy to hear you had a wonderful time with the family at Villa Tranquila. It was our pleasure having you and assist you during your trip! We will certainly recognize the staff for their great effort to make your stay memorable. Thank you again for staying with us, hope to see you all back here in sunny Costa Rica soon!
AMAZING Girls Getaway
Rating:
Review Date: 06/30/2017
21 ladies for 5 was an AWESOME experience! We loved every minute of our stay... From the caretaker Eugene, he was there to help us with anything we needed. The housekeeping was on point daily. I would definately recommend this place for a girls trip, golf trip, family reunion, team building... Clean and spacious!!!
Manager Response: 07/27/2017
Response from Stay in Tamarindo
Tafyna, We are so glad to hear you had an awesome experience! It was a pleasure to assist you and glad you had the best attention from Eugene and the staff. We hope you can come back to Costa Rica very soon!
Perfect Villa for our Family Reunion
Rating:
Review Date: 06/26/2017
We loved Costa Rica and the Villa was more than we could have asked for. There was plenty of room for our large group of 23 comfortably. I would recommend this villa for any one looking for a safe and scenic place to go for vacation. We were able to do zip-lining, an ATV tour, a Palo Verde rain-forest tour, horseback riding, massages and a animal safari which the kids loved. Since we were located on the 18th hole it was only fitting that we gold as well. Cristina helped me plan and arrange everything which made the trip so easy for us and she even arranged for a vehicle to be delivered to the villa to get around. Eugene was excellent the entire trip, he made sure we had everything we needed and even took us on a tour of the property so we knew where everything was located. We had the entire week catered by Gusto Tamarindo, Francesco and his team were amazing. The food was excellent and all made with all fresh local ingredients. We cannot wait to return to Villa Tranquila.
Manager Response: 07/27/2017
Response from Stay in Tamarindo
Kima, Thanks for taking the time and sharing your impression with us and many other future guests. We are happy to hear, that you have enjoyed your time in Villa Tranquila and the amenities there. Not to mention Eugene attentions. Also, so glad to hear you were able to experience the many activities that the area offers :) Thank you again for staying with us, hope to have you back soon! Pura Vida! We hope to see you soon again. All the best and warm regards!
Best Week EVER!
Rating:
Review Date: 06/08/2017
We stayed in Villa Tranquila for my wedding week with my 10 bridesmaids and their significant others. The week in itself was the best week ever, but having our home base be Villa Tranquila really made the week complete! Stay in Tamarindo was so great to work with, extremely responsive and helpful. The house manager, Eugene, & his lovely wife were INCREDIBLE. We all felt SO comfortable knowing they were just a phone call away if we needed anything at all. One night he even drove some of my girlfriends that wanted to go into town for dinner down to Tamarindo so that they wouldn't have to call a cab! The cleaning service did an outstanding job as we came home to a spotless house every day. There is filtered water throughout the house & 2 huge ice chests which was nice since we didn't have to buy bottled water or ice. The fridge was big enough to fit our 500+ beers & other necessities :) We can't wait to do a reunion and come back to stay at Villa Tranquila!
Manager Response: 06/24/2017
Response from Stay in Tamarindo
Marisol, We are thrilled to hear you had a fantastic time and that everything went well on your wedding week. So glad you had an amazing experience in Villa Tranquila and that Eugene, his wife and the staff were there to help you in anything during your stay. Thank you again for staying with us, we hope you come back for a visit again. Pura Vida!
Paradise in Tamarindo
Rating:
Review Date: 05/04/2017
1 word: Awesome. Villa Tranquila itself was a sight to behold. It was a home away from home where my family and I enjoyed the villa tremendously, ranging from the spacious rooms to its expansive backyard with an amazing pool to cap things out! Service and housekeeping were stellar! My family and I look forward to coming back in 2018 for the next Semana Santa!
Manager Response: 05/27/2017
Response from Stay in Tamarindo
Thank you Sev, Nothing makes us happier than happy guests! Its true that Villa Tranquila is just a perfect home all around. It was our pleasure to assist you during your trip and we look forward to hear from you very soon! Pura Vida.
Pura Vida Indeed
Rating:
Review Date: 02/17/2017
This place exceeded expectations. We were skeptical being "off" the beach and out of town but it ended up being perfect because we had everything to ourselves. We had 8 couples so each had their own suite and never got in each other's way.
We decided to rent golf carts instead of cars and it was definitely the right choice. They were perfect for some people hitting the beach club or cruising down to Playa Lagosta which was completely private and gorgeous. The Beach Club is a great stop and we basically had that place to ourselves as well. Great food and drinks there.
We booked a private chef for a few meals and it was amazing.
The Stay in Tamarindo crew and our host were all great.
We will definitely be going back and probably won't change a thing.
Manager Response: 02/25/2017
Response from Stay in Tamarindo
Ryan, thank you very much! So happy to hear you had a great time, and not only enjoyed the house but also the area. We hope to see you all back here in sunny Costa Rica soon! Pura Vida
Outstanding experience
Rating:
Review Date: 11/10/2016
The property was outstanding, everything was as promised and more, the suites are spacious and very clean.
We will return soon to enjoy the property, the pacefull and nature arround.
Manager Response: 11/20/2016
Response from Stay in Tamarindo
Mauricio, we are so happy you had an amazing time in Villa Tranquila and really got to enjoy what this area offers! :-) We'd love to help you plan for another great stay when you're ready to come back! Thank you again for staying with us!!"
Exceeded Expectations
Rating:
Review Date: 08/22/2016
We rented the Villa for our wedding week and could not have been more pleased with the experience. Eugene, the house manager, was extremely helpful and everyone at Stay in Tamarindo was easy to work with. We had 23 guests at the Villa and each & every one enjoyed their stay! Our wedding ceremony and reception took place in the backyard---what a beautiful setting! We can't wait to plan our "reunion" visit!
Manager Response: 08/23/2016
Response from Stay in Tamarindo
Thank you Shannon! We're thrilled to know you had an amazing experience and brought home plenty of beautiful memories! We'd be happy to help you plan for that reunion whenever you're ready, pura vida!!
If you have a large group, This is the place to stay!
Rating:
Review Date: 07/26/2016
We had a group of 18 stay at Villa Tranquilla. It has 8 very large bedrooms each with a large sitting area, and very large bathroom, and some kind of patio or balcony to enjoy the outside. Guest robes, beach towels, mini fridges and microwaves? were provided in each room as well. Each of the rooms in the house have a hotel type lock on it which can be good, but also a bit of a nuisance. Magnetic keys had to be with you at all times. The kitchen has 3 large tables and ample fridge and freezer area for food. The actual kitchen prep area is a little small and cramped for the number of people staying there, but we were told that there are plans to update the kitchen in the future. The pool is beautiful and there are a number of pool blow ups to use. There is a patio with a BBQ and fans to keep you cool. There is no fence around the pool, so we had to watch the small children very carefully. There are also boogie boards to use at the ocean. Each day we had someone that came and freshened up the bedrooms and the pool was cleaned each morning. We had access to a private beach that was beautiful and very secluded. There are lounge chairs and tables with umbrella's at the beach. We also enjoyed and used the beach club at Hacienda Pinilla. The pool is large and right above the beach. The food at the restaurant was very good The location is about 15 minutes from Tamerindo. There is some zip lining close by, but the main attractions for the volcano and adventure parks are 2+ hours away. It's doable but makes for a very long day. However, you are right where the main ocean surfing area is. The house manager was very helpful and did a great job of providing service when we need to find a medical clinic. We had a great time at this home. It is in a gated and in a very safe area, and the home is very secluded. It is on a golf course, but we rarely saw anyone golfing.
Manager Response: 08/03/2016
Response from Stay in Tamarindo
Thank you Janette! We're thrilled to know you had a wonderful experience at Villa Tranquila! This property really does have everything you can ask for, perfect for big groups like yours! Thank you again for staying with us! Pura vida!
Our Family Retreat
Rating:
Review Date: 07/19/2016
Villa Tranquila was the destination for our family retreat that included 17 people. The 3 acre Villa located right on the golf course fairway was perfect. Everyone was very pleased with the beautiful property and accommodations. The 8 spacious and comfortable bedrooms included their own bathroom, sitting room, beach towels, bathrobes and mini-refrigerator. All the rooms in the house were cleaned daily, including the pool and the BBQ grill - wonderful. Our hats off to Eugene, the property manager, and Sary for taking such good care of us. They helped with grocery shopping the first day and made several suggestions on things to do in the area. We especially liked going to the National Park which included horseback riding, tubing down a river, a zipline through the canyon and mud painting at the hot springs - quite an adventure! Lunch was also included. A short drive from the villa, is an amazing private beach with shade, beach chairs and gorgeous water. There are tide pools to explore and a bay with sand and surf and plenty of sea shells. It truly is a beautiful beach, especially at sunset. The property also comes with 4 bikes that you can ride for miles on the golf cart paths. There are so many things to do and we took advantage of as many as possible in order to make our vacation truly memorable. It is our pleasure to recommend Villa Tranquila and hopefully we can make a return visit in the future.
Manager Response: 07/21/2016
Response from Stay in Tamarindo
Thank you Frank!! We're thrilled to know you had a wonderful experience in Villa Tranquila! We will definitely pass on your kind comments to Eugene and Sary! We'd love to help you plan for your next great stay when you're ready to come back! :-) Pura vida! -Gilda
one night stay at Hacienda Pinilla
Rating:
Review Date: 04/13/2016
This was fantastic. The StayinTamarindo team was so helpful, we needed an extra night and they found a wonderful place close to our week long stay
Manager Response: 05/12/2016
Response from Stay in Tamarindo
Thank you for staying with us Phil! It was a pleasure to assist you and we would love to help you plan for your next stay! Pura vida! -Gilda
A perfect vacation
Rating:
Review Date: 03/03/2016
Thank you - my family had a perfect stay!
Manager Response: 04/02/2016
Response from Stay in Tamarindo
Thank you Veronica for choosing Villa Tranquila for your family's stay, it was a lovely group! Hopefully next time you'll get to come with as well! Pura vida! -Gilda
Birthday celebration in Costa Rica
Rating:
Review Date: 02/16/2016
16 friends gathered at Villa Tranquilla for a week of fun and relaxation. The property is exceptional. Expertly maintained and furnished. The property manager, Eugene, anticipates any need and is always available to assist, even running us into town if needed. We enjoyed many days around the pool or down on one of the nearby beaches. Stay in Tamarindo arranged a cook and excursions for us. Golf carts are also available to rent and highly recommended. It is a fabulous vacation spot!
Awesome Accommodation
Rating:
Review Date: 01/06/2016
My family used Villa Tranquila as the base for a family reunion. While it could not house all of us, it provided a place to gather for meals as well as space to spread out.
BreathTaking!!!! I will never forget this moment in my life!!!
Rating:
Review Date: 09/17/2015
AHHHHHHHH!!!Villa Tranquilla was incredible. Me and a few guest came to stay at this dreamy place. Eugene the owner is amazing!!!! If you are planning to get married at villa tranquilla please before you book anything that has to do with the wedding details, please call eugene first. He is seriouly an angel. Its VERY rare to find owners who have a heart of pure gold. I cannot describe this place and eugene in words but I will try. The moment we drove in, I couldnt help but cry. This was literally everything Ive dreamed of. This pictures online do not do any justice. This a second home to me. I will for sure be back. The presance at villa tranquila is so peaceful. Jimmy and Maria are awesome people as well, please do not hesitate to speak to them. I couldnt of chosen a better place to accomadate my guest for my wedding. Plus it so affordale!! Villa Tranquila is super clean. Its the perfect place to vacation or have a romantic occasion!! My husband I ordered a personal chef who cooked while we were there. If you would like to do the same! Please contact me! I would suggest him to anyone as well! Also, Costa Rica is a beautiul country!! The people are amazing. Villa Tranquila is nice enough to relax, and hacienda pinilla club house! BUT there are plenty of shops in town, please get out and learn the culture!
STAY IN TARMARINDO can help you book exursions.
Christina is amazing with that!! My guest are still talking about the excursions. *IF need help with wedding planning Danielle is a great person!!!! and Jen. They work withStay in Tamarindo, but arent owners of the vila but they are your go to book the villa!! and if you need help with wedding details tey do this all the time and are very great at what they do. If you are worred about how your specal day is going to turn out, and stressed with planning it overseas, dont hesitate to reach out to Danille and Jen! I love those girls!!
Tranquilla is amazing! If you have anymore questions, Please email me!
Great Experience!
Rating:
Review Date: 07/30/2015
Our family spent a weekend at Villa Tranquila, located in Hacienda Pinilla, and the experience was excellent. It is a large house, with 8 large suites, large social áreas and all facilities very well equiped.
Awesome family vacation in beautiful Costa Rica!
Rating:
Review Date: 05/12/2015
House was amazing. Rooms were so spacious and always clean. STAFF WAS INCREDIBLE! can't say enough about all of them always willing to help out and make our stay so comfortable. If something needed fixing it was done immediately. They drove us around a bit and would alwYs check to see what they could help with. So friendly too. Pool was really nice and relaxing. Outdoor bbq was nice and the dining area was spacious for our big group of 30 people. Only downside was a bit of a walk or short drive to the beach and about 15 mins to town but the club house within the community had awesome food and great swimming and services.
Your request has been sent. We look forward to meeting all your vacation needs!
Optional Guest Protect Plan travel insurance
The Guest Protect Plan from CSA Travel Protection Includes:
✓
Valuable benefits before, during and after your vacation
✓
Reimbursement of non-refundable trip costs if you must cancel your trip or cut it short due to covered sickness, injury or other events
✓
150% of trip cost coverage for covered trip interruptions
✓
24/7/365 emergency assistance hotline, plus access to a network of physicians
View complete plan details
Yes! I want the CSA Travel Protection Guest Protect Plan
No, I don't want this insurance and understand that I may be responsible for cancellation penalties in accordance with the Terms and Conditions, up to 100% of the rental costs.