Casa Tranquila | Costa Rica House Rental
Tamarindo Vacation Rental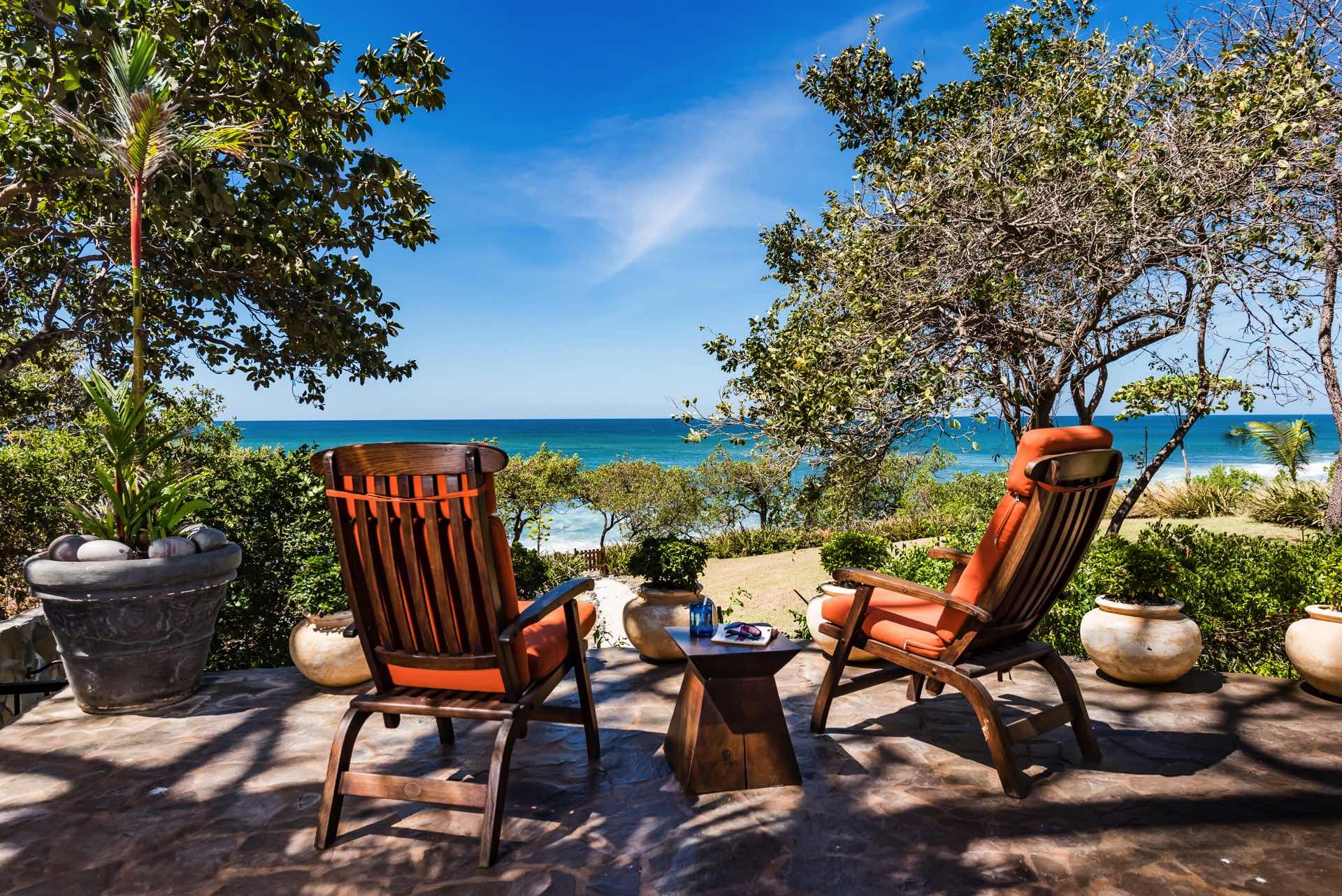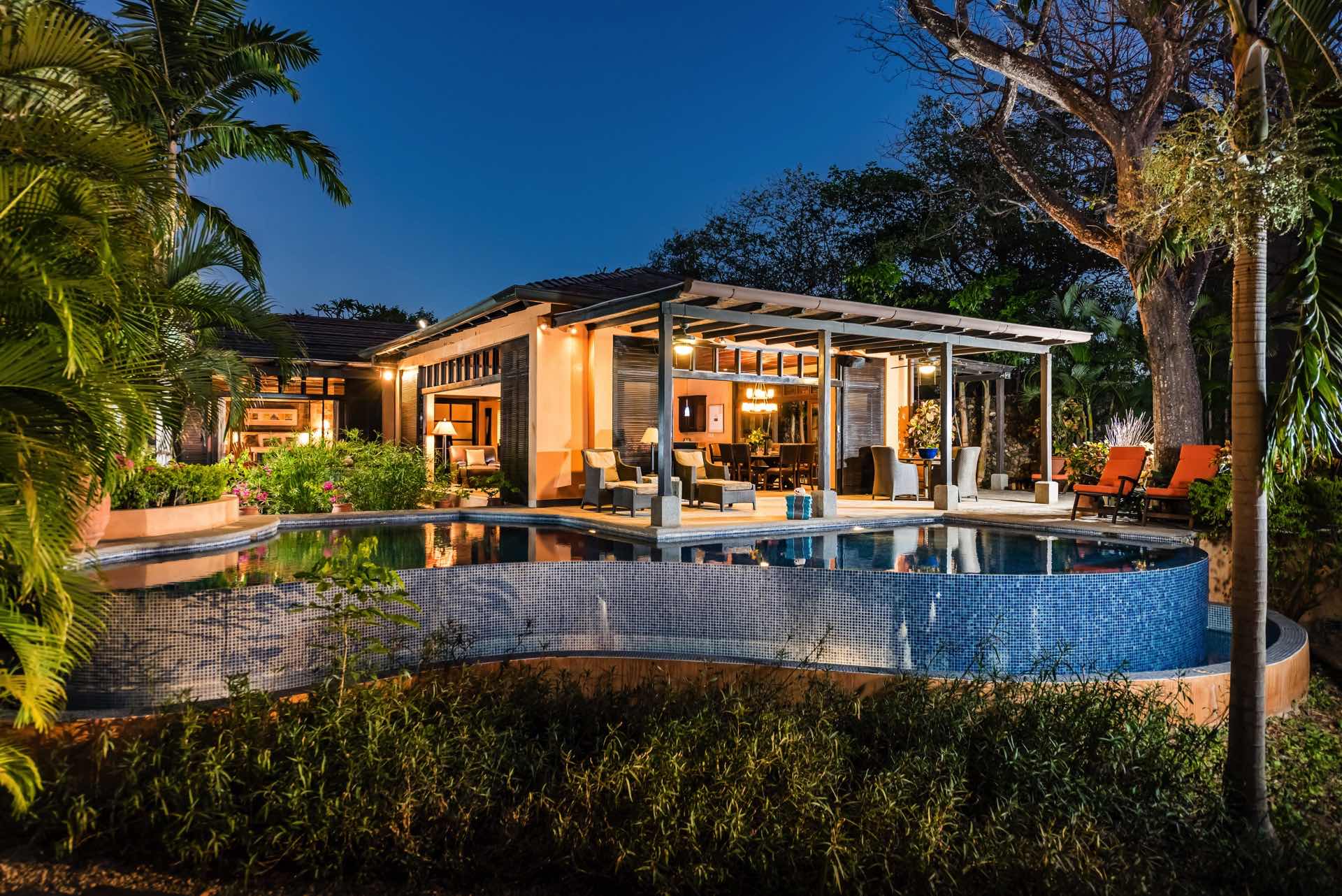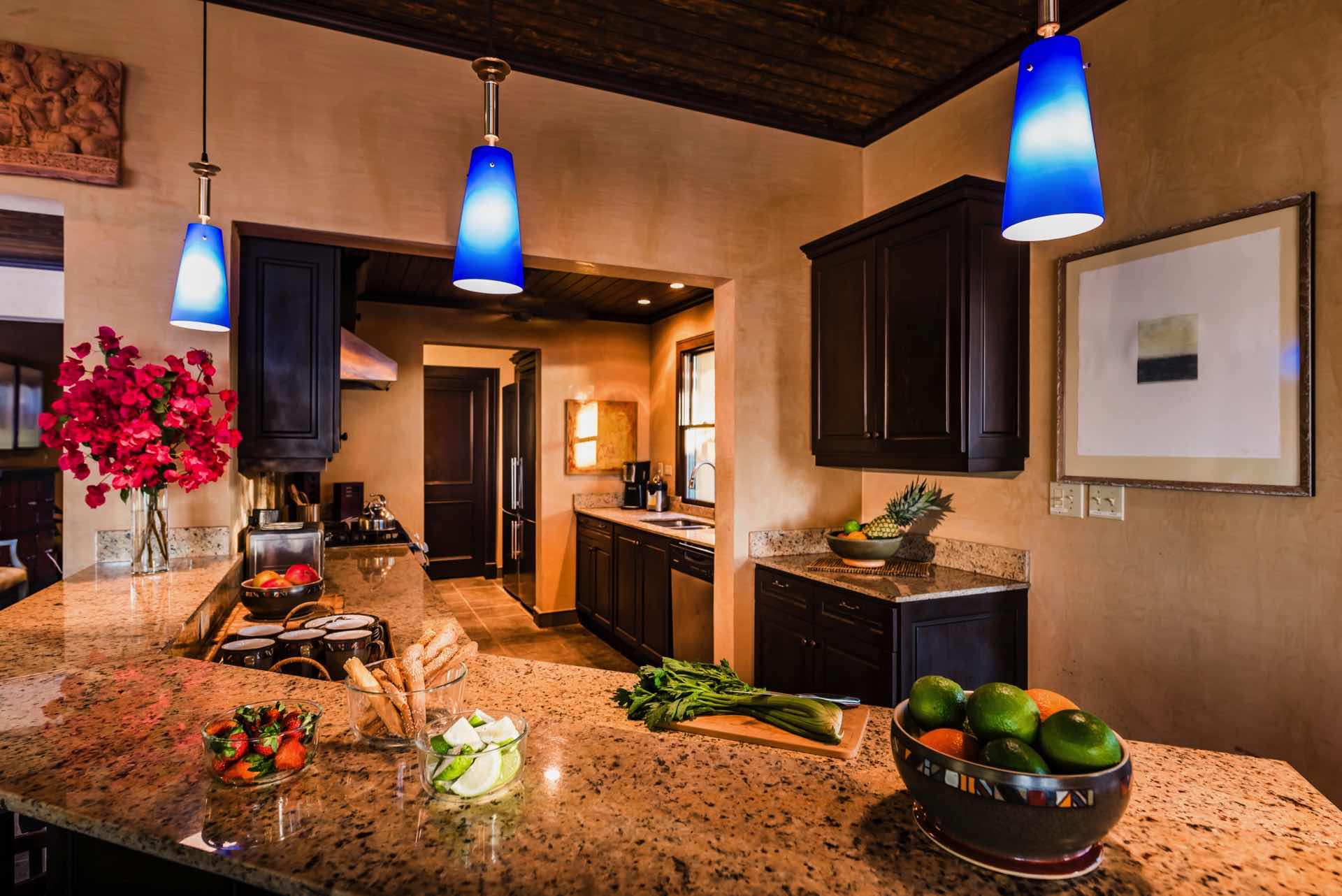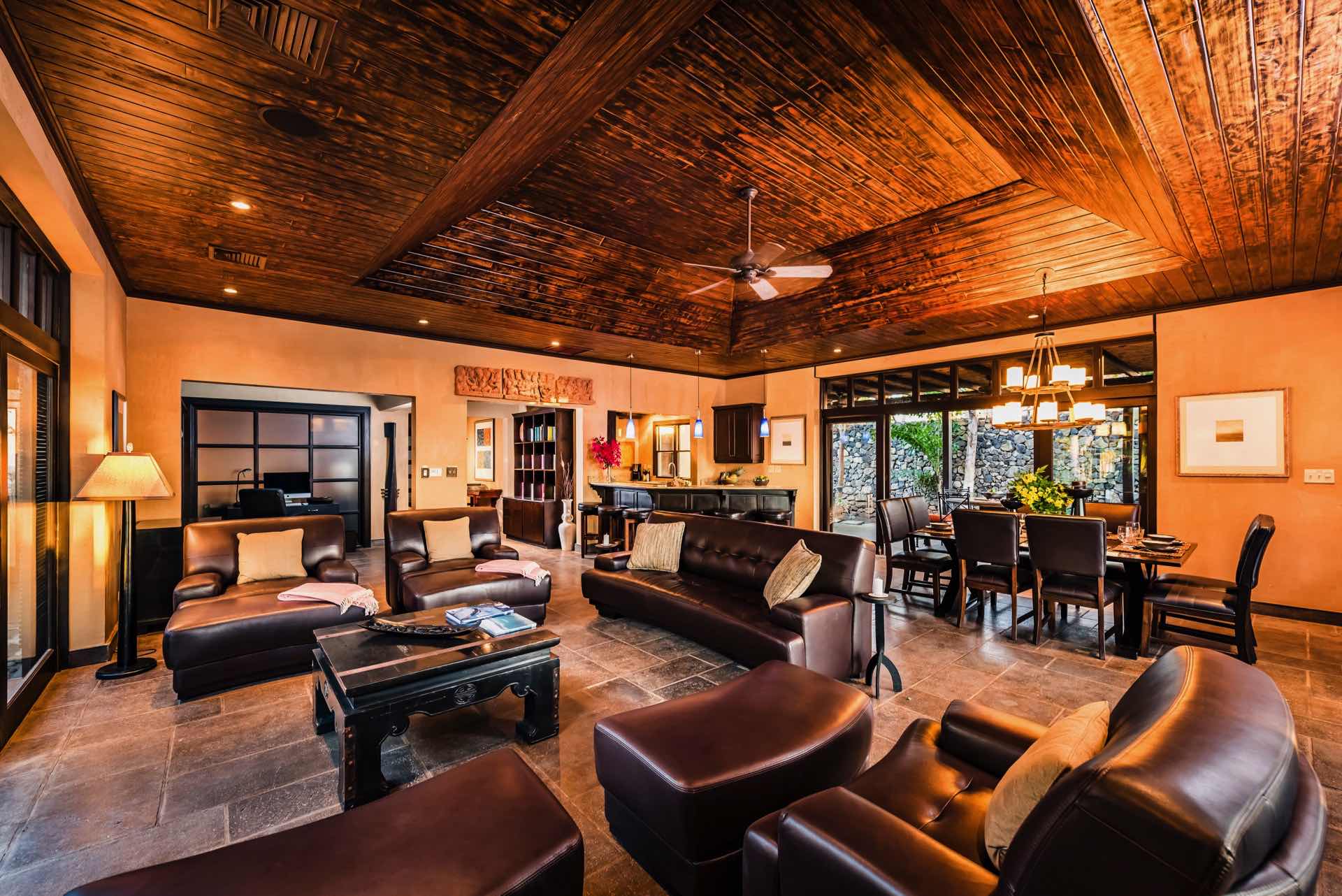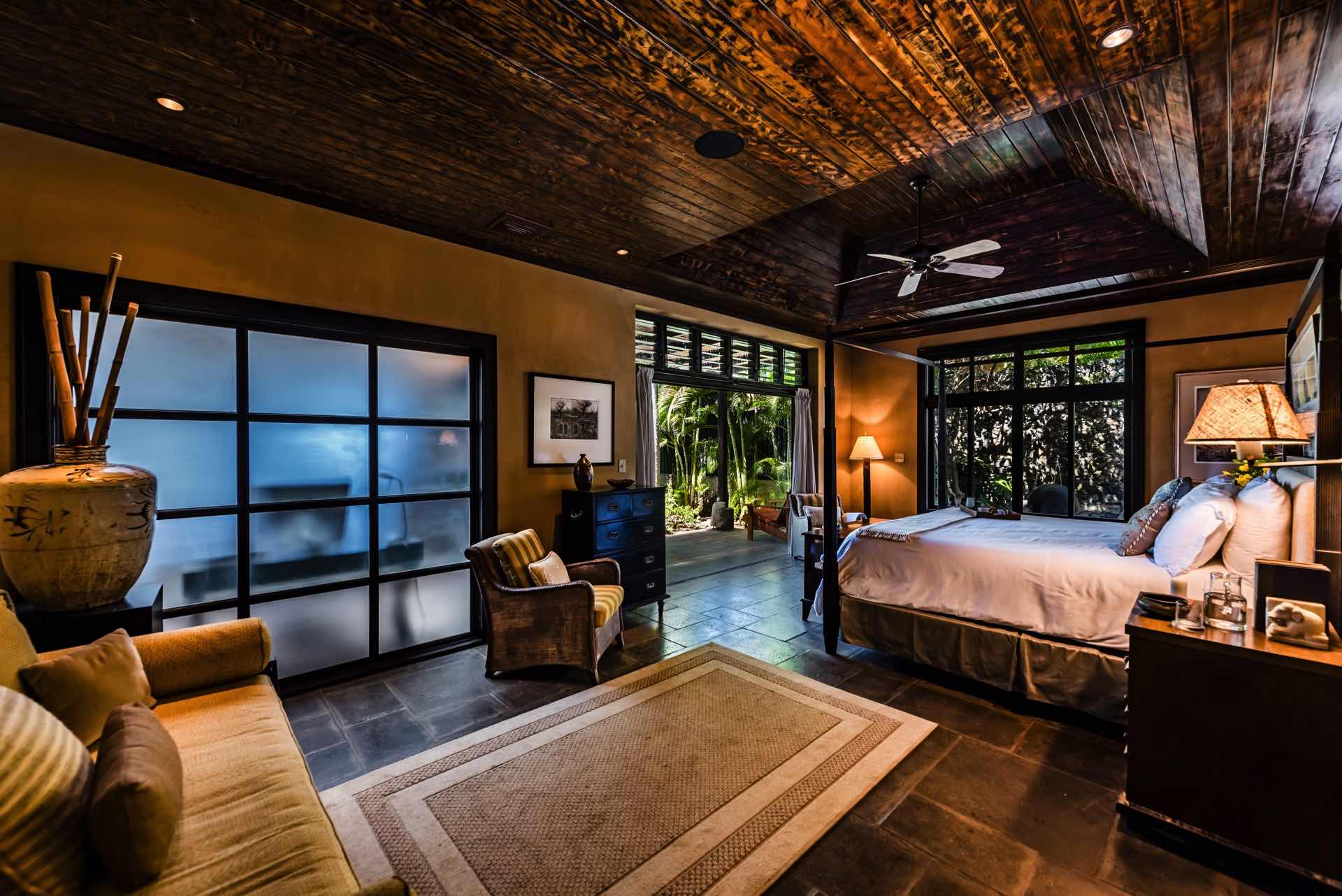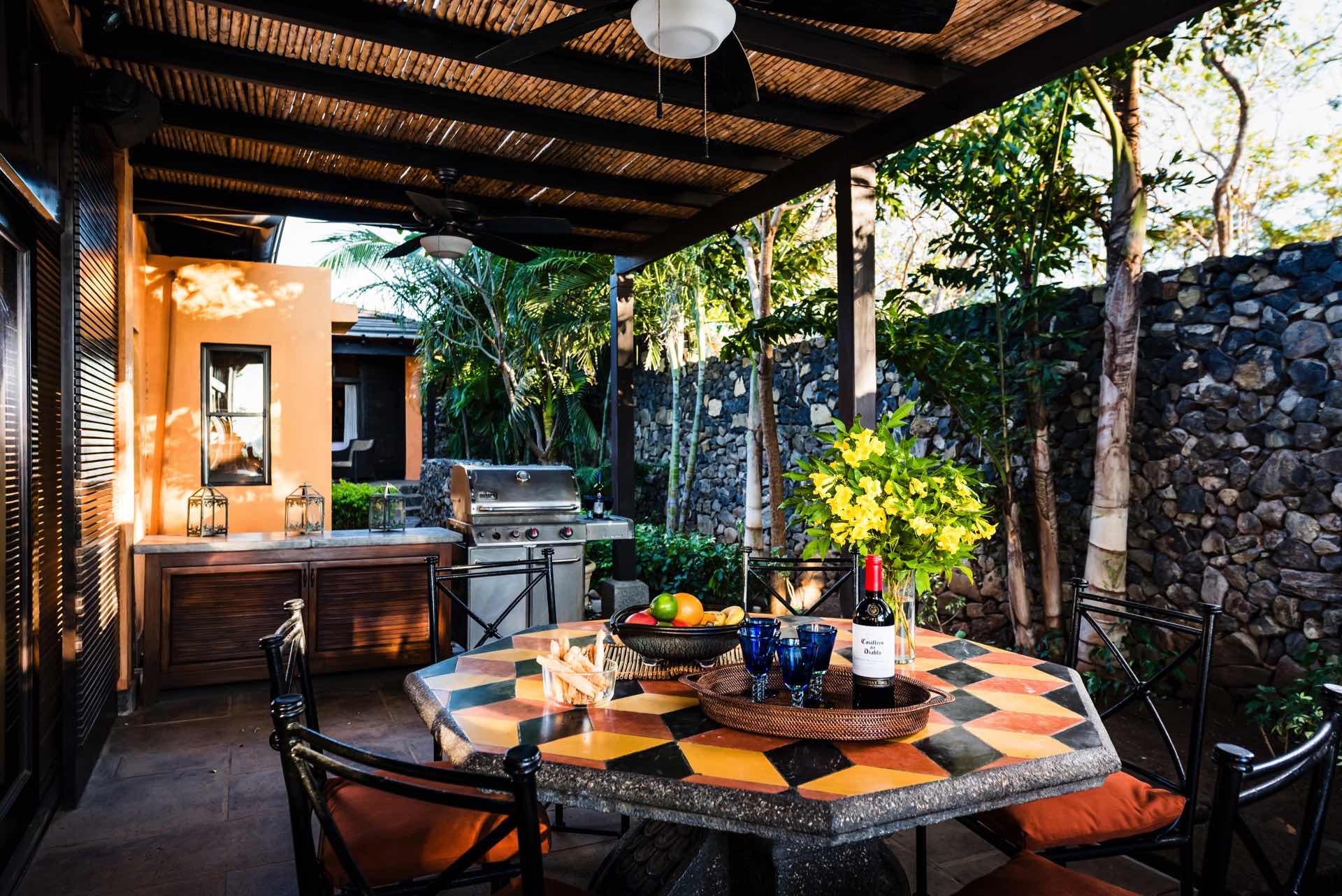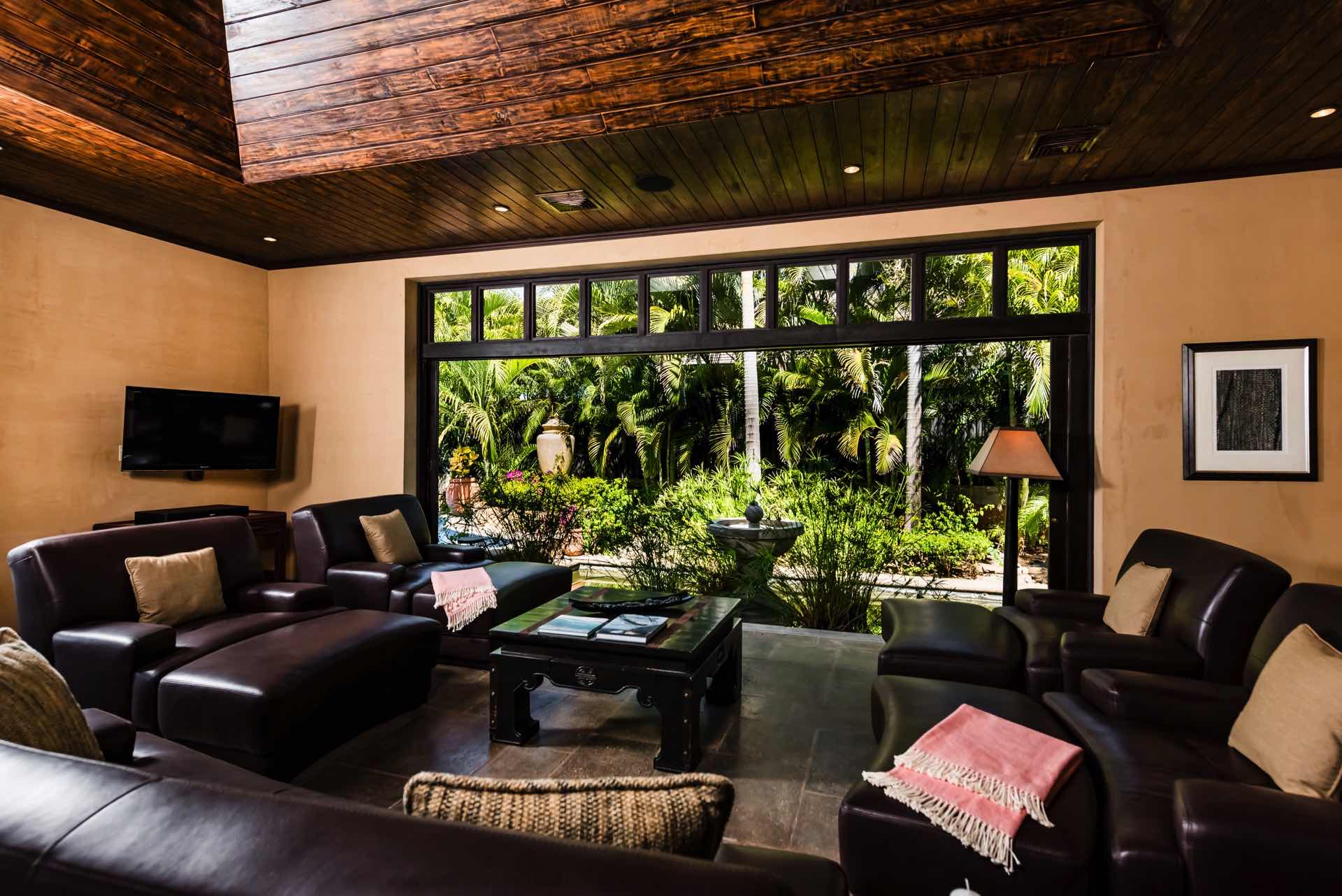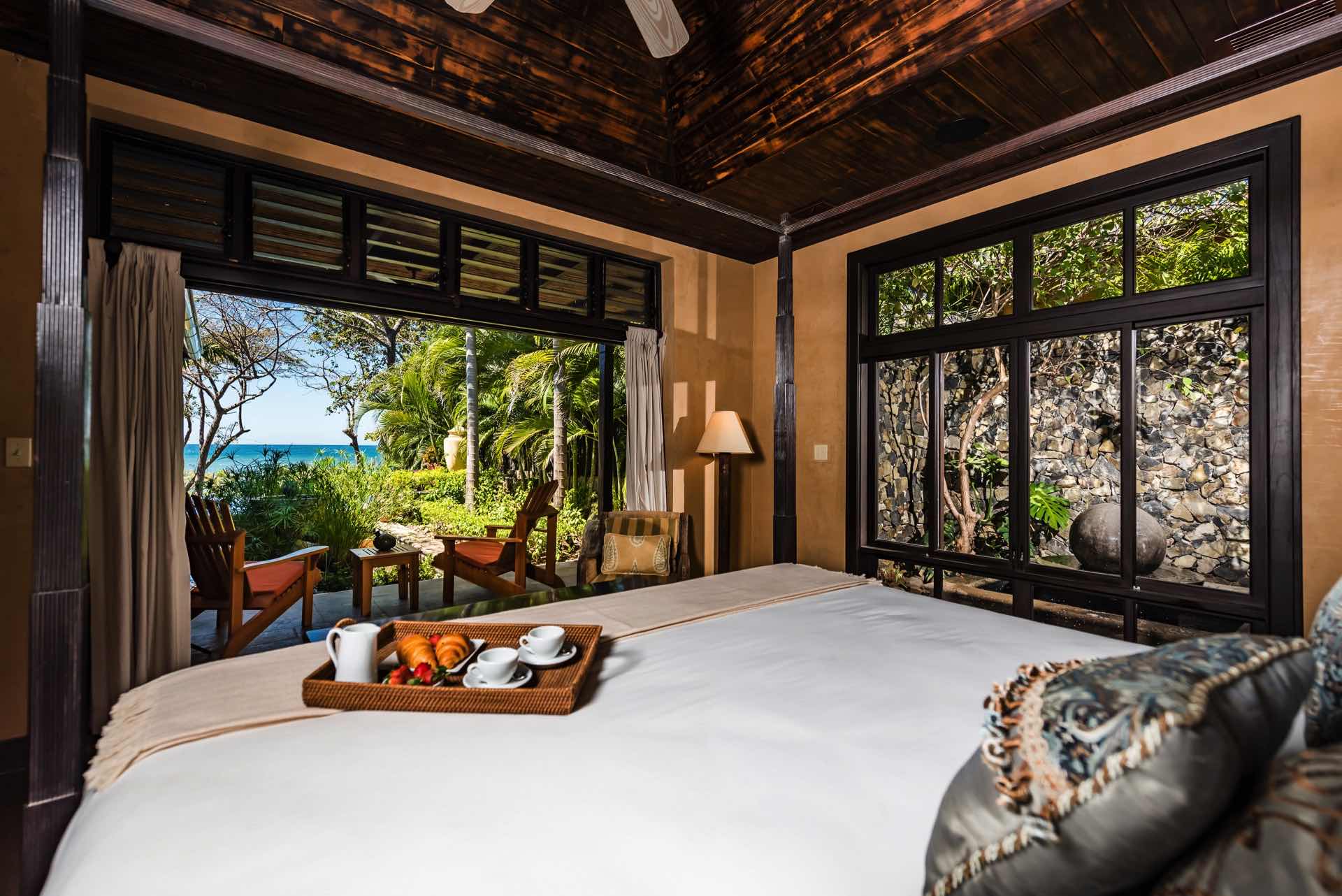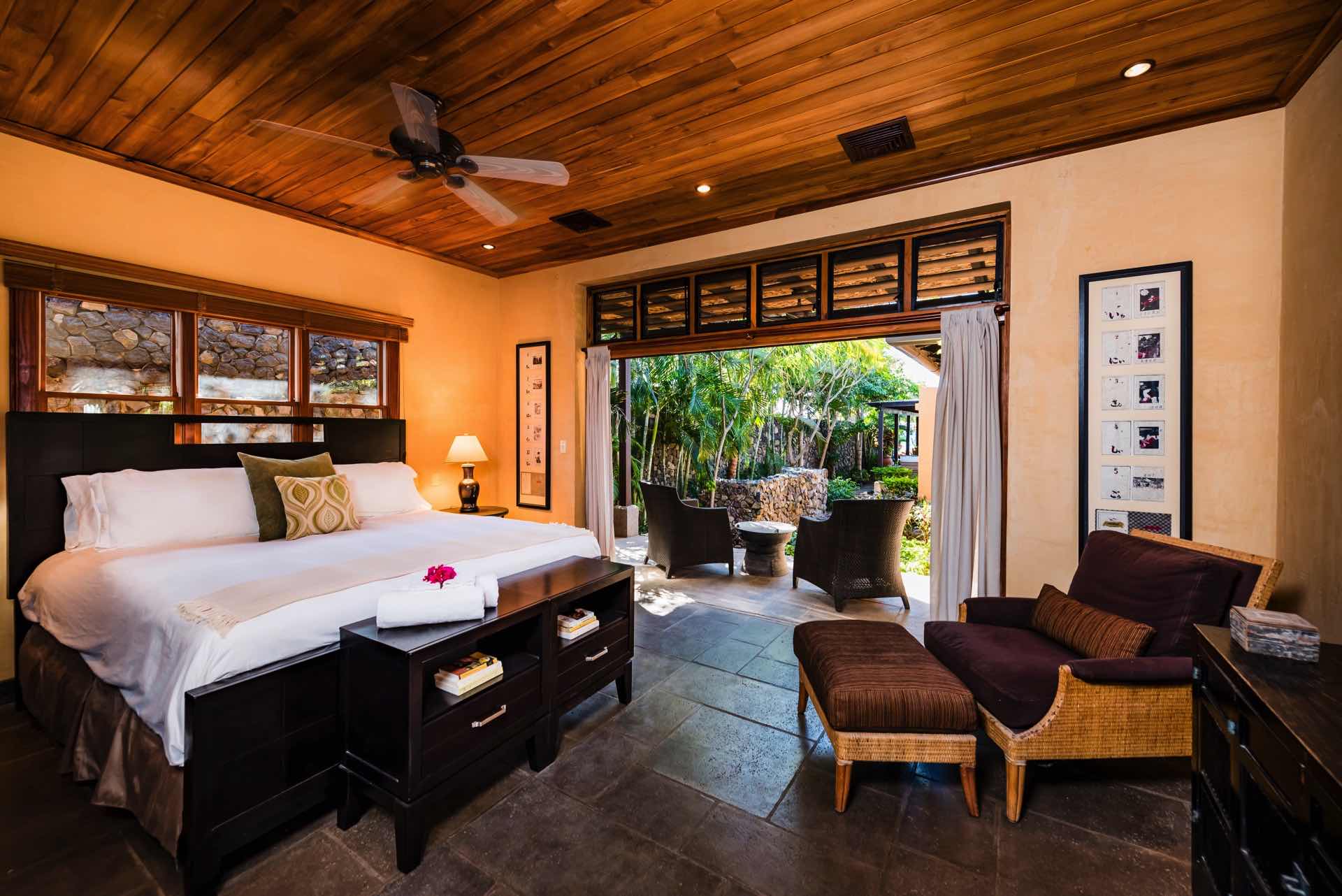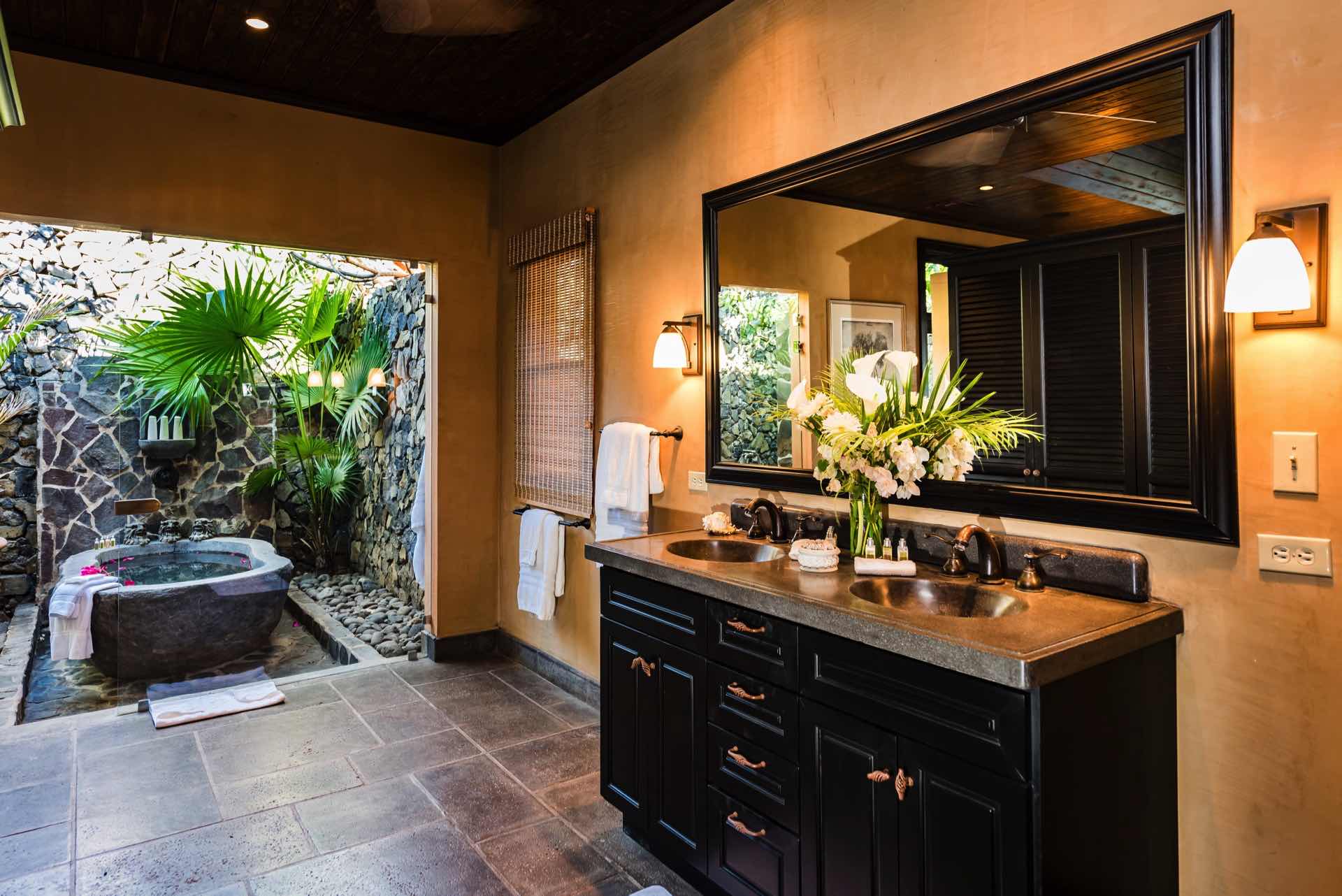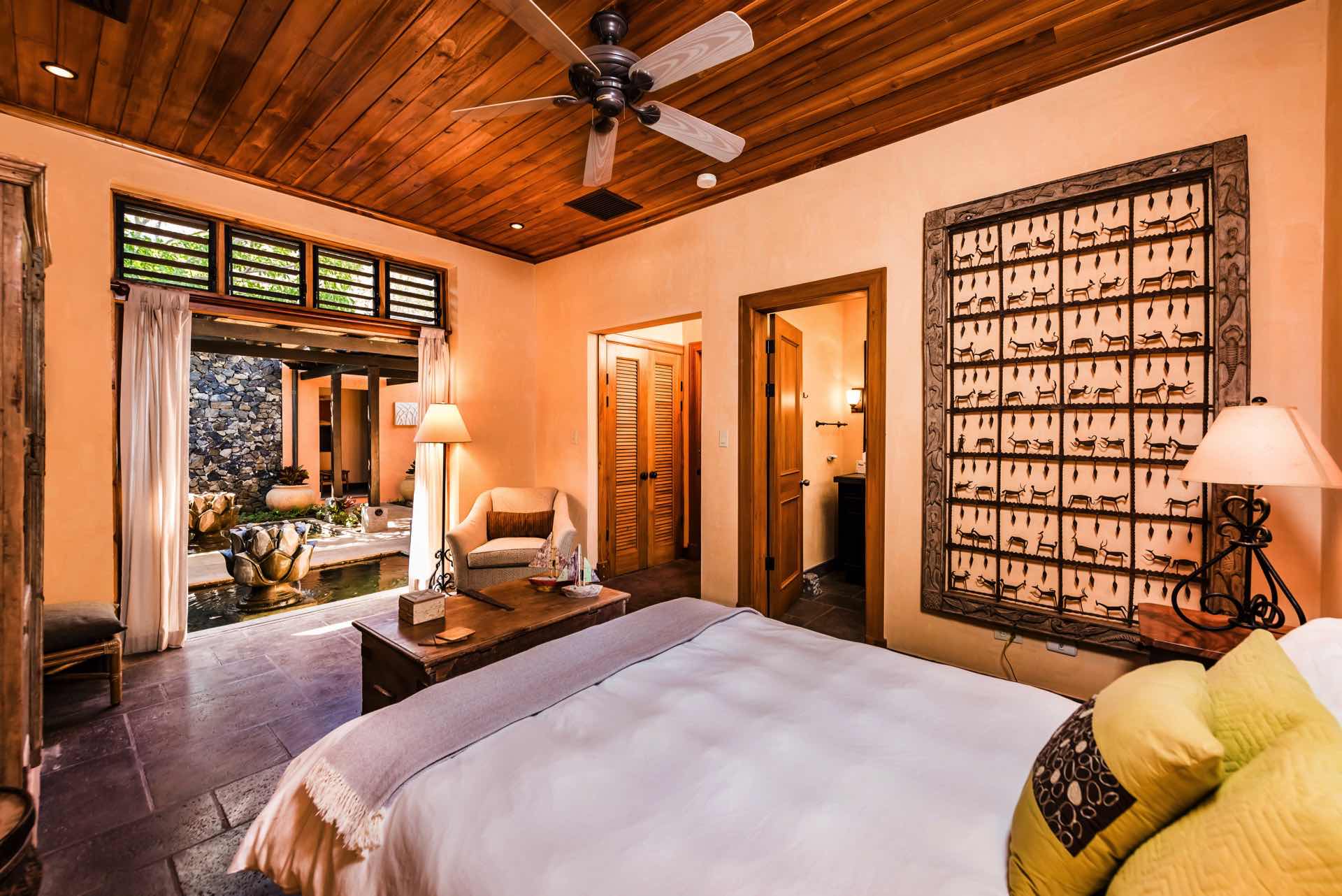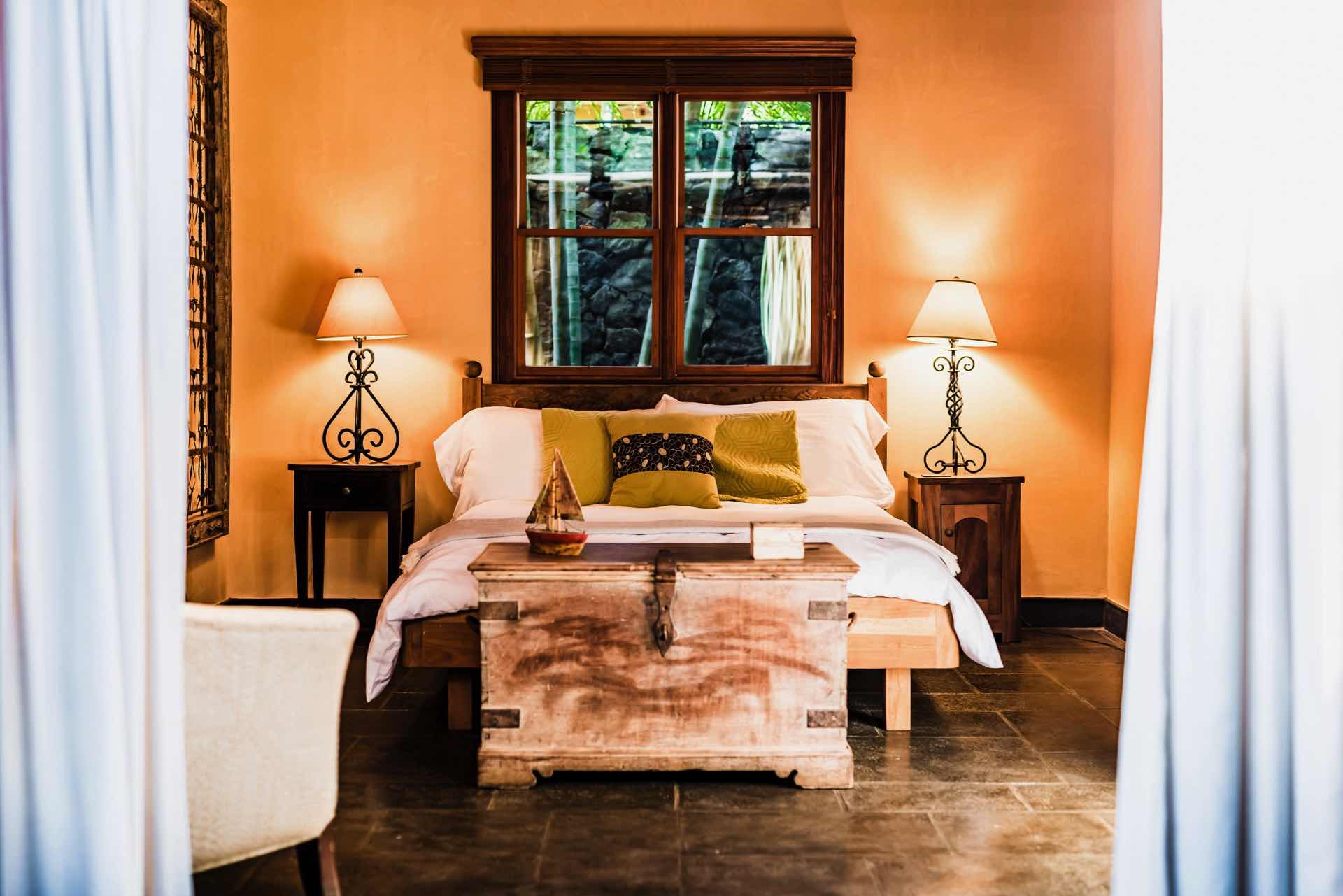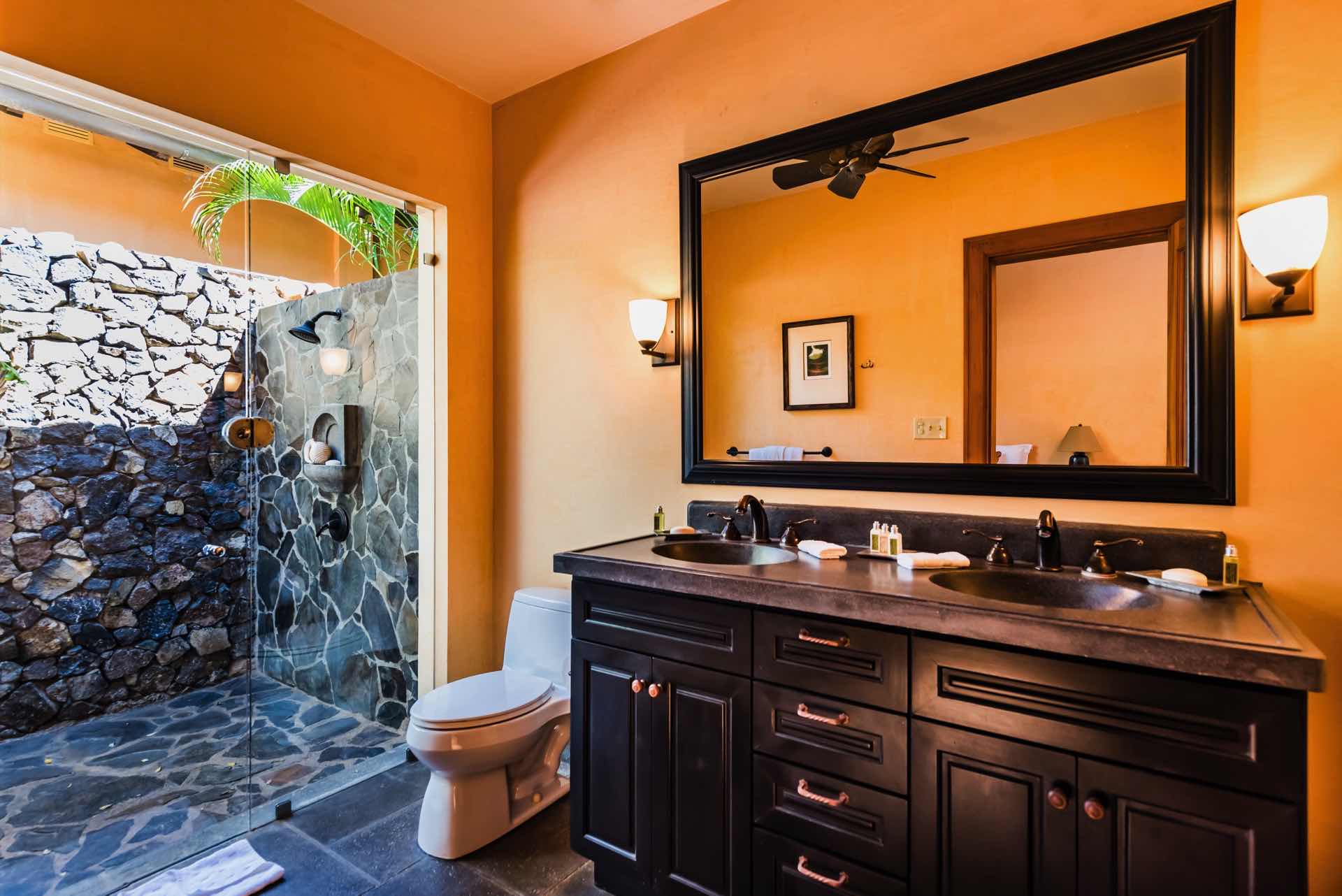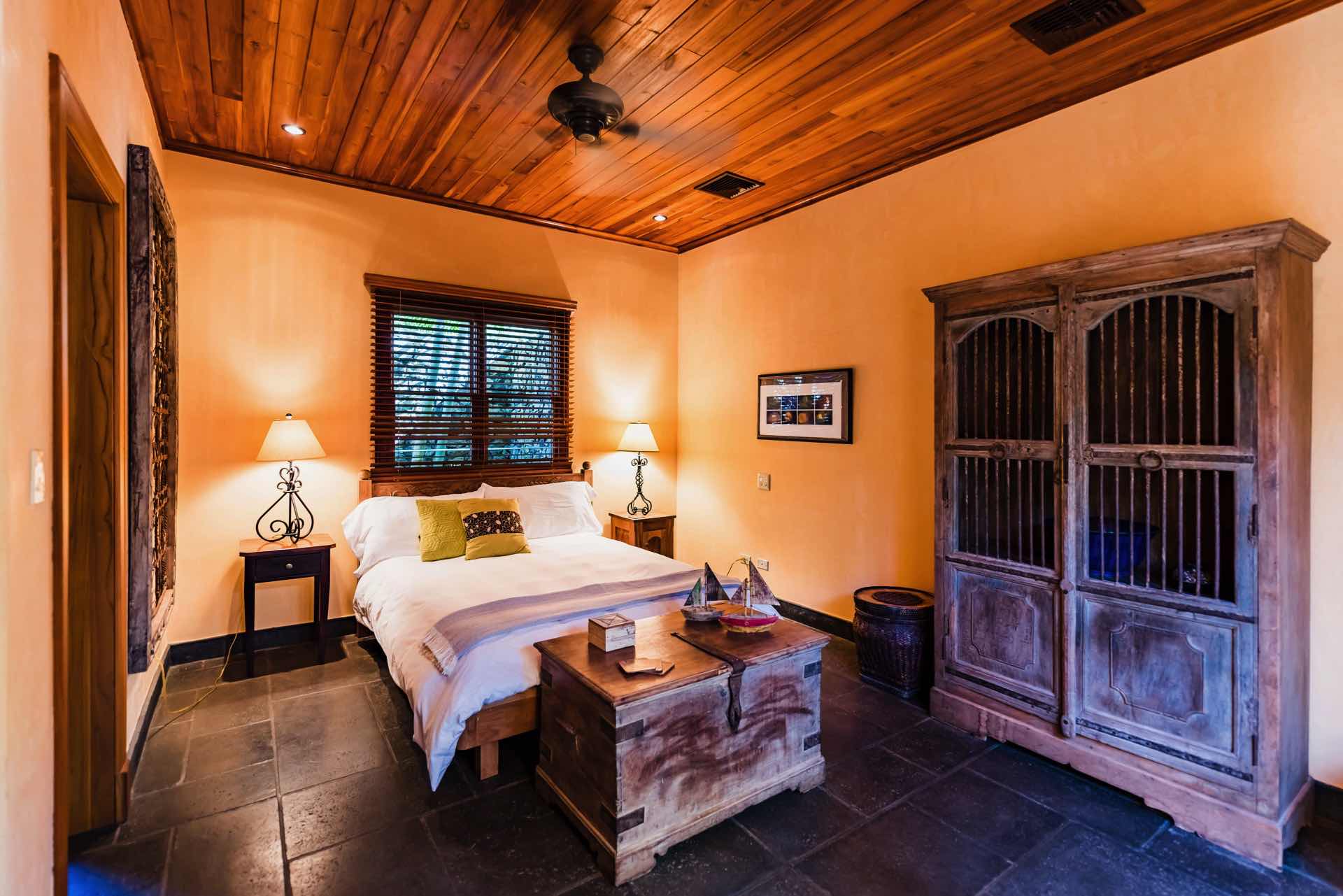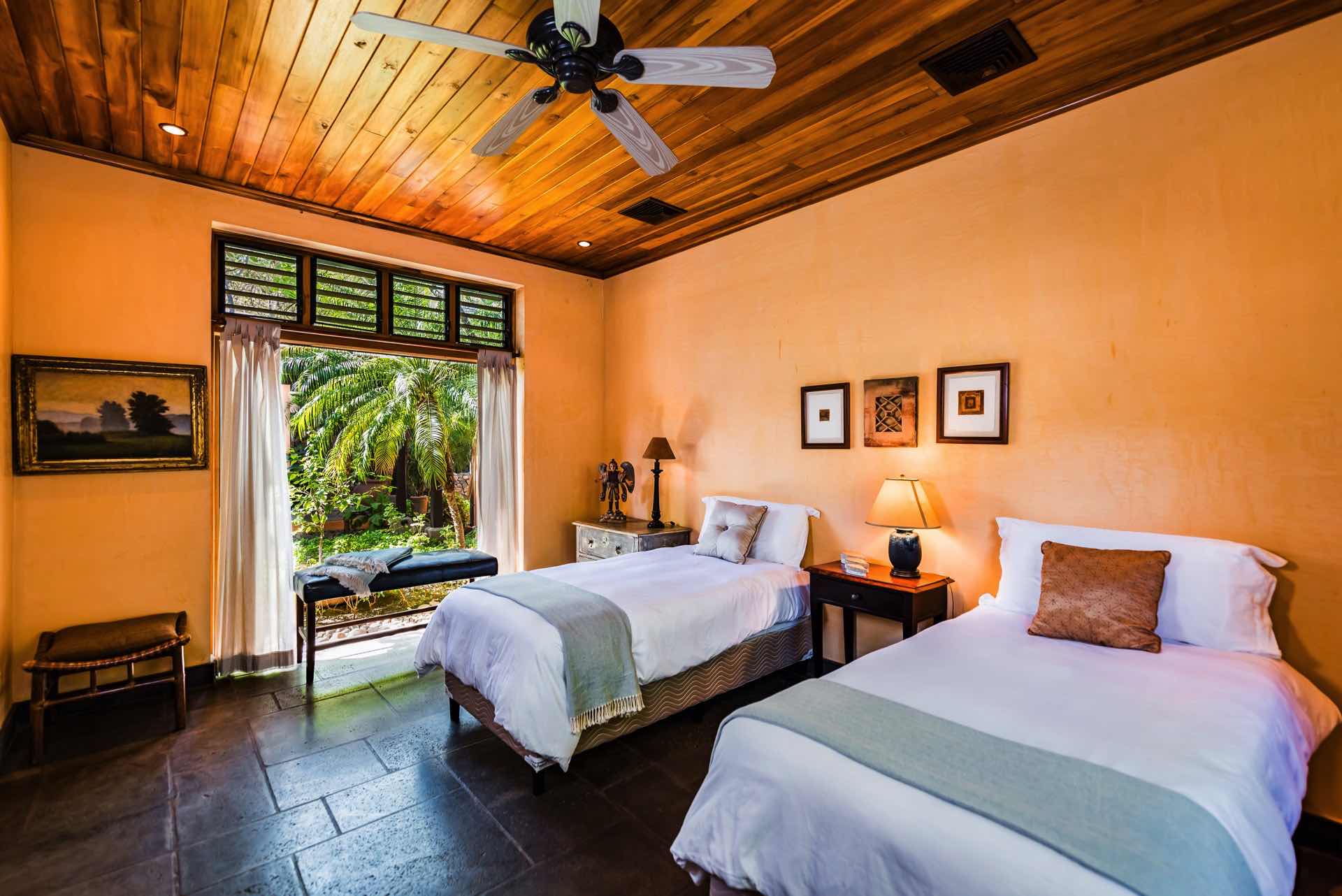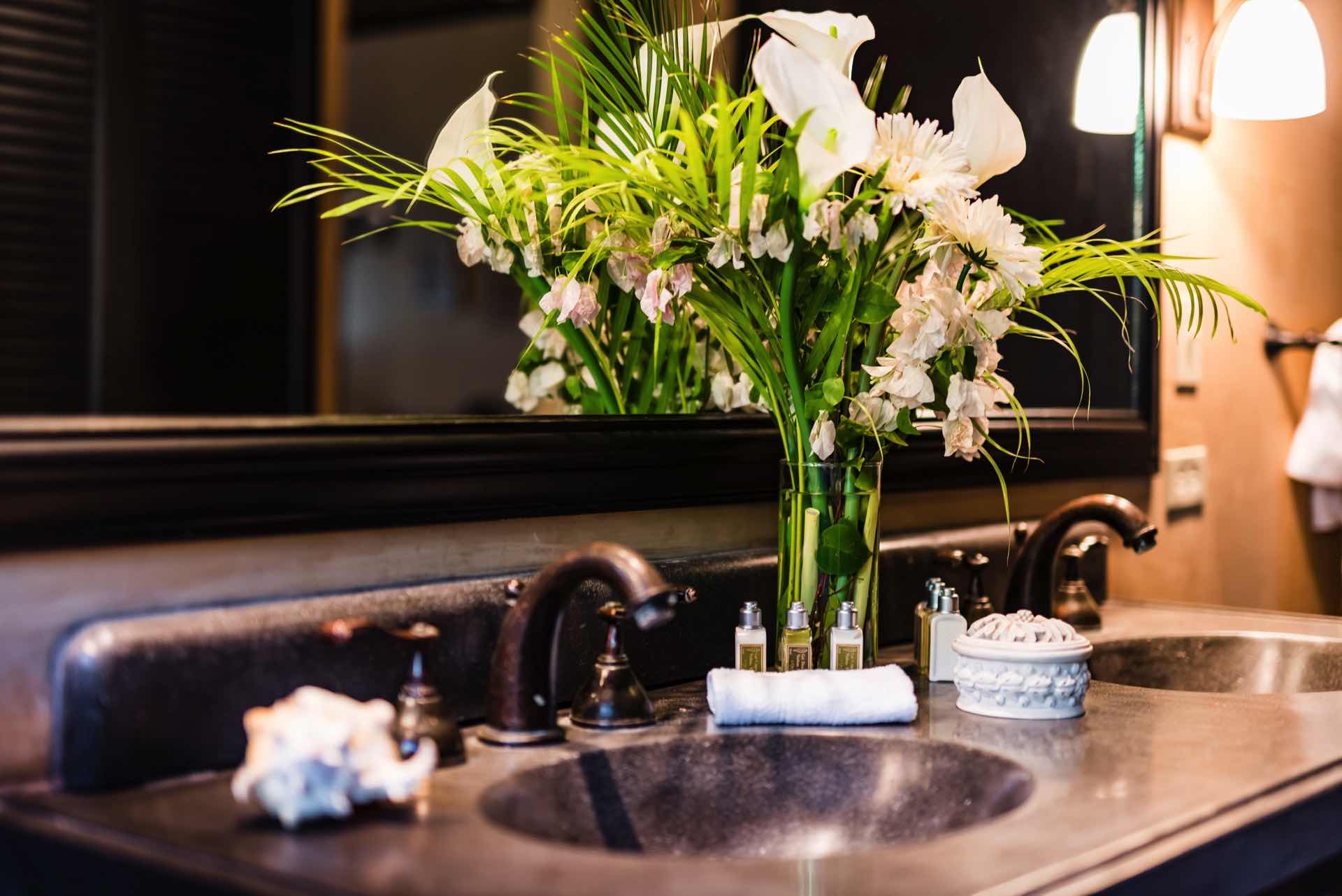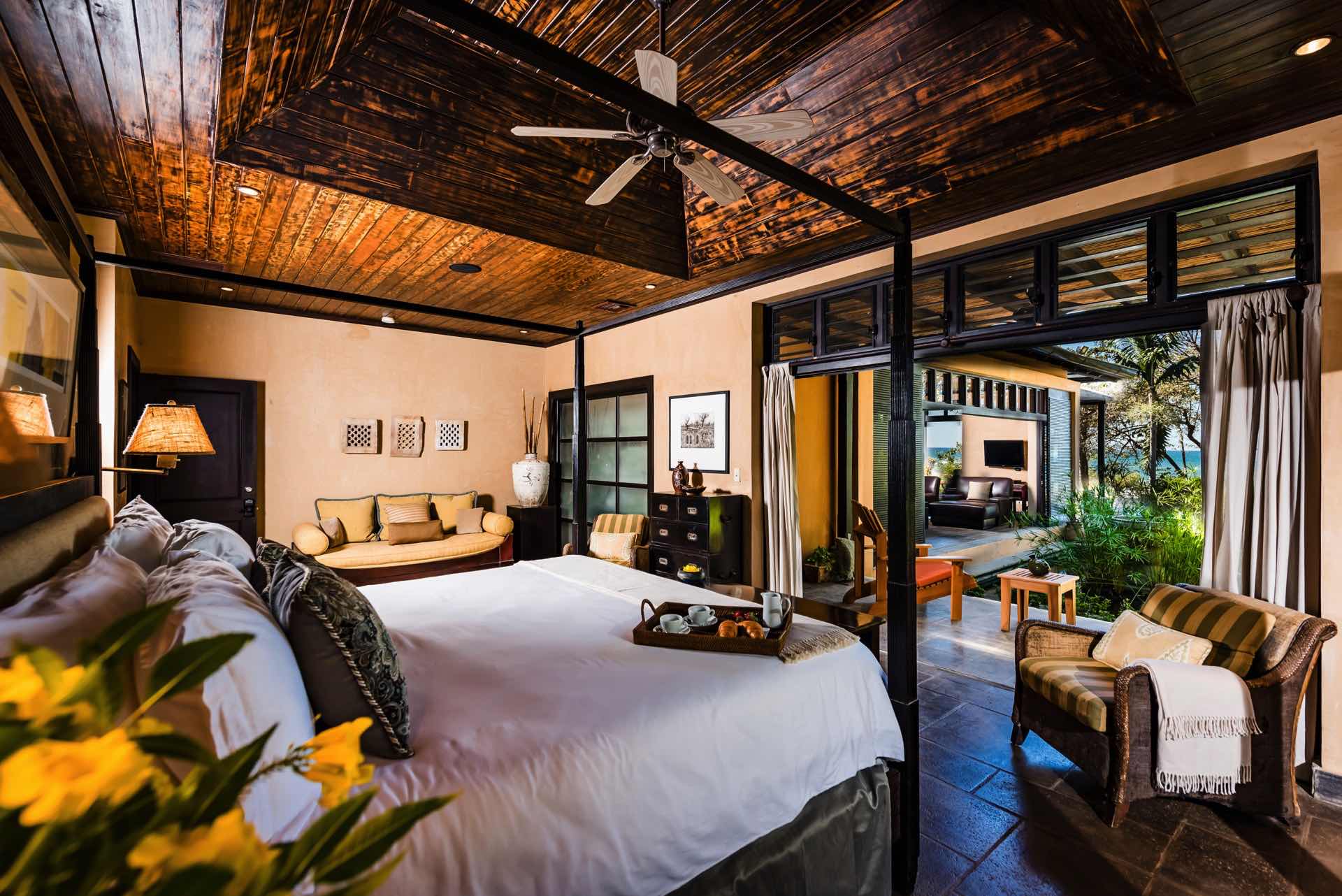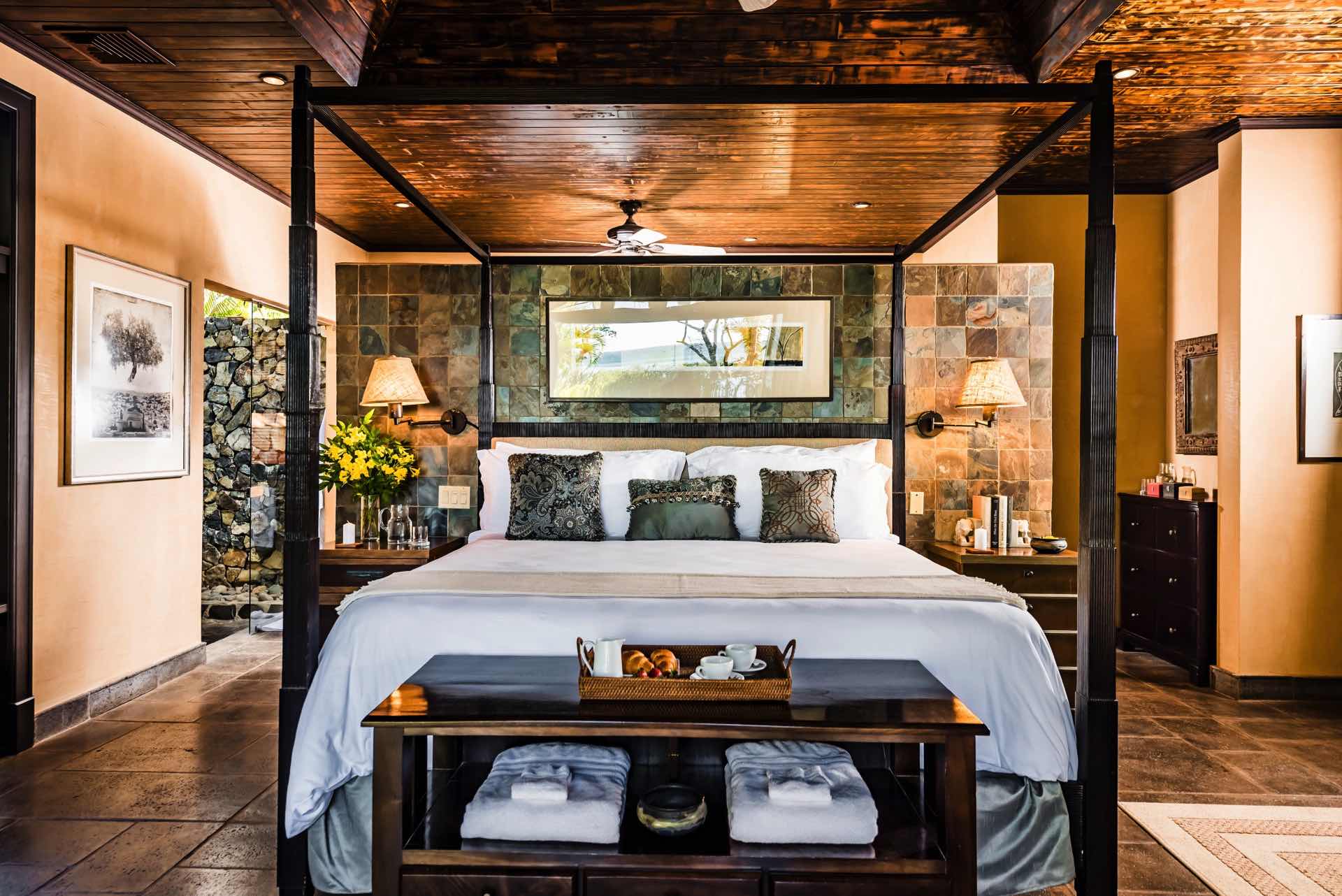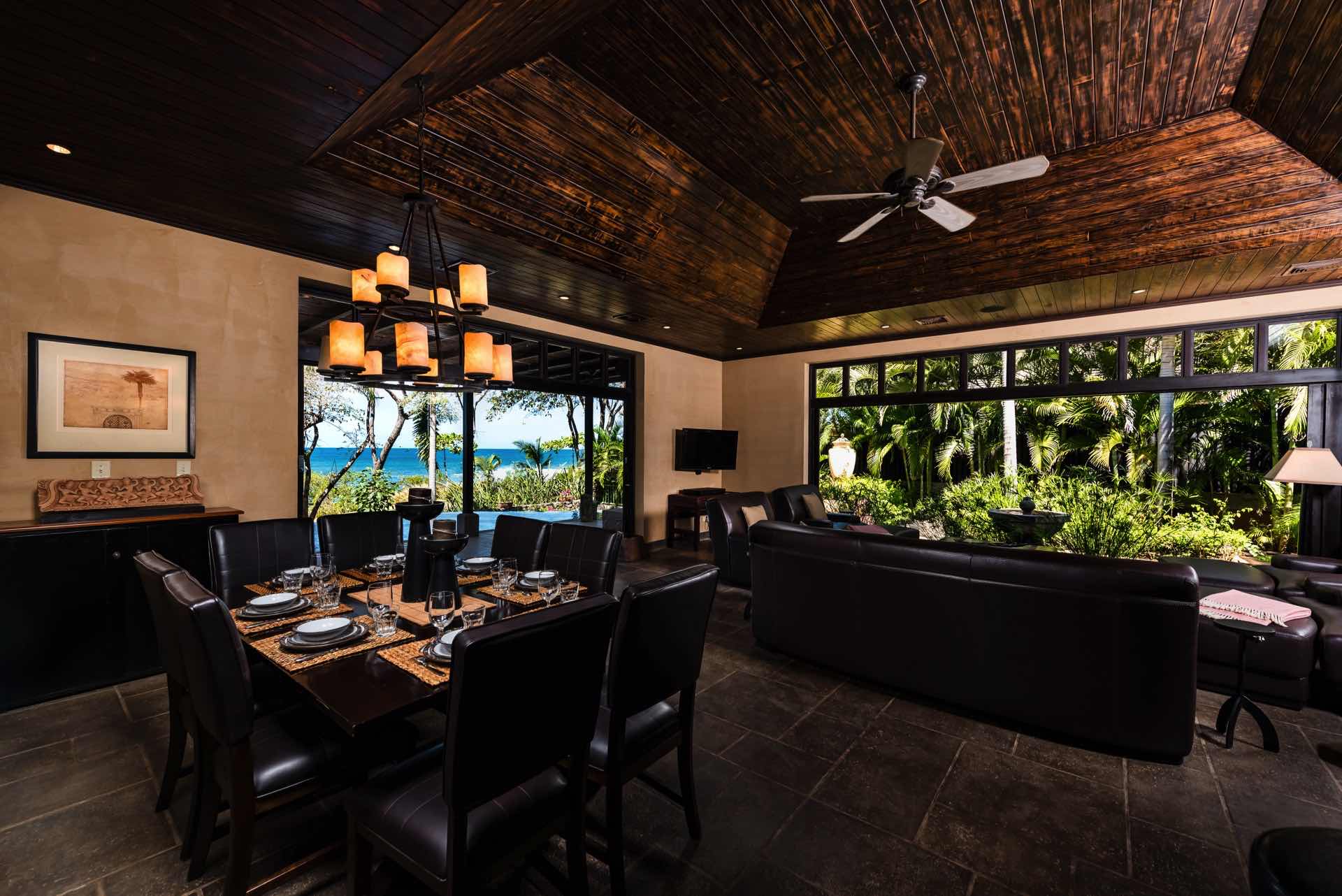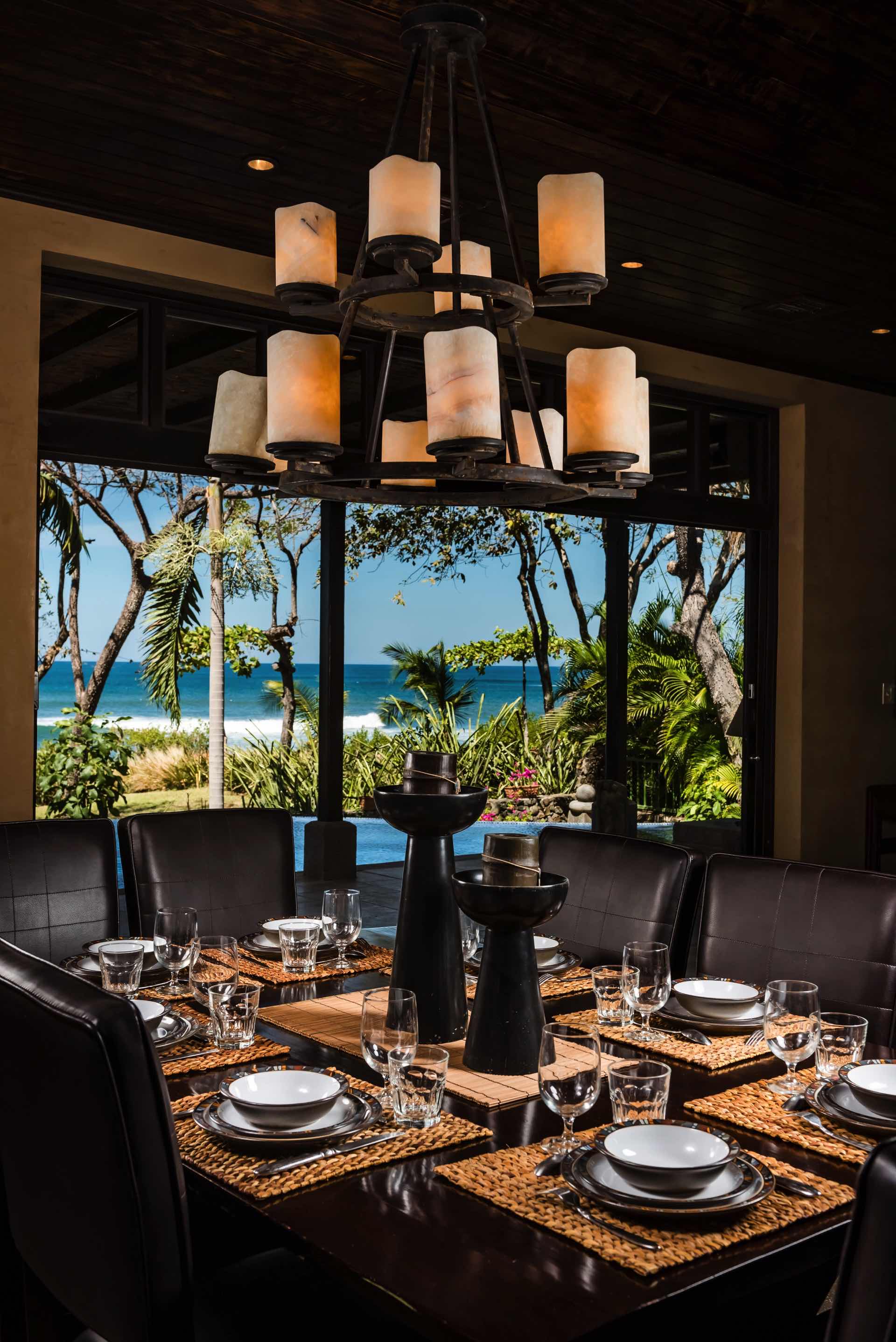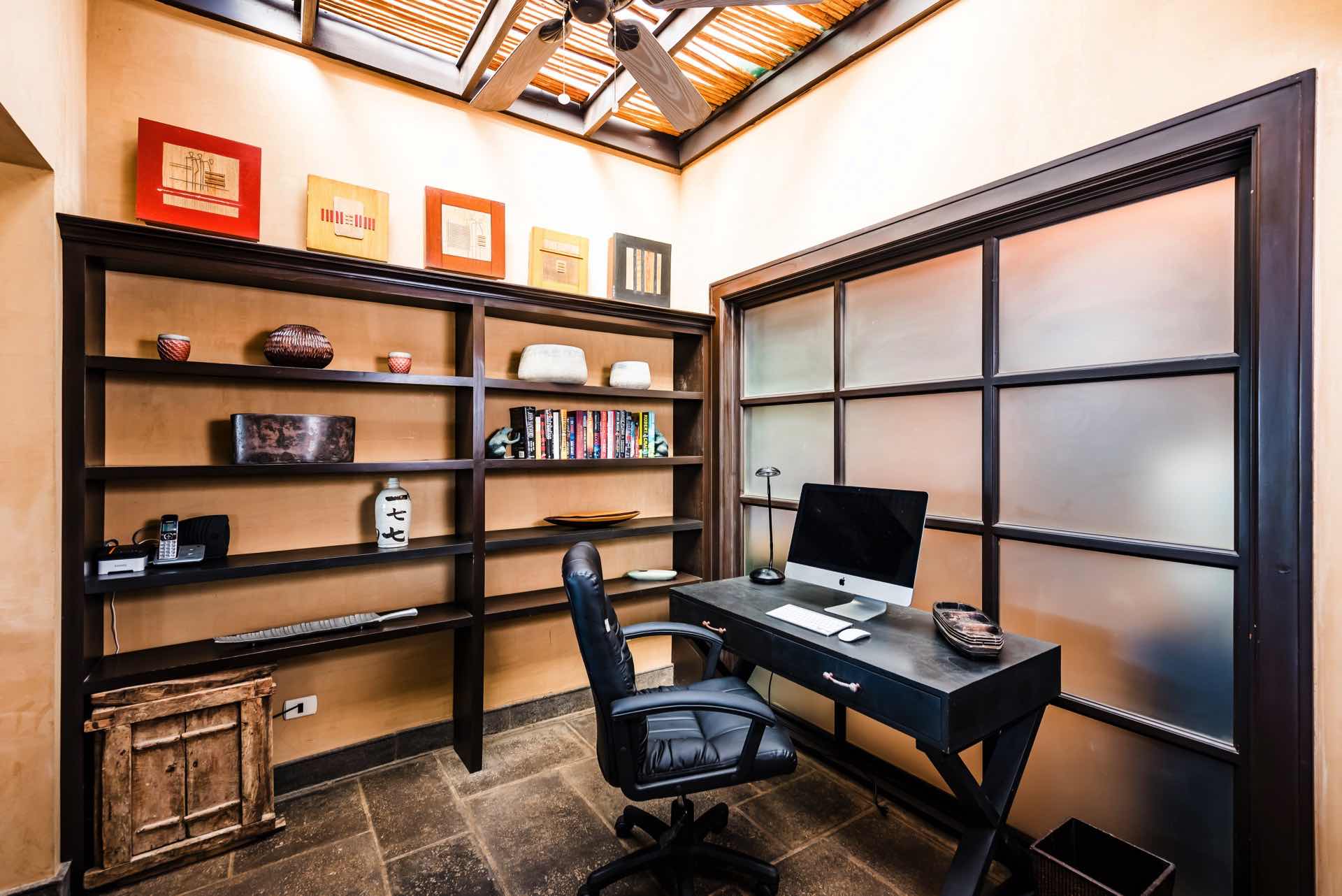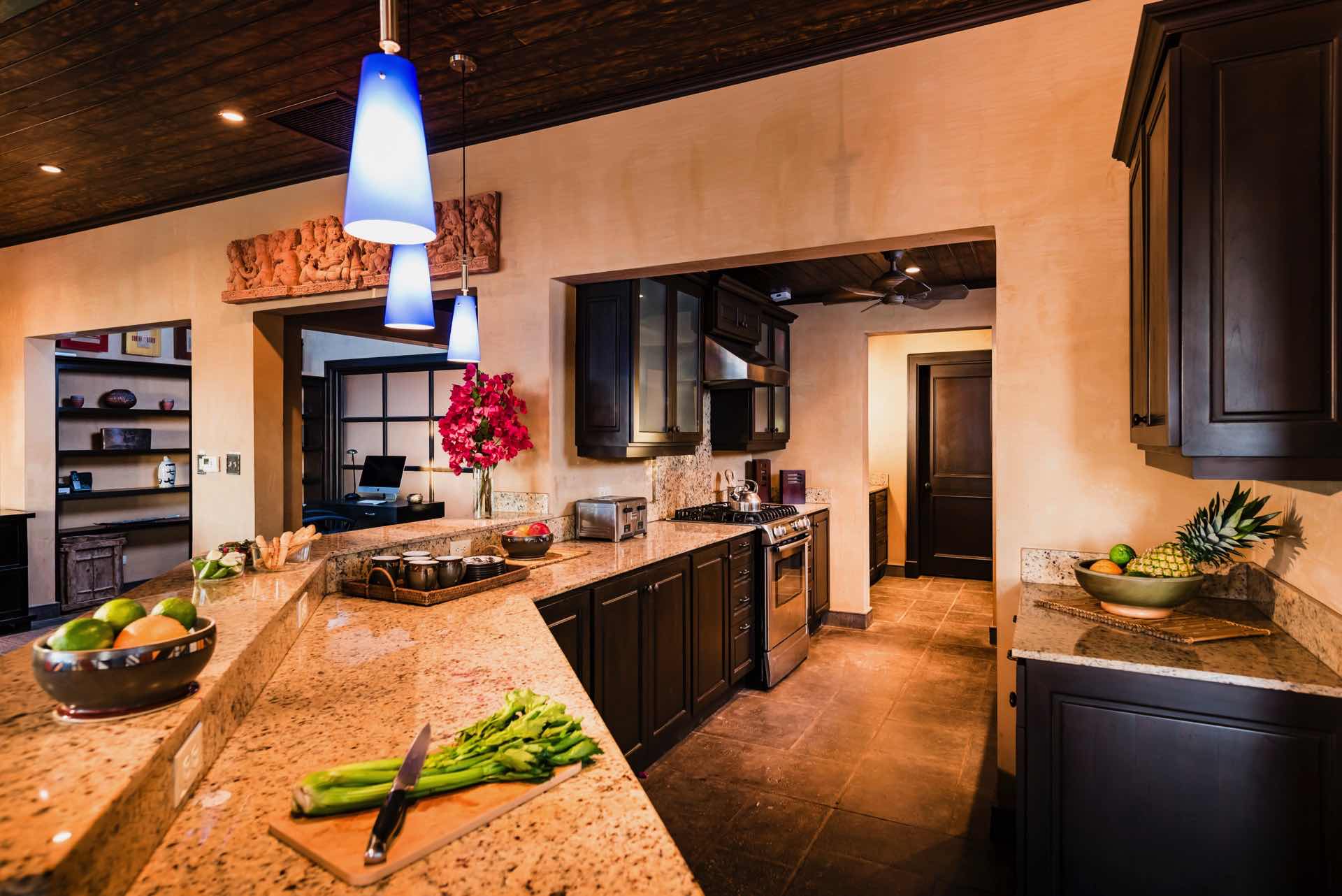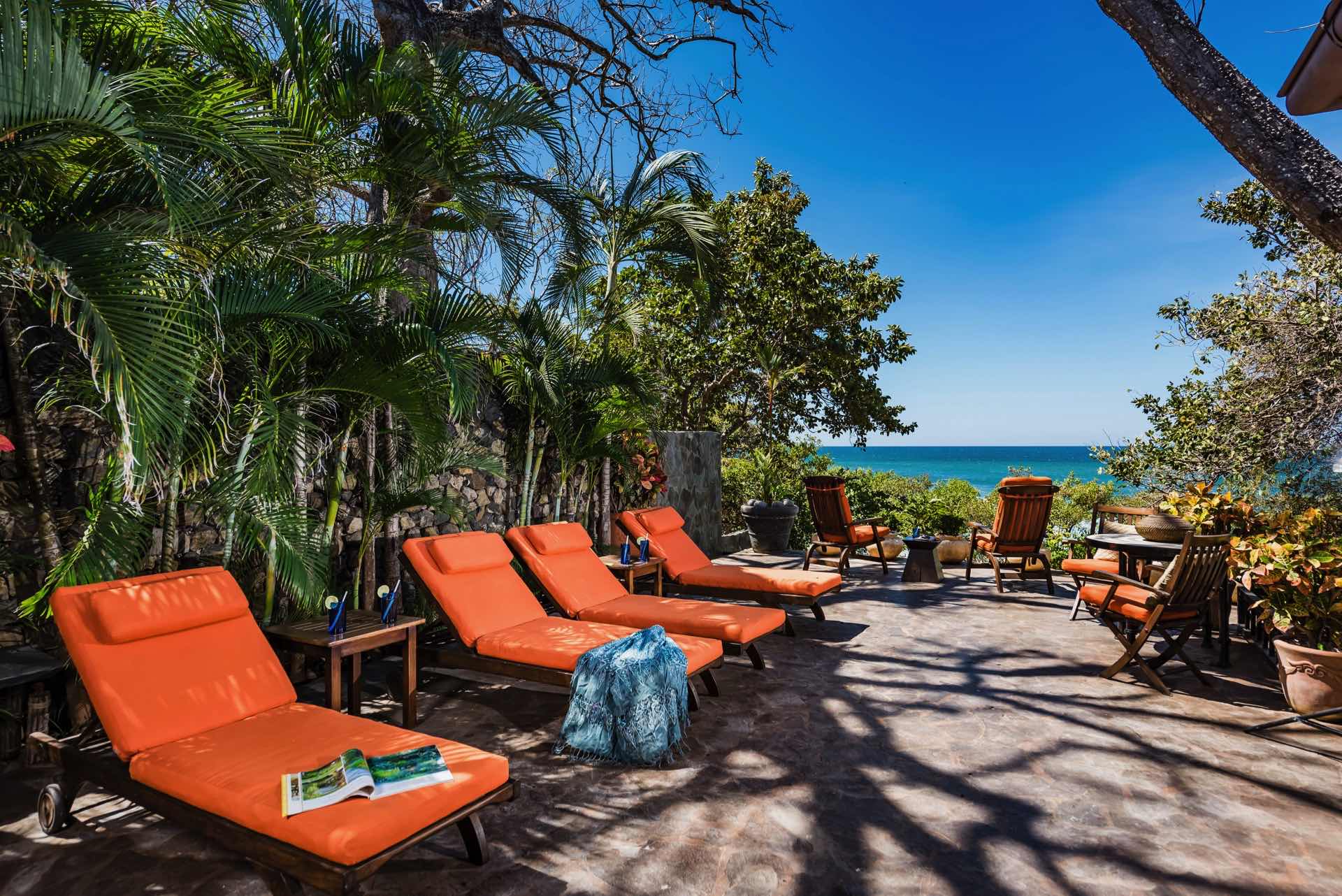 Casa Tranquila is a breathtakingly beautiful ocean-front home located in The Tamarindo Preserve, Tamarindo, Costa Rica's only beachfront gated community. This 4-bedroom vacation rental home sleeps up to 8 people and offers the perfect luxury accommodations for families or friends who prefer exceptional comfort and privacy.

Casa Tranquila is set on a a high point of land the juts out into the sapphire blue of the Pacific horizon. Relax on the flagstone terrace or in the free-form infinity pool, lulled by the hypnotic sound of waves rushing onto the rocky point that the home is set on. This is a magical place to spend the quiet moments of cool early mornings and to attend the splendorous show of the sun setting into the sea.

The house itself is a masterpiece of distinctive tropical design and construction. Vaulted wooden ceilings and stone floors combine natural elements with every comfort that a modern luxury home can offer. Broad sets of folding doors can be closed to enjoy air conditioning, or opened, to allow the peaceful sea breeze to flow through the rooms and hallways of Casa Tranquila. The home furnishings in Casa Tranquila are of the highest quality, and combine rustic finishes, sleek modern lines, and easy comfort. The home is air conditioned, has wi-fi and cable television, and is fully equipped to provide you the indulgent relaxation you expect on your tropical vacation at the beach in Tamarindo, Costa Rica.

The star amenity of Casa Tranquila is full, free membership at the exclusive Tamarindo Preserve Beach Club. The beach club boasts a 5-star bistro and bar, a beachfront pool, a yoga studio, and a gym all located on a fabulous stretch of Tamarindo beach in an area that is particularly safe for swimming. As a guest at Casa Tranquila, you have the option of running an open tab at the beach club, which you may close at the end of your stay. From the beach club, be sure to wander along the sand until you and the dynamic center of the town of Tamarindo, with its eclectic variety of bars, restaurants, and shopping.

SLEEPING ARRANGEMENTS (SLEEPS ):

- Bedroom 1: King Bed

- Bedroom 2: Queen Bed

- Bedroom 3: Queen Bed

- Bedroom 4: Twin Bed (2)

***Online bookings made during the year-end holiday weeks must check in and check out on one of the following sets of dates in order for the reservation to be accepted:

Dec 19 - Dec 26

Dec 22 – Dec 29

Dec 26 - Jan 2

Dec 29 - Jan 5
| | Nightly | Weekly |
| --- | --- | --- |
| June 15 - August 19, 2018 | $1,271 | $8,897 |
| August 20 - October 31, 2018 | $1,271 | $8,897 |
| November 01 - November 17, 2018 | $1,271 | $8,897 |
| November 18 - November 25, 2018 | - | $10,864 |
| November 26 - December 18, 2018 | $1,312 | $9,184 |
| December 19 - December 25, 2018 | - | $17,500 |
| December 26 - January 01, 2019 | - | $18,703 |
| January 02 - January 05, 2019 | $2,912 | - |
| January 06 - March 31, 2019 | $1,552 | $10,864 |
| April 01 - April 12, 2019 | $1,440 | $10,080 |
| April 13 - April 21, 2019 | $1,552 | $10,864 |
| April 22 - April 30, 2019 | $1,440 | $10,080 |
| May 01 - June 15, 2019 | $1,271 | $8,897 |
| June 16 - August 18, 2019 | $1,271 | $8,897 |
Concierge Services Available
Thank you for entering your review. The review will become available to the system shortly.
Family vacation
Rating:
Review Date: 08/03/2018
We had a wonderful vacation at Casa Tranquila. The house was great for our family of eight and very well maintained. Lucy was cleaning and we wouldn't even know she was there.
Cristina made our arrangements for activities which worked very well.
We will be returning again in the future.
awesome beach house
Rating:
Review Date: 04/28/2018
The house was everything we expected and better. very well maintained, and the staff was lovely. we had a problem with hot water in one of the rooms, they were out that day to fix the problem. we would recommend it highly. the whole family loved this house.
Manager Response: 05/09/2018
Response from Stay in Tamarindo
Thank you Michelle! Its great to hear you loved the house and that you found it better than expected ;) We hope to have you all back for a visit very soon!
Family time
Rating:
Review Date: 03/18/2018
We had a wonderful time at Casa Tranquila. The house was beautiful and well equipped. Plenty of space for everyone. The town has some great restaurants and Cris helped us book some great tours and surf lessons. We rented golf carts to get into town and the beach club. The kids loved chilling out at the private pool in the afternoons. It was a great place for some much needed family time. Lucy was helpful and kept the place picked up and looking great.
Manager Response: 04/07/2018
Response from Stay in Tamarindo
Melanie, Thank you very much for your kind review and your positive comments. We are so happy to hear how much you enjoyed the house and found it beautiful and comfortable for all the family. Its true Lucy is a great help and always doing her best to assist you in anything. Let us know when you are coming back to sunny Costa Rica as we would love to have you back!
Awesome Stay in an Awesome house
Rating:
Review Date: 03/16/2018
This was our 5th trip to the Tamarindo area (third time renting a house) and we keep going back. This is our third house that we have rented and were not disappointed. It was very nice and well maintained by Lucy (housekeeper) and Adan (grounds keeper). They do not speak English but we were able to still communicate pretty easy as I think they understand more than they can speak. They are both great and very helpful. We booked through a management company and I dealt with Adrian Alvarez and Christina Gonzalez and that experience was also very smooth. We did not do any excursions this time as it is not our first trip and my wife and I just hung out at the house/beach/town. Now about the house:) It was split into three buildings of which we only used the main house since there were only two of us. We did take a look at the other two buildings bedrooms and they were just as nice as the main house. If you are going as couples or families this layout is nice as it affords a little privacy should you find you need it. The furnishings are all top notch. The living room furniture is a bit large to be honest but comfy. The main house ocean side can open up on three sides going out to the pool/patio area. The outside area has several chairs and a large table with gas grill under a thatch roof with a fan. Great for having a meal or snack out of the sun. The beach is about a 40 yard walk down your private path. Town is a decent walk, either by road or beach. If taking the beach bring shoes of some sort because you will have to navigate a section of volcanic rock. Easily passable buy hard on us city folks feet:) The town is great. Tons of restaurants, bars, shops, etc... Now for the best part of the house. It has some of the most beautiful sunsets which we enjoyed every night. It never got old. The pool and patio are ideally located for sunsets every night. We will hopefully be back!!


Manager Response: 04/07/2018
Response from Stay in Tamarindo
Terry, We are so happy to hear how much you enjoyed the house and found it not only beautiful but also comfortable. Thank you for taking the time and sharing your impressions with us and many other future guests. Let us know when you are coming back to sunny Costa Rica, we will love to assist you. All the best and warm regards!
Casa Tranquila
Rating:
Review Date: 02/22/2018
A truly beautiful property with all the amenities necessary. Wonderful housekeeper, Lucy. Had we known we would have rented a golf cart for short trips to get groceries, etc. But they were all rented by the time we got there.
The house and pool were lovely and very clean. Management checked in everyday to see if all was well. If we had a problem, they saw to it right away. The icemaker doesn't work and that was the only problem.
Manager Response: 03/28/2018
Response from Stay in Tamarindo
Merle, We are happy to hear that you enjoyed your time in Casa Tranquila and also enjoyed the many amenities that the house offers. It was a pleasure to assist you throughout your trip. We hope you and your family will come back again to visit. Pura Vida!
Your request has been sent. We look forward to meeting all your vacation needs!
Optional Guest Protect Plan travel insurance
The Guest Protect Plan from CSA Travel Protection Includes:
✓
Valuable benefits before, during and after your vacation
✓
Reimbursement of non-refundable trip costs if you must cancel your trip or cut it short due to covered sickness, injury or other events
✓
150% of trip cost coverage for covered trip interruptions
✓
24/7/365 emergency assistance hotline, plus access to a network of physicians
View complete plan details
Yes! I want the CSA Travel Protection Guest Protect Plan
No, I don't want this insurance and understand that I may be responsible for cancellation penalties in accordance with the Terms and Conditions, up to 100% of the rental costs.