Sunrise 11 | Costa Rica Condominium Rental
Tamarindo Vacation Rental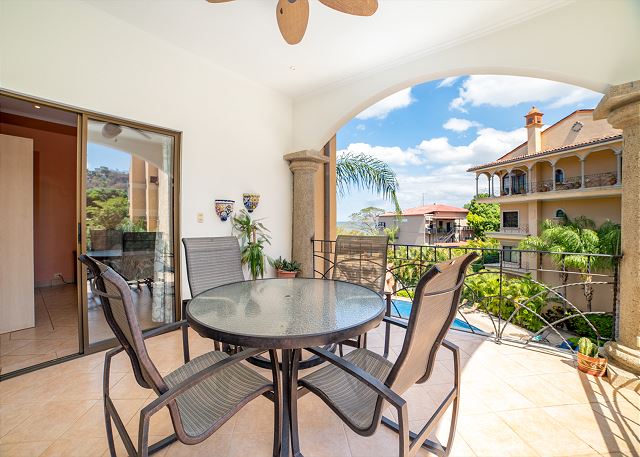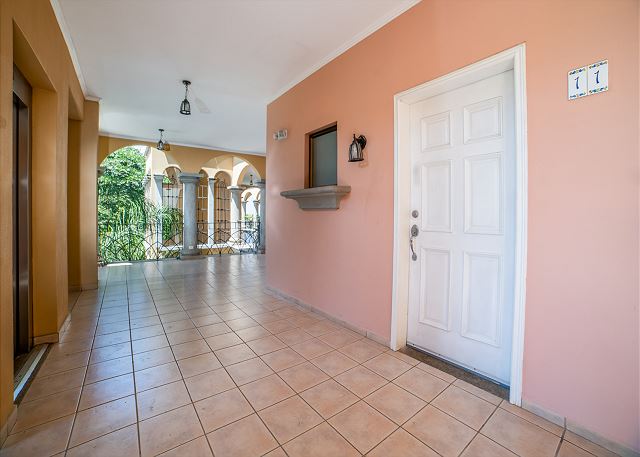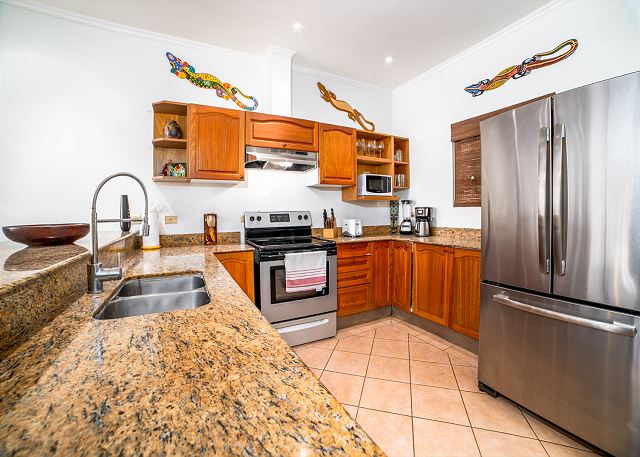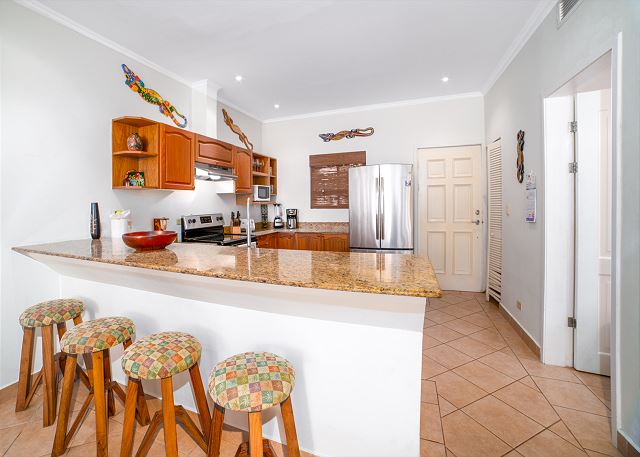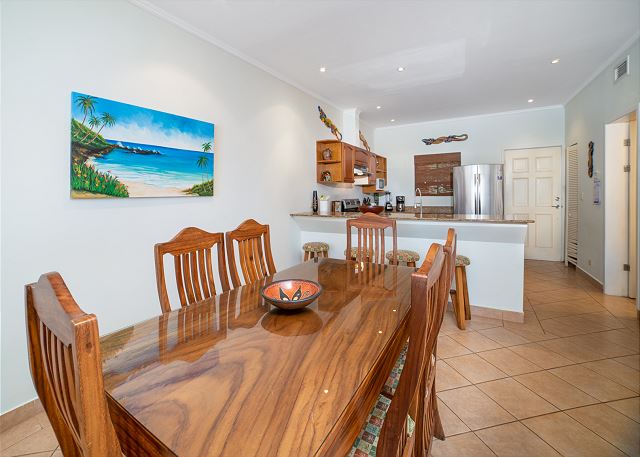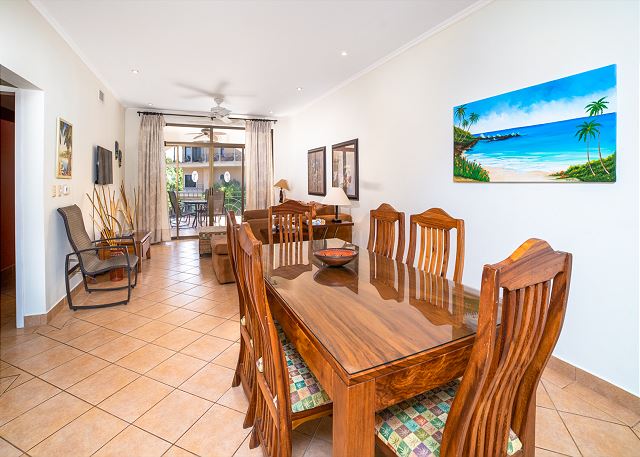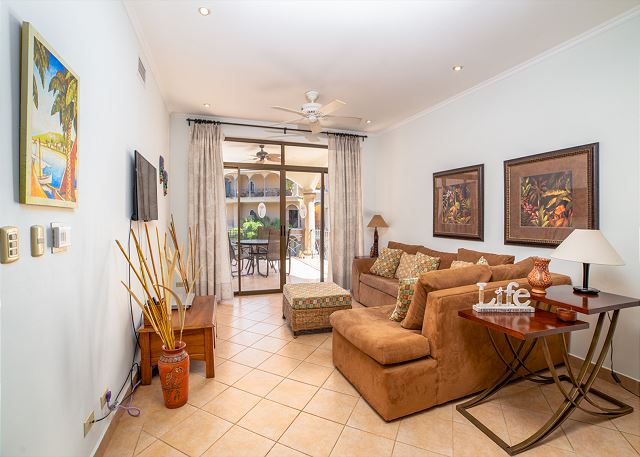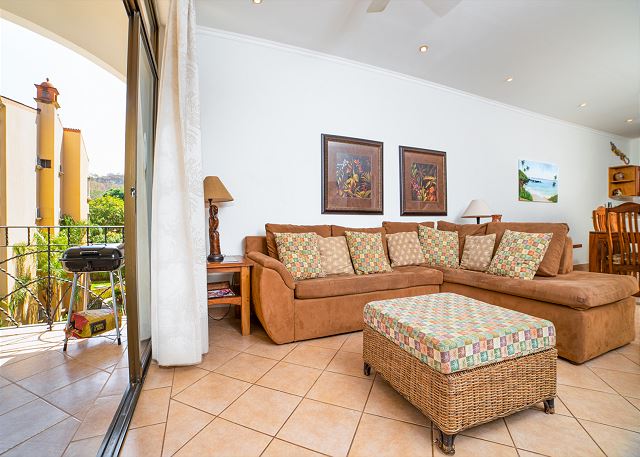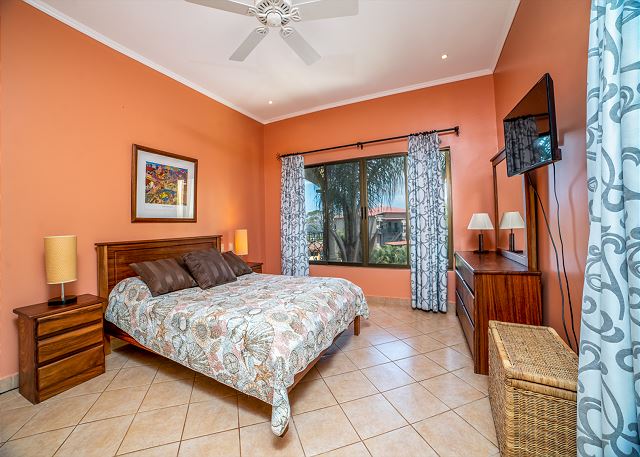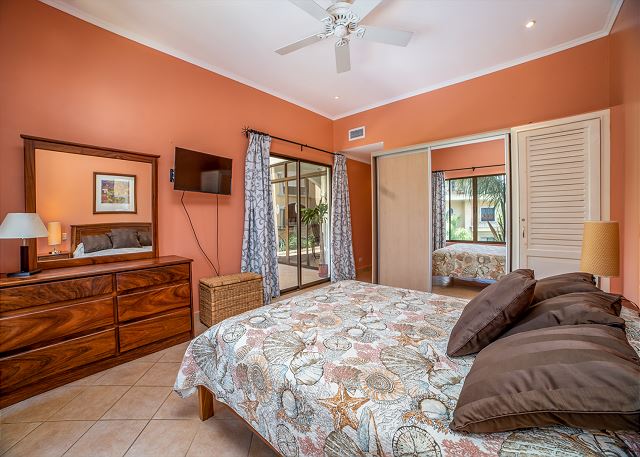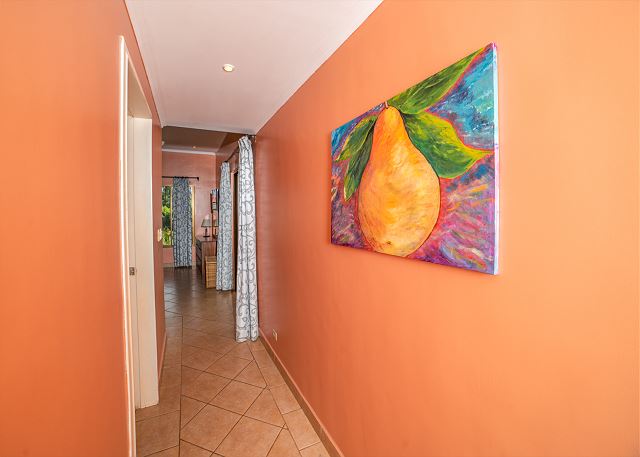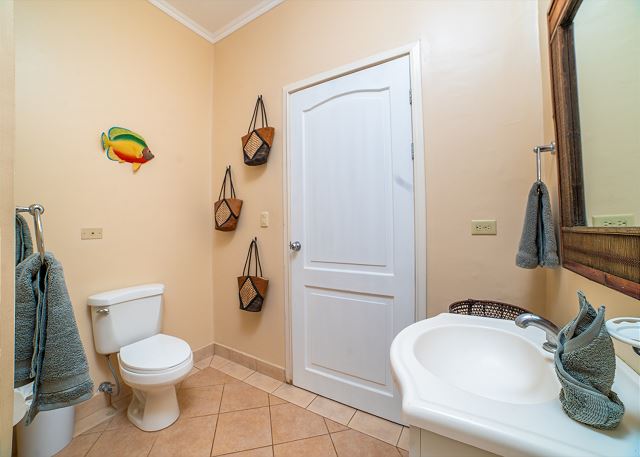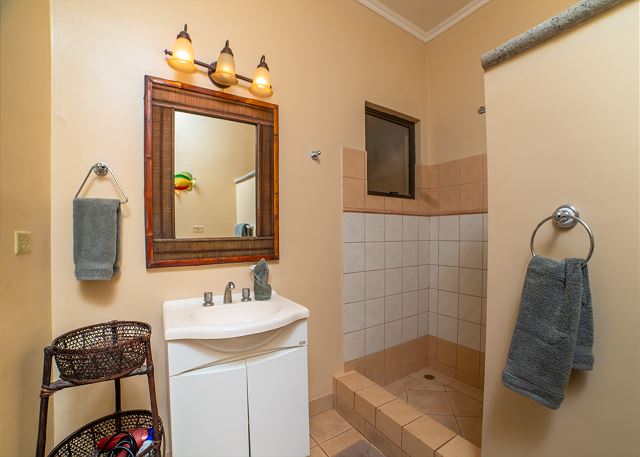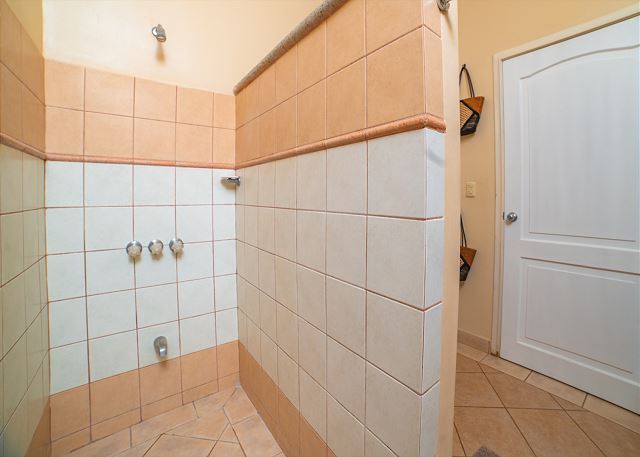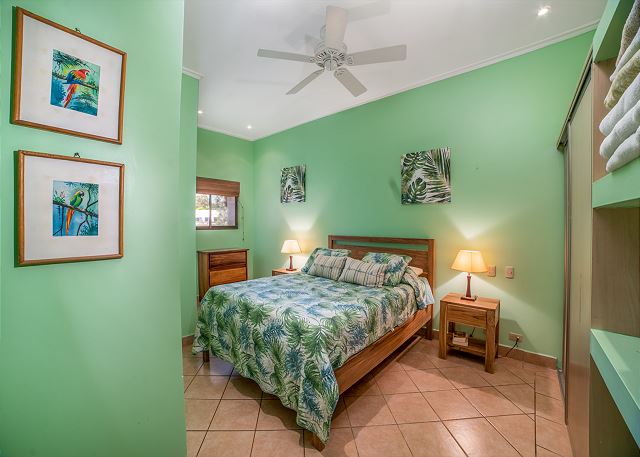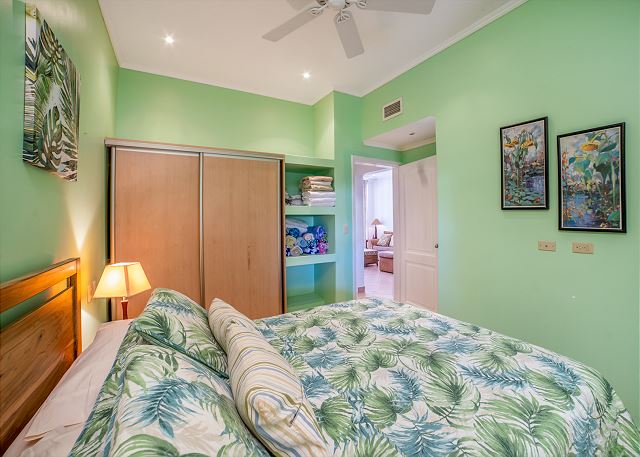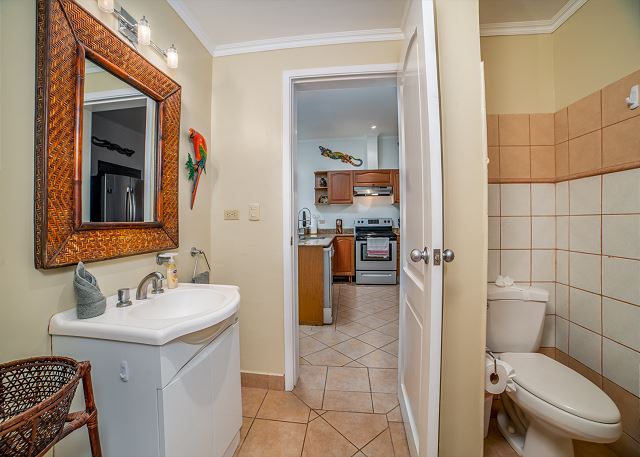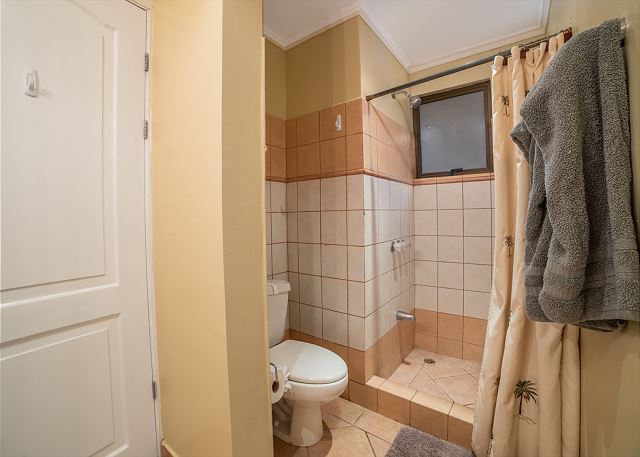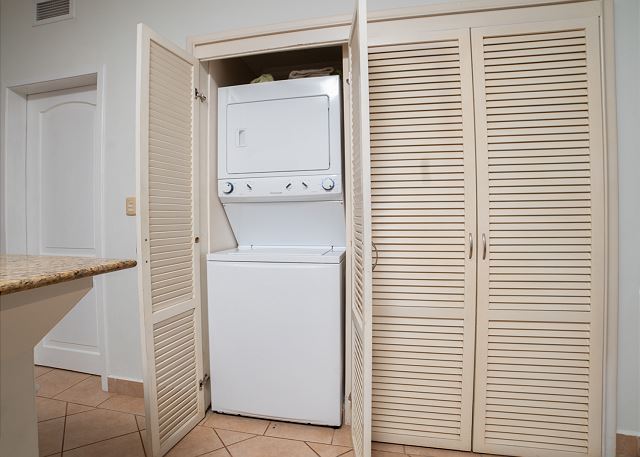 Sunrise 11 is a beautiful 1200 square foot vacation rental condominium that can accommodate 5 guests. It is an ideal Tamarindo vacation choice for families who want to be close to the beach, be able to take advantage of a secure parking area, and have access to a fantastic resort pool. This comfortable condo offers two bedrooms, two baths, a full kitchen that will make you feel at home, and a common area for eating, relaxing and reviewing the day's activities. Air conditioning, wi-fi, cable television and an apartment-sized laundry facility are all part of the amenity package your family will enjoy at Sunrise 11.
Located on the 3rd floor of the Sunrise resort, Sunrise 11 boasts a large balcony that overlooks the unique resort pool and sunny tanning terrace. Enjoy family meals on this terrace, a peaceful mug of morning coffee before the gang awakens, or sip an evening cocktail as the sun sinks toward the sea. The hours you spend outdoors are what makes a tropical vacation unforgettable, and Sunrise 11 is designed with this concept in mind.
Sunrise 11's best amenity, by far, is its unbeatable location. The Sunrise resort is located directly in the center of Tamarindo's energetic community, across the street from the surf and sand. There is no need to drive to the beach from Sunrise—the beach is right outside your front door. Within easy walking distance of your condo, you will find a wide variety of restaurants, cafes and bars, surf shops, souvenir stores, grocery stores and more.
Tamarindo is full of exciting tour and adventure options. Our Concierge service is the local expert on which operators provide the best services, and we can arrange for the activities like surf lessons, canopy tours, boat safaris and other things you won't want to miss. We can also assist in providing airport transfers and rental car reservations for you during your visit to Tamarindo.
SLEEPING ARRANGEMENTS (SLEEPS 5):
- Bedroom 1: Queen Bed
- Bedroom 2: Queen Bed
*Air Mattress on request
***On-line bookings made during the year-end holiday weeks must check in and check out on one of the following sets of dates in order for the reservation to be accepted:
Dec 19 - Dec 26
Dec 22 – Dec 29
Dec 26 - Jan 2
Dec 29 - Jan 5
| | Nightly | Weekly |
| --- | --- | --- |
| April 14 - April 20, 2019 | $300 | $1,740 |
| April 21 - April 30, 2019 | $185 | $1,062 |
| May 01 - June 15, 2019 | $158 | $1,106 |
| June 16 - August 18, 2019 | $175 | $1,225 |
| August 19 - October 31, 2019 | $120 | $840 |
| November 01 - November 22, 2019 | $127 | $889 |
| November 23 - November 30, 2019 | - | $1,064 |
| December 01 - December 18, 2019 | $127 | $889 |
| December 19 - December 25, 2019 | - | $2,100 |
| December 26 - January 01, 2020 | - | $2,856 |
| January 02 - January 05, 2020 | $408 | - |
| January 06 - April 03, 2020 | $210 | $1,470 |
| April 04 - April 13, 2020 | $300 | $2,100 |
| April 14 - April 30, 2020 | $127 | $889 |
Thank you for entering your review. The review will become available to the system shortly.
Excellent Stay
Rating:
Review Date: 04/10/2019
We had a wonderful stay in Tamarindo. Condo was in walking distance to beach and restaurants. Having the pool in the middle of hot afternoons was wonderful. We enjoyed the view from our balcony with coffee each morning. Everyone from Stay in Tamarindo was extremely helpful. We really enjoyed our stay!!
Great location
Rating:
Review Date: 03/22/2019
Nice facility; comfortable; great ocean view from our balcony; small convenience store across the street.
Excellent location
Rating:
Review Date: 03/21/2019
Location was ideal, apartment and pool were great! My only complaint was that we had realllllyyy loud neighbours and the soundproofing isn't great so sleeping was kind of an issue some nights. But that's not the management company's fault, otherwise the rental was fantastic and would highly recommend!
A great place to stay in
Rating:
Review Date: 12/29/2018
My wife and I stayed at Sunrise property as we are used to do each year from mid-November to mid-December. This time we rented the unit 11 which is well furnished and maintained in perfect condition.
We had to ask the maintenance staff to solve some technical issues and the service was fast and efficient.
We stay in this property because the place is quiet even if it is close to every things in town. Furthermore the location is at a reasonable driving distance from our favorite locations in the area like Rincòn de la Vieja, Tenorio, Arenal and Monteverde.
Manager Response: 01/31/2019
Response from Stay in Tamarindo
Arnoud, we are glad to hear you had another great stay at Sunrise condos. So happy we could assist you before and during your stay. We look forward to welcoming you back for another round very soon!
Great as always!
Rating:
Review Date: 06/19/2018
I have been coming to Tamarindo for 30 years. I owned a conduit Sunrise when they where first built. I was very impressed with how well the Town is doing and the Condos are looking great, very well maintained. Looking forward to return!!
Manager Response: 07/25/2018
Response from Stay in Tamarindo
Mario, we are happy to hear you are a frequent visitor of Tamarindo ;-) Its true that Sunrise condos are very well maintain and for this reason are in great shape. Let us know when you are coming back to sunny Tamarindo as we will love to assist you again. Pura Vida!
Awesome place to stay
Rating:
Review Date: 05/10/2018
Manager Response: 05/12/2018
Response from Stay in Tamarindo
We're happy to know you had a great experience! Hope you plan on coming back!
Nice condo across from the beach
Rating:
Review Date: 05/07/2018
Lovely complex right across from the beach. Great pool area, nice condo. We go to Tamarindo often, we will be staying here again.great location.
Manager Response: 05/11/2018
Response from Stay in Tamarindo
Thank you for your review Ilana! We hope you can make it back to Tamarindo very soon as we would love to assist you again! Tamarindo awaits your return ;)
Perfct vacation
Rating:
Review Date: 04/11/2018
Not much to say except that everything was perfect. Large room, nice pool, in the perfect spot of Tamarindo.
Manager Response: 04/17/2018
Response from Stay in Tamarindo
Martin, We're happy to know you had a great experience at Sunrise Condos and hope to see you back here in sunny Costa Rica soon!
Excelentes Vacaciones
Rating:
Review Date: 01/17/2018
Magnífica experiencia y gran servicio por parte de la empresa Stay in Tamarindo.
Manager Response: 01/29/2018
Response from Stay in Tamarindo
Jose, Que gusto saber que tuvieron una excelente experiencia y hayan disfrutado su estadia. Fue un gusto atenderles y esperamos que nos visiten muy pronto!
Your request has been sent. We look forward to meeting all your vacation needs!
Optional Guest Protect Plan travel insurance
The Guest Protect Plan from CSA Travel Protection Includes:
✓
Valuable benefits before, during and after your vacation
✓
Reimbursement of non-refundable trip costs if you must cancel your trip or cut it short due to covered sickness, injury or other events
✓
150% of trip cost coverage for covered trip interruptions
✓
24/7/365 emergency assistance hotline, plus access to a network of physicians
View complete plan details
Yes! I want the CSA Travel Protection Guest Protect Plan
No, I don't want this insurance and understand that I may be responsible for cancellation penalties in accordance with the Terms and Conditions, up to 100% of the rental costs.