Las Mareas Villa 4 | Costa Rica Villa Rental
Tamarindo Vacation Rental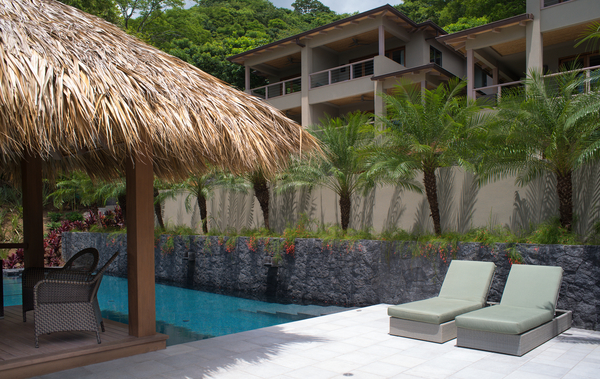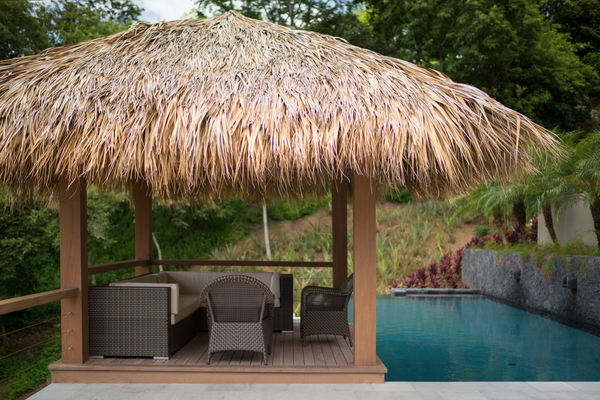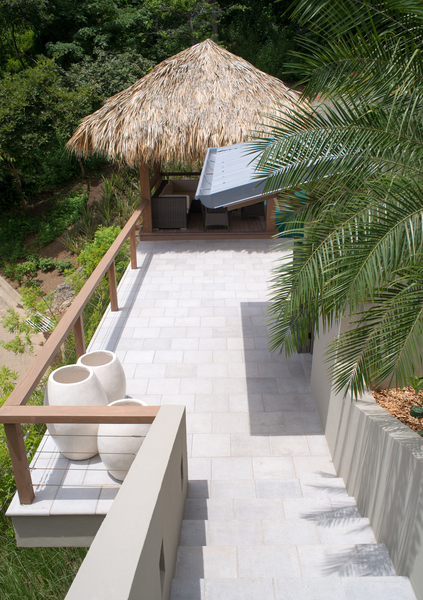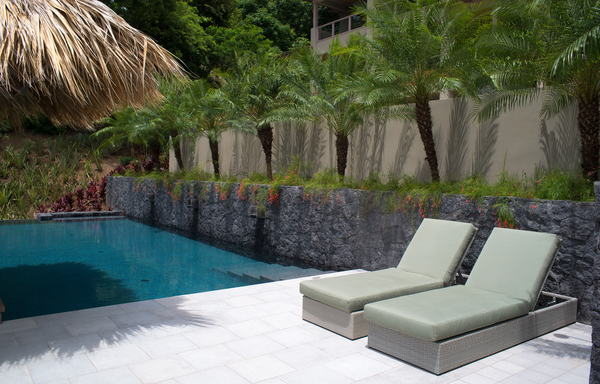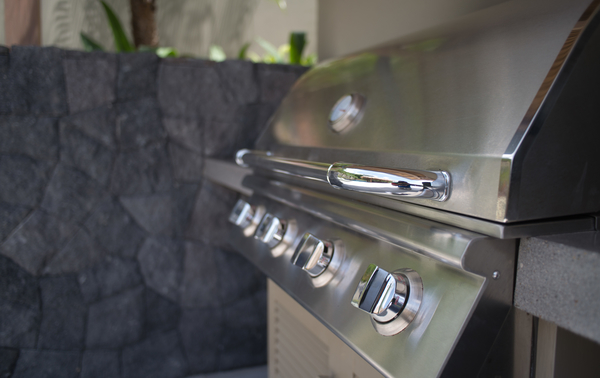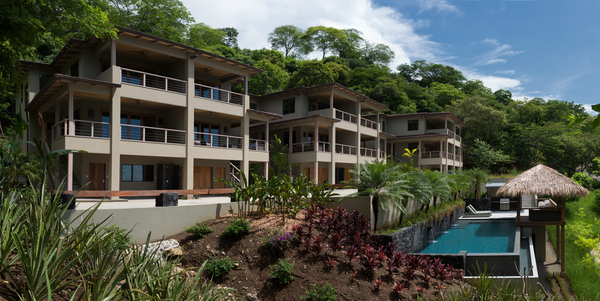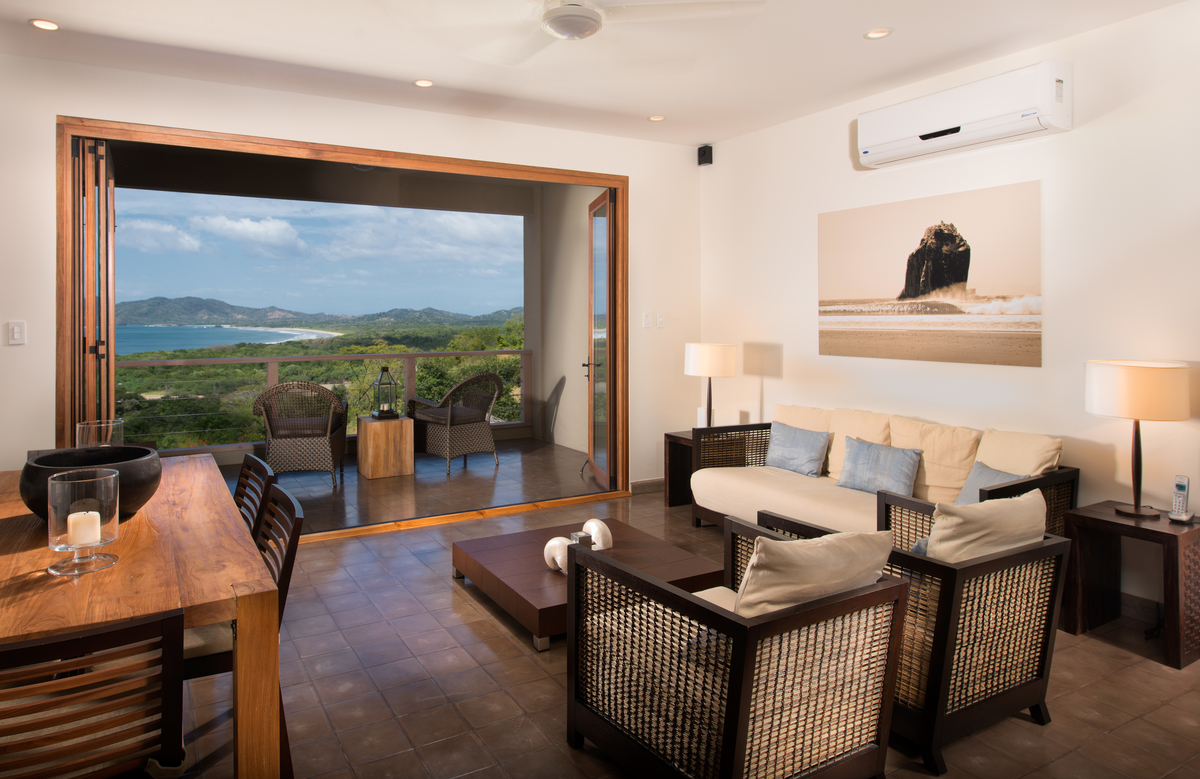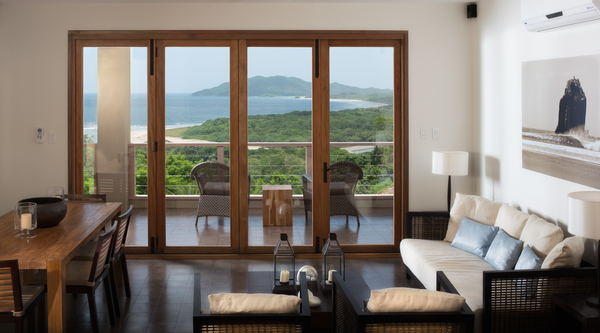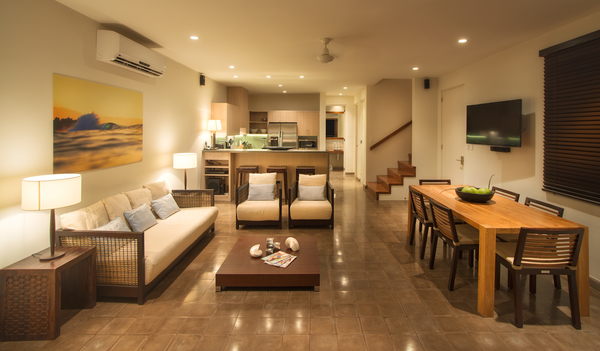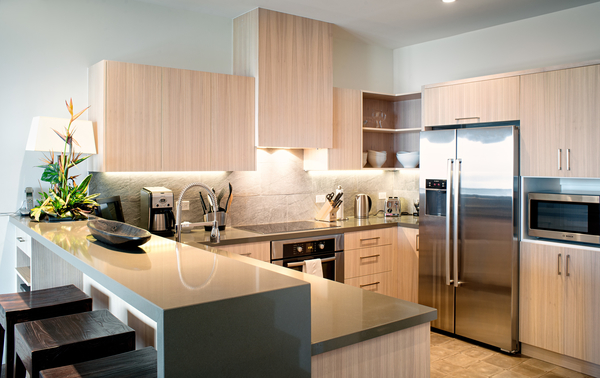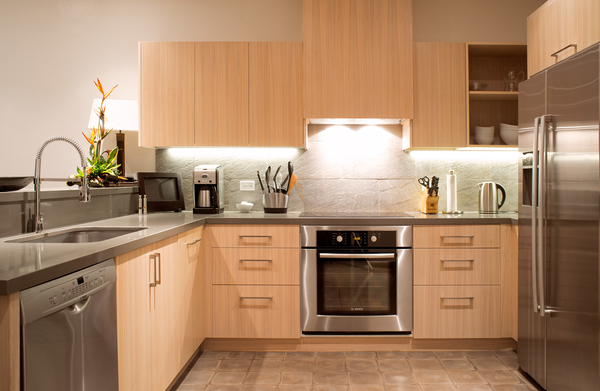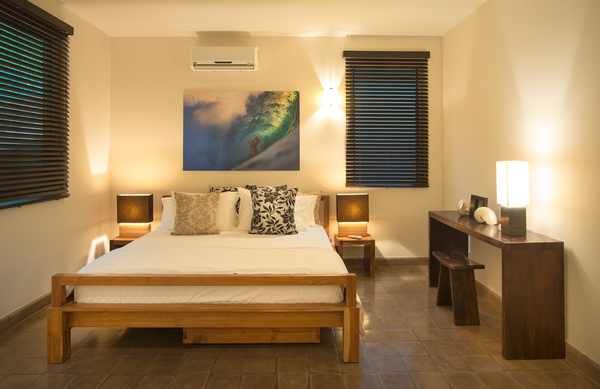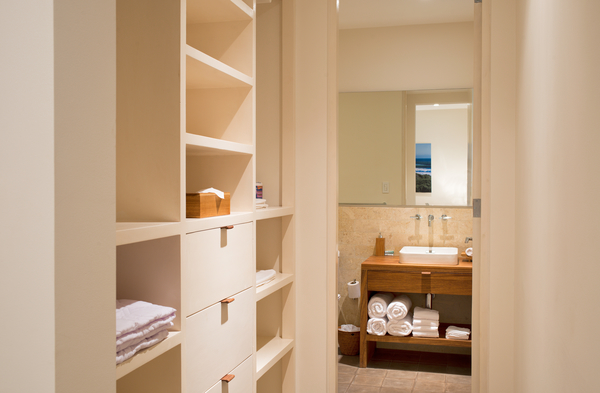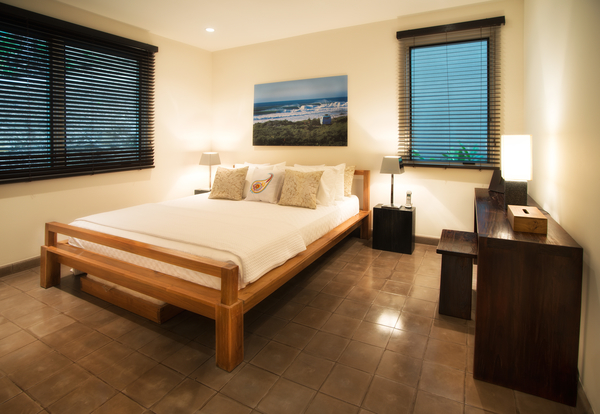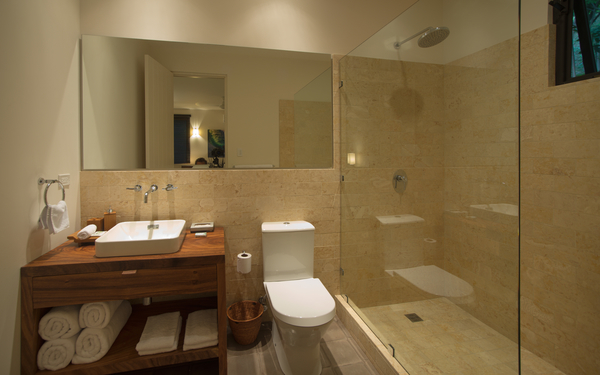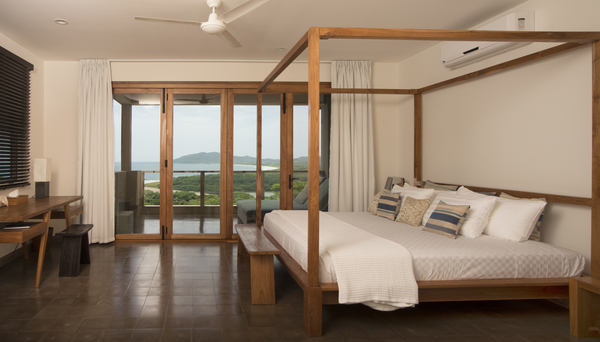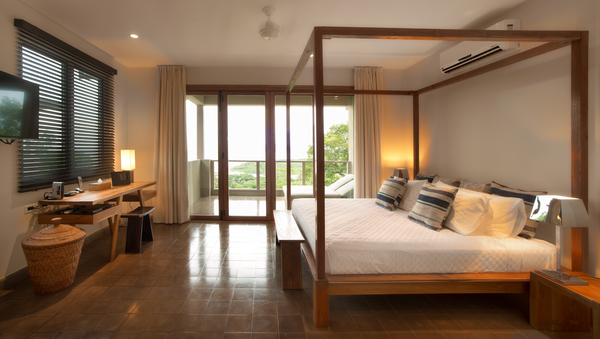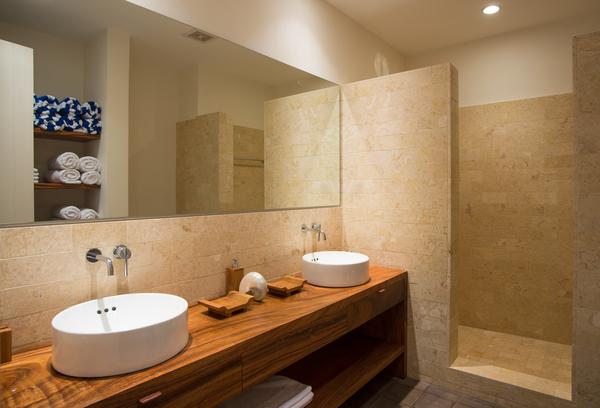 VILLAS LAS MAREAS is a stunningly beautiful 3-bed/3.5-bath private residence with ocean views to soothe your soul.

Take a dip in the infinity-edge pool overlooking the sparkling Pacific Ocean set against the lush Guanacaste coastline. Enjoy dramatic sunsets and cool tropical breezes from your patio while you sip a cold one with friends and family.

Here, you're just steps from Pangas Restaurant & Beach Club, located on Tamarindo Beach at the mouth of the Tamarindo Estuary and Las Baulas National Park.

Inside your villa, enjoy over 2,000 square feet of unique Pacific Rim deco style featuring select local materials designed to blend with the tropical climate, natural ecosystem and to complement the indoor/outdoor lifestyle of Costa Rica. State-of-the-art Bosch appliances complete your gourmet kitchen.

The spacious master bedroom features an over sized king with a bathroom en-suite and it own large private deck with lounge furniture overlooking the same spectacular view. The other two bedrooms also boast king size beds with en-suite bathrooms as well.

For additional sleeping space, two of the bedrooms have a roll-out twin trundle bed, ideally suited for children or young adults.

Each villa sleeps 6 adults comfortably and up to 8 including the 2 trundles.
| | Nightly | Weekly |
| --- | --- | --- |
| November 26 - December 18, 2018 | $411 | $2,877 |
| December 19 - December 25, 2018 | $620 | $4,340 |
| December 26 - January 01, 2019 | $950 | $5,330 |
| January 02 - January 05, 2019 | $950 | - |
| January 06 - March 31, 2019 | $468 | $3,276 |
| April 01 - April 12, 2019 | $480 | $3,360 |
| April 13 - April 21, 2019 | - | $4,074 |
| April 22 - April 30, 2019 | $480 | $3,360 |
| May 01 - June 15, 2019 | $374 | $2,618 |
| June 16 - August 18, 2019 | $411 | $2,877 |
| August 19 - October 31, 2019 | $390 | $2,730 |
| November 01 - November 22, 2019 | $338 | $2,366 |
| November 23 - November 30, 2019 | - | $3,752 |
| December 01 - December 18, 2019 | $411 | $2,877 |
Thank you for entering your review. The review will become available to the system shortly.
Pura Vida at Las Mareas
Rating:
Review Date: 05/05/2017
Our group booked the entire Las Mareas Villas through Stay in Tamarindo () for the week of April 22-29, 2017, and everything about our stay – from beginning to end – was exceptional. We all wish we were still there.

Jen of Stay in Tamarindo helped with the booking arrangements and answered all of our many questions with friendly and helpful information. Stay in Tamarindo even arranged for shuttles from and back to the airport in Liberia (Edwin supervised the shuttles and made everyone feel welcome and comfortable). Upon arrival, the Villas were clean and ready for us, and Adriana of Stay in Tamarindo helped us get settled in and took care of everything we needed.

Las Mareas Villas are located on the hillside overlooking the Pacific Coast in Tamarindo. The views are spectacular! The individual Villas have identical floorplans and are new (constructed in 2013), with all modern appliances (including washer/dryer) and furniture. The beds are very comfortable. Everything is well-maintained. The Villas were cleaned regularly during our stay. The pool at Las Mareas got a lot of use by our group and is in a beautiful setting.

Cristina of Stay in Tamarindo provided Concierge Services for our entire group. She arranged tours, transportation, answered questions, offered advice, and generally made our week better. We visited beaches, bars, Rincón de la Vieja National Park (zip-lining, horseback riding, tubing, hot springs), went scuba diving, and took a Safari Boat Tour with up-close encounters with crocodiles and monkeys. Whatever you want to do or see in Guanacaste can be arranged through Cris.

But our favorite was probably the Sunset Sailing Cruise onboard an 82-foot schooner that Cris booked for us. Wow! Live music (thanks Max!) and truly gourmet food, not to mention snorkeling, dancing on the deck, and an open bar. And, Pangas Beach Club is right at the bottom of the hill for dining and fun all week. Our sincere thanks to all.

Manager Response: 05/31/2017
Response from Stay in Tamarindo
Tim, Thank you very much! We're thrilled to know everything went great with your trip. The villas really are a perfect location for a group! :-) We loved having your group over and we are so happy to know you and your friends had an amazing time during your stay. Sounds like you enjoyed the tours and activities and experienced a lot of Costa Rica's attractions. So good to hear how much you enjoyed the staff and services provided, it was our pleasure to assist you before and during your stay. Thank you again for staying with us and hope you can come back to sunny Costa Rica very soon!
Las Mareas 4
Rating:
Review Date: 03/19/2017
I have stayed in these Villas on numerous occasions and have never been disappointed. The manager, Andrea was easily accessible and checked in periodically to make sure everything was ok.
Manager Response: 03/21/2017
Response from Stay in Tamarindo
Thank you Scott! Happy you had another great stay with us! It was a pleasure to assist you. We look forward to welcoming you back for another round very soon!
Good Condo, worst vacation company i have ever booked
Rating:
Review Date: 10/04/2016
The condo is nice, excellent views, roomy, great to spend time with your friends. The downside of the location is that the pool is too small for the quantity of condos in the Project.

On the other side, I feel I have to share our experience with Stay in Tamarindo, basically, less than 24 hours of arriving to Tamarindo they call us to let us know that the condo we booked weeks before was unavailable because of a bad smell. After questioning them of the cause they told us that in that unit there was a Bat nest and that was the reason of the smell. Therefore, they offered us three choices of units. The problem is that all of which were downgrades from what we agreed. They even offered a 2 bedroom when they knew we needed 3 bedrooms.

Since my friends and I took vacation to relax in Tamarindo, we told them it was unacceptable the downgrade since they did not check the initial unit regularly and not 24 hours before. At the end we had to book the condo I am reviewing but had to pay more than $ 430 extra.

When we discussed this issue with the staff and owner of Stay in Tamarindo they said they were sorry but they wont reimbursed the extra cost because they feel its not their responsibility.

To be honest, maybe this is just bad luck that Stay in Tamarindo had with us since it was the first time I book something with them, and they might give excellent services in other cases. But in other case we are still expecting they assumed some responsibility in this case.
Manager Response: 10/24/2016
Response from Stay in Tamarindo
This is not an honest review. It is true the 3 bedroom condo this client had rented suffered a roof leak and that roof was struggling with a bat problem. A massive rain washed the bat feces into the ceiling making the condo uninhabitable suddenly just before the guests arrival. The bat problem and the roof leak are the responsibility of the condo association while Stay in Tamarindo manages the rental unit. Once the problem was discovered we offered him all of the options we could including offering him a 100% refund. In the end he had 3 other 3 bedroom options to choose from. He insisted on taking the 3 bedroom unit that was significantly more expensive. He aggressively declined the other options that were of similar price. He then agreed to pay the increase in cost for the upgraded condo. After his stay he insisted we pay for this upgrade. We returned to him 100% of what was Stay in Tamarindo's rental commission. We were however unwilling to subsidize his upgrade and declined further compensation. The roof leak was beyond our control and was not something we even manage, the Stay in Tamarindo team went into action to solve this guests problem and to help we contributed all of our income on this rental, we therefore feel we acted responsibly and did all we could to accommodate this unfortunate condition. Certainly we did more than another company would have done and we are proud of our actions.
Your request has been sent. We look forward to meeting all your vacation needs!
Optional Guest Protect Plan travel insurance
The Guest Protect Plan from CSA Travel Protection Includes:
✓
Valuable benefits before, during and after your vacation
✓
Reimbursement of non-refundable trip costs if you must cancel your trip or cut it short due to covered sickness, injury or other events
✓
150% of trip cost coverage for covered trip interruptions
✓
24/7/365 emergency assistance hotline, plus access to a network of physicians
View complete plan details
Yes! I want the CSA Travel Protection Guest Protect Plan
No, I don't want this insurance and understand that I may be responsible for cancellation penalties in accordance with the Terms and Conditions, up to 100% of the rental costs.