Casa Ventana | Costa Rica House Rental
Tamarindo Vacation Rental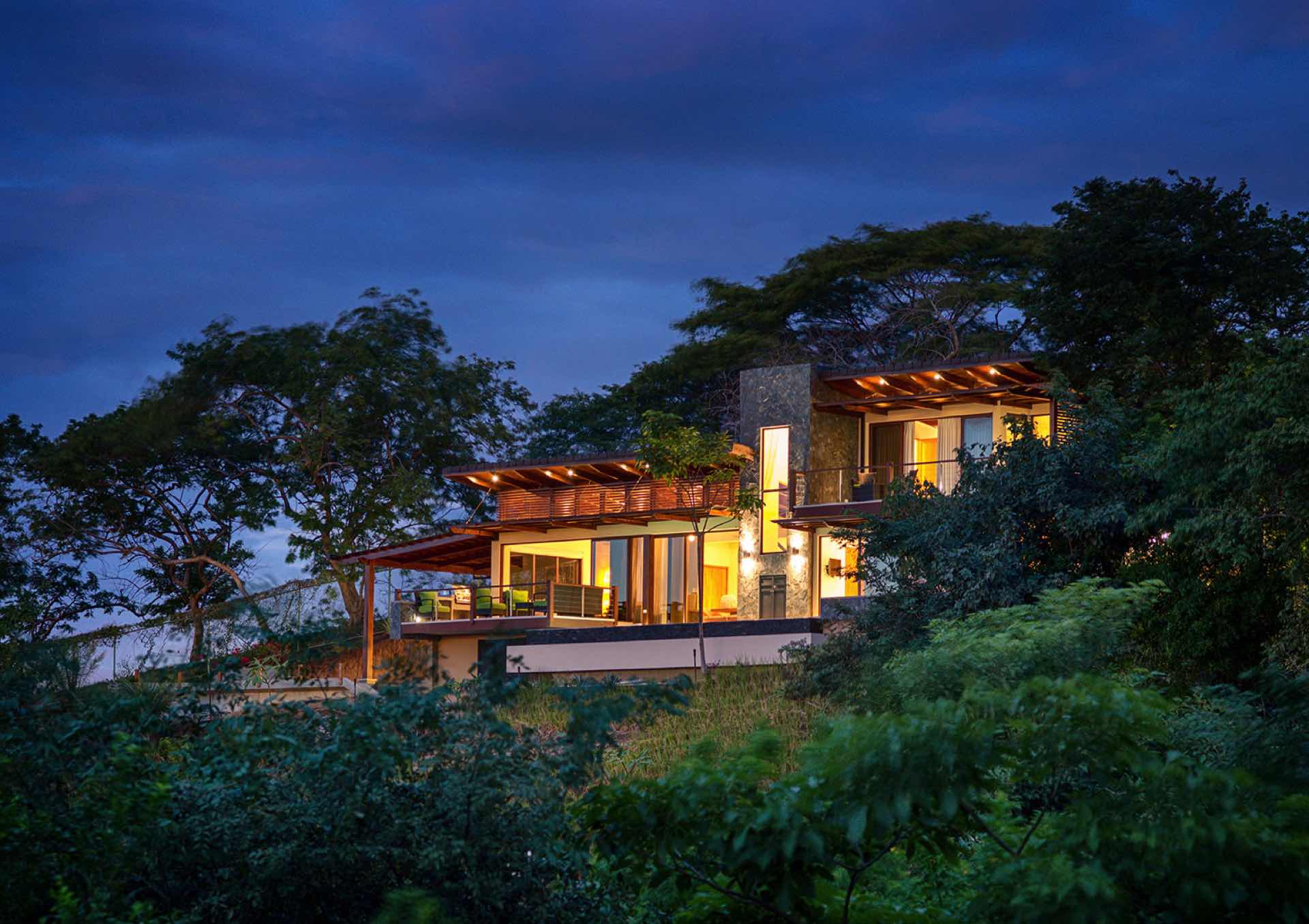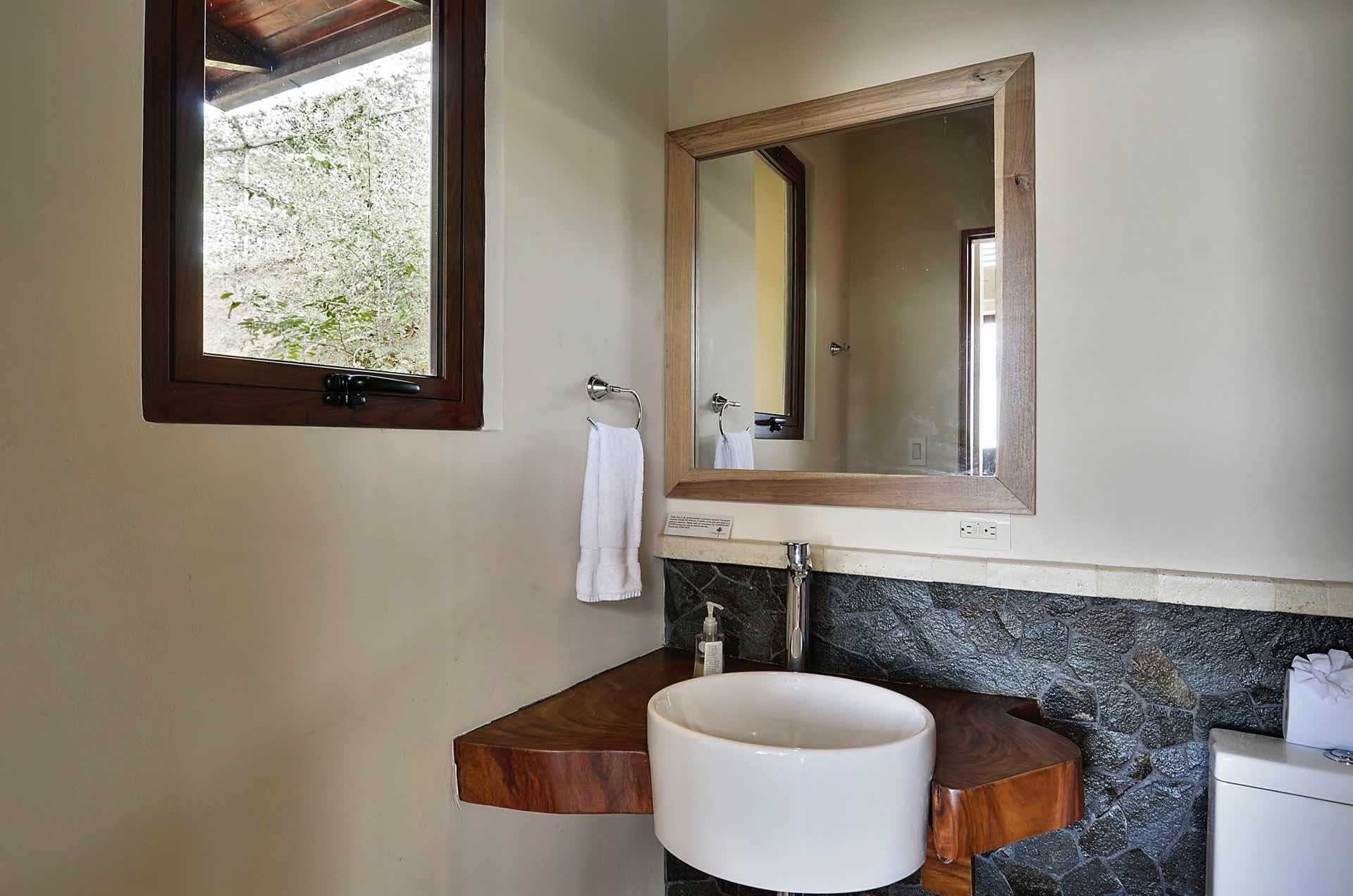 Casa Ventanas is a luxury vacation rental home set on a hillside in Tamarindo's premier gated community. The entire west, ocean-facing, side of this 5-bedroom home is made up of floor-to ceiling glass doors and windows, filling Casa Ventanas with the breathtaking panorama of jungle foliage, the curving Las Baulas estuary, and the Pacific horizon. Start each day at Casa Ventanas with its unique amenity--a full Costa Rican breakfast of "gallo pinto" (rice and beans), eggs, tropical fruit, tortillas, coffee and juice prepared and served by Stay in Tamarindo's staff.

The sunny kitchen/dining/living area opens generously through sliding glass doors onto a sweeping sun terrace with a full-length infinity pool, comfortable loungers, and a 5-star gas grill.

This is the place where you will play in the pool, soak in the sun, sip coffee in the cool morning breeze, and take in sunsets more spectacular than you ever imagined.

This 5-bedroom home sleeps up to 12 people. Each bedroom has its own en-suite bathroom, cable television, and 4 of the bedrooms open directly onto the pool deck as well as into the home's interior. Casa Ventanas is fully air conditioned, contains a full laundry facility and chic, chef-ready kitchen equipped to feed hungry surfers and adventurers of all types.

Across the street from the gated community that includes Casa Ventanas is Pangas Restaurant & Beach Club, a delightful Guanacaste fusion bar/restaurant/beach club set in the sand where the estuary meets the ocean. Make this your starting point for walks along the beach into the town of Tamarindo where you will experience the energy of this lively beach town made famous by its legendary surf and vibrant community.

Contact our Concierge service to reserve your private airport transfers, rent a car or a golf cart, and pre-book the adventure tours that you don't want to miss on your tropical vacation in Tamarindo, Costa Rica.



HOME HIGHLIGHTS:

- Walking Distance to Beach

- Infinity Pool with Ocean Views

- Ensuite Bathrooms

SLEEPING ARRANGEMENTS (SLEEPS 12):

- Bedroom 1: King Bed /w Ocean View (Upstairs Master, Walk In Closet, Large Bath + Private Patio)

- Bedroom 2: King Bed w/ Ocean View (Downstairs Master, Walk In Closet)

- Bedroom 3: Queen Bed w/ Ocean View

- Bedroom 4: Queen Bed w/ Ocean View

- Bedroom 5: Bunk Bed (Double on Bottom, Twin on Top), separate single bed

***On-line bookings made during the year-end holiday weeks must check in and check out on one of the following sets of dates in order for the reservation to be accepted:

Dec 19 - Dec 26

Dec 22 – Dec 29

Dec 26 - Jan 2

Dec 29 - Jan 5
| | Nightly | Weekly |
| --- | --- | --- |
| June 15 - August 19, 2018 | $1,196 | $8,372 |
| August 20 - October 31, 2018 | $832 | $5,824 |
| November 01 - November 17, 2018 | $832 | $5,824 |
| November 18 - November 25, 2018 | - | $9,576 |
| November 26 - December 18, 2018 | $1,024 | $7,168 |
| December 19 - December 25, 2018 | $1,024 | $8,522 |
| December 26 - January 01, 2019 | - | $19,138 |
| January 02 - January 05, 2019 | $2,734 | - |
| January 06 - March 31, 2019 | $1,368 | $9,576 |
| April 01 - April 12, 2019 | $1,095 | $7,665 |
| April 13 - April 21, 2019 | $1,368 | $9,576 |
| April 22 - April 30, 2019 | $1,095 | $7,665 |
| May 01 - June 15, 2019 | $1,196 | $8,372 |
| June 16 - August 18, 2019 | $1,196 | $8,372 |
Concierge Services Available
Thank you for entering your review. The review will become available to the system shortly.
Oasis in Paradise
Rating:
Review Date: 08/05/2018
Excellent home away from home. Beds very comfortable, lots of space, pool used every day. Superb view! Our breakfast cook was amazing and Cristine took good care of us. She booked all activities.Close to the beach, restaurants, shops. On a big hill, rent the golf carts. Would go again!
Perfect vacation
Rating:
Review Date: 05/05/2018
We travelled with a large group and it was just perfect for us. The pool was the kids favourite, of course. Every room had it's own AC and washroom which was really nice. Having a laundry room was a huge help too. The highlight of the house is having the joy of watching the breathtaking sunset over the ocean every single evening. What a stunning view! Marina came every morning and cooked us a delicious breakfast and cleaned the house. Her eggs were always perfect. You'll need a car for sure if you plan on leaving the house. The hill up to the house is really long and steep, it's tiring to walk up especially for young kids. The location is convenient as it's very close to the biggest grocery store and the town of Tamarindo. We would definitely go back in a heart beat! Miss it already!
Manager Response: 05/11/2018
Response from Stay in Tamarindo
Thank you Heidi for your glowing review! We are so happy you feel well taken care of at "a home away from home" during your relaxing time off. Mariana is a Gem ;) we 'll make sure to let her know you loved her food and her services. We hope to greet you back here very soon! Pura Vida.
Costa Rica Birthday Celebration
Rating:
Review Date: 03/02/2018
A serious WOW! Excellent accommodations, service, food and wonderful folks at El Tesoro and throughout the town. Better in person than even the photos describe. Casa Ventana is so inviting, you could easily spend your entire vacation at the property.
Manager Response: 04/06/2018
Response from Stay in Tamarindo
Ben, We're thrilled to know everything went great with your trip and that you loved your stay and the area! It was our pleasure to assist you and we look forward to welcoming you back for another round very soon!
Bachelorette Party in Casa Ventana
Rating:
Review Date: 08/16/2017
Such a great experience. The Tamarindo Rentals team was so helpful and everyone was so friendly.
Manager Response: 08/24/2017
Response from Stay in Tamarindo
Thank you so much Mai! It's great to know you had a great experience. It was a pleasure to assist you throughout your trip, we hope to have you back sometime! Pura Vida!
Sunsets
Rating:
Review Date: 07/31/2017
We absolutely loved the house and amenities. It's away from town but close enough
Manager Response: 08/03/2017
Response from Stay in Tamarindo
Thank you Christopher! We're happy to know you had a great experience and that you like the house and the area! Hope you plan on coming back! ;-)
Great spot for our small destination wedding
Rating:
Review Date: 02/06/2017
We rented this house for our small destination wedding in Tamarindo and it was absolutely perfect! The layout of the home provided plenty of privacy for our guests-it was almost like having our own private hotel. The staff who maintained the property were friendly and took great care of the property. The location is convenient to town (though the hill up to the house is quite steep), and the pool area is the perfect hang out spot and offers amazing views of the ocean and Tamarindo. Would absolutely recommend to a friend, and hope to come back in the future.
Manager Response: 02/12/2017
Response from Stay in Tamarindo
Farrah, Thank you very much! We are so happy to hear how much you and your friends enjoyed the house and found it not only beautiful, but also so comfortable for everyone. It is true the house has the perfect view and location. It was a pleasure to assist you throughout your trip and we hope you make it back very soon to sunny Costa Rica!! :-)
Perfect Stay!
Rating:
Review Date: 09/01/2016
I absolutely loved this house and the Tamarindo area, me and my family had a blast, the whole Stay in Tamarindo was very acommodating and helpful, if I go back to CR this is where I'm staying!
Manager Response: 09/08/2016
Response from Stay in Tamarindo
Thank you Mark! Great to know you had a wonderful experience, it was a pleasure to assist you throughout your trip! Hope to have you back soon! :-)
Casa Ventana
Rating:
Review Date: 08/25/2016
Two families shared this beautiful home overlooking the Pacific. We had 4 adults with five children. With plenty of space and the outdoor patio area there was always a place to seek a little quiet time. The breakfast offered was a nice highlight to the vacation. This was a great time to get the whole group together to enjoy a cultural style breakfast before the day began. We did several activities which added to our stay in Tamarindo. I'd highly recommend a golf cart to access the town, restaurants, and beach-made life a lot easier. We miss the area already but are still enjoying the coffee.
Manager Response: 08/25/2016
Response from Stay in Tamarindo
Thank you Chris!! We're very happy to know you had a great experience! Oh yes, that breakfast and a cup of coffee is the best way to begin the day! :-) Hope you guys make it back soon!!
Casa Disappointment - Daily Surprises
Rating:
Review Date: 04/26/2016
We were welcomed by a cement mixer, gravel, sand, and cinder blocks on the driveway that blocked ease of backing out of the driveway that was already challenging because of the steep incline. All drivers including tour shuttle drivers had no turning space and we had to back out in reverse. Three days before it was removed. Toilets in front entrance and bedroom under staircase backed up with foul odor. Dishwasher would not work till 6th day after serviceman. Water leak from wall in garbage can area. Management tried their best to do service recovery and fixes, but this house failed them. Kitchen was inadequate for catering for guests per caterer recommended by management. He suggests max of 12. Suggestions to improve: honest disclosure of condition of property, inspection prior to receiving guests with criteria list, and fix plumbing issues before renting out again. Maribel, daily cook/housekeeper exemplifies Pura Vida.
Sunset House and Casa Tortugas which our party rented as well did not have any issues at all. Upper landing staircase and masters closet stayed HOT.
Manager Response: 05/23/2016
Response from Stay in Tamarindo
Hi Lou, We are so sorry that you found the construction materials to be a problem. We are building some garden features at the home between guest visits and we thought the materials were off to the side enough not to be bothersome. We removed everything as soon as we heard it was an eyesore to you not after three days as you state. Your other comments are challenging to accept as factual however. The toilets with the foul smell were functioning perfectly and no smell could be detected. The dishwasher issue was reported the day before you checked out. It was attended to immediately and claiming you suffered 6 days without it is confusing. Regarding the home not being well enough equipped to cater to groups exceeding 12, it is not supposed to. The house sleeps 12. It is marketed for 12 person occupancy. How is it a complaint against this home that it is not capable of providing catering to more than 12 people? If you wanted to do a catered event there for more than 12 people then the caterer should provide the equipment for the extra people. Your complaint would be akin to a complaint to the rental car company that your 4 seater rental car did not seat 8. This is truly a beautiful home and people do truly enjoy their stays here. I grant you the construction materials were objectionable but the other items I cannot find as legitimate complaints. By the way the new garden features and walls are complete and they really look fantastic!
Great house
Rating:
Review Date: 01/24/2016
Great house. Everything was near perfection with the following minor exceptions.

5th bedroom feels like a cave with limited windows and sunlight.
Two bedrooms people said they had issues getting hot water in their shower.
The 1/2 bath in front of house had issue with sewer odor. We rarely used it because of this. Staff came out to fix it but the odor returned after the first use of the bathroom. Faulty trap design or something.
Little further from town than I would have hoped but still not bad.
Would recommend the house add an umbrella of some sort for the afternoon sun. After 1pm you COOKED with no shade options outside.

Those issues being said the house was amazing. Great pool. Amazing views. 4 bedrooms being very nice and great views and light. Kitchen was perfect. The breakfast was so great. Spoiled me for all future trips.

Really would consider the house again. It was that good. And we NEVER repeat stay in hotel/houses/destinations.
Family Vacation Casa Ventana/Tamarindo CR
Rating:
Review Date: 01/04/2016
This a beautiful new property. The design and location of the house was perfect for our family of 11 people of ages 10 to 75. View of the Pacific is outstanding and the house is conveniently located to the beach, restaurants and shops. The Costa Rica breakfast each morning was a treat and real plus. The Staff was very helpful, special acknowledgement should be given to Cristina Gonzalez and Fey Clercx for all their help with tours, transportation and restaurant reservations. A great stay and great time. We highly recommend!

(PS. tell Costa Rica to change their exit tax payment procedure. Makes departure by Airplane a nightmare! 1hour + long lines many people caused to miss flights).
Your request has been sent. We look forward to meeting all your vacation needs!
Optional Guest Protect Plan travel insurance
The Guest Protect Plan from CSA Travel Protection Includes:
✓
Valuable benefits before, during and after your vacation
✓
Reimbursement of non-refundable trip costs if you must cancel your trip or cut it short due to covered sickness, injury or other events
✓
150% of trip cost coverage for covered trip interruptions
✓
24/7/365 emergency assistance hotline, plus access to a network of physicians
View complete plan details
Yes! I want the CSA Travel Protection Guest Protect Plan
No, I don't want this insurance and understand that I may be responsible for cancellation penalties in accordance with the Terms and Conditions, up to 100% of the rental costs.