Casa Lomas del Mar | Costa Rica House Rental
Tamarindo Vacation Rental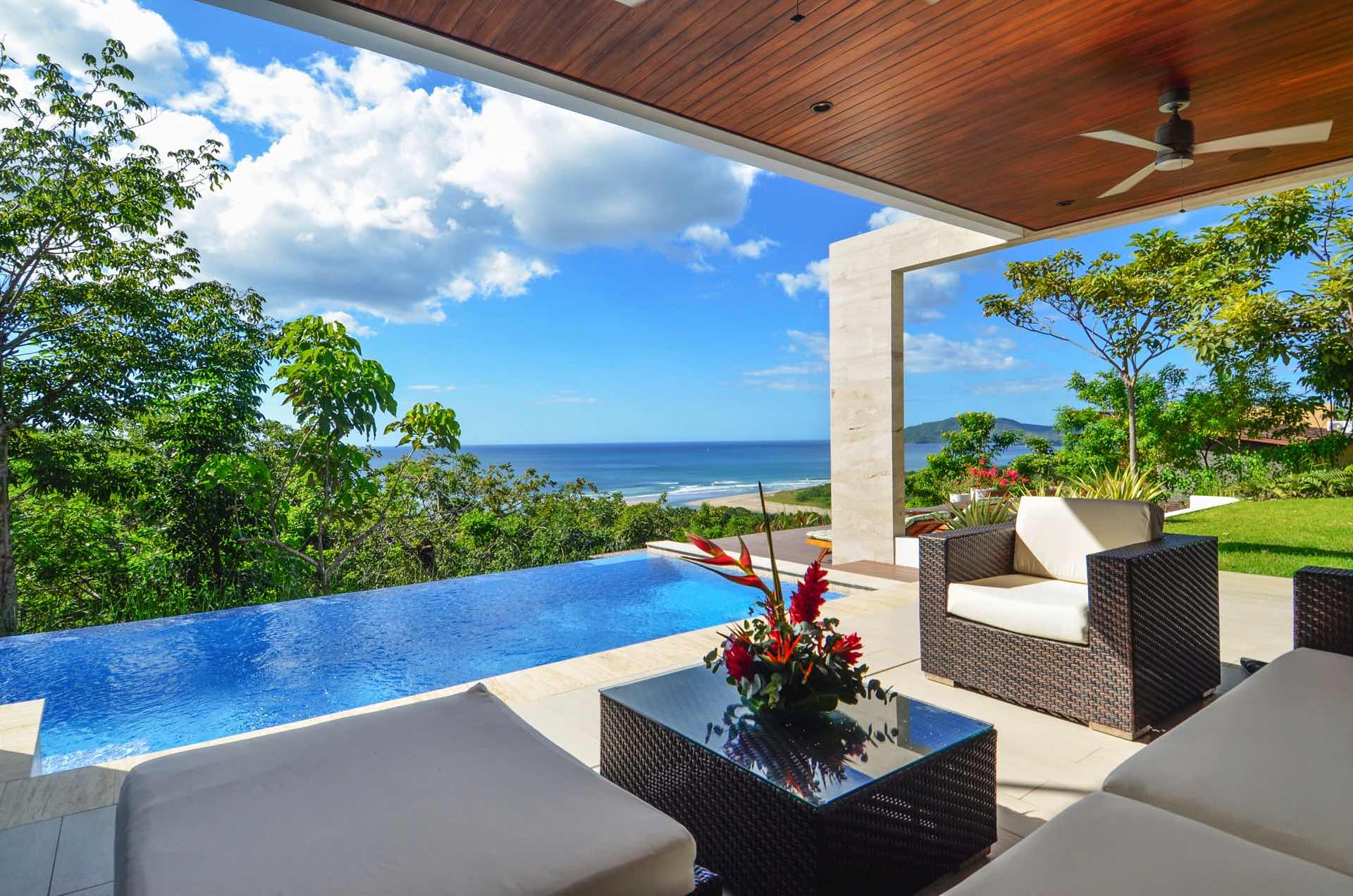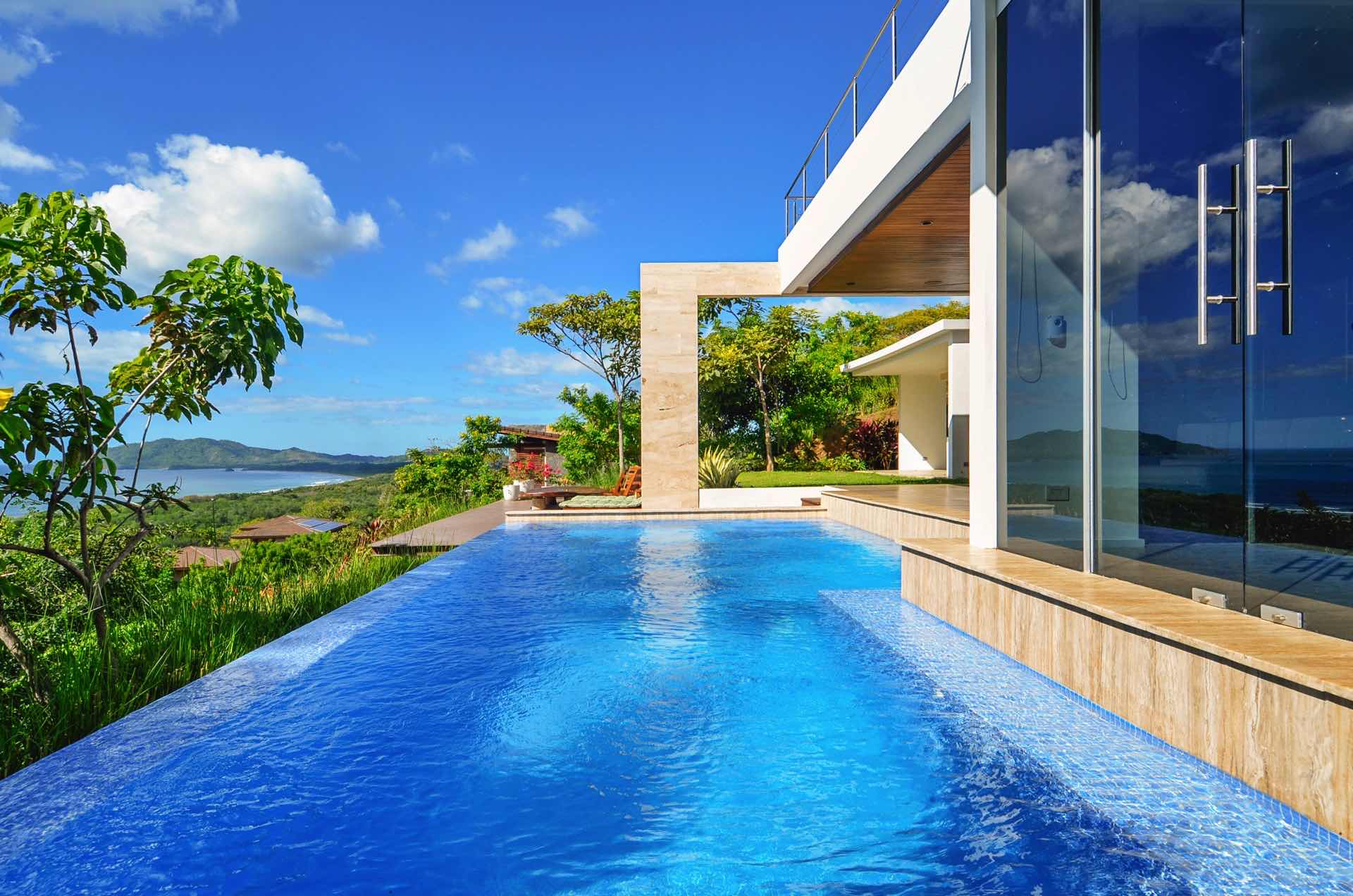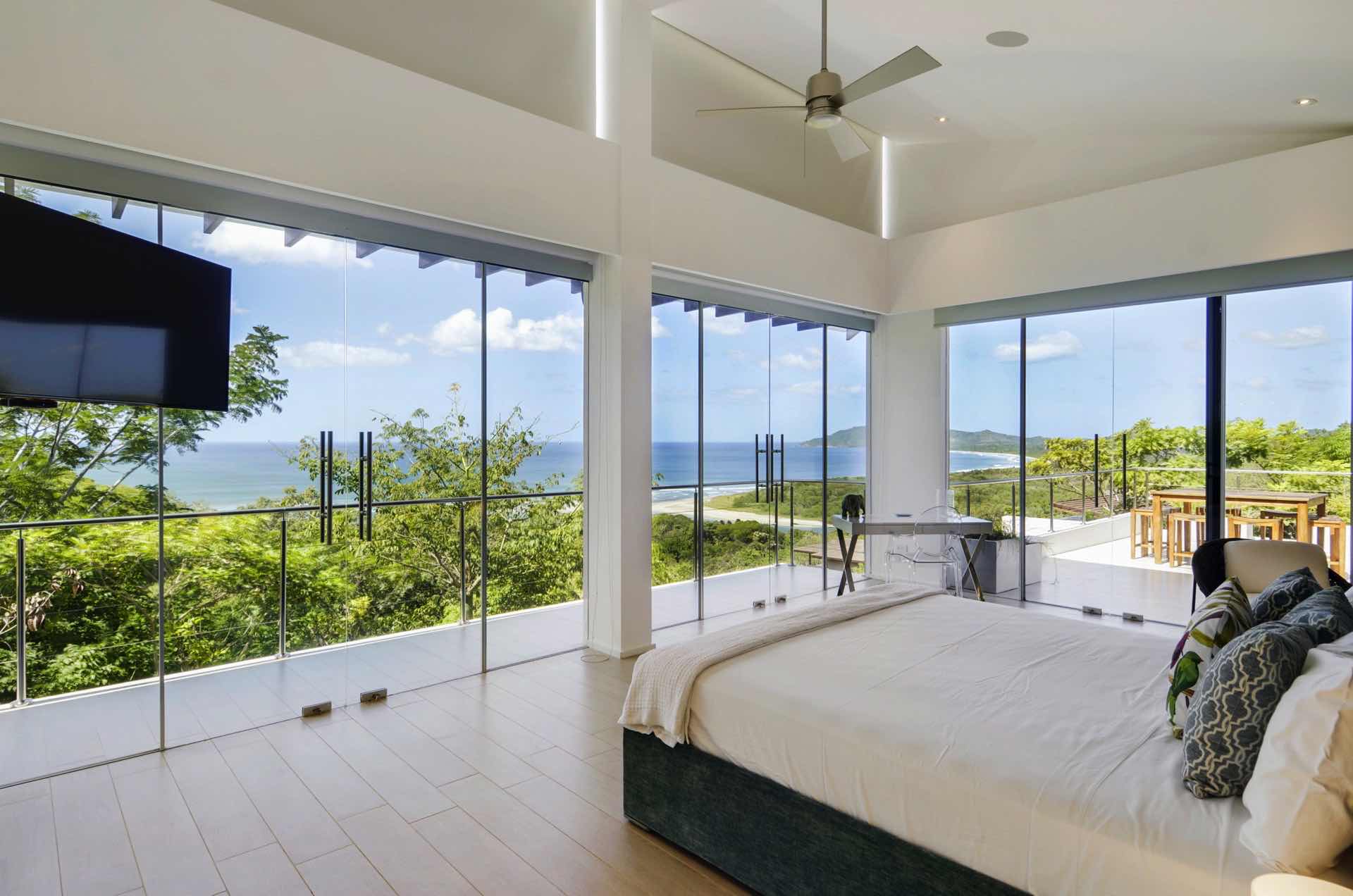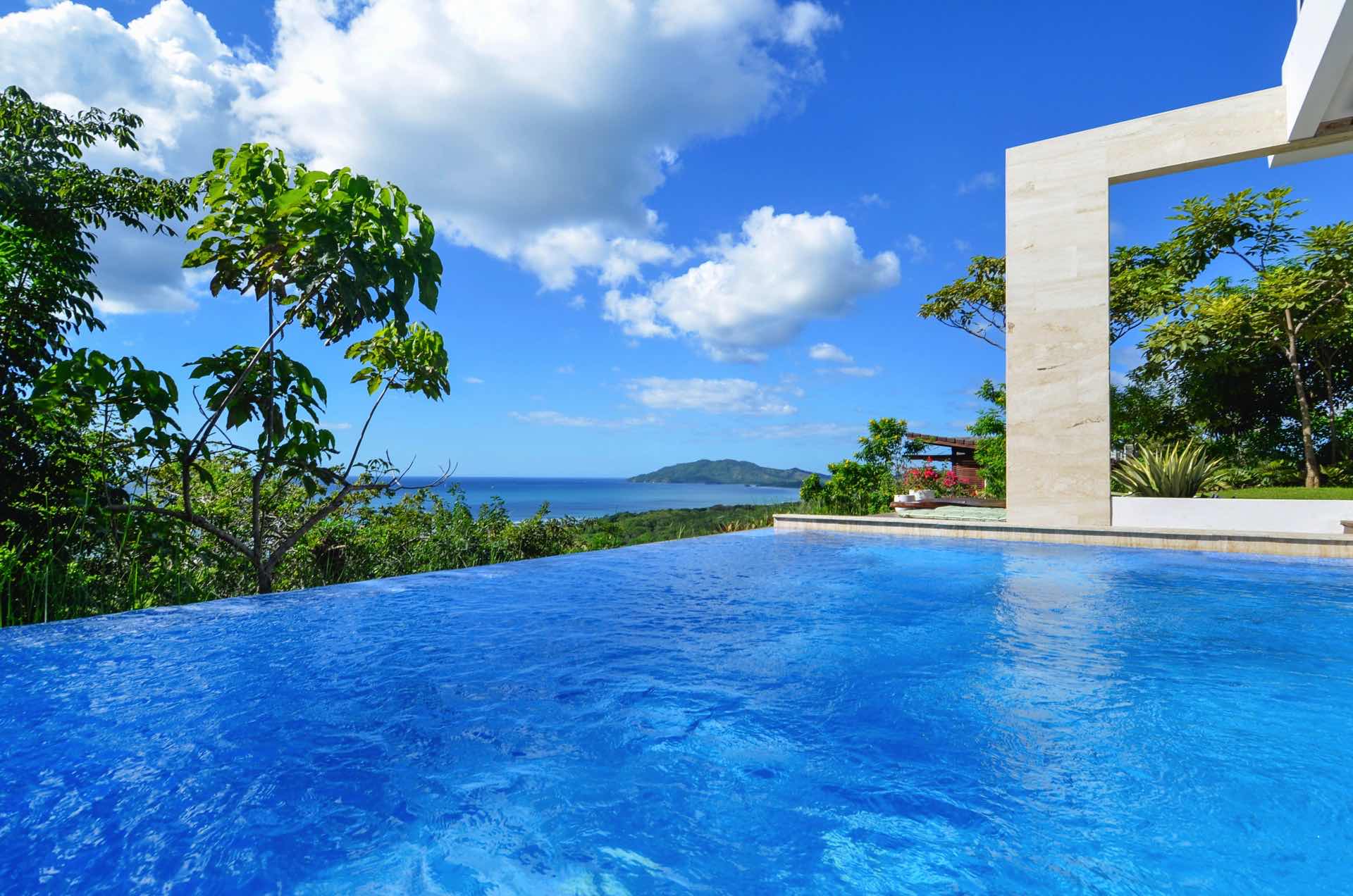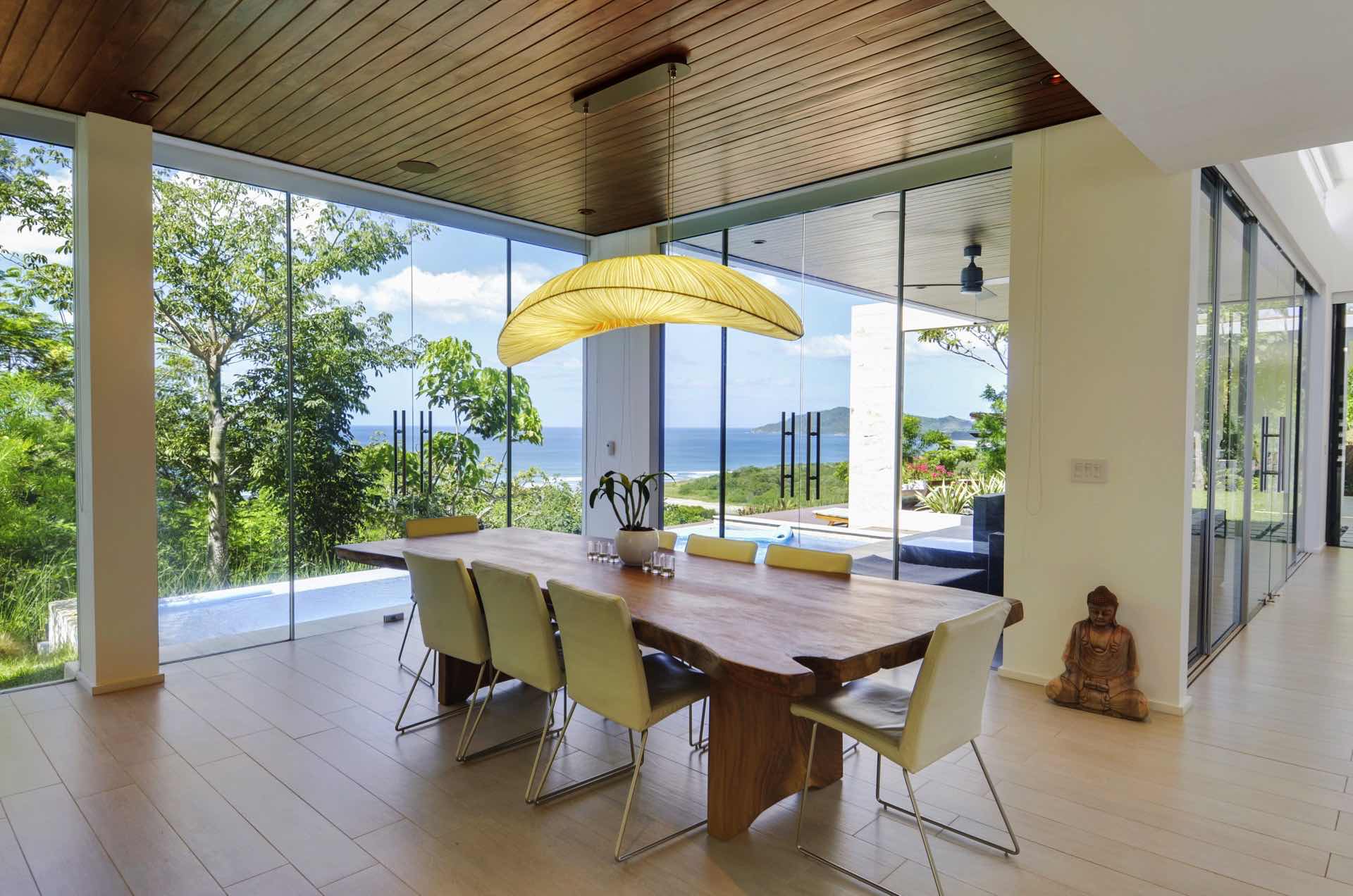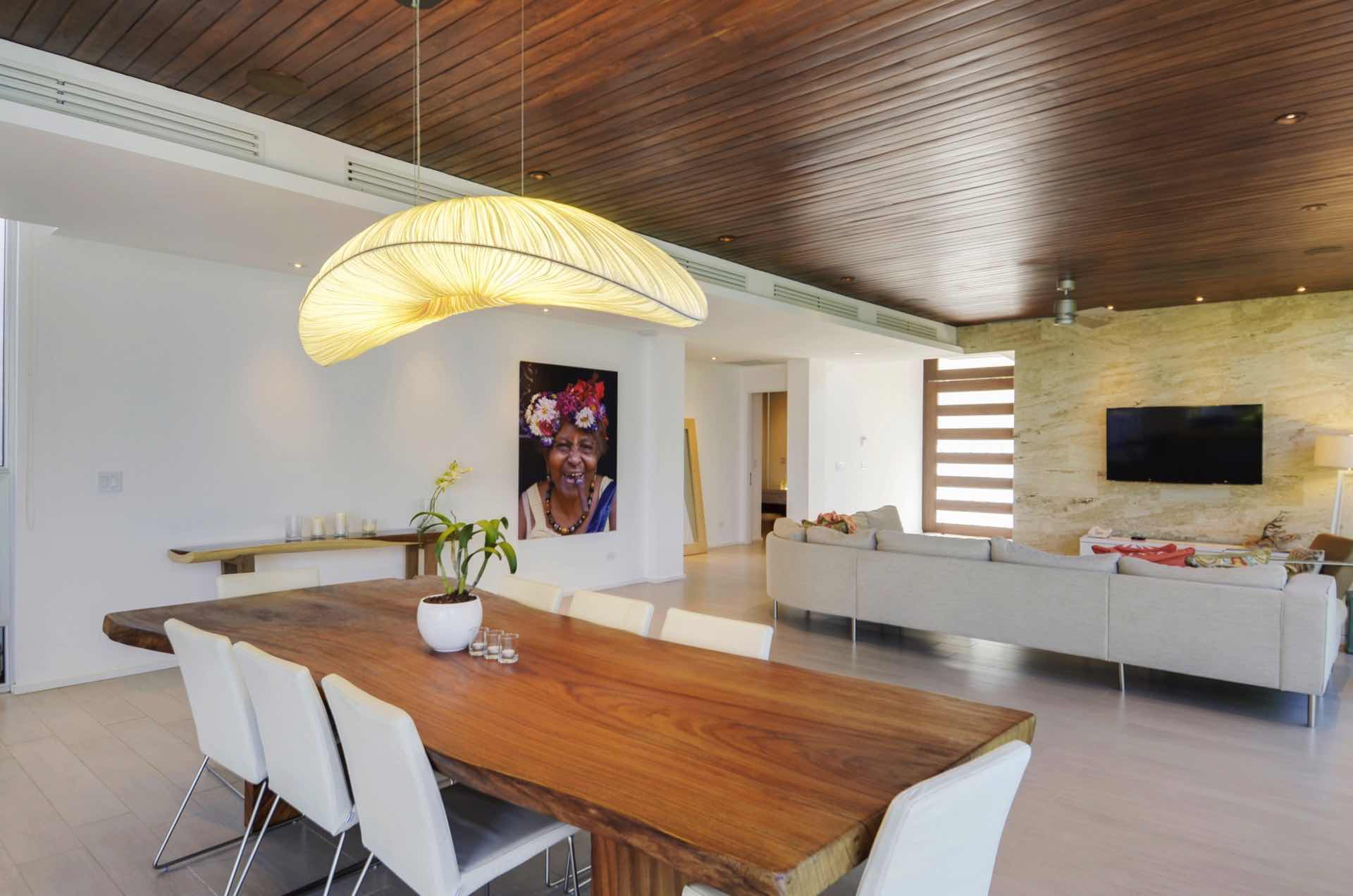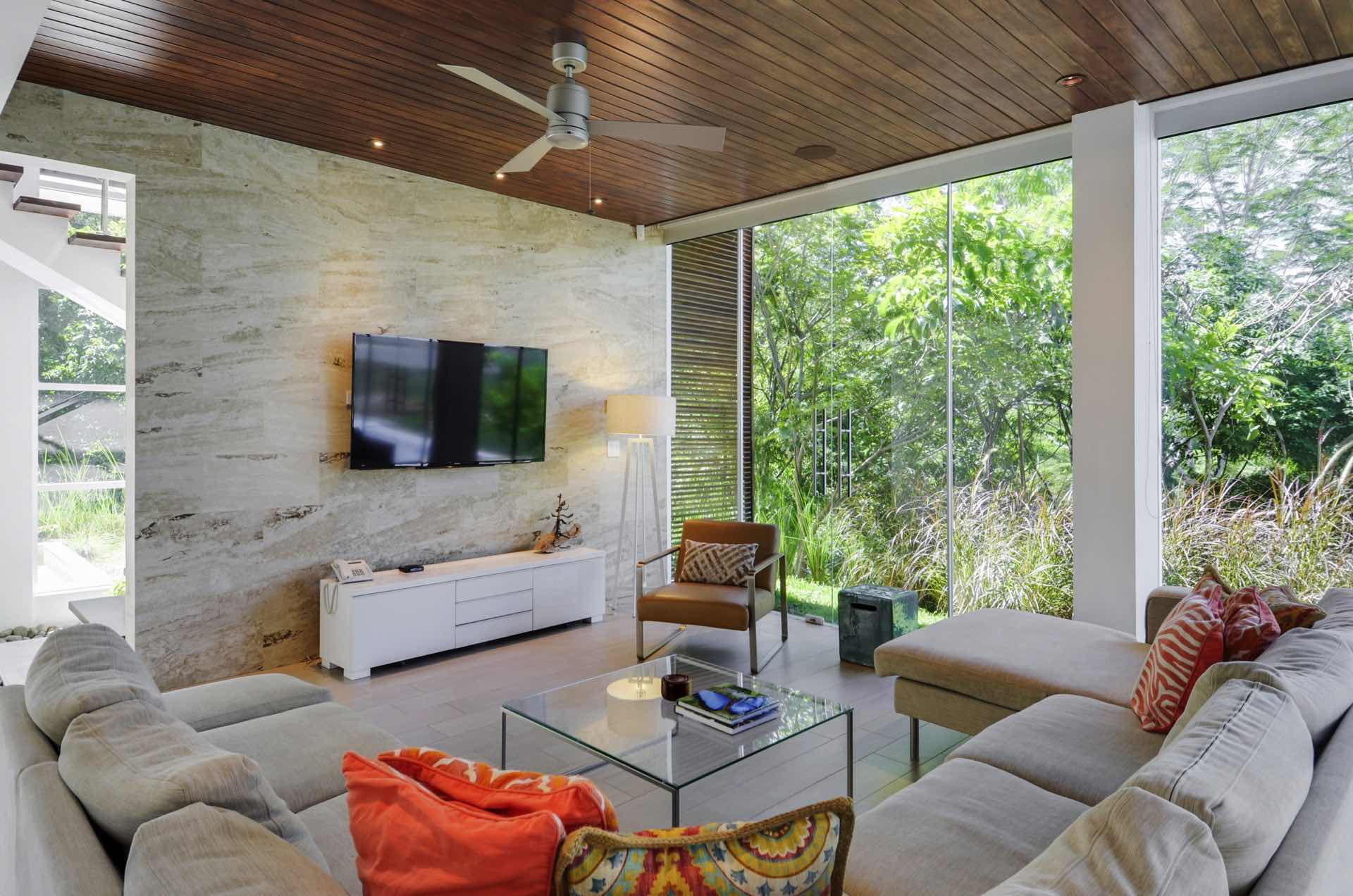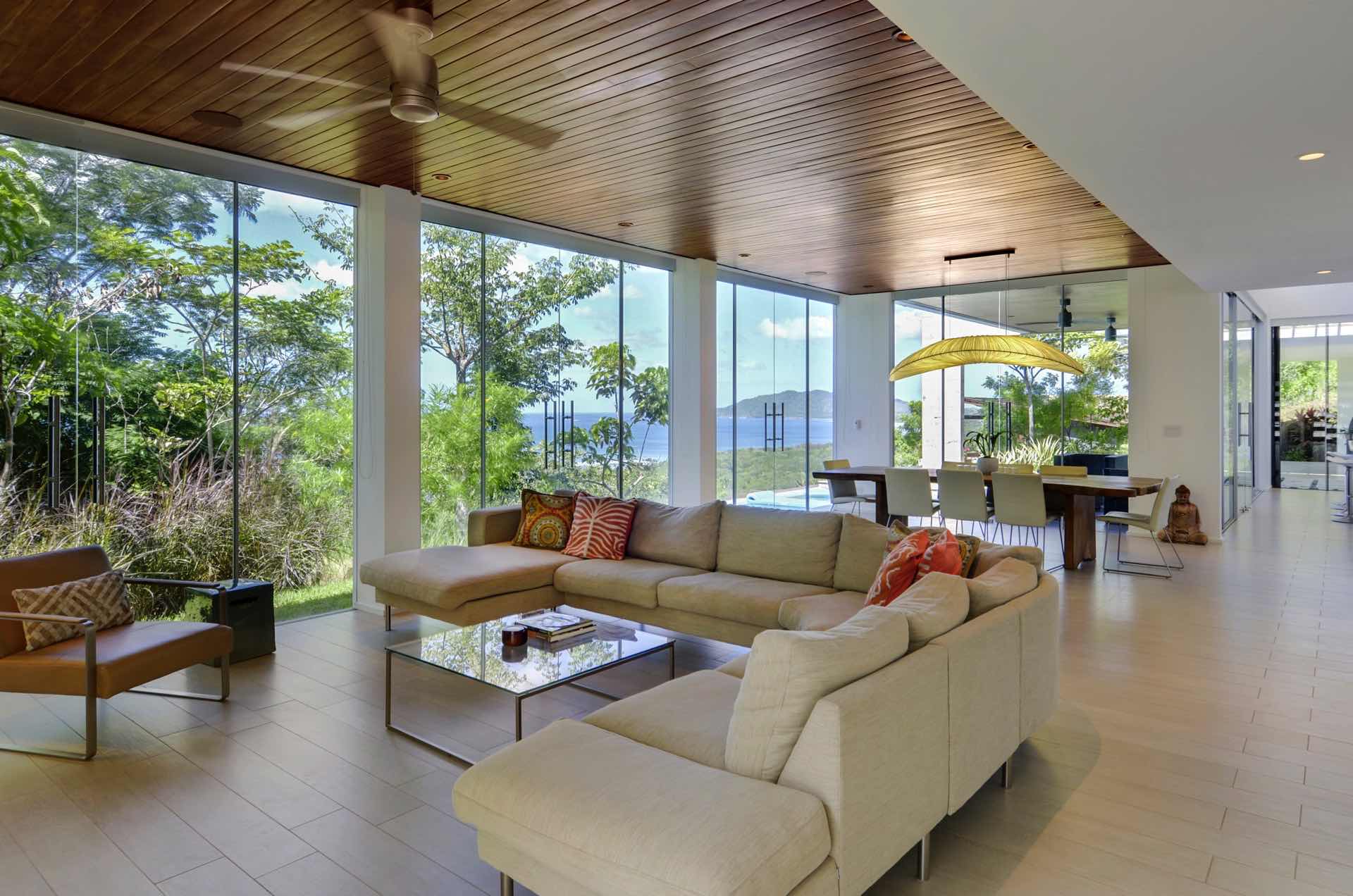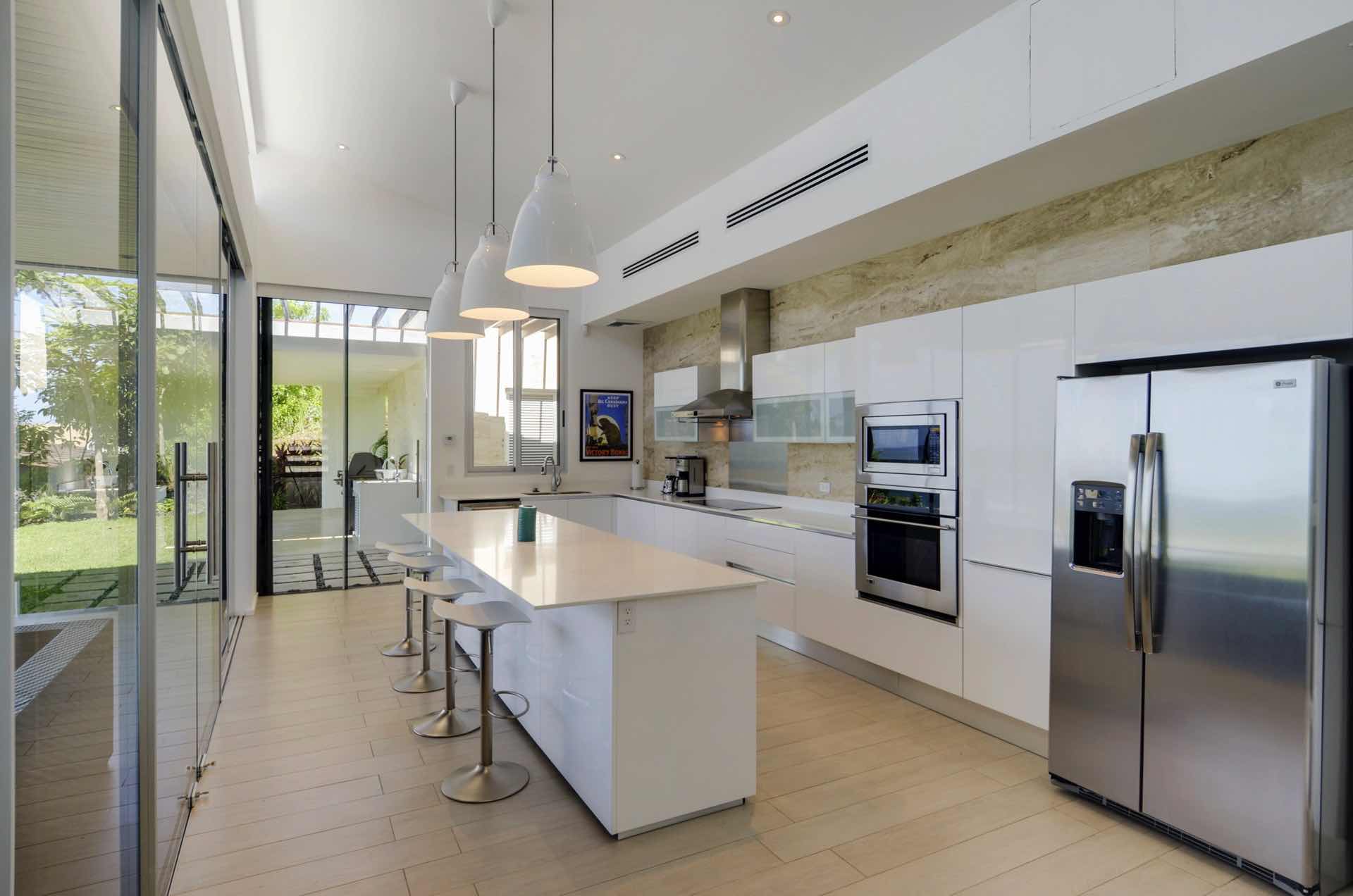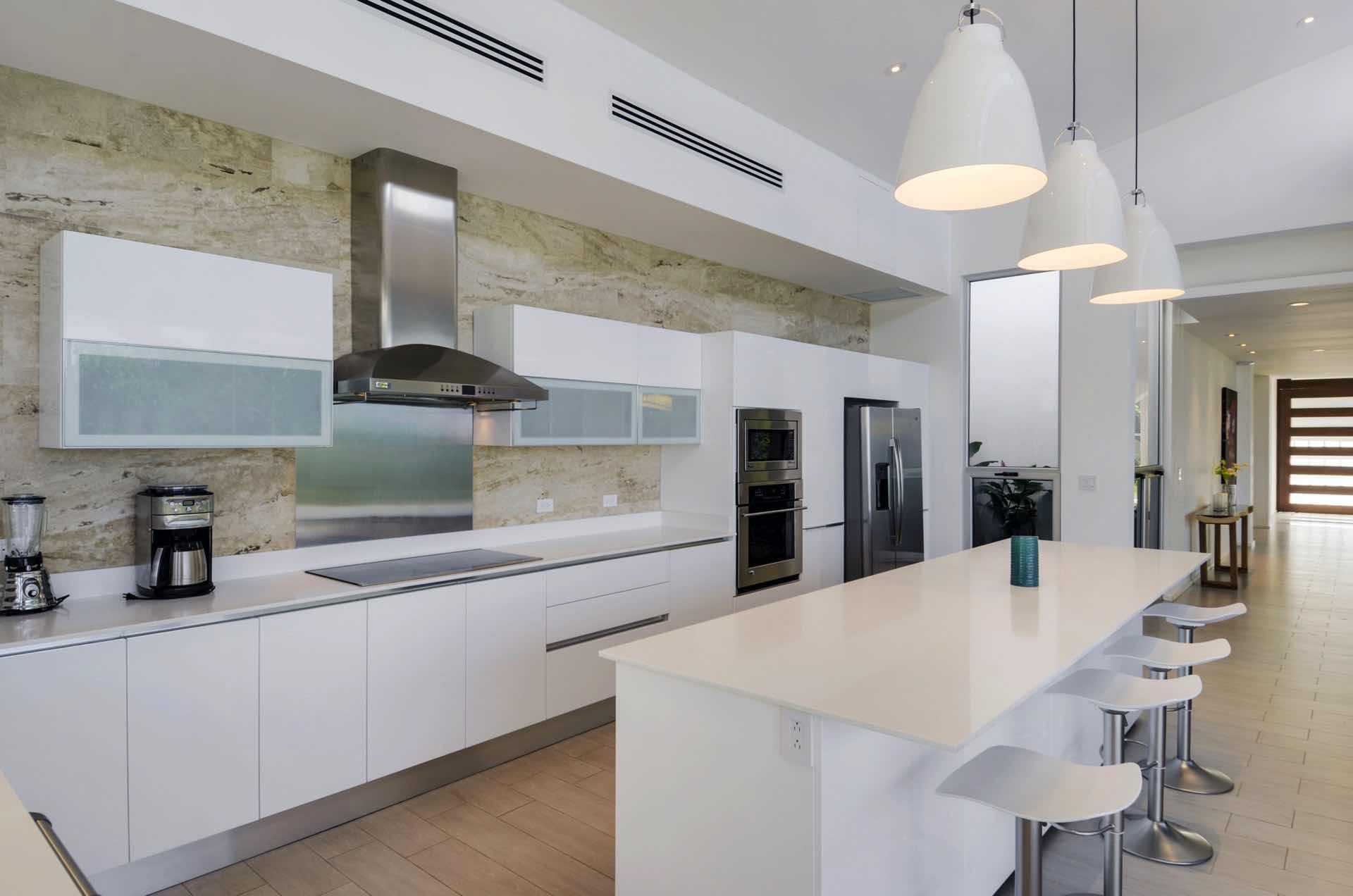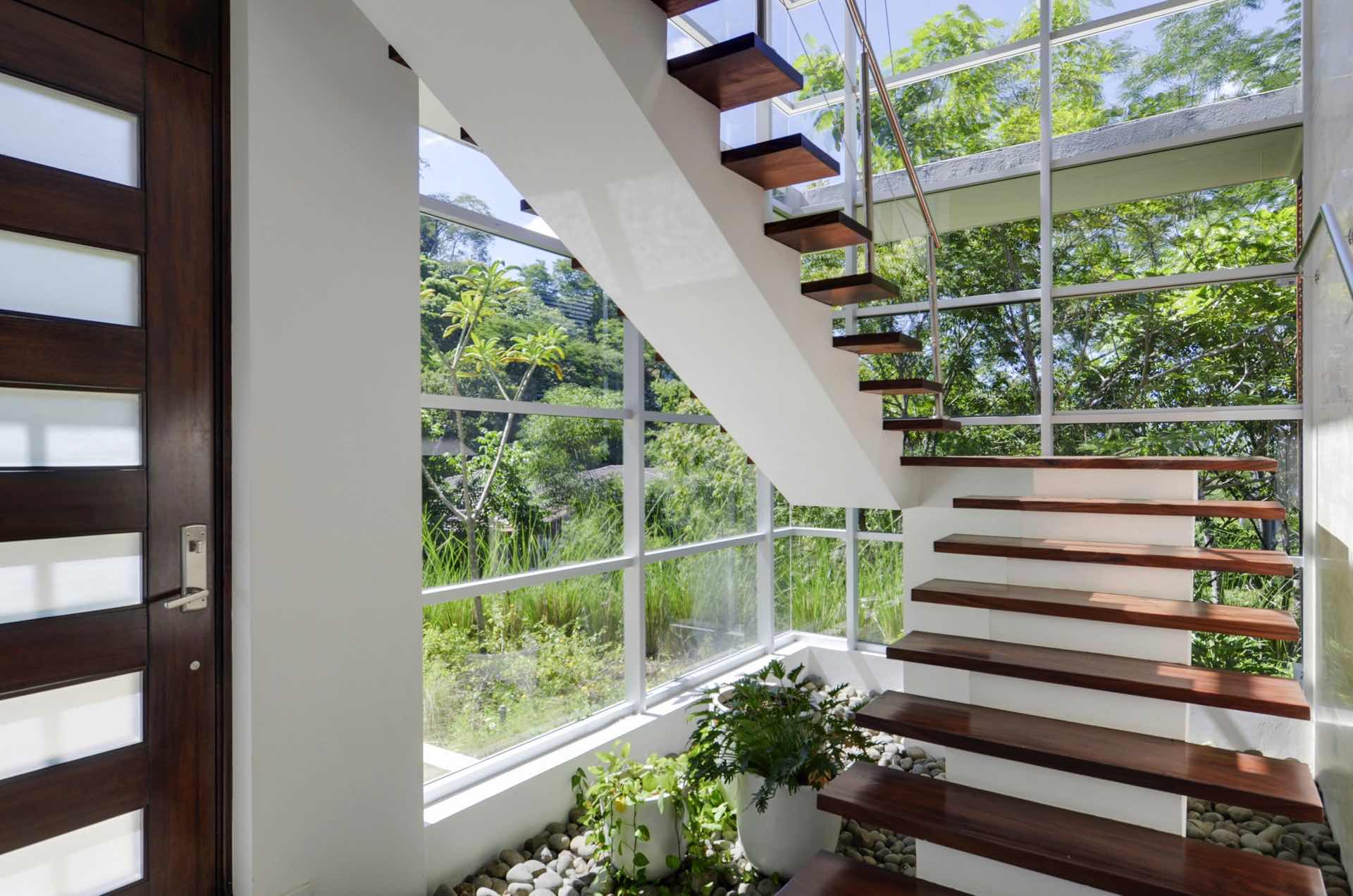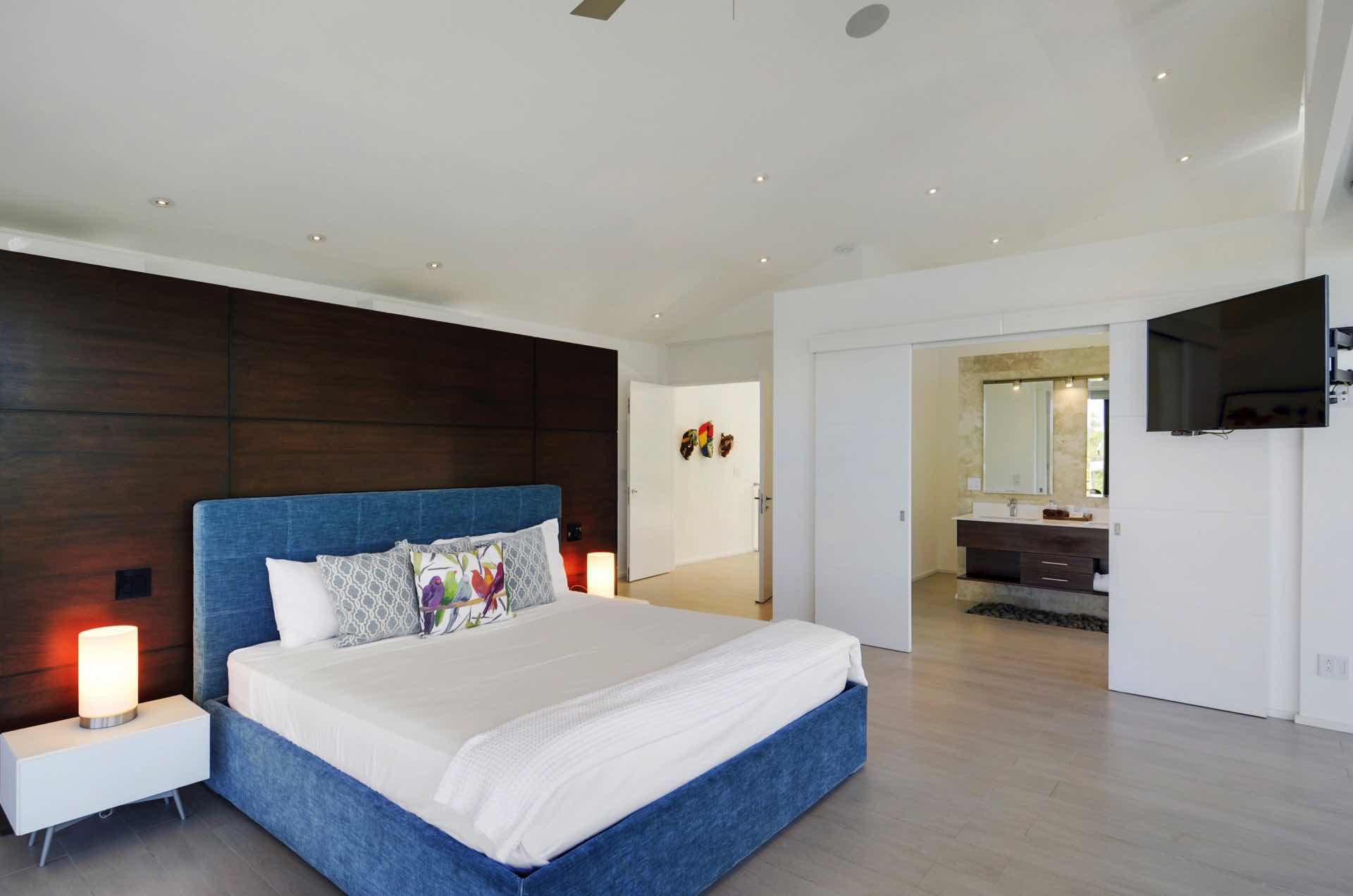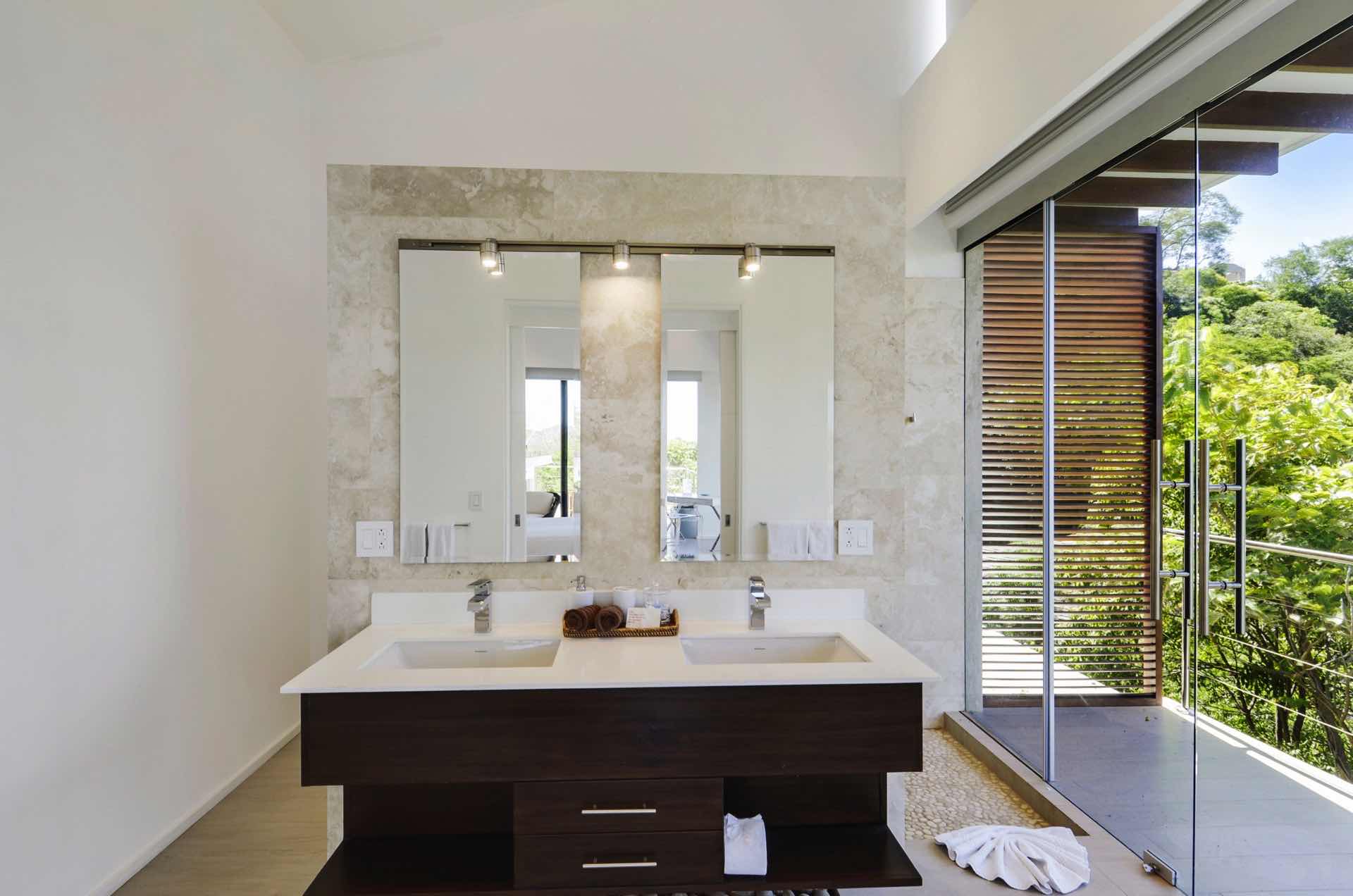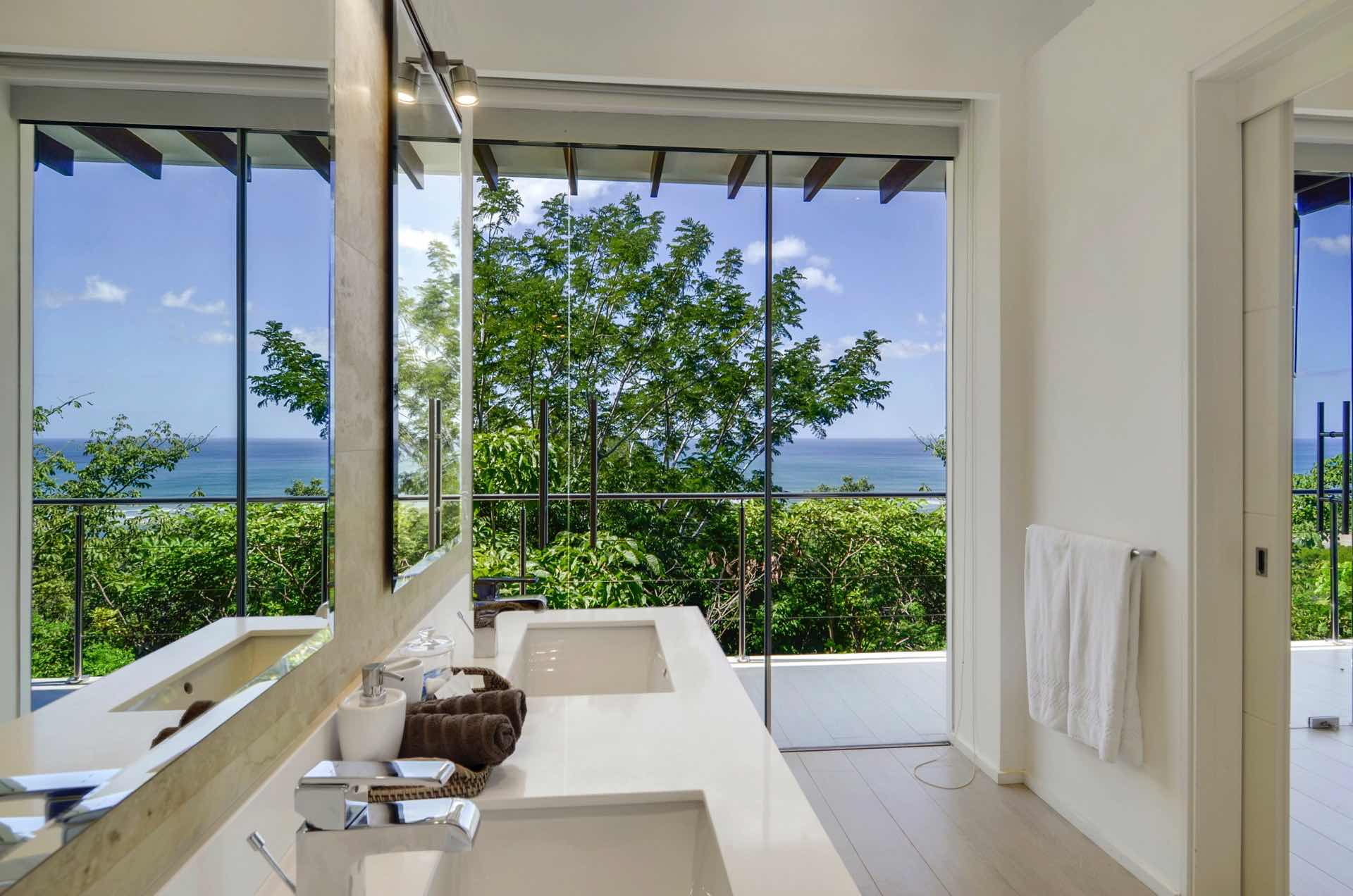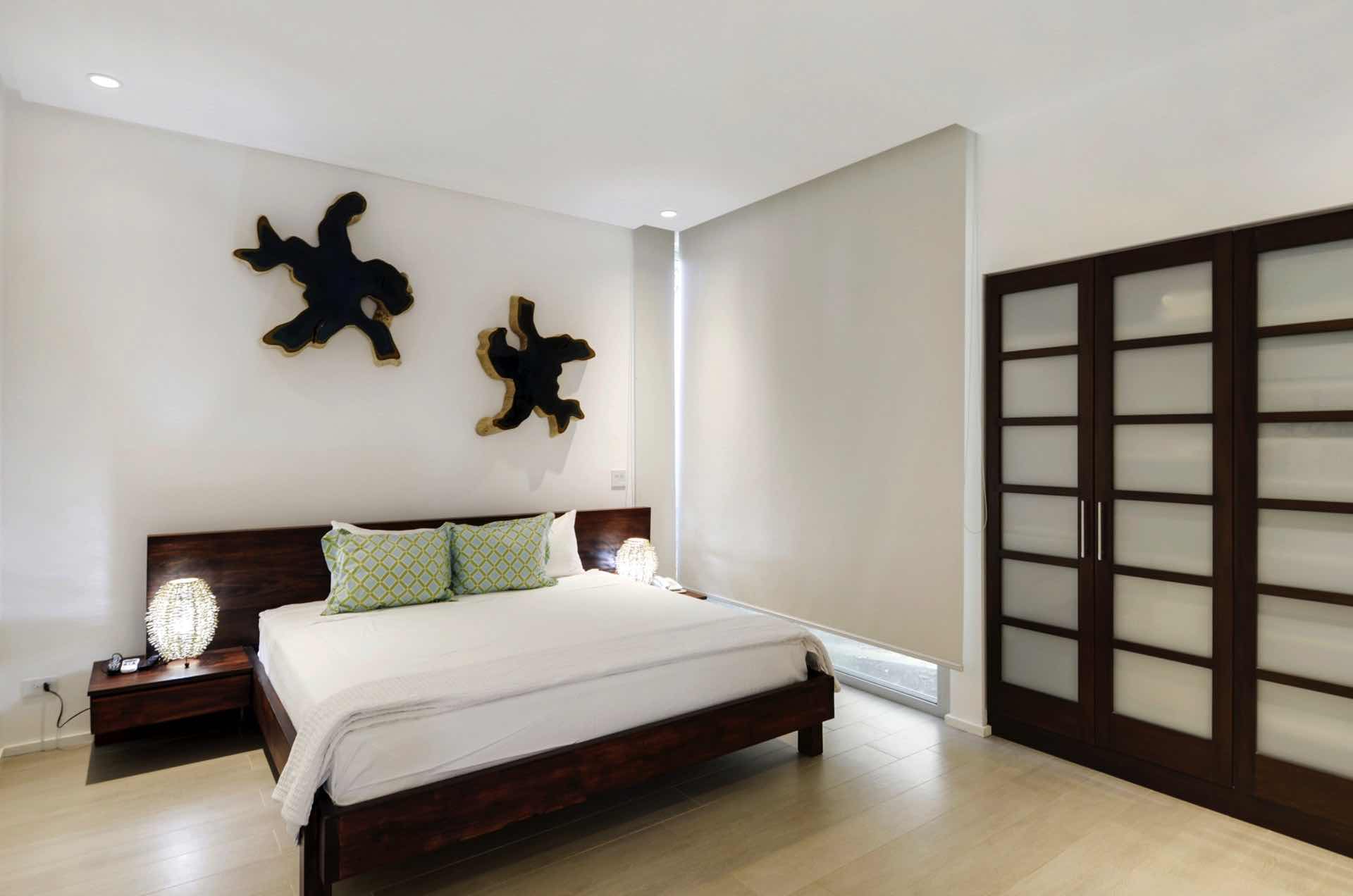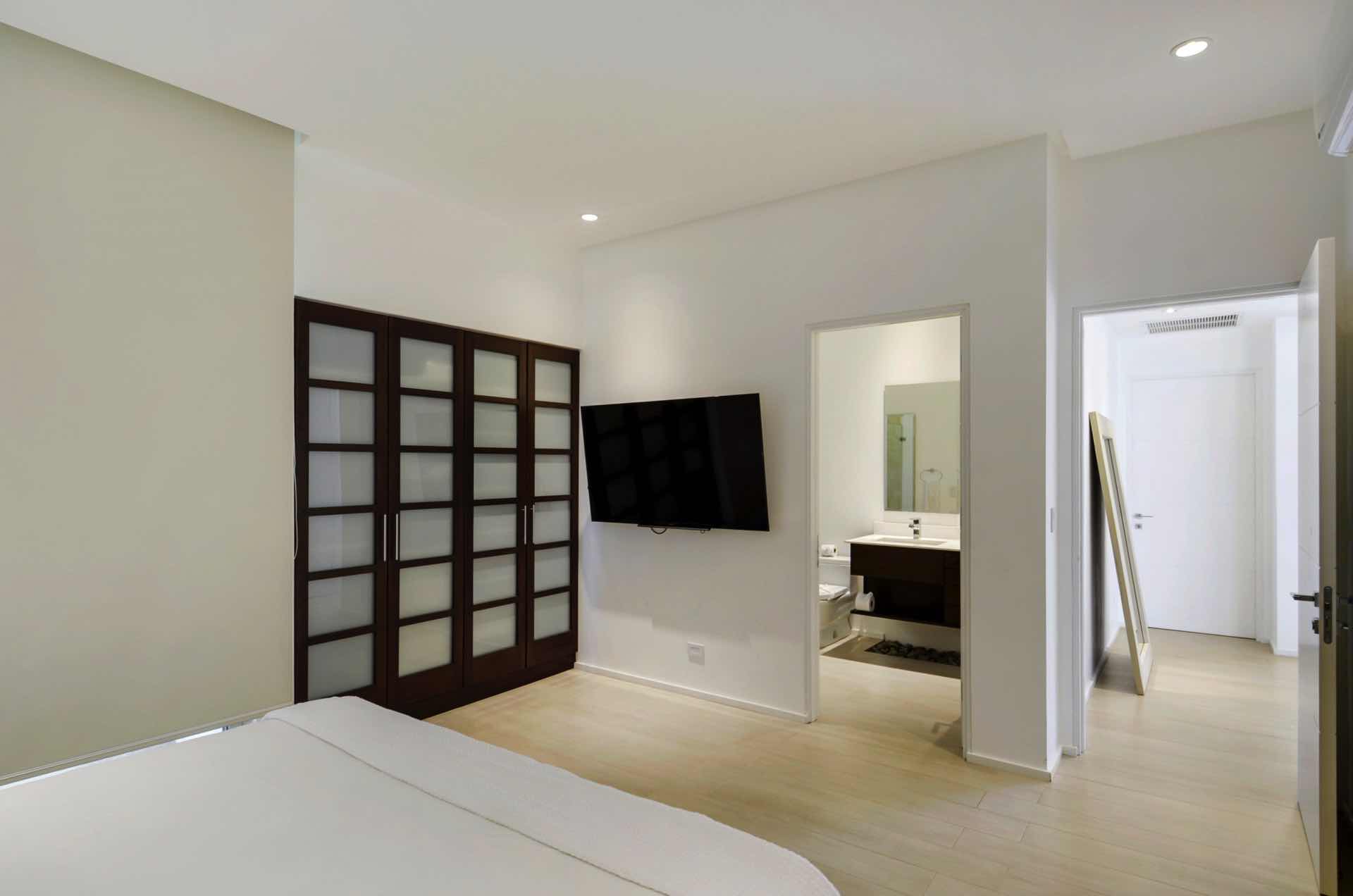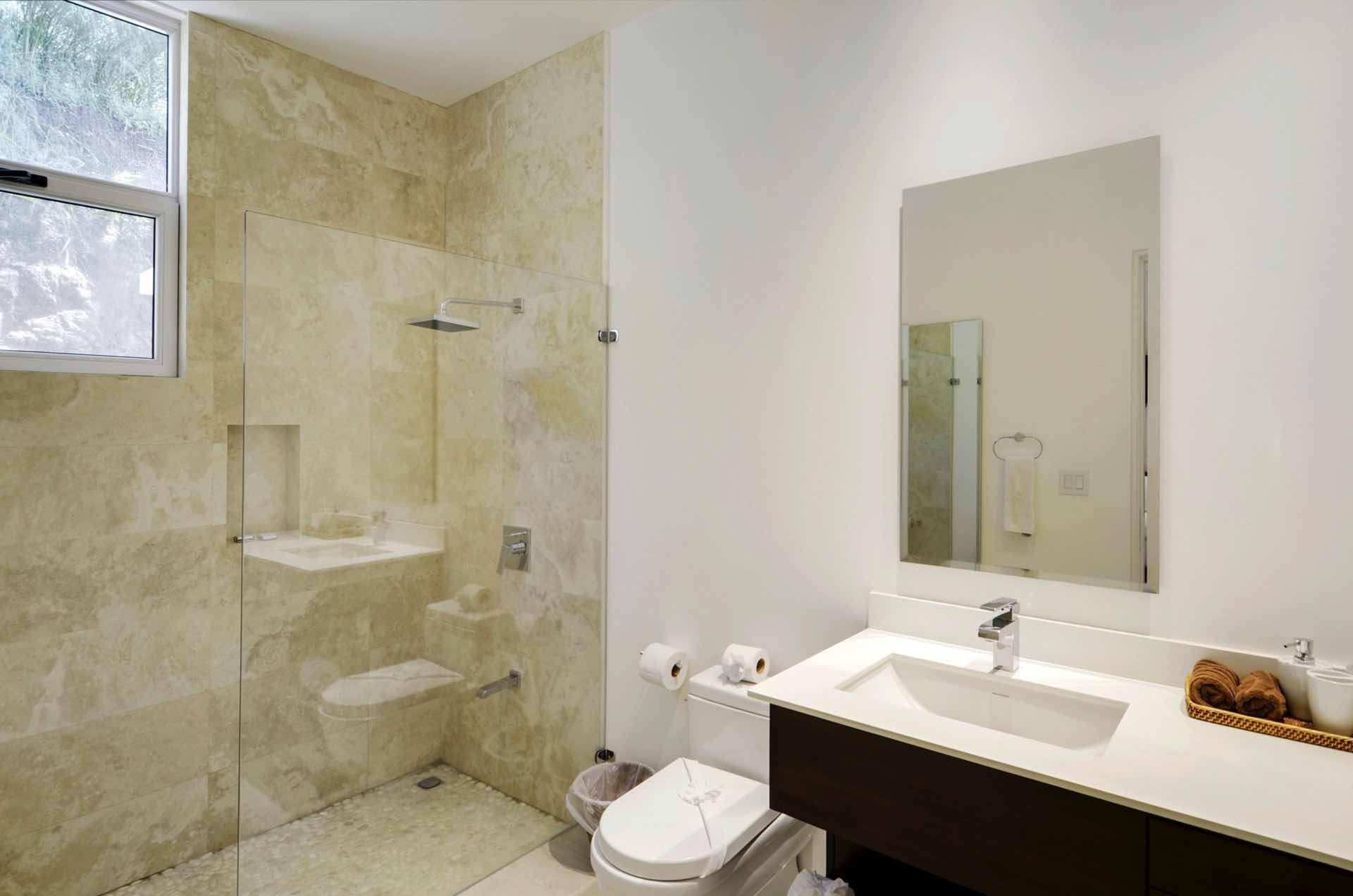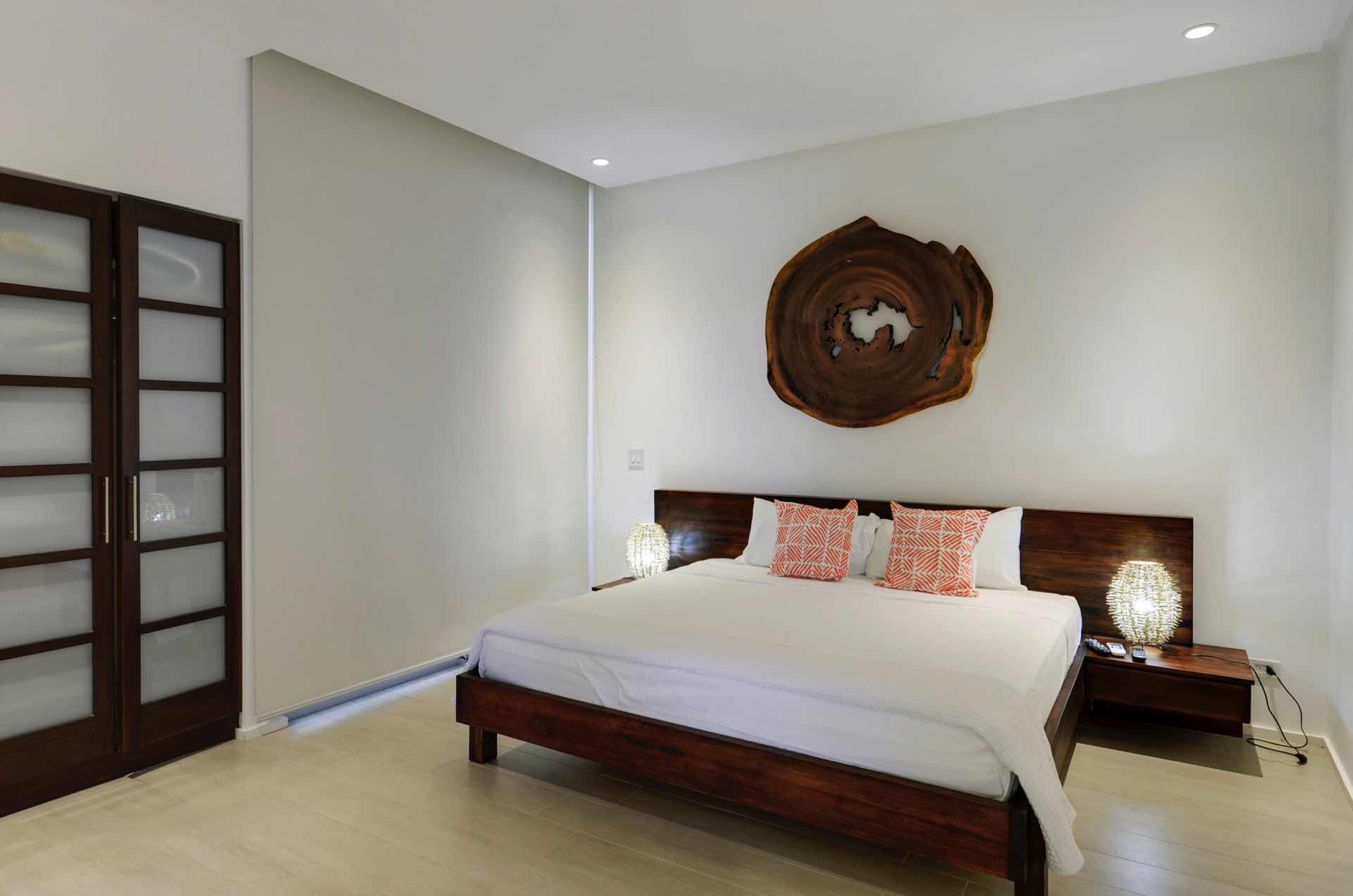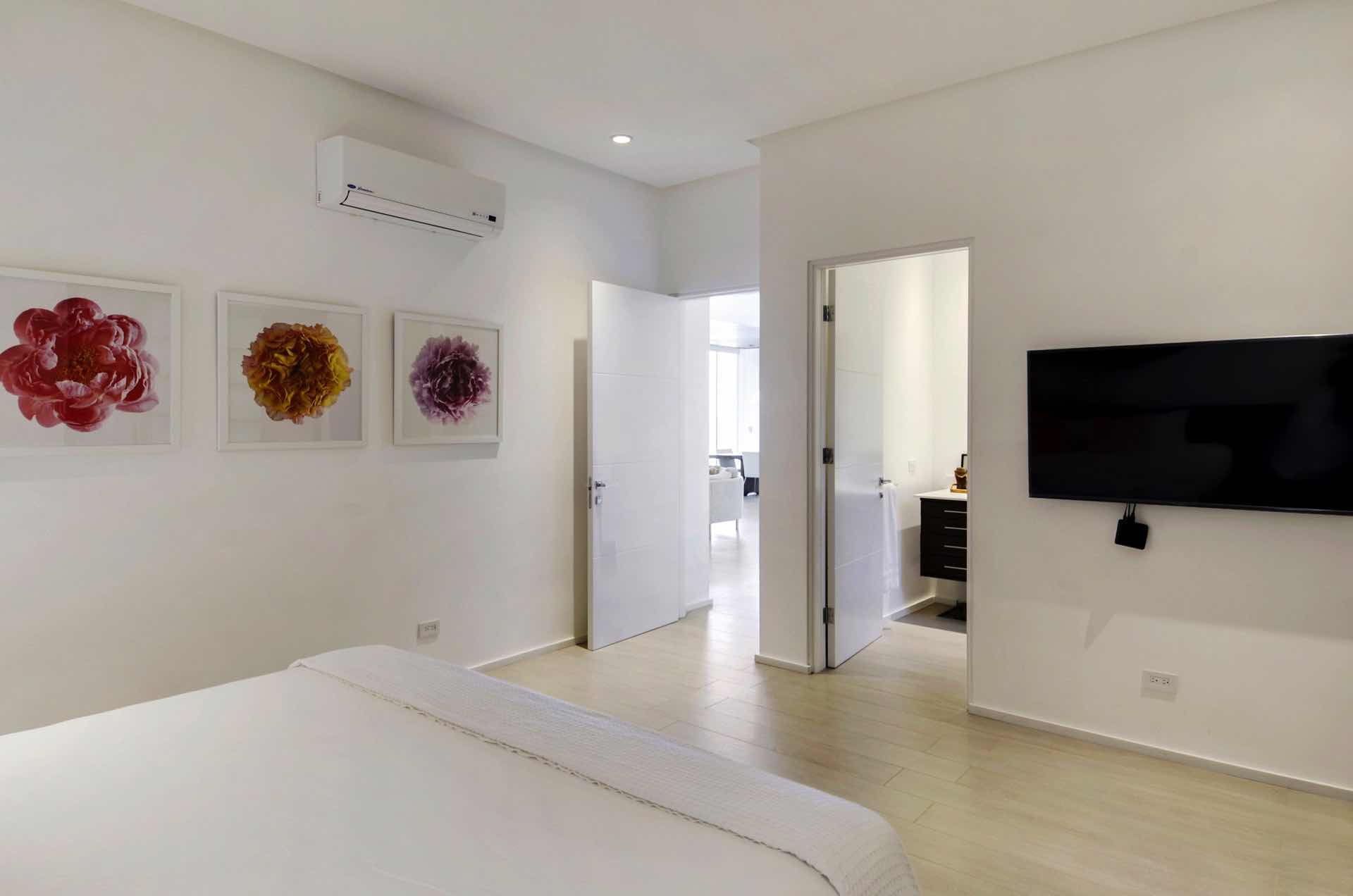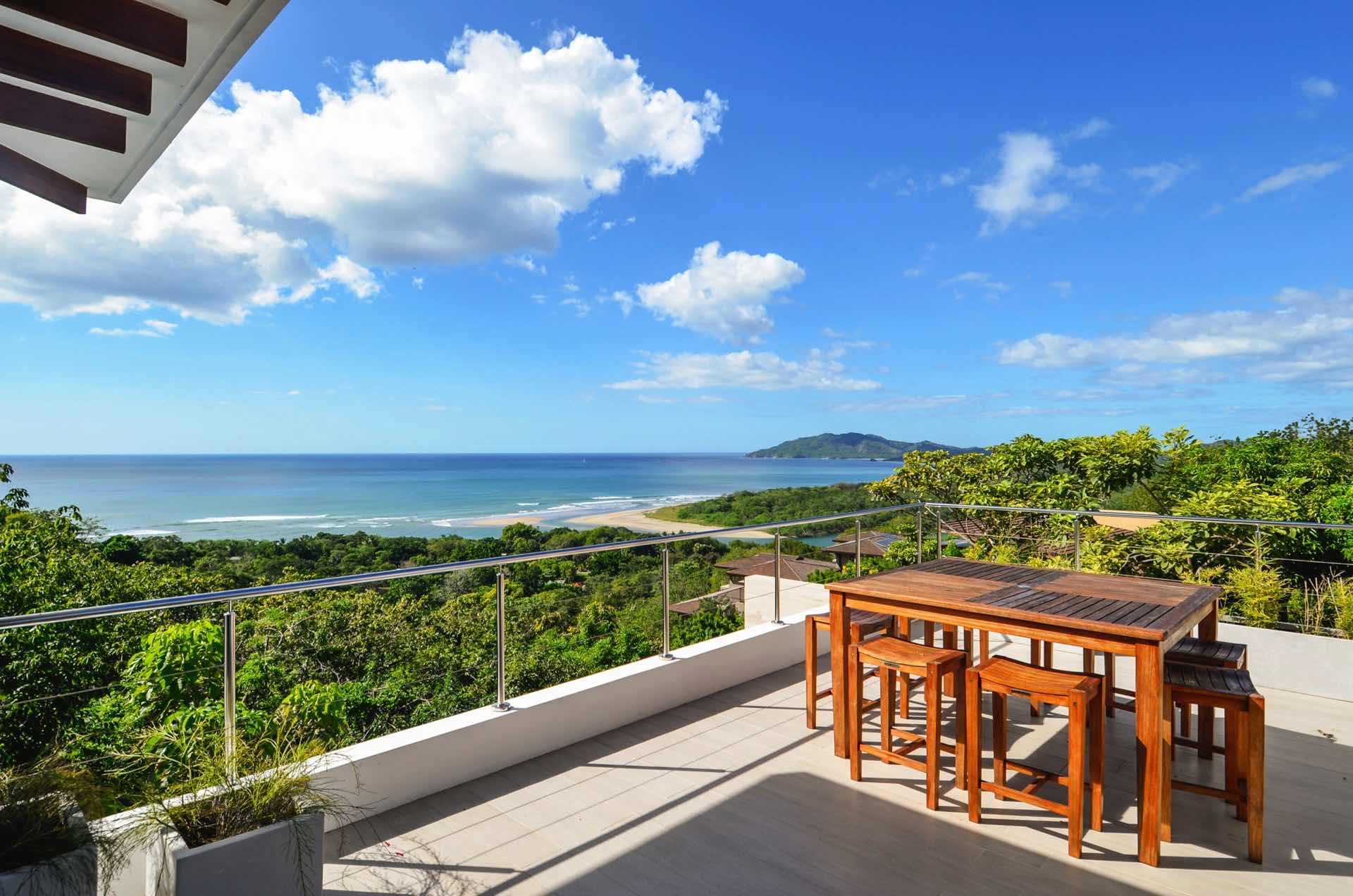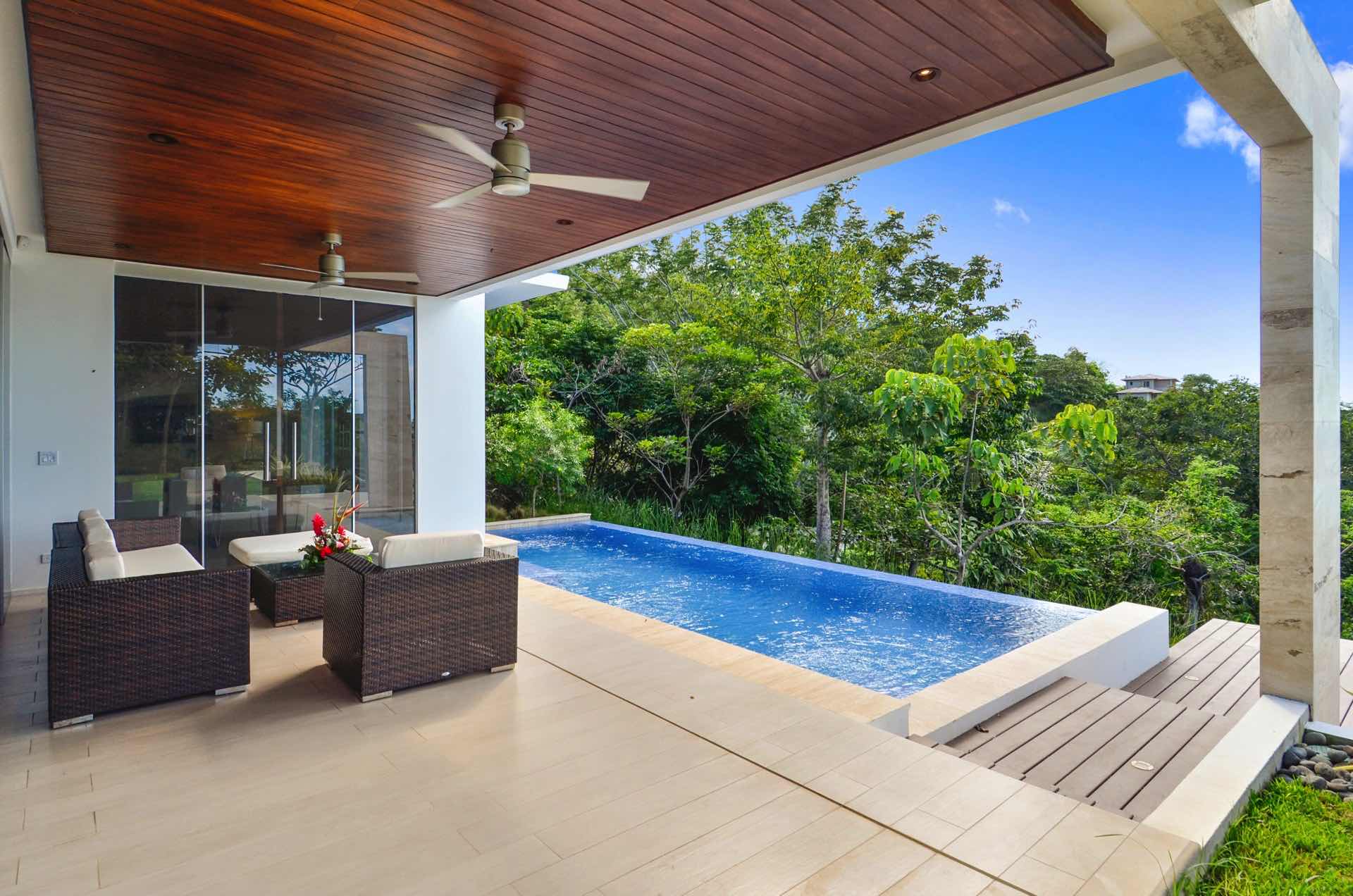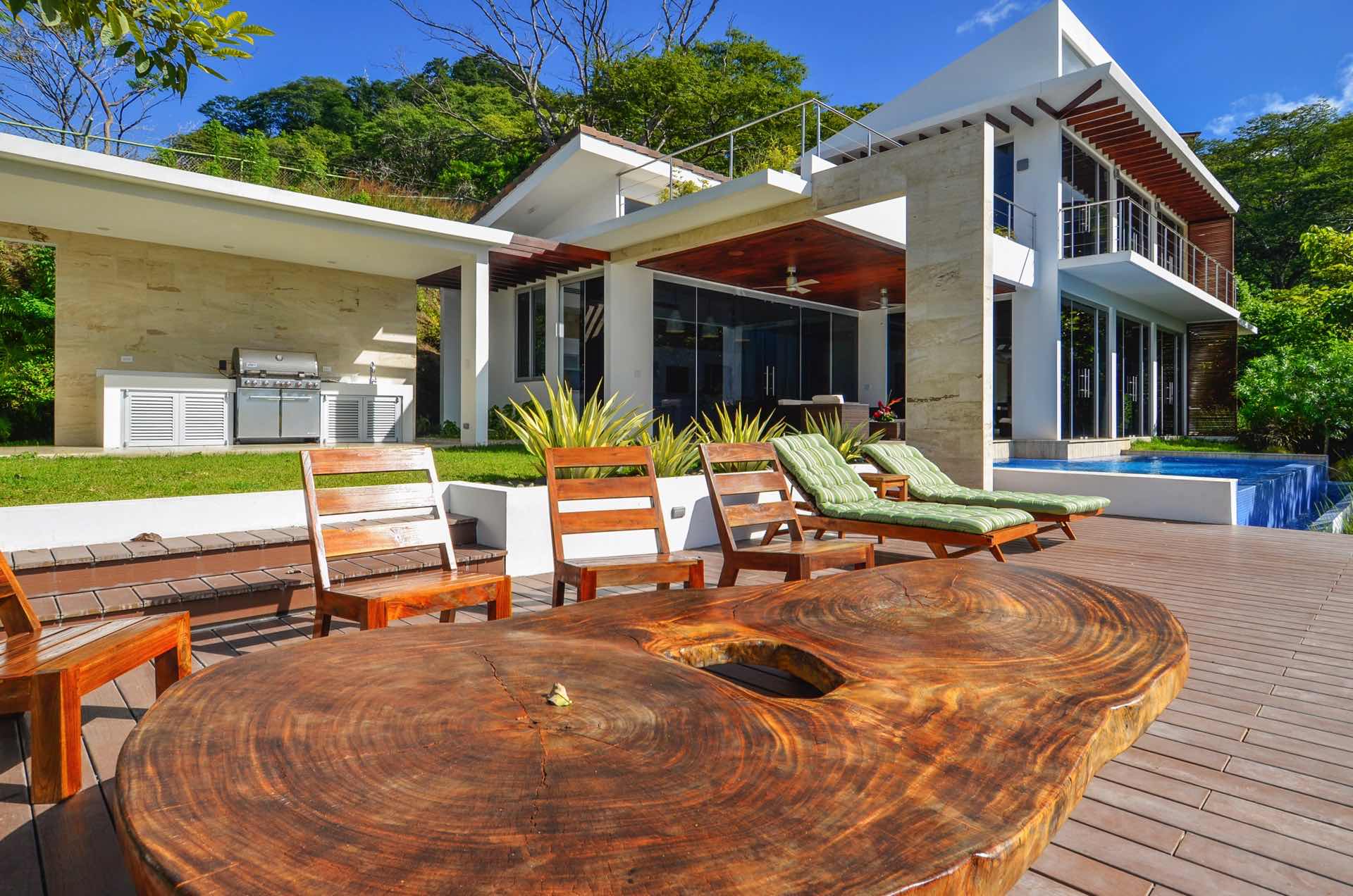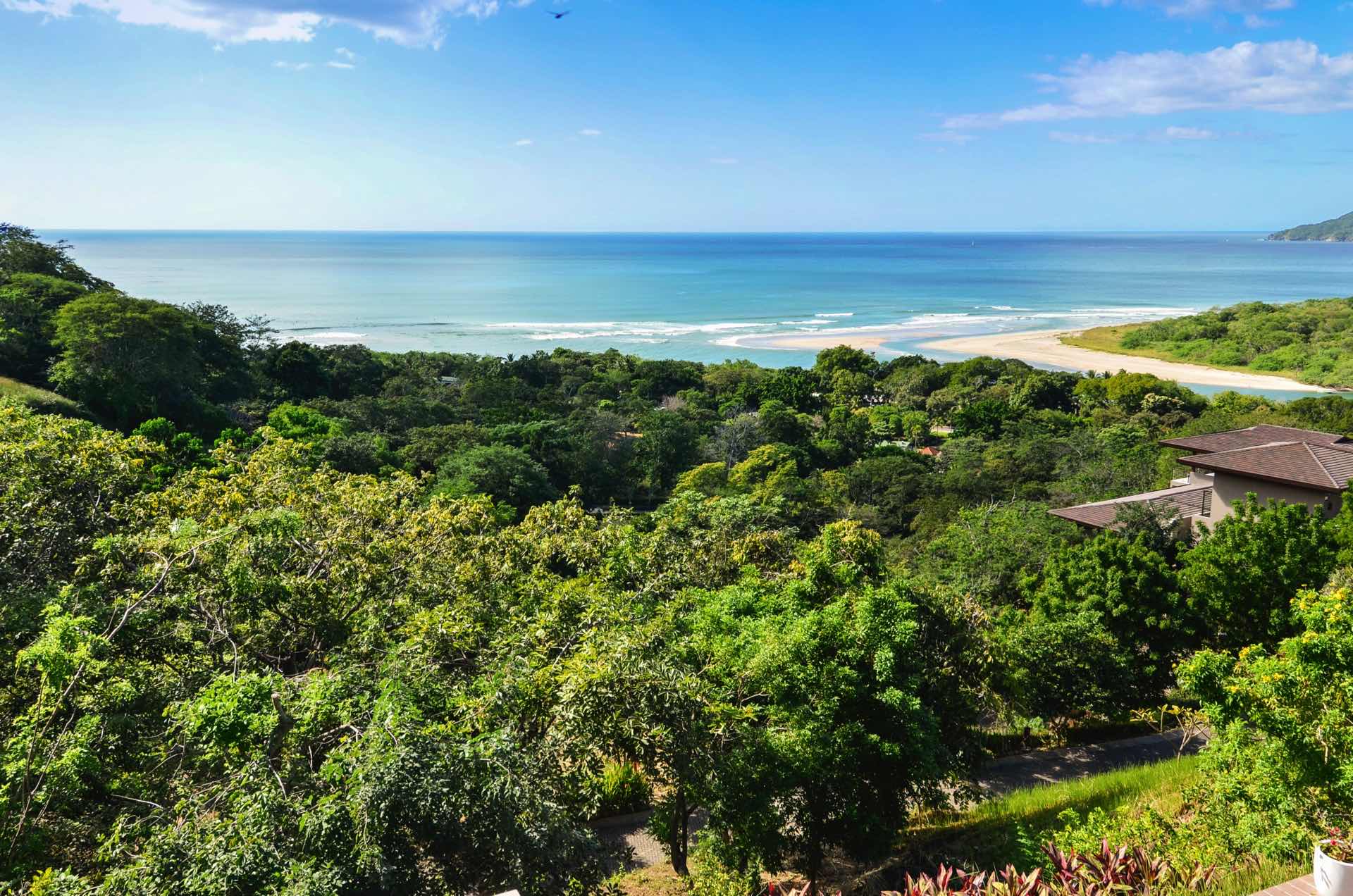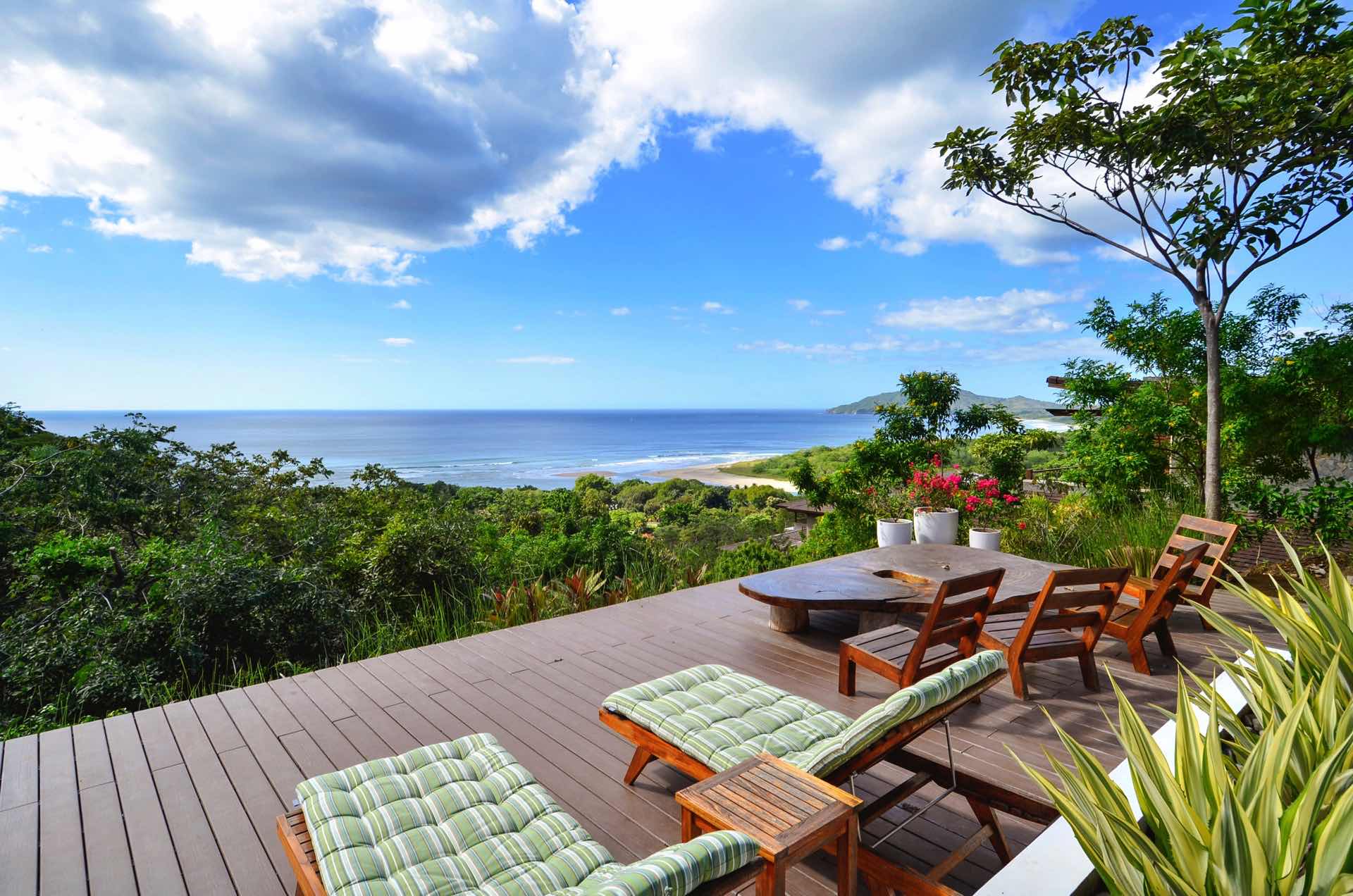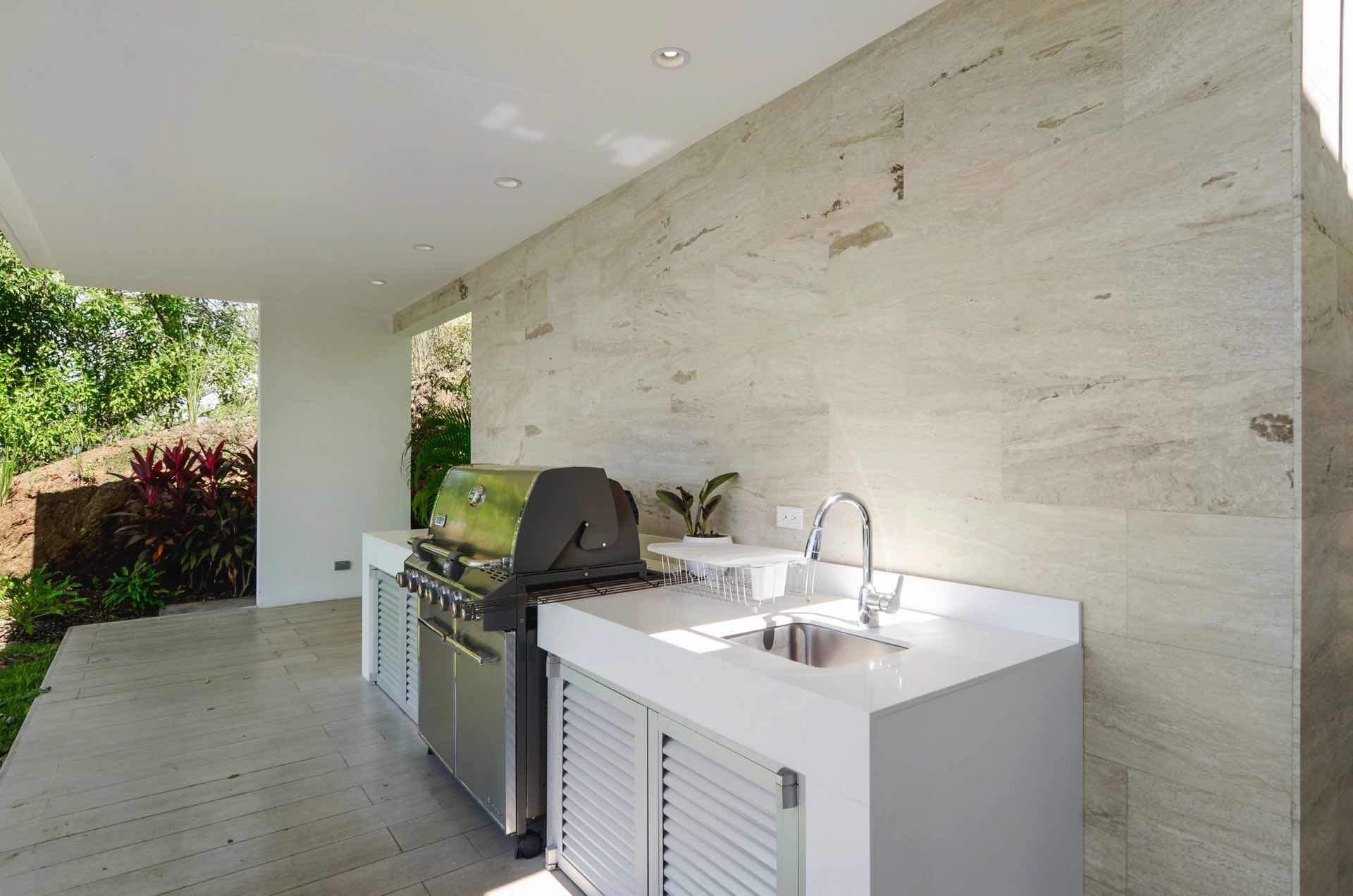 Casa Lomas del Mar is a sleek, modern 4-Bed/4-Bath villa with brand new furnishings and a breathtaking panoramic view. This hillside paradise is located in an exclusive gated community that sits above the northern end of Tamarindo beach and overlooks the vast expanse of Playa Grande and Las Baulas National Marine Park. On the beach in front of Casa Lomas del Mar are the waves that make Tamarindo an international surf destination.

The minimalistic design of this exclusive home utilizes angles and sharp lines that perfectly balance with the smooth curves of the hills against the horizon. Floor-to ceiling glass that divides the interior and exterior living spaces on the north and west sides of the villa creates a feeling of uninterrupted space, and of harmony with the surrounding jungle and sky. An infinity edge pool, a sun deck built from local wood, an outdoor sitting room, and a barbeque patio delight guests at Casa las Lomas with the best in outdoor luxury living.

Inside, this magnificent villa offers 3,200 sq. ft. of luxurious space on two levels. On the first level, a spacious modern-design kitchen includes everything you or your private chef needs to prepare and serve full-course gourmet meals. One single, airy common room encompasses the living and dining area, with its riveting 180 degree panorama. There are 3 bed/bath suites in the main house and a fourth bed/bath suite located is a separate Casita. Two of the home's four bed/bath suites are on this first level.

The second level of Casa Lomas del Mar is dedicated exclusively to the master suite. This spacious luxury suite feels as if it were suspended in the sky. Floor to ceiling glass on two sides, with black-out blinds for sleeping, floods the room with natural light and paints a constantly-changing seascape framed by jungle foliage. Private patios and rooftop terraces accessible only through the master bedroom offer peaceful places for quiet moments of contemplation.

The Fourth bedroom/bathroom suite is a Casita separate from the main house. The Casita includes a bath with shower, King Bed and amenities such as a small fridge, coffee maker, electric kettle, toaster, glass ware, coffee cups, cutlery and dishes.

Casa Lomas del Mar is fully air conditioned and is equipped with cable television and high-speed wi-fi internet access. It's easy proximity to Tamarindo beach make this vacation villa an excellent choice for surfers, families, and intimate groups of friends.

*Please note that the Casita will be available as of June 1st. Any reservations made for May, 2018 will only be for the 3 bedroom main house.

HOME HIGHLIGHTS:

- Beautiful Ocean Views

- Walking Distance to Tamarindo

- En-suite Bathrooms

- Flat-screen TVs in every room

SLEEPING ARRANGEMENTS (SLEEPS 6):

2ND FLOOR

- Master Bedroom: King Bed

1ST FLOOR

- Guest Bedroom: King Bed

- Guest Bedroom: King Bed

Casita

-Guest Bedroom: King Bed

***On-line bookings made during the year-end holiday weeks must check in and check out on one of the following sets of dates in order for the reservation to be accepted:

Dec 19 - Dec 26

Dec 22 – Dec 29

Dec 26 - Jan 2

Dec 29 - Jan 5
| | Nightly | Weekly |
| --- | --- | --- |
| January 06 - April 12, 2019 | $999 | $6,993 |
| April 13 - April 21, 2019 | $1,140 | $7,980 |
| April 22 - April 30, 2019 | $660 | $4,620 |
| May 01 - June 15, 2019 | $750 | $5,250 |
| June 16 - August 18, 2019 | $780 | $5,460 |
| August 19 - October 31, 2019 | $549 | $3,843 |
| November 01 - November 22, 2019 | $660 | $4,620 |
| November 23 - November 30, 2019 | - | $6,650 |
| December 01 - December 18, 2019 | $720 | $5,040 |
| December 19 - December 25, 2019 | - | $11,550 |
| December 26 - January 01, 2020 | - | $12,005 |
| January 02 - January 05, 2020 | $1,715 | - |
| January 06 - April 03, 2020 | $999 | $6,993 |
Thank you for entering your review. The review will become available to the system shortly.
Dec/Jan Stay at Casa Lomas del Mar
Rating:
Review Date: 02/12/2019
Very enjoyable. Clean property. All staff, from office to housekeeping to grounds were friendly and accommodating. We do recommend a new bed mattress!
A Little Bit of Paradise
Rating:
Review Date: 05/26/2018
Casa Lomas del Mar was amazing! We recently stayed 7 nights and couldn't have asked for a better location(the view was breathtaking). The house was beautiful and stocked with everything you need. Cris and Adriana were so helpful and made everything so easy! We will definitely be back!!!
Manager Response: 06/20/2018
Response from Stay in Tamarindo
Thank you Michele! So Glad to hear you loved Casa Lomas del Mar and enjoyed the amazing views and perfect location! It was a pleasure to assist you throughout your trip and we hope to have you back sometime soon! Pura Vida :-)
Absolutely the best time. Evarrrrr
Rating:
Review Date: 05/22/2018
The house was AMAZING! Set in a very idealic and gorgeous area. The house was super clean and incredibly functional. The AC was amazing too, haha. I have zero complaints about the functionality and beauty of the house. The staff was super friendly and helpful during the booking process and even leading up to the day we arrived.
Manager Response: 06/20/2018
Response from Stay in Tamarindo
Thank you Tim! We are thrilled to hear you had an amazing time during your stay in Casa Lomas del Mar and found it beautiful and comfortable. It was our pleasure to assist you before and during your stay and we hope you will make Casa Lomas del Mar a repeat destination. Pura Vida!
Amazing stay at the Casa Lomas del Mar
Rating:
Review Date: 04/02/2018
what an amazing home the pictures don't do the view justice. we enjoyed watching the sunset each night on the deck and could not ask for a more perfect view. Adriana was so helpful and put our trip over the top with helpful hints and recommendations during our stay in Tamarindo. We definitely will return!
Manager Response: 04/17/2018
Response from Stay in Tamarindo
Jeffrey, We're thrilled to know everything went great with your trip and you enjoyed so much the beautiful view and sunsets from the house. It was our pleasure assisting you during your vacation and we look forward to welcoming you back for another round very soon!
Unforgettable stay in Tamarindo!!!
Rating:
Review Date: 09/23/2016
Most of the time when you arrive at a rental, you'll find that the photos are a bit embellished but this was definitely not the case. The house was exactly as pictured and might even be more spectacular in person. The house was spotless when we arrived and the views from the pool and upstairs suite were unbelievable! The hill leading up to the house is walkable but I would highly recommend renting a car or golf cart for a more enjoyable vacation. The guard at the gate also made it very safe and provided us comfort when in the house. The staff was great as well. Communications with Lucas and Cristina before the trip was very easy and they were both very prompt with their responses. Check in with Gilda was quick and simple. Cristina was available to help us with activities, cart rental and massage appointments as needed. Then there was Johnny, we can't say enough about Johnny, he was beyond amazing. He picked us up from the airport and took us to the market on the day we arrived to get groceries and gave us tidbits about the town. On the day of our tour he took us to get breakfast before starting the day. During the tour he took photos and videos for us. He even went on the zip line with us just to take photos and videos for us. He definitely went above and beyond to make our experience a great one. We were unable to carry phones and cameras with us during the activities so we were extremely glad that Johnny was there to capture the moments for us on his phone. He sent them to us later that evening and he took a lot of photos and vids too because we received a total of 64 emails from him! On the way back he took us groceries shopping again per our request. Basically everything we asked of him, he did for us and at times even went above and beyond. He definitely made it a lot easier to enjoy our time in Costa Rica. But overall, the whole staff was great, Lucas, Cristina, Gilda and Johnny, everyone was wonderful.
Manager Response: 09/28/2016
Response from Stay in Tamarindo
Thank you Duy! We're so happy to know you loved the house and had such a great trip! It was a pleasure to have you staying with us! :-) I'll pass on your kind comments to everyone at the office and Johnny of course! Pura vida!! -Gilda
Casa Llomas del Mar: we coundn't end up in a lovelier place!
Rating:
Review Date: 09/22/2016
Casa Llomas was paradise on earth. The view was stunning, the interior design was breathtaking, the location perfect( maybe because we had a car and had no problem with the very steep road to reach the house).The property was clean, very well maintained and everything worked. The staff was kind and smiling, although I found it more relaxed than professional.When we arrived they handed up the keys and said goodbye. We had to insist to be at least taken to the house since we had no idea of the community layout; the lady who took us knew nothing of the property and left us to figure out how everything worked. We did our best but on the second day had to ask for help with a few amenities. When we left we asked if anyone wanted to inspect the property for damage, but we were told there was no need and we could just leave the key by the office. Now that I think of it, it was rather pleasant to find such a laidback service, but at the time it seemed rather odd. There is just one thing we did not apprecciate: we were told, upon my specific request,that there was not going to be any construction site nearby. But there was. Pity. Apart from that small disappointment, I would higly recommend Casa Llomas to anyone who has a car.
Manager Response: 10/15/2016
Response from Stay in Tamarindo
Thank you Francesca, we're thrilled to know you loved Casa Lomas and enjoyed your stay! We consider ourselves both professional & laid back, we believe in embracing the meaning of "pura vida", we like to work hard and provide our guests with great quality experiences and at the same time have a more laid back office environment, which allows us to be ourselves, enjoy our work more and therefore provide with excellent customer service. Thank you again for staying with us, we hope to have you back soon! Pura vida!
Tamarindo
Rating:
Review Date: 04/11/2016
this is a fantastic property. we couldn't have asked for anything better. we will use this property again when we are in tamarindo. thanks
Manager Response: 05/10/2016
Response from Stay in Tamarindo
Hi Jerry & Shawn! Thank you so much for your kind comments, we are very much looking forward to having you back! See you soon! :) - Gilda
Beautiful!!!
Rating:
Review Date: 03/16/2016
We had such a great experience renting out Casa Lomas del Mar. The pictures just don't do it justice! The views were amazing, the house was spotless, and everything felt brand new. It was a perfect place for spending our wedding week!! We would come here again!
Manager Response: 03/25/2016
Response from Stay in Tamarindo
Sharon! Thank you again for choosing to stay with us for such a special occasion! We really hope to have you back again sometime and help you plan another great stay! Thank you!! -Gilda
Your request has been sent. We look forward to meeting all your vacation needs!
Optional Guest Protect Plan travel insurance
The Guest Protect Plan from CSA Travel Protection Includes:
✓
Valuable benefits before, during and after your vacation
✓
Reimbursement of non-refundable trip costs if you must cancel your trip or cut it short due to covered sickness, injury or other events
✓
150% of trip cost coverage for covered trip interruptions
✓
24/7/365 emergency assistance hotline, plus access to a network of physicians
View complete plan details
Yes! I want the CSA Travel Protection Guest Protect Plan
No, I don't want this insurance and understand that I may be responsible for cancellation penalties in accordance with the Terms and Conditions, up to 100% of the rental costs.