Casa de Luz | Costa Rica House Rental
Tamarindo Vacation Rental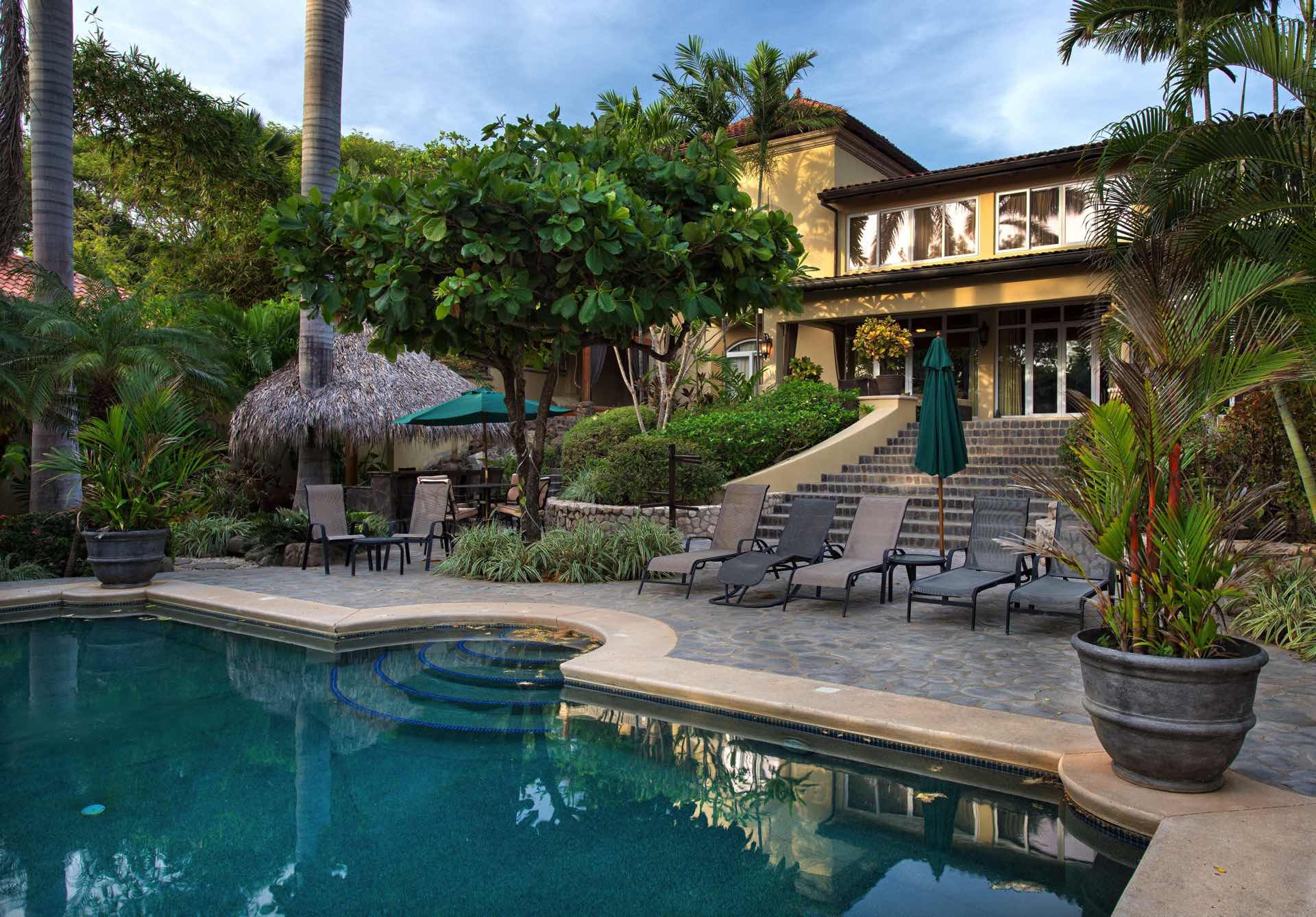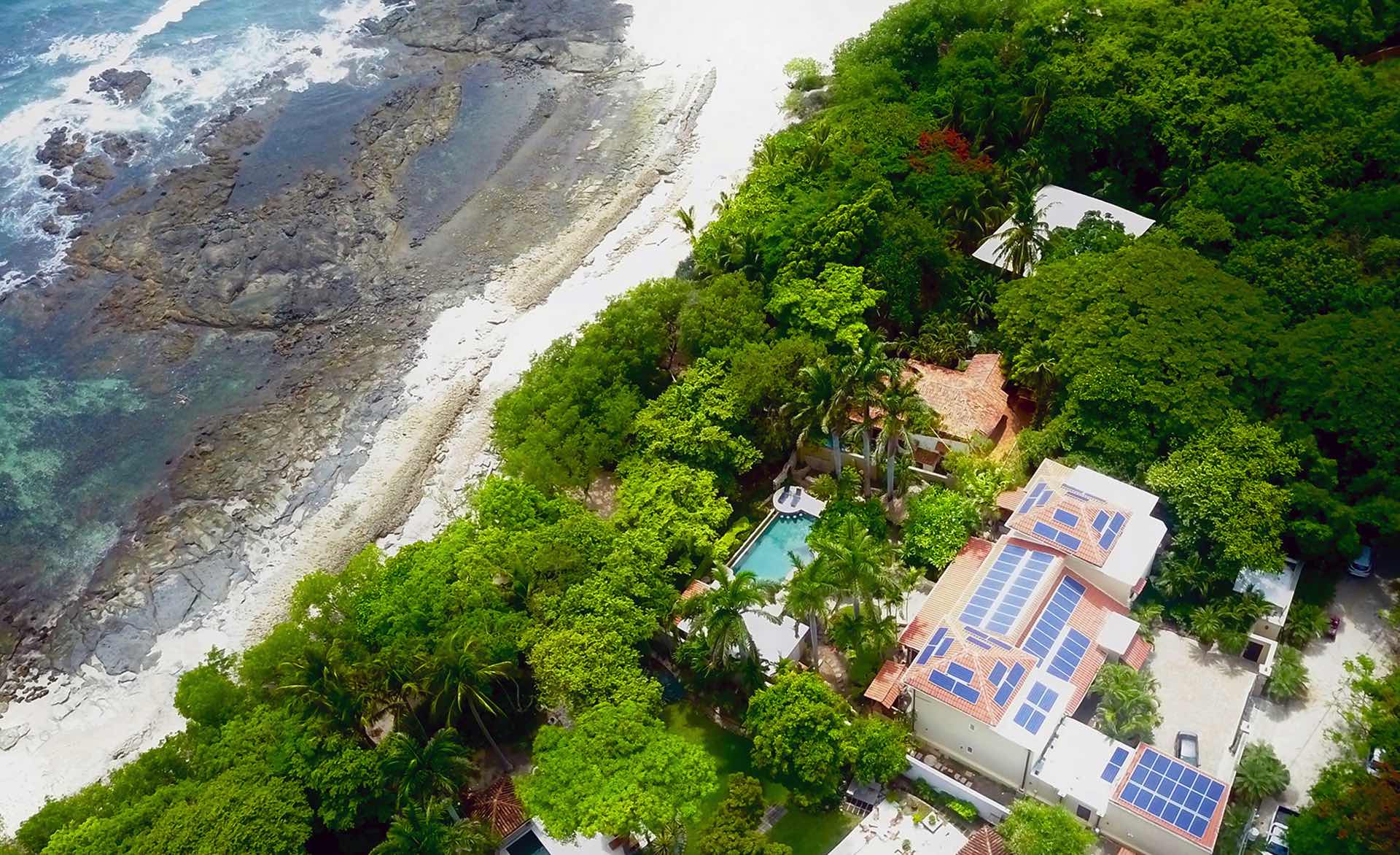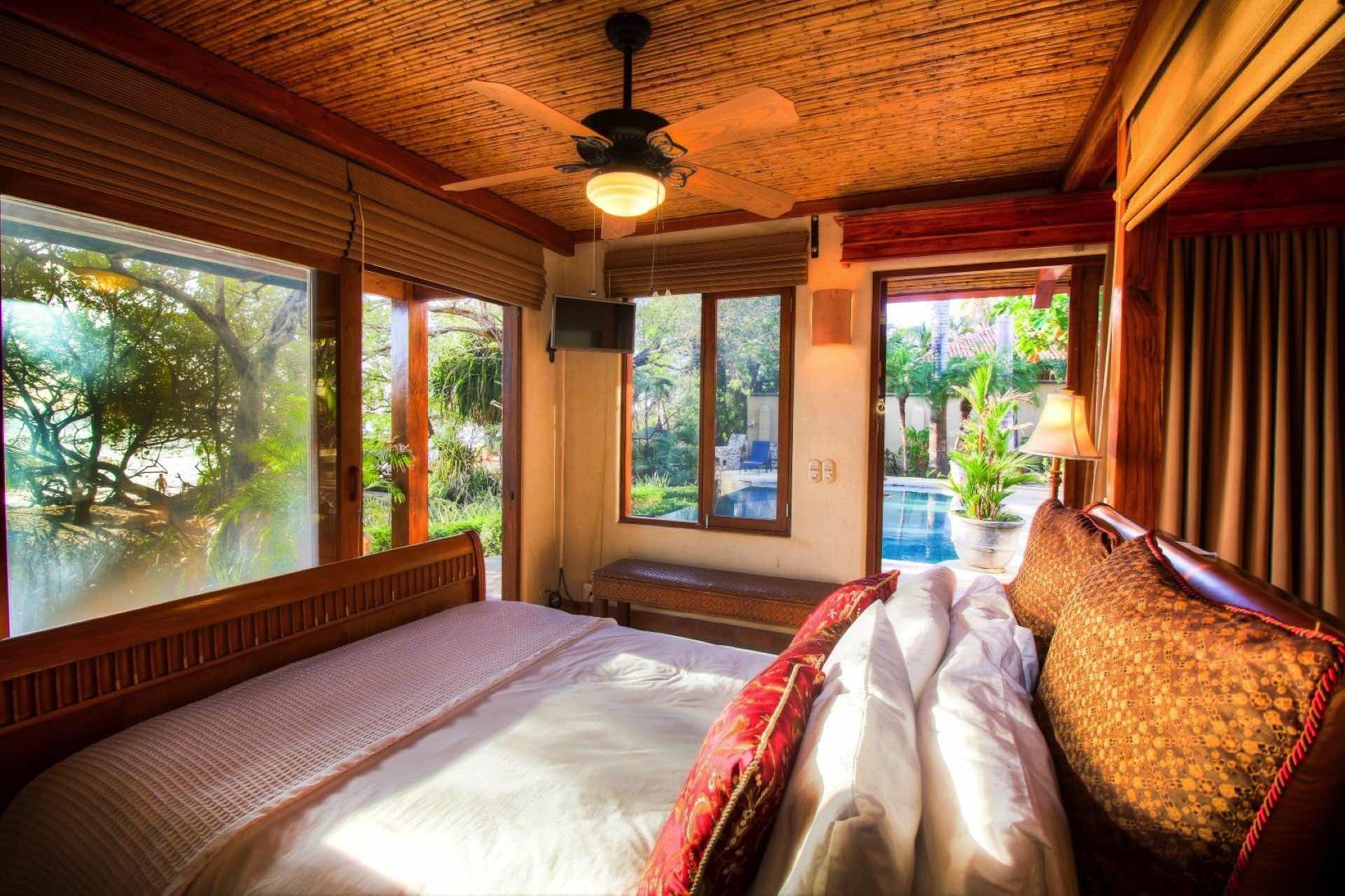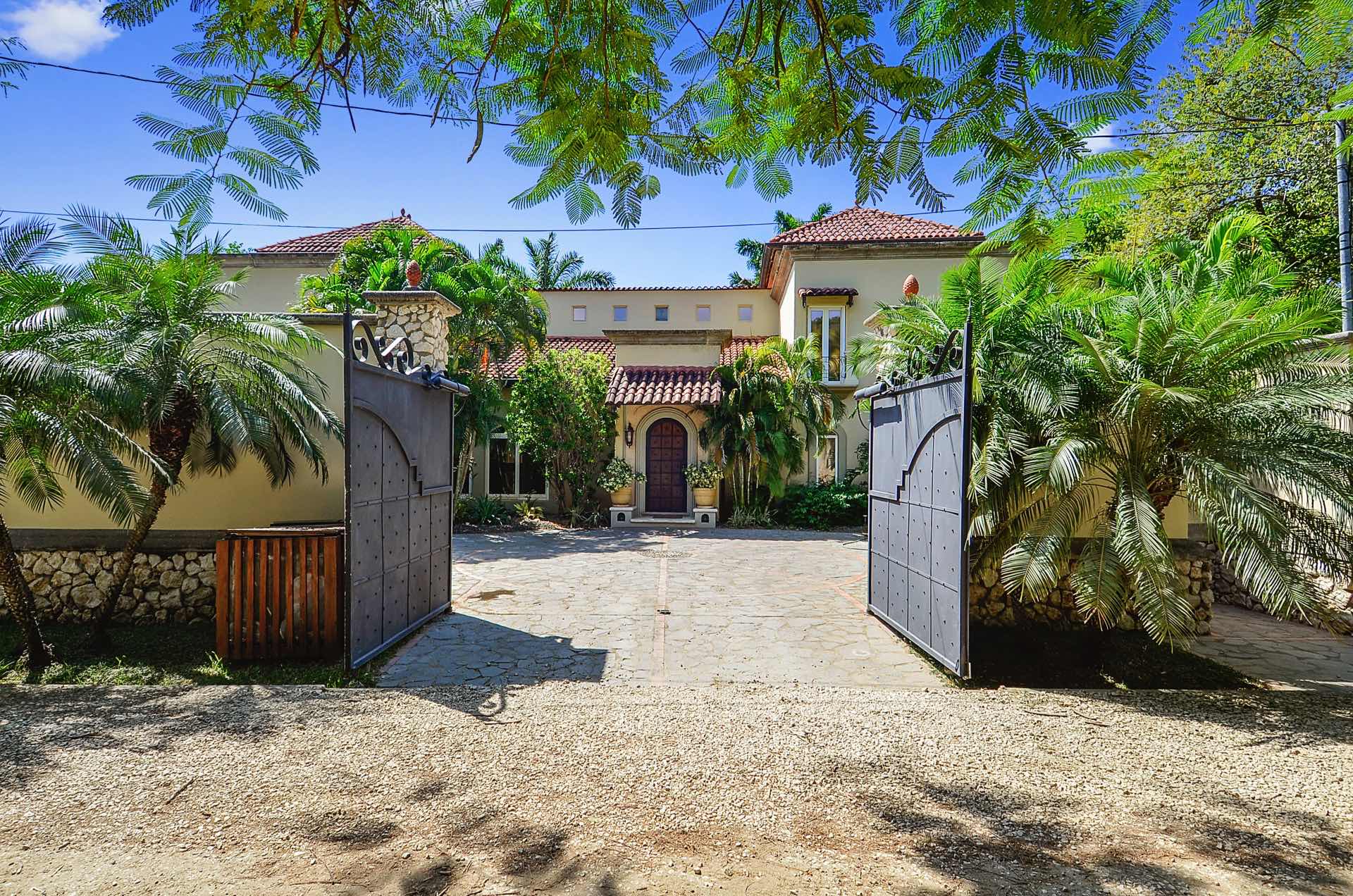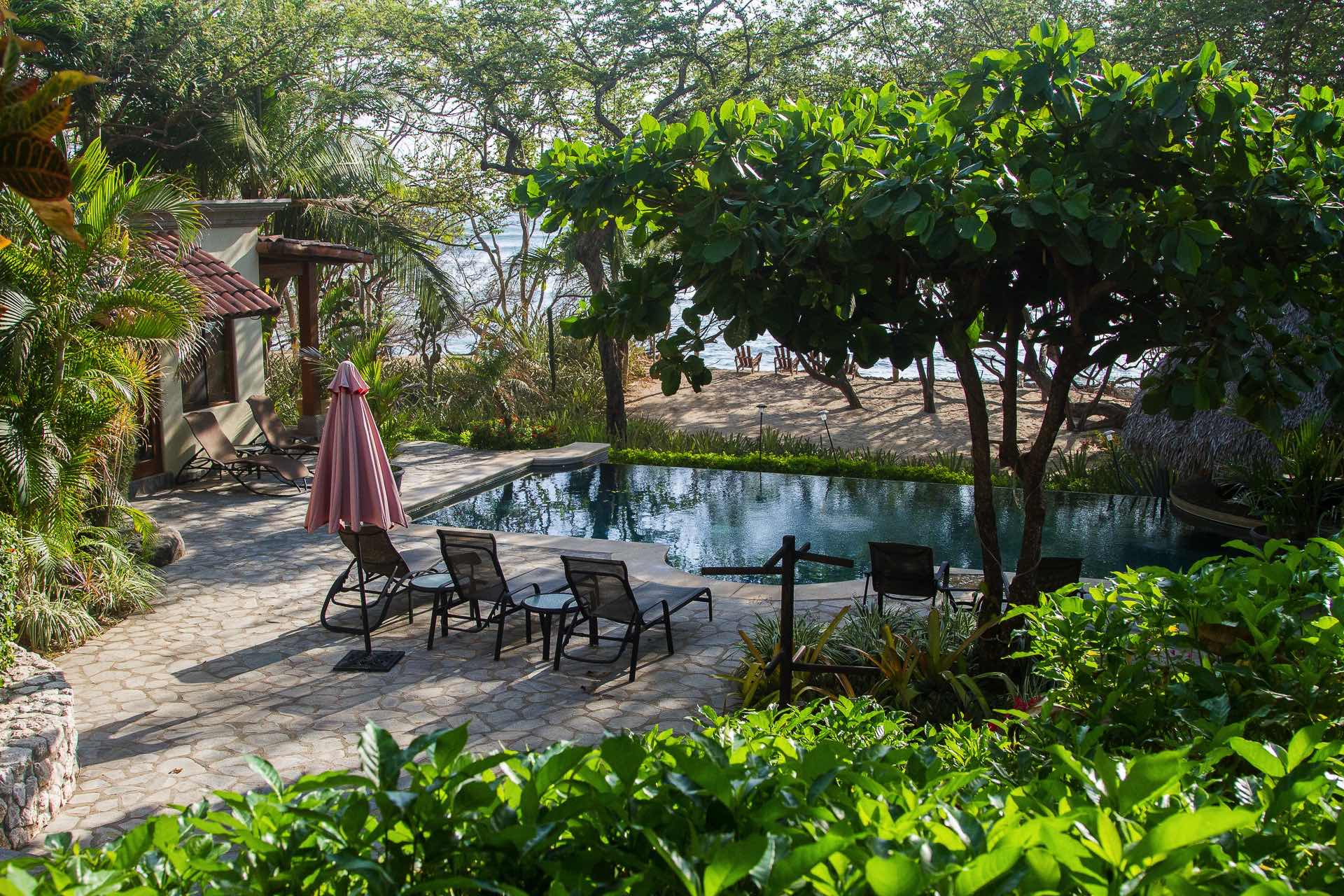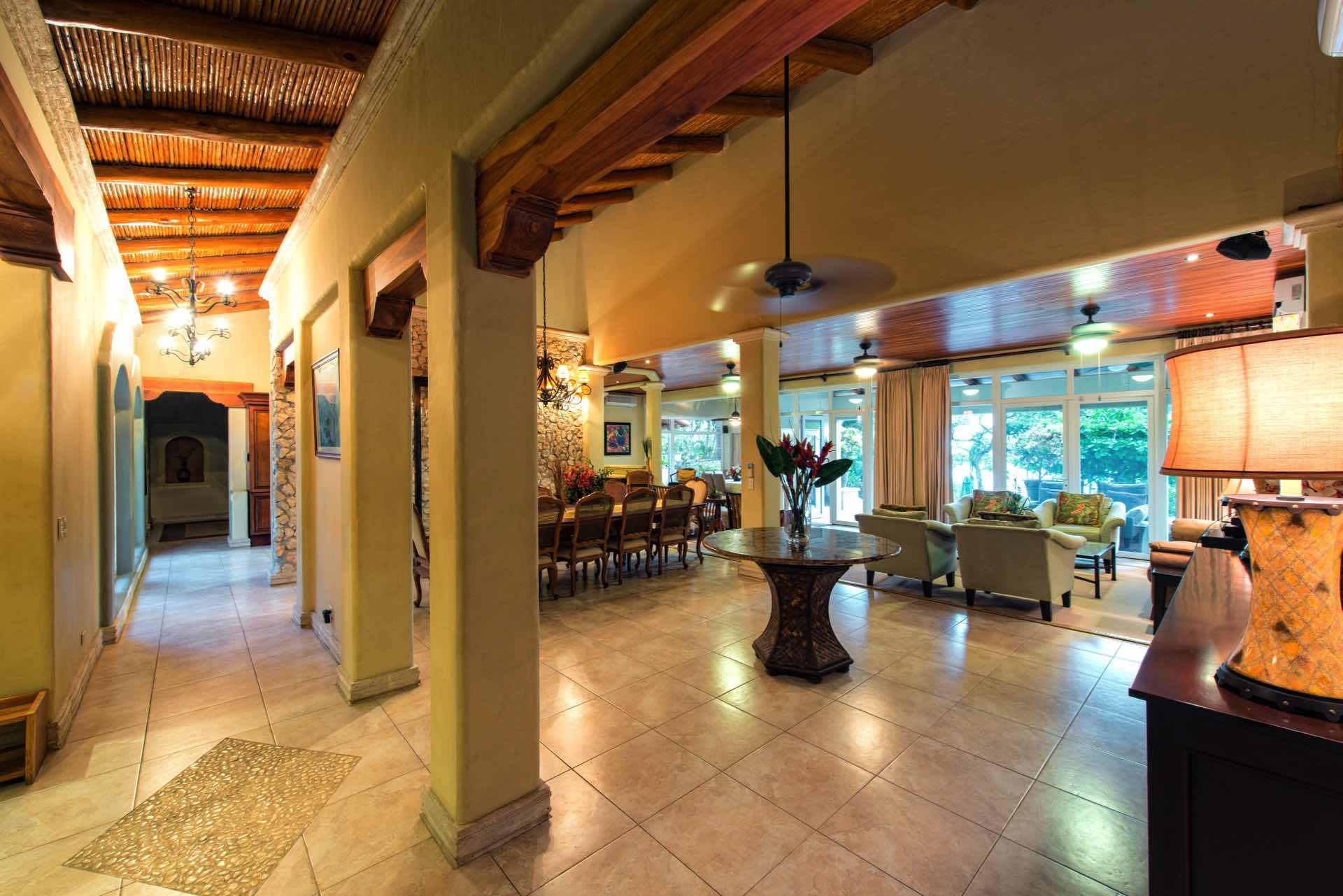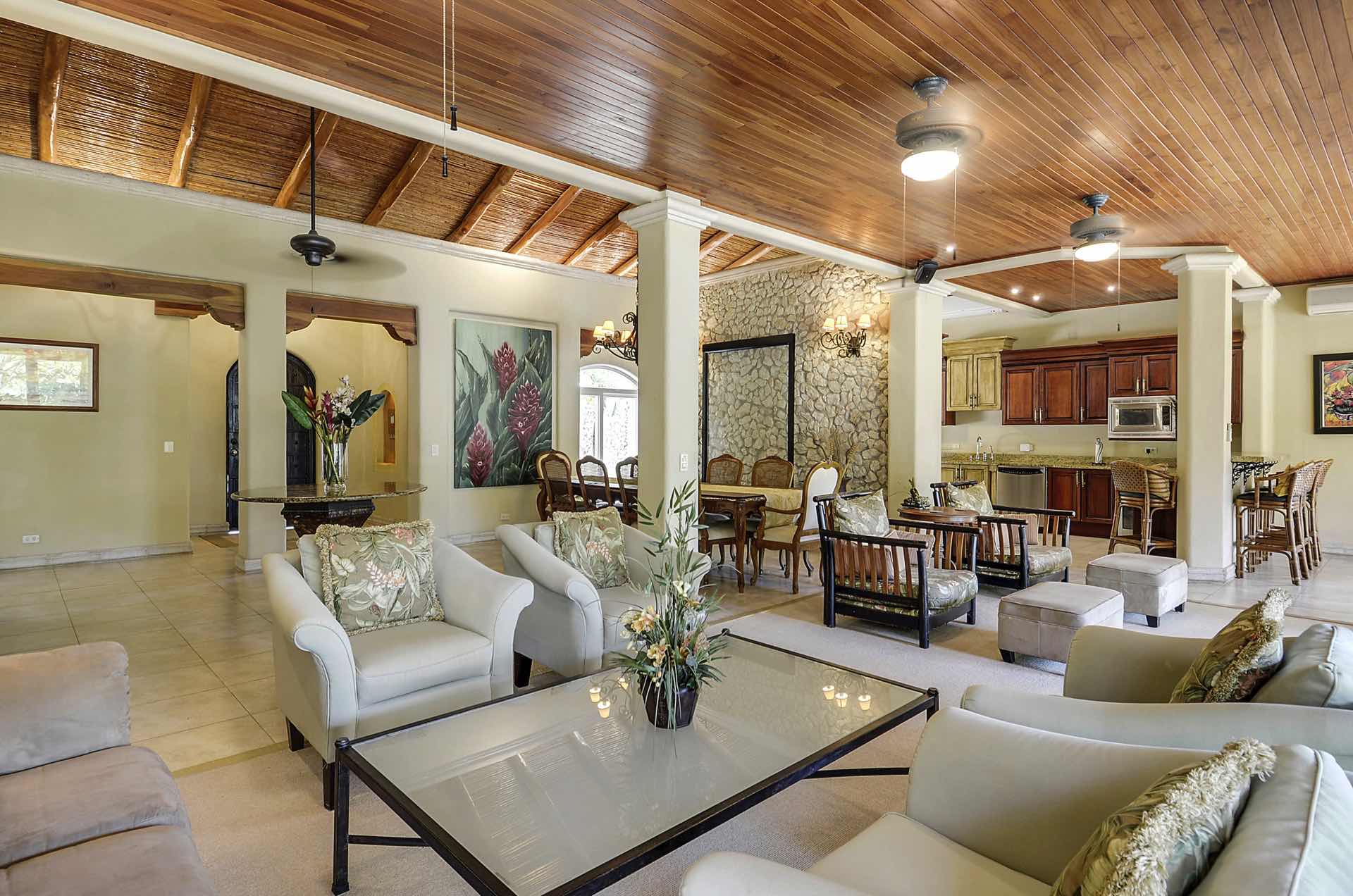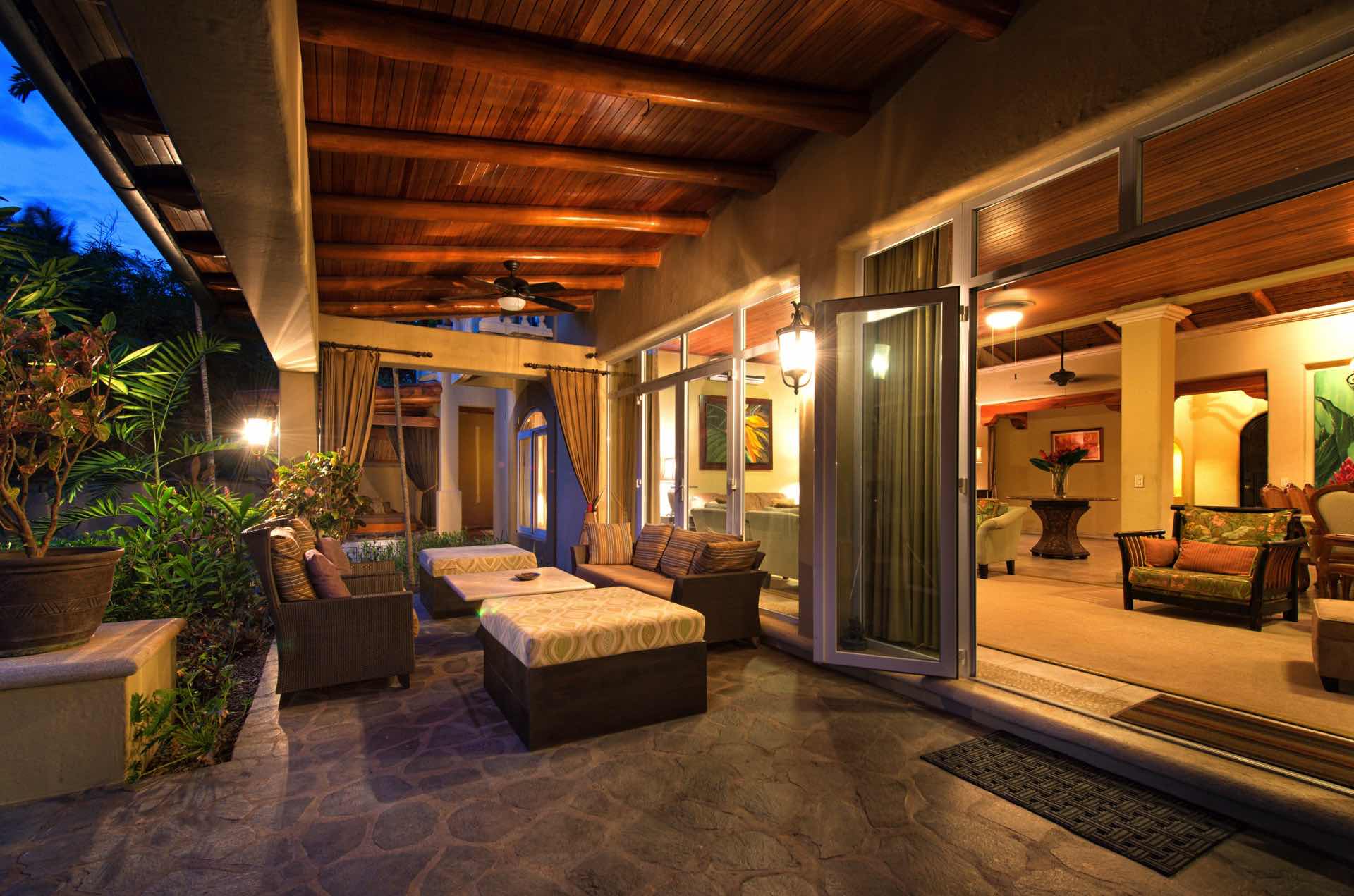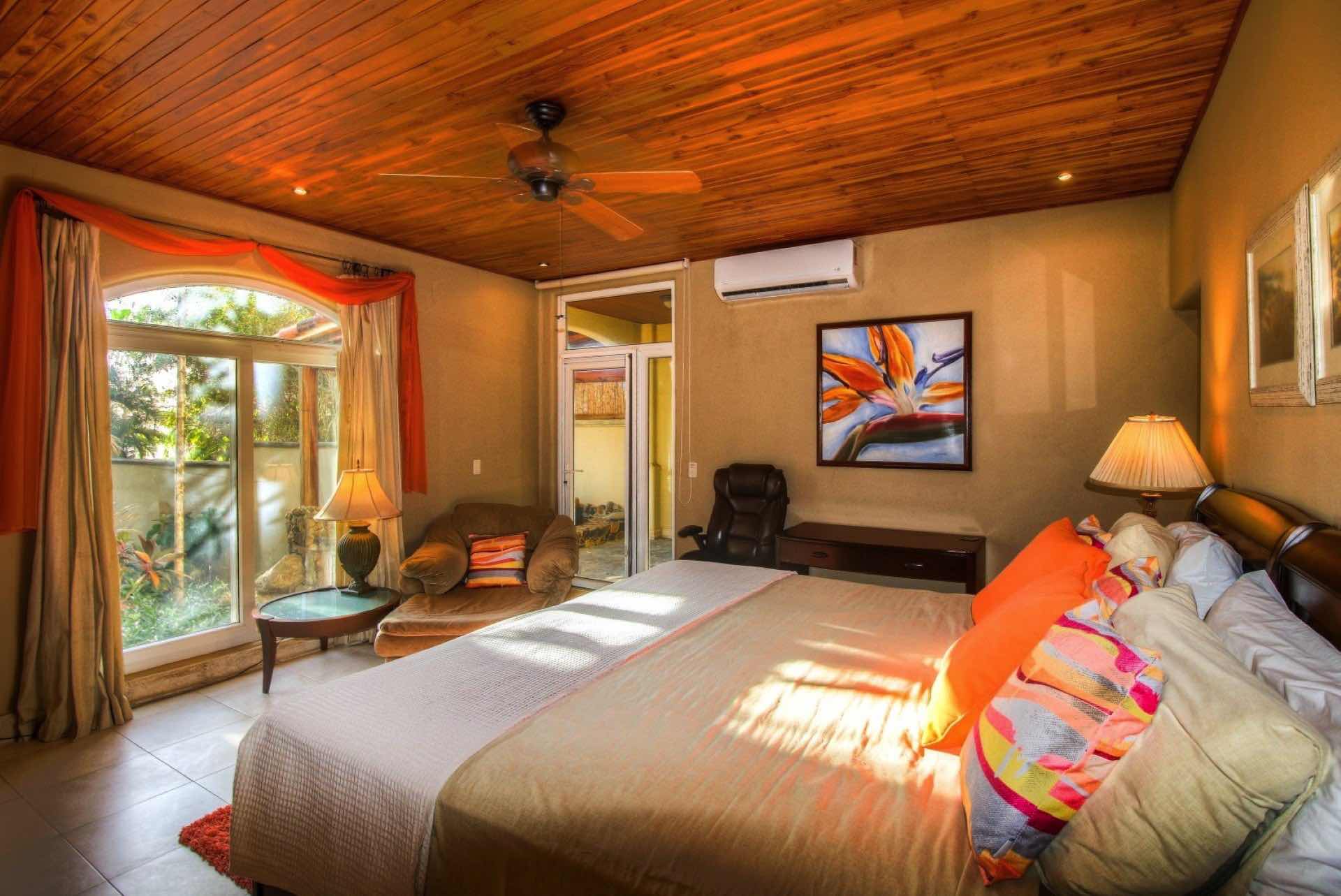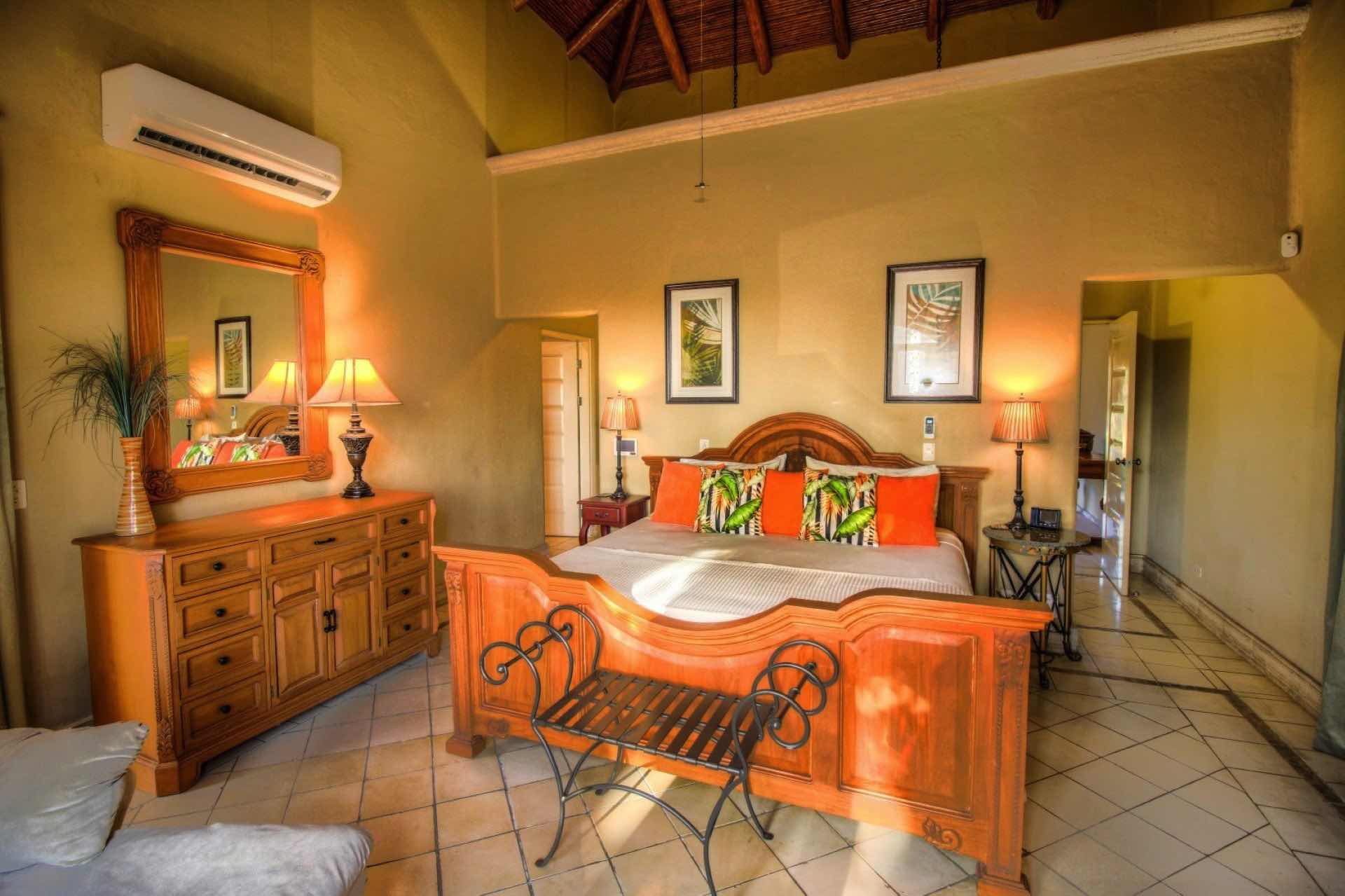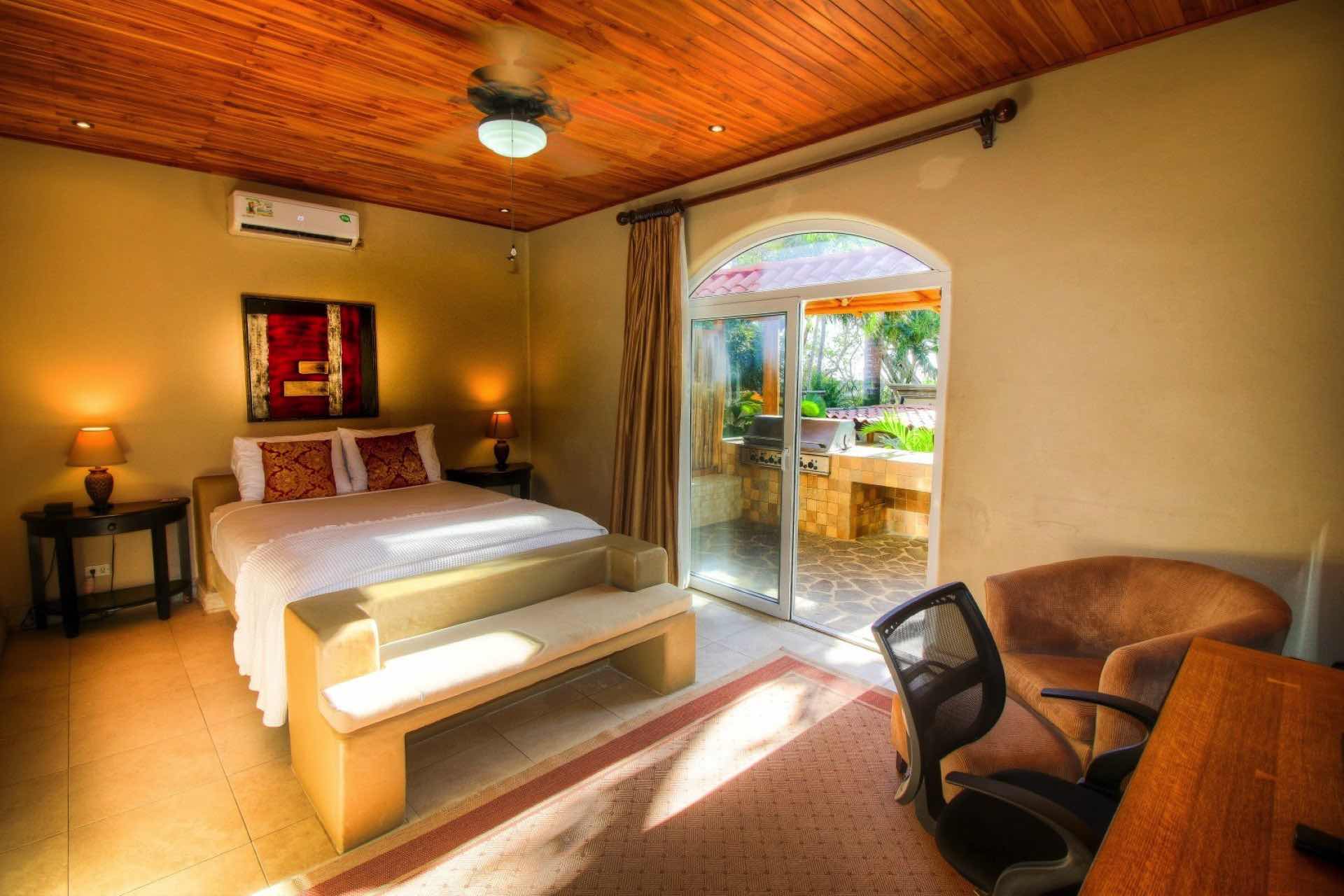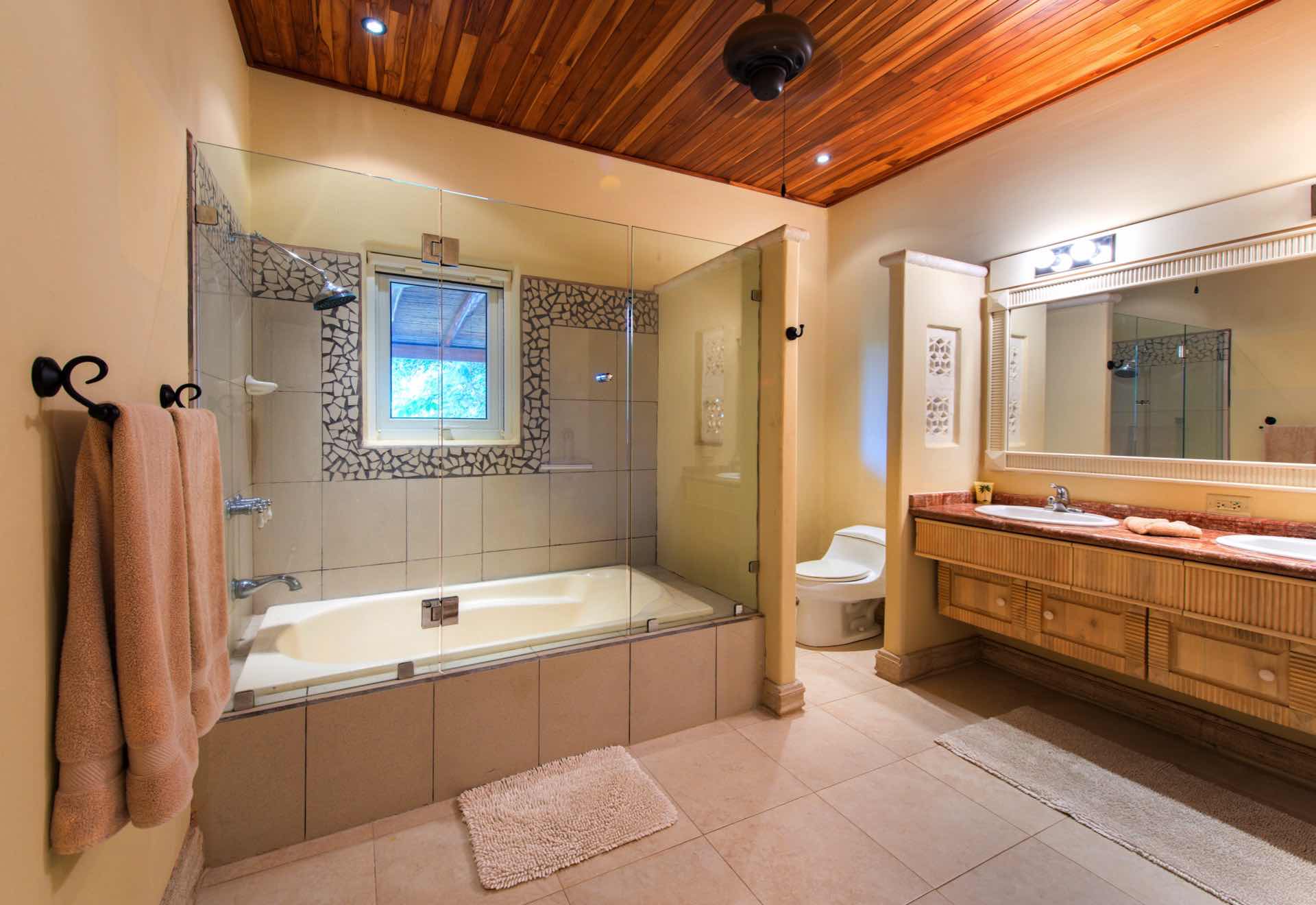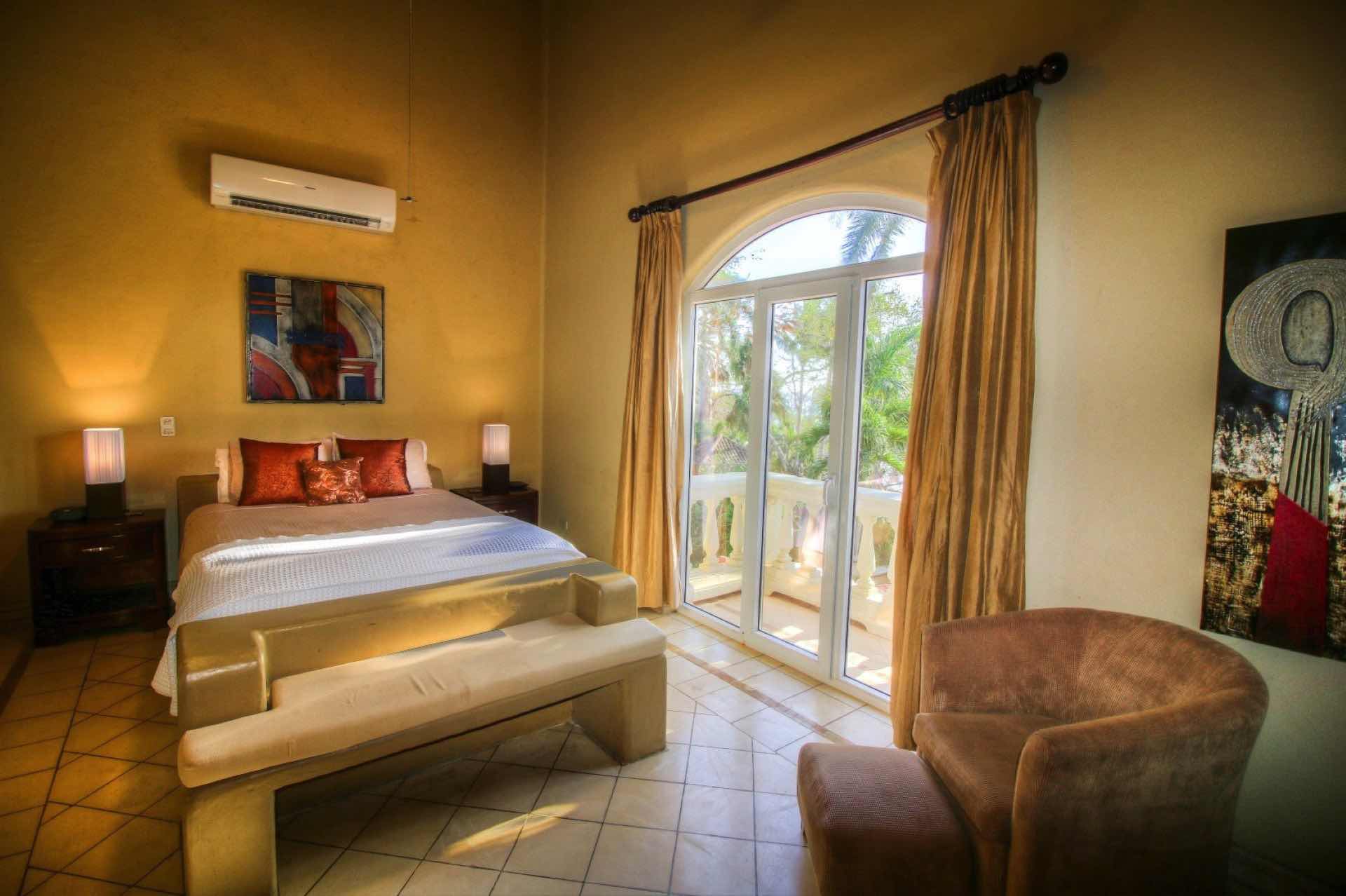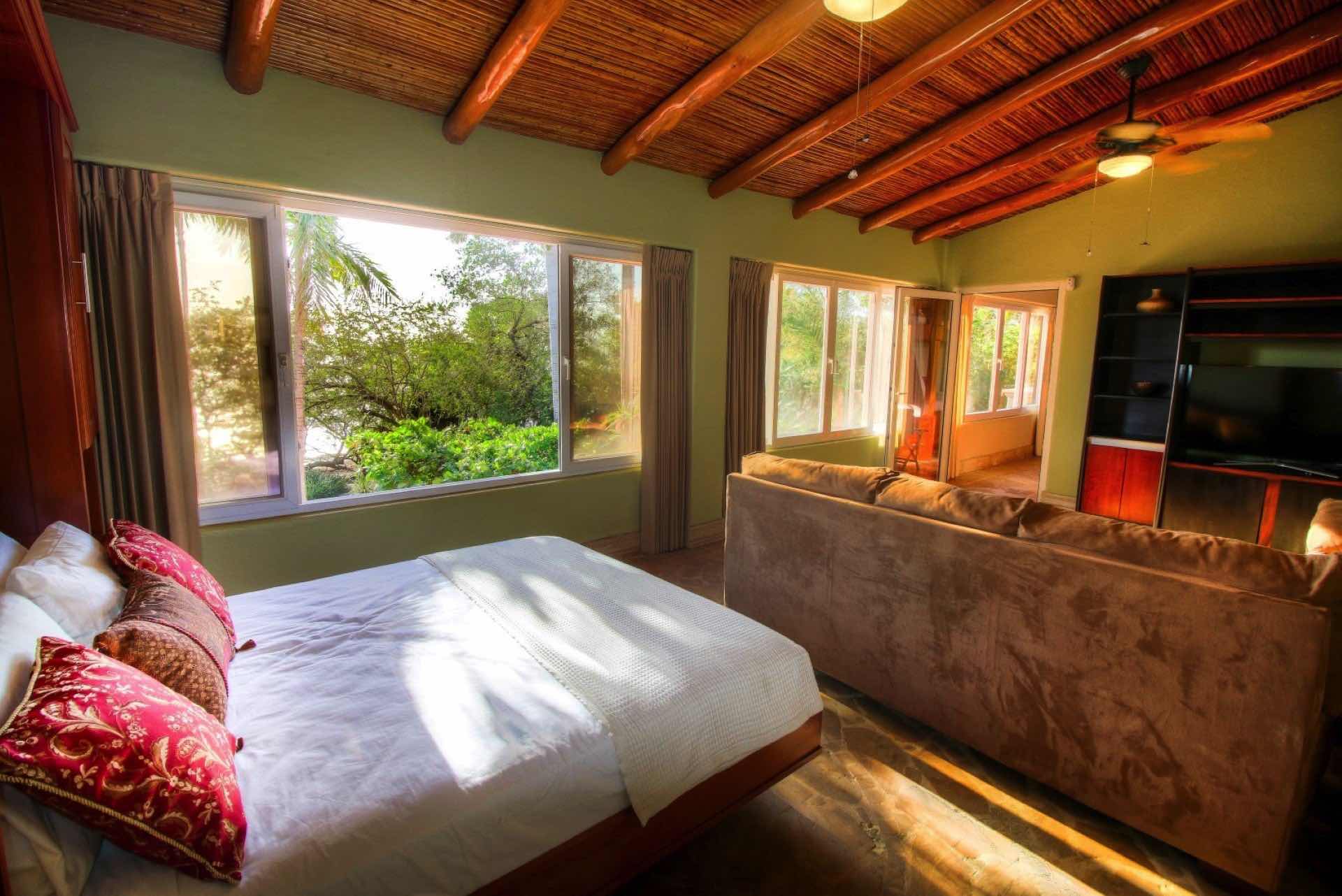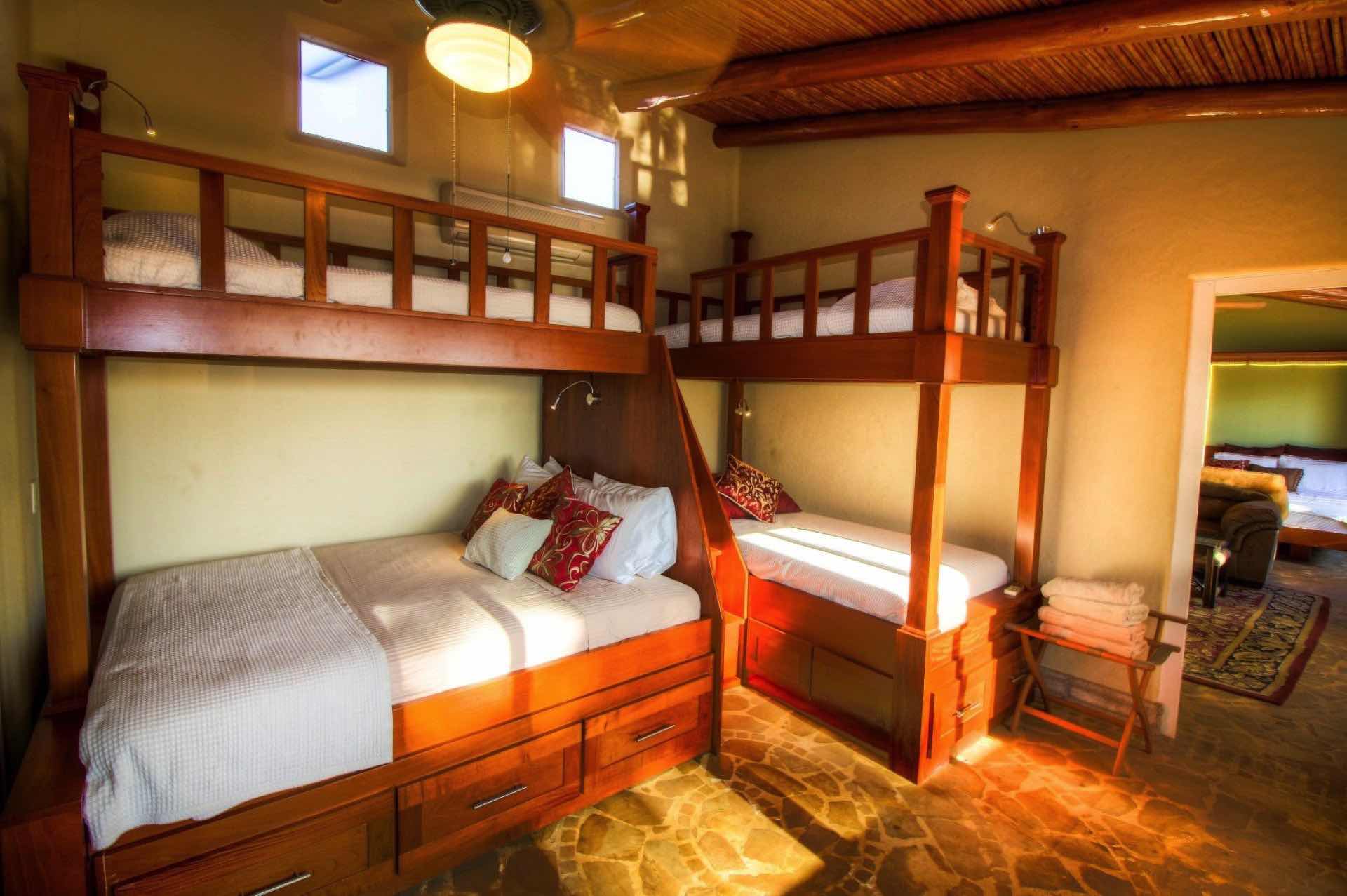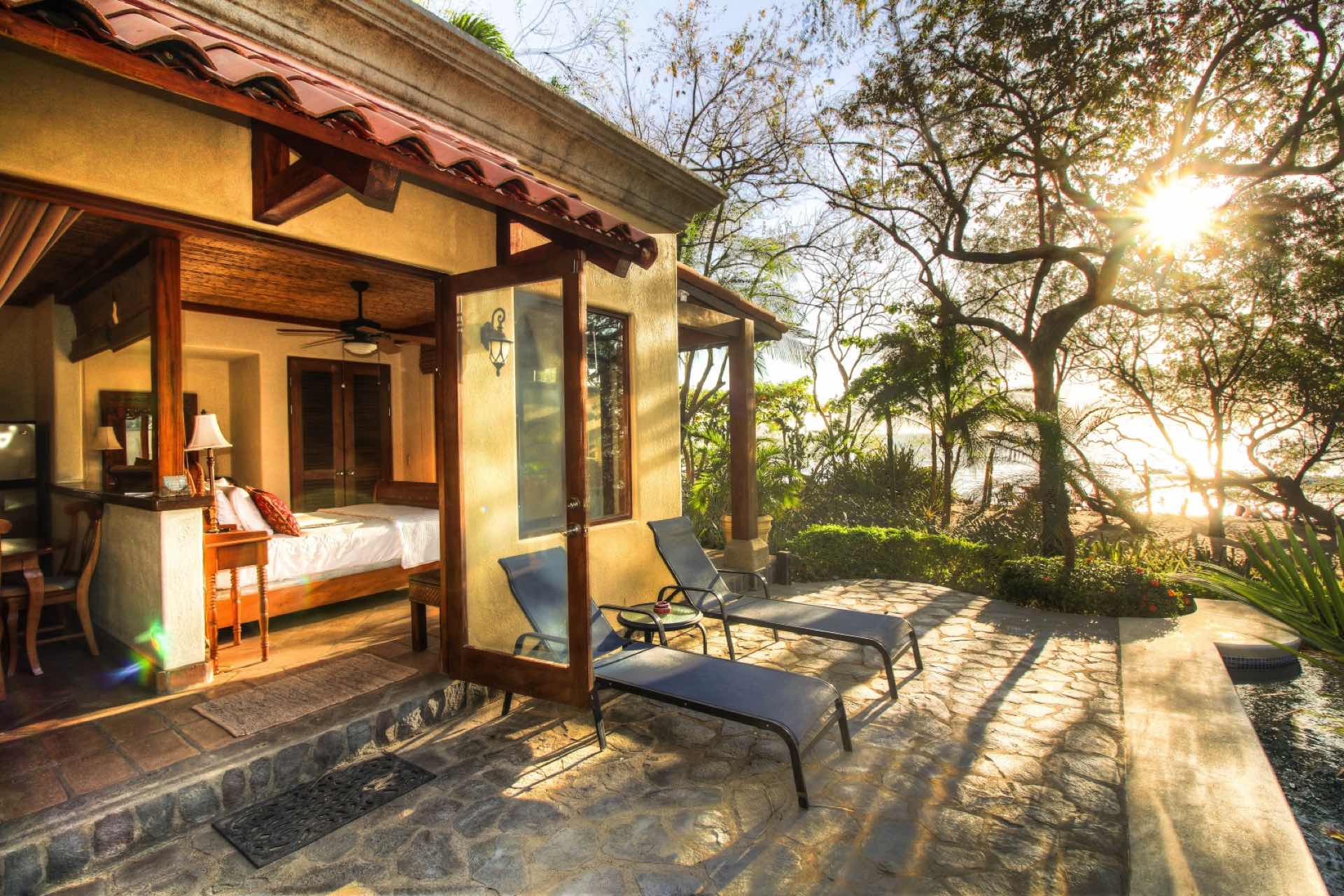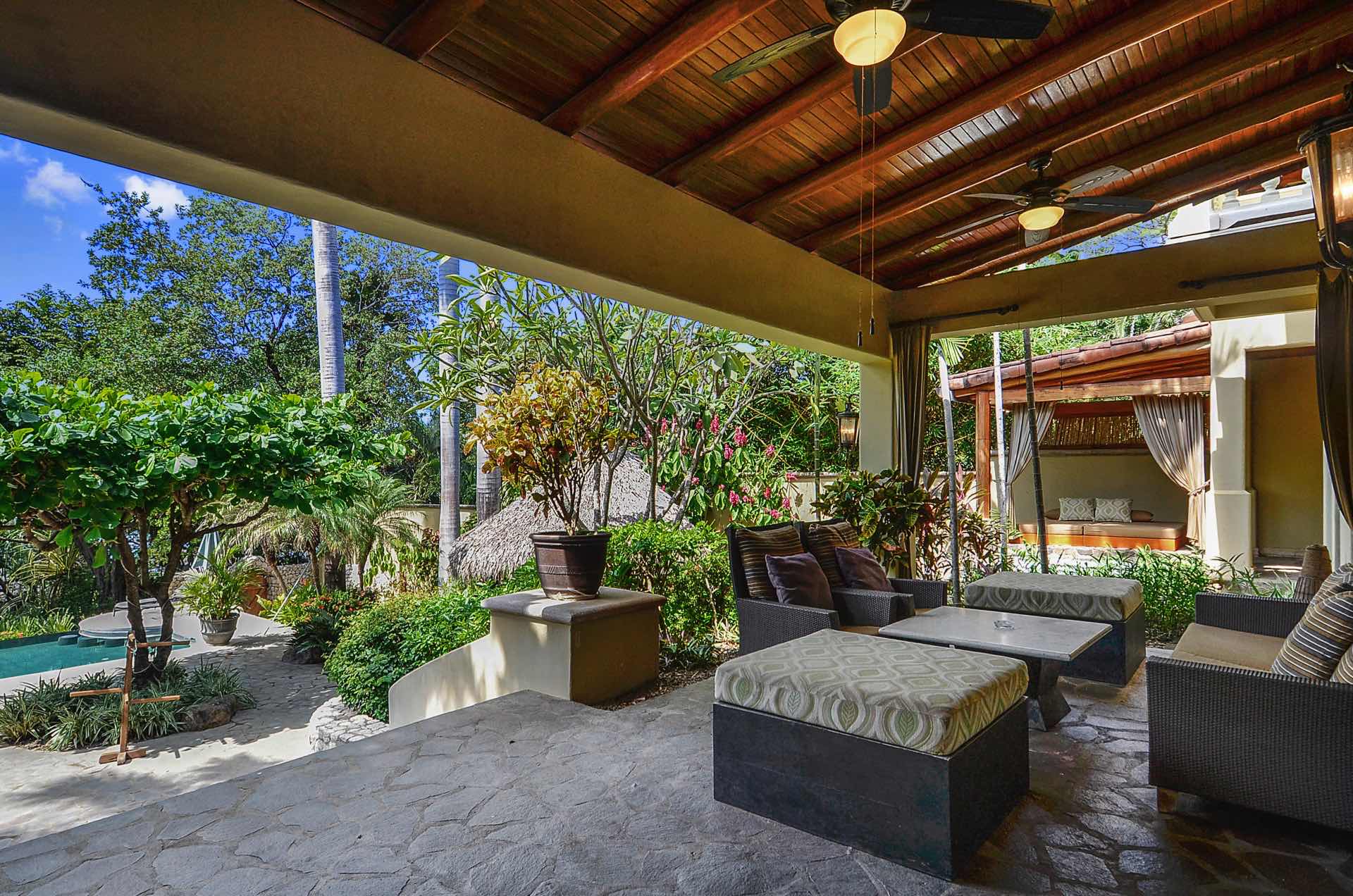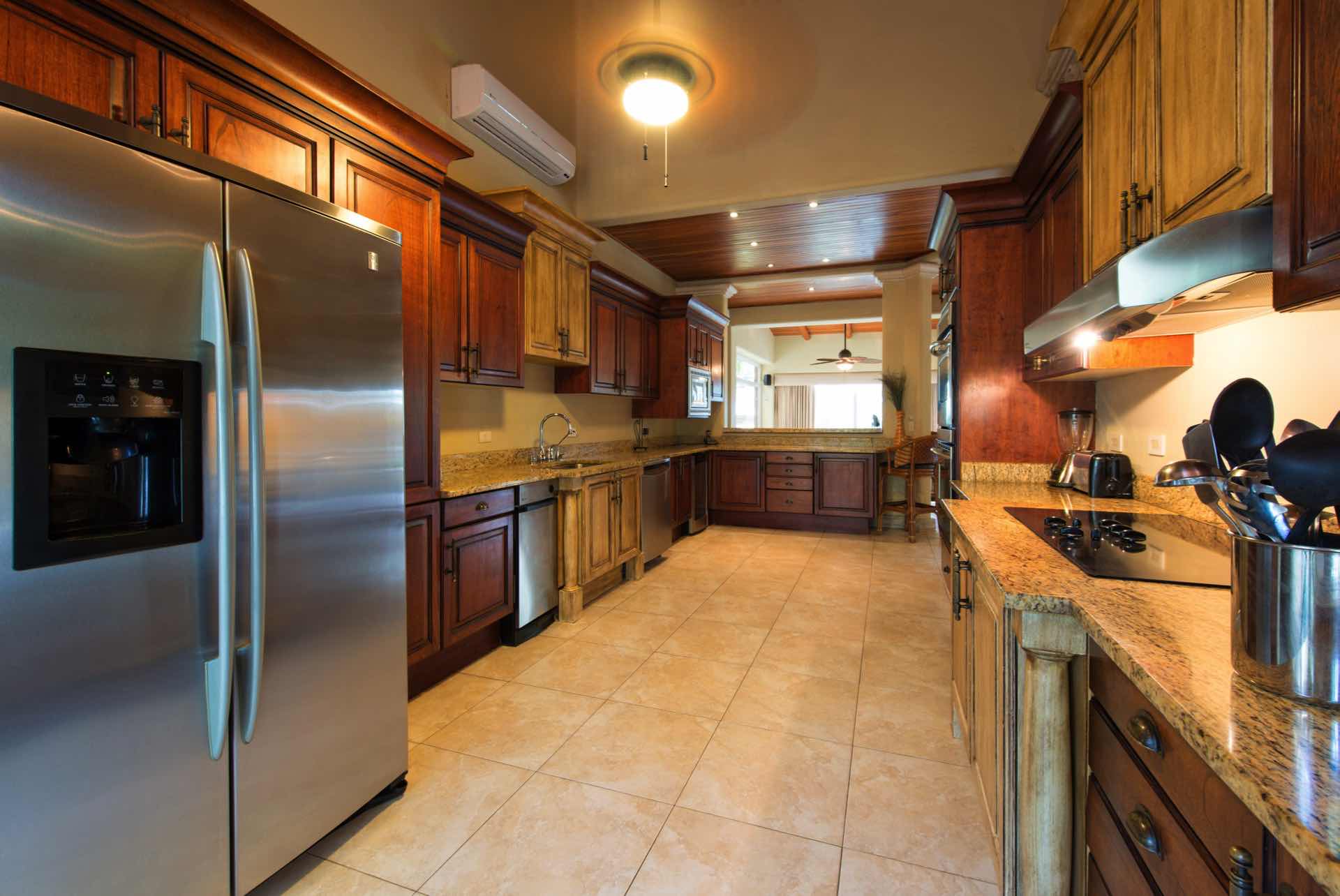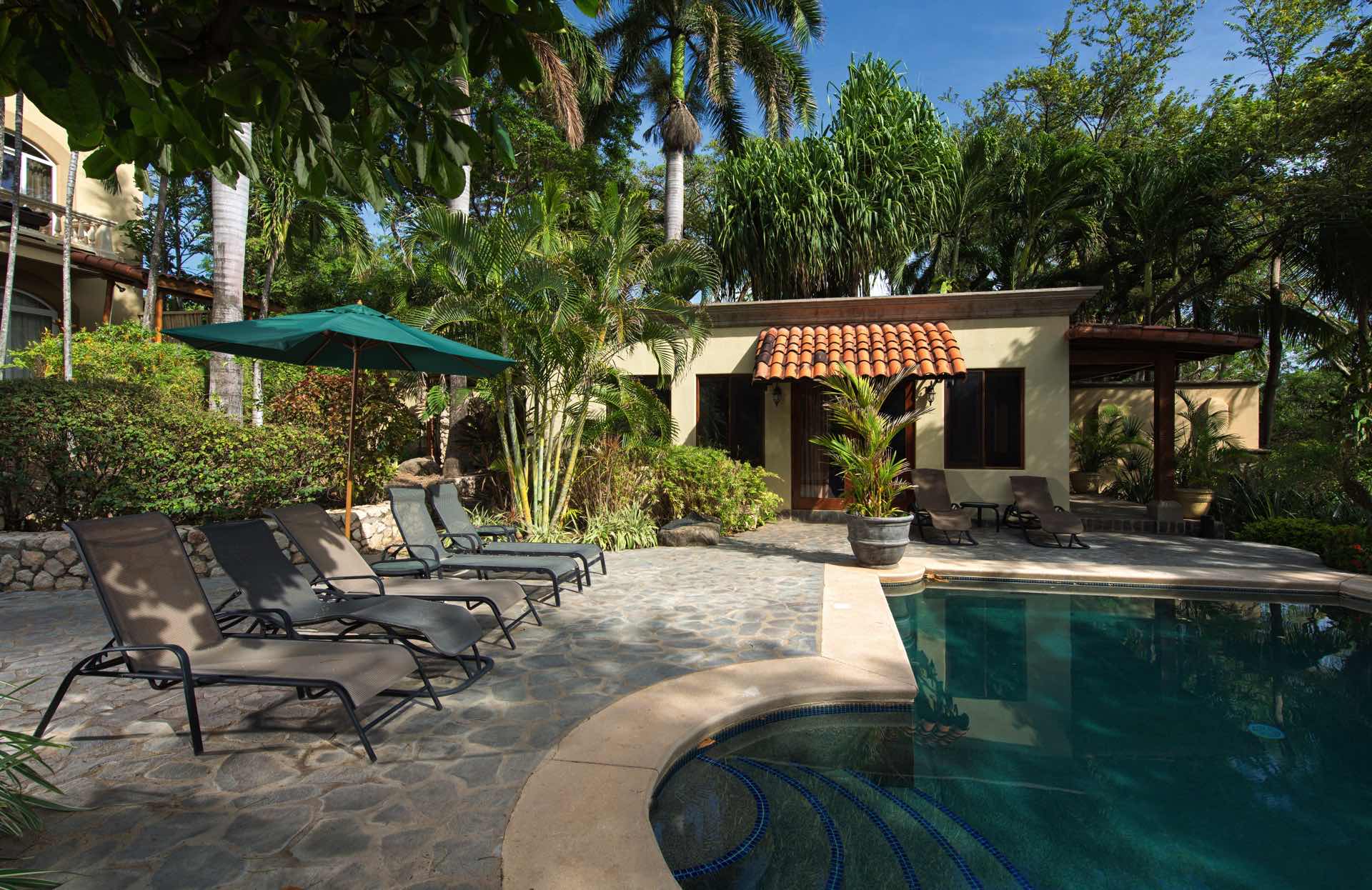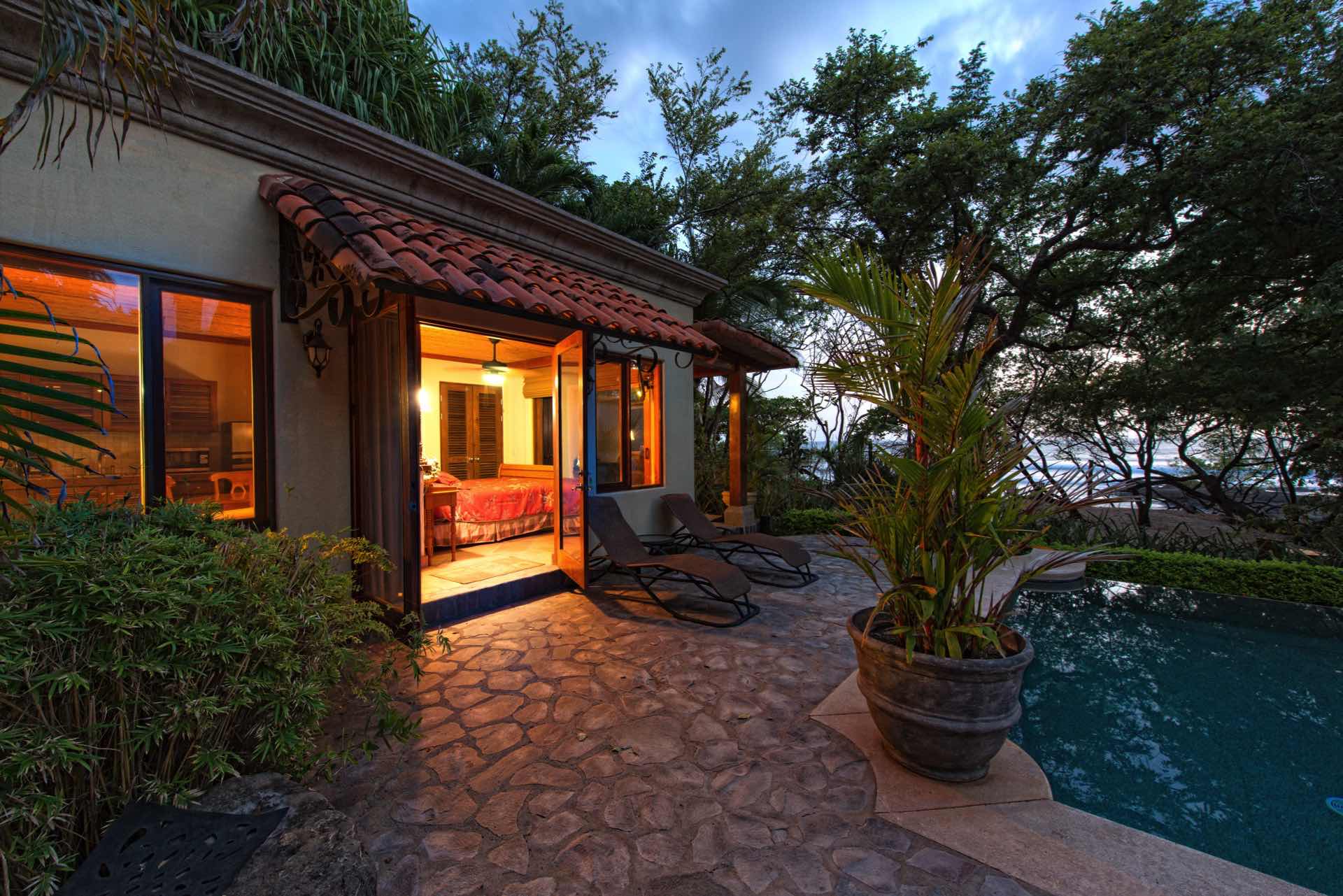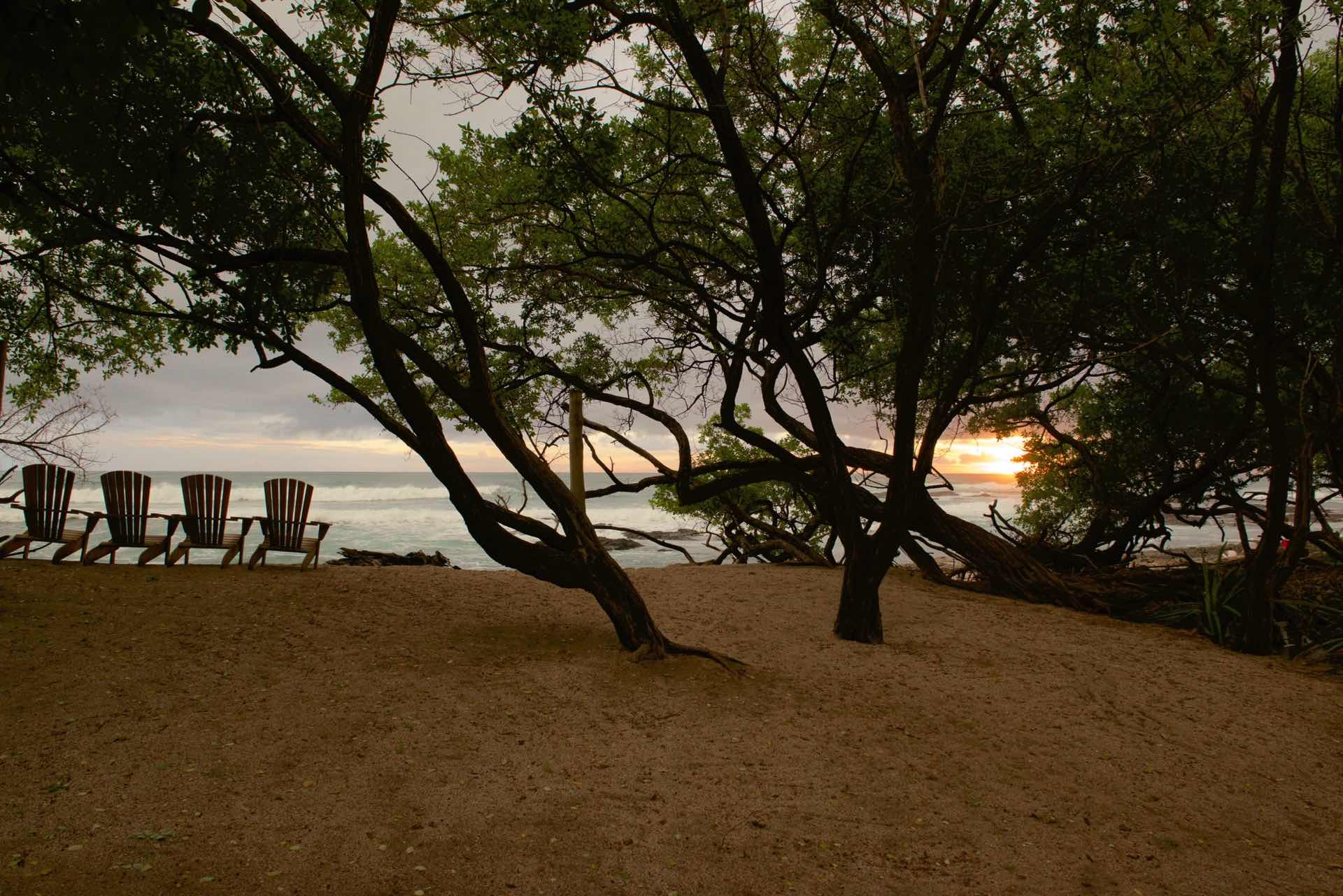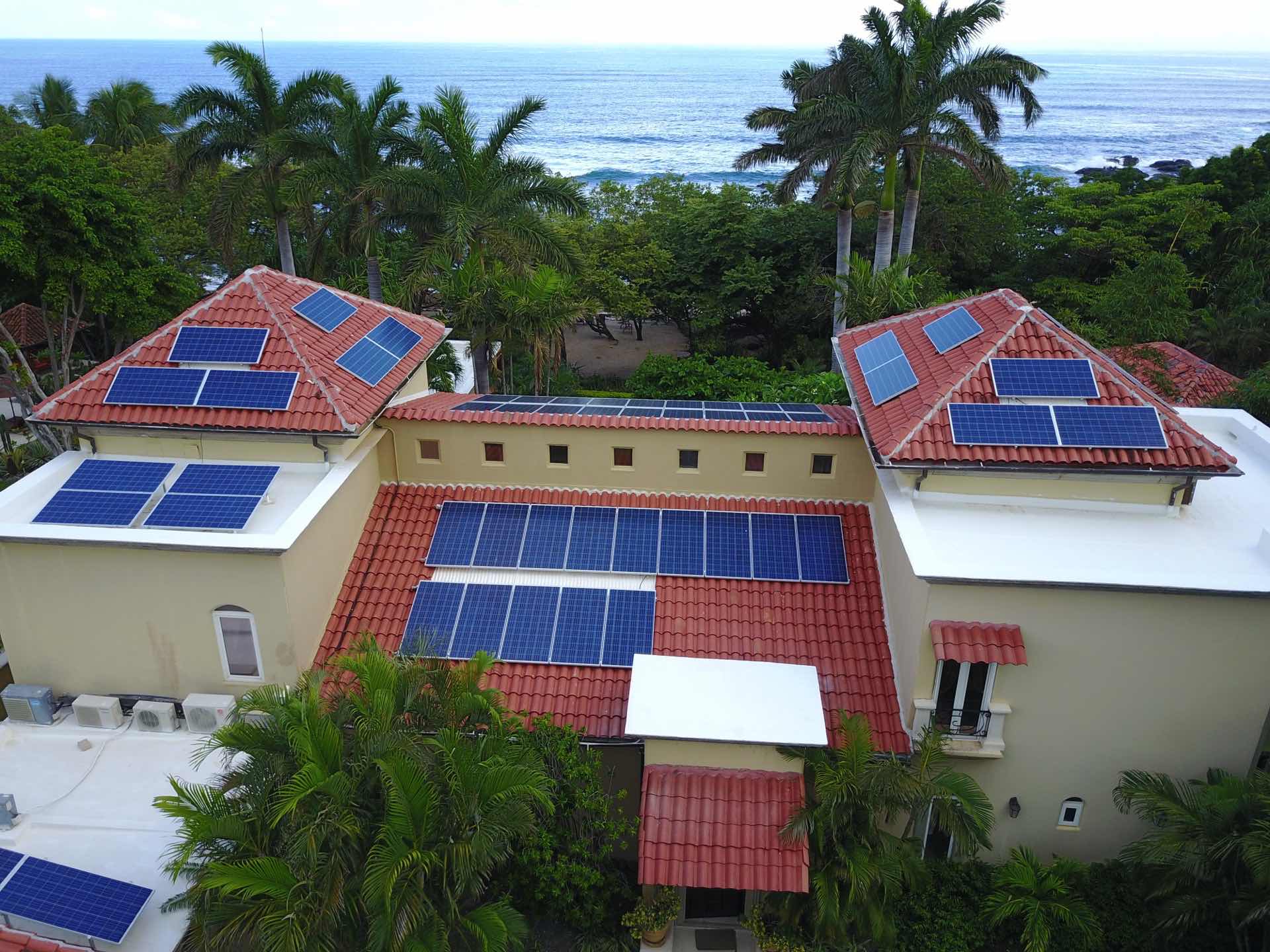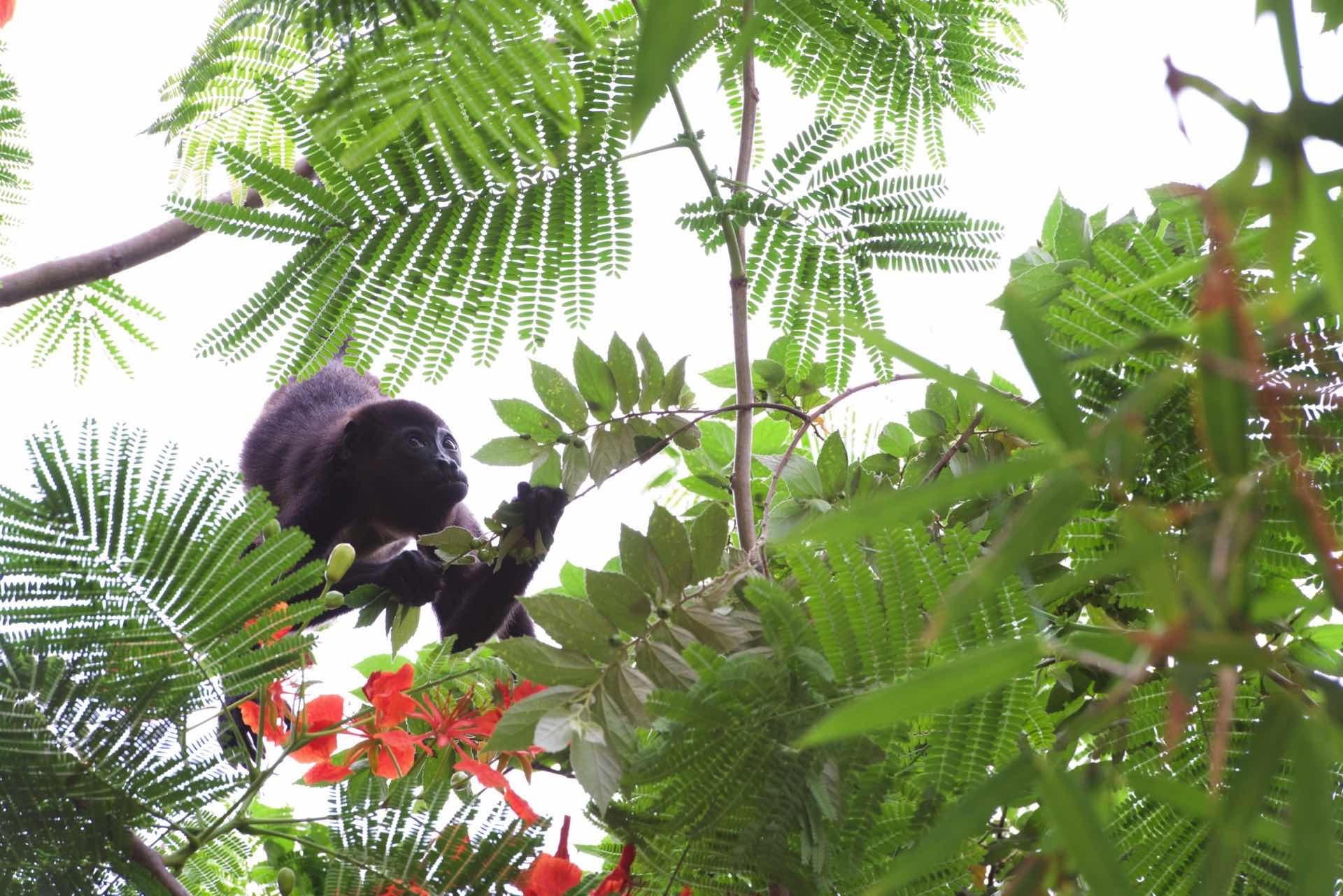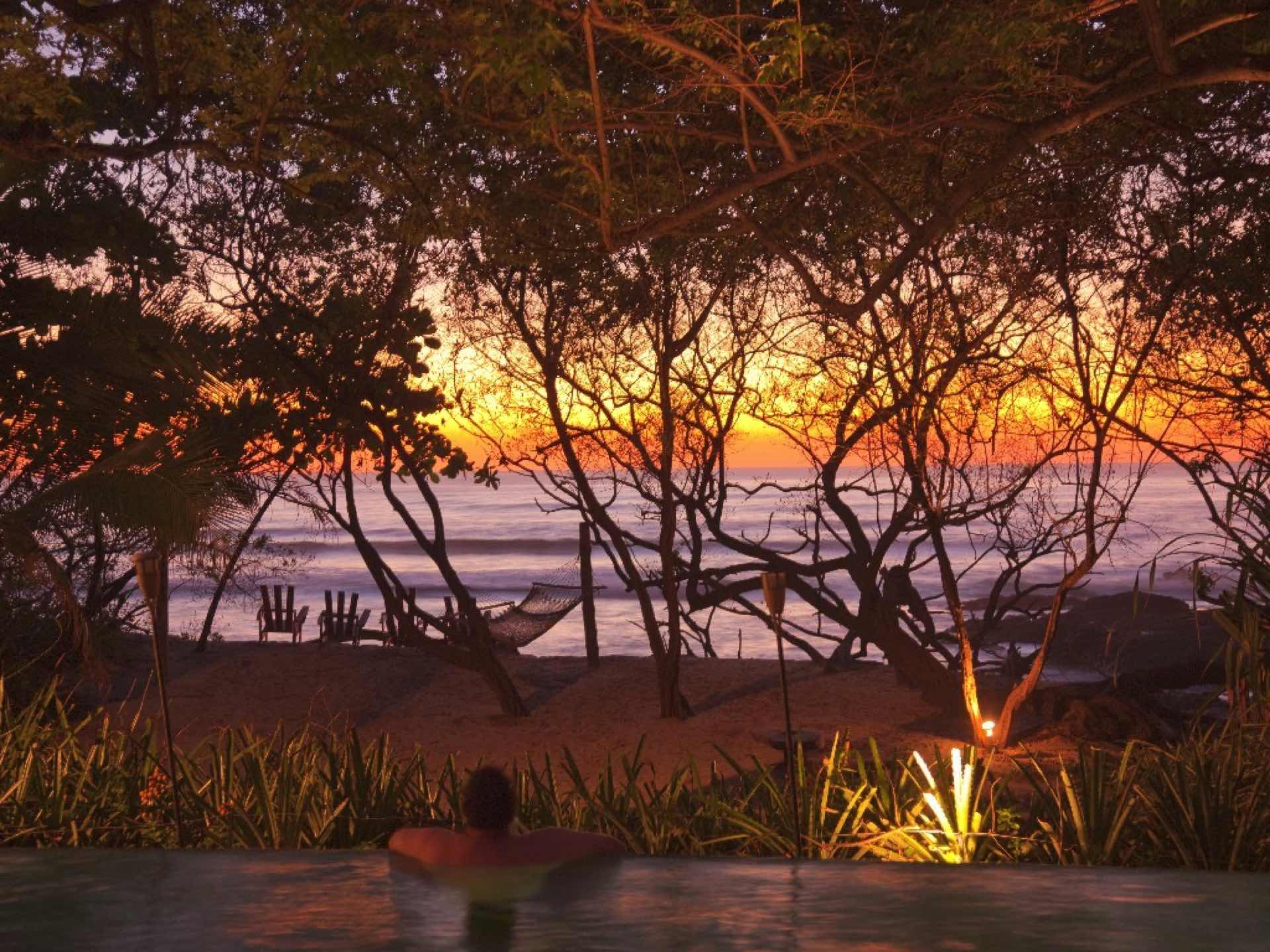 Casa de Luz is an elegant beachfront mansion located on the stretch of of Langosta Beach known as Millionaire Mile. This securely gated property consists of a main villa with two independent courtyard casitas, exuberant tropical gardens, a private pool, and unmatched proximity to the soothing sound of surf lapping onto the sand. Casa de Luz, with its full-time staff, is able to welcome groups of 20 or more guests. Ample indoor and outdoor gathering spaces make Casa de Luz an excellent choice for your group event destination.

Inside the main house, a fully equipped kitchen and laundry provide all the comforts of home. The living room, dining area, and spacious ocean-view terrace combine to allow space for even large groups to spend quality time together. Each of the two floors of the home have a bedroom with a queen-sized bed and a bedroom with a king-sized bed. A bunk room ideal for the youngest travelers and a tv/entertainment room with convertible couches provide additional sleeping accommodations on the second floor. The courtyard casita on the front side of the property offers a full bed, full bath, and miniature kitchen. The courtyard casita on the beach side of the property is equipped with a full kitchen, small sitting area, and a queen-sized bed. All of Casa de Luz's living spaces are air conditioned and are wi-fi connected. Depending on availability, the small 5-star boutique hotel next door is able to accommodate additional members of your party or participants in your event.

One of the things that makes Casa de Luz stand out among other vacation rental properties, besides its size, is its proximity to the beach. Literally steps from the beach gate, high-tide tide pools are teeming with fascinating marine life along a pristine stretch of sand. A quick walk down the beach to the south places anxious surfers in front world-class waves. Another thing that places Casa de Luz a cut above the rest is its commitment to respecting the environment. Casa de Luz is one of Tamarindo and Langosta's only solar-powered homes, gathering energy to meet its needs with brand-new panels installed on the roof. All housekeeping and hygiene products present on the property are Costa Rica's top-of-the line biodegradable options.

Casa de Luz, in addition to a full-time house keeper and grounds-keeper, offers a personal concierge who helps you get to know the property and can arrange the extras that make a vacation relaxing: a private chef, butler service, transportation, childcare, adventure and eco tours, and of course any type of even services that you may require.

SLEEPING ARRANGEMENTS (SLEEPS 23):

2ND FLOOR

- North Upstairs Master: King Bed, en-suite bathroom

- South Upstairs Master: Queen Bed, en-suite bathroom

- Transformer Room: Queen Bed, Sleeper Couch

- Bunk Room: Queen Bed, 3 Twin XL Beds, 1 Twin Trundle with easy stair access to top bunks

1ST FLOOR

- North Downstairs Master: King Bed, en-suite bathroom

- South Downstairs Master: Queen Bed, en suite bathroom

SEPARATE STRUCTURES

- Pool Casita: Queen Bed, Sleeper Couch, en-suite bathroom

- Courtyard Cabina: Full Bed, en-suite bathroom

HOME HIGHLIGHTS:

- Daily Housekeeper (excluding Sundays)

- Beachfront Home

- Perfect for Large Groups

- Events and Parties Allowed (Additional Fees)

***On-line bookings made during the year-end holiday weeks must check in and check out on one of the following sets of dates in order for the reservation to be accepted:

Dec 19 - Dec 26

Dec 22 – Dec 29

Dec 26 - Jan 2

Dec 29 - Jan 5
| | Nightly | Weekly |
| --- | --- | --- |
| April 02 - April 30, 2018 | $999 | $6,993 |
| May 01 - June 15, 2018 | $1,300 | $9,100 |
| June 16 - August 19, 2018 | $1,508 | $10,556 |
| August 20 - October 31, 2018 | $1,373 | $9,611 |
| November 01 - November 17, 2018 | $1,456 | $10,192 |
| November 18 - November 25, 2018 | - | $16,646 |
| November 26 - December 18, 2018 | $1,820 | $12,740 |
| December 19 - December 25, 2018 | - | $20,300 |
| December 26 - January 01, 2019 | - | $29,904 |
| January 02 - January 05, 2019 | $4,271 | - |
| January 06 - March 31, 2019 | $1,872 | $13,104 |
| April 01 - April 12, 2019 | $1,456 | $10,192 |
| April 13 - April 21, 2019 | $2,378 | $16,646 |
Concierge Services Available
Thank you for entering your review. The review will become available to the system shortly.
Little Slice of Heaven
Rating:
Review Date: 03/19/2018
Our group of 15 (8 adults/7teens) spent a week at Casa de Luz. What an amazing experience. Everything was seamless, from booking to airport transfers to our excursions. Aly made sure of that. The house is spacious, clean, safe and is in such a beautiful spot. I couldn't take my eyes off the view when I first arrived. The staff was awesome, even my laundry was done for me. Cook Patricia is a gem.The infinity pool was perfect, and the grounds are lush and teeming with wildlife. We enjoyed seeing howler monkeys roaming in the branches above us, iguanas and beautiful birds. The sunsets each night were spectacular on our quiet little stretch of sandy beach. We had breakfast a couple of mornings at the hotel next door. The kids were the happiest I've ever seen them. So much to do they were never bored. This vacation will be hard to beat. Till next time Casa de Luz! Pura Vida
Manager Response: 04/07/2018
Response from Stay in Tamarindo
Hi Jackie! Thank you so much for your descriptive review above, you've really conveyed how special Casa de Luz is for so many reasons: location in quiet residential area, pristine beach front, howler monkeys swinging in the trees above, housekeeper and chef to make you feel really taken care of, and the beautiful sun setting directly in front of the infinity pool each evening. It's such a wonderful place for kids, they definitely have so much outdoor exploring to do, I'm so happy you all enjoyed it so much! Until next time, Pura Vida! Aly - Concierge at Casa de Luz
Great house, great location and great for groups
Rating:
Review Date: 12/21/2017
We rented Casa de Luz for my 50th birthday party. We were originally scheduled to go to the Virgin Islands but mother nature cancelled those plans with back to back hurricanes which left us scrambling for a plan B. Everyone we dealt with from the booking representative Kate to Aly the concierge was great. They definitely turned "plan B" into "plan A+". The house is in a great location as it is far enough from the main town to afford some privacy but close enough to walk or take a cab for $5. The beach was fascinating. With the rock formations and tidal pools created at low tide, there was something new to see every day and the sunsets were gorgeous. The house itself offers privacy to everyone while at the same time providing lots of opportunity for group activities. There were six couples and we were very comfortable. The pool was a big hit with everyone and was big enough for everyone without feeling crowded. Cook Patricia was amazing. She cooked breakfast for us most days and did two of the best dinners we had. So yummy! Aly was also great in helping arrange transportation, adventure tours and dinner reservations. She also did a great job in helping set up a DJ at the house for our birthday party. What a fun and memorable evening. Overall, great experience and we can't wait to go back.
Manager Response: 01/23/2018
Response from Stay in Tamarindo
Hi Cheryl, I am so thankful we were able to turn your plan B vacation to Costa Rica into plan A+ for you (that's a great compliment). We try our best to provide the best service and accommodations, and I am glad we were able to make your birthday celebration a success and that your friends enjoyed the estate, it's spacious and luxurious grounds, and discovering a country they had not intended to originally! They looked like a fun fun bunch, and we thoroughly enjoyed having you all! Hope to welcome you all back here at Casa de Luz! Aly - Concierge at Casa de Luz
redmans vacation
Rating:
Review Date: 11/27/2017
Aly was great ... furniture was so.. so dirty stains... three outside chairs(lounges) were extremely uncomfortable...
the help was wonderful and patricia was great. terrible roads with many potholes but that probably isnt anyone can change?
Manager Response: 12/11/2017
Response from Stay in Tamarindo
Hi Joy, I'm happy your family had a great time in Costa Rica, and enjoyed a spectacular day on the water sailing, and Cook Patricia's service! I do apologize for our roads being a bit bumpy in some areas, but also worry that if they were turned into major paved roadways our small town would be much busier and not so charming. It was lovely to meet you all, and wish you a wonderful upcoming holiday season! Aly - Concierge at Casa de Luz
Paradise!
Rating:
Review Date: 10/24/2017
We loved every minute of our stay at Casa de Luz! The house was huge and amazing. I loved being right on the beach even if the beach was rocky. The sunsets were breathtaking from the pool and the beach!
Aly, the concierge, couldn't have been any more helpful. Just when we thought that Patricia had cooked the best meal ever, she would one up herself with something more amazing the next day!
We all loved having daily nice as moms to be taken care of.
We also loved being within walking distance of the town of Tamarindo. Everything was awesome and we'd love to come back with our whole family!
Manager Response: 11/10/2017
Response from Stay in Tamarindo
Dear Molly, thank you for your glowing review, cook Patricia IS a gem! I'm so happy we made you feel well taken care of at "a home away from home" during your relaxing time off. We'll show your family a good time, can't wait to greet you back here! Aly - Concierge at Casa de Luz
Fantastic Beach front villa
Rating:
Review Date: 07/20/2017
We had 7 couples in our party. We did not feel cramped at all. Aly the concierge was FANTASTIC. She arranged all of our Excursions prior to our arrival and some last minute reservation, cook, massages. She was just a phone call away. The maid/ gardener did a great job cleaning up after all.of us. You barely knew they were there. Patricia the cook makes a terrific meal we actually her cook for us 3 nights.
Would definitely recommend this Villa.
Manager Response: 08/08/2017
Response from Stay in Tamarindo
Hi Kelly, thank you so much for choosing to stay at Casa de Luz for your vacation this year! We certainly try our very best to make all our house guests feel welcomed, taken care of, comfortable, and special! So I thank you for your lovely compliments, and I'll be sure to pass them along to cook Patricia, housekeeper Zaida and groundskeeper Cesar! Pura Vida! Aly - Concierge at Casa de Luz
Amazing Getaway!!!
Rating:
Review Date: 07/15/2017
Casa de Luz was a perfect fit for our family of 23. We went in July 2017 for a family reunion and our wedding. Casa de Luz was comfortable and an AWESOME location for our wedding (in the back "yard" on the beach). It was phenomenal - the entire experience. Aly the concierge was top notch and helped fit the perfect adventures for our family - ATV, catamaran cruise, river tour, surfing. Great location > walking distance to town (12-15min) and an easy drive. We felt safe and secure and there was PLENTY to do. Mornings and evenings were wonderful and the pool was the perfect amenity. Staff clean inside and out daily. Highly recommend!!!
Manager Response: 08/08/2017
Response from Stay in Tamarindo
Dear Marlie, congratulations again on your beautiful wedding. And thank you so much for your review, I am so happy you enjoyed the excursions I recommended and that they were suitable for your group! A private Concierge can certainly facilitate things and make the planning process easier, so we are pleased to include this complementary service at Casa de Luz! Hope to welcome you back here again soon! Aly - Concierge at Casa de Luz
This is an awesome beachfront house..
Rating:
Review Date: 07/03/2017
We had a large group coming to Costa Rica for the first time - 18 in all with 2 of them babies. The layout of the house worked very well for our group, giving everyone enough privacy, bedspace and bathrooms to keep everyone happy.

The house itself is gorgeous with a very open floor plan - lots of community space for a large group. It is right on the beach and you can sit in the infinity pool and watch the sunset over the ocean! The house has an electronic front gate and a security system as well. The house also comes with a housekeeper and caretaker - both always seemed to work in the background - never in the way but their work was evident. We had lots of small geckos and crabs visiting the grounds, and Howler Monkeys were in the trees across the street every morning and evening. They make some unusual sounds that you get used to pretty quickly - they never bothered us.

Also, Stay In Tamarindo had a concierge that works with the property. Ally contacted me right after booking and she was very helpful as we completed planning for the trip. She helped with airline transfers (from Liberia), rental cars, and also help schedule a cook for us (Cook Patricia). For this many people for the week, a cook is the only way to go and Patrica was fantastic. She cooked breakfast and dinner for us everyday and every meal drew great praise.

This was a fantastic vacation home.
Manager Response: 07/12/2017
Response from Stay in Tamarindo
Hi Brooks, I'm so happy you enjoyed your time at Casa de Luz, and that it was the perfect setup for your family! We are very lucky to co-exist with such unique wildlife like the Howler monkeys in our treetops! This piece of paradise awaits your return visit! I hope to welcome you here again soon. Aly - Concierge at Casa de Luz
Amazing family stay with group
Rating:
Review Date: 04/06/2017
I came for my 40th birthday with 20 people - 11 adults and 9 kids. It was so perfect because we each had our own bedroom with full bathroom. Everything in this house is well thought out and in superb condition. We had been traveling prior and it was so refreshing and relaxing to come here and have it all taken care of. The housekeeping service daily was fantastic! We even hired a cook to come for breakfast and dinner which made it easier to relax and not worry about cooking and cleaning. The excursions booked by Aly were perfect and we ended with couples massages at the house overlooking the beach. I would love to come back one day. I cannot think of one flaw with this house and service. Oh and it's not mentioned much but the snorkeling right outside is the best in Tamarindo. When the tide is low, we went out with the kids and could touch so it made it easy to teach them how to snorkel. We saw a variety of fish, eels and octopus.
Manager Response: 04/20/2017
Response from Stay in Tamarindo
Hi Rachel, Thank you for your compliments on the house and services, we strive to keep everything in perfect condition and easy for our wonderful guests! I'm so pleased you also enjoyed the beautiful beachfront and snorkeling right outside the Estate! The volcanic rock formation is indeed perfect for it, and you even saw eels and octopus (that's awesome)!!! What a wonderful Birthday celebration trip! Hope to welcome you all back next year! Aly - Concierge at Casa de Luz
Great house
Rating:
Review Date: 03/30/2017
great house in a great location, pool is fantastic. views are incredible. Aly was great and set everything up ahead of time.
Manager Response: 04/29/2017
Response from Stay in Tamarindo
Hi Lee! With a big family and so many different arrivals, departures, and interests in various activities, it can be very helpful to have a private Concierge dedicated to Casa de Luz's guests, to organize things ahead of time so you can start relaxing immediately upon your arrival in paradise! I'm so happy you enjoyed the house and pool and view, and look forward to greeting you back here again soon! Aly - Concierge at Casa de Luz
Family Vacation with 15 people
Rating:
Review Date: 01/18/2017
My wife and I took her entire family to Tamarindo over New Years. The house was great and plenty of room. It is not on a sandy beach but rather volcanic rock. There are many tide pools during low tide to explore and the kids loved it. The staff at the house was exceptional. we hired in Patricia to cook 2 breakfast's and dinners and all were excellent! Aly was a great help setting everything up from Patricia to excursions and everything in between. we had 15 people and were comfortable. It states it can sleep 23 but that would be tight. For a large group I would recommend this property.
Manager Response: 01/24/2017
Response from Stay in Tamarindo
Hi Terry, The tide pools are gorgeous at sunset with the light reflecting off of them; Playa Langosta is such a special place! The staff do their best to make your stay very comfortable and it was an absolute pleasure to assist you with your trip planning! Hope to see you again in Costa Rica soon! Aly - Concierge at Casa de Luz
Great Golf Trip...
Rating:
Review Date: 10/04/2016
Dear all,

I wanted to take a few minutes to write to you about how great our trip was. All together we had a great experience and felt like we were VIP´s in every aspect of our stay. Diego and Patricia are a great couple full of desire to work. They pampered us to the max, cooked 2 incredible meals and even went to the store for some supplies. At the end of the second night we called them and applauded them for their attentions and gave them a $200 tip. They are a super added value to the experience. Both masseuses were also great. We had in the end 6 massages and the setting was incredible next to the pool with the sounds of the Ocean in the background. Zaida was also great. Some of the guys left their used clothes on their bed and when they came back they were washed and folded. We didn't expect that level. We gave Zaida $100, please let me know if this was ok or if more is required as I forgot if there was an extra charge for that service. Edwin was great on our transfers to 4 seasons and was very informative. The house itself was very convenient and private and the property management app was impressive. We had a great time.

Thank you again Erin for all your efforts in finding the perfect house for our golf group and Aly and Gilda for all the logistics and services. We definitely will repeat very soon...

Thanks to all. You have a well oiled team...

Best regards

Manager Response: 10/05/2016
Response from Stay in Tamarindo
Hi Fernando, It was a our pleasure assisting with the organization of this vacation. I'm so happy to hear how much you enjoyed the staff and services provided, and am thrilled that Casa de Luz was perfectly suited for your golf group (with a choice of 2 great courses in such close proximity)! We look forward to welcoming you back for another round very soon! Saludos Aly - Concierge at Casa de Luz
Best Family Vacation Ever!
Rating:
Review Date: 08/29/2016
I have arranged many family vacations over the years, but this was by far the best. The property was so beautiful--the pictures are accurate. The weather, even though it was supposed to be the rainy season--was perfect. Our concierge, Aly, was so accommodating and professional. Her advice for excursions, spa treatments, etc was so helpful. The people that cleaned the house and the pool area every day were fantastic--you didn't even know they were in the house. And we never did figure out how she knew what clothes went in what room--but she did overtime. Patricia, her husband and son fixed some fantastic dinners for us and were so pleasant. All in all, I couldn't find one possible complaint. Can't wait to go back!

Manager Response: 08/30/2016
Response from Stay in Tamarindo
Hi Kathy, I am thrilled you enjoyed the unique mountain spa experience as much as I do! Housekeeper Zaida is a gem and goes out of her way to make guests feel so at home, as does cook Patricia with her delicious dishes prepared with love! Thank you for your lovely comments I'll be sure to pass them along! Until next time, take good care! Aly
Great but some issues we needed to know before hand
Rating:
Review Date: 07/20/2016
We had to wait 30 minutes for Aly to arrive and let us in to the property and her excuse was very poor. The property does not have any railings for any of the stairs, lots, and showers not handicap equipped!
Manager Response: 07/21/2016
Response from Stay in Tamarindo
Hi Don, it was wonderful to meet you and your family, and it was lovely to hear that they all voted on Costa Rica as their dream destination for this trip! Of course, if you had let us plan your trip arrangements; ground transportation etc, everything would have been seamless; we would have known exactly what time you were scheduled to arrive at the home, and not kept you waiting at all (the car rental car quotes would also have been accurate, unlike what you experienced booking with another agency). I was thrilled to hear that the White Water Rafting and Ziplining were a huge success with all 4 generations of your group, and I commend you for taking on such organization of a big trip for your entire family! I look forward to welcoming you back here one day (as I know no one wanted to leave :) Take good care, and I look forward to seeing you next time! Pura Vida! Aly
Amazing Experience
Rating:
Review Date: 07/08/2016
This was, without a doubt, one of the best vacation experiences we have ever had. From the very beginning Aly, the house concierge, was amazing and extremely helpful. She was always available and helped with everything that we needed from dinner recommendations to arranging for zip lining, fishing, etc. She certainly knows her way around Tamarindo!
I have to say that the description of the house does not make it justice. It is so much more amazing than we were expecting! We had a group of 19 and never felt cramped. The location, decor, amenities , etc were all top notch. Cesar and Zaida, the house staff, were there every day to keep the place spotless and to help with anything we needed. Truly amazing people.
The only problem is that we didn't want to leave!! We will definitely find our way back there in the future.
Manager Response: 07/12/2016
Response from Stay in Tamarindo
Dear Guillermo, the staff and I try to provide guests the ultimate vacation experience and service, I'm so happy you enjoyed it, and that the house was a perfect fit for your lovely family! I look forward to seeing you back here year after year! :) Pura Vida! Aly - Concierge at Casa de Luz
Wonderful Beachfront Home - great for kids!
Rating:
Review Date: 05/04/2016
We celebrated a bunch of 40 year old birthdays by renting this beautiful oceanfront home for five families. The home was wonderfully spacious, the pool was amazing and the rocky oceanfront provided hours of tide-pool viewing and snorkeling fun. We had a group of 10 adults and 10 kids, 4 of which were under 1 year old. The house worked perfectly for us. The bigger kids all enjoyed sleeping in the bunk room (which sleeps 6 kids comfortably). Aly, the house manager, was quick to respond to our questions and needs. She even lent us her DVD player as the one at the house was being replaced. The short drive to town was convenient for when we wanted to go get ice cream and swim at beautiful sandy beach. The walk to the sandy beach was about 20 min but was a very easy walk along the ocean. I highly recommend Casa de Luz. Thank you for a wonderful stay!
Manager Response: 05/13/2016
Response from Stay in Tamarindo
Thank you Jessica! We're very happy to know you had a great stay and will make sure to pass on your kind comments to Aly the concierge!! Hope to have you and your family again staying with us again! Kind regards -Gilda Hi Jessica! It was so great to meet you, and thank you for your wonderful review. I'm happy all the families enjoyed their stays at Casa de Luz! The home's beachfront is indeed so much fun for snorkeling (and fishing off the rocks too)!! It was my absolute pleasure to host you, and I hope you return to visit us in Costa Rica again soon! Aly Concierge at Casa de Luz
Outstanding stay at Casa De Luz!
Rating:
Review Date: 05/01/2016
From the moment my group and I decided to stay in Tamarindo, we knew we would need to find a great company and property to help make this the trip of a lifetime. Lucky for us, we found the group at Stay in Tamarindo and they led us directly to Casa De Luz. This was the best property we could have hoped for, and the staff was top notch. Alison made all of the logistical coordination extremely easy - all even do before the trip! I could not have envisioned a better trip, company and home... Thank you team!
Manager Response: 05/13/2016
Response from Stay in Tamarindo
Chris we're so happy to know you had an amazing experience at Casa de Luz! We'll make sure to pass on your kind comments to Aly! Hope to have you guys back soon!! Pura vida! -Gilda Dear Chris, I'm happy you enjoyed your stay and that the house was so suitable for you and your friends! It was a pleasure to be of service to help plan this special trip! We look forward to your next visit! Aly, Concierge at Casa de Luz
Great times at Casa de Luz
Rating:
Review Date: 04/11/2016
Simply put, Casa de Luz exceeded expectations. Great house, great location and a great concierge. Looking forward to staying here again.
Manager Response: 05/10/2016
Response from Stay in Tamarindo
Thank you Chris! We would love to help you plan for another amazing stay! Thank you again for staying with us! Pura vida! -Gilda
Fantastic Spot
Rating:
Review Date: 01/20/2016
Great house, done very nicely (not like some of the other cheap builds are common in the area). Great location! Would definitely come back
An unreal week in Tamarindo
Rating:
Review Date: 06/08/2015
Our week at Casa De Luz could not have been better. We had two families and 6 kids ages 6-11. There was more than enough to to do. The concierge Aly made everything easy and teed us up first class. Surfing was awesome. Zip lining was unreal. Palo Verde river was OK. Food and hospitality were abundant. This is a must visit.
Your request has been sent. We look forward to meeting all your vacation needs!
Optional Guest Protect Plan travel insurance
The Guest Protect Plan from CSA Travel Protection Includes:
✓
Valuable benefits before, during and after your vacation
✓
Reimbursement of non-refundable trip costs if you must cancel your trip or cut it short due to covered sickness, injury or other events
✓
150% of trip cost coverage for covered trip interruptions
✓
24/7/365 emergency assistance hotline, plus access to a network of physicians
View complete plan details
Yes! I want the CSA Travel Protection Guest Protect Plan
No, I don't want this insurance and understand that I may be responsible for cancellation penalties in accordance with the Terms and Conditions, up to 100% of the rental costs.