Villa Atardecer | Costa Rica House Rental
Tamarindo Vacation Rental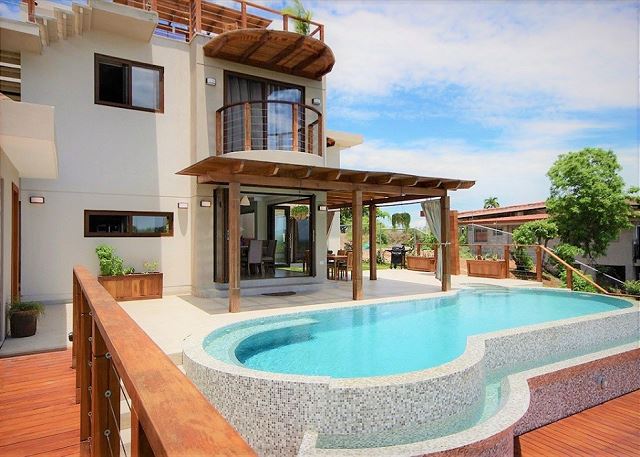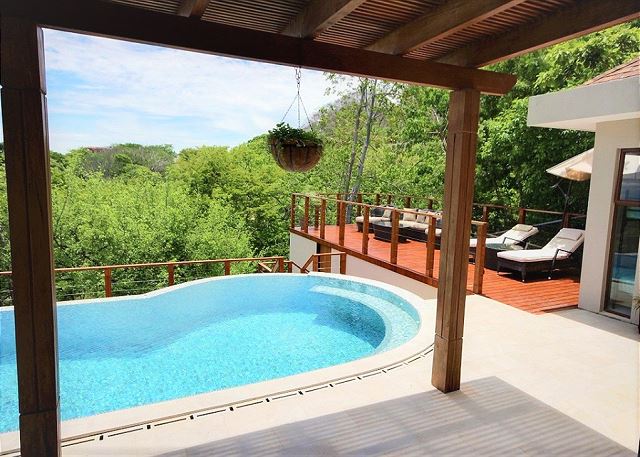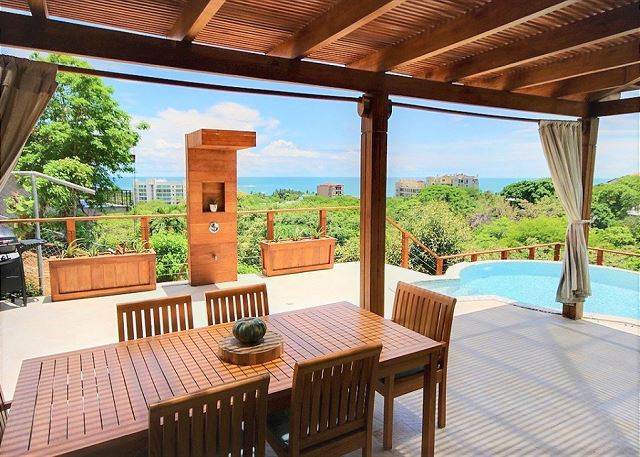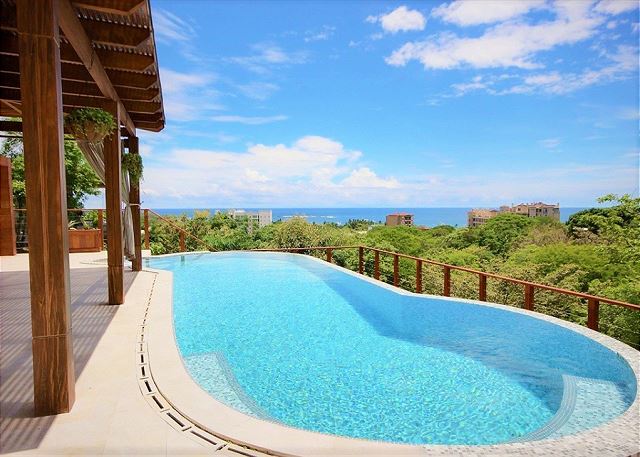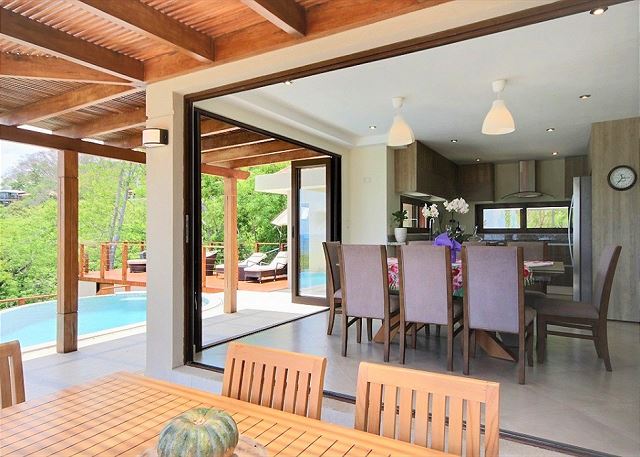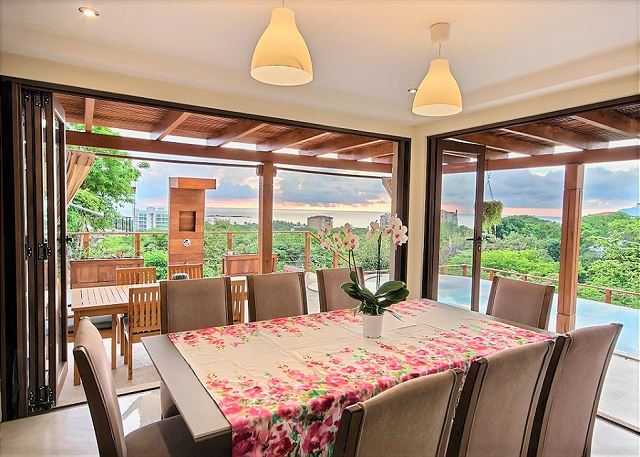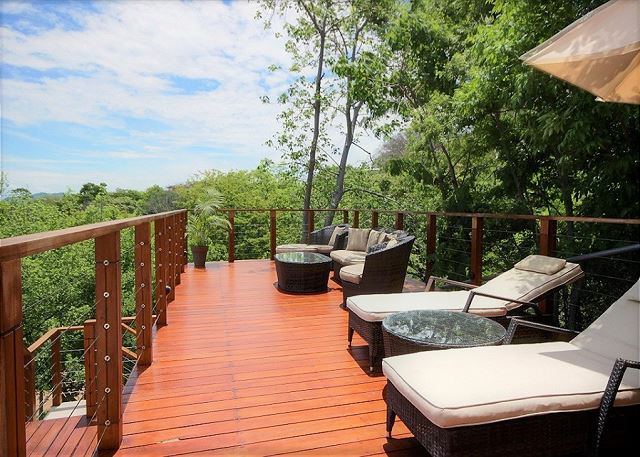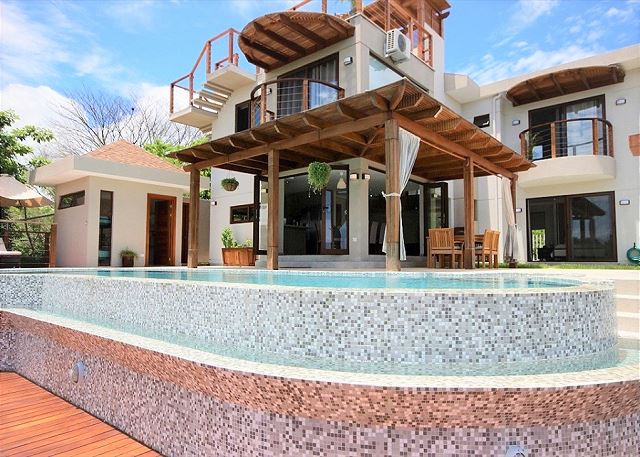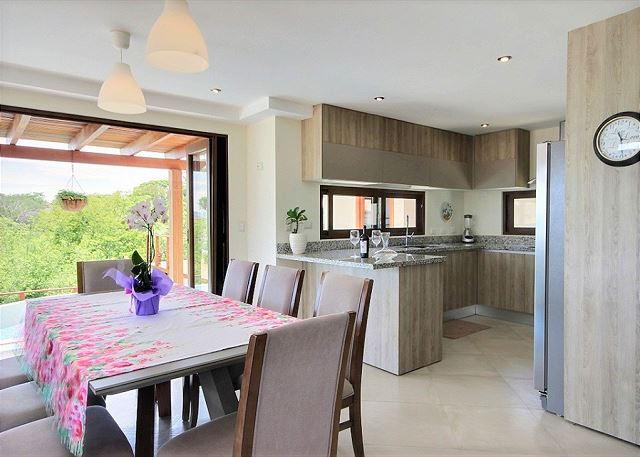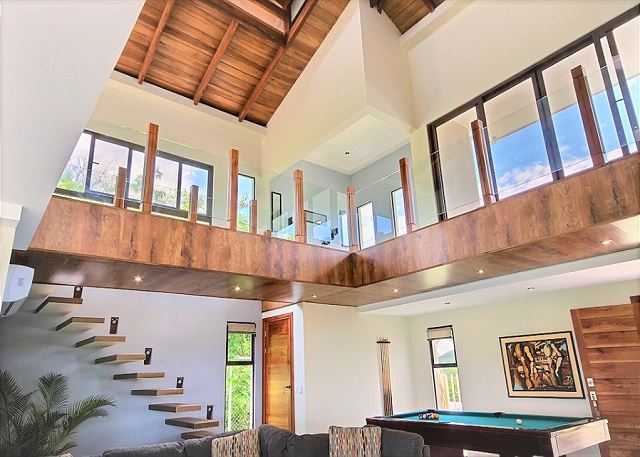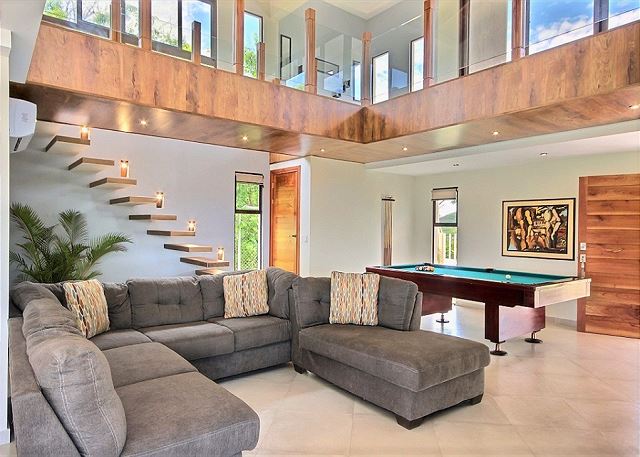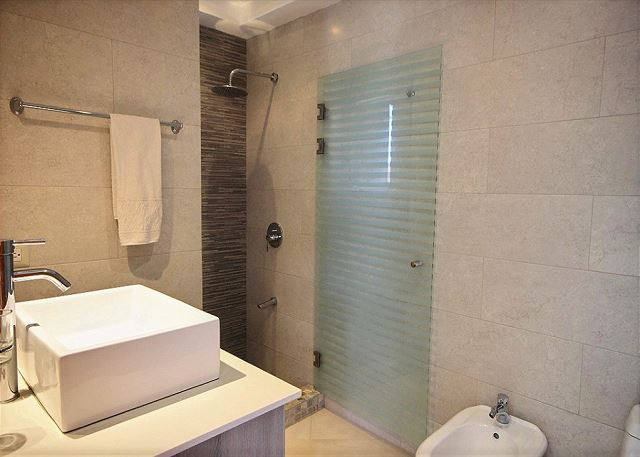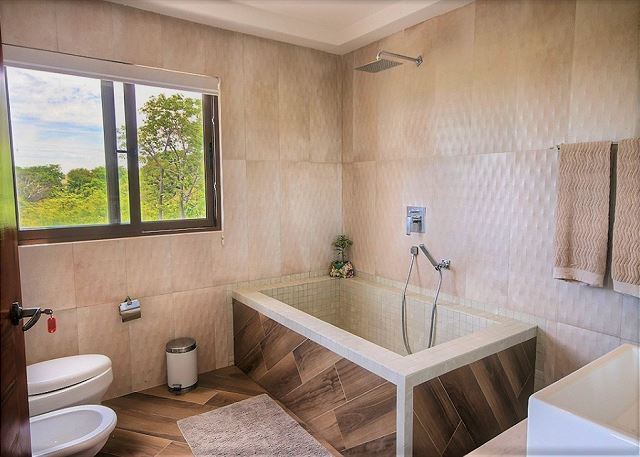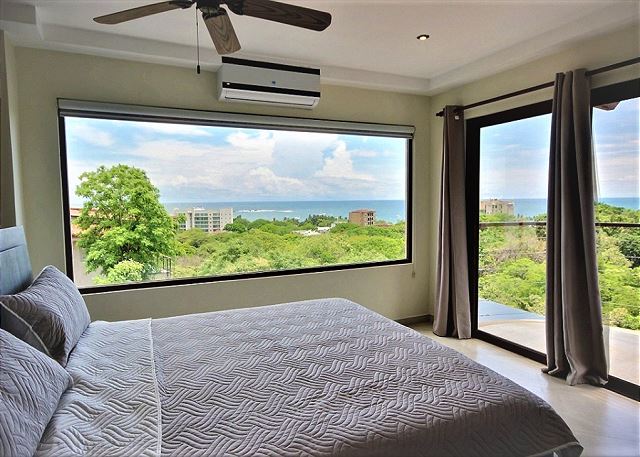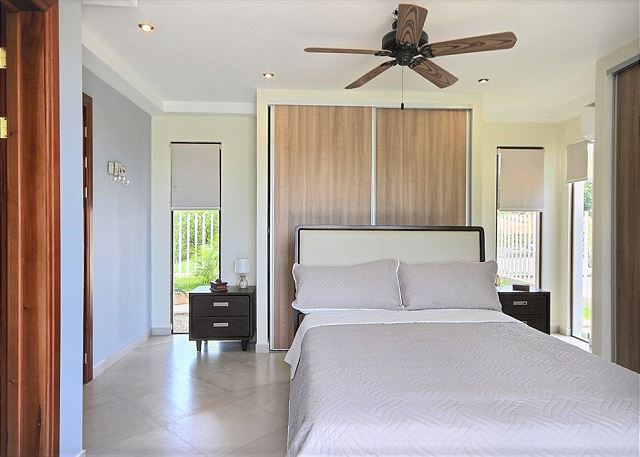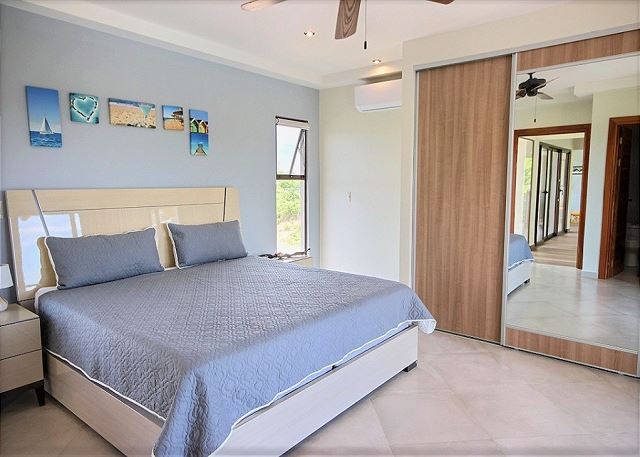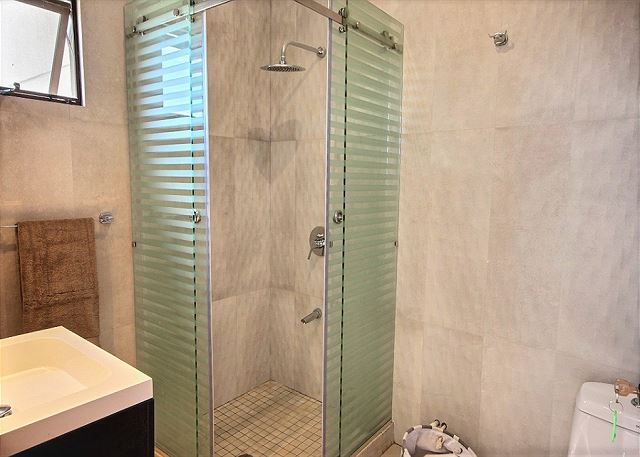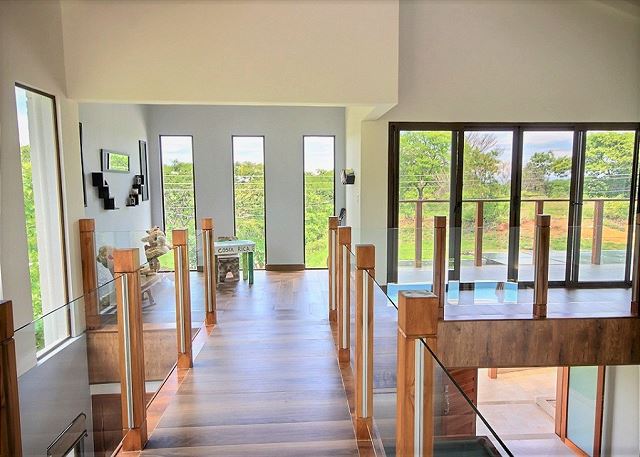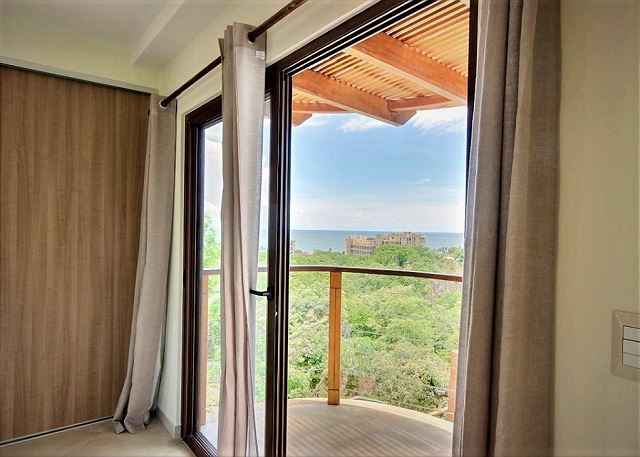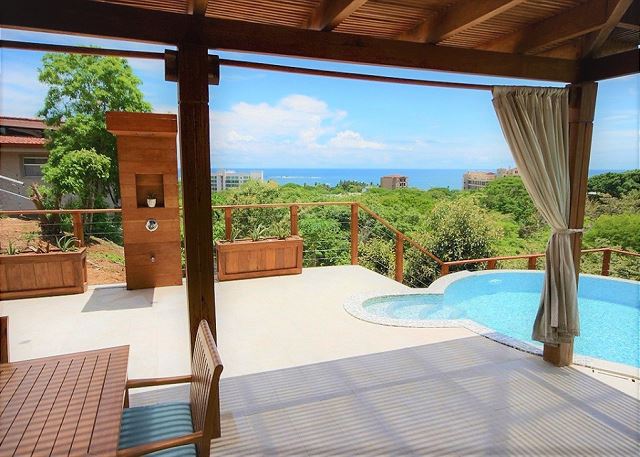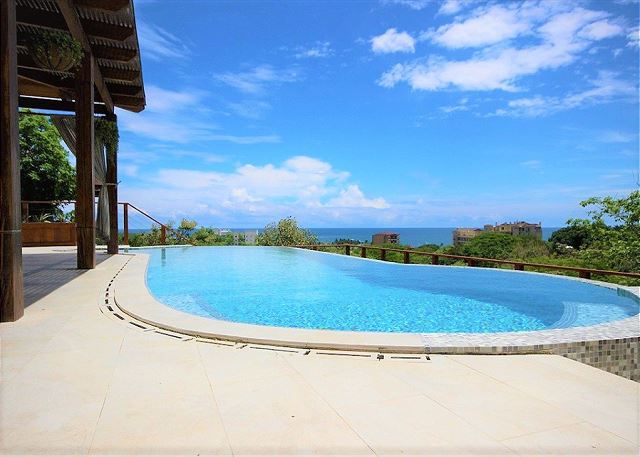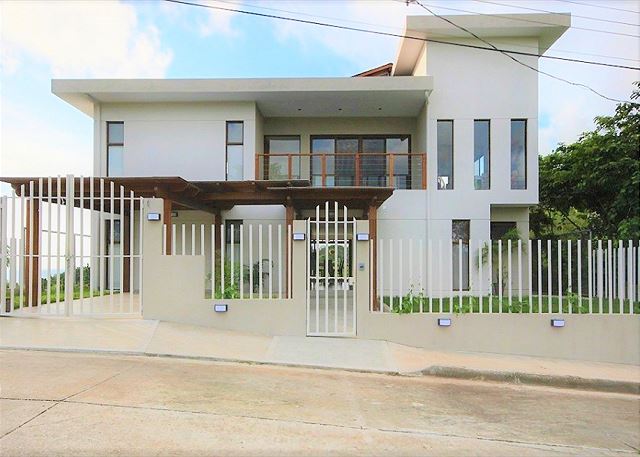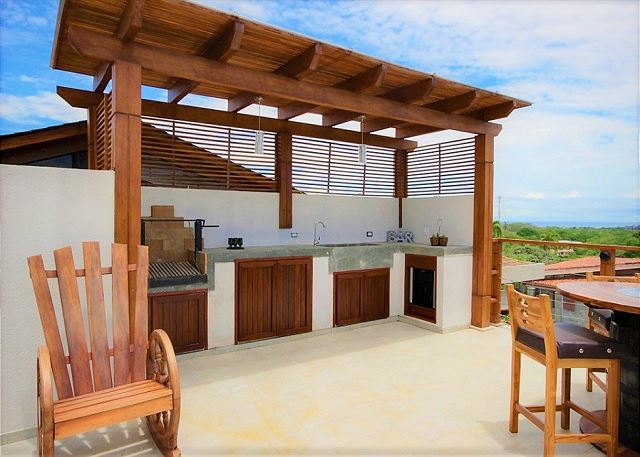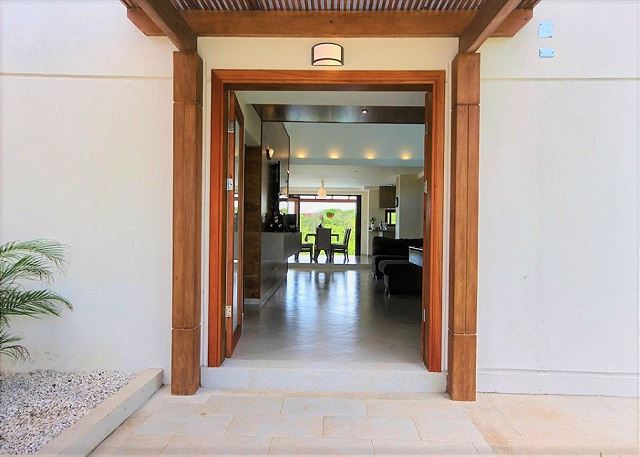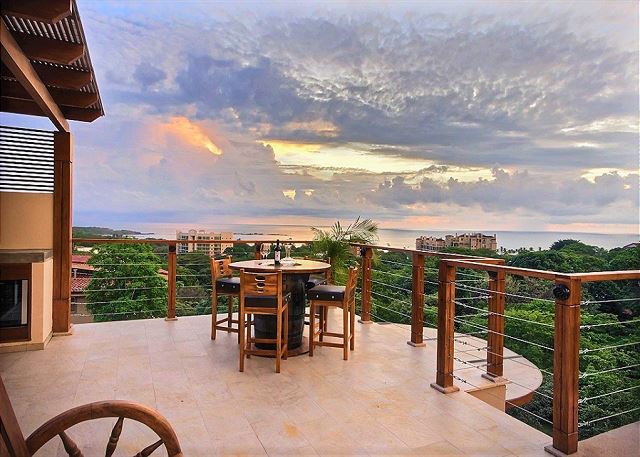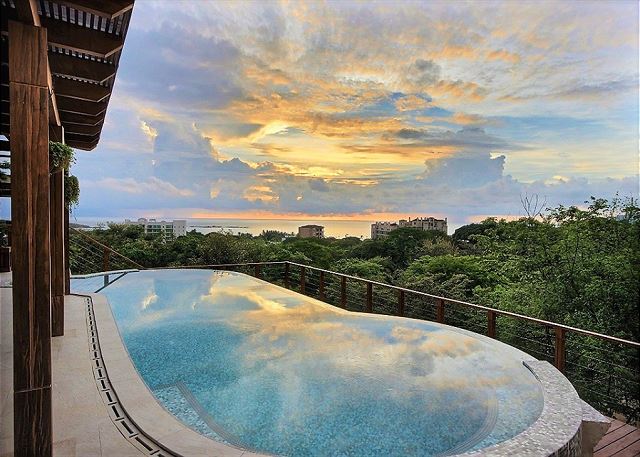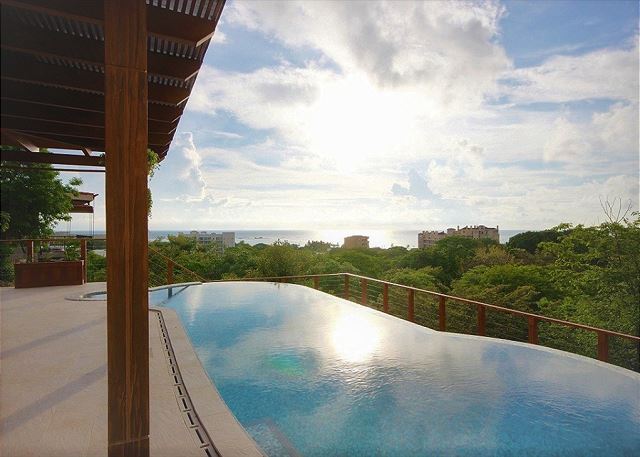 Villa Atardecer is an exquisite modern-style vacation rental home in Tamarindo that sleeps up to 10 guests. This 4-bedroom villa located on an ocean-view hill in the central sector of Tamarindo offers spectacular views of Tamarindo Bay and the lush hills surrounding Tamarindo and Langosta.
The home is built on three levels, with terraces, balconies and a rooftop deck like the one you dream of. A private custom infinity pool built into the terrace is surrounded by a generous sun terrace and comfortable loungers. Walls consisting of floor-to-ceiling folding glass doors can be opened to blend Villa Atardecer's indoor and outdoor spaces into one single open tropical paradise. A gas grill is provided by the table on Villa Atardecer's dining patio by the pool.
On the ground floor, Villa Atardecer's bright modern kitchen is fully equipped with all the conveniences of home. The open living and dining area form a spacious common area where you will spend delightful hours with family and friends creating Tamarindo vacation memories that last a lifetime. The living room features a pool table, a flat screen television, and is open to the home's second level. Enjoy the fascinating floating staircase that leads from the living area to the second floor.
One bedroom is located on the first floor of Villa Atardecer, and two are located on the second floor. Each bedroom contains its own private bath.
Villa Atardecer is one of Tamarindo's newest vacation rental homes, and it obeys all the rules of chic modern design through use of natural textures, subdued color schemes and crisp clean angles. Local tropical woods, glass, and top-tier tile combined to draw attention not to themselves but to the spectacular beauty that surrounds the home.
A fourth bedroom stands apart from the main house in a poolside cottage. This suite, with a half bath, contains a set of bunk beds. It's the perfect fun-room for older children or teenagers who enjoy having a space all to themselves. This room does not have a shower and anyone staying here will need to share the shower with one of the rooms in the house.
Villa Atardecer's most spectacular feature is the 3rd-level rooftop terrace. Nowhere are Tamarindo sunsets more breathtaking than from this rooftop lookout point. Prepare a drink at the wet bar, barbeque something delicious on this terrace's unique charcoal grill, and have a seat at the table that overlooks a 270 degree panorama of ocean, clouds, trees, and the rooftops of Tamarindo.
This home is the ideal vacation rental for families with children who can swim, groups of friends, and surfers looking for a spot close to the waves but without the commotion of a hotel ambiance. This modern vacation villa includes the full package of luxury amenities: air conditioning, wi-fi, cable television, and housekeeping during stays of 4 days or more.
The bustling town of Tamarindo is just a few minutes' walk from the door of Villa Atarcecer. The beach, the surf, the restaurants, the shopping, the bars and nightlife—all of it is moments away at the bottom of the hill. We offer an elite Concierge service to help you make the best decisions about which tours and activities best fit your vacation plan, and to arrange for transportation, private chef services and other extras that will make your stay at Villa Atardacer the ultimate relaxing Tamarindo vacation.
Sleeping Arrangements (SLEEPS 10):
1st FLOOR:
Bedroom 1: 1 Queen Bed
2nd FLOOR:
Bedroom 2: 1 King Bed
Bedroom 3: 1 King Bed
POOLSIDE CASITA:
Bedroom 4: 1 Bunk bed
ADDITIONAL SLEEPING
high quality air mattress
***On-line bookings made during the year-end holiday weeks must check in and check out on one of the following sets of dates in order for the reservation to be accepted:
Dec 19 - Dec 26
Dec 22 – Dec 29
Dec 26 - Jan 2
Dec 29 - Jan 5
| | Nightly | Weekly |
| --- | --- | --- |
| April 14 - April 20, 2019 | $582 | $3,742 |
| April 21 - April 30, 2019 | $460 | $2,976 |
| May 01 - June 15, 2019 | $399 | $2,793 |
| June 16 - August 18, 2019 | $499 | $3,493 |
| August 19 - October 31, 2019 | $399 | $2,793 |
| November 01 - November 22, 2019 | $449 | $3,143 |
| November 23 - November 30, 2019 | - | $3,493 |
| December 01 - December 18, 2019 | $499 | $3,493 |
| December 19 - December 25, 2019 | - | $5,600 |
| December 26 - January 01, 2020 | - | $9,100 |
| January 02 - January 05, 2020 | $950 | - |
| January 06 - April 03, 2020 | $499 | $3,493 |
| April 04 - April 13, 2020 | $582 | $4,074 |
| April 14 - April 30, 2020 | $399 | $2,793 |
Long-term Renters Welcome
Thank you for entering your review. The review will become available to the system shortly.
Fabulous time at great home!
Rating:
Review Date: 03/19/2019
Had a fabulous time at great property overlooking tamarindo bay! Will do it again. Fantastic house with great pool and view overlooking valley down into town and the Pacific. Sunsets were fantastic. Really great property with great location to town. Walkable to town, grocery store and resturaunts, or $5 cab ride. House in in the hills, 3-4 blocks from the beach. Quiet, secluded, beautiful,
Great for 6, the 4th bedroom/ pool house is really better for teenagers / college types with the bunks.
Fantastic place to stay while exploring Tamarindo!
Rating:
Review Date: 03/14/2019
We had a great time at Villa Atardecer! The pool and view were absolutely amazing! We loved all the outdoor areas, especially the rooftop. I wouldn't recommend anyone to stay in the 4th bedroom that is by itself on the patio area, but the other 3 bedrooms were fantastic and had working air conditioning. Overall a great experience!
Amazing modern rental with incredible views!
Rating:
Review Date: 01/02/2019
Our group of 6 friends really enjoyed this home! The house was spacious and beautiful! It has amazing ocean & sunset views. We enjoyed the pool, guitar, & pool table the house provided. We easily walked to/from the beach everyday. The hill is steep coming back up to the house but we all managed just fine. I would highly recommend this home, as it was stunning!
Manager Response: 01/31/2019
Response from Stay in Tamarindo
Adriana, thank you for your comments. We are happy you enjoyed the home and found it not only beautiful, but also so comfortable for everyone. We hope to see you all back here in sunny Costa Rica soon!
This home is amazing!
Rating:
Review Date: 07/14/2018
The owners have attention to detail! This home was terrific for our two families totaling 8 of us! We had so much fun in the pool with amazing views of the ocean and from most windows. If there was an issue- Stay in Tamarindo (management firm) and Renaldo (the handyman) were quick to respond. We had very little issues compared to previous accommodations on this trip. It is a walk to the ocean but most homes with a view are. It is a steep walk down the street but great restaurants very nearby. Good for walking off the great food! Tons of closet storage in each bedroom. Nice to have lots of extra pool towels.
The pool table was terrific as our kids loved it given they had no devices on this trip! I read tons of reviews of terrible beds in all of Costa Rica- These are amazing! We slept well! The roof top deck was just amazing for sunsets- we have tons of family photos from that spot! It is new so they are still missing a dryer (maybe for energy savings) and a dishwasher. Lots of keys- good for security but a lot to keep track of:) The bathrooms have bidets- not something we are used to but may be something you are looking for. They had an espresso machine! The casita was adorable and gave the teenager his space. I wish I owned this home!
Manager Response: 08/29/2018
Response from Stay in Tamarindo
Tristin, Thank you so much for taking the time and sharing your impressions with us and many other travelers. We are thrilled to hear that you have enjoyed your time in Villa Atardecer and also enjoyed the many amenities that the house offers. It was a pleasure to assist you throughout your trip and we are happy to know you had a memorable stay. Let us know when you are coming back to sunny Costa Rica as we will love to assist you one more time. Pura Vida! Thanks again for staying with us and we hope to have you back very soon. Pura Vida!!
Your request has been sent. We look forward to meeting all your vacation needs!
Optional Guest Protect Plan travel insurance
The Guest Protect Plan from CSA Travel Protection Includes:
✓
Valuable benefits before, during and after your vacation
✓
Reimbursement of non-refundable trip costs if you must cancel your trip or cut it short due to covered sickness, injury or other events
✓
150% of trip cost coverage for covered trip interruptions
✓
24/7/365 emergency assistance hotline, plus access to a network of physicians
View complete plan details
Yes! I want the CSA Travel Protection Guest Protect Plan
No, I don't want this insurance and understand that I may be responsible for cancellation penalties in accordance with the Terms and Conditions, up to 100% of the rental costs.