Pueblo Colonial #2 | Costa Rica House Rental
Tamarindo Vacation Rental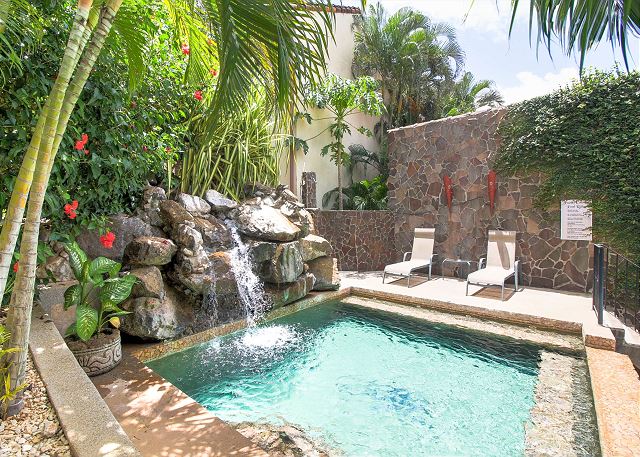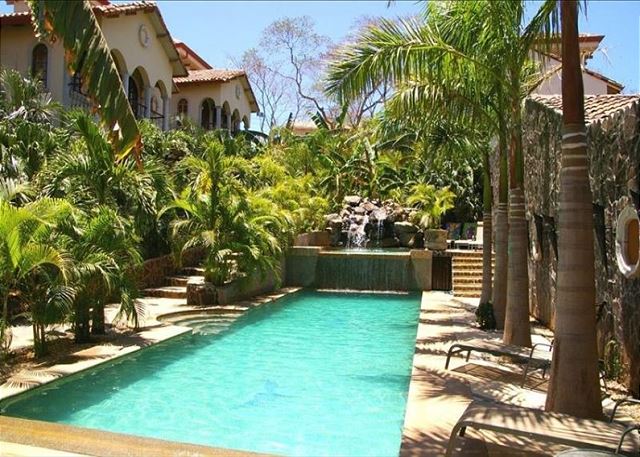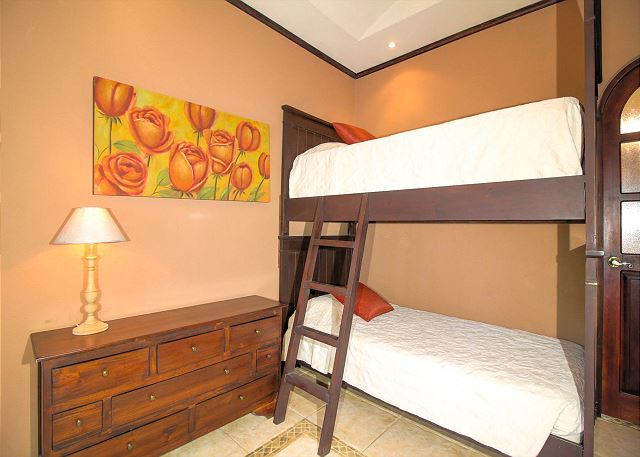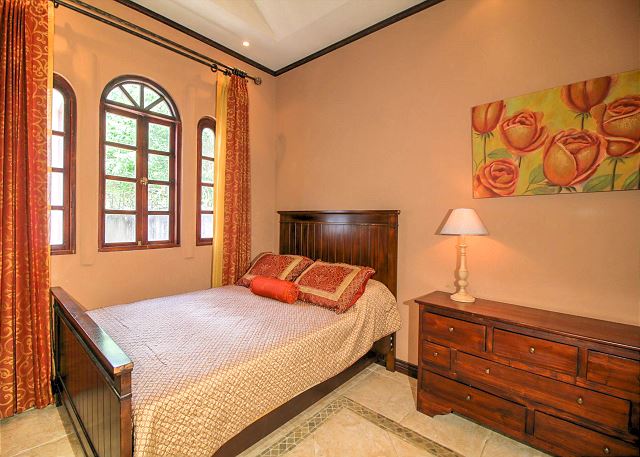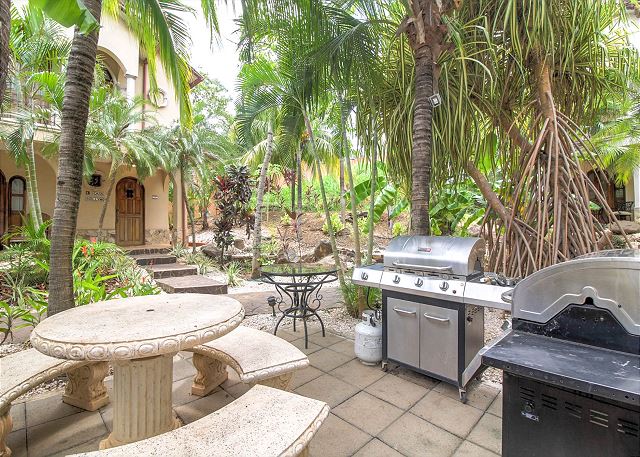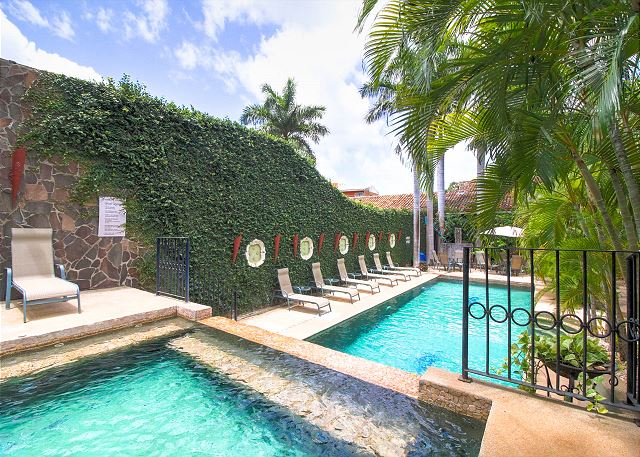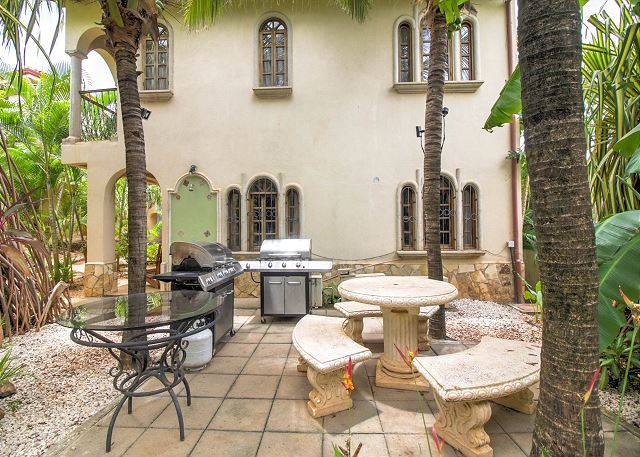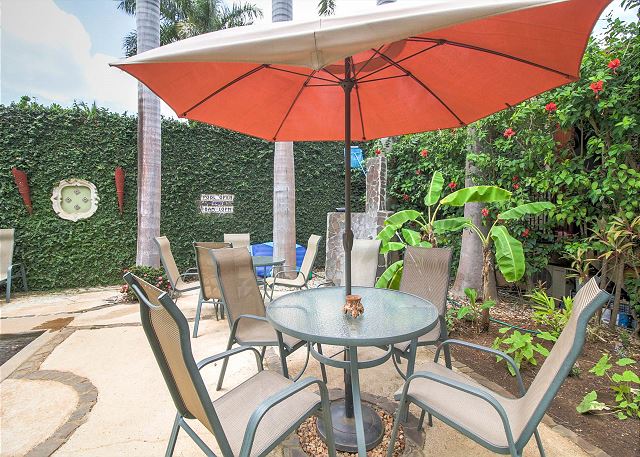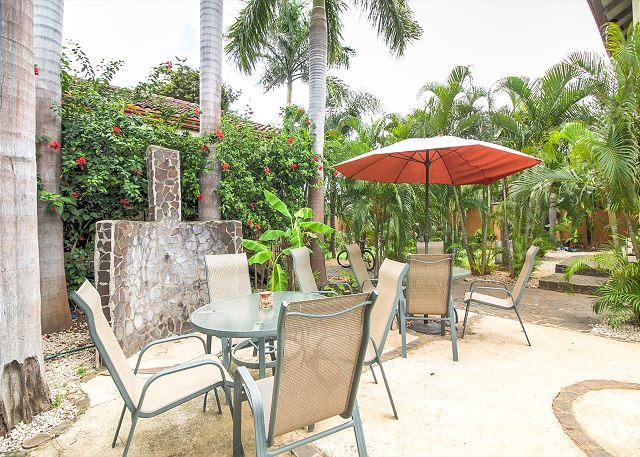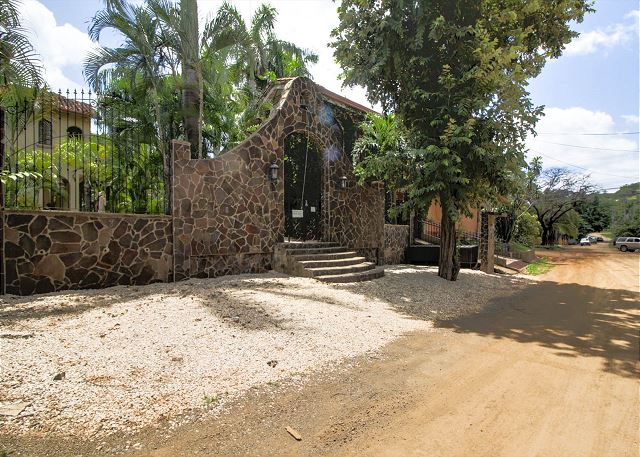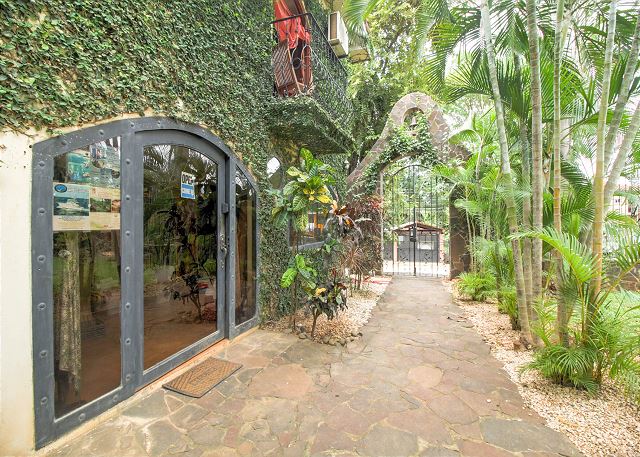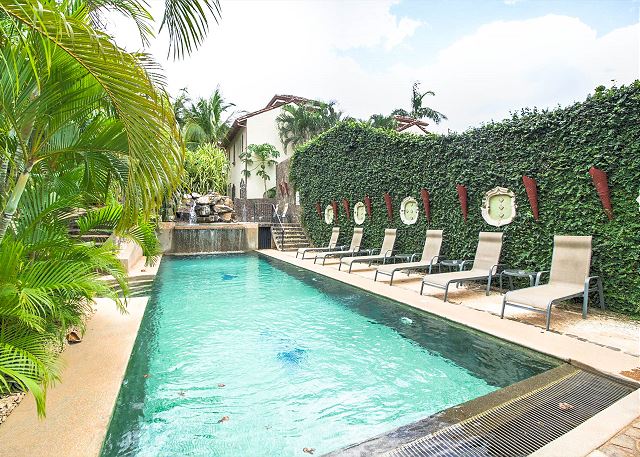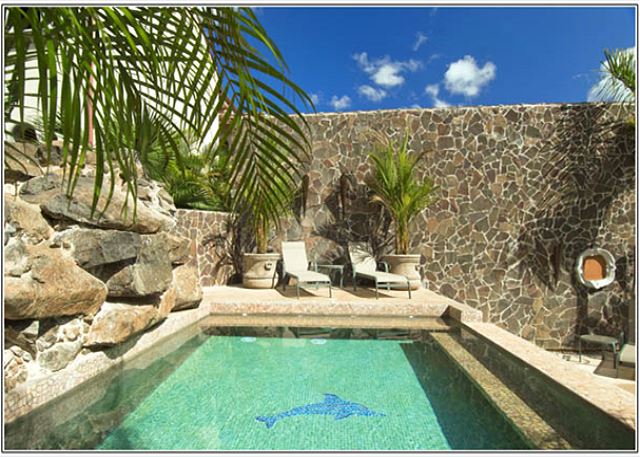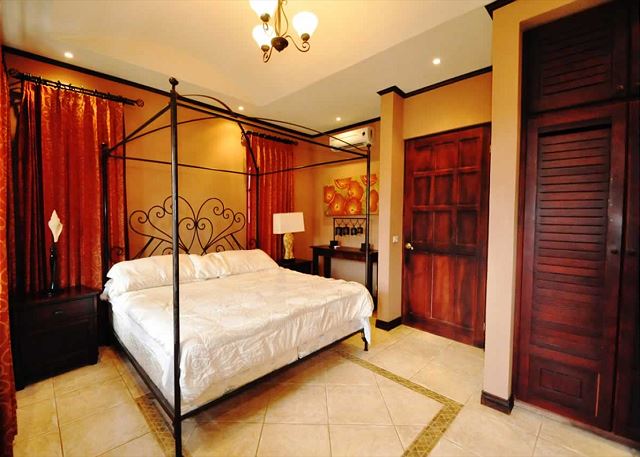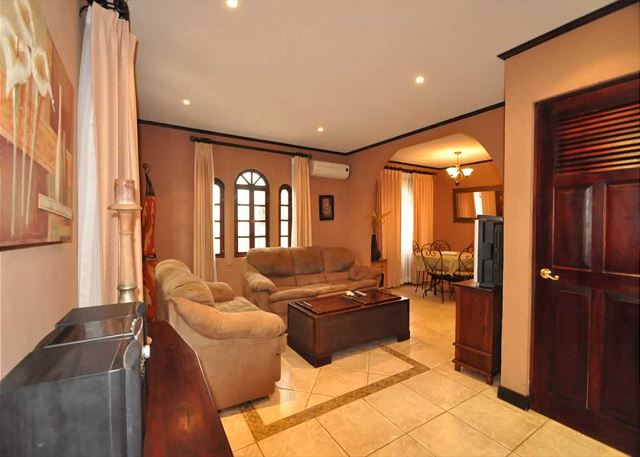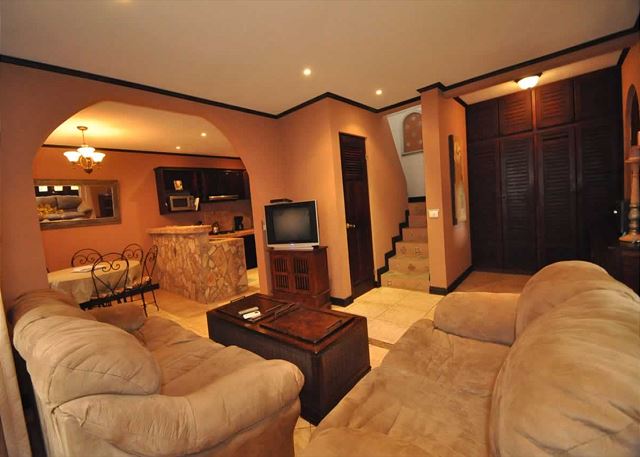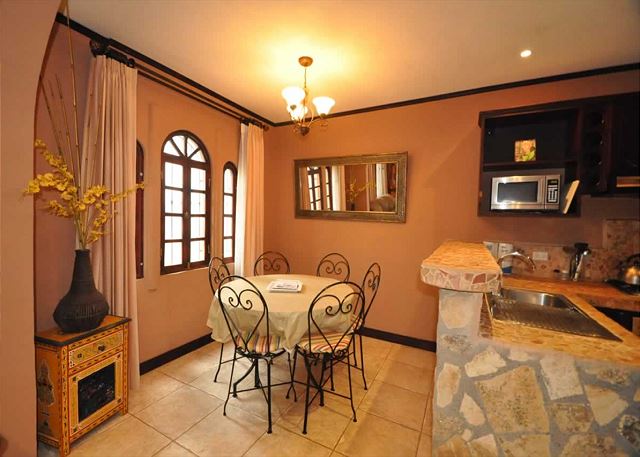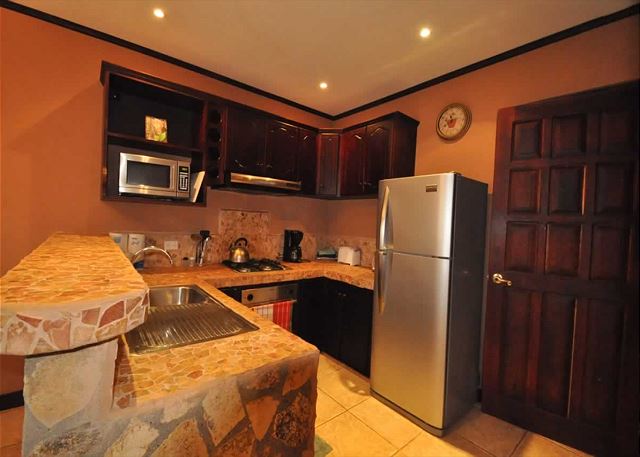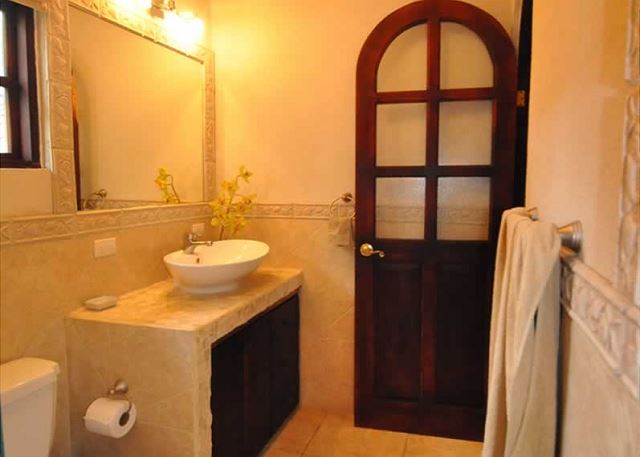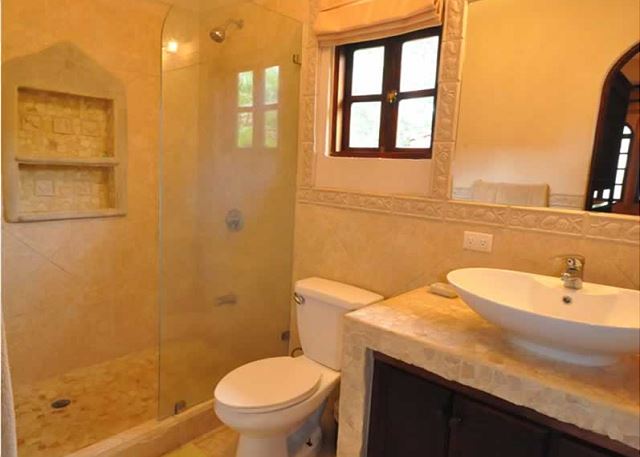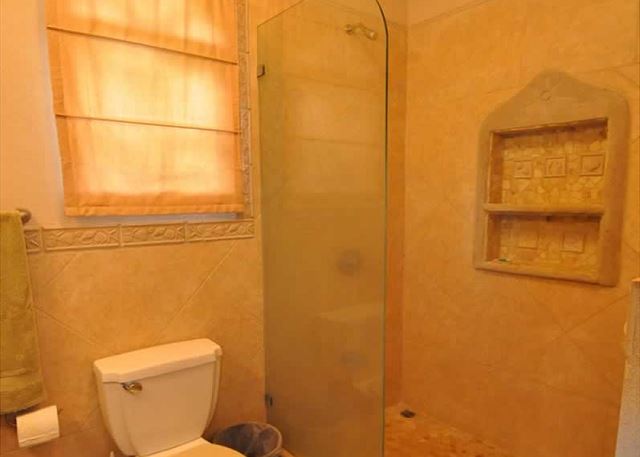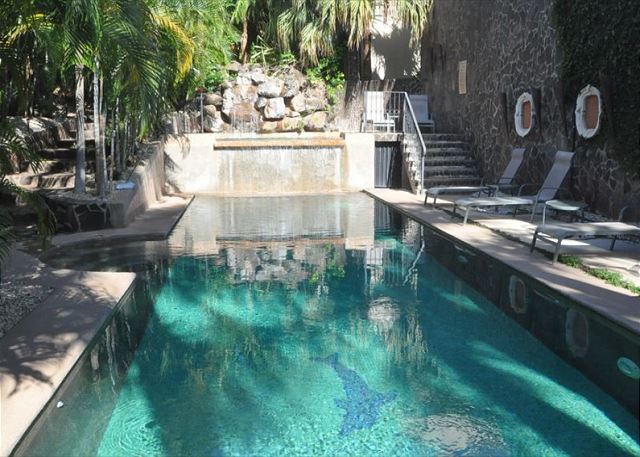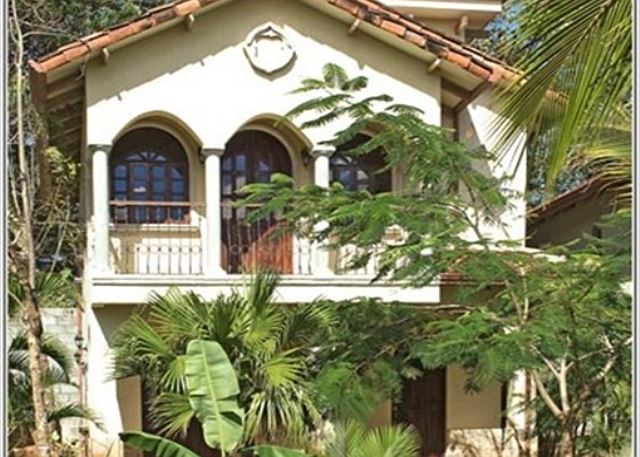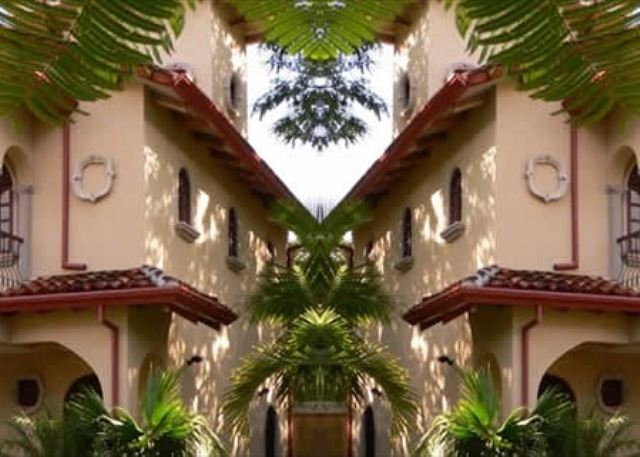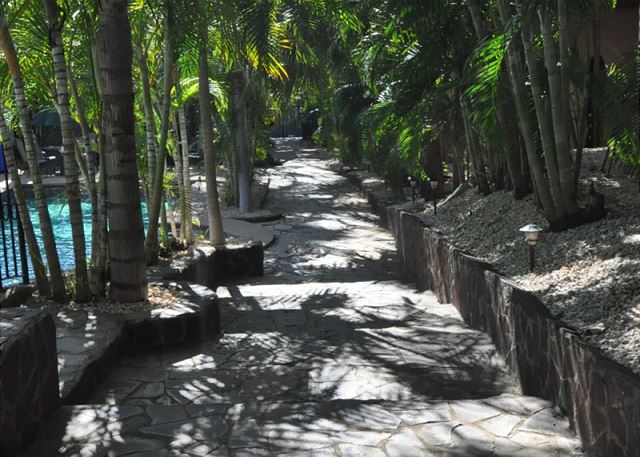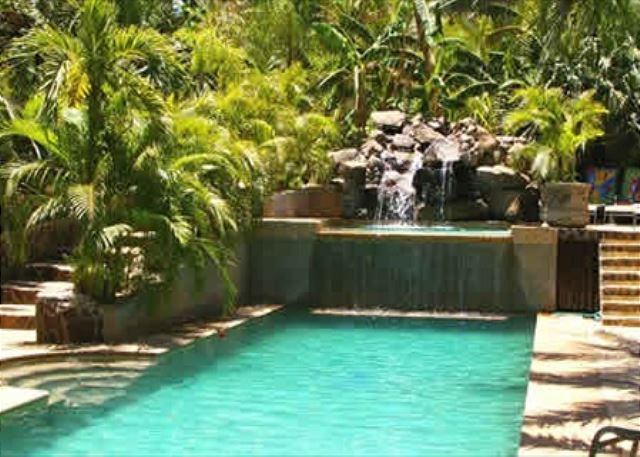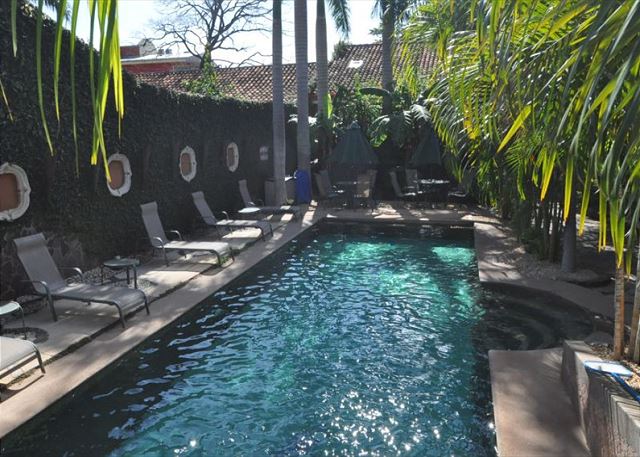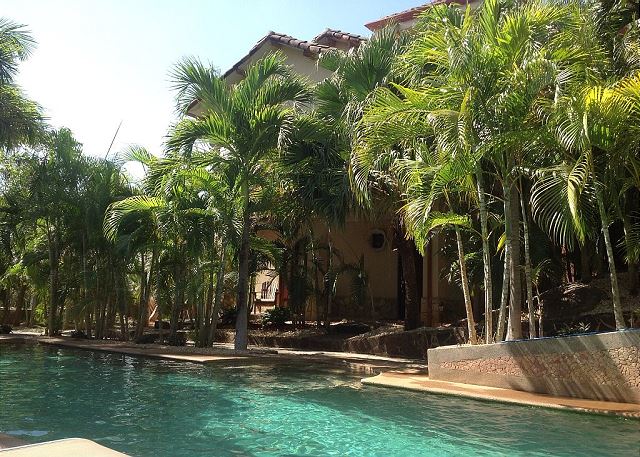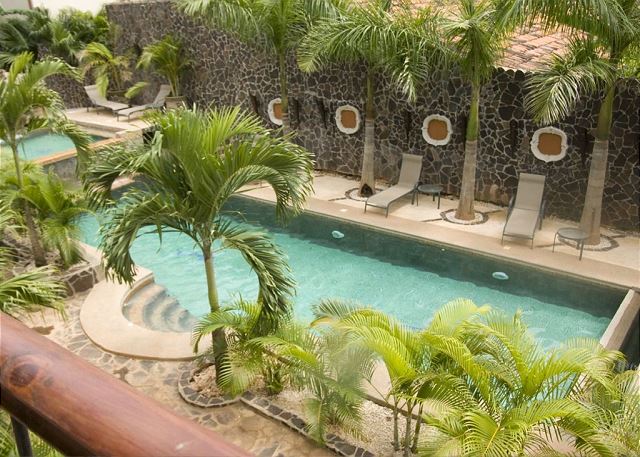 The Pueblo Colonial village is named for its unique architectural elements, which draw inspiration from early Spanish Colonial influences in Central America. In particular, Pueblo Colonial directly echoes design constructs found in Granada, Nicaragua, the oldest colonial city in The New World. Imported ceramic tiles, handcrafted woodwork, arched doorways and windows, and beautiful balconies that overlook the tropical garden are just a few of ways that Pueblo Colonial embodies its name.
At the heart of Pueblo Colonial, the lush serenity of verdant gardens that surround a private swimming pool creates a magical atmosphere. A primary amenity of this fabulous get-away is its ideal location. The busy center of Tamarindo is a 5 minute walk from Pueblo Colonial, placing this haven of quiet within minutes of tours and activities, restaurants and shopping, and of course the surf and sand.
Pueblo Colonial #2 is furnished and decorated in a celebration of tropical luxury and simplicity. Restful earth tones fanciful flower motifs give a welcoming atmosphere to the common areas and to the individual bedrooms. Wi-Fi, air conditioning, linens, towels, and a fully equipped kitchen assure that in this paradise of peace, you will have all the comforts of home. The master bedroom is furnished with a canopy frame iron-wrought king sized bed. From this room, a set of arched doors open onto a small private balcony from which you can enjoy the perennial greenery of the gardens. The second bedroom is equipped with a full sized bed and a set of twin bunkbeds, adding accommodation for 4 additional guests. Each bedroom includes its own bath.
The Pueblo Colonial complex is an ideal choice for groups such as wedding parties, family reunions, retreats, corporate incentives, or any other special occasion that requires the privacy available in this venue. Each of the 8 stand-alone villas includes a fully-equipped kitchen, a laundry facility, and a parking spot.
HOME HIGHLIGHTS:
- Walking distance to center of town & beach
- Large communal pool with BBQ area
- Private gated community
- Well equipped kitchen
SLEEPING ARRANGEMENTS (SLEEPS 4 Adults & 2 Kids):
- Bedroom 1: King Bed
- Bedroom 2: Full Bed, Twin Bunk Bed
| | Nightly | Weekly |
| --- | --- | --- |
| April 14 - April 20, 2019 | $215 | $1,249 |
| April 21 - April 30, 2019 | $165 | $1,055 |
| May 01 - June 15, 2019 | $120 | $840 |
| June 16 - August 18, 2019 | $141 | $987 |
| August 19 - October 31, 2019 | $120 | $840 |
| November 01 - November 22, 2019 | $135 | $945 |
| November 23 - November 30, 2019 | - | $1,015 |
| December 01 - December 18, 2019 | $140 | $980 |
| December 19 - December 25, 2019 | - | $2,030 |
| December 26 - January 01, 2020 | - | $2,366 |
| January 02 - January 05, 2020 | $338 | - |
| January 06 - April 03, 2020 | $151 | $1,057 |
| April 04 - April 13, 2020 | $215 | $1,505 |
| April 14 - April 30, 2020 | $140 | $980 |
Thank you for entering your review. The review will become available to the system shortly.
Fabulous vacation!
Rating:
Review Date: 08/27/2018
We stayed in villa #2 in late July and loved every minute of it! Easy access to the cute town of Tamarindo. Great pool. Villa was well stocked and clean and very comfortable. Margherita was wonderful. We took advantage of the fruit basket since we were arriving late and it was beautiful and delicious. We felt very safe and it was quiet and relaxing. We would definitely stay here again and will definitely recommend it. Thanks for making our stay so wonderful!
Manager Response: 09/08/2018
Response from Stay in Tamarindo
Hi Holly! Thank you for your recommendation and kind words. We take pride in taking good care of our guests and it's good to know you enjoyed your stay!
Nice and quiet stat
Rating:
Review Date: 03/04/2018
We had a great stay at the villa. The beds were comfortable, the house was clean, the washer and dryer was a welcome bonus, as was the community bbq grill. There was not a bath tub or a hot tub which my wife really wanted so that was disappointing.
Margarita was great and made it a point to give us helpful info for local places and nearby beaches we could see.
Overall we had a great stay and I would recommend this villa to anyone that has 4 to 6 ppl traveling. The villa was far enough from town so you really felt like you were in a resort area but close enough to walk into town for the shopping or the beach. We did have some minor issues with the shower drain and the bathroom windows during our stay. The pool area was really nice and was quiet for relaxing.
Manager Response: 04/09/2018
Response from Stay in Tamarindo
Hi Dave! I'm glad you guys enjoyed your stay! We do have a great location close to all the action, yet providing a little oasis. I am sorry for the drain issues you experienced and we have cleared that up now. And that window was repaired after the wind blew it off! I hope those inconveniences won't stop you from coming back to stay with us again!
VacationJan/Feb 2018
Rating:
Review Date: 03/03/2018
Centrally located within walking distance of many restaurants, beach, etc.

Manager Response: 04/09/2018
Response from Stay in Tamarindo
Hi Gary, So glad you enjoyed your stay, and please come see us again!
Fin de año 2018!!!
Rating:
Review Date: 01/22/2018
Estuvo muy bonito, el lugar es muy tranquilo y seguro. Me volvería a quedar sin lugar a dudas.
Manager Response: 02/07/2018
Response from Stay in Tamarindo
Saludos Walfon! Estoy feliz de que hayas disfrutado de tu estadia y esperamos verte de nuevo!
Feels like home
Rating:
Review Date: 03/28/2017
Pueblo Colonial fue justo lo que buscaba para pasar 4 días en familia con mis padres que estaban de visita en Costa Rica.
El complejo está muy bien ubicado, en una calle tranquila pero a la vez cerca del centro.
La casa es amplia y super cómoda, equipada con todo lo que uno puede necesitar para pasar una excelentes vacaciones. La arquitectura y detalles de decoración de la casa me parecieron divinos. Junto con la vegetación del complejo hacen que parezca una villa mexicana.
La atención también fue muy buena. Un día se rompió algo en la bomba de agua y a las pocas horas lo solucionaron.
Sin dudas recomendaría este lugar a mis amigos y familiares.
Manager Response: 05/02/2017
Response from Stay in Tamarindo
Fue un placer atenderles durante su estancia en Pueblo Colonial. Gracias por las palabras amables, y esperamos volver a verte!?
Our Enjoyable Stay
Rating:
Review Date: 01/01/2017
Very relaxing, clean and quiet. The pool was great and the property is beautifully landscaped and private. Close to restaurants and beach. Margaritha was very friendly, easily available and knowledgeable and did an excellent job booking our wonderful excursions (estuary tour, sunset cruise and ziplining). The online photos and map are accurate. Green Papaya and Boula (Pizza) were delicious. Tamarindo Surf School was great.
Manager Response: 01/10/2017
Response from Stay in Tamarindo
Hi David! It was a pleasure to have your family stay with us and I am glad you enjoyed your stay as well as the activities. I hope you´ll be able to stay with us again! Pura Vida! Margaritha
Your request has been sent. We look forward to meeting all your vacation needs!
Optional Guest Protect Plan travel insurance
The Guest Protect Plan from CSA Travel Protection Includes:
✓
Valuable benefits before, during and after your vacation
✓
Reimbursement of non-refundable trip costs if you must cancel your trip or cut it short due to covered sickness, injury or other events
✓
150% of trip cost coverage for covered trip interruptions
✓
24/7/365 emergency assistance hotline, plus access to a network of physicians
View complete plan details
Yes! I want the CSA Travel Protection Guest Protect Plan
No, I don't want this insurance and understand that I may be responsible for cancellation penalties in accordance with the Terms and Conditions, up to 100% of the rental costs.