Casa Xanadu | Costa Rica House Rental
Tamarindo Vacation Rental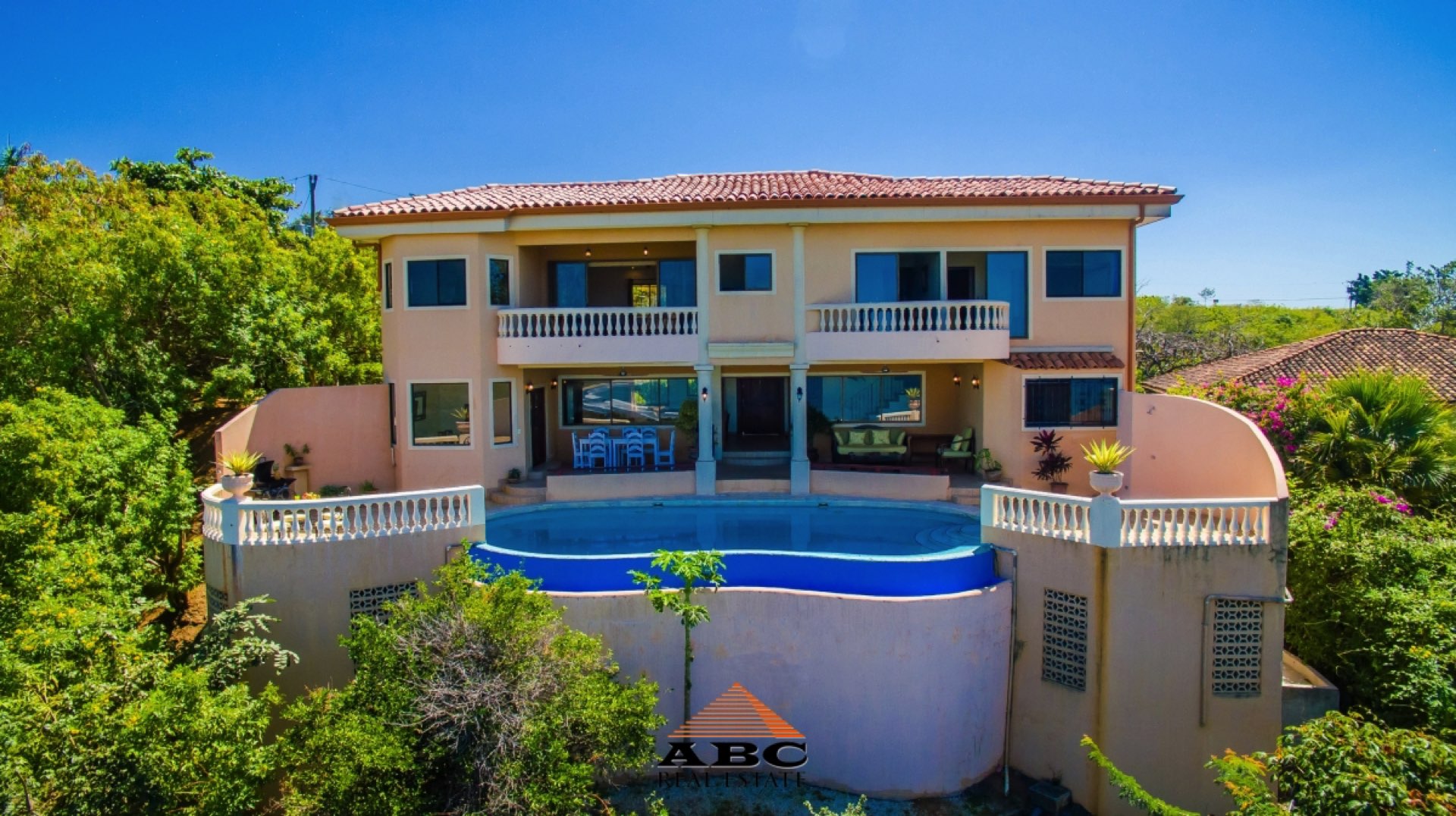 Casa Xanadu is an exclusive Tamarindo vacation rental destination with a breathtaking view of the Tamarindo Bay, the Las Baulas estuary, the vast expanse of Playa Grande, and the mountains that line the coast. This 4 bedroom, 3.5 bath home on a Tamarindo hillside is the place you want to spend your Costa Rica vacation.

Bright living spaces, a full kitchen and laundry, luxurious bedrooms and a wide breezy patio set with your own private infinity pool make Casas Xanadu a dream destination.

The tropical dry forest surrounding Casa Xanadu is teeming with life. Flocks of parakeets and, troupes of howler monkeys, butterflies and lazy iguanas are all your next-door neighbors at Casa Xanadu.

This classic Mediterranean-style mansion features tile floors, exotic tropical wood accents, unique custom furnishings and standard luxury amenities like air conditioning, high speed internet and cable television.

Let our Tour and Concierge Center fill the days of your Costa Rica vacation with exiting adventures like surfing, sportfishing and zip-line canopy tours, then come home to relax on the terraces of Casa Xanadu with a refreshing cocktail. Spectacular sunsets end each day at Casa Xanadu. Let us book you a private chef to prepare your gourmet meal at home, or venture out into Tamarindo's vibrant collection of international bars and restaurants to end your day.

SLEEPING ARRANGEMENTS (SLEEPS 8):

- Bedroom 1: King Bed

- Bedroom 2: Queen Bed

- Bedroom 3: Queen Bed

- Bedroom 4: Queen Bed

***On-line bookings made during the year-end holiday weeks must check in and check out on one of the following sets of dates in order for the reservation to be accepted:

Dec 19 - Dec 26

Dec 22 – Dec 29

Dec 26 - Jan 2

Dec 29 - Jan 5
| | Nightly | Weekly |
| --- | --- | --- |
| January 06 - April 12, 2019 | $500 | $3,500 |
| April 13 - April 21, 2019 | $650 | $4,550 |
| April 22 - April 30, 2019 | $500 | $3,500 |
| May 01 - June 15, 2019 | $430 | $3,010 |
| June 16 - August 18, 2019 | $500 | $3,500 |
| August 19 - October 31, 2019 | $430 | $3,010 |
| November 01 - November 22, 2019 | $480 | $3,360 |
| November 23 - November 30, 2019 | - | $3,500 |
| December 01 - December 18, 2019 | $500 | $3,500 |
| December 19 - December 25, 2019 | - | $6,580 |
| December 26 - January 01, 2020 | - | $8,960 |
| January 02 - January 05, 2020 | $1,280 | - |
| January 06 - April 03, 2020 | $500 | $3,500 |
Thank you for entering your review. The review will become available to the system shortly.
Family Getaway
Rating:
Review Date: 02/06/2019
We stayed in the beautiful Casa Xanadu from 1/29/2019-2/4/2019 and enjoyed it immensely. The view is spectacular. The road up, as has been said, is a bumpy dirt road that you need to be careful driving on. The villa was spacious, clean, and had everything you need for your stay. Pool a little chilly, but refreshing. We had six adults and there was plenty of room to accommodate us.
Paradise on earth!
Rating:
Review Date: 10/01/2018
What an absolutely amazing place! Stayed there with family (wife and three kids) and had the most incredible time. The house is one of its kind. It is big, great for kids and the view is really breathtaking. Sitting in the pool in the late afternoons slowly watching the sun set was an unforgettable experience. I was a bit worried about visiting during the rainy season, but it was sunny most of the time and it was quite fun watching the short storm approach coming down the valley. Also loved Tamarindo. I strongly recommend going fishing with Gerald aboard the Rainbow Runner. We went out for a half day and caught a bunch of tuna and ate the freshest possible sashimi for dinner that night on the terrace. Can't recommend Xanadu enough and can't wait to go back!
Manager Response: 11/10/2018
Response from Stay in Tamarindo
Thank you Nacho, sounds like you had the perfect vacation in Casa Xanadu! We are happy to hear everything went perfect and you got to enjoy the breathtaking view and all the house amenities. Thanks again for staying with us and hope to have you back very soon!
This place is PARADISE!
Rating:
Review Date: 09/29/2018
Our stay was so much more than we could have ever imagined!!! The location was private yet convenient. The house was amazing and inviting. The rental company went above and beyond to make sure our stay was a vacation we would never forget!
Manager Response: 11/09/2018
Response from Stay in Tamarindo
Thank you Melanie! We are so happy to hear you experienced Paradise in Casa Xanadu! Hope you visit us soon again!
perfect stay
Rating:
Review Date: 09/26/2018
Myself & my family of 4 recently stayed at Casa Xanadu - it was incredible. the house has been beautifully designed but....the view! OMG we could not stop staring over the ocean. Amazing sunsets, perfect infinity pool - the total package. Our first time in Tama - we will be back! Great restaurants - recommend pangas in particular. Our kids (4 & 6) had a blast. Special thanks to Horizon for going above&beyond to make our stay so special...
Manager Response: 11/06/2018
Response from Stay in Tamarindo
Thank you Deepak, its great to hear you and your family had an amazing time in Casa Xanadu! We hope you can come back very soon to enjoy one more time the spectacular views, the amazing sunsets and Tamarindo. Pura Vida!
Absolutely amazing holiday!
Rating:
Review Date: 09/18/2018
A great house with stunning views. Wish I could have stayed for longer!
Manager Response: 09/26/2018
Response from Stay in Tamarindo
Thank you Dave! Its amazing to hear you loved your stay and enjoyed the stunning views from Casa Xanadu! Come back soon!
Amazing views! Fantastic holiday destination
Rating:
Review Date: 09/12/2018
We booked this home for the first few nights of our family holiday in Costa Rica. First of all, the house has one of the most incredible views we have ever seen. You open the front door and are blown away by the natural beauty of this place.

The house itself was comfortable and spacious, and a great place to feel very relaxed. Our kids loved the huge infinity pool! We spent most of our time in the outdoor living areas, but we did enjoy having AC in the bedrooms, even though we did not even it need it most of the time.

It is true that the road up is a little bumpy and I definitely recommend a 4X4, but once you are up there, the location more than makes up for it! The house is also located at the beginning of Tamarindo, which is a big plus as you don't have to drive through town every time you leave.

Tamarindo is a great town, with something for everyone! We loved the restaurants and the beach down in front of Capitan Suizo was perfect to take the little ones swimming and boogie boarding.

The only issue we had was one day one of the AC units would not turn off. We called the property managers and they came and fixed it the same day. Overall would be very happy to recommend this property.


Manager Response: 09/28/2018
Response from Stay in Tamarindo
Thank you Jennifer for your kind words and effort to share this with us is well appreciated. We are happy to hear you had a memorable time in Casa Xanadu. It was really our pleasure to assist you and we are glad we were prompt to fix any issues reported. Thank you again for staying with us and we hope you will make Costa Rica and Casa Xanadu a repeat destination as we will look forward to welcoming you back for another round very soon. Pura Vida!
Incredible views and amazing infinity pool
Rating:
Review Date: 09/10/2018
Xanadu is one of the most spectacular places I have ever stayed. Surfing, fishing and adventuring in the mornings and then chilling in the incredible infinity pool in the afternoons. Saw one of the best sunsets ever from the pool terrace! Kids had an absolute ball too. The house was perfect for a vacation. Large, comfortable and simple enough for us not to have to worry about the kids running wild. To top it off, we were visited by howler monkeys on a daily basis. Very very happy and can not recommend this place enough. Thankyou!
Thank you so much for your great review! We are thrilled to know you had the perfect stay and that Casa Xanadu was one of the most spectacular places you ever stayed. We are happy to hear that you have enjoyed your time and could enjoy the many tours and activities in the area. It is true that Casa Xanadu location is a real asset, with the infinity pool and perfect sunsets. So glad the kids enjoyed it and also were able to see the monkeys all the time. Let us know when you are coming back to Casa Xanadu and Costa Rica. Pura Vida!
Breathtaking View!!!
Rating:
Review Date: 03/05/2018
We loved our time at Casa Xanadu. The view is like nothing I have ever seen before. Absolutely breathtaking!! We had a total of 6 adults The home was plenty spacious. The kitchen and furnishings were a bit outdated but the outside pool area and view made up for that!!! Would totally recommend this home. The road to house is quite steep in parts and first time going up was a bit scary but by second day it was part of the adventure. Would recommend 4 wheel drive vehicle and not a car. Once you travel down the hill the beautiful, happening town of Tamarindo awaits you!! Kattia from Horizon Pacific was excellent to deal with.
Manager Response: 04/06/2018
Response from Stay in Tamarindo
Thank you Sheryl, We are so happy to hear you loved Casa Xanadu and enjoyed the breathtaking views. Let us know when you are coming back to sunny Tamarindo, we will love to assist you. All the best!
Wonderful family trip
Rating:
Review Date: 02/19/2018
Large, beautiful home with lots of room for many generations! The view was spectacular but the road to get there was challenging. Over time I'm sure this will be paved and a non factor. The only other issue was the pool received limited sun, so we didn't use it as much as I would have liked. But we are beach people anyway.
Manager Response: 03/28/2018
Response from Stay in Tamarindo
Tracy, We're happy to know you had a great experience! Hope you plan on coming back ;-)
Casa Xanadu was awesome
Rating:
Review Date: 01/31/2018
The house was fantastic, the golf cart rentals were amazing, the town was great and that infinity pool can't be beat. Cris was incredible, set us up with some great activities to do. Perfect place to stay!
Manager Response: 02/28/2018
Response from Stay in Tamarindo
Jeff, Thank you so much for your review. We are so happy that you enjoyed the house and the pool, it s true that it has an amazing view. So glad you enjoyed the activities Cris recommended and that they were suitable for your group. Hope to see you back again in sunny Costa Rica!
Your request has been sent. We look forward to meeting all your vacation needs!
Optional Guest Protect Plan travel insurance
The Guest Protect Plan from CSA Travel Protection Includes:
✓
Valuable benefits before, during and after your vacation
✓
Reimbursement of non-refundable trip costs if you must cancel your trip or cut it short due to covered sickness, injury or other events
✓
150% of trip cost coverage for covered trip interruptions
✓
24/7/365 emergency assistance hotline, plus access to a network of physicians
View complete plan details
Yes! I want the CSA Travel Protection Guest Protect Plan
No, I don't want this insurance and understand that I may be responsible for cancellation penalties in accordance with the Terms and Conditions, up to 100% of the rental costs.