Casa del Cabo | Costa Rica Cabin / Bungalow Rental
Matapalo Vacation Rental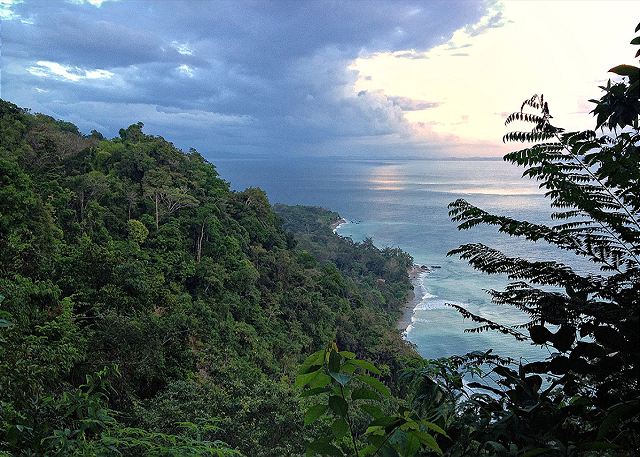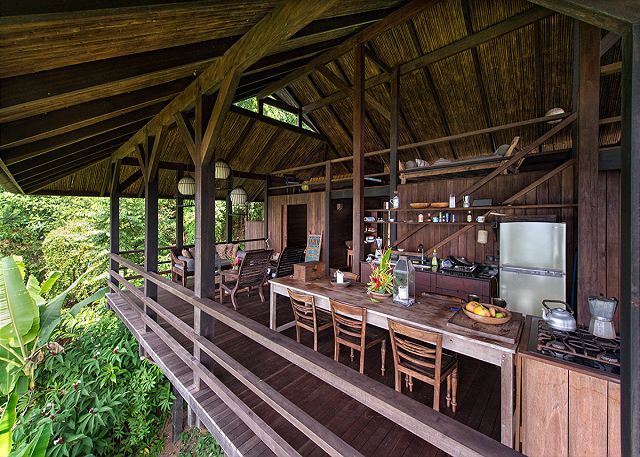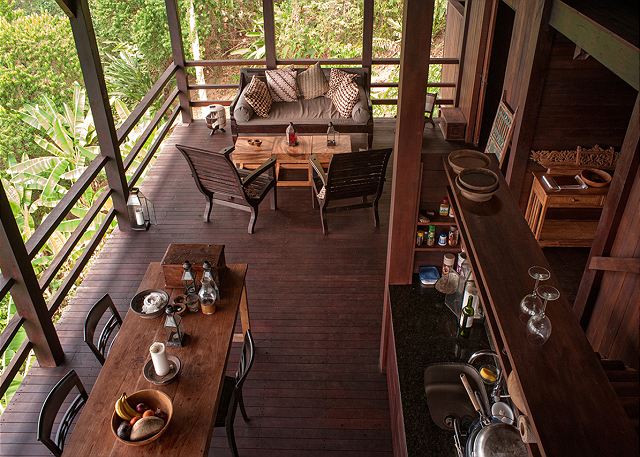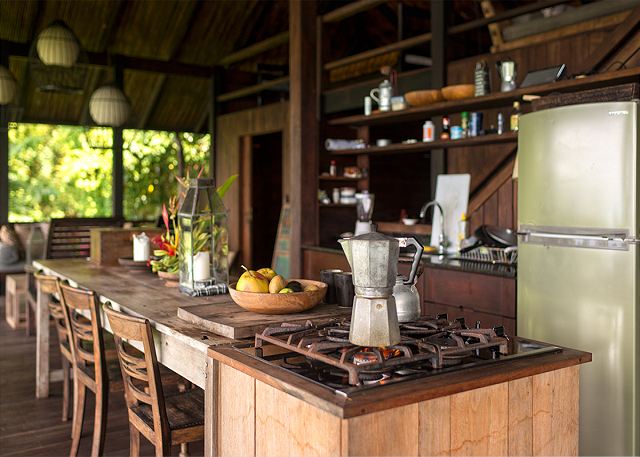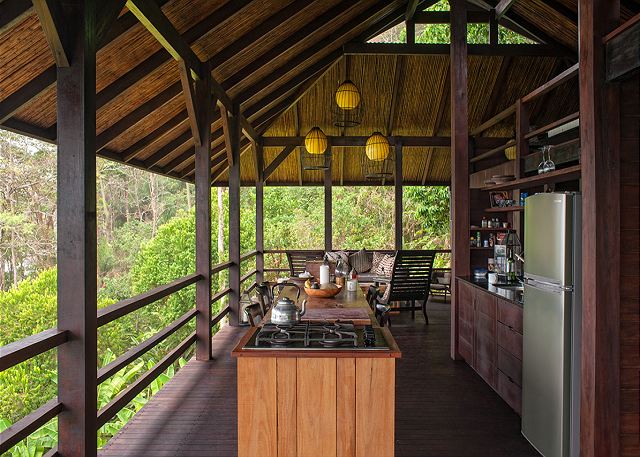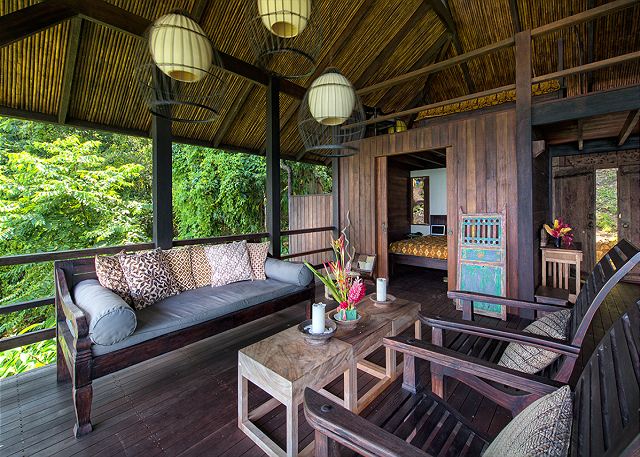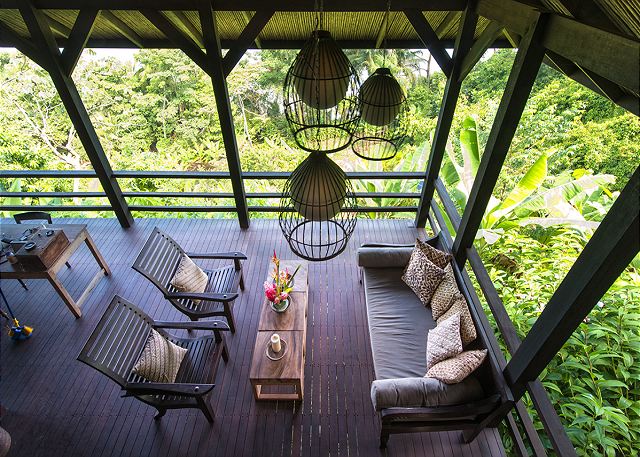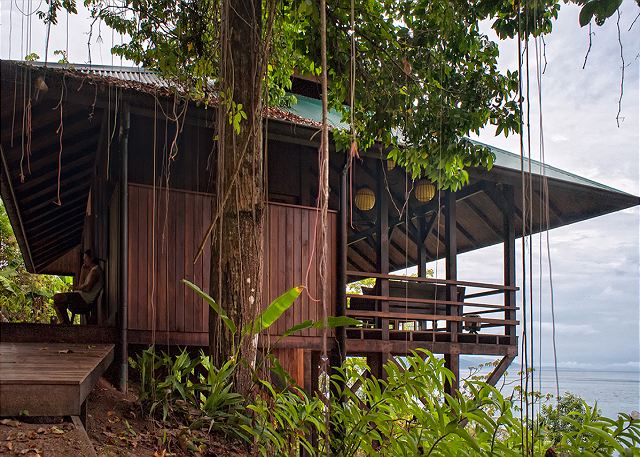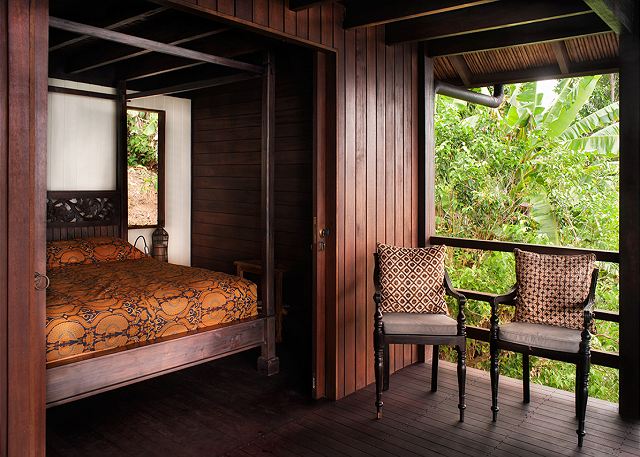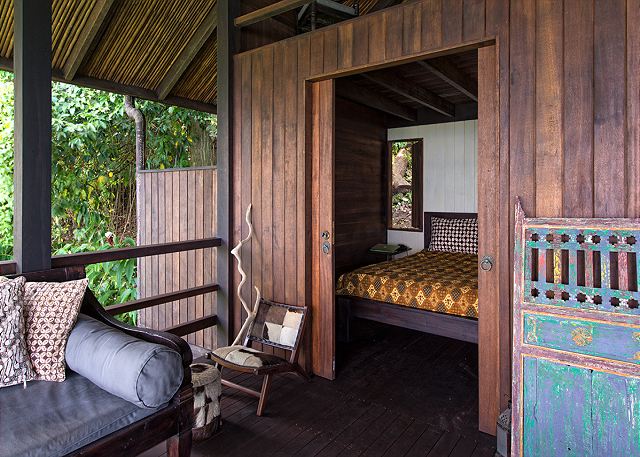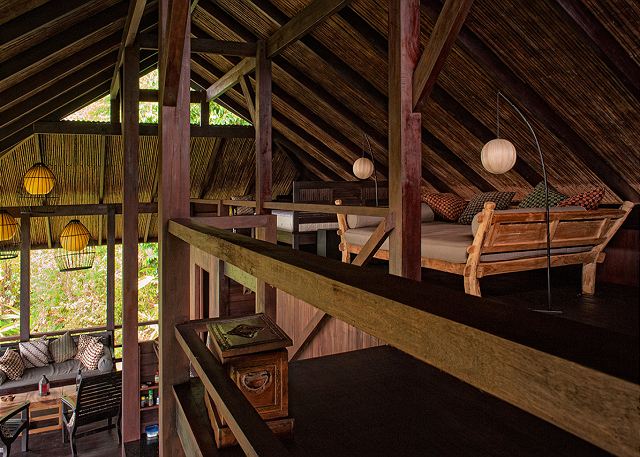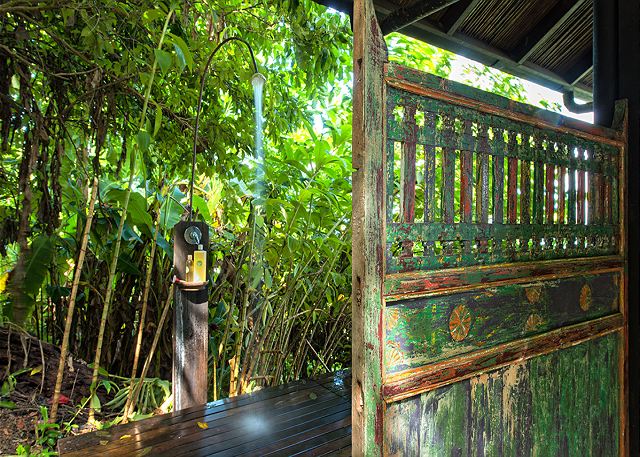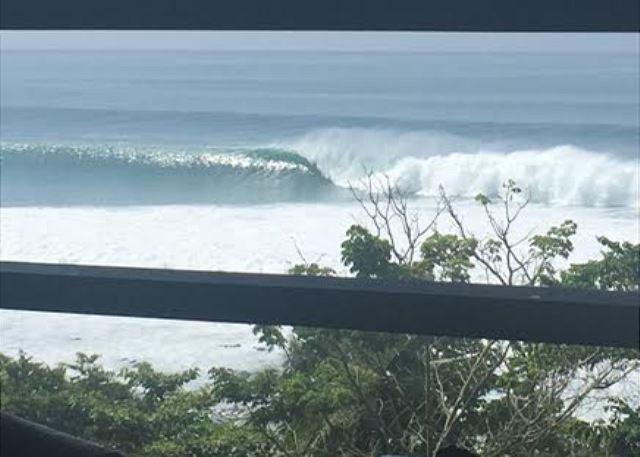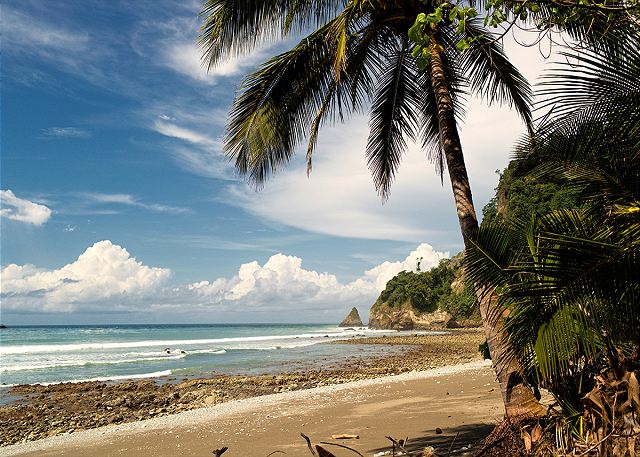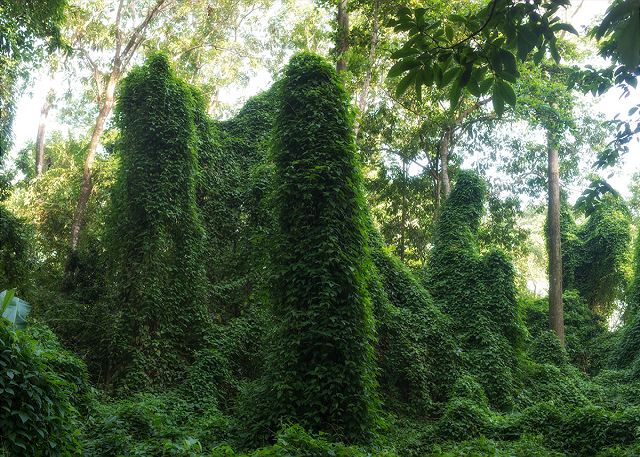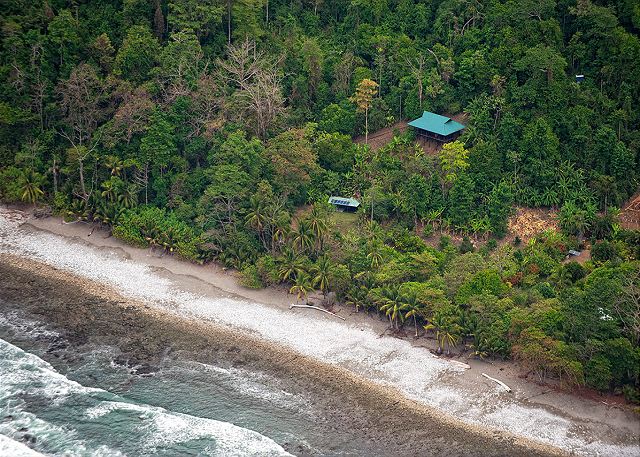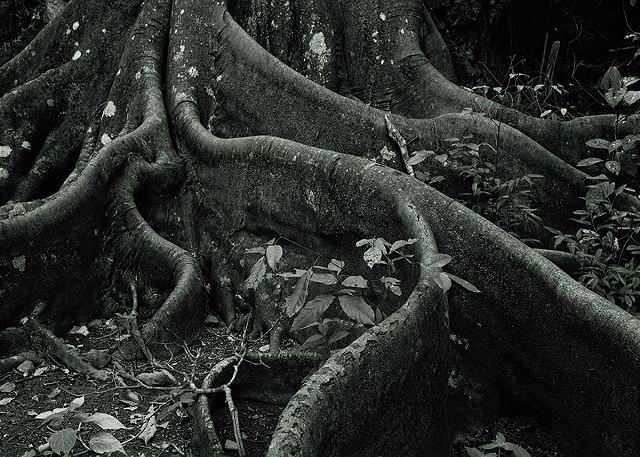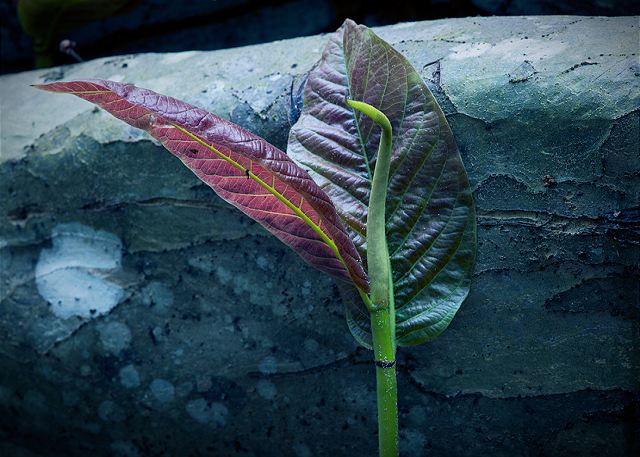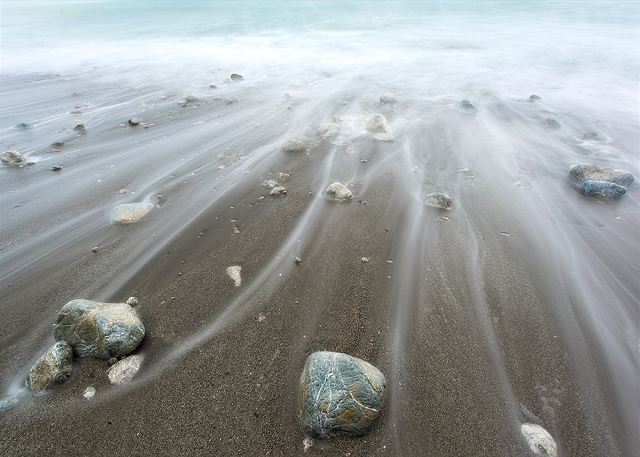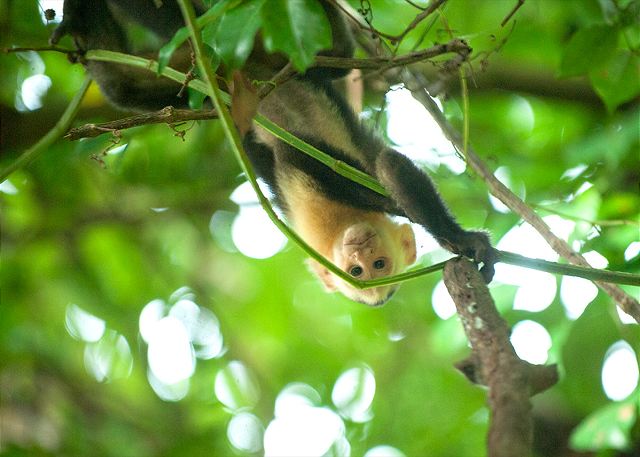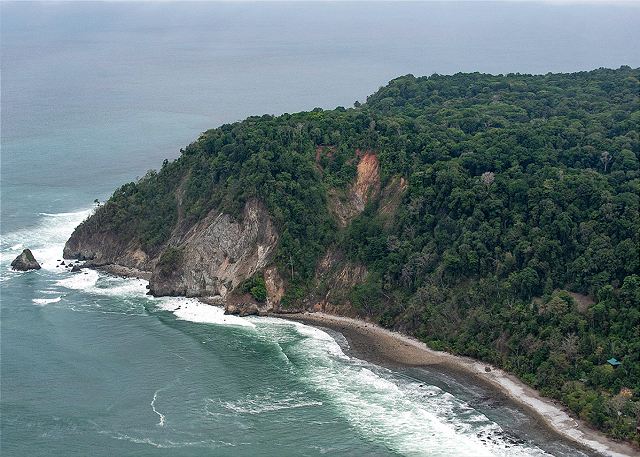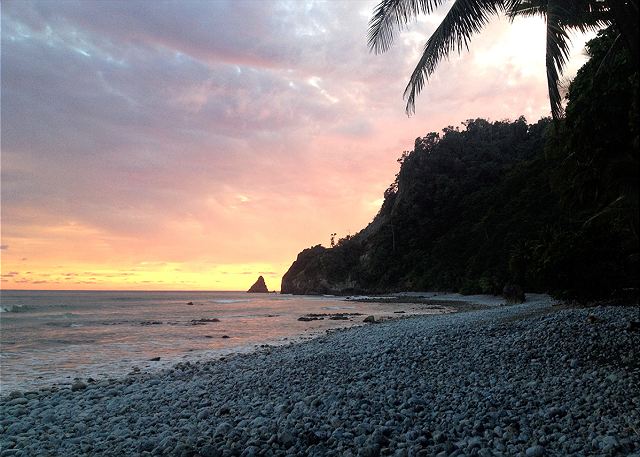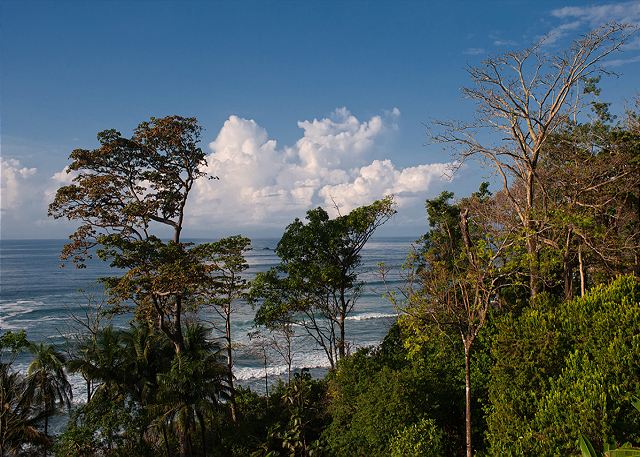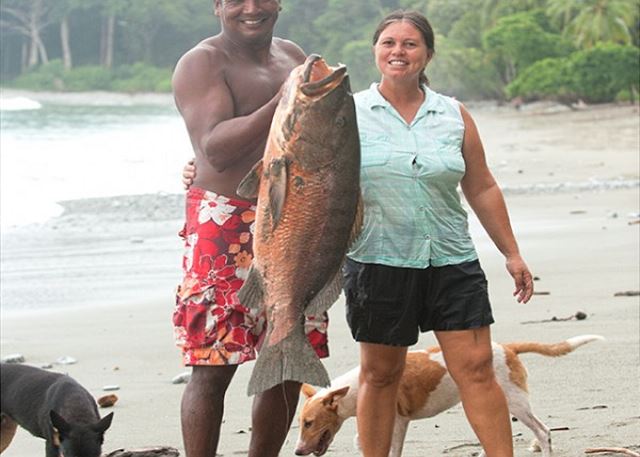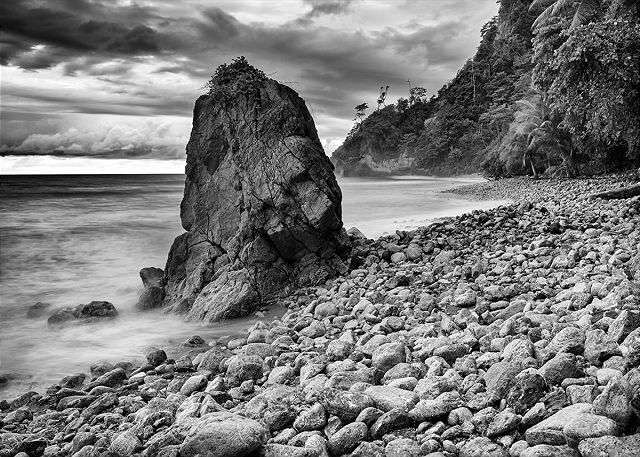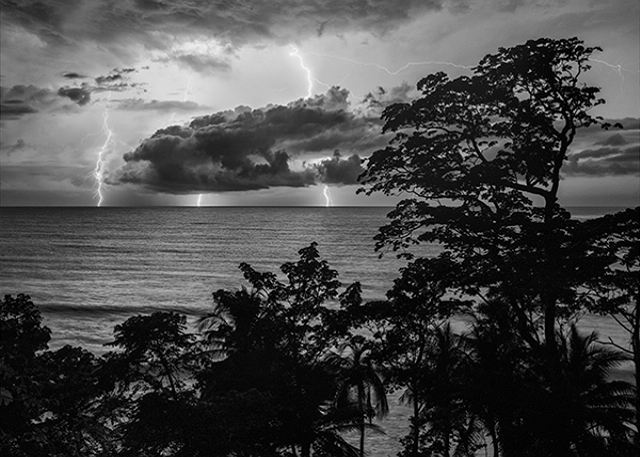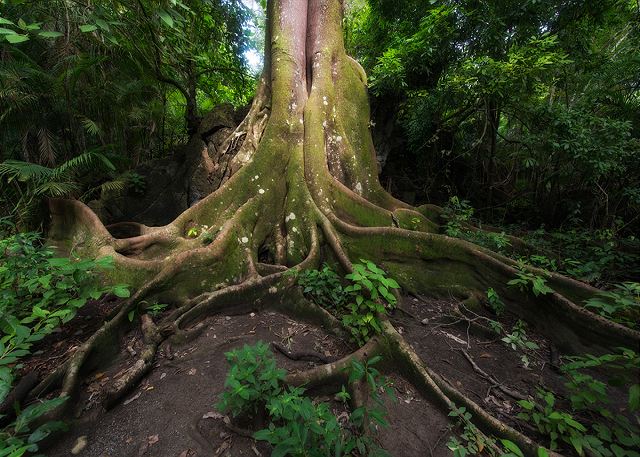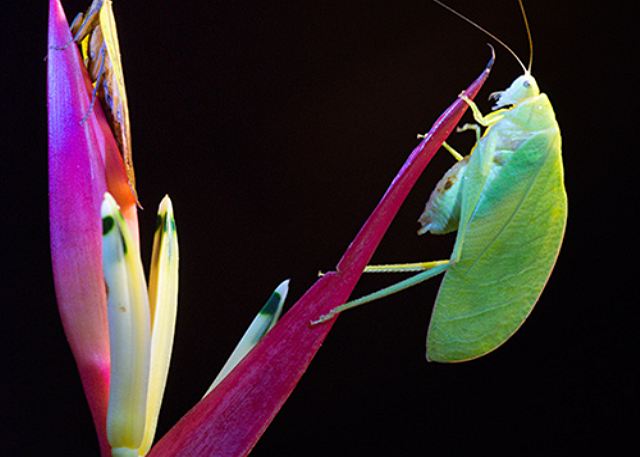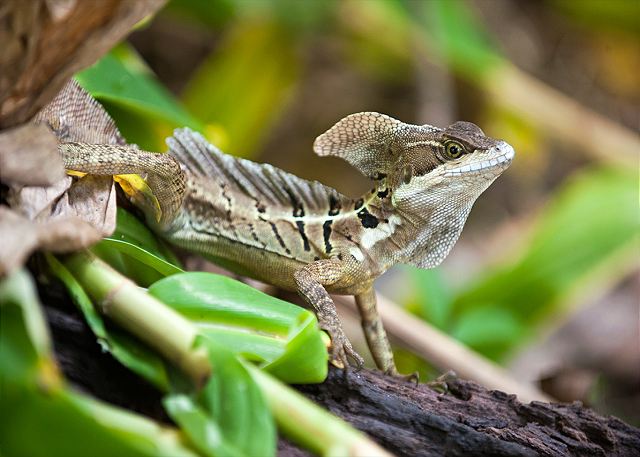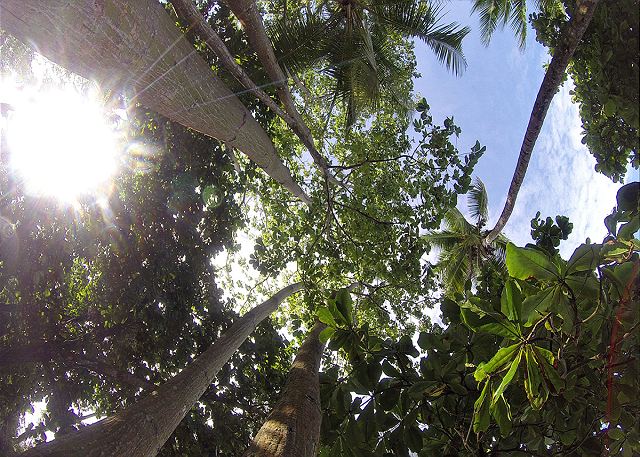 Carefully crafted to exist in harmony with nature, Casa Del Cabo focuses its view on the outside world with a fully open living space that captures the ocean breeze and eliminates the need for air-conditioners or fans. The house is designed to be gentle on the surrounding environment so that your visit to Casa del Cabo leaves only a light footprint. The home's main structure and the floors are constructed out of ironwood, the roof is built with a tropical wood called purple heart, and the outside decks are Ipe wood. These exotic woods originate from locally-gathered fallen trees.
In this open-air house, the sounds of the sea lull you to sleep. Your senses become finely tuned to the pristine rainforest environment that surrounds you. This is a truly unique opportunity to experience the natural beauty of Costa Rica, and to relax in its calming embrace.
In the garden below the house we have planted hundreds of banana plants, durian trees, guanabana trees, and other exotic fruit-bearing trees. Eat fresh-from-the-tree tropical fruit and observe the wildlife that it attracts as it ripens. Fresh tree-ripened coconuts are everywhere, Walter the grounds keeper will open them for you with his machete.
One of the last places in the world where primary rainforest extends to the high tide line, the Osa Peninsula is a hauntingly beautiful environment. This remote, lush, and relatively unexplored corner of Costa Rica is home to over 2.5% of the entire world's animal and plant species. Endangered species like Baird's tapir, the white- lipped peccary, the Central American squirrel monkey and pot-bellied spider monkey inhabit the forests of the Osa Peninsula. A place where jaguars still roam the jungles, scarlet macaws and toucans fly freely about, and breeding populations of humpback whales swim by the shores, the Osa Peninsula has been described as the most biologically intense place on earth (National Geographic).
HOME HIGHLIGHTS:
- Solar Powered Home
- Walking Distance to the Beach
- Completely Ecological Home
SLEEPING ARRANGEMENTS (SLEEPS 6):
Bedroom 1: King Bed
Bedroom 2: Full Bed
Common Area: Full Bed (2) & Sofa Bed
***On-line bookings made during the year-end holiday weeks must check in and check out on one of the following sets of dates in order for the reservation to be accepted:
Dec 19 - Dec 26
Dec 22 – Dec 29
Dec 26 - Jan 2
Dec 29 - Jan 5
| | Nightly | Weekly |
| --- | --- | --- |
| April 14 - April 20, 2019 | $468 | $2,632 |
| April 21 - April 30, 2019 | $340 | $2,124 |
| May 01 - June 15, 2019 | $276 | $1,932 |
| June 16 - August 18, 2019 | $307 | $2,149 |
| August 19 - October 31, 2019 | $276 | $1,932 |
| November 01 - November 22, 2019 | $276 | $1,932 |
| November 23 - November 30, 2019 | - | $2,149 |
| December 01 - December 18, 2019 | $276 | $1,932 |
| December 19 - December 25, 2019 | - | $3,276 |
| December 26 - January 01, 2020 | - | $3,752 |
| January 02 - January 05, 2020 | $536 | - |
| January 06 - April 03, 2020 | $307 | $2,149 |
| April 04 - April 13, 2020 | $468 | $3,276 |
| April 14 - April 30, 2020 | $276 | $1,932 |
Thank you for entering your review. The review will become available to the system shortly.
One of a kind experience.
Rating:
Review Date: 02/20/2019
A well- crafted unique home in the most beautiful spot in Costa Rica. From the epic drive to the porperty, the stunning views that you can stare st all day, the array of dazzling wildlife interacting with you, to the quality of the home, this place is a must. The place is isolated, quiet, and surrounded by nature. The place was spotless, and was full of nice details like fresh flowers from the property and fresh coconuts in the morning. You are basically living outside and the intelligent design of the house keeps you cool all day long with no need for nasty AC units and loud fans. I will definitely be coming back here, perhaps annually. The best place in Costa Rica.
Manager Response: 04/17/2019
Response from Stay in Tamarindo
Thank you Brandon! We are thrilled to hear you loved the house and its location. We know it is located in one of the most beautiful places in Costa Rica with all its exuberant nature and wild it makes Casa del Cabo and exceptional place. Thank you so much again for staying with us and for your detailed review, so many other travelers can have a little idea of this beautiful place. We hope you can make it back very soon as we will love to assist you once again. Pura Vida!
Amazing Experience
Rating:
Review Date: 02/14/2018
Amazing, really amazing.
It's an experience that everybody must live.
Incredible views, sounds, everything. You going to be living at the forest. Be able to see lot of animals, in their natural place, eating, flying, right next to you. Listen to the sound of the ocean, the monkies, all.
Really is something unforgetable. It's an experience for life!
Manager Response: 03/28/2018
Response from Stay in Tamarindo
Mauricio, We are so happy to hear you had an amazing experience and loved your stay. It is true its a magical place. We look forward to welcoming you back for another round very soon!
Your request has been sent. We look forward to meeting all your vacation needs!
Optional Guest Protect Plan travel insurance
The Guest Protect Plan from CSA Travel Protection Includes:
✓
Valuable benefits before, during and after your vacation
✓
Reimbursement of non-refundable trip costs if you must cancel your trip or cut it short due to covered sickness, injury or other events
✓
150% of trip cost coverage for covered trip interruptions
✓
24/7/365 emergency assistance hotline, plus access to a network of physicians
View complete plan details
Yes! I want the CSA Travel Protection Guest Protect Plan
No, I don't want this insurance and understand that I may be responsible for cancellation penalties in accordance with the Terms and Conditions, up to 100% of the rental costs.