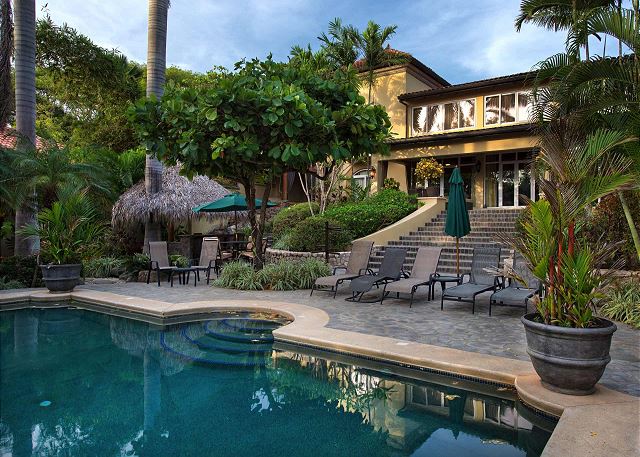 Casa de Luz is an elegant beachfront mansion located on the stretch of Langosta Beach known as Millionaire Mile. This securely gated property consists of a main villa with two independent courtyard casitas, exuberant tropical gardens, a private pool, and unmatched proximity to the soothing sound of surf lapping onto the sand. Casa de Luz, with its full-time staff, is able to welcome groups of 20 or more guests. Ample indoor and outdoor gathering spaces make Casa de Luz an excellent choice for your group event destination.
Inside the main house, a fully equipped kitchen and laundry provide all the comforts of home. The living room, dining area, and spacious ocean-view terrace combine to allow space for even large groups to spend quality time together. Each of the two floors of the home have a bedroom with a queen-sized bed and a bedroom with a king-sized bed. A bunk room ideal for the youngest travelers and a tv/entertainment room with convertible couches provide additional sleeping accommodations on the second floor. The courtyard casita on the front side of the property offers a full bed, full bath, and miniature kitchen. The courtyard casita on the beach side of the property is equipped with a full kitchen, small sitting area, and a queen-sized bed. All of Casa de Luz's living spaces are air conditioned and are wi-fi connected. Depending on availability, the small 5-star boutique hotel next door is able to accommodate additional members of your party or participants in your event.
One of the things that makes Casa de Luz stand out among other vacation rental properties, besides its size, is its proximity to the beach. Literally steps from the beach gate, high-tide tide pools are teeming with fascinating marine life along a pristine stretch of sand. A quick walk down the beach to the south places anxious surfers in front world-class waves.
Another thing that places Casa de Luz a cut above the rest is its commitment to respecting the environment. Casa de Luz is one of Tamarindo and Langosta's only solar-powered homes, gathering energy to meet its needs with brand-new panels installed on the roof. All housekeeping and hygiene products present on the property are Costa Rica's top-of-the line biodegradable options. Casa de Luz has also gone the extra mile to become our most-recommended option for anyone with skin sensitivities. New ozone sanitation systems in Casa de Luz's pool and laundry allow us to eliminate 90% of the chlorine from the swimming pool and most of the chemicals normally involved in doing laundry.
Casa de Luz, in addition to a full-time house keeper and grounds-keeper, offers a personal concierge who helps you get to know the property and can arrange the extras that make a vacation relaxing: a private chef, butler service, transportation, childcare, adventure and eco tours, and of course any type of even services that you may require.
SLEEPING ARRANGEMENTS (SLEEPS 23):
North Upstairs Master: King Bed, en-suite bathroom

South Upstairs Master: Queen Bed, en-suite bathroom

Transformer Room: Queen Bed, 2 Sleeper Sofas

Bunk Room: Queen Bed, 3 Twin XL Beds, 1 Twin Trundle with easy stair access to top bunks
North Downstairs Master: King Bed, en-suite bathroom

South Downstairs Master: Queen Bed, en suite bathroom
Pool Casita: Queen Bed, Sleeper Couch, en-suite bathroom

Courtyard Cabina: Full Bed, en-suite bathroom
Daily Housekeeper (excluding Sundays)

Beachfront Home

Perfect for Large Groups

Events and Parties Allowed (Additional Fees)
***Bookings made during the year-end holiday weeks must be pre-approved. Please Inquire about holiday dates before making an online booking