Plan Your 2021/2022 Dream Wedding in Costa Rica
Planning your wedding is one of the most singular times of life: magical and full of hope, exciting and rife with joy. Give into it. Let it all wash over you. Bask in the anticipation of planning a perfect start to forever. Because forever will be here soon. Until then, we'll help you plan every detail to get married in Costa Rica.
Specifically, to plan with very little stress and a lot of the good stuff – all that hope and wonder and picture-perfect everything. That's why we're here. While we've already written extensively on getting married in Costa Rica, we thought an update was due.
After all, it's been a wild (let's go with that) last year or so. One that probably has you wondering whether anything has changed, or evolved, or then updated in any way that will be relevant to your wedding. Hour guide to getting married in Costa Rica, 2021/2022 edition, will help. And wherever it doesn't please get in touch.
Get Married in Costa Rica: 2021/2022 FAQ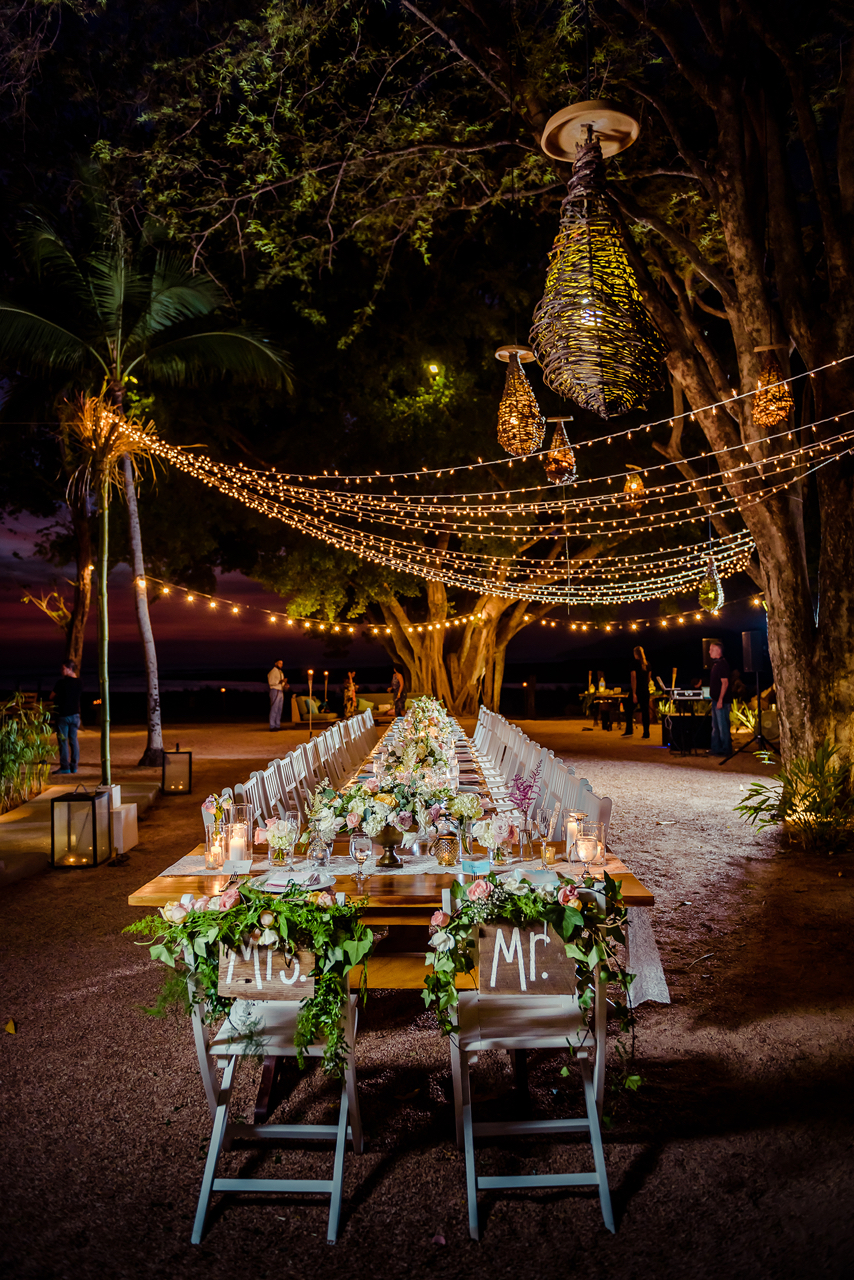 Congratulations! There's nothing in the world quite like planning a wedding. Of course, there's also nothing quite like the many questions that pop up, especially when you're planning a destination wedding.
Don't worry. As far as destination wedding planning in Costa Rica, the requirements and need-to-knows are fairly simple.
Q: What requirements are there to get married in Costa Rica? 
A: As long as you're not marrying a Costa Rican citizen – in that case, other requirements apply; please ask!– then there are only two core requirements: a Costa Rican lawyer/priest and a valid passport. With this document, I thee wed!
Q: Do we really need a lawyer? Can't our friend/family/spiritual leader marry us?
A: Yes, you really need a lawyer. Except if you don't. If you want to exchange vows – legal, get-the-paperwork-back-home vows – then you will need either a lawyer or a Catholic priest to officiate your marriage ceremony. That's because only lawyers, judges, and priests can legally officiate a ceremony in Costa Rica. (And if you don't live here, finding an English-speaking priest willing to marry a couple he doesn't know… well, that's its own commitment!)
Long story short, a lawyer is key to the legal stuff – and to prepping your paperwork to have your marriage legally recognized back home. Don't want to jump through the legal hoops? Many couples choose to have a small civil ceremony back home before exchanging vows before family and friends in Costa Rica, with any officiant of your choice. (And if that's your situation, then you won't need a lawyer or a priest, as you won't need to legalize anything back home. You're already married!)
Q: How do we legalize our marriage back home? 
A: If you choose to get married in Costa Rica – as in, not get legally married first, in your home country – then you'll need to validate your marriage abroad. The exact requirements vary depending on where you call home, but on the Costa Rican side of things, here's what will happen:
The National Registry of Costa Rica will issue your Certificate of Marriage, usually 8-12 weeks after you get married in Costa Rica.
Your lawyer will have your Certificate of Marriage officially translated, apostilled and/or notarized, depending on your country of origin.
From there, you'll have to present your marriage certificate and any required supporting documentation, per your home country's laws and regulations.
Congrats, you're now legally married in both Costa Rica and home!
Q: Are gatherings for weddings and receptions currently allowed/permitted in Costa Rica? 
A: Yes. Costa Rican law currently allows for events, including weddings. Please get in touch to discuss current regulations, if any.
Q: Do all your recommended professionals and vendors follow safety & health protocols? 
A: Yes. We not only hold ourselves to the highest standards (see below), we also expect the same from our providers, vendors, and everyone we work with. So, while we cannot make promises or guarantees on professionals outside our network, we can assure you that anyone we work with or recommend will also hold themselves to the highest standards.
And speaking of, at Stay in Tamarindo, our updated protocols prioritize your (and your guests') safety:
COVID Cleaning: Among other measures, we clean and sanitize all our Tamarindo vacation homes with both chlorine-based and organic disinfectants proven effective in killing new coronavirus (severe acute respiratory syndrome coronavirus 2, or SARS-CoV-2).
Courtesy Hand Sanitizer: We've equipped all our rentals with complimentary hand sanitizer.
Masked Hospitality: All Stay in Tamarindo staff, including our cleaning crews, are fully masked during all moments of traveler contact.
Travel with Your "Bubble": Here in Costa Rica, we refer to your COVID companions as your social bubble. And here at Stay in Tamarindo, our concierge ensures your travel plans – transportation, tours, and activities – are for your bubble only.
Have more questions? See our full Costa Rica Wedding FAQ.
Costa Rica Destination Wedding: 5 Venues to Begin Your Forever
The first step in the journey to get married in Costa Rica: window shopping! Here are five venues (plus some) to inspire your plans and dreams.
8 Beds | 7 Baths | Sleeps 23 Guests
If you dream of getting married on or overlooking the beach, then welcome to Casa de Luz, the home of light. Located on the sand, fully staffed, and solar-powered, this the home and wedding venue that fulfills dreams and meets expectations.
One of the largest beachfront homes not just in Playa Langosta, but the entire Gold Coast, this spectacular home offers an ideal setting to get married in Costa Rica: Picture-perfect soft sands, exquisite Pacific and sunset views, an oceanfront swimming pool, and private beach access with a beachside casita perfect for honeymooners… Well, it's the entire wedding dream package!
Venue Overview:
Max Guests: 40
Event Fees: starting at $1,000/event
Noise Restrictions: Strict – 10 p.m.
7 Beds | 7 Baths | Sleeps 24 Guests
Plan not just a beach wedding, but a beachfront wedding in style at Casa Costa Blanca. We're talking toes-in-the-sand, sunset-as-your-backdrop, could-almost-be-called-private, Pacific-Ocean-singing-your-soundtrack beachfront. (A rarity in Costa Rica.)
Fueled by the ocean's energy and the kiss of soft sands, Casa Costa Blanca is one of our wedding couples' favorite venues. It's easy to see why: This luxurious and fully staffed home is more than photogenic: It's spectacular in every detail, from the expansive pool deck and giant infinity pool to the oceanfront pool and hot tub. And, did we mention, every living space and private bedroom (all seven of them) offer Pacific Ocean views. You'll find no compromise here.
Additionally, when you stay at Casa Costa Blanca, you'll enjoy exclusive access to Hacienda Pinilla: swimming, dining, and more at the Hacienda Pinilla Beach Club, as well as access to the gated community's full suite of amenities, including a championship golf course, tennis courts, equestrian center, hiking and biking trails, and pristine beaches.
Venue Overview:
Max Guests: 50 on the pool deck; please inquire for larger groups
Event Fees: starting at $1000
Noise Restrictions: Strict – 10 p.m.
8 Beds | 10 Baths | Sleeps 24 Guests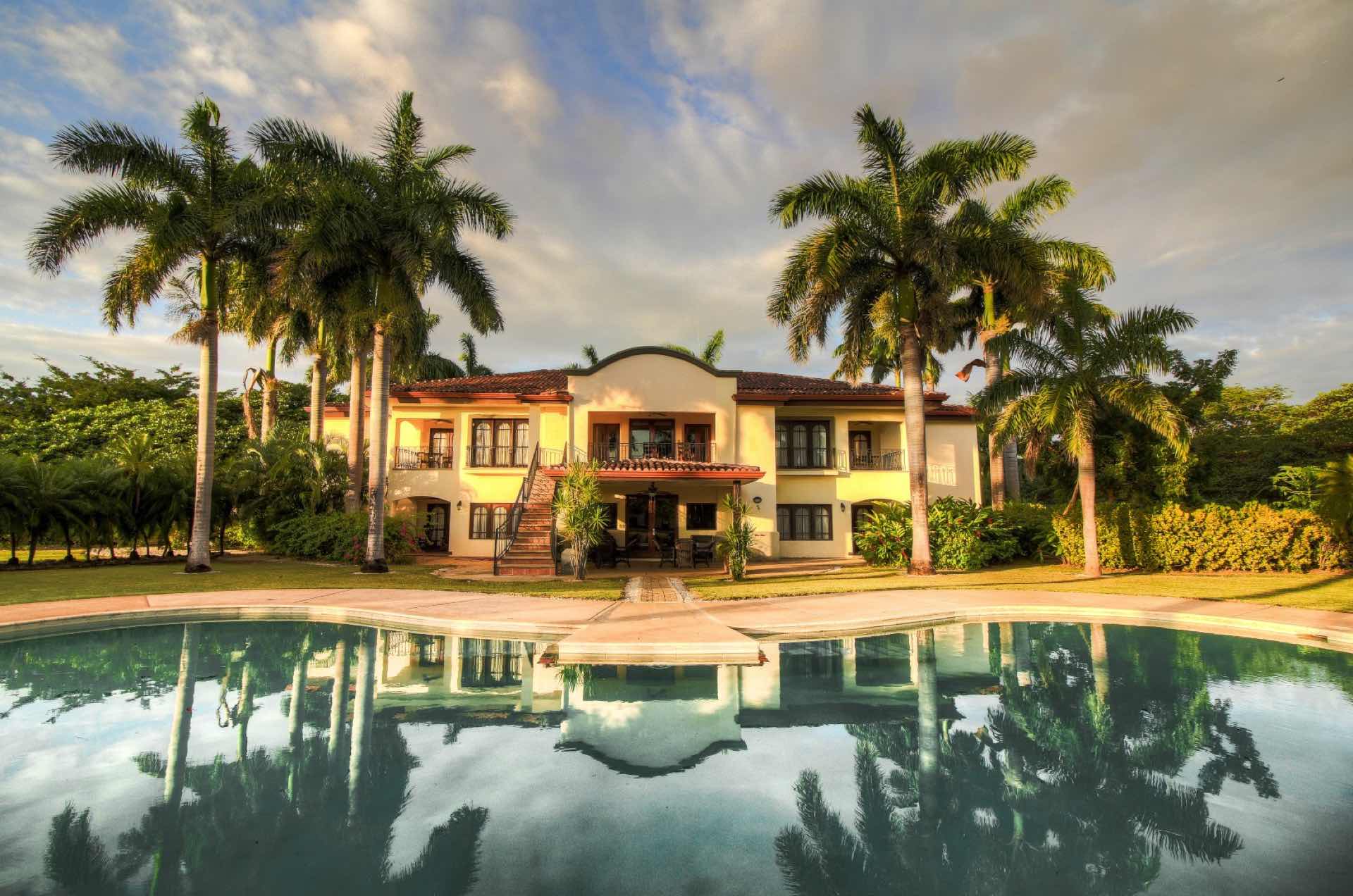 Once a bed-and-breakfast now an exclusive venue and spectacular mansion, Villa Tranquila – Spanish for tranquil, to name the lifestyle, the atmosphere, and overall feeling here – is a stunning choice to get married in Costa Rica.
The entire home delivers an unparalleled wedding experience, from the private pool and sweeping double staircase (an incredible photo op!) to the expansive yard and pool terrace. And while the home is picturesque, the setting tropical, and the views serene, the best part is something you can't see: No noise restrictions. When it comes to rare amenities in Costa Rica, this one tops the list! And it means you can dance, toast, and enjoy the night away, exactly as you've always dreamed.
As with Casa Costa Blanca, when you book a stay at Villa Tranquila, you'll enjoy exclusive access to Hacienda Pinilla: swimming, dining, and more at the Hacienda Pinilla Beach Club, as well as access to the gated community's full suite of amenities, including a championship golf course, tennis courts, equestrian center, hiking and biking trails, and pristine beaches.
Venue Overview:
Max Guests: 100
Event Fees: starting at $1000
Noise Restrictions: none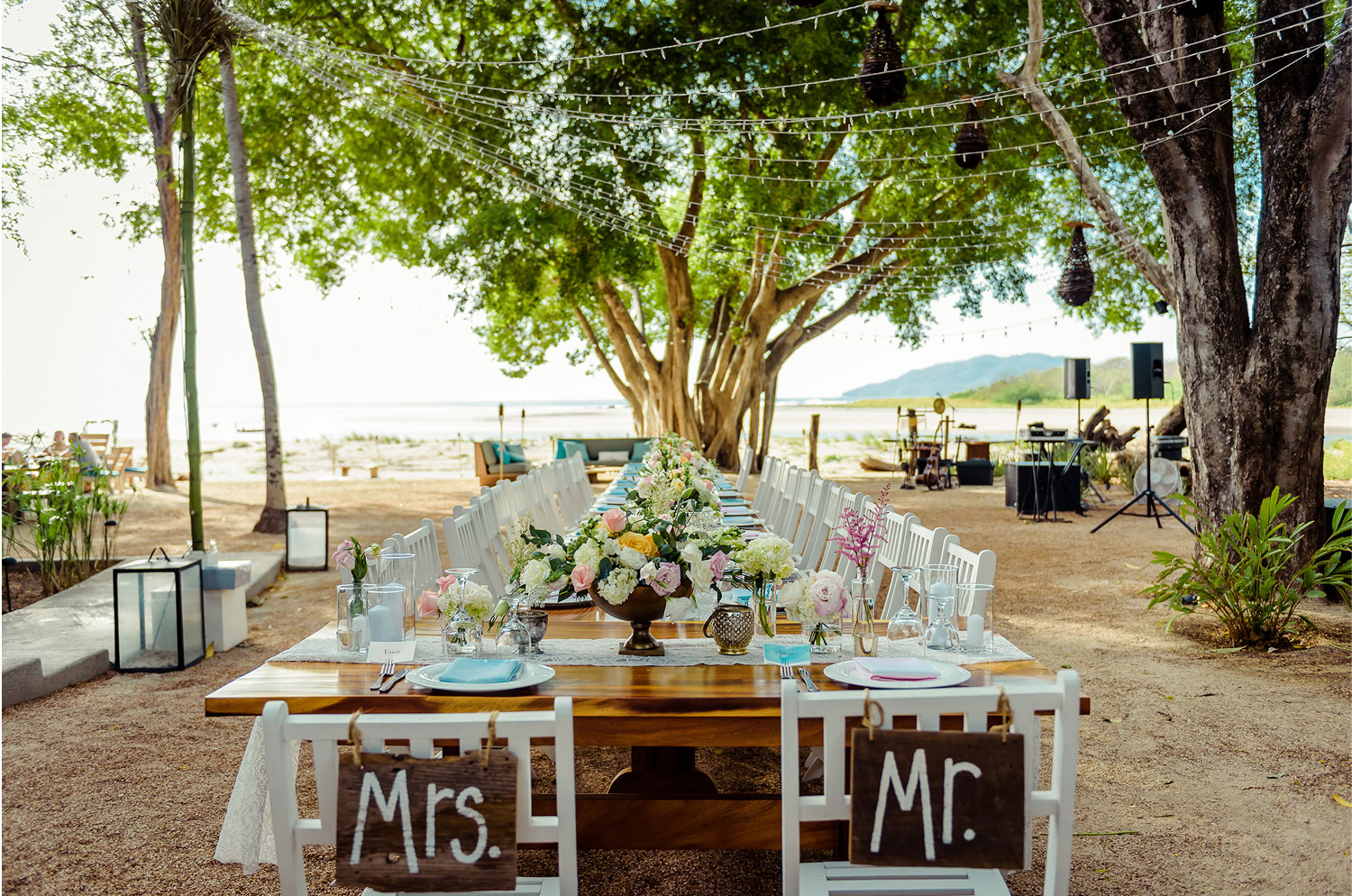 There's nothing more fitting for a large beachfront wedding, than Pangas Beach Club, located at the northern end of Playa Tamarindo. Here, where timeless elegance blends with beachfront casual – where sea meets sand meets estuary – Pangas serves as a perfect place to get married in Costa Rica.
We're talking "I dos" with your feet in the sand and the Pacific as your photo backdrop. Exchanging vows while crashing surf harmonizes with melodic birdsong. And where your custom wedding celebration – from your menu and signature cocktail to sun-drenched décor and beachfront dining  – perfectly complements your wedding vision.
Venue Overview:
Max Guests: 300
Event Fees: Minimum consumption based on the season. Please inquire for pricing.
Noise Restrictions: 10 p.m.
Costa Rica Wedding Venues at Hacienda Pinilla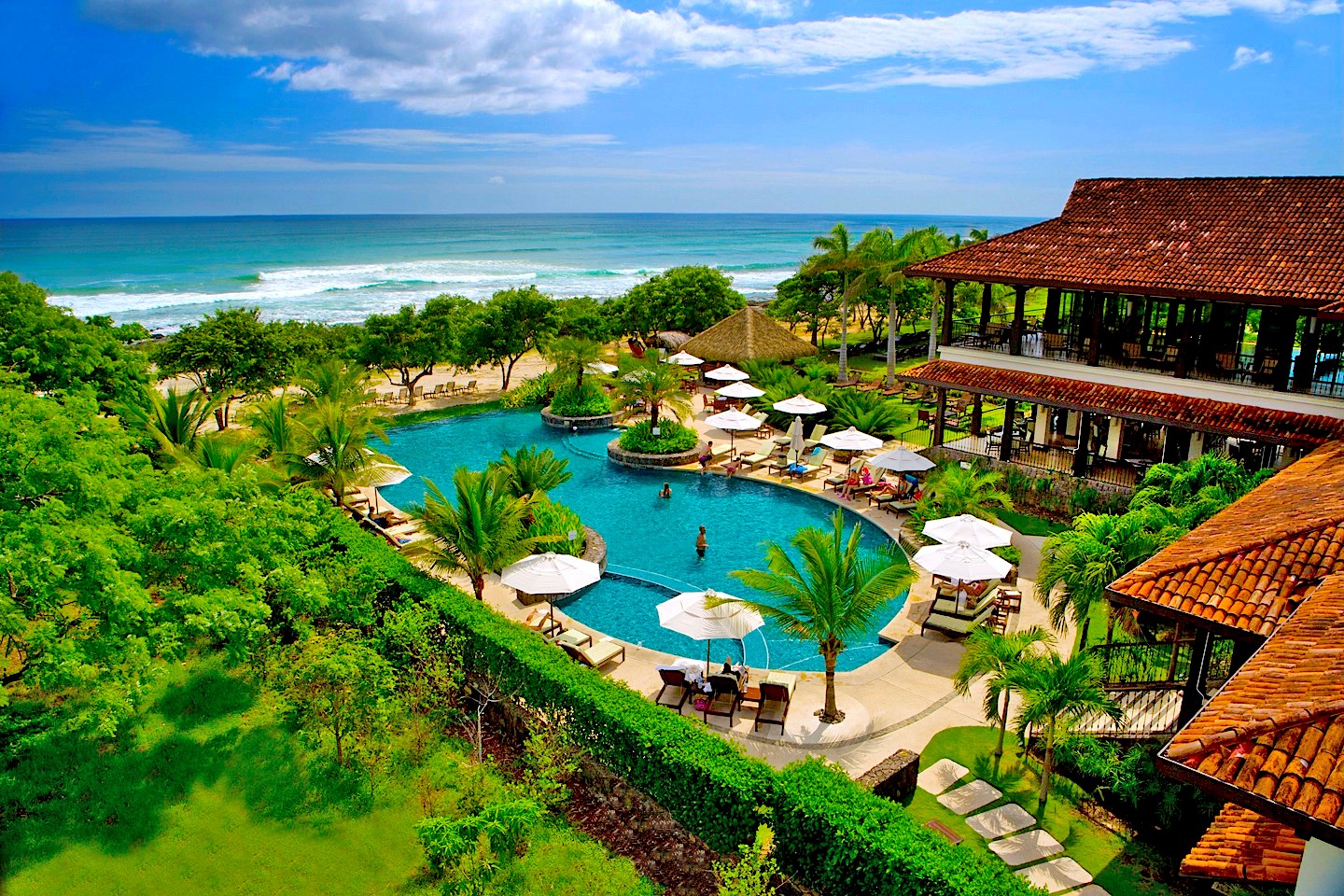 Located 20 minutes from Tamarindo, Hacienda Pinilla is an exclusive, 4,500-acre gated community on the Pacific Ocean. Here, you'll find several of Costa Rica's most immaculate beaches, paired with a championship golf course, oceanfront Beach Club, tennis courts, walking and biking trails, and other upscale amenities.
You may also find the perfect wedding venue to get married in Costa Rica. In part, because your entire wedding party can stay close: We offer 100+ bedrooms at our Hacienda Pinilla vacation rentals, hosted at luxurious homes with private pools, ocean views, full staff, and other incredible amenities.
It doesn't hurt, of course, that Hacienda Pinilla also offers some of the best and most photogenic wedding venues in Costa Rica. To wit:
Hacienda Pinilla Beach Club: Host a grand event at this upscale beach club, where you can exchange vows with your toes in the sand.
Mandarina Lounge: Located on the second floor of the Beach Club, this private lounge delivers intimacy for smaller weddings and receptions.
Las Palapas: Two thatched ranchos by the beach offer the perfect setting for a beach wedding, especially at sunset.
The Chapel: Take your wedding day a little more traditional at Hacienda Pinilla's lovely chapel, built in the colonial style and open to all beliefs.
JW Marriott: Dial up the luxury at Hacienda Pinilla's onsite JW Marriott, offering stylish and exclusive event spaces. 
Wedding Vendors: Sourcing Catering, Flowers, Music & More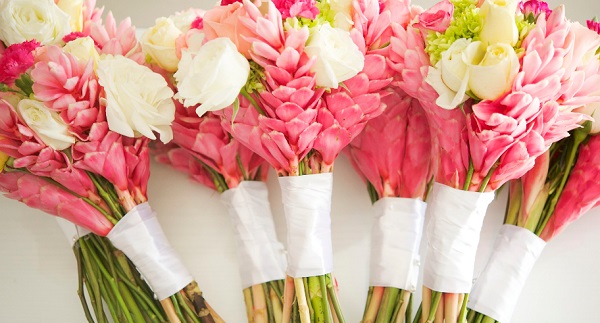 At Stay in Tamarindo, we've had many opportunities to become experts in all things Costa Rica wedding planning. And we're delighted about it.
Our dedicated wedding specialists can help you get married in Costa Rica, from locating your dream venue to planning every little detail. We're master coordinators at all things wedding, including locating the right vendors for your nuptial style, location, and guest list. Here's
Catering
We operate within the wide and varied network of Tamarindo-area caterers, who offer services to accommodate different budgets, needs, and group sizes. So, whether you're planning an afternoon cocktail hour at a private home or a banquet for 100 at a beachfront venue, we can connect you with the perfect options.
Flowers
When it comes down to your wedding details, one of the most enjoyable decisions will come courtesy of your florist. Luckily, Costa Rica is a veritable wonderland of botanical beauty and much of your wish list grows nearly year-round and offers a wide variety from which to choose – literally, thousands of exotic flower varieties, at a fraction of what you'd expect to pay in the U.S. or Canada.
Music
Music and entertainment, generally, are important considerations when you get married in Costa Rica. Beyond the general question – what type of music, DJ or live music, etc. – you must also consider noise restrictions. Want to dance into the wee hours? We can help you with that, too.
Planning to Get Married in Costa Rica?
Have we tickled your fancy? Then please, get in touch! We have extensive experience in Tamarindo destination wedding planning – and we're happy to share! From venues to vendors, florists to photographers, we have all the recommendations and advice you need to plan your wedding in paradise.
https://stayintamarindo.sfo2.digitaloceanspaces.com/wp-content/uploads/2022/08/09122638/sit-logo-1.png
0
0
Erin Raub
https://stayintamarindo.sfo2.digitaloceanspaces.com/wp-content/uploads/2022/08/09122638/sit-logo-1.png
Erin Raub
2021-05-15 05:00:20
2022-04-01 03:08:05
Plan Your 2021/2022 Dream Wedding in Costa Rica