Planning a Family Vacation? Tamarindo Vacation Rentals: The Cozy, the Spacious, and the Massive
Planning your Costa Rica family vacations can be one of the most exciting – or stressful – parts of your vacation planning. Finding the right home is a challenge. Pleasing everyone is hard. And doing that all within your budget? We have two words: Hoo. Boy.
Luckily, Tamarindo's family vacation rental market has just the home(s) for the best Costa Rica family vacations! From cozy two-bedrooms with ocean views to downright massive family complexes, perfect for a family reunion, our town and surrounds are eager to please the young and young-at-heart. And today, we're serving up some of our favorite homes for your family.
EASY BUTTON! Back up a few paragraphs, and we may have said that planning Costa Rica family vacations can be a stressful, challenging, and/or difficult task. That's true – until you hit our epic easy button: Book one of our vacation homes and you'll have access to our free concierge services. From activity planning and childcare, to private chefs and transportation, we eliminate your stress. At no added cost!
Costa Rica Family Vacations for Small Families (2-3 Bedrooms)
Costa Rica family vacations don't have to go big to be great. So, whether you're traveling with your kiddos or holidaying with the relatives, you'll love the small-but-mighty rental homes.
Casa Okefenoke
Hacienda Pinilla | 2 Bedrooms | 2 Bedrooms | Sleeps 4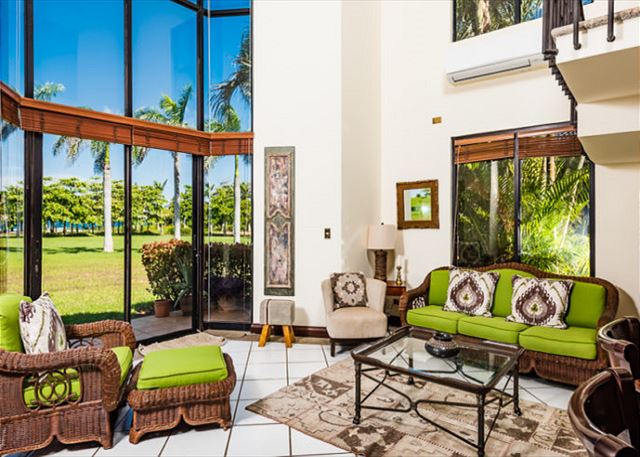 An ocean-view vacation condo with just two bedrooms – that's Tamarindo gold! At Casa Okefenoke, it's also your reality: full luxury, ocean views, and spacious interiors, wrapped into a small vacation villa in the upscale community of Hacienda Pinilla.
What we love most about Casa Okefenoke is its refusal to sacrifice: Just because you're a small family, doesn't mean you don't want big luxuries. And here, that means floor-to-ceiling glass windows to frame the view, a gourmet-ready kitchen, and access to Hacienda Pinilla's amenities, including three pristine beaches, a five-star beach club, and ocean-view golf.
La Esquina #1
Playa Langosta | 2 Bedrooms | 2 Bedrooms | Sleeps 6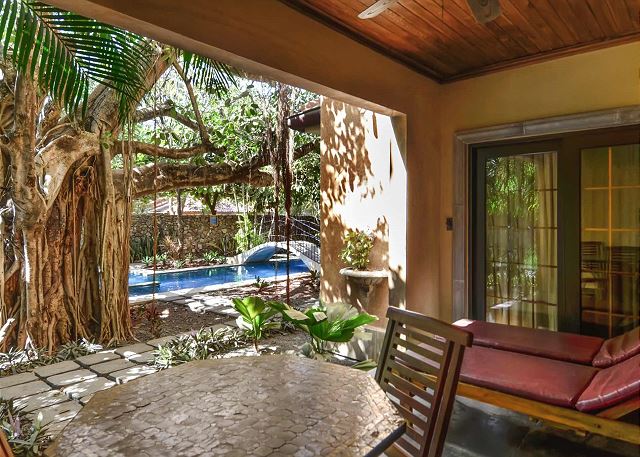 Located in the heart of lovely Langosta Beach, La Esquina #1 welcomes you to luxury, tranquility and location: an easy walk to both Langosta Beach and downtown Tamarindo.
To our mind, what makes La Esquina #1 such a wonderful family vacation home is – well, everything. Two bedrooms (plus an extra air mattress) make room for all, French doors open onto a private patio, and air-conditioning keeps everyone in good tempers. And then, there are all the little details, like communal gardens and a custom swimming pool, ample natural light and your own gas grills. And, did we mention? The monkeys are frequent visitors.
Casa Palma
Tamarindo | 3 Bedrooms | 3 Bedrooms | Sleeps 10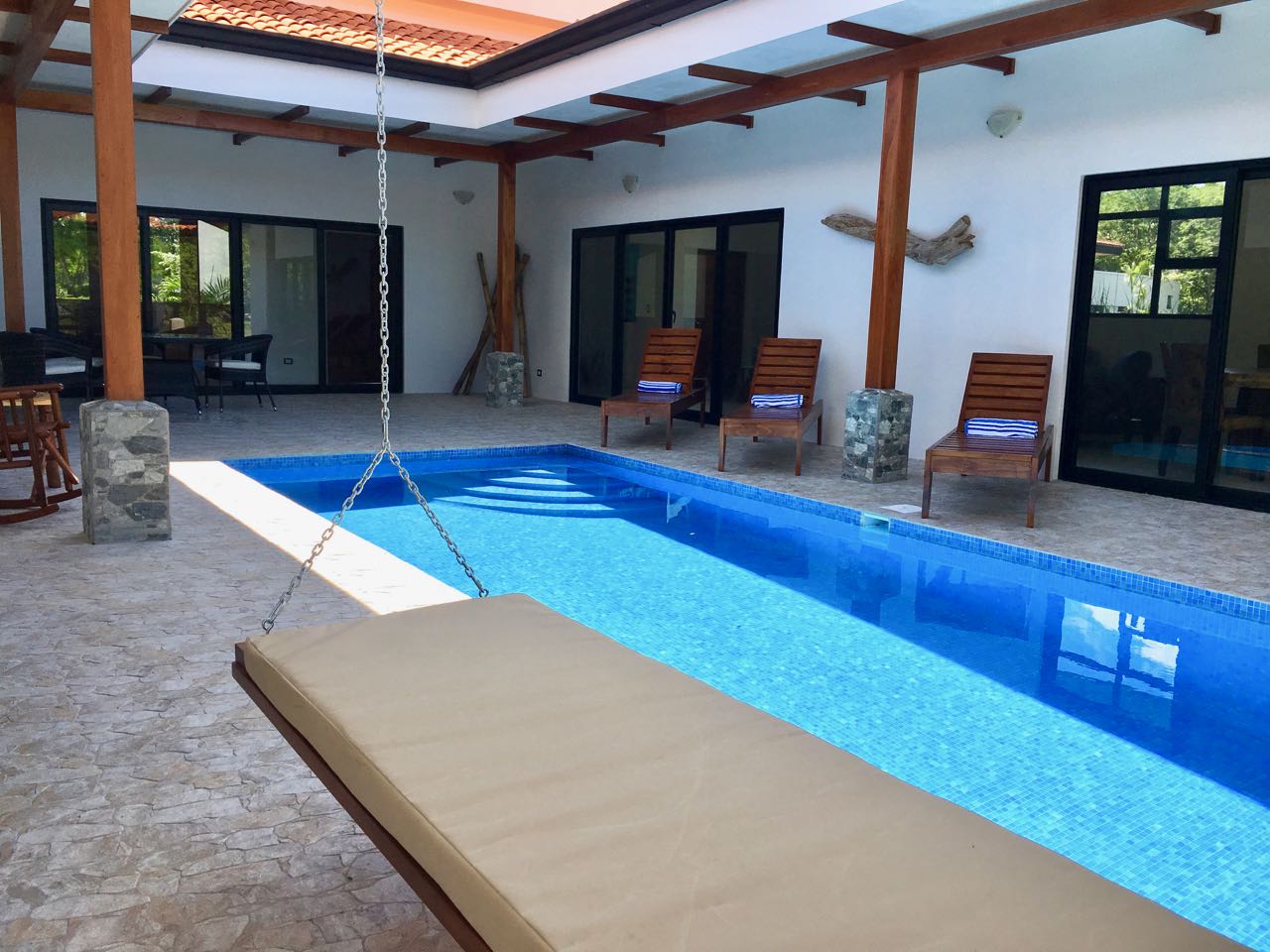 Located in the lovely Hacienda Pinilla, an exclusive beachfront community about 20 minutes from Tamarindo, Casa Palma is where your dream vacation begins.
There's a lot to love about this spacious home – full air-conditioning, an equipped kitchen, and comfortable bedrooms – but what makes this a true winner is its location and private pool. Let's start with the location: Hacienda Pinilla is a family wonderland, with pristine beaches and an 18-hole golf course, Beach Club and miles of trails. And then, there's the private pool, where you can all enjoy the good life.
Vacation Rentals For Large Families (4-8 Bedrooms)
Oceano Azul
Playa Potrero | 4 Bedrooms | 4 Bathrooms | Sleeps 10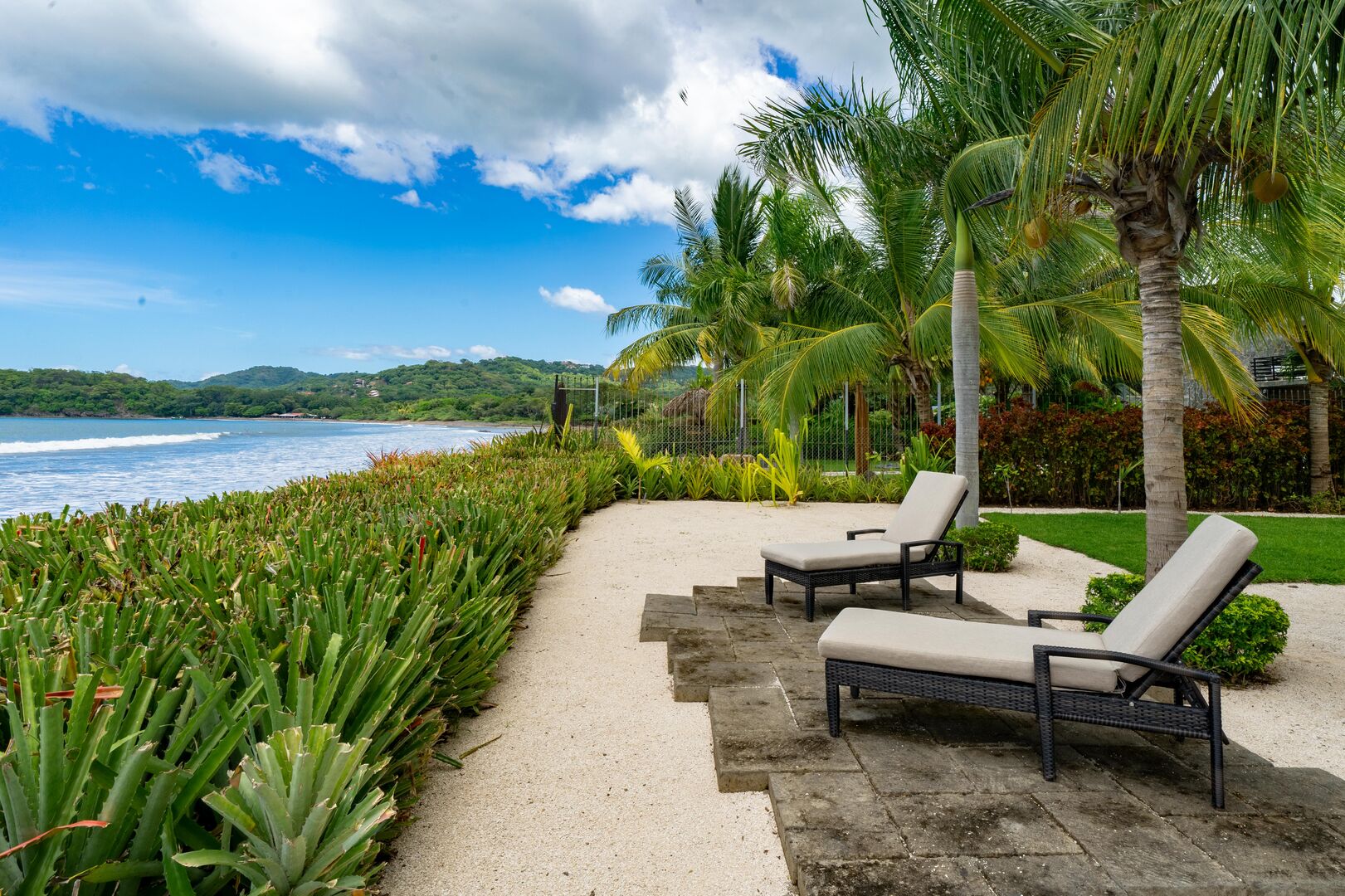 Located directly on the sands of Playa Potrero, about 30 minutes outside of Tamarindo, brand new Oceano Azul is the kind of place that'll make every one of you wish you could stay forever.
Between estuary and ocean, rainforest and sand, Oceano Azul is a perfect choice for your Costa Rica family vacations: Large enough to accommodate everyone, steps to the sand, and fronting a protected strand of beach – perfect swimming conditions for young kids and even better relaxation conditions for their parents. And then, there's the luxury pool, large living spaces, ample guest suites, and those panoramic ocean views. As we said, perfect!
Casa Moana
Playa Langosta | 4 Bedrooms | 3 Bathrooms | Sleeps 12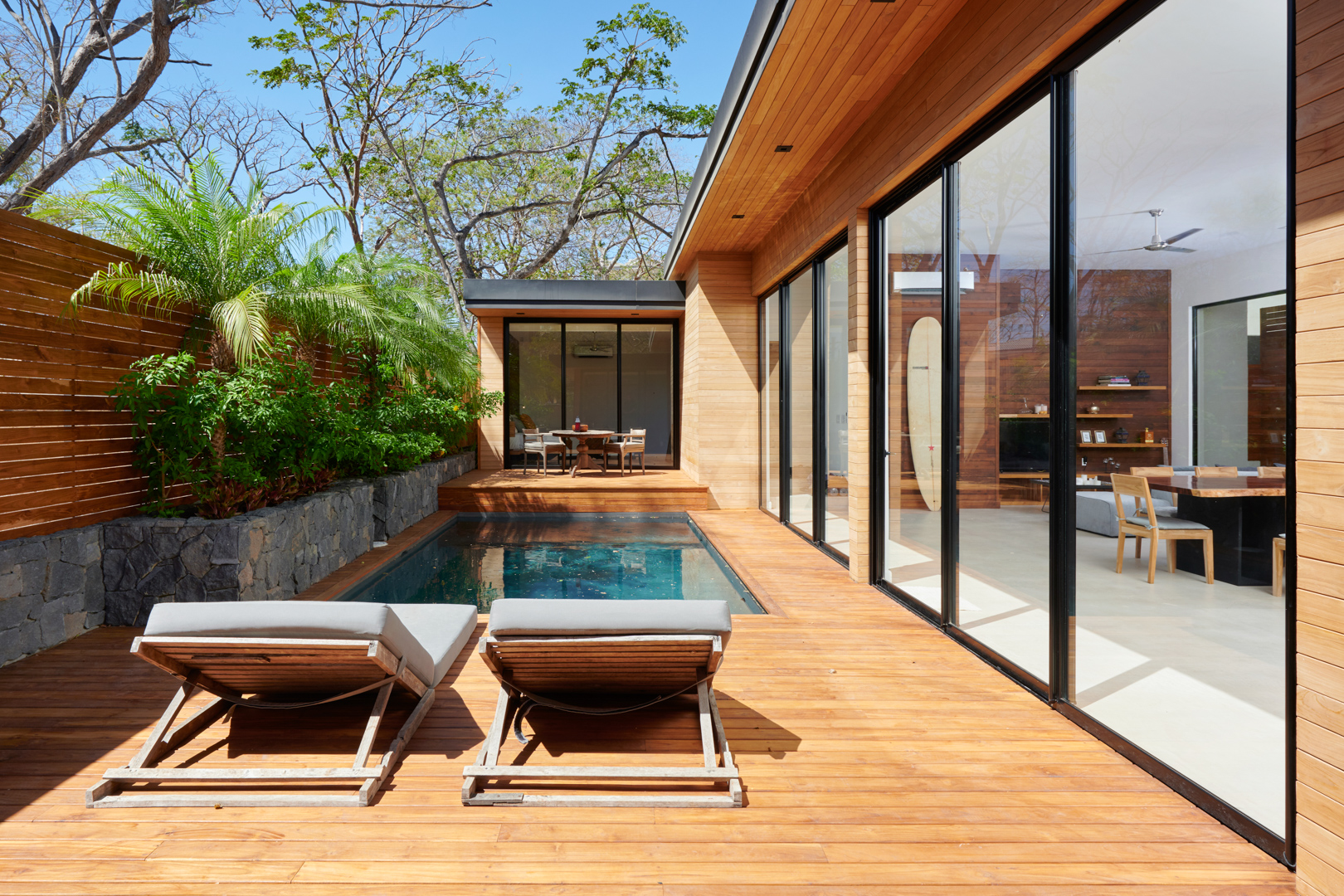 If you have little kids, then you know a home called Casa Moanais going to be a hit! But, it's not just about their favorite Disney hero: Casa Moana is a home of sleek lines and sun-dappled design, dedicated to kid-delighting and parent-pleasing everything – from the private pool and sun patio to the fire pit and 3-minute walk to the beach. (Yes, even with kids in tow!)
And then, there are all those little details that make this an ideal choice for Costa Rica family vacations: All the bedrooms are located on the same floor – safety first, parents! – and there are three master suites. Plus, the separate kids' room has two full beds (no more twins!).
Casa Leo Loco
Tamarindo | 6 Bedrooms | 4 Bathrooms | Sleeps 12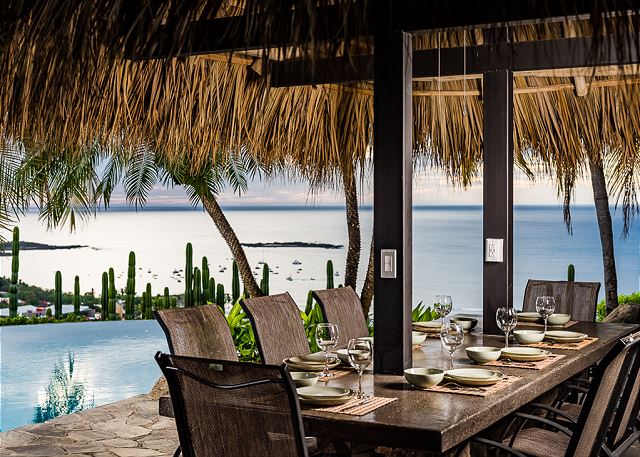 Perched on the crest overlooking Tamarindo Bay and the town of Tamarindo, Casa Leo Loco is a tropical-luxe beach house, incorporating terracotta flooring, locally sourced wood, and oversized glass doors that invite nature's exuberance into the home.
This is the kind of place where you want to lay in the sun and stay awhile: howler monkeys swing by, tropical flowers are always in bloom, and the ocean breeze plays on the air. The showcase here is unique multi-level infinity pool, set into a generous flagstone terrace and standing watch over stupendous sunsets and a sparkling display of stars after nightfall.
For [Massive] Costa Rica Family Vacations
We're looking at you – the vacation rental-shopper who thinks there's absolutely no way you're going to find what you're looking for. Your family has tasked you with the impossible. Your search is fruitless. Costa Rica doesn't have 16-bedroom villas or rental home complexes to sleep 100+ of your nearest and dearest.
Au contraire, our dear and desperate friend. Au contraire.
You have stumbled upon the jackpot. From that aforementioned 16-bedroom villa to rental home groups to sleep 130+ guests, we have the massive homes to accommodate your Costa Rica family vacations. Yes, we said homes. Family reunion bliss, launching in 3, 2, 1…
Family Reunion Central: Pangas Adjacent
Tamarindo | 65+ Bedrooms | Sleeps 130+ guests
Located on the north side of town, where the estuary divides Tamarindo from Playa Grande, our Pangas-adjacent family reunion complex offers a combination of nine villas and homes, to accommodate up to 130+ guests.
For groups of 64 (or fewer), we love our villa grouping: three luxurious properties and neighbors, located just up the hill from Pangas Beach Club.
Villas Las Mareas (16BR | sleeps up to 44): An ocean-view paradise of secluded one-bedroom casitas, located in an exclusive gated community nestled above the estuary on a Tamarindo hillside.
Casa Lomas del Mar (3BR | sleeps 8): A sleek and modern 3-bedroom, 3-bath villa with an infinity-edge pool and separate one-bedroom casita.
Casa Ventana (5BR | sleeps 12): An ocean-facing, five-bedroom villa with breathtaking panoramas of jungle foliage, the estuary, and the Pacific.
Need a little more space? A hop, skip and a jump down the hill, our next luxury home grouping offers an additional 29 bedrooms in four villas (also excellent as smaller event venues!):
Casa Puros Dieces (8BR | sleeps 20): A Balinese-style mansion the represents the ultimate in tropical luxury, with panoramic ocean views.
El Chante (8BR | sleeps 19): Open-air, this Balinese-style luxury home overlooks the intersection of Playa Tamarindo and Playa Grande at the Las Baulas Estuary.
Casa Galanga (8BR | sleeps 19): Unfolding over 15,000 square-feet, this Balinese-style mansion delivers breathtaking views of the Pacific and the Tamarindo Estuary.
Casa Ocaso (5BR | sleeps 12): Mixing elements of tropical architecture and contemporary finishes with an ultra–luxury design approach, this is the perfect spot for Tamarindo sunsets.
And finally, for those promised 11 extra bedrooms, we offer two beautiful homes – just a 5-minute drive from our other homes:
Puesta del Sol (6BR | sleeps 16): With 300-degree panoramic views of Tamarindo Bay, the spectacular property is comprised of a stunning common area and six separate, cottage-style bedrooms, each with its own bathroom, private porch, and sitting area.
Casa Catalina (5BR | sleeps 16): A breezy covered terrace, natural light, and an infinity-edge pool crown this spectacular property, which encompasses a main home and two separate casitas.
Tranquil Getaway: Langosta Beach Front
Tamarindo | 65 Bedrooms | Sleeps 130+ guests
Located on Langosta's famous Millionaire Row, just a few minutes from Tamarindo, these seven luxurious homes can accommodate 95+ guests in 36+ bedrooms.
Fits the Budget: Tamarindo Residential
Tamarindo | 16 Bedrooms | Sleeps 48 guests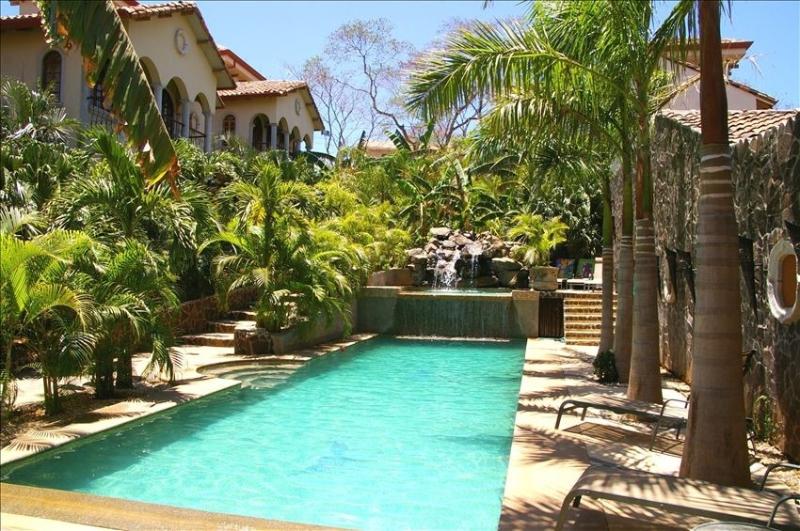 Big group, not-so-huge budget? You'll love Pueblo Colonial, an affordable and quieter location walking distance to the beach, in the center of residential Tamarindo.
This unique and beautiful complex is named for its unique design elements, which draw inspiration from the early Spanish Colonial architecture in Central America. In addition to a near-perfect location – a quick walk from the bustling center of downtown – Pueblo Colonial offers a private pool and trickling fountain, surrounded by verdant gardensand total tranquility – a uniquely magical atmosphere as much a part of Tamarindo as it is set apart.
Each condo offers 2 bedrooms and 2 bathrooms:Pueblo Colonial #1, Pueblo Colonial #2, Pueblo Colonial #3, Pueblo Colonial #4, Pueblo Colonial #5, Pueblo Colonial #7, Pueblo Colonial #8, and Pueblo Colonial #9.
Costa Rica Family Vacations at Hacienda Pinilla
Hacienda Pinilla | 46+ Bedrooms | Sleeps 110+ guests
Retreat to the exclusive elegance of Hacienda Pinilla, 20 minutes to Tamarindo and home to three pristine beaches and a stunning beach club. Please note that, while these homes are all located within the same community, they are not walking distance to one another; we'd recommend a golf cart to shuttle between your family's villas.
Villa Tranquila (8BR | sleeps 24): A luxurious, 13,000 square-foot mansion and an unparalleled vacation experience, with full-time staff, including a culinary staff.
Casa Costa Blanca (7BR | sleeps 24): Step out of time and into the dream world, with sweeping panoramic views, a full-time staff, and a custom infinity pool.
Villa Olas (3BR | sleeps 11): Delightfully updated and located in a beachfront community, this is a breezy and recently updated vacation rental.
Villa Los Venados (4BR | sleeps 8): An elite vacation rental of modern design, a tribute to crisp lines of stone, wood, cement, and bamboo.
Casa Rebecca (4BR | sleeps 12): A chic rental that maximizes on tropical lifestyle, with a wall of sliding glass, a breezy terrace, and an incredibly inviting pool.
Casa Serena (5BR | sleeps 10): A beachfront mansion that seeks to amaze, with labyrinthine interiors and exteriors that spare no luxury or touch of comfort.
Casa Orchidea (6BR | sleeps 13): This Spanish-style mansion is an escape to serenity, with a balcony and terrace, infinity pool and wet bar, gardens and pergola.
Casa Bonita Beach (5BR | sleeps 14): An elite beach house, flooded in natural light, offering plenty of privacy, and home to a wonderful pool and waterslide.
Casa de Los Monos (4BR | sleeps 11): Surrounded by jungle and promising a private pool, chef-ready kitchen, high ceilings, and simplicity of design.
If you haven't found the perfect-for-you home here, don't despair! While these homes represent some excellent family vacation rentals, this is not an exhaustive list. Please search for yourself or get in touch, and we'll pinpoint the perfect vacation rental for your family.
https://stayintamarindo.sfo2.digitaloceanspaces.com/wp-content/uploads/2022/08/09122638/sit-logo-1.png
0
0
Erin Raub
https://stayintamarindo.sfo2.digitaloceanspaces.com/wp-content/uploads/2022/08/09122638/sit-logo-1.png
Erin Raub
2019-08-29 05:30:53
2022-04-01 03:13:18
Planning a Family Vacation? Tamarindo Vacation Rentals: The Cozy, the Spacious, and the Massive