At a Glance
Location
: Playa Grande, north of Tamarindo
Area
: 901 terrestrial acres, 54,000 marine acres
Hours
: 6 a.m. to 6 p.m. daily
Telephone
: 2653-0470 / 2653-2233
Park Entrance Fee
: $12 (Tour extra)
Las Baulas National Marine Park – one of the
largest nesting sites
in the world
for the vulnerable/endangered leatherback turtle – sweeps north of Tamarindo, encompassing the beaches of Playa Grande, Playa Ventanas, and Playa Carbón, plus hundreds of acres of mangrove forest.
For nature lovers, a Las Baulas
turtle tour
to watch these gentle giants lay their eggs is, undoubtedly,
a must-visit
during your Tamarindo vacation. (
Note:
Turtle nesting is a rare occasion so, before you book a tour, be sure to verify current conditions.)
The Incredible Leatherback Turtle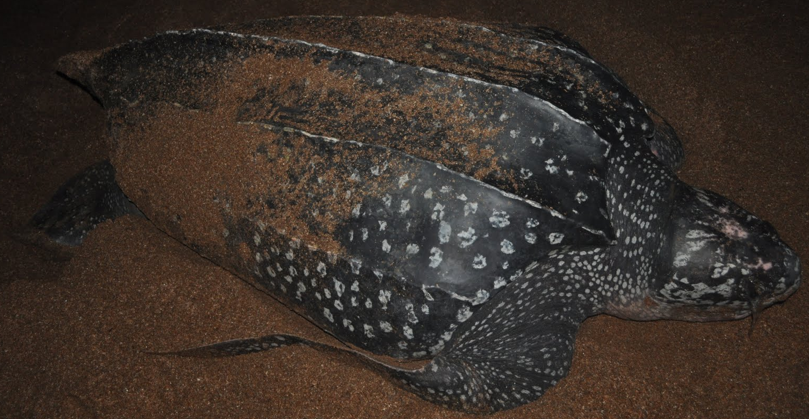 Leatherback turtles
are the
largest marine sea turtle
in the world and the
fourth-largest of all reptiles
(second only to three crocodilians!). Sometimes called the "
Earth's last dinosaur"
– they've survived millions of years and outlived the last of the dinosaurs – this incredible reptile measures up to
six feet long
and
weighs an impressive 1,500 pounds
.
Another stand-out feature: leatherback turtles lack the traditional turtle shell, swapping a rock-hard carapace for a leather-like outer of oily flesh and skin. And that shell may be exactly what equips leatherbacks for another superlative: this massive sea turtle s
wims deeper than any other air-breathing animal on the planet
– including whales, Emperor penguins, and seals. Diving as deep as 3,900 feet, leatherbacks swim in a cold, dark sea with a pressure equivalent to 120 of our above-the-sea atmosphere. A human would implode at that depth!
Impressive, indeed. Not to mention, magnificent. And in Costa Rica (and the world at large, really), our own Las Baulas Marine Park offers one of the best chances to
spot leatherbacks in their natural environment
.
When to Visit
You can visit Las Baulas National Marine Park any time of year. But, chances are, you're here for the leatherbacks. And that means you should shoot for
nesting season
:
October through March
– a lucky concurrence with much of our mid- and high-season, a popular time to visit.
Hatchlings
emerge a few months after nesting, with hatching months extending through
April and sometimes early May
.
Turtle Tours
During nesting season, turtle tours to Las Baulas are offered nightly. (
Note
: Tour availability sometimes depends on the turtles, local conditions, and other factors. Generally speaking, they're held every night.) Turtle tours are a wonderful and often moving experience. That said, they're also a waiting game: leatherbacks are large and lumbering on land, so you may wait a few hours until you see your first. (Books, board games, and other quiet wait-time diversions are encouraged on turtle tours.) Dark clothes are recommended, as they will not disturb the nesting mothers.
Note
: If you're staying with us,
Cris, our onsite (and free!) concierge
will be happy to arrange a
turtle nesting tour
for you. As leatherback sightings can be very hit-or-miss at Las Baulas, we book our tours at nearby
Ostional Wildlife Refuge
, which witnesses huge olive ridley nesting events, plus leatherback and black turtle nesting.
Other Activities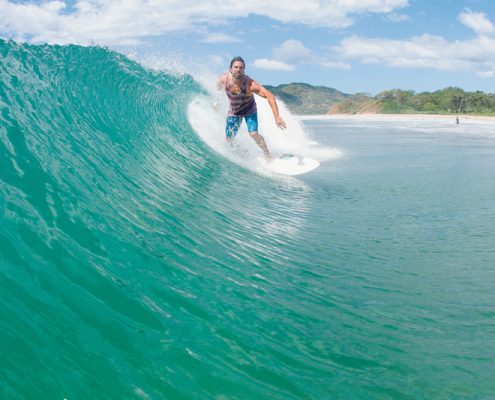 Turtle tours may be the most famed activity at Las Baulas, but it's certainly not the only. The beaches of Playa Grande, Ventanas, and Carbón are beautiful and quiet – and the waves are killer!
Some of the best beginning-to-intermediate
Tamarindo surfing
can be had at Playa Grande, where surf offers a consistent mix of fast-breaking lefts and rights, with barrels, peaks and long rides. Swimming, sunning, and beach-walking area also lovely, especially at sunset.
How to Get to Las Baulas National Marine Park
From downtown Tamarindo, drive north and follow signs to Playa Grande. Alternatively, cross the Tamarindo-Playa Grande estuary by panga boat/ferry, and walk up the beach to meet your turtle tour.