If you're the type of vacationer who craves a soul-shaking, awe-inspiring, possibly life-changing sunset experience, then Tamarindo, Guanacaste is here to fulfill your wishes.
The truth is that you're at the beach and if that beach is Tamarindo, Guanacaste, you're going to appreciate some truly awe-inspiring sunsets. But if you're here, we think you might as well be here, here – at some of our favorite, extra-special spots (including one perfect wedding proposal locale) to enjoy the sun's brilliant lights show.
Our Favorite Sunset Spots in Tamarindo, Guanacaste, Costa Rica
You can't go wrong with any sunset in the area. But you can get it very, very right at a few very special sunset lookout locales. From north to south:
Playa Ventanas
Just a few miles outside of bustling Tamarindo, Playa Ventanas offers rock-framed "windows" (ventana is Spanish for window) to downtown. And yet, this quiet, white-sand beach could almost be secluded, as it usually has few visitors. And that can make it an excellent choice for your evening sunset!
Here, with your toes in the sand and the waves lapping at your feet, the crescent of Playa Ventanas is ideal for strolling, beachcombing, and simply enjoying the quiet. And then, come sundown, you'll enjoy a fluorescent sky that, sometimes, you'll have all to yourself. And that's almost unheard of, this close to Tamarindo, making it all the more special.
Playa Tamarindo + Pangas Beach Club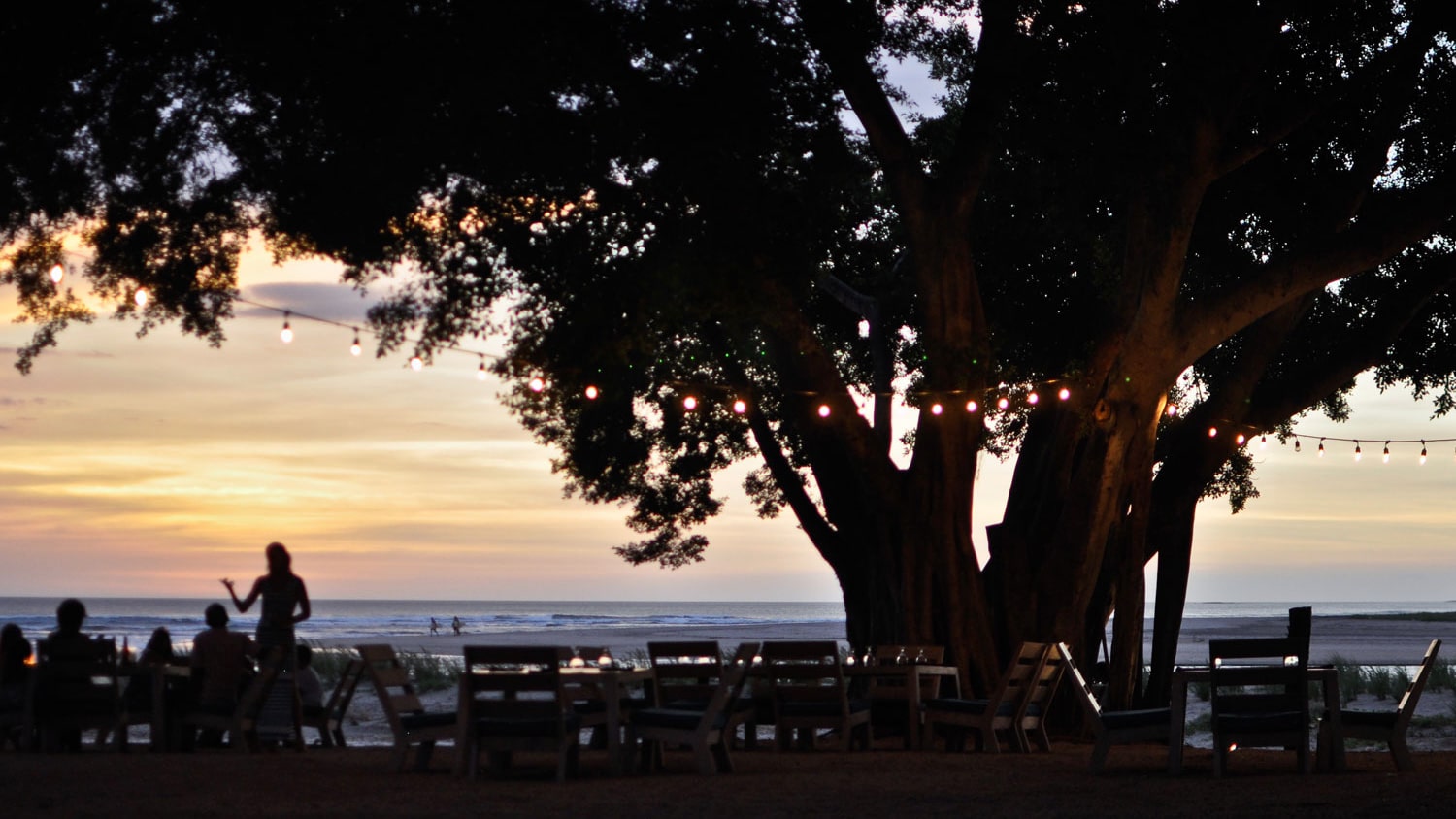 We always say, there's a reason Tamarindo, Guanacaste first boomed: It's truly a spectacular beach, surrounded by incredible biodiversity! Today, many decades later, this still holds true. And that means that, if you're vacationing in Tamarindo, you should be marking your calendar to catch a Tamarindo sunset.
The question is always, where? And the answer to that is, almost anywhere! Settle on to any seat of sand and you'll have a front-row seat to one of the world's most spectacular sunsets. You can also visit any beachfront restaurant or bar, to snag a cold drink or a shady seat to complement the view. And if you're looking for something truly special, then there's no better place than Pangas Beach Club, an upscale oceanfront restaurant by the estuary, where you can dine with your toes in the sand (if you'd like) and beneath fairy lights.
Tamarindo, Guanacaste Lookout Point
You don't have to stick to the beach to enjoy the Tamarindo sunset! In fact, one of our town's favorite evening spots is on top of the Tamarindo hill (ask anyone; they'll know exactly what you mean!). Here, a wide panorama stretches from Playa Grande to Playa Avellanas, sweeping through Playa Tamarindo and Playa Langosta along the way. You'll also appreciate the gorgeous mountain views, made all the more lovely when the sunset reflects off low-hanging clouds.
Bonus: This is the perfect wedding proposal spot in Tamarindo, Guanacaste.
Punto San Francisco
Many visitors to Tamarindo, Guanacaste don't realize that there's something between Playa Tamarindo and Playa Langosta. Its name is Punto San Francisco, or San Francisco Point, and it's a completely convenient, utterly picturesque spot to watch the sunset. Be sure to venture out onto the rocks at low tide! If you're lucky, low tide will coincide with sunset and the sky's brilliant hues will reflect off the tiny tide pools, creating a perfect moment (and perfect photo op).
Playa Langosta
Playa Langosta, with its rocky outcroppings, sea almond-shade sands, and Blue-Flag cleanliness (and ecological stewardship), is an easy recommendation for any time of day. And yet, it's almost more beautiful at sunset, when the tide pools burst into shades of pinks and purples, the estuary glows orange, and the beach's relative seclusion (there are relatively few restaurants, hotels, etc. here) creates a sense of total calm and all-natural experience.
Playa Avellanas + Hacienda Pinilla Beach Club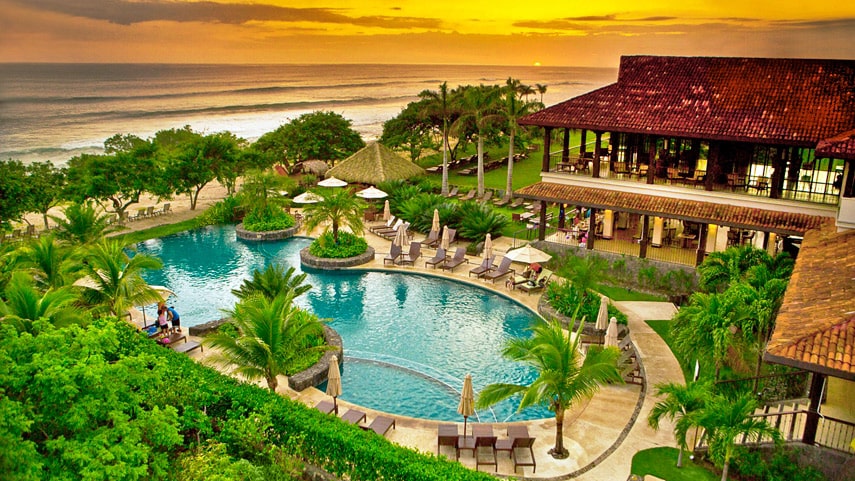 Regularly included on lists of the most beautiful beaches in Costa Rica, Playa Avellanas is a paradise of gnarled mangroves, sun-kissed white sands, and waving palms. It comes as no surprise, then, that this gorgeous daytime respite is also one of our favorites as the sun goes down.
You can often find a seawater-washed tree trunk to claim for your very own sunset seating, but if you're in the mood for something a little more formal, then we love spending sundown at the Hacienda Pinilla Beach Club. In addition to an open-air bar and restaurant, the club's infinity pool is picture-perfect for a sunset.
Playa Mansita
It's a funny thing: Playa Mansita receives the least pomp and circumstance of Hacienda Pinilla's beaches, and yet it's an easy favorite for anyone in the area. Perhaps that is but a reflection on how lovely the community's beaches are... And yet, we must recommend quiet Playa Mansita at sunset, when the day's snorkelers and swimmers have left for a shower and the beach is dotted by only the staunchest sunset watchers. It's total tranquility in one magical moment.
Somewhere Special: 8 Homes with Spectacular Sunset Views
The beauty of Costa Rica's topography, at least here in Tamarindo, Guanacaste, is that the coastline quickly rises into the hills, creating incredible viewpoints for beachfront and hill homes alike. Here are a few of our top recommendations, if you crave watching the sunset from your private pool terrace:
Tamarindo | 8 Bedrooms | 8 Baths | Sleeps 16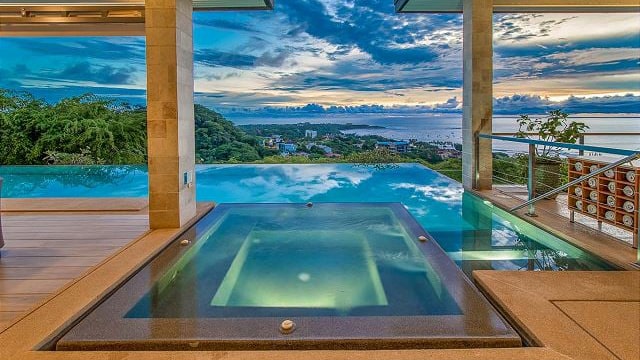 While the sun always sets in the west and the compass always points north, your heart will lead you to Compass House, a mansion perched high in the hills and overlooking the Pacific Ocean, lush scenery, and the Tamarindo Estuary – not to mention, truly breathtaking sunsets!
Welcome to this ocean-view property that's close enough to the sea to check the surf conditions just by stepping out onto the terrace. Chic and sleek, and built for the most discerning expectations, Compass House promises soaring interiors and a modern color palette, with steel details and expansive indoor-outdoor living.
And when it comes to the sunsets – well, there's no better place to enjoy them than in your private infinity pool, glorious pizza oven, and heated Jacuzzi, which adjoin the outdoor dining room and opens onto spectacular panoramas. Accept the invitation to deepen your connection to sky and sea, to sand and Mother nature.
Tamarindo | 4 Bedrooms  | 4 Baths  | Sleeps 9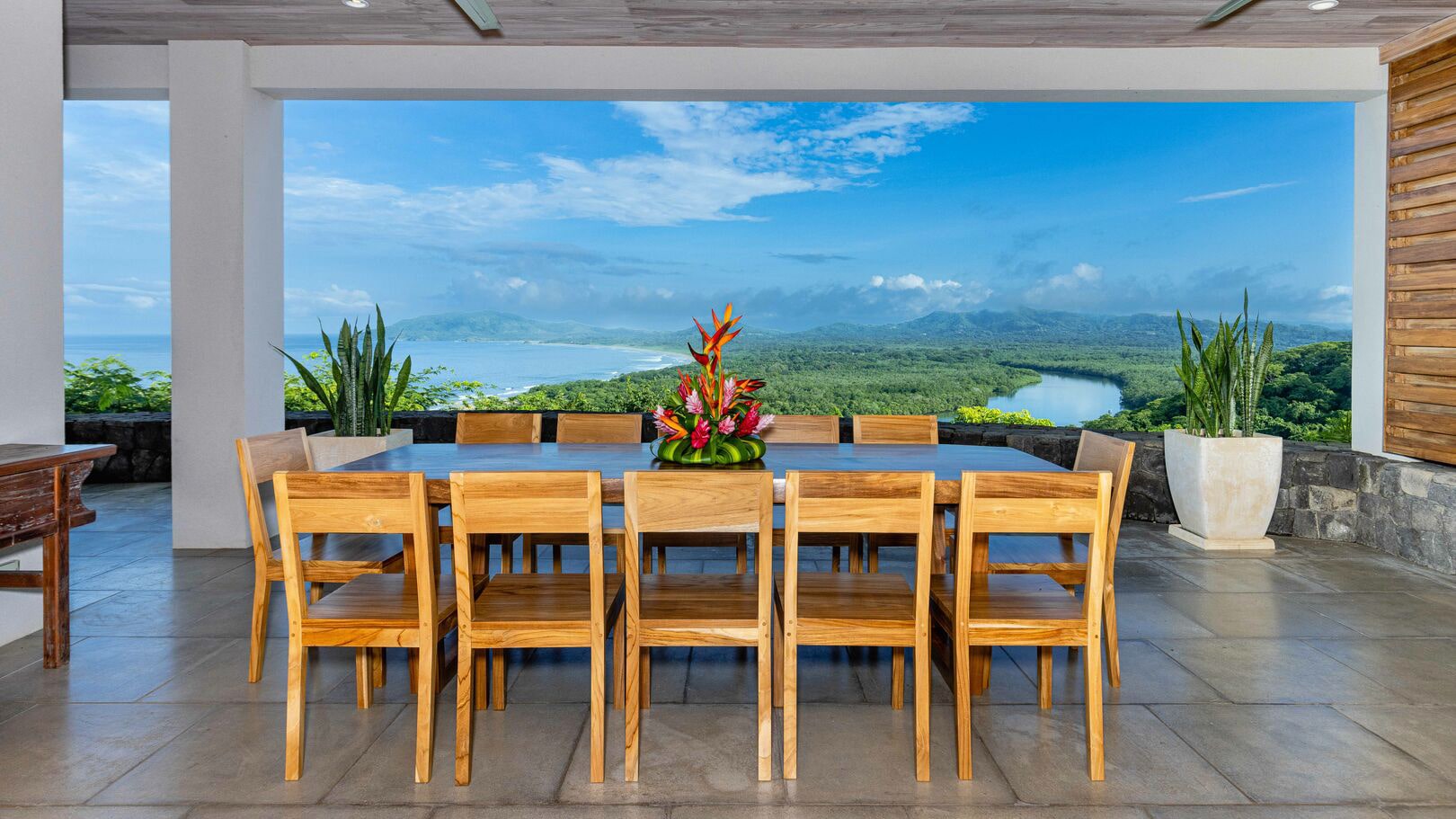 If we're lucky in life, we will experience some of those truly wow moments – the ones that we never forget, that can never be topped, that go down in holiday history and then lodge themselves in their hearts and minds forever.
That's Villa Royal, in a nutshell: This stunning home overlooks some of Costa Rica's best views, including every night at sunset, and wholly embodies the promises of paradise. From its folding glass doors and a private infinity pool to its thatched roof and Pacific Ocean panoramas reaching out to snag the horizon, this luxury villa is determined to ignite your sense of wonder and steal your breath, every moment of your trip.
And then, there are the sunsets. The set-the-sky-on-fire, light-your-heart-ablaze, and paint-the-heavens-fluorescent sunsets that your privileged perch delivers every night... All this, within an exclusive gated community just minutes to Tamarindo, Guanacaste, Costa Rica and all its many promises, including soft sands, nightlife and restaurants, national parks and surfing, tours and activities. Welcome to perfection.
Tamarindo | 8 Bedrooms | 8 Baths + 1 Half Bath | Sleeps 20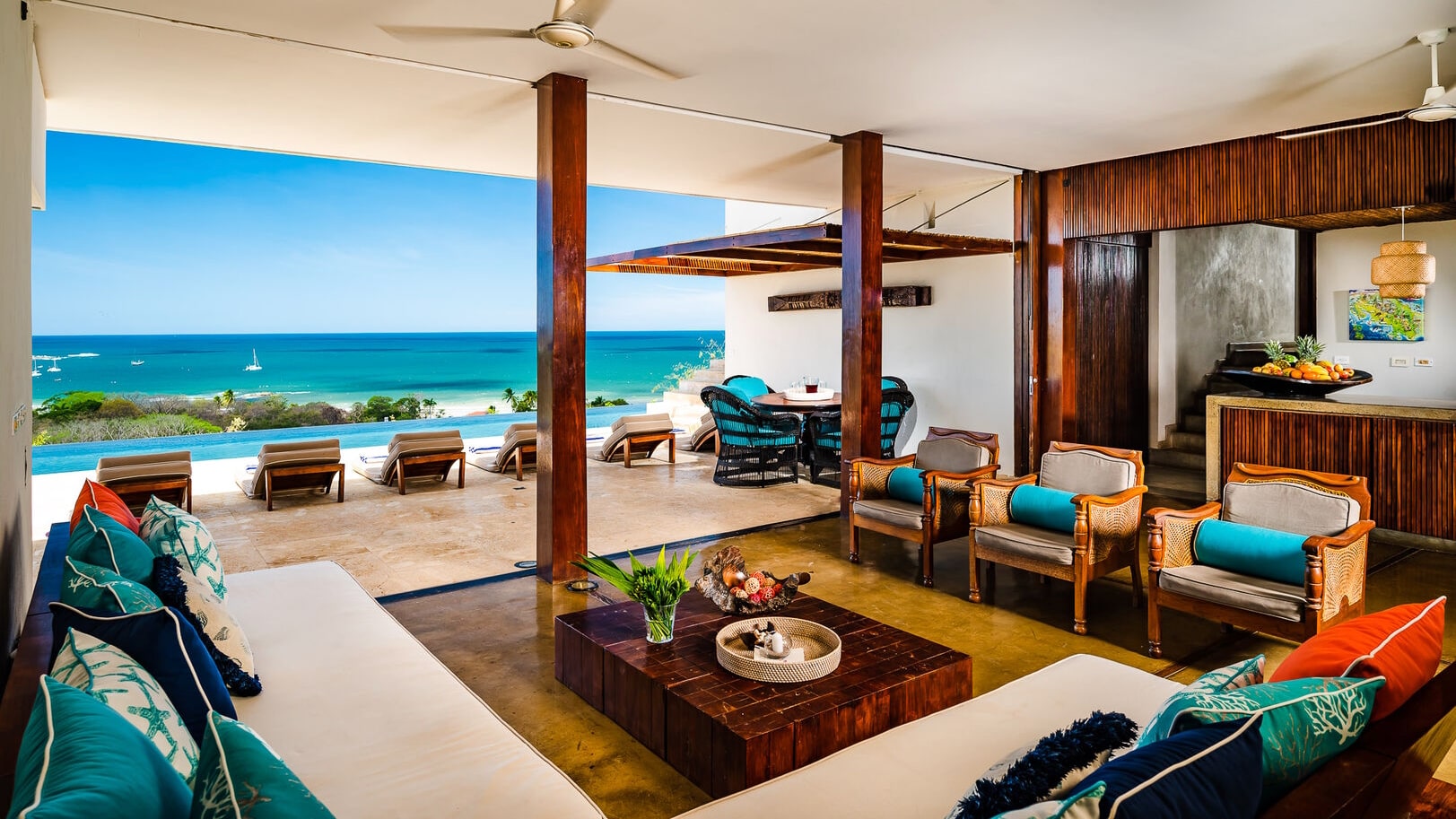 The "perfect 10," Casa Puros Dieces is overlooks both the Pacific Ocean and coastal expanses, sun-kissed sands and seemingly endless horizons. It's a perfect 10 in every way, ascending to what could only be considered a perfect 11 at sunset.
For here, on a tropical hilltop, this Balinese-style mansion is the perfect spot to watch the sun go down: with your legs dangling into your private infinity-edge pool (with Jacuzzi), overlooking the Pacific Ocean as it transitions from blue to pink to orange to fire. Your sunset terrace blurs the line between indoor and outdoor living: Sun loungers. Outdoor dining. Shaded living. Outdoor everything. Because this is why you're here. So, jump in. Swim to the edge. Go ahead, bring your drink. As we said, it's why you're here.
As evening fades and daybreak comes, you'll love to know that your rental includes two full-time housekeepers and daily breakfast prep (except Sundays and Holidays), plus a full-time caretaker for maintenance. Your concierge and Guest Coordinator will be also available to address any issues that may arise during your stay.
Tamarindo | 6 Bedrooms | 4 Baths  | Sleeps 12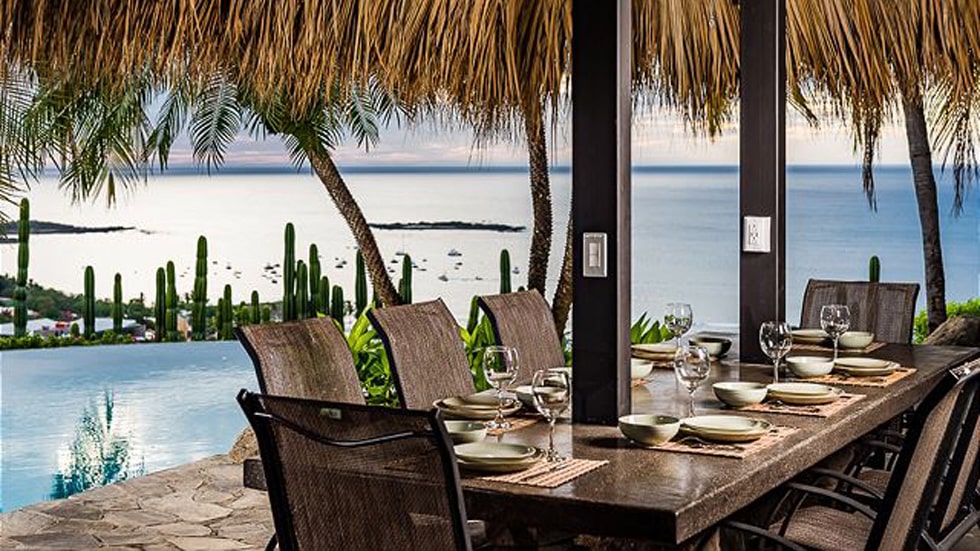 Tamarindo Bay views? Check. Pacific Ocean vistas? Check! Brilliant sunsets? Check! Multi-level infinity pool with a private hot tub? Check CHECK! Welcome to a home that both amazes and comforts, is at once spectacular while somehow feeling just like home.
Spacious and built to impress, Casa Leo Loco is a private villa designed around locally sourced hardwoods and expansive terraces, environmentally friendly design and walls of glass. And then, again, are those spectacular panoramas – those windows, that terrace, this pool that overlooks the ocean and hovers so close to it all, you need only look out your window to check on the day's surf conditions.
Those windows are also the perfect frame to the home's jaw-dropping views and, yes, sunset panoramas that will paint your vacation palette. Because here, you won't have to go anywhere to experience some of the best sunsets in Tamarindo, Guanacaste. It may be the best vacation decision you make!
Tamarindo | 8 bedrooms | 8.5 bathrooms | Sleeps 19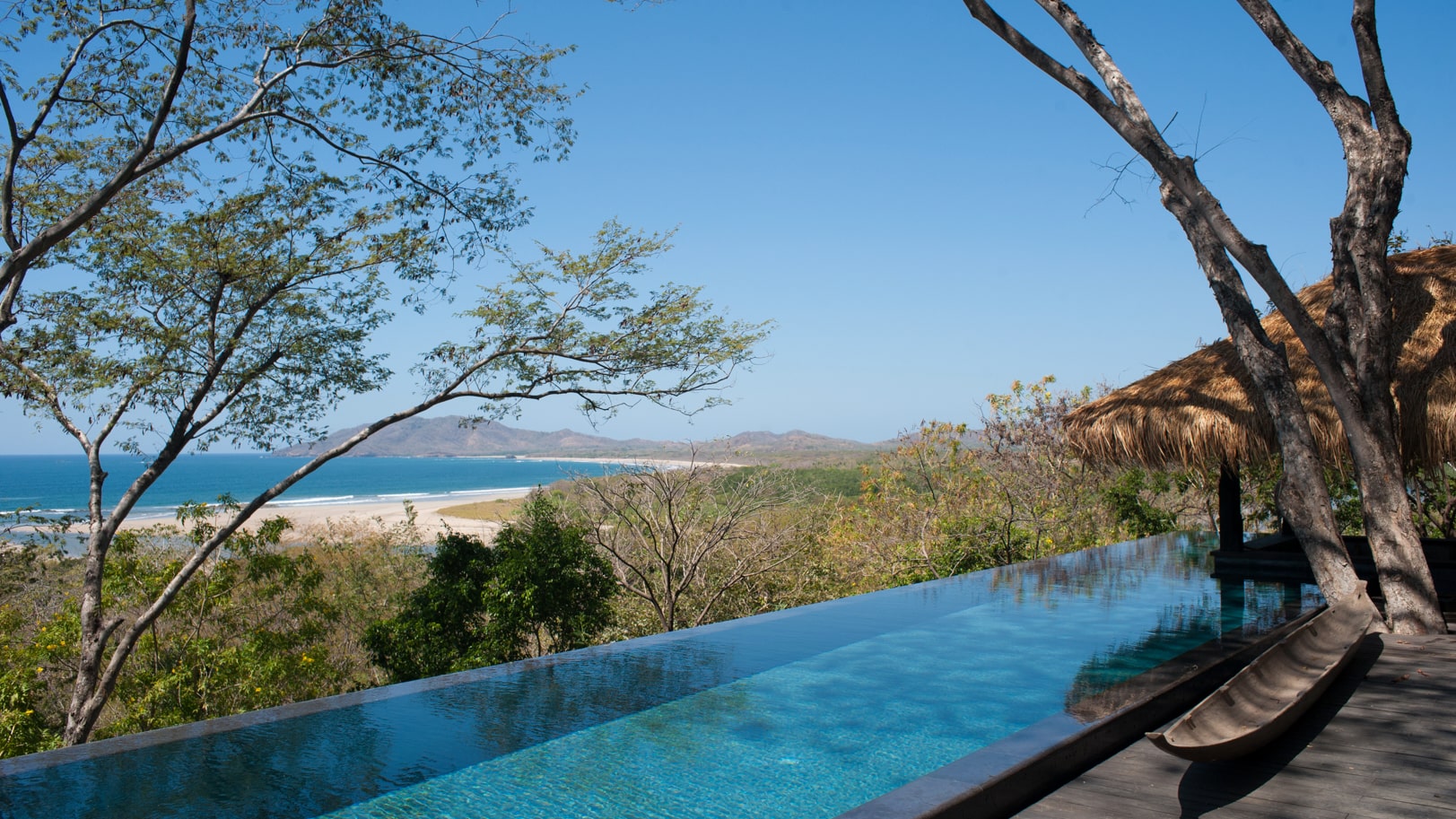 Some things in life are hard to quantify. "Something special" is one of them, encompassing that ephemeral, can't-quite-put-your-finger-on-it quality that finds its way into your heart. We can say, undoubtedly, that El Chante is something special.
An expansive, open-air, Balinese-inspired property, El Chante unfolds over a warren of paths and wooden stairways, connecting nine separate structures and the promise that you can have it all, even when that "all" extends to retreat spaces and privacy. Because El Change is upscale amenities and spacious common areas, a spectacular ocean-view swimming pool and breathtaking views.
It's everything and then, it's also the glories of nature and some of Tamarindo's best sunset views, overlooking Tamarindo Beach, the estuary, and the sparkling Pacific. Swim beneath the shade of leafy trees and lounge in the sun. Toast to the afternoon with a cold drink. And then, simply wait and watch as the sun grabs the horizon and lights your view ablaze.
Tamarindo | 4 Bedrooms | 3 Baths + 1 Half Bath | Sleeps 10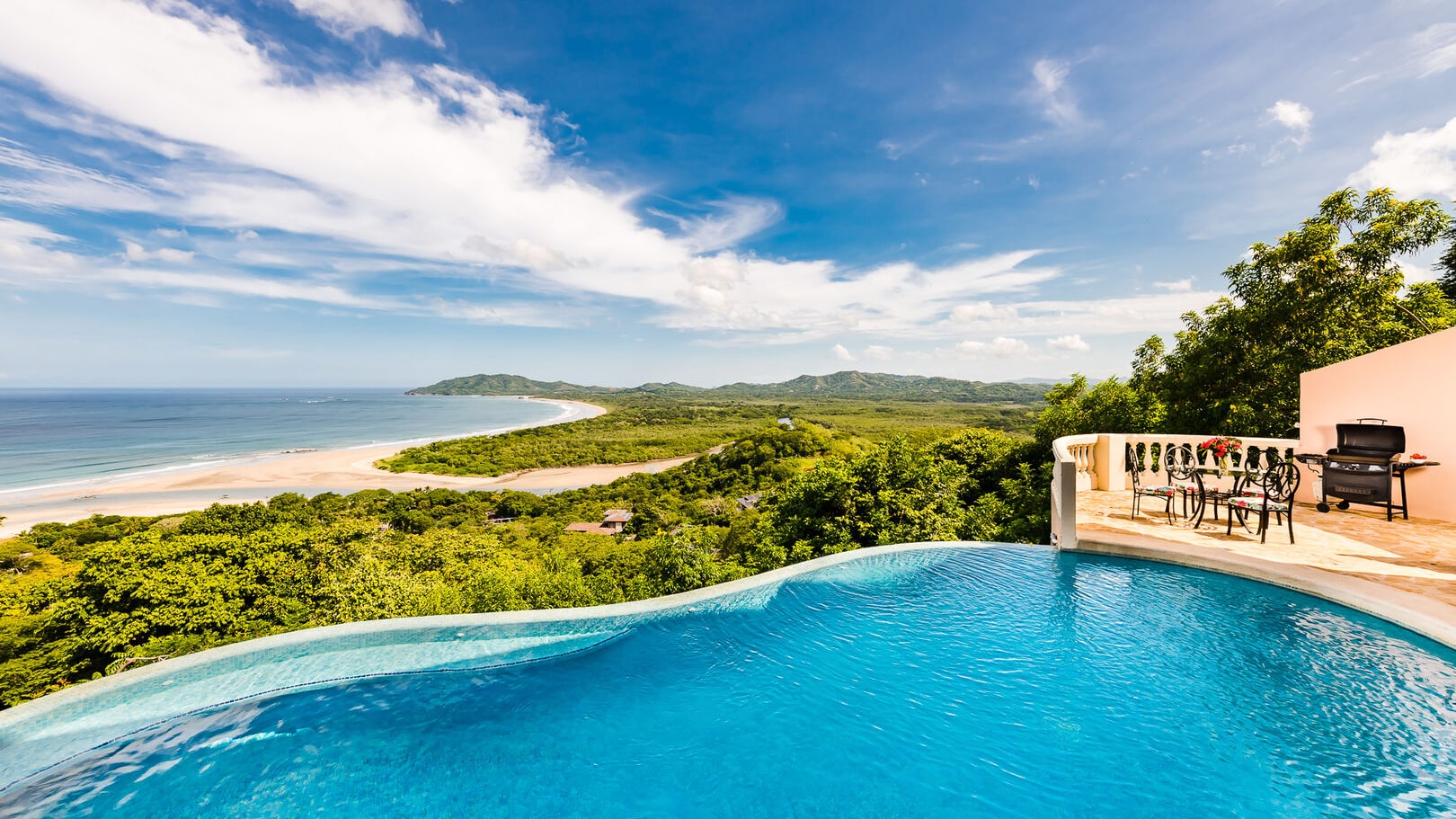 Somewhere between sea and sky, of in-the-middle-of-it-all and off-the-beaten-path, Casa Xanadu sits overlooking Las Baulas National Marine Park and its important sea turtle nesting sites; the Tamarindo Estuary, a rare and ecologically important wildlife habitat; critical and rare tropical dry forest; and two scenic beaches (Playa Tamarindo and Playa Grande), both known for their sand and surf.
And here, at the crossroads of wildlife and wonder, Casa Xanadu welcomes you to some of the best sunset lookouts in the area, paired with shaded terraces, a private infinity pool and sun-splashed balconies. Tucked into the embrace of this luxury home, where oversized windows frame the view and even the most discerning travelers find their happy place, this is the kind of home-away-from-home that makes you wish you were just home.
Because this view? It's why you came, why you're here, and why you'll want to stay forever. Welcome to Casa Xanadu. Welcome to paradise!
Tamarindo | 6 Bedrooms | 6 Baths | Sleeps 16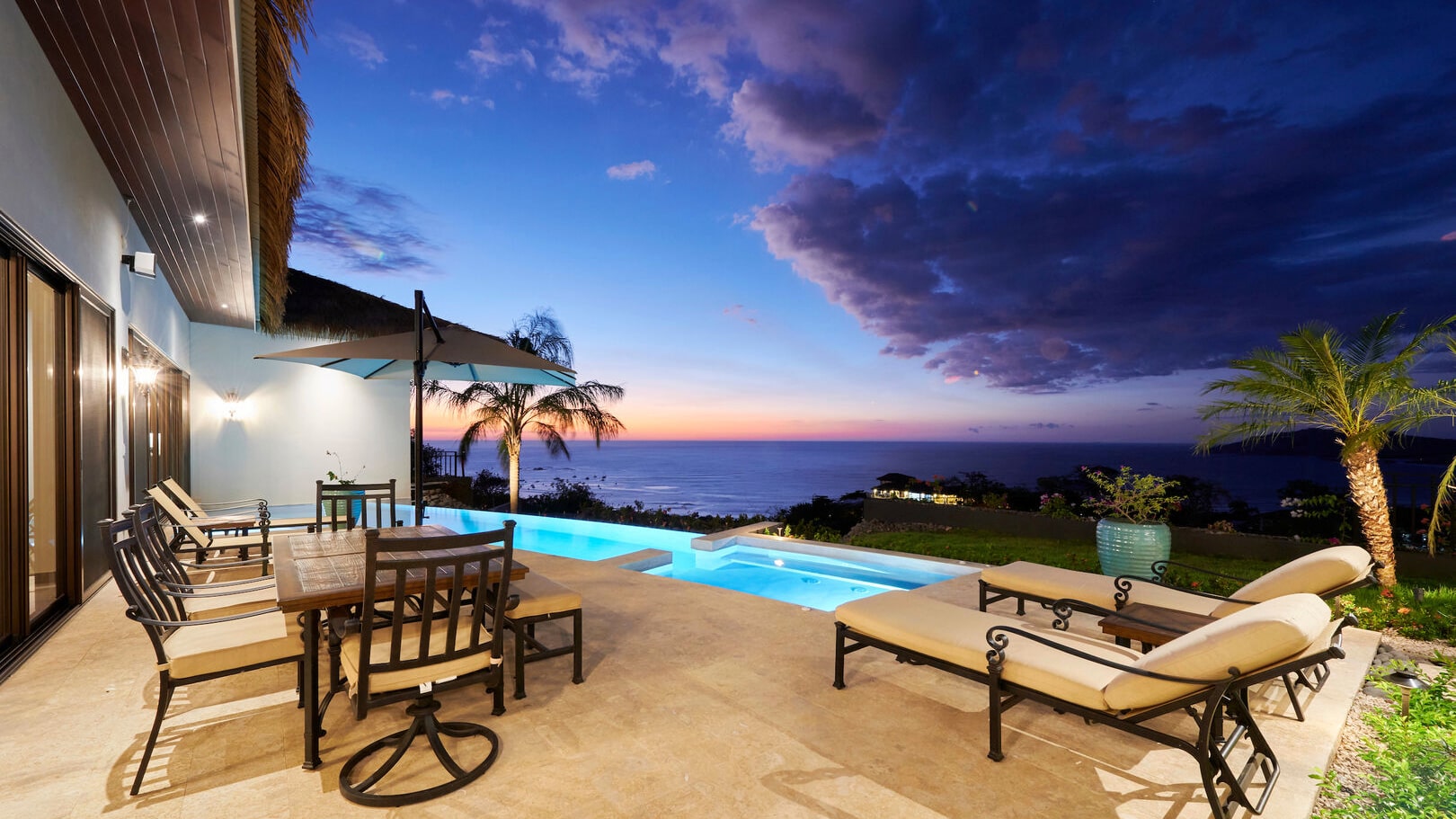 Literally named for its unbeatable sunset views, Casa Puesta del Sol is located at the end of an adventure lover's drive up a hill, where Tamarindo Bay meets stunning 300-degree panoramic views that invoke a sense of soaring above it all. Welcome to the Tamarindo that only a select few experience!
Puesta del sol – "the setting of the sun" – represents an outstanding Costa Rica luxury villa rental: spacious but cozy, upscale yet welcoming, remarkable while approachable. It begins with the enormous windows – natural mediums to frame the artwork of Tamarindo's most breathtaking scenery – that line all walls of the property and extend to sliding glass doors, which open almost completely to the sea and mountains.
You'll love the details here, which include a pristine infinity pool overlooking 300º ocean views. Details, like a bubbling whirlpool set beneath the twinkling stars. Details, like lounge chairs placed to enjoy the tropical sunsets that set the sky ablaze with bold jewel tones and muted pastels. Details, just like these.
Tamarindo | 4 Bedrooms | 4 Baths | Sleeps 8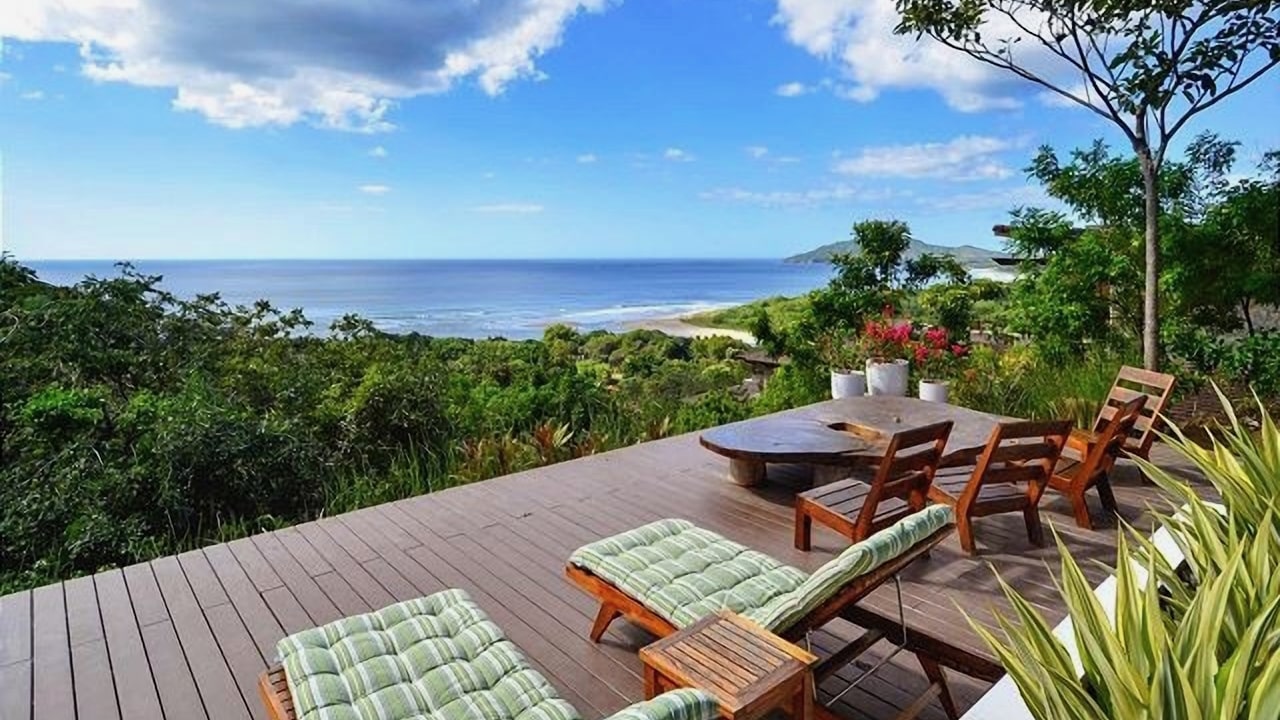 Perched on a hillside above Tamarindo, Guanacaste, and overlooking breathtaking ocean panoramas, Casa Lomas del Mar offers sweeping vistas of golden sands, Playa Grande, and Las Baulas National Marine Park. Just below your lookout point: Tamarindo's world-famous waves, sea turtle nesting sites, and a world of opportunity.
This home is designed for these views. It's evident in every design detail, including the floor-to-ceiling glass walls that make the home's indoor and outdoor divisions seemingly vanish, creating a sensation of uninterrupted space, harmony with nature, and connection with the surrounding jungle and sky.
Your hilltop sanctuary invites discovery and a world defined by sleek angles and sharp lines, smooth curves, and perfect balance – by high design and exclusive amenities. Of particular interest: Casa Lomas del Mar's infinity-edge pool and expansive sun deck, complete with an outdoor sitting room, BBQ patio, and 180º sunset panoramas.
Looking for Your Next Favorite Sunset in Tamarindo, Guanacaste?
At Stay in Tamarindo, we really are different. We really do care about you. And we really will go the extra mile.
We're going to work hard for you. We're going to follow up with you. And we're going to do everything we can, to ensure that this is not just your Best Vacation Ever, but also Everything You Want It to Be.
Because that is what we mean, when we talk about our quality of service: We want to transform the way you travel. We want to deliver the best everything you've ever experienced – including the best value. And we want you to go home completely fulfilled, whether you came to relax for a week straight or packed your days full of every adrenaline-soaked, high-adventure activity you could fit in.
So go ahead, give us a try. Embrace the experience. Live your best life. And now, book your best-ever vacation. It all starts with getting in touch with our concierge, Cris!