Last month, promised you a list of the best oceanfront vacation rentals in Tamarindo – and we delivered. Well, partially. We shared the first part of our list, which highlighted
5 beachfront vacation rentals in Tamarindo
, with some help from Playa Langosta, Playa Flamingo, and Playa Potrero – the "greater Tamarindo" area, as we know it. Today, we're bringing you the grand finale – grand, not in the sense of overshadowing our first list, but grand in its true meaning:
luxury, oceanfront estates
, grand in both size and style. Because, these homes are truly something
more
: Perfect for that once-in-a-lifetime wedding, event or celebration, they promise more than the space you need; these vacation homes deliver on the
luxury experience
.
Oceanfront infinity pools
.
Full-time staff
.
Bubbling Jacuzzis
.
Multiple master suites
.
Gourmet kitchens
.
High design
. And oh,
those views
. These homes represent
the apex of oceanfront vacation rentals in Tamarindo
: the nexus of upscale living, exclusive location, and dreams made reality. And we are so excited to share them!
5 Bedrooms, 6 Bathrooms (Sleeps 13) | Playa Flamingo | Starting around $1,400/night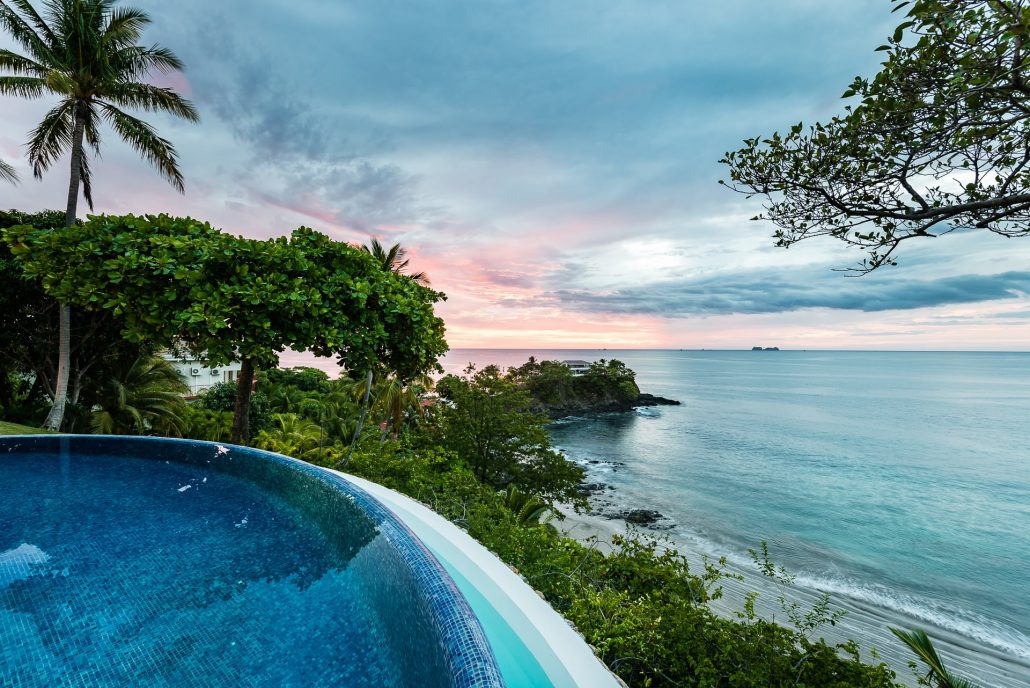 Set on a beachfront hillside, Flamingo Blu represents so much of what we – and you – love about oceanfront living:
breezes
that refresh and
ocean horizons
that never end,
sunsets
etched in memory and the harmonies of
crashing surf
. This is the picture of
artful living
and a vacation in paradise – one of our newest and most exclusive oceanfront vacation rentals in Tamarindo (technically, Flamingo), and an exquisite property.
Built completely in the round
, Flamingo Blue is a riot of
streaming light
,
mindful flow
,
high design
, and
awe-inspiring views
, the latter thanks to its hillside position: The views, the breeze, and all of Guanacaste seems to unfold at your feet, sweeping up to greet you to wild and wonderful Costa Rica. And all this, just steps to the beach. For, though Flamingo Blu rises above the sea, it is still
of
the sea: a
private beach staircase
descends from the
pool terrace
to the sea, inviting beachfront sojourns and refreshing dips, toes in the sand and front-row seats to sunsets that glint off a calming Pacific.
7 Bedrooms, 7.5 Bathrooms (Sleeps 24) | Hacienda Pinilla | Starting around $1,040/night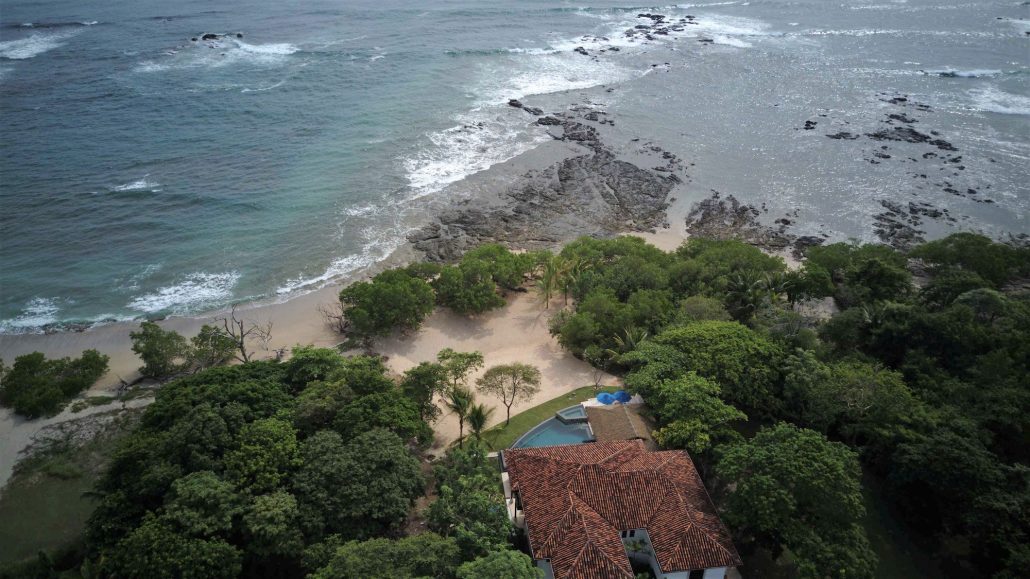 Step out of time and into a flight of fancy – into Casa Costa Blanca, a
beachfront luxury estate
that sits directly on the pristine sands of exclusive Hacienda Pinilla (about 15 minutes from Tamarindo). Against a backdrop of
mesmerizing waves
and endless horizon, soft sands and
breathtaking sunset
, this newly renovated vacation home accommodates 24 guests in a sprawling main villa and guest house: It's an ideal home for luxurious weddings, family reunions, events and celebrations of all kinds. And celebrate, you will. It's impossible to ignore the pull of the home's
oversized, custom infinity pool
with
heated Jacuzzi
, expansive sun terrace, and shaded rancho – an outdoor kitchen and dining area, for your relaxation pleasure. Indoors, Casa Costa Blanca is a true
coastal mansion
, flooded with light and upscale amenities: French doors open line the Pacific oceanfront side of the home; a
full-time housekeeper
and groundskeeper attend your stay; and
luxury amenities
, like full-home air-conditioning, to keep you relaxed and comfortable.
7 Bedrooms, 7.5 Bathrooms (Sleeps 18) | Playa Langosta | Starting around $1,925/night
Where rocky coastline juts into foaming seat, Casa Bella Mora takes its stand: An
ultra-modern wonder of desert architecture
, built for Guanacaste's tropical dry forest and yet completely at home here, amidst the watery world of the Pacific Ocean. Indeed, this is not only one of our newest oceanfront vacation rentals in Tamarindo, but also one of our most unique.
Floor-to-ceiling glass walls
, clean lines, and precise angles converge on Casa Bella Mora, where organic shapes and an outdoor-inspired palette harken back to the beauty of nature. And indeed, this home is all about sense of place, taking every opportunity to invite light and air, sky and sea to stream in and fill its interiors. But, in truth, you'll want to spend most of your time out-of-doors, lounging on the
wood sundeck
, nestled in the cushioned pool loungers, seeking refuge from the
shaded patio
and, of course, seeking refreshment in the
beachfront infinity pool
, mere steps from the sea. When you can pull yourself away from this life of leisure, a private beach path leads down to the lava rock, sand and surf of Punta San Francisco.
8 Bedrooms, 7 Bathrooms (Sleeps 23) | Playa Langosta | Starting around $1,299/night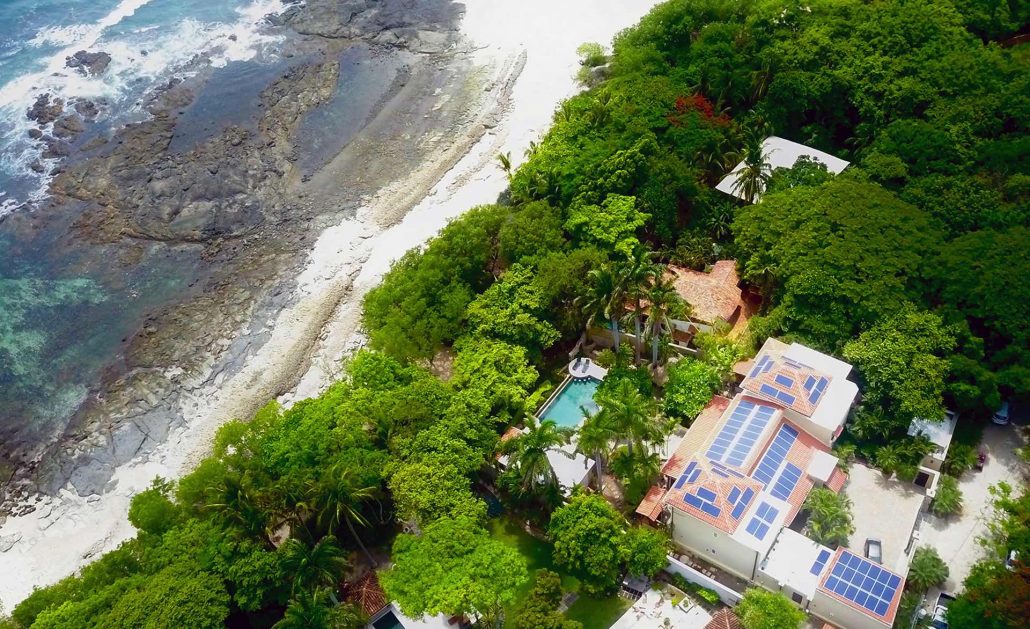 If you dream of sleeping (or napping) to the
soothing sound of lapping surf
, crashing onto soft sand – well, Casa de Luz is in the business of making sure your vacation dreams come true. Unrolling over a
main villa
and
two independent courtyard casitas
, offering
full-time
staff and space for 20+ guests, and incorporating
tropical gardens
and
upscale amenities
, this oceanfront home is as soothing as it is exciting, as welcoming as it is luxurious. A study in superlatives, Casa de Luz stands out in almost every way: Not only is it one of the largest oceanfront vacation rentals in Tamarindo, but it's also
right on the beach
: mere steps to your private beach gate and the
high-tide tidal pools
that invite you to lounge, sunbathe, and enjoy the fascinating ocean life that inhabits this quiet stretch of sand and rock. (
World-class surf
, just a quick walk down the beach!) And, as if all that weren't sufficient draw, this lovely home is
completely committed to the environment
, as one of Tamarindo's only
solar-powered
homes, with low chemical use (including in the
ionized pool
) and
biodegradable amenities
and products.
9 Bedrooms, 9.5 Bathrooms (Sleeps 18) | Playa Langosta | Starting around $1,300/night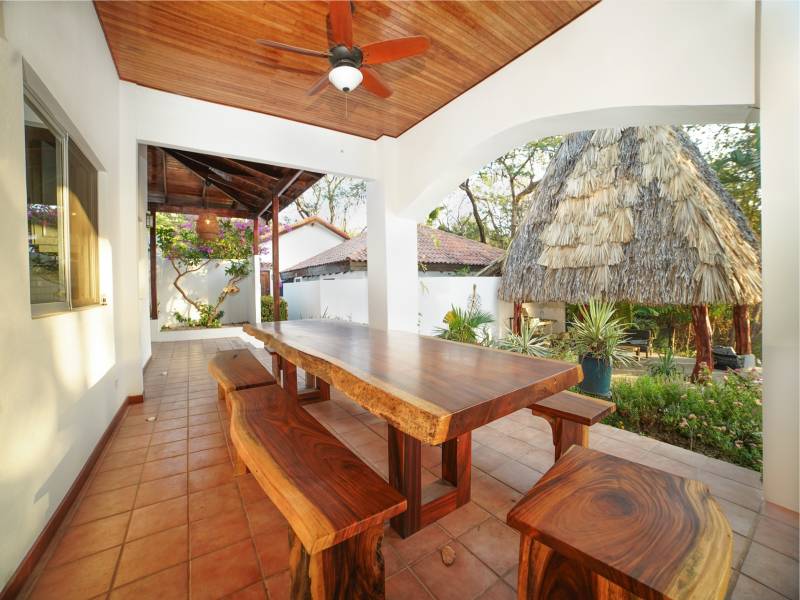 Bordering the tranquility of a park,
abutting the Pacific
, and recently renovated, Villa Concha is a study in the best-of oceanfront vacation rentals in Tamarindo. Indeed, this is a home built for views, for wildlife sightings (howler monkeys, iguanas, birds and butterflies, among them!) and unquestionably, for you. Built precisely for this location, Villa Concha creates indoor/outdoor flow to celebrate its serene and privileged beachfront location: Expansive
glass accordion doors
turn indoor living into out or, when closed, invite
natural light
to stream inside.
Sprawling decks and patios
surround the home; a beachy color palette remembers the Pacific, and a private pool embraces its oceanfront location. And yet, for all its charms, Villa Concha beckons you away – and towards the lapping Pacific, where warm sand meets mottled
lava rock pools
and
Playa Langosta's famed surf
. Because, is that not why you're here? Oh yes. So, welcome to privacy, peace, and tranquility. Welcome to your own oceanfront paradise.
Complimentary Concierge Services with your Beachfront Vacation Rental in Tamarindo
When you book a stay at one of our oceanfront vacation rentals, you're reserving more than just a great vacation home; your booking also includes
full travel concierge services
. Cristina (aka Cris) is our wonderful, knowledgeable, and friendly in-house concierge. She not only knows the Tamarindo area like the back of her hand, but her job is to get to know you that well, too. Here's how it works: When you book Casa Ilios, Cristina will soon get in touch. She'll send you our welcome packet, which includes an intro to many of the most popular
Tamarindo activities, tours, and attractions
. Have a look. Get a taste of what Tamarindo has to offer. Start building your must-do and would-like-to-do lists. Then, it's time to get personal. Because Cris is not your standard travel agent: she doesn't believe in a one-size-fits-all approach. Her job is to get to know you, and know you well, so she can build your custom itinerary and suggest activities, tours, and attractions
tailored to your specific interests, activity levels, and wish lists
. Even better? Our concierge services are
absolutely and always free
for our guests. Relax, dream, and plan. We'll take care of the details. Please
get in touch
for more information about our oceanfront vacation rentals and concierge services.