Whether you're planning a casual retreat with friends or a retreat for your professional following, we have a few tips to help you host a retreat in Costa Rica. And by that, we mean a successful, everything-you-hope retreat that exceeds guest expectations and has them clamoring to sign up for the next.
Step #1: Name Your Retreat Style
To host a retreat in Costa Rica, you'll first need to lay out the structure and basic parameters: From your retreat focus to how many people you'll host, this is the first stage of planning: What does your retreat look like? How does each day play out?
There is no right or wrong but there is a right for you. Find it!
Step #2: Consider the Budget
This stage has two components: the first is your guests' budget, which you can begin to ascertain by doing a little competitive analysis: How are similar retreats priced? Start there and then, you'll be ready to move on to this stage's second component, which involves building a preliminary retreat budget.
From flights and accommodations to meals and activities, this is where you begin your calculations.
Step #3: Home in on Location
Costa Rica is one of the biggest tiny countries in the world. It's easy to choose Costa Rica but choosing your where in Costa Rica can be a much bigger challenge. And it's not just about a location's flavor – beach or mountains, town or rural? – but also more practical concerns, like proximity to the airport and access to attractions and activities.
Step #4: Choose a Retreat Venue
To host a retreat in Costa Rica, you need an incredible venue. Your guests have certain expectations, after all! Only you know what they are, though.
Here are a few things you may want to consider:
Bedroom Configuration: Many retreat guests expect their own bedroom and bathroom, often in an ensuite configuration. This can be a challenging find, even among luxury venues.
Living Spaces: When you're not in your private spaces, your retreat will live in shared spaces. Make sure your venue's shared spaces not only fit your group's needs but also your retreat's aesthetic.
Amenities: Make sure a venue's amenities align with your guests' expectations and your retreat's needs.
Inclusions: You can't always compare retreat venues as apples to apples. While some are stripped down to the bare bones (in order to display a bare-bones price), others go all-in on luxury inclusions, such as daily breakfast, full-time staff, bartending, and more.
And speaking of venues, we have a few for you to consider as you plan to host a retreat in Costa Rica:
Hacienda Pinilla | 4 Bedrooms | 4 Baths + 2 Half Bath(s) | Sleeps 14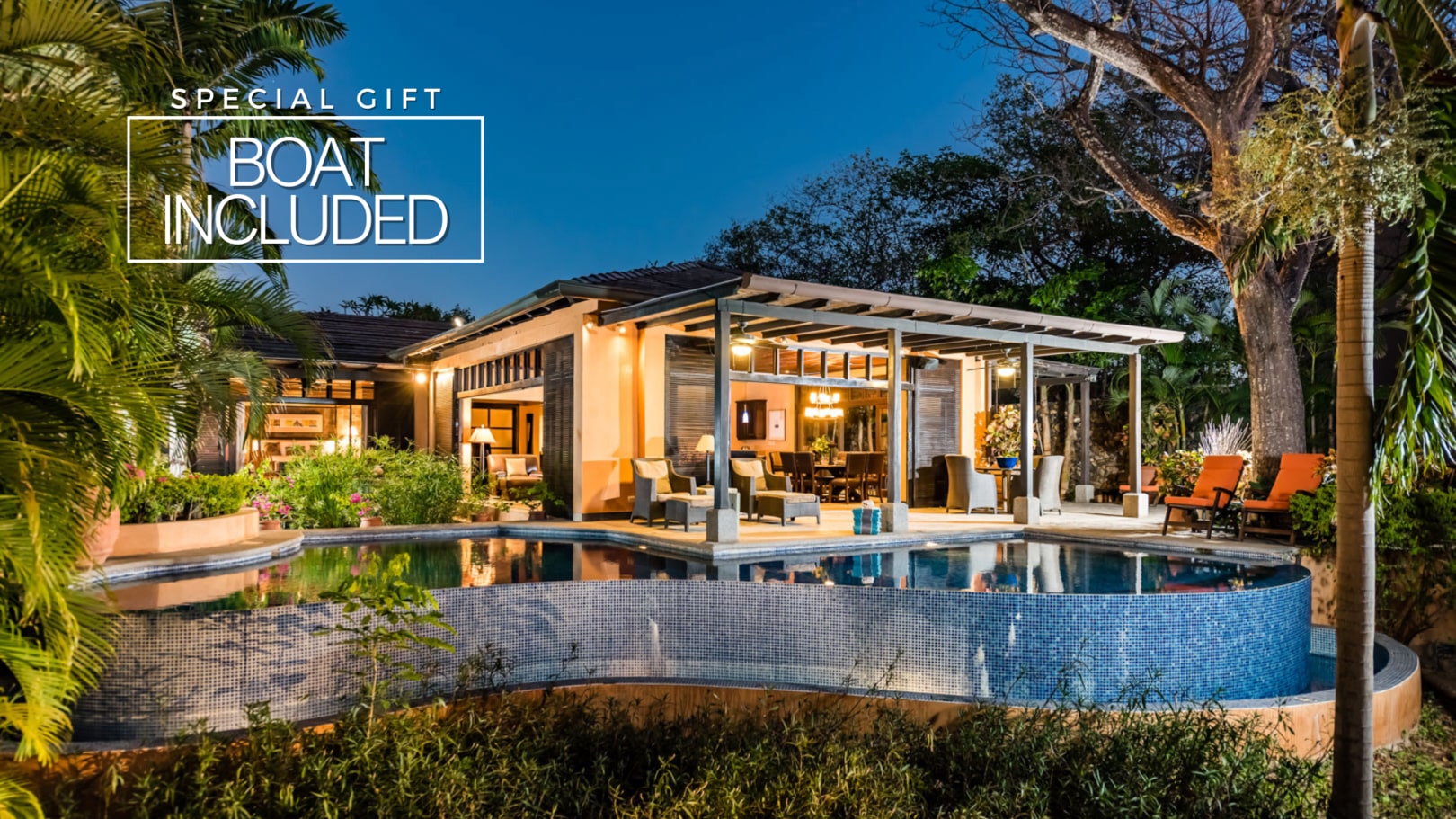 How about the chance to host a retreat in Costa Rica in a lavish, oceanfront mansion? Villa Tranquila is a spectacular, one-of-a-kind choice, with 13,000 square feet, full-time staff, expansive common areas, total tranquility, and plenty of room for guests in eight private and luxurious suites, each with its own private bathroom, to ensure privacy and tranquility for every one of your guests.
Originally designed as a bed-and-breakfast, this luxury retreat venue perfectly adapts to retreats of every kind. True to its name, Villa Tranquila – Spanish for serene and an invitation to the home's tranquil vacation lifestyle – delivers an unparalleled experience that infuses every detail. You'll all love the pool terrace and private saltwater pool – surrounded by lush gardens, exotic flowers, and waving palms – that is gentle on both your skin and spirit.
What's more, Villa Tranquila offers daily housekeeping and 100 Mbps high-speed WiFi internet, battery backup (modem and router), and access to a portable wireless router, upon request.
Tamarindo | 8 Bedrooms | 8 Baths + 1 Half Bath | Sleeps 20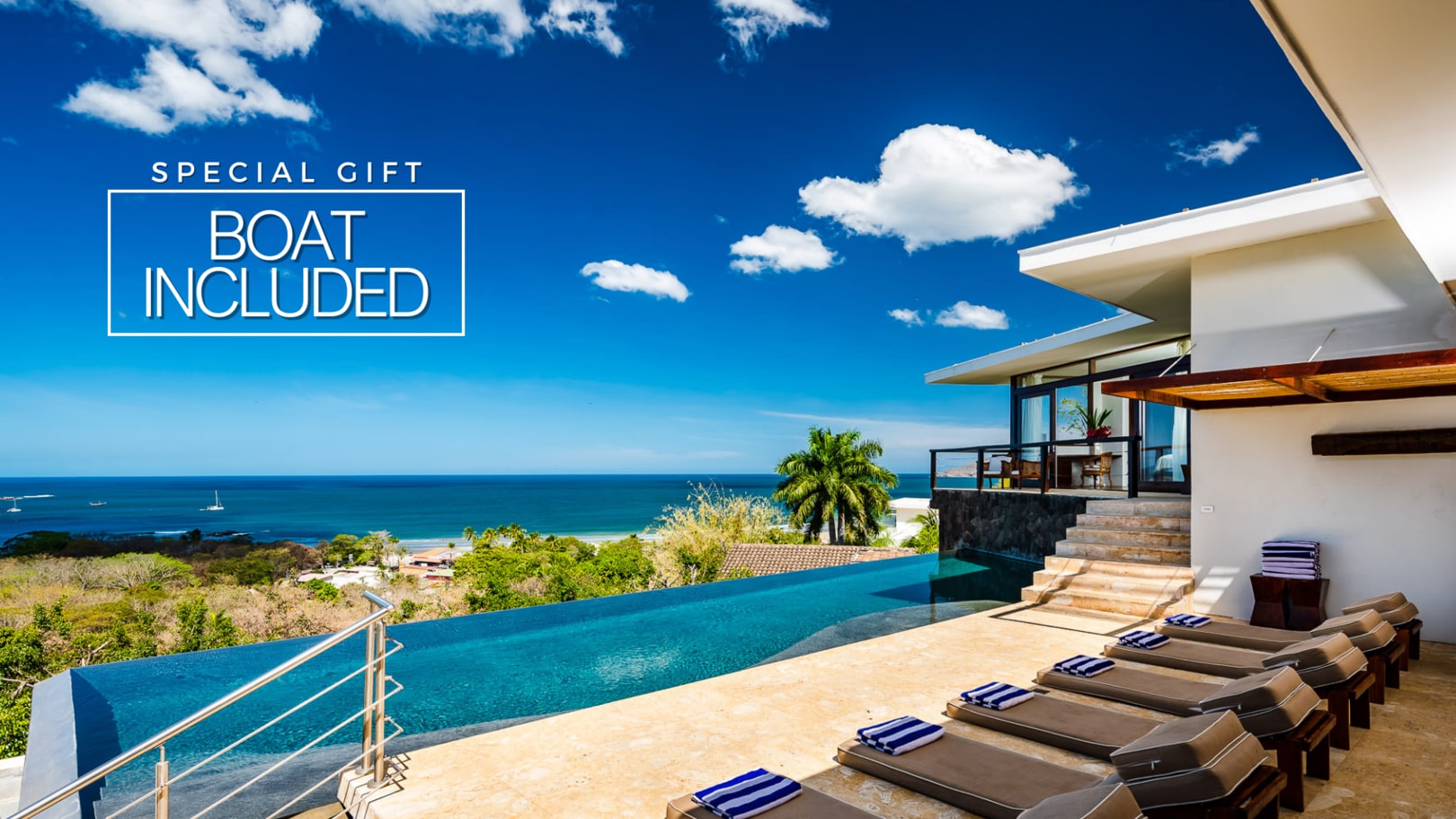 A crown jewel of Costa Rica retreat venues, Casa Puros Dieces – "pure tens" or more figuratively, "straight 10s" or a "perfect 10"! – sits at the literal height of tropical indulgence. This eco-friendly, Balinese-style property creates the perfect ambiance for any retreat, with immaculate tropical gardens, a koi pond, and stunning ocean views from almost every corner.
The perfect balance of private wonderland and hidden retreat, this luxury home is just a few minutes to downtown's dining, activities, and shopping, while perched on a breezy bluff that puts you a world away from the touristed hustle and bustle. Taking advantage of its hilltop, Casa Puros Dieces is designed for natural ventilation and invites you to fling open the windows and bask in the ocean breeze.
In addition to an ocean-view infinity pool jacuzzi, rooftop terrace, and expansive decking, the home is incredibly spacious, offering plenty of space for your activities and guests. And because it's not a retreat without a few luxuries, this tropical villa includes daily breakfast prep (excluding Sundays and holidays): fresh fruits and juices, traditional gallo pinto, eggs, and other breakfast favorites.
Playa Langosta | 8 Bedrooms | 7 Baths | Sleeps 23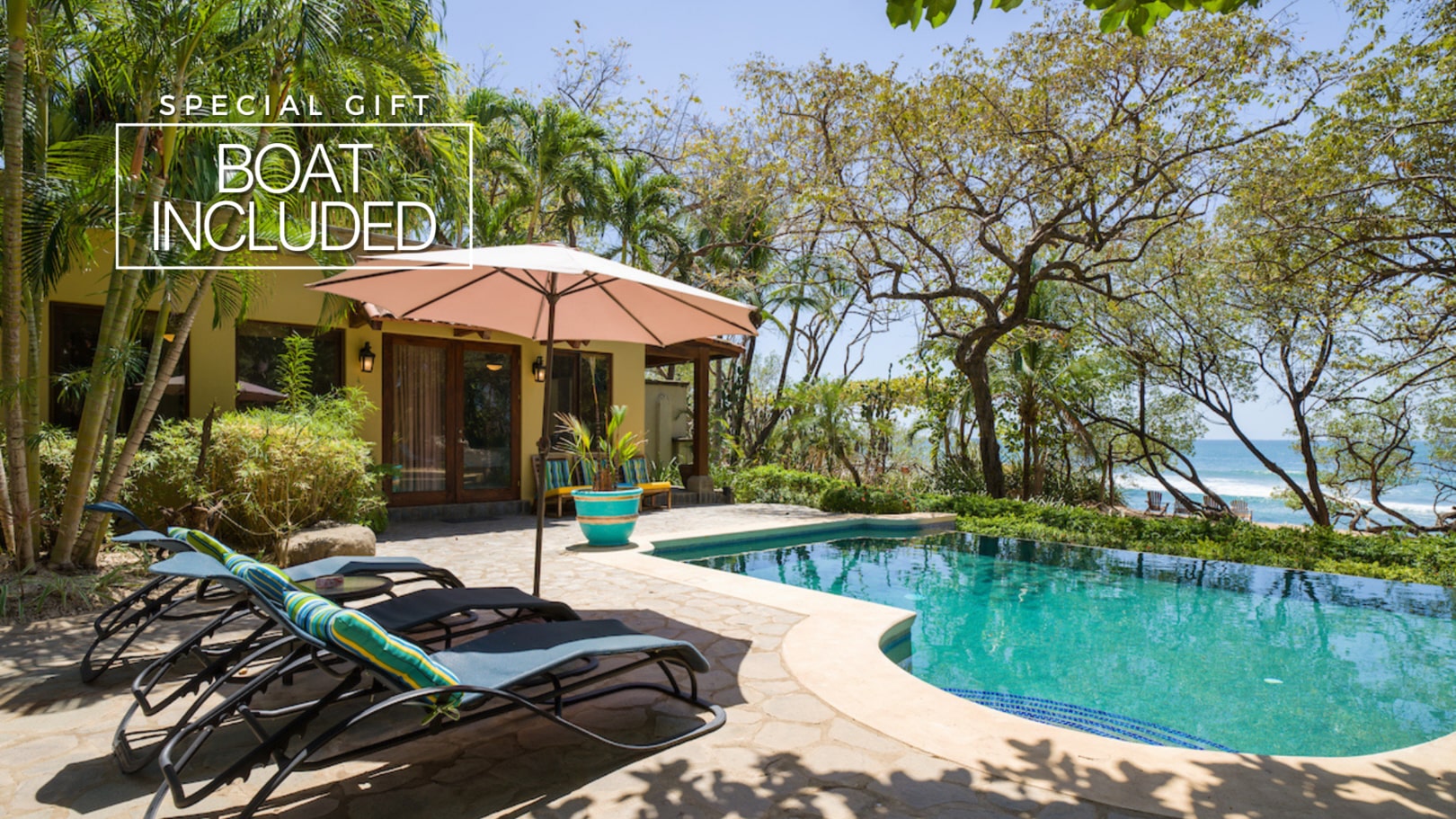 A remarkable property to host a retreat in Costa Rica, Casa de Luz embodies your vision of a tropical getaway, with magnificent Pacific Ocean views, separate sleeping spaces in one main villa + two independent courtyard casitas, a private pool, and the grand Pacific Ocean as your own backyard, where soft sands and lapping waves bid you come outside and play a little.
Even better, Casa de Luz is named for its dual purpose: The Light House, not only because it's bathed in natural sunlight, but because it's one of Tamarindo's only solar-powered luxury homes. Welcome to luxury without the guilt and a retreat with a soul, delivering clean energy, biodegradable cleaning products, and ozone sanitation systems in the pool and laundry (they reduce the need for chlorine and cleaning products by 90%).
Speaking of amenities to make you smile, Casa de Luz has exuberant tropical gardens and a private pool – both, the perfect backdrop when paired with the soothing sounds of lapping waves and calling birds. And, did we mention? The home's private gate to the beach is your path to on-the-sand retreat activities. Not a sandy kind of day? The home's ample indoor and outdoor spaces play happy host, thanks to the help of Casa de Luz's full-time staff.
Playa Langosta | 4 Bedrooms | 4 Baths + 1 Half Bath(s) | Sleeps 14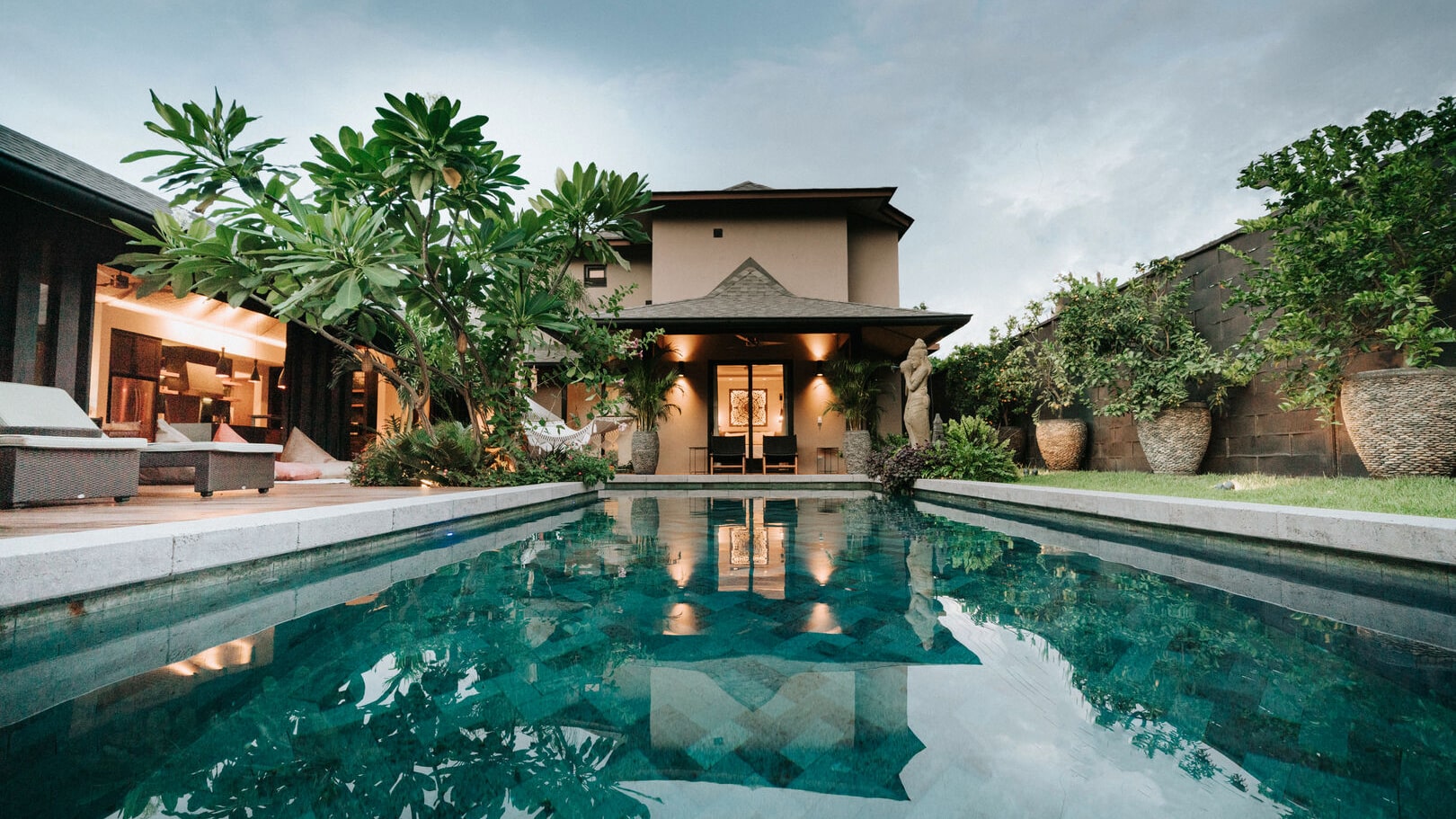 Answer the call to breathe and the invitation to soothe your soul. Here, Soul House is a
Balinese-inspired villa
located in peaceful, yet convenient Playa Langosta. Welcome to your new favorite escape to serenity, a promise of zen, and a perfect choice to host a retreat in Costa Rica.
Populated with Balinese-style artwork and accents – each, reinforced via thoughtful details throughout – this special retreat offers quiet and privacy for all, including in the second-floor private apartment (perfect for retreat host!). Outdoors, you'll revel in the backyard enclave, where shaded seating, lush gardens, and a private pool make themselves available for everything from retreat activities to quiet afternoons of diversion and reflection.
Indoors, you and your guests will appreciate the home's high design, clean lines, and ample light to soothe the soul, escape to serenity, and reclaim your spirit. Find your balance by the flames of the firepit and among statues, hammocks, and palms. Breathe deeply of the sea breeze. And rejoice in the knowledge that you've found your way to Soul House.
Playa Langosta | 8 Bedrooms | 6 Baths | Sleeps 18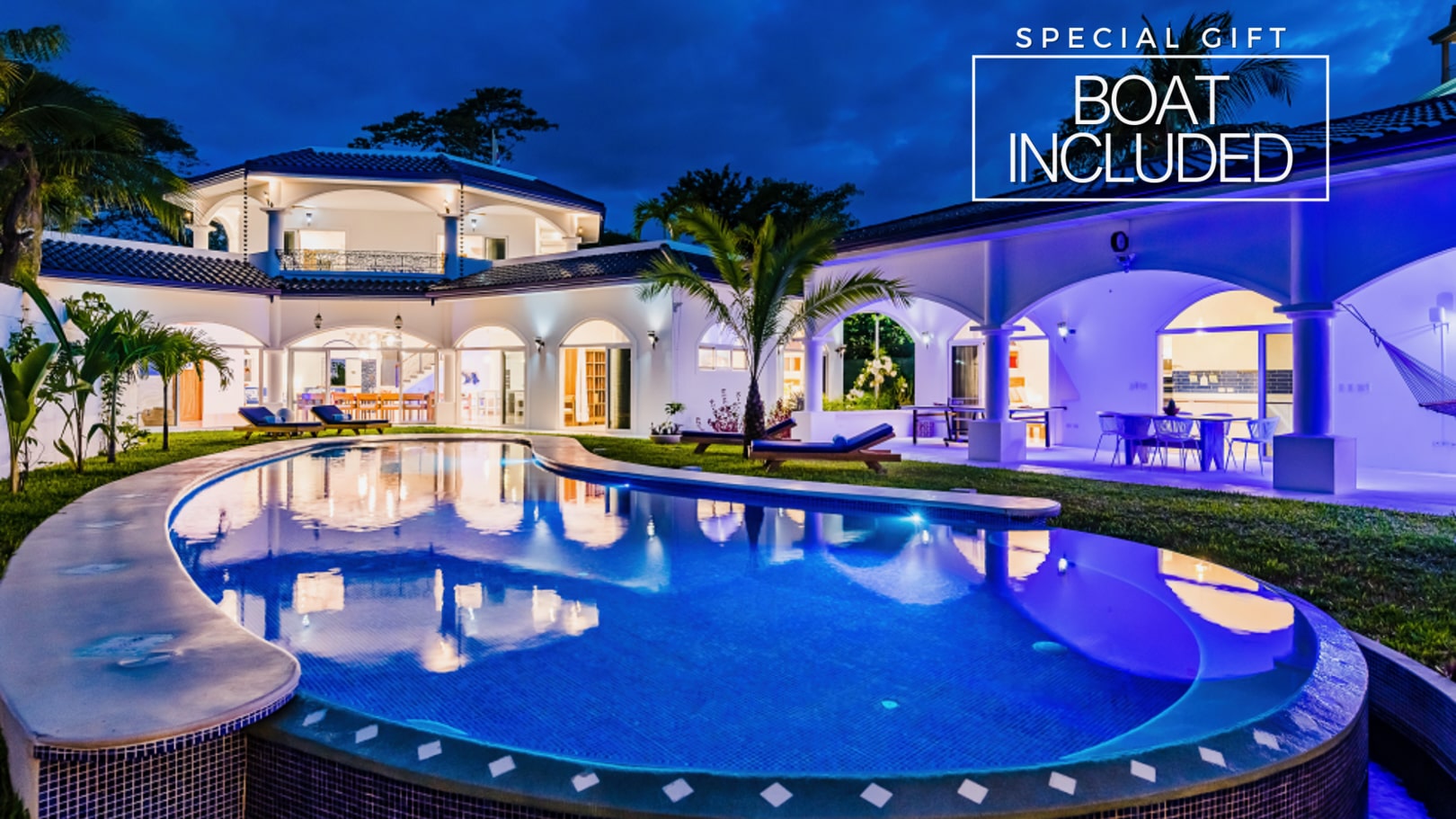 Designed as the ideal retreat venue – the amenities of a boutique hotel and the expectations of a warm, private home – Villa Estrella Azul is both expansive and intimate, at once luxurious and cozy.
Named for its blue-and-sun-bleached beach palette, the "Blue Star Villa" serves as a welcoming beacon for luxury retreat guests. Here, no comfort is spared, no amenity is overlooked. You and your guests will wrap yourselves in the indulgence of a beach-adjacent location (just a two-minute walk to the beach!) and the luxury of fine amenities, including a custom infinity pool, gourmet-ready chef's kitchen, brick pizza oven, and expansive outdoor living: pergola, verandas, and a private yoga pavilion.
And then, there's the catered daily breakfast, rooftop terrace, and eight spacious rooms to house and nurture your retreat guests.
Hacienda Pinilla | 6 Bedrooms | 6 Baths | Sleeps 20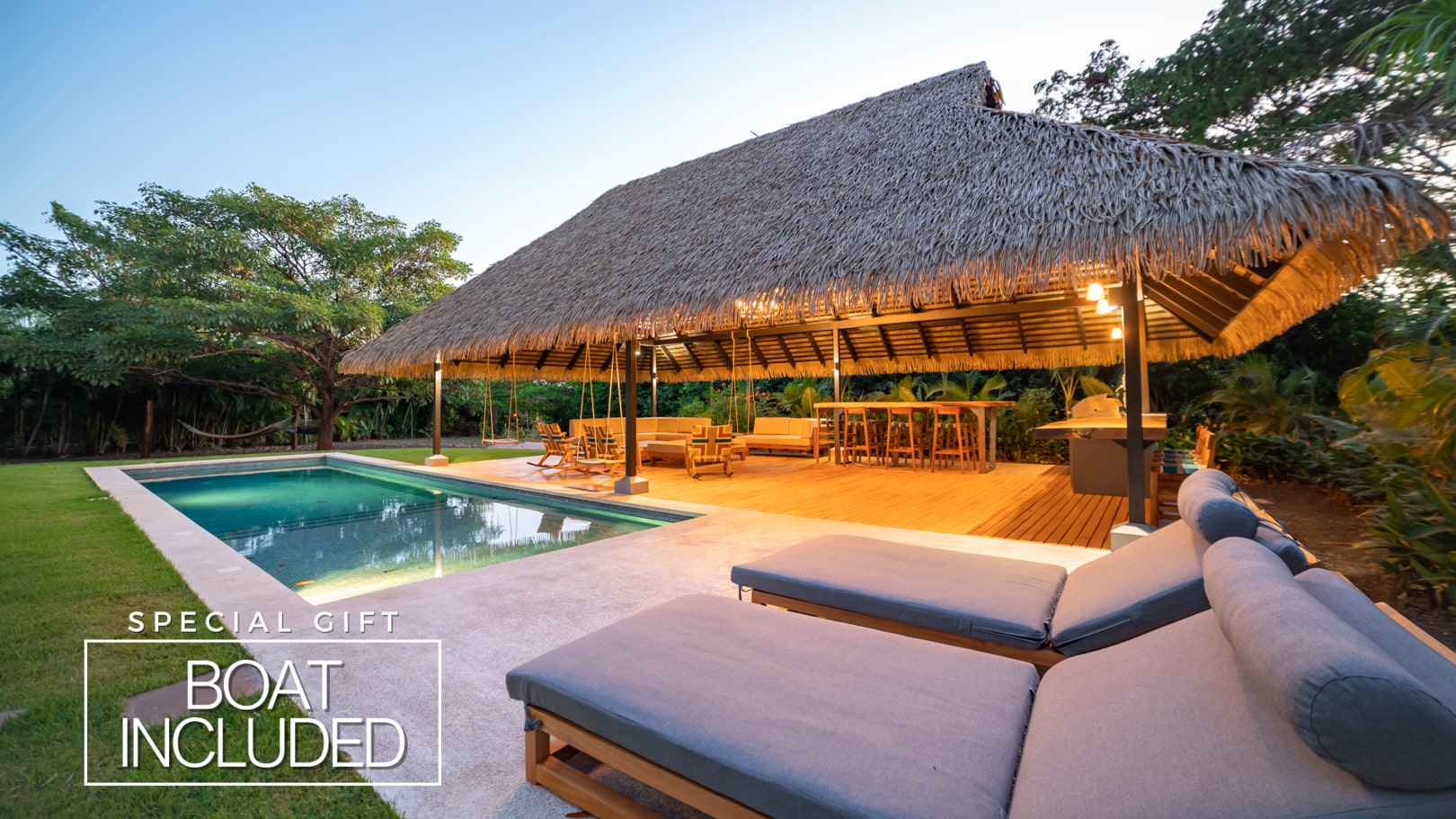 A singular retreat, Casa Hamacas is the kind of venue that encourages you to slow down, relax, and embrace the spirit of why you're here – whatever that why may be. And we think that's exactly what makes it so special.
Named for its dreamy hammock garden, Casa Hamacas is more dream retreat than a luxury home, thanks to its sleek modernity and tropical lifestyle: a gourmet-ready kitchen, two living areas, and six spacious bedrooms that promise luxurious common spaces and corners for a quiet retreat and private reflections.
As spectacular as are its modern indoors, where Casa Hamacas really shines is in its own backyard: Step into the Balinese-style rancho, outfitted with a full living room, private pool, elegant swings and cozy hammocks, lounge furniture, and an expansive outdoor prep area, gas grill, an oversized dining table. And then, there are the flowering gardens, backyard wildlife sightings, and squawking parrots... There's almost no reason to be anywhere but here.
Tamarindo | 8 Bedrooms | 8 Baths + 1 Half Bath | Sleeps 19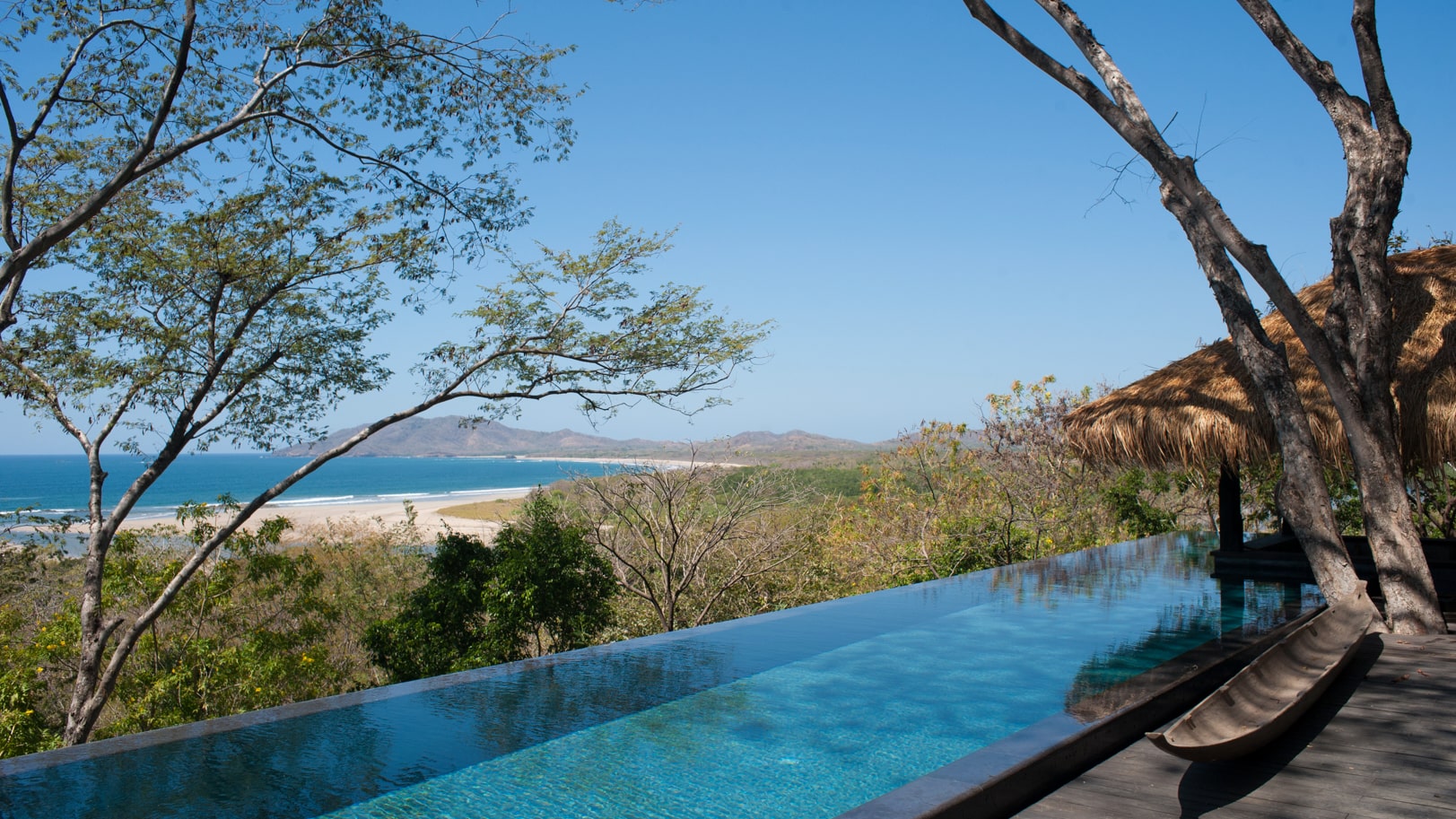 The definition of "something special" can be all too ephemeral – one of those things that you only know when you experience it. And you will experience it here, at El Chante, a sprawling, open-air, Balinese-inspired property designed around a warren of paths and wooden stairways, and comprised of nine separate structures: a promise that you can have it all, even when that "all" includes retreat spaces and privacy.
Seemingly designed exclusively to host a retreat in Costa Rica, El Chante resides at the crossroads of show-stopper and event zen, with two separate event spaces and upscale amenities, spacious common areas, and a spectacular ocean-view swimming pool with and breathtaking views. This is where your guests come to escape to sustainable living, an ultra-private resort setting, and plenty of privacy, courtesy of separate bungalows and individual guest suites.
You'll revel in the home's all-natural furniture and materials, jungle setting, and showstopper Pacific Ocean and estuary views, this perfect retreat venue even includes daily housekeeping and daily breakfast prep. Welcome to paradise!
Partner with a Local Expert to Host a Retreat in Costa Rica
At Stay in Tamarindo, we really are different. We really do care about you – your entire retreat group. And we really will go the extra mile.
We're going to work hard for you. We're going to follow up with you. And we're going to do everything we can, to ensure that this is not just your Best Retreat Ever, but also Everything You Want It to Be.
We have successfully hosted numerous luxury retreats in Costa Rica – everything from yoga retreats and corporate escapes to reboot lifestyles and well-being vacations. Our team will partner with you to help you find the right accommodations – many of our large group properties are suitable for luxury retreats! – and venues for meals, sessions, activities, and/or transportation around Costa Rica.
We hope to transform the way you retreat. We want to deliver the best everything you've ever experienced – including the best value. And we want you to go home completely fulfilled, whether you came to relax for a week straight or packed your days full of every adrenaline-soaked, high-adventure activity you could fit in.
So go ahead, give us a try. Embrace the experience. Live your best life. And now, book your best-ever vacation. It all starts with getting in touch with our concierge, Cris!