For most visitors to Costa Rica, accommodations cost represents a huge chunk, if not the largest portion of the budget. Bear in mind that Costa Rica's travel network is highly developed – tourism is the #1 industry in the country – and that means standards are high. By and large, Costa Rica's rooms are clean and comfortable. That said, because standards are so high, you'd also be hard-pressed to find a hostel bed for $10. Costa Rica accommodations costs are not bargain-basement, but you can still find a great deal. We'll jumpstart this post with a disclaimer: We're biased. We believe that
Costa Rica's vacation rentals offer far greater value than hotels
. But, we don't expect you to believe that. At least, not right off the bat. We're going to show you why. Then, you can make your own decision.
Hotel Costs in Costa Rica
When it comes to hotels, Costa Rica accommodations costs fall into three general categories: budget hotels, mid-range hotels, and luxury hotels. Prices are all over the board, from around $50 per night – in most cases, a $50 price point would be for a simple hotel room off the typical tourist track – to $1,000+ for posh digs at the Four Seasons and other big-name luxury hotels and resorts.
Budget hotels
fall into the
$50-$100 range
; for this price, you'll get a basic (but usually clean and comfortable) bedroom and private bathroom. At budget hotels,
air-conditioning is often not available or not included
(not even at the beach), although at some hotels, it is available as an add-on cost. Views are dependent on location – for example, a budget mountain hotel could have mountain views, but a budget beach hotel would be very unlikely to have ocean views.
Mid-range hotels
come in at
$100-$200
per night: For this price, you'll get a more spacious room with all the musts: hot water at the sinks, a standard shower (no suicide showers), air-conditioning, WiFi, etc. Most of the time, the added expense will net you an upgraded but non-premium view – think, a garden view instead of a window to the parking lot. Sometimes, mid-range hotels offer ocean views but not
premium
ocean views.
Upscale/boutique/luxury hotels
range from about
$250-$1,000+
per night. In this price range, you'll find everything from big-name chain hotels to small, 10-room boutiques. You'll enjoy top-notch service and lovely rooms, often quite spacious and with beautiful views and amenities like hotel pools and a delicious complimentary breakfast. Views are good and, at the higher price range, often spectacular. Oceanfront rooms are almost always in the upscale category.
Vacation Rentals: The Best Budget Accommodations in Costa Rica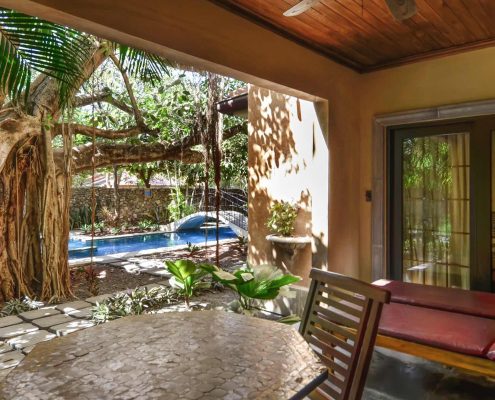 Let's cut right to the chase: The reason we believe vacation homes to offer the best value in Costa Rica comes down to the
balance of price vs. amenities
. Dollar for dollar, you get much, much more for your money in a vacation rental.
Let's start with the numbers. Typically, vacation rentals are priced in-line or less expensively than their hotel counterparts. In other words, apples to apples, a mid-range 2BR vacation rental will cost less than the $200-$400 per night you'd pay for two mid-range hotel rooms.
But it's not really an apples-to-apples comparison, is it? Because a vacation home is just that – a whole home. Not just a bedroom and bathroom, but a living area, a dining area, and a kitchen. Plus, a whole host of other amenities: swimming pools and video game consoles, pool tables and private balconies.
As an example, 2-bedroom
La Esquina
in pricey Playa Langosta ranges from about $150-$300 per night, depending on the season. It has two bedrooms and two bathrooms, and offers
so much more than a hotel room
: professionally decorated and richly finished with granite, stone, and beautiful teak wood, La Esquina also opens onto a huge banyan tree and a lovely pool. Maid service is provided. You simply cannot get these amenities for $75-$150/room/per night at any hotel in Playa Langosta.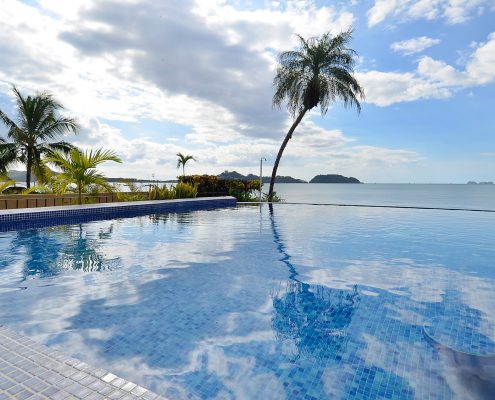 Or take, for instance, our
Tamarindo Penthouse
, a 3-bedroom, 3-bathroom penthouse condominium with
sweeping ocean views
. Not only does it have great panoramas and spectacular sunsets, but this luxe two-story condo has a private balcony, lots of space, and access to a refreshing pool. And look, we're parents, too. Let's face it:
You can't put a price on not having to share a room with your kids
. Sleep in on your next vacation! And vacation rental-over-hotel savings grow bigger, the larger your group. Take
Corazon del Mar
, for instance: This five-bedroom, five-bath
beachfront home
is swathed in luxury. We're talking a location smack-dab on the sand and a
private, infinity-edge pool
with
swim-up bar
and
whirlpool
. It's equipped with ocean kayaks, boogie boards, and other complimentary gear. And, the home's caretakers act as your
personal onsite concierges
– there to pamper you with everything from daily maid service to spectacular home-cooked meals. All this, for just
$100-$180 per room, per night
($250 during Holy Week) – far, far less than any equivalent hotel.
But What About Hotel Concierge Services?
Hotel concierge services – a one-stop shop for everything from calling a taxi or getting a restaurant recommendation, from booking a zipline tour or relaxing massage – have long been one of the distinguishing differences between the amenities of a hotel vs. vacation rental.
No more.
When you book your vacation rental with us, you have
full, free and unfettered access to our travel concierge, Cris
. At
ZERO cost
. Seriously. We do not charge for any of our services. So, whether you just want to book some airport transportation, or you're interested in having Cris handle all the bothersome logistics (transportation, activities, tours, spa services, etc.), she does it. At no cost to you. We can even arrange for
in-home daily breakfasts
, private chef services, and
other add-ons you'd never find at a hotel.
So now, what's your opinion – are vacation rentals the best accommodations deal in Costa Rica?