Many guests come to Tamarindo for one reason: our incredible surf! More specifically, the Tamarindo advanced surfing spots world-renowned for their huge waves, big barrels, hard rights and lefts, and other serious challenges tailored to intermediate and experienced surfers. The big question for skilled surfers is not so much
where
to go, but rather
how
to fit all the wheres into your stay. In and around Tamarindo, there are dozens of beaches, breaks, and frothy nooks and crannies that thrill while they challenge your skills (and help you build new ones). So, what Tamarindo advanced surfing spots really, truly deserve a slot on your schedule? We have a few opinions. Seven, in fact. (Or eight, if you're getting technical.) Surf's up!
Pico Grande & Pico Pequeño
We'll start with two of Tamarindo's big daddies: Pico Grande and Pico Pequeño. They're pretty easy to find; just head out to Playa Tamarindo, stand with your back to the Diria, and look right. You see those rocky outcroppings? Pico Grande is on the left (south) and Pico Pequeño is on the right (north), and they're two of the most advanced breaks on Playa Tamarindo. True to name, Pico Grande gets big on good days; catch the right swell, and you can ride right into Pico Pequeño (not so pequeño, with shoulder-high waves), via the frothing whitewater between the two breaks. Be very careful, as these twin Tamarindo advanced surfing spots are for advanced-surfers only during high-tide and a Do Not Ride at low tide.
Isla Capitán (Captain Island)
Not quite a best-kept secret, Tamarindo's Isla Capitán is, at least, a bit of a secret: This tiny island, located right in front of Tamarindo Beach, offers an exposed reef break that few frequent. In part, it's because the island is remote and in part, because the rocky reef bottom is a killer for anyone but the most seasoned surfers. Oh, and there's another reason why you'll often have the island all to yourself: you'll either have to paddle out (40 minutes!) or pony up for a boat ride to get there. But it'll be worth it! Be careful of the rocks and
ride only at low tide.
Playa Grande
Playa Grande made our list of the
best Tamarindo surf spots for beginners
, but it's also on our list for advanced surfers. That's because this long stretch of sand has patches of fast-breaking lefts and rights, barrels, peaks, and long rides. The surf is also consistent, making Playa Grande a Tamarindo mainstay for intermediate and advanced surfers alike.
Surf at mid- to high-tide.
Playa Marbella
Located between Junquillal and Ostional beaches, Playa Marbella offers two primary surf spots: Playa Coco and Playa Frijolar, both with consistent year-round waves and few crowds. Playa Coco's beach break promises huge waves and hollow barrels that break both left and right. Playa Frijolar is home to hollows and barrels, and sports and sandy bottom for when you wipe out after a huge wave. We love that we often have these Tamarindo advanced surfing spots all to ourselves.
Ride at mid-tide.
Playa Langosta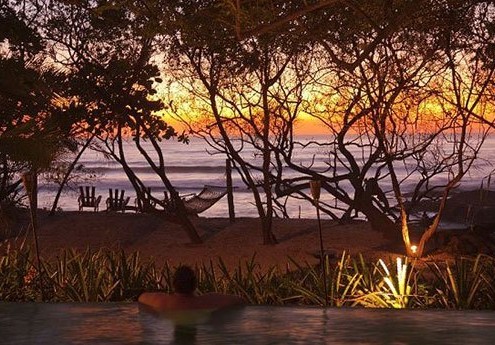 Located about a kilometer south of downtown Tamarindo, rocky Playa Langosta pulls a few punches with fast currents, big waves, and left- and right-breaks at Langosta's southern end. On a good day, the waves level a serious challenge and, even on a not-so-good day, Langosta's surf offers thrills for skilled surfers who aren't afraid of rocky bottoms. Be careful at the river mouth.
Playa Negra
A local favorite for its reef break, narrow peak, and thrilling right, Playa Negra is a must on any surfer's visit-while-in-Tamarindo list. Because the break along the beach is tight, try to visit during off-peak hours. And if you're here when everyone else is, too, remember your surf etiquette, exercise patience, and play nice.
Witch's Rock
Of course, we couldn't leave this famous surf spot off our list! Witch's Rock is known for a reason: an incredible left that challenges even the best surfers! Bear in mind, this world-renowned spot hosts many surf competitions, so you know the waves are big, the surf consistent, and the challenge real. On a windy day at low-tide, prepare for seriously exciting barrels. Shoot for
mid- or high-tide
. Have fun and happy surfing!